Southern Hospitality Reigns Supreme
By Anthea Gerrie  |  Photography by Jack Gardner
At first glance, it looks more like several houses than one, with its charming jumble of gables, connected brick buildings, and long frontage facing Lafayette's Vermilion River. But the Louisiana Low Country colonial that Brenda and Ernie Franz spent three years creating is a single home, built to entertain a huge extended family as well as the wider community of Cajun Country.
"My husband and I have just been chosen to be king and queen of our Mardi Gras krewe, Rio," says Brenda. She and Ernie moved into their dream home this past March. "So next year's celebrations will see us feeding a crowd and laying out all the food in that huge formal dining room, which was part of what inspired us to move from our previous home of twenty-two years and create a space in which we could properly entertain."
The focal point of the dining room, a table capable of seating twenty, was one of the major challenges facing the Franzes' interior designer, Karen Waterfield of Sugar Beach Interiors in Miramar Beach, Florida. "It took us quite a while to find," she says. "It's an antique we eventually located in Baton Rouge." Also vital to have in the home was a buffet that could accommodate the nineteenth-century china Brenda inherited from her great-grandmother, which for years had lived in a box in the attic of her previous house. "I use it as much as I can, given the signs of wear, and the table can seat most of the family, so everyone comes here when the family gets together," says Brenda. "When all the cousins come, too, it's more like thirty-five or forty for dinner!"
Perhaps the most significant challenge for Waterfield and her team was the commute to the house, which is a six-hour drive from her office. "The Franzes have a home in Florida where I first met Brenda, and she really wanted me to do their new house in Louisiana," explains Karen. "It was a case of working smart—I'd go there for a week at a time, and we'd cover as much ground as possible each trip."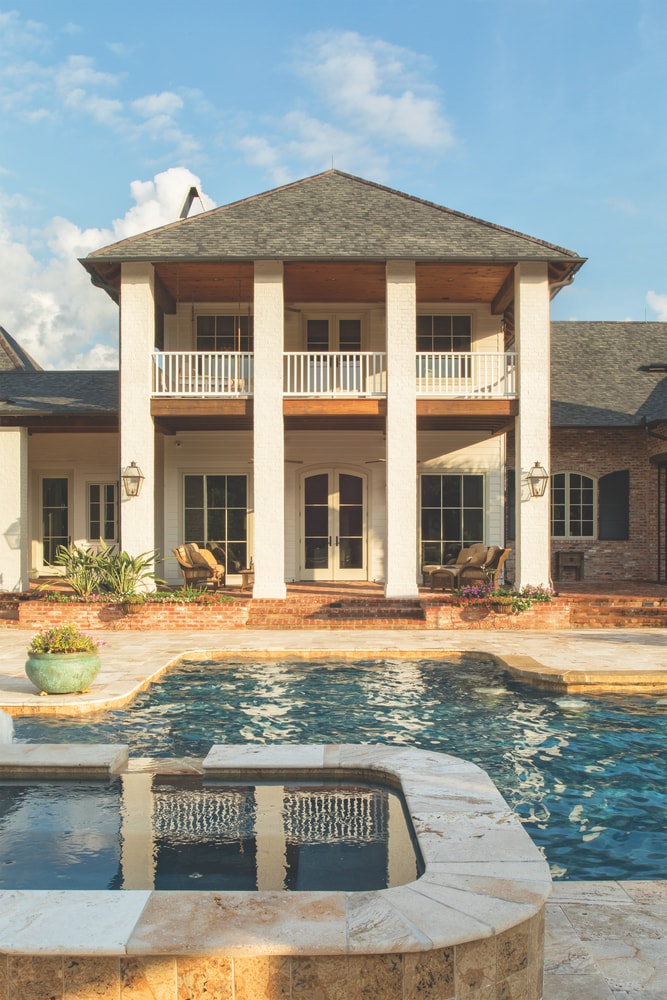 There was no big rush, given the length of the construction project. "It took two years from the first day they poured concrete," says Brenda. The house had to be built up five feet because of its proximity to the river, explains Mike Landry, who designed the actual building. "But the position meant they'd never have to worry about neighbors at the back, as the river marks the property line," he says. And for Brenda, a view over the bayou was nonnegotiable: "I just love to sit outside and watch the water flowing."
"All the brick we used is old brick," says Landry, citing the Old Birmingham used for the walls, retrieved from a torn-down factory in Alabama, and the Old Saint Louis for floors, which have been inventively laid in some places in a herringbone pattern and in others dovetailed and framed between panels of salvaged wood.
After securing the site and plotting out the optimal position for five bedrooms and bathrooms, an additional six half baths, two living rooms, two kitchens, and a formal dining room with a butler's pantry, the next challenge was sourcing the wealth of old brick and wood that Brenda, who brought a treasure-trove of heirlooms to the house, was keen to use. "All the brick we used is old brick," says Landry, citing the Old Birmingham used for the walls, retrieved from a torn-down factory in Alabama, and the Old Saint Louis for floors, which have been inventively laid in some places in a herringbone pattern and in others dovetailed and framed between panels of salvaged wood.
This wood, used in ceiling beams as well as floorboards, came from an old industrial building in New York via a recycled timber source in Louisiana.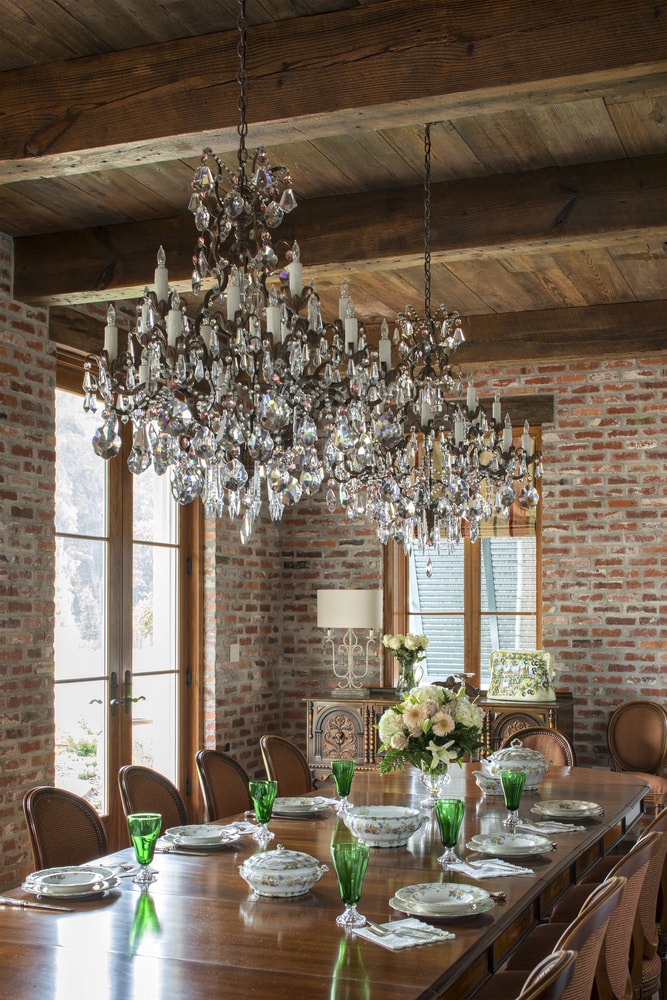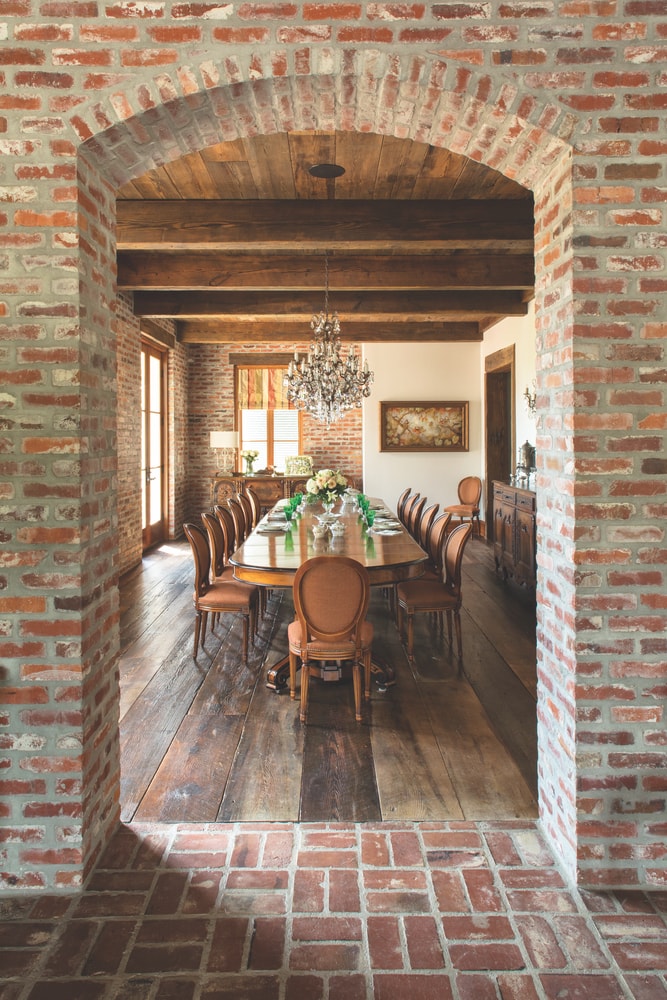 Then there were the antique doors Landry was also charged to find. "I wanted to use old doors throughout the first floor, and we have thirty-eight in total, including all the closets," says Brenda. Many of the doors came from France and Belgium, but Brenda is fondest of the front door, brought from a mansion on Saint Charles Avenue in New Orleans when the property was torn down, and another that was fitted with new stained glass she designed herself and had made locally. "This is the door we go in and out of most often, as it opens to the breezeway."
Given Brenda's penchant for entertaining, it's not surprising that the house has two kitchens, one open to the elements with only three interior walls. "It's so nice to be able to cook and still be outside with visitors," she explains, "and on our travels in Italy, we found a beautiful hand-painted concrete table that can withstand the weather."
But it is the indoor kitchen, which also serves as a family room, that has the star feature: a fabulous Lacanche chef's range from France. "The whole room was designed around it," says Brenda, who had the burgundy of the enamel picked up in the fabric of the bar stools at the kitchen island, "but not too much red anywhere else, as I really wanted the stove to pop." The kitchen cupboards were all hand built from scratch by a local joiner, thanks to the level of craftsmanship that exists in the heartlands of Louisiana.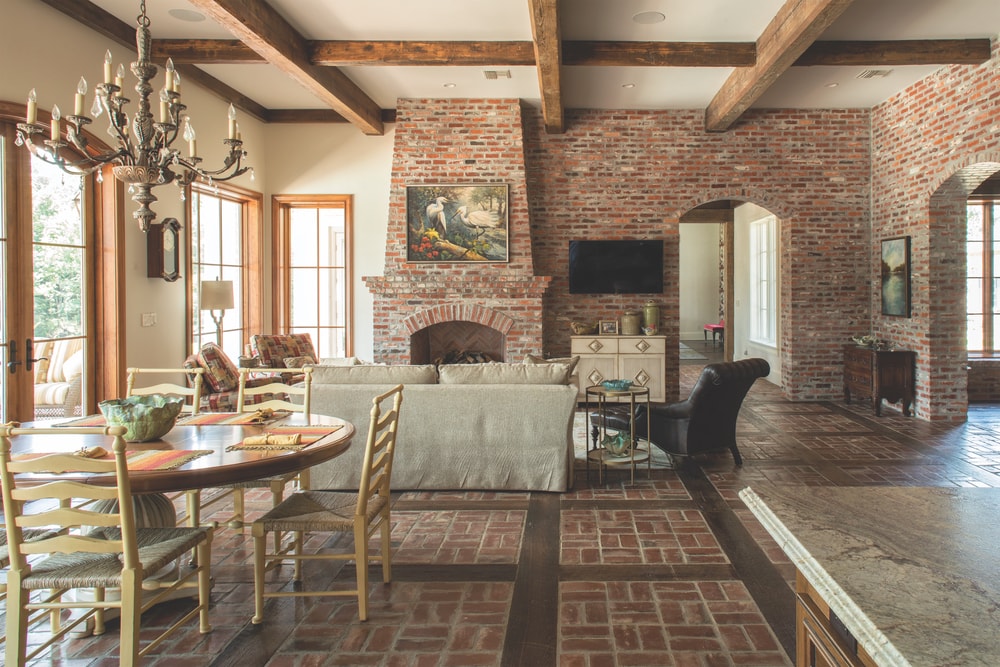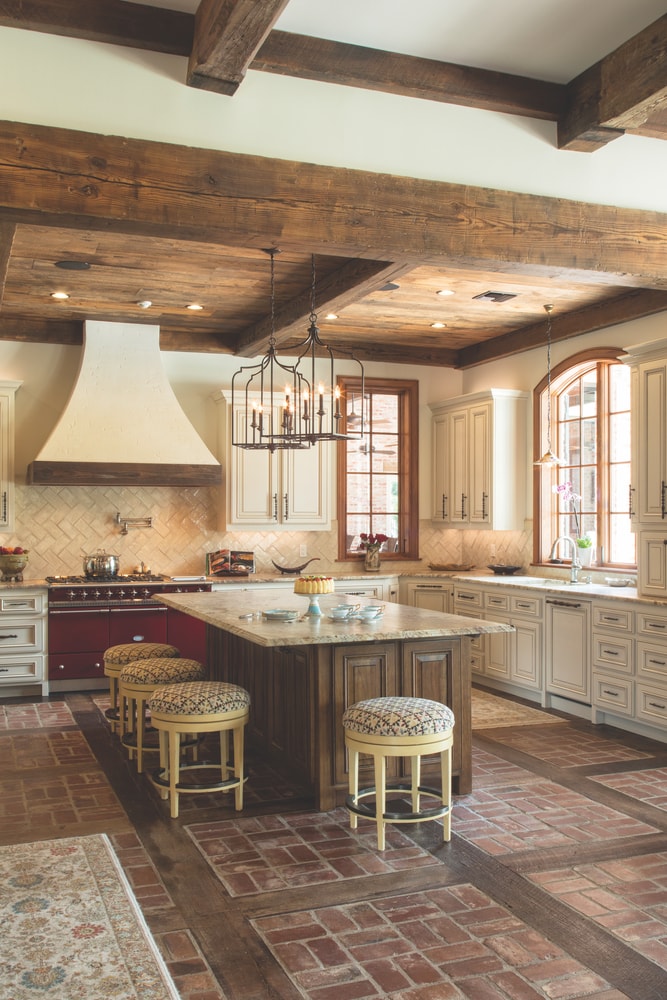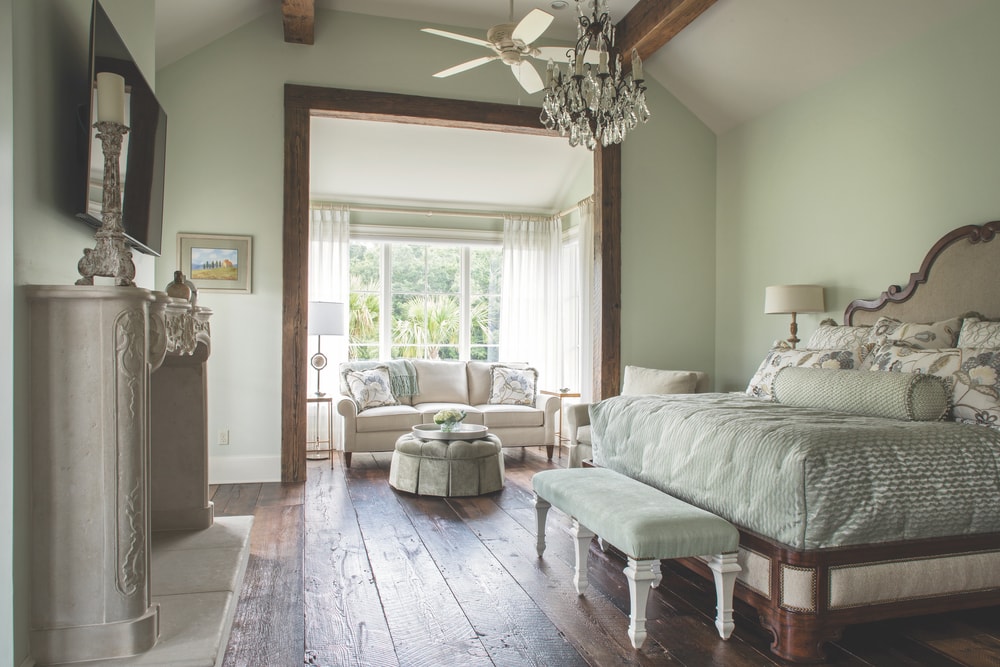 Like the kitchen-cum-family room, which is forty feet long, Ernie also has a special two-story room of equal length that Brenda says is "his pride and joy. This is where he entertains his men friends when they come to play pool, and where the animal heads are displayed." Many of these trophies came from Ernie's hunting lodge in Missouri and two trips to Africa. "There is also a loft on the second floor where Ernie keeps a golf simulator for practice," explains Brenda of the double-height den.
Her own pride and joy is a sewing room on the second floor where she has plenty of space to display her exquisite handiwork. "I taught myself smocking when my first son was born thirty-five years ago, and my boys got to wear smocked clothes until they were old enough to say no!" laughs Brenda, noting her proudest achievement is a replica of her grandmother's christening gown. "The original was made in 1903; my father and I and my three siblings got to wear it, and then our three boys. My youngest, who is now twenty-three, was the last. I framed it and made an exact replica, which nieces, nephews, and two of my grandchildren have worn." Brenda enjoys having an airy, spacious room dedicated to her crafts, which also include embroidery, knitting, and quilting.
As one would expect of a home large enough to cater to a couple's individual hobbies, their private retreat space is delightfully expansive. The wood-beamed master bedroom, painted in a soothing shade of eau de Nil (a pale greenish color), has a sitting area overlooking a wealth of tropical Louisiana greenery and what Brenda calls "the prettiest views." The master bath accommodates a sofa along with a large tub and a marble shower with twin heads.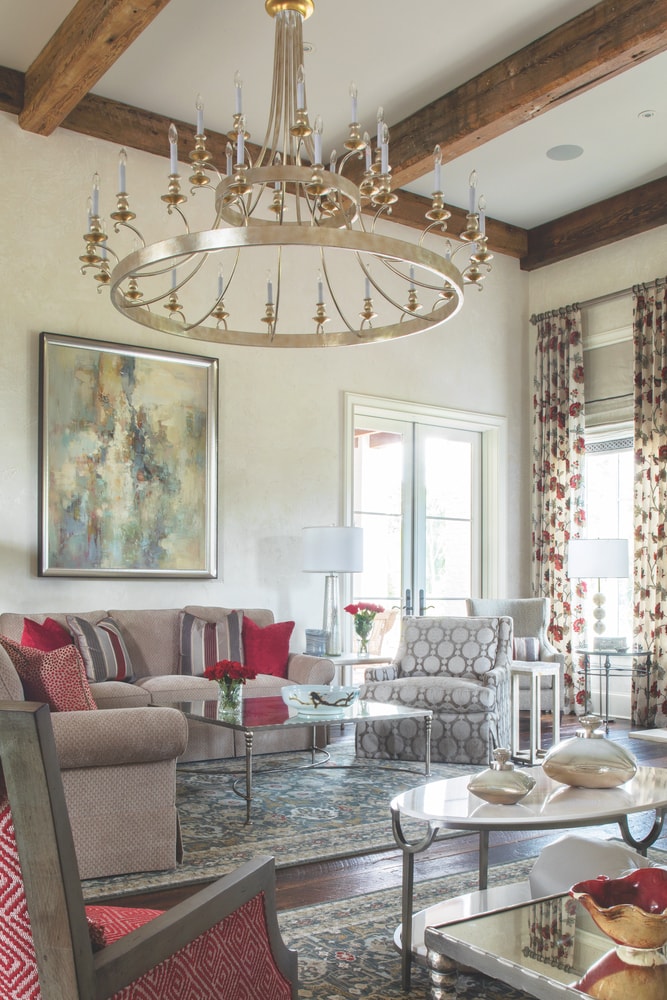 Sugar Beach Interiors' guidance produced the exquisite marble and tile work that add such fine finishing touches to the rustic bones of this country mansion. "In the master bathroom, we merged two different materials—limestone and marble—to create a serene but stylish oasis for Brenda," says tile designer Morgan Stimson of 8 Five 0 tile studio, who created a custom mosaic for both the tub backsplash and the shower wall.
Morgan chose crackled subway tiles laid in a herringbone pattern to complement the classic feel of the kitchen. "We wanted to honor the brick and felt that with an antiqued finish and imperfect edging, we could capture the true essence of this room," she explains.
And a little touch of Florida glam found its way into the bar backsplash, Morgan admits. "Even though we were trying not to stray from the style of the house, we knew we wanted a little bling in this one special area. We used a glass tile with gold leafing so the light would reflect its beauty and give Brenda that little bit of glitz she wanted." Sugar Beach Interiors also injected a touch of sophistication by fitting television screens into several mirrors and installing a worktop and sumptuous materials even in the butler's pantry.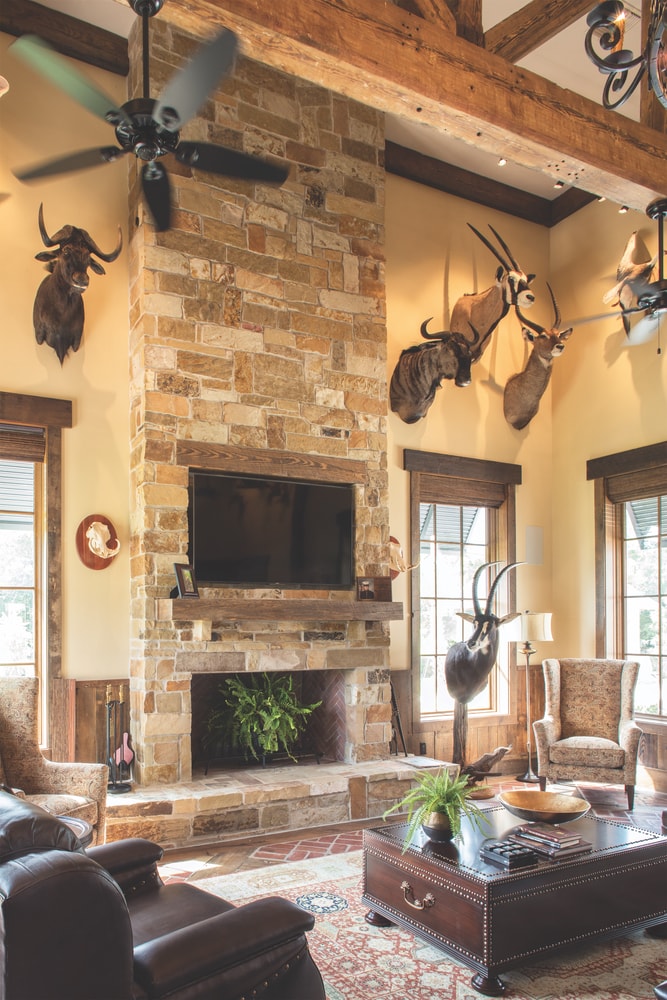 There is more than a little glamour in the beautiful pool situated between the colonnaded veranda at the back of the house and the river. The couple's dogs love to run into the bayou and swim—"but there's a gator or two in there, so they need to take care!" laughs Brenda. The pups have plenty of choice for spaces to dry off; there is shade in both the poolside pergola and the "pigeonnier," a brick-framed gardening house with a sink where Brenda enjoys potting plants and will bring in the tender ones during winter.
Even when it comes to the outbuildings, there is a "his and hers" to complete this dream home. The garage is large enough to accommodate a workshop: "Because now that Ernie is semiretired, he wants to rebuild old cars," explains Brenda. Given how busy the Franzes like to be, the garage, pigeonnier, and sewing room are probably set to get more use than the beautiful formal living room with its marble fireplace, grand piano, and exquisite chandelier, which Brenda says: "We'll keep mainly for special occasions like celebrating our family Christmas."
— V —
---
Visit SugarBeachInteriors.com to see more of the design firm's work or to request a consultation today.
Anthea Gerrie is based in the UK but travels the world in search of stories. Her special interests are architecture and design, culture, food, and drink, as well as the best places to visit in the world's great playgrounds. She is a regular contributor to the Daily Mail, the Independent, and Blueprint.
ARTICLE CATEGORIES