Story & Photography by Kim Duke-Layden
Centuries ago, young aristocratic Englishmen romped about Western Europe for months at a time, seeking to broaden their horizons in the disciplines of language, architecture, music, culture, geography, art, and history. More often than not, these powder-wigged playboys also sought inspiration through more frivolous pursuits.
In August 2011, I embarked on a twenty-first-century version of the Grand Tour, but instead of Paris, Venice, and Rome, I visited Prague (Prahg), Krakow (KRACK-ow), and Budapest (Boo-da-PESHT). My adaptation obviously differs from the original treks, but I daresay my delightful discoveries and enriching experiences were every bit as remarkable. Join me for an illuminating journey through Central Europe, including a peek behind the former Iron Curtain—passport and powdered wig not required!
My Grand Tour was supposed to end, rather than begin, in the Paris of Central Europe, but since it was my first visit to Budapest, I opted for a brief "prestay" before joining my group in Austria. Hungary is surrounded by Slavs: (in clockwise order) Slovakia, Ukraine, Romania, Serbia, Croatia, Slovenia and Austria; yet unlike its neighbors, Hungary hails from Magyars, Asian descendants, whose language differs greatly from others in Europe. Budapest is the country's largest and most populous city. The famed Blue Danube cuts a liquescent swath between hilly Buda and flat Pest, and the iconic Chain Bridge, with its marble lion sentinels, links this sprawling metropolis.
The sky transitioned from blue to bronze as we landed at Budapest's Ferenc Liszt International Airport (BUD). Unfortunately, my husband, John, was only traveling with me vicariously; he had started a new position with Lockheed at Eglin Air Force Base, and duty called. After retrieving my bags, I was whisked towards downtown Budapest by a red-checkered Főtaxi. My cab stopped outside an apartment building tucked within Pest's historic Jewish ghetto. On the top floor was the tiny BudaBaB (www.budabab.com), run by hospitable American expats, Ryan and Ron. Several blocks away, I dined at touristy Kulacs Étterem (kulacs.arteries.hu) while being serenaded by strolling gypsies.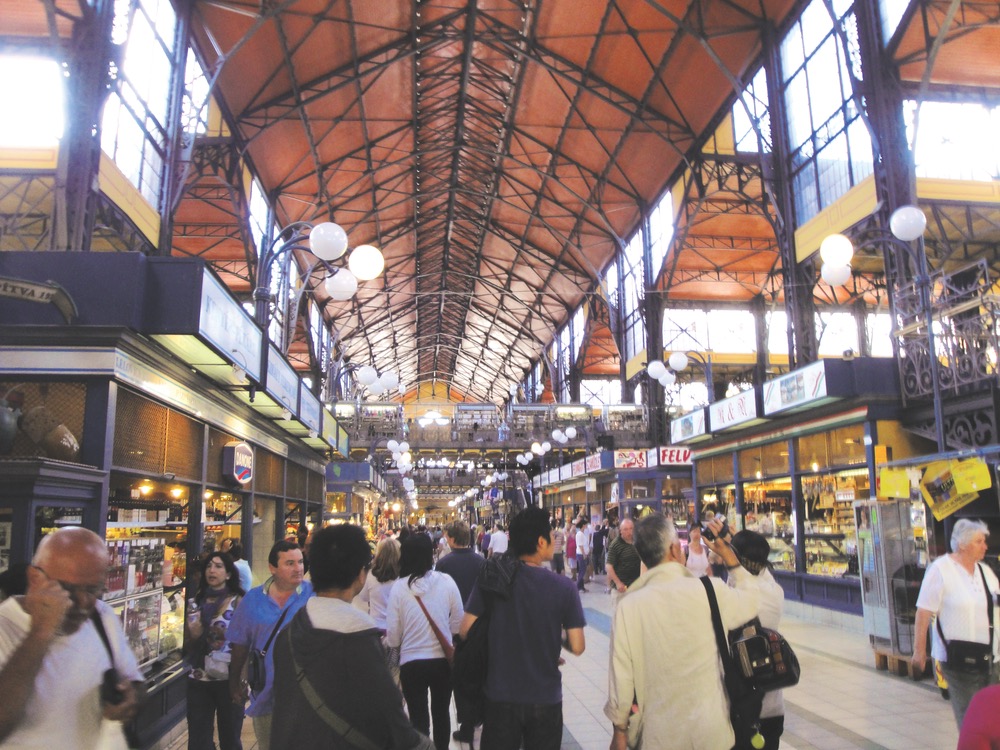 For the next two days, I crisscrossed Hungary's capital umpteen times with Fruji, a delightful twenty-four-year-old tour guide from BudaBike Tours (www.budabike.com). We saw Budapest's massive Parliament Building and expansive Heroes' Square, which reflect Hungary's past prestige as coruler of the vast Austro-Hungarian Empire. Outside the House of Terror museum, which depicts Hungary's nightmarish occupations by both the Nazis and the Soviets, I was astonished to see a piece of the impenetrable Iron Curtain. Had the climate been cooler, we would have dipped into Budapest's famous thermal baths; instead, we explored scenic City Park and Margaret Island, whose fountain danced to symphonic overtures.
Budapest bursts with local flavor. At the Great Market Hall, stalls brimmed with pungent pickled vegetables, spicy paprika (peppers), and lángos (savory fried dough slathered with sour cream, cheese, and garlic). On the banks of the Danube, we picnicked on fish and pickles from nearby fry shacks, and then sipped Hungarian wine (bor) at a tiny cellar near Castle Hill.
For a funky finale, we decompressed at Szimpla Kert (Simple Courtyard) (www.szimpla.hu) a "ruin bar" hideaway within the old Jewish ghetto's maze. Typically, the ruin bars are trendy watering holes with Fred Sanford–like furnishings that emerge in open-air courtyards of abandoned Communist-era apartments and are concealed in alleyways behind nondescript entrances. Visit Szimpla at night, when it's most bewitching, and when Indie films are screened and live bands perform under twinkling lights.
The following morning, drizzle streamed down the windows as my silver bullet whizzed silently along the tracks eastward toward Vienna. There, I would be joining my Grand Tour of Central Europe, which I booked with Intrepid (www.intrepidtravel.com), an Australian-based and budget-friendly outfitter. The fully guided two-week trip is ranked as one of Intrepid's most popular adventures, providing a perfect balance of cities, countryside, culture, and outdoor activities.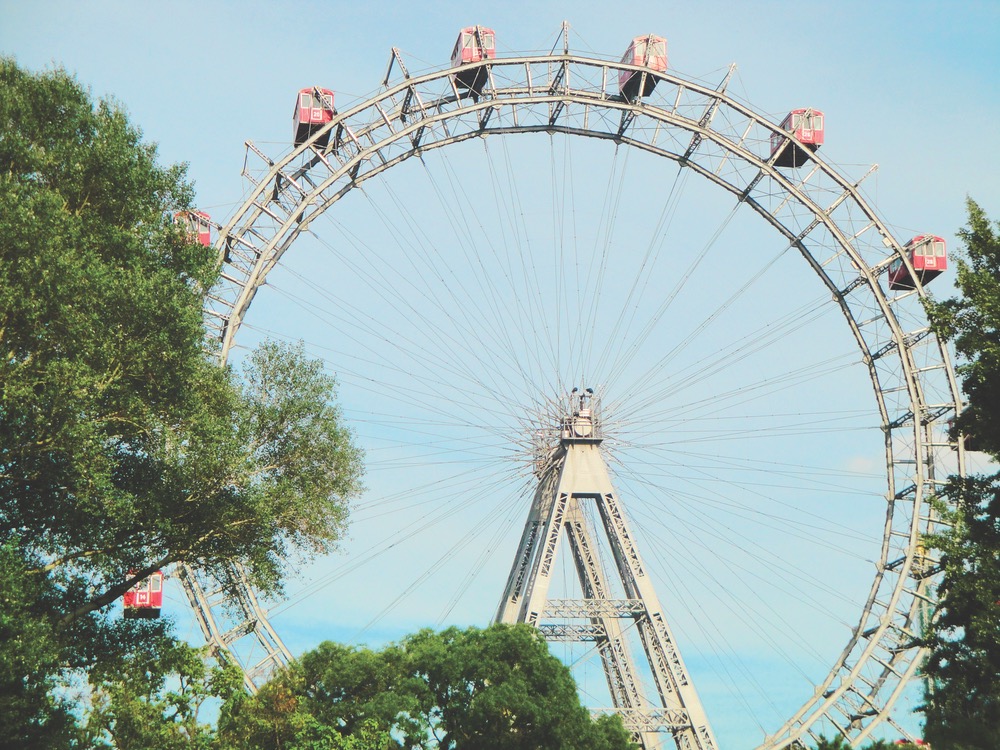 Sunny skies greeted me at modern Hotel Mozart (www.hotelmozart-vienna.at/en) situated in Vienna's outskirts. While checking in, I met Mirek, our thirty-eight-year-old Intrepid guide, who is from the Czech Republic. A little later, I met Heather (my first roommate), who is a nurse; Heather's friend and colleague, Alysia; and Alysia's mother, Kris, who is a psychologist—all were from Australia's capital, Canberra.
At orientation, I met my other traveling companions: Adriana, a social worker originally from Mexico; Eiko, a doctor from Japan; Katy, a life coach from England; Rachel, a Qantas flight attendant from Queensland, Australia; plus two couples: Arja, a health services administrator and Randy, an engineer/consultant also from Queensland; and Marg and Frank, two globetrotting retirees from New Zealand.
During our briefing, Mirek distributed language cheat sheets for each country we would visit: Austria, Slovakia, Czech Republic, Poland, and Hungary. Except for Austria, which is part of Western Europe, all are old school—they aren't yet members of the European Union (EU) and each has its own currency. The trade-off results in less convenience, but significantly lower prices.
After breakfast, the U-Bahn zipped us into Vienna's imperial historic center. Mirek, who is as passionate about history as he is Czech beer, waltzed us through centuries of royal Hapsburg rule. We followed in the footsteps of Vienna's famed musical greats: Beethoven, Mozart, Schubert, and Brahms. Our tour climaxed on a high note with a bird's-eye view of the former Austrian Empire from atop the 115-year-old giant Ferris wheel at the Prater, a Viennese version of Six Flags.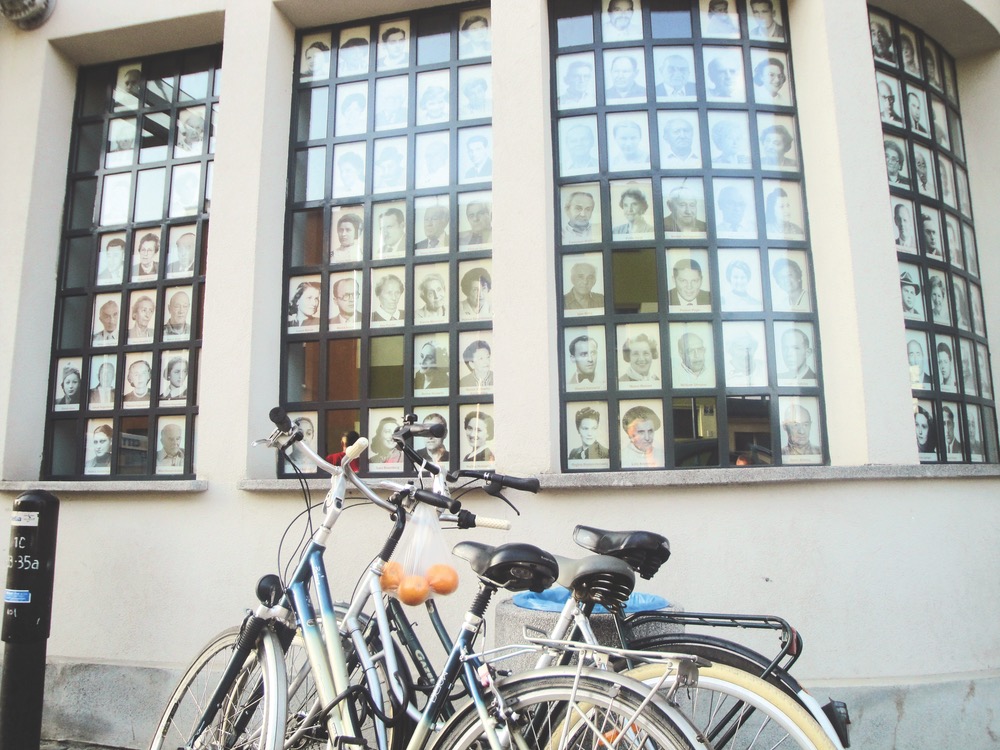 That afternoon several of us took a guided bike tour (www.pedalpower.at) and ventured beyond Vienna's compact Ringstrasse, which is lined with imperial museums and Viennese coffee houses. Farther afield, we explored whimsical Hundertwasser Village (www.kalke-village.at) with its quirky, eclectic architecture, artsy shops, and Toilet of Modern Art, then pedaled along the Danube lined with cruise boats.
We returned to the heart of Old Town for an evening under the stars. The classic comic opera Don Pasquale played on a five-story-high screen hung from the Old Rathaus (town hall). Irresistible aromas wafted through the air from food booths serving Austrian specialties, like Wiener schnitzel and Paul Bunyan–sized skillets of Kaiserschmarr'n (strips of fluffy caramelized pancakes) with fresh blueberries and vanilla sauce.
The next morning, we took a train to Slovakia's capital, Bratislava (brah-tee-SLAH-vah), which is nestled on the Danube between Vienna and Budapest. These days, Bratislava's meandering Old Town has a playful, lighthearted vibe: cobbled streets with lampposts and baskets of trailing flowers, boutiques, and lively cafés. Fountains, fifty in all, cascade throughout this City of Fountains, and whimsical peeking statues appear everywhere—from around corners and even from a manhole!
From the top of Bratislava's medieval castle, panoramas extend over charming red-tiled rooftops and across the Danube, where the Soviet-era New Bridge, with its UFO design, looks oddly out of place. Before returning to Vienna, we ate a traditional Slovak lunch of sausages and homemade gnocchi-like Knödels washed down with thirst-quenching Kozel pivo (beer).
On day four, we bid auf Weidersehen to Vienna and drove several hours north through the lush Czech countryside to cute-as-a-button Český Krumlov (Chess-kee Krooum-loff), whose fairy-tale appeal extends well beyond its ancient frescoed buildings and idyllic locale on the U-bend of the Vltava River. Creaky Hotel Na Louži (www.nalouzi.cz), snuggled in a quiet nook near the main square, oozes old-world charm and was the most atmospheric place we stayed.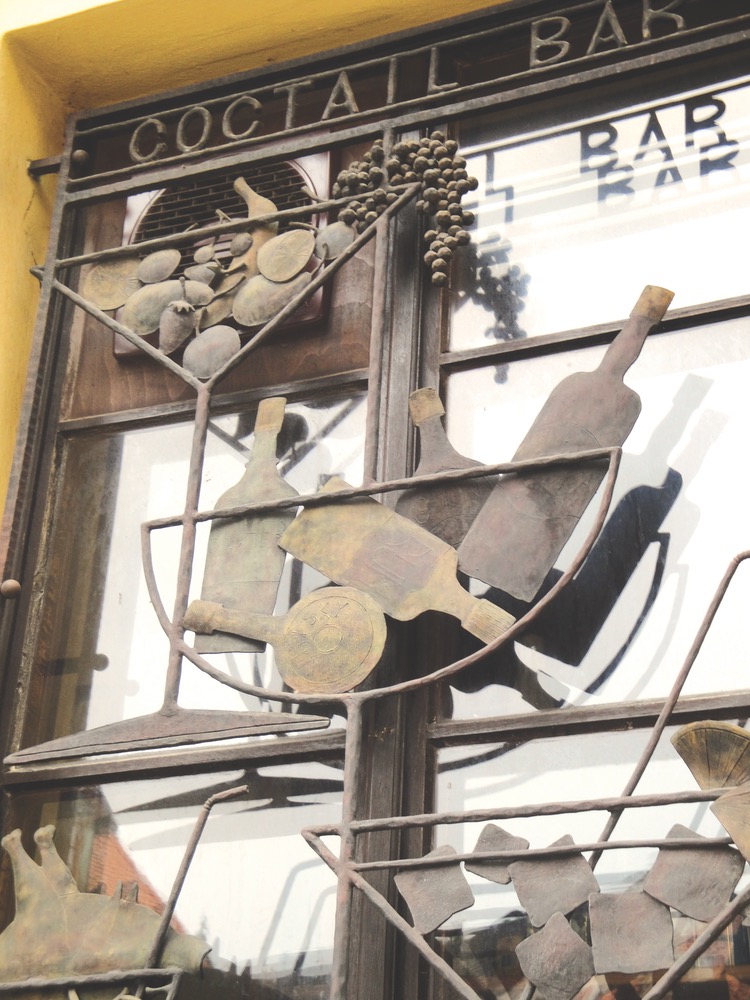 Downstairs in Na Louži's cozy hospoda (pub), garlicky, grilled trout and hometown Eggenberg beer on tap hit the spot. From Český Krumlov's hilly outskirts, we mounted mountain bikes (www.ckvltava.cz) for a wild ride through southern Bohemia's untamed wilderness. Afterward, we explored Český Krumlov's cobblestoned nooks and crannies. Shop windows, adorned with decorative metal and chock-full of handcrafted collectibles, were almost as enticing as the mouthwatering trdelníks—crisp, flaky pastry wrapped around trdels (cylinders) and baked over coals, then rolled in cinnamon sugar.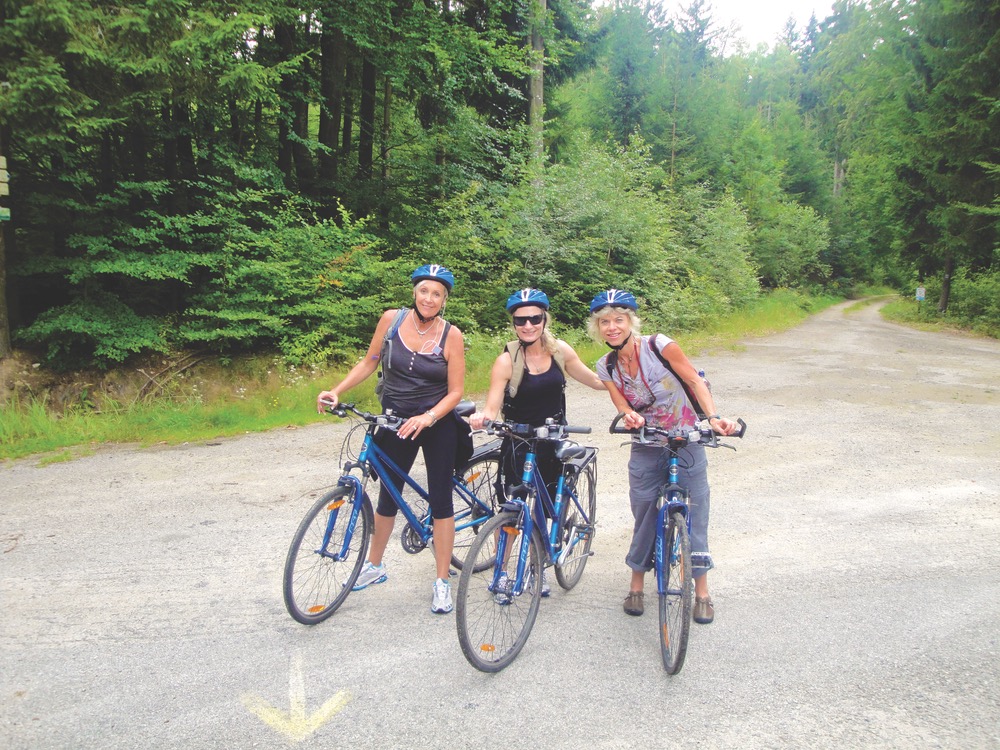 My Bohemian rhapsody continued into the evening. Our local guide, effervescent Ollie, led us on a tour of Český Krumlov's colorful history, which included a protective spirit named Petra who watches over Krumlov Castle. Ollie said Český Krumlov was a beautiful place to be raised, but as a child she always sensed a palpable tenseness and unspoken fear among the adults. Not until she was grown did she learn that her hometown had been under Communist occupation.
Following a picture-perfect sunset, we ate dinner at ye olde Krčma U dwau Maryí (Tavern of the Two Marys – www.2marie.cz), whose historic Bohemian menu features surprisingly delicious medieval peasant fare: millet cakes, potatoes, buckwheat, root vegetables, cabbage, ham, and rabbit. After several rounds of mead (warm spiced wine) and nightcaps, some of us peasants finally crawled into bed.
From Český Krumlov, we continued northward to supersized Prague. After forty years of Communist oppression, the Czech Republic's capital has recently emerged as one of Europe's must-see cities. Befittingly, Prague means "threshold" in Czech, and for many travelers, Prague is their gateway to Central Europe. Besides throngs of summer backpackers, lively "Praha" (as the Czechs call it) has a youthful, year-round population of 1.2 million people.
After settling in our apartments, Mirek led us on a broad sweep of Prague's historic epicenter. Gazing up at the well-preserved structures that surround Old Town Square, it is evident why Prague is called the City of a Hundred Spires. We walked across the iconic, pedestrian-only Charles Bridge, whose broad lanes held dozens of artisans selling inexpensive handcrafted accessories and art. Flowing underneath, the Vtlava River was ten times faster and wider than its trickle at Český Krumlov.
Perched atop the hill on the opposite bank is the world's largest hrad (castle). After circling Prague's Little Quarter with its shady parks, tranquil canals, and graffiti-covered (John) Lennon Wall, we had three days to explore Prague at our leisure.
With all the sights and endless activities that Prague has to offer, I barely scratched the surface. Besides bonding with my new roommates—Katy, Rachel, Adriana, and Eiko—my Prague highlights were visiting the fascinating Museum of Communism (www.muzeumkomunismu.cz/en), Prague Castle (www.hrad.cz/en) with its stunning panoramas, and the Jewish Quarter's museum (www.jewishmuseum.cz). Plus, Prague's shopping and nightlife could not be beat!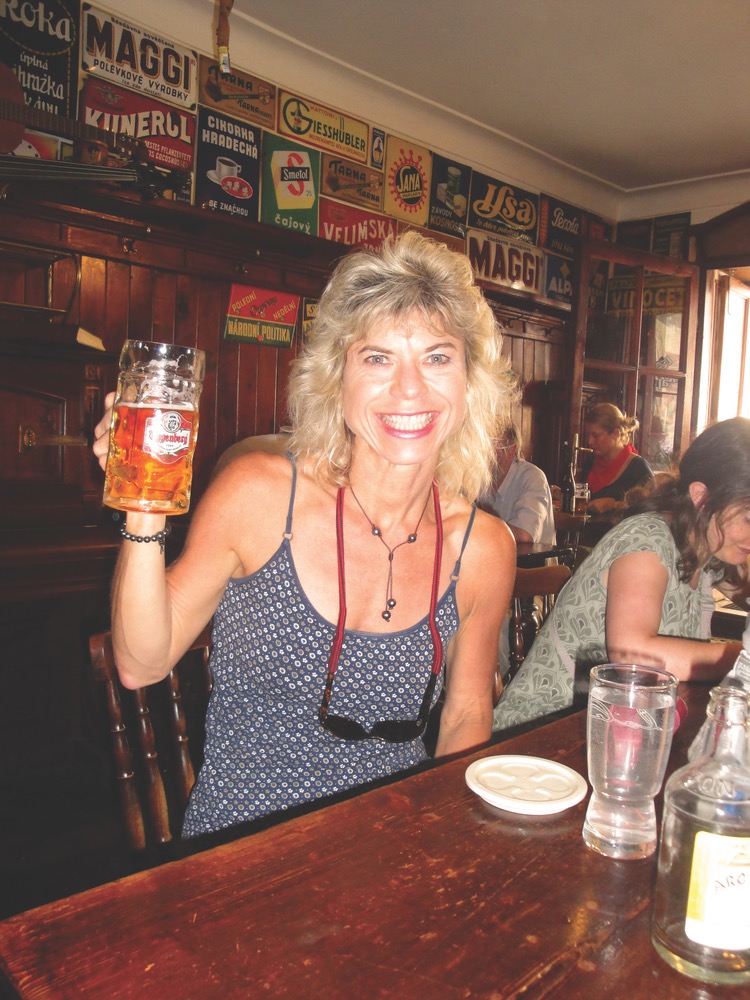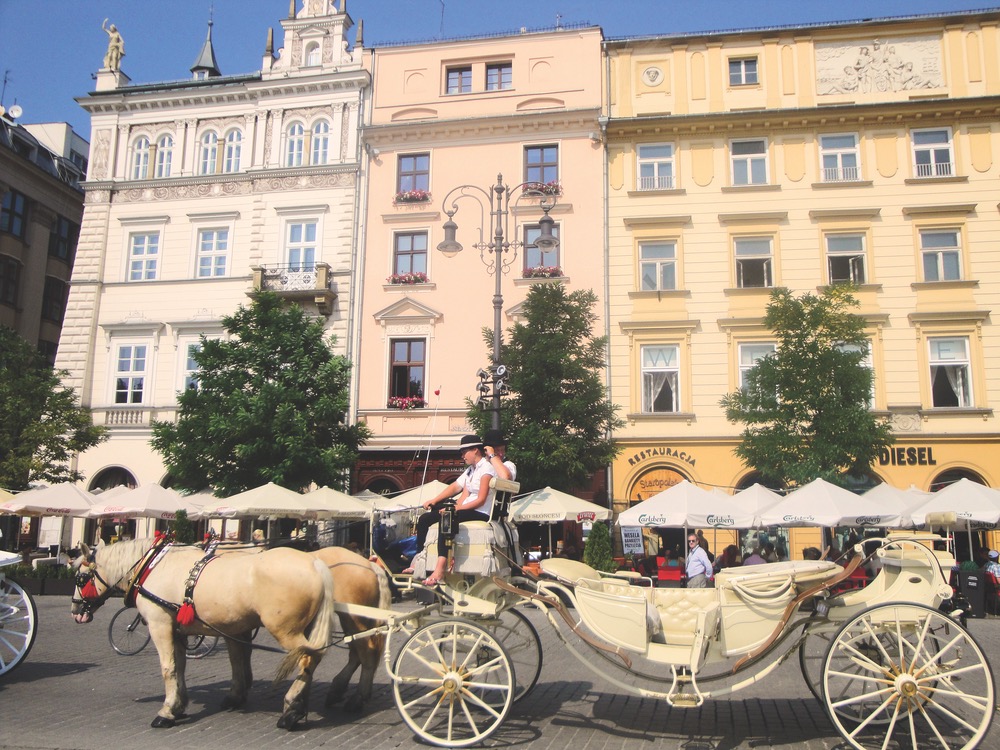 It was a gorgeous Sunday morning as we followed Mirek, like a line of baby ducks with rolling suitcases, to the train station. By lunchtime, we arrived in Teplice nad Metují (Tep-leet-sa nad Met-oo-yee), nestled in the Czech Republic's intoxicating northeastern countryside. At the Adršpach-Teplice Rocks national nature reserve ( www.teplickeskaly.com), we stretched our legs—and necks—while admiring waterfalls and soaring sandstone formations. Afterward, cozy Penzión Severka (www.penzion-severka.cz) offered an enchanting overnight respite.
The morning air felt crisp as we piled into two vans and headed to Auschwitz-Birkenau Memorial and State Museum (www.auschwitz.org) in Oświęcim, Poland, for a heart-wrenching guided tour of the Nazi's largest and most heinous concentration camp. A staggering 1.1 million people, mostly Jewish men, women, children, and infants from as far away as Scandinavia and Greece, were tortured and murdered here.
The rainy drive to Krakow was unusually quiet and somber. Upon arriving at one of Krakow's historic gems, Hotel Polonia (www.hotel-polonia.com.pl), both the clouds and our spirits had lifted. Poland's former capital has been described as the country's most charming city, likened to Boston, and pegged "the next Prague." Krakow is best known as hometown to the late Pope John Paul II, where he is immortalized with rock-star popularity.
Across from Hotel Polonia is the Planty, a lovely park that encircles Krakow's Old Town and whose ancient stone wall hints to its former existence as a medieval moat. The pulse of Old Town is Grand Square (Rynek Glowny), which regularly buzzes with lively cafés, horse-drawn carriages, camera-clicking tourists, and a watchman bugling at the top of every hour!
Straddling sprawling Rynek Glowny is the fourteenth-century Sukiennice "Cloth Hall" where shop stalls brim with reasonably priced leather goods, amber jewelry, chess sets, and wood carvings. Outside the colossal Renaissance building, vendors host daily markets enticing shoppers with more Polish specialties: colorful pottery, homespun lace, wrought-iron wares, novelty-shaped fried cheeses, and irresistible pierogies, ravioli-like dumplings with assorted fillings, like spinach, cheese, sausage, and sauerkraut.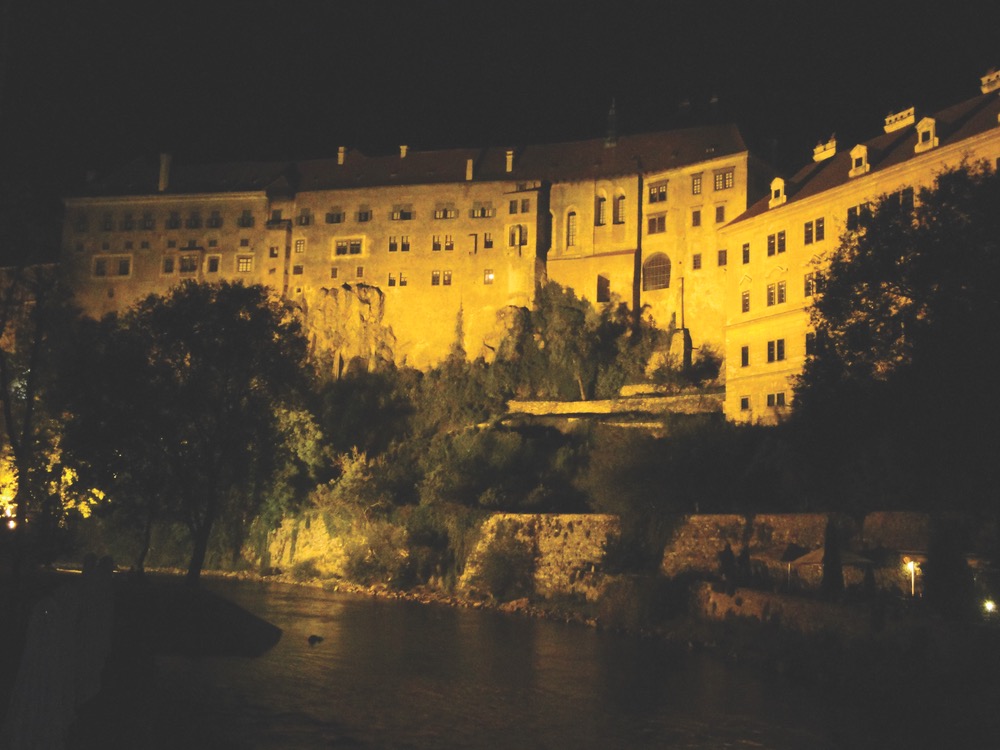 With Krakow Bike Tours, (www.krakowbiketour.com), we took a behind-the-scenes look at Krakow's roller-coaster past. In the less-than-pristine Kazimierz Jewish Ghetto, we visited the small museum at Schindler's Factory, where Steven Spielberg filmed Schindler's List. During a break in Krakow's serene countryside, our guide, who was a passionate history buff and Tampa expat, shared intriguing tidbits about Oskar Schindler and factual events that differed somewhat from Hollywood's depiction.
The morning sun warmed my cheeks while I sipped cappuccino and watched the Grand Square slowly awaken. With remaining zloty (swut-ty) to burn, I loaded up on last-minute souvenirs, and then dashed to catch our afternoon bus to Slovakia. I was psyched about getting high in the Tatras—the highest range within the Carpathians—that sweep across the Polish-Slovakian border. From the bus stop in tiny Tatranská Lomnica, we sloshed our way to bucolic Penzión Encián (www.encian.eu), where we arrived looking like drowned rats. As the saying goes, "When it rains, they pour," so our night quickly evolved into a rollicking Slovakian Grand time!
The next morning, I was in hiker's heaven as we trekked the beautiful Tatry backcountry. At the rustic mountain hut Zámkovského Chata (www.Zamka.sk), we watched huge kegs delivered on foot by Herculean hikers. After zigzagging along undulating alpine ridges that were punctuated with jagged, chalky peaks, Adriana and I decided to run down the mountain rather than ride the gondola back to the village. Despite sprinting in hiking boots and getting caught in a raging downpour, our exhilarating finish was ten minutes earlier than our comrades' arrival. Wa-HOOOOO!
Sunlight streamed through my window as I repacked for our final leg of the tour. The afternoon blurred by as we drove across the Polish and Hungarian borders into Budapest. We checked into the King's Hotel (www.kingshotel.hu), which coincidentally, was located in the same old Jewish ghetto neighborhood where my epic adventure had begun. After Mirek's final hoorah city tour, we reconvened for a farewell dinner at a traditional Hungarian restaurant in downtown Budapest.
Our boisterous laughter reverberated off the worn walls as we reminisced, celebrated, and posed for photos like dear friends who had known each other for decades rather than weeks. While Central Europe's sights and cities far exceeded my expectations, what made my Grand Tour truly grand were my extraordinary new friends with whom I had the great fortune of traveling and the many wonderful acquaintances that I met along the way. From them I gleaned inspiration, enlightenment, and priceless memories that will last a lifetime. Life is a journey; why not make yours a Grand Tour!
— V —
---
Kim Duke-Layden is an international adventurer whose motto is, "I haven't been everywhere, but it's on my Bucket List!" She lives at Sandestin Golf and Beach Resort in Miramar Beach, Florida, with her husband, John, and in between adventures, she's a commercial real estate advisor and a travel consultant. She may be contacted by e-mail at Kim@travelplanners.net.
ARTICLE CATEGORIES