Dim Sum and Other Delights in Beijing
Story and Photography by Kim Duke-Layden
The city that gave us the cinematographic masterpiece Crouching Tiger, Hidden Dragon and the mesmerizing opening ceremonies of the 2008 Summer Olympics, Beijing (pronounced "bay-zhing") embodies all that makes China such a mysterious and wondrous place to visit. With its rich culture, astounding sights, harmonious balance of visitor-friendly modernizations with ancient architecture, and reputation as the capital of one of the world's top ten foodie destinations, Beijing is an exotic buffet bursting with delectable sights, sounds, smells, tastes, and textures. Grab your appetite for adventure and discover Beijing one delicious morsel at a time.
China is as hot as a sizzling wok—and not just because it is a superpower with the world's fastest growing and second largest economy. Currently, China ranks as the world's third most popular tourist destination and is predicted to garner the number one "hot spot" by 2020, according to the World Tourism Organization. Not too shabby since the Middle Kingdom was primarily closed to foreign visitors until 1970. Droves of international business travelers and expats are also flocking here with countless conglomerates like Microsoft, KFC, and Marriott.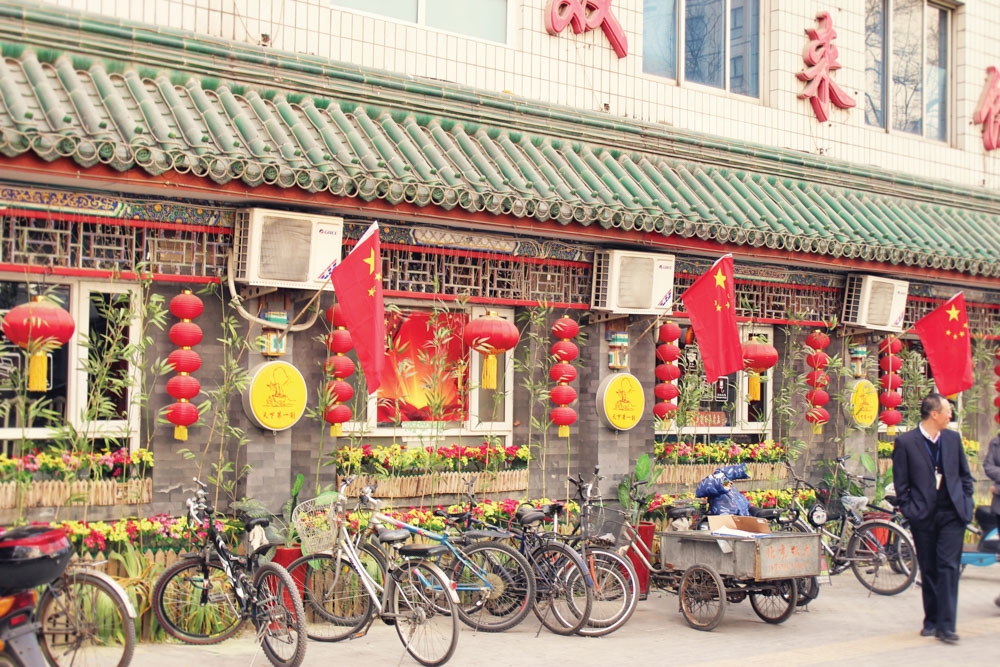 China is the world's fourth largest country and is slightly smaller than the United States, but has the world's highest population at nearly 1.4 billion. In fact, one in every five people in the world is Chinese. Like the U.S., China has dramatically diverse climates and terrains ranging from arid mountains and deserts to hot, humid tropics. Yet China observes only one time zone, which is fourteen hours ahead of central standard time.
Ancient Chinese ingenuity gave the world practical innovations such as paper, printing, silk, porcelain, the decimal system, the wheelbarrow, and gunpowder, yet superstition remains an integral part of the Chinese culture. From colors and numbers to animals and plants, good luck or bad is always an underlying factor. Eight is considered one of the luckiest numbers. It's no coincidence that Beijing's opening ceremony for the Summer Olympics was held on 8/8/2008 and began at exactly eight seconds after 8:08 p.m. In Chinese culture, the two luckiest colors are red, which also means "happiness," and prestigious yellow—and these two are often seen in combination on everything from paper lanterns to temples and palaces.
Formerly known as Peking, Beijing is situated in northeastern China on an arid plain surrounded by mountains and has been the country's cultural, spiritual, and political epicenter for centuries. Often referred to as China's Washington, D.C., Beijing is a self-governing municipality and the government seat for the Communist Party of China, which controls the People's Republic of China. Twenty-one million people call vibrant, bustling Beijing home. In preparation for the 2008 Olympics, dramatic improvements were made to bring many of the city's buildings and much of its infrastructure into the twenty-first century; improvements included a state-of-the-art international airport and subway system, both of which cater to Westerners with dual language signs and announcements in English.
Beijing is the epitome of yin and yang (harmony and balance) between the past and present, and perhaps that's what makes this city so enchanting.
Beijing is the epitome of yin and yang (harmony and balance) between the past and present, and perhaps that's what makes this city so enchanting. Unlike many of China's cities that have experienced rapid redevelopment, Beijing has retained many of its ancient Buddhist temples and hutongs, which are alleyways with traditional courtyard dwellings where families shop and gossip, cook meals, wash clothes, and share communal bathrooms, and where bicycles outnumber cars. A smoky coal scent permeates the air and is as constant as the Gulf Stream. Tucked within Beijing's Dongcheng district in a hutong hideaway is where my epicurean adventure began.
I peered ahead as my taxi inched between the gray walls lined with scraggly trees, battered bicycles, a barbershop, a police station, and hole-in-the-wall shops and eateries. Finally, I caught a glimpse of gleaming red and yellow lanterns and knew that we were nearing the Double Happiness Courtyard Hotel (hotel37.com). Gold lion statues guarded each side of the giant red gate. Inside was a small courtyard with a rickshaw topped in a red-and-yellow-fringed canopy. Farther back, doors led to a reception desk, where two young brunettes stood wearing red-and-gold silk jackets. The last words I expected to hear were, "Hi! You must be Kim."
Two hundred and fifty years ago, this marvelous villa-turned-boutique hotel was a beautiful, urban oasis for a Qing (pronounced "ching") dynasty scholar. It features traditional Old Beijing architecture, Chinese artifacts, and colorful courtyards. Atmospheric guest rooms have original stone floors, porcelain tea sets with tins of jasmine and green teas, and hand-carved Chinese furniture—plus, modern bathrooms, flat-screen TVs, air-conditioning, in-room PCs with Wi-Fi, and minifridges. Guests are swaddled in a silk duvet of Chinese hospitality and fed scrumptious "East-meets-West" breakfasts. Not surprisingly, this inexpensive gem ranks among Beijing's top three hotels on TripAdvisor.com.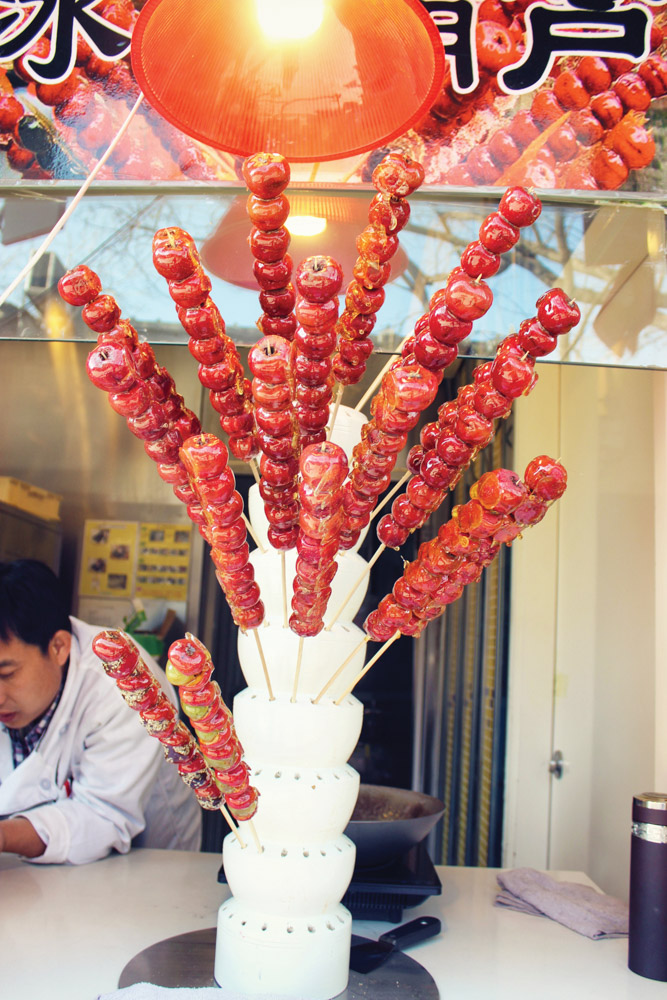 Beijing's famed cuisine is reason enough to visit, and none of it is more iconic than Peking duck. Sleek, modern Da Dong Roast Duck Restaurant is the place to enjoy "super lean" duck bliss. Slow roasted and rotated by hand over an open flame until crispy and brown, your succulent duck is then carved tableside by Da Dong's chefs. It's accompanied by teensy crepes and sesame rolls, juliennes of scallions and radishes, garlic puree, hoisin sauce, and a tad of sugar for sprinkling on the duck crackling. Afterward, we were served a Beijing specialty, candied fruit kebobs, and their crunchy and creamy duality was insanely addictive. Da Dong has several locations, but I recommend the one at 22A Dongsishitiao, Dongcheng District (telephone: 86-10-5169-0328; no website).
One of Beijing's oldest and most alluring streets is Nan Luo Gu Xiang, which means the "hunchback lane" because the middle rises higher than the ends. These days, the converted eleventh-century hutong entices tourists with cheerful red and yellow lanterns hanging from trees and trendy boutiques selling designer cashmere, furry hats with animal-claw sideburns, jade and porcelain, assorted teas, and "Made in China" tchotchkes. Stop in the X-Creativity Soul Art Shop, a spiritual folk art gallery that specializes in polymer clay art figurines of Lord Rabbit, Beijing's lucky mascot. Outside, dotting the lane, were rickshaws containing willow branches that stooped-over street sweepers used for keeping areas clean.
The air is perfumed with enticing aromas from the hundreds of international restaurants, food stalls, and street carts.
The air is perfumed with enticing aromas from the hundreds of international restaurants, food stalls, and street carts. Tickle your taste buds with whatever suits your fancy: tanghulu (candied fruit kebobs), sushi, "stinky" tofu, Spanish churros, French macarons, fried curried fish balls, and even Starbucks. You can figuratively snack your way around the world. Long queues of locals waited for ginormous crepes filled with fried eggs, fried tofu, and chopped scallions slathered in chili paste. I warmed up with an Irish coffee at Sandglass Cafe, a cozy throwback to Beijing in the 1950s with vintage decor and "Nine Million Bicycles (in Beijing)" playing on the stereo. As day transitions into night, this entertaining enclave takes on a Bourbon Street personality with lively bars and street markets.
Tucked away off one of the side streets is the Black Sesame Kitchen, where I indulged in their Friday night Wine 'n' Dine (blacksesamekitchen.com/wine-n-dine). Along with twenty-two other epicureans, mostly Westerners and expats, I shared ten courses of regional cuisine paired with free-flowing Aussie and Kiwi wines in a jovial communal setting. Our trio of chefs whipped up mouthwatering seasonal specialties: pan-fried pork and pumpkin dumplings—note: vinegar is the customary dumpling condiment—beer-braised pork ribs, black beans and chicken, five-flavored eggplant, Chongqing squid with spicy peppers, and candied yams with black sesame ice cream. (Did you know the Chinese invented ice cream? It included rice, and after Marco Polo took the recipe home to Italy, it evolved into gelato!) Dinner was a great value at 300 renminbi—roughly US$50 per person. Advance reservations are essential.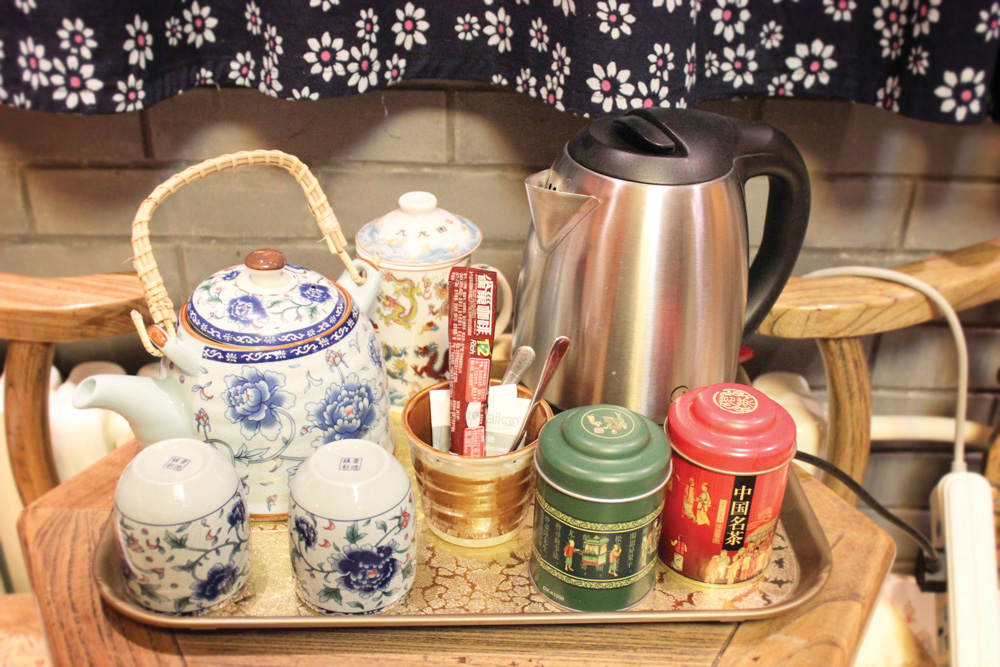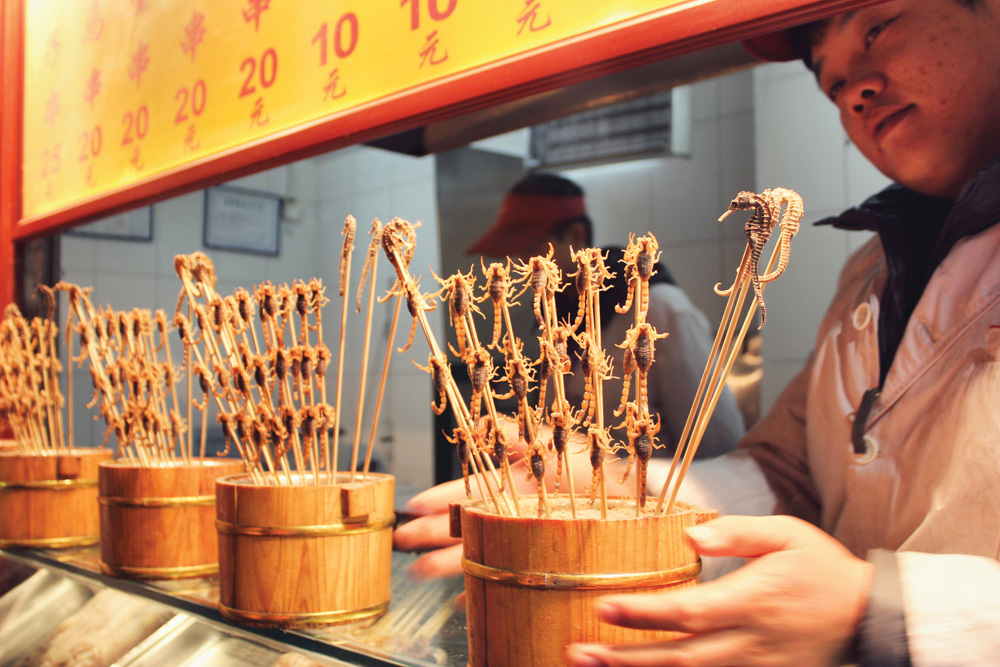 If you're interested in delving deeper into Chinese cuisine, book a tour or cooking class with The Hutong (thehutong.com), Beijing's cultural exchange center. Along with four expats, I toured a "wet" market, which means they sell fresh produce like oranges (which originated in China, by the way), plus foot-long, prickly Chinese mountain yams and lotus roots that when sliced resemble white pinwheels and taste like water chestnuts or potatoes. We saw bins of colorful duck eggs that had been fermented in lye and are often given as gifts, as well as purple steamed buns made from taro flour, and hairy crabs that are a wintertime specialty. Afterward, I happened upon a small café and stopped for some dim sum, which is China's version of "afternoon tea." In between perfumed sips of jasmine tea, I nibbled on creamy daan taat (egg custard tarts) and guotie (steamed dumplings filled with meat and cabbage).
After three nights in my homey hutong hotel, I hugged my wonderful hosts Jaclyn, Nancy, and Steven goodbye and posted their photos on Facebook, a first for them since China blocks access from their Internet and mobile devices. Across town, I checked into the contemporary high-rise Chong Wen Men Hotel (chongwenmenhotelbeijing.cn), which is located near two megamalls and the subway. That evening, I joined a group of fellow travel consultants for an eight-day China Express tour with budget-friendly outfitter, G Adventures (gadventures.com), which I had previously traveled with in Guatemala and Peru. Collectively, the sixteen of us represented Canada, Mexico, and the U.S., and our endearing guide, Andy, was from China.
After orientation, we got acquainted over a group dinner at a nearby restaurant, where we kicked off the evening with several rounds of Beijing's local brew, Yanjing, and some Great Wall wine.
After orientation, we got acquainted over a group dinner at a nearby restaurant, where we kicked off the evening with several rounds of Beijing's local brew, Yanjing, and some Great Wall wine. Most moderately priced restaurants in China are typically family-style and have a big lazy Susan in the center of each table. Andy ordered a plethora of flavorful local dishes: dumplings, assorted garlicky vegetables, including pea shoots that resembled bok choy, flavorful chicken and pork dishes, and a couple of Peking ducks that barely made a full rotation around the table. Rice is typically served last, which to us Westerners was odd, but to the Chinese, if served first, it implies that the other courses aren't adequate.
In traditional Chinese restaurants, dessert is about as common as fortune cookies—they're an American creation. For an after dinner snack, we visited Wangfujing's famous night market, which is renowned for its fried insects and other exotic critters. While most of us mustered up the guts to eat a fried scorpion, which tasted like a spicy pork rind, only the Andrew Zimmerns of our group had the stomach to bite into a seahorse, a starfish, or a butterflied bat. But hey, when in Beijing—
Another fun night on the town is attending one of Beijing's Chinese operas or kung fu shows. Martial arts aren't typically my cup of tea, but I thoroughly enjoyed The Legend of Kung Fu. Held at the dazzling Red Theater, the Tibetan monk storyline had a Karate Kid appeal but also included acrobatics, karate, dancing, music, and colorful costumes.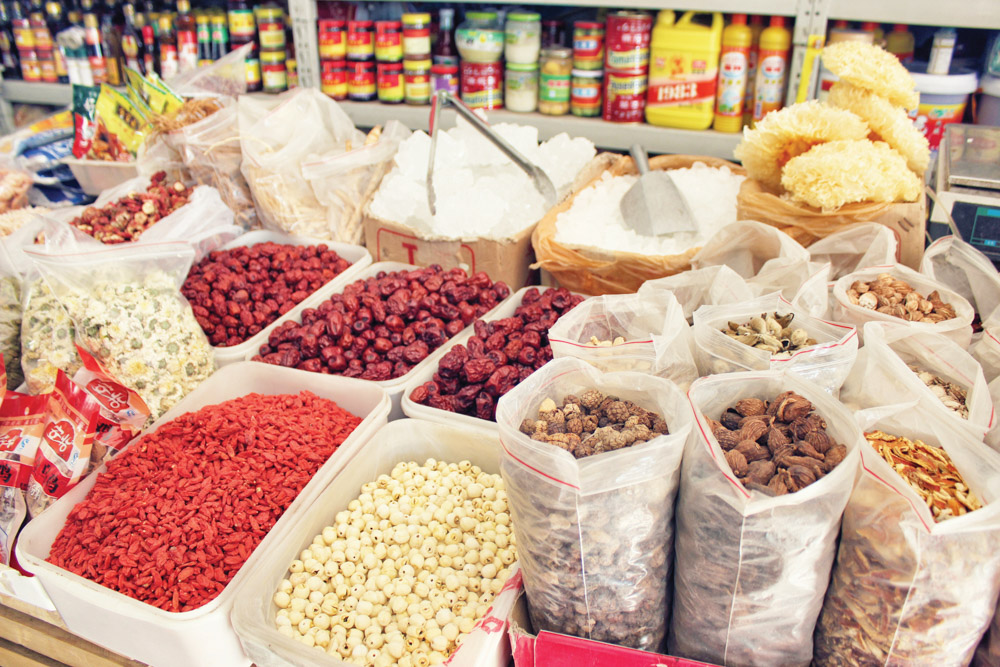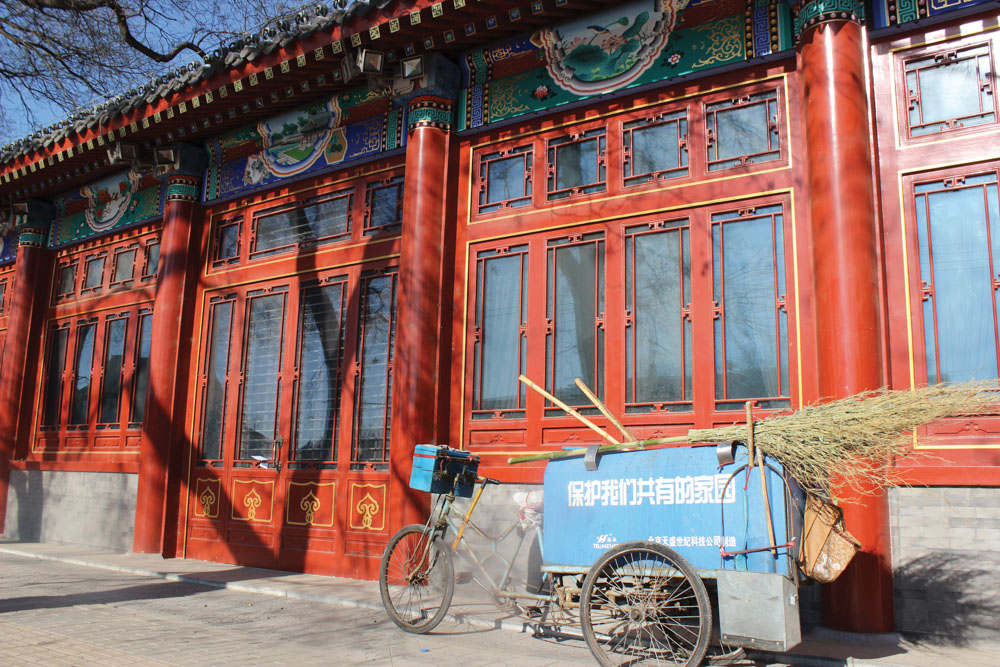 For breakfast, I ventured outside the hotel and followed my nose to a nearby street vendor, who served delicious hot-from-the-griddle youtiao, a pancake folded around egg, ham, and crunchy veggies. The chilly, sunny morning was perfect for visiting China's famed Great Wall. While our bus driver maneuvered through snarled traffic and a cacophony of honking horns, graceful septuagenarians practiced tai chi in front of Beijing's ancient surviving city walls. Andy joked that he had never witnessed a traffic jam until ten years ago, but now it's a daily occurrence. Astonishingly, only a decade ago this congested hub of five million cars was known as a "bicycle city."
Andy astounded me with another comment: "Beijing is the size of Belgium." Seriously? My husband, John, and I spent two weeks cycling through Belgium and didn't come close to seeing it all. No wonder expats said they barely scratched Beijing's surface after living there a year. As we neared Mutianyu's wall, known for having lush scenery and smaller crowds, Andy told us a famous Chinese saying about the wall: "Who has not been to the Great Wall is not a true man or true hero," which he explained means, "Go there and see what an accomplishment it is compared to your own struggles." Mutianyu's wall has been impeccably restored to its original grandeur and offers great hiking and views. You can also take a gondola up and back, but for my trip down, I preferred to blast back to the past on the thrilling downhill luge! This fifteenth-century marvel is a definite must when visiting Beijing and was a thrilling highlight of my trip.
The sheer magnitude of just one of these palatial compounds was staggering, but nine was absolutely mind-blowing!
Tiananmen Square is physically located in the center of Beijing. Andy expressed profound sentiments about its significance as the "heart of his homeland" and that all Chinese want to visit here at least once in their lifetime. Outside China, the square is infamous as the horrific site of the 1989 government protests, where hundreds, and likely thousands, of unarmed civilians were savagely murdered. However, within China's own borders, continued government censoring has virtually erased the event from Chinese history. Throughout the square, lampposts are fitted with video cameras, and both uniformed and plainclothes policemen eavesdrop on tour groups. Several guides who "veered off script" have disappeared and never been heard from since.
Across the street stands the famed Forbidden City, where China's lavished-in-luxury emperors reigned for five hundred years. We entered through the Tiananmen Gate, where late Chairman Mao Zedong's huge portrait remains. The thirteenth-century palace comprises nine imperial complexes, each containing an elaborate gate, a vast courtyard, and exquisitely detailed wood buildings. The sheer magnitude of just one of these palatial compounds was staggering, but nine was absolutely mind-blowing! The structures grew closer and more intricate in detail the farther we advanced. On the ends of the rectangular yellow-and-red-tiled rooftops are ornate carvings featuring dragons and other mythical animals associated with water, which were supposed to protect the rulers from fire. Underneath, intricate designs painted in jewel-tones embellish the eaves and often feature dragons, China's mightiest animal and symbolic of the emperor and good luck. Regal palace doors painted red, yellow, and green with a lucky number of iron pegs adorn many buildings. Statues of animals and urns for burning incense are abundant, but surprisingly, no trees grace the Forbidden City grounds. According to feng shui, trees represent prison and interfere with qi ("chee"), or energy flow.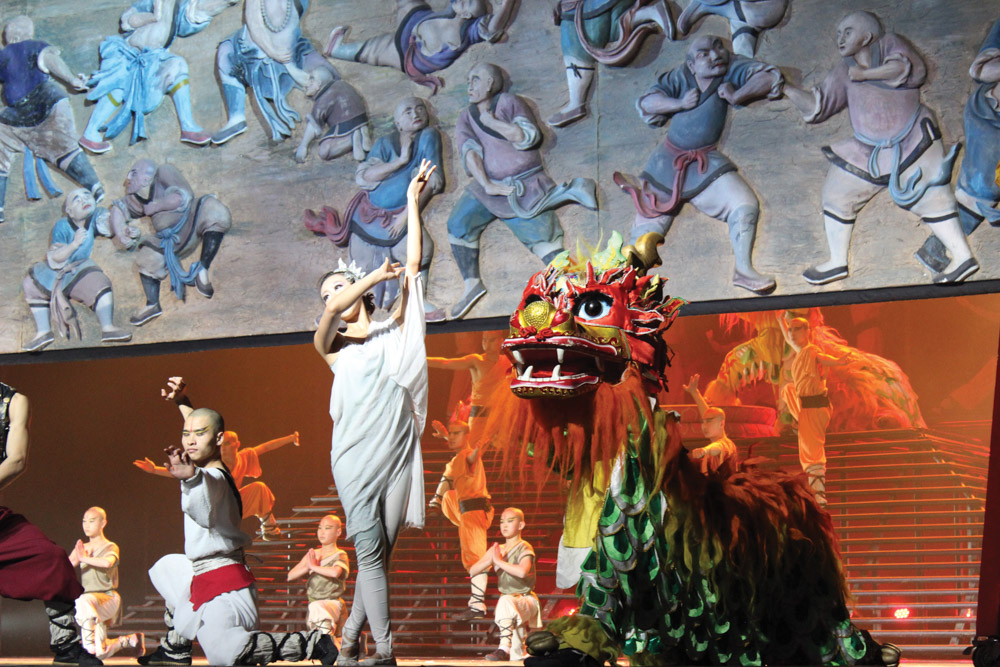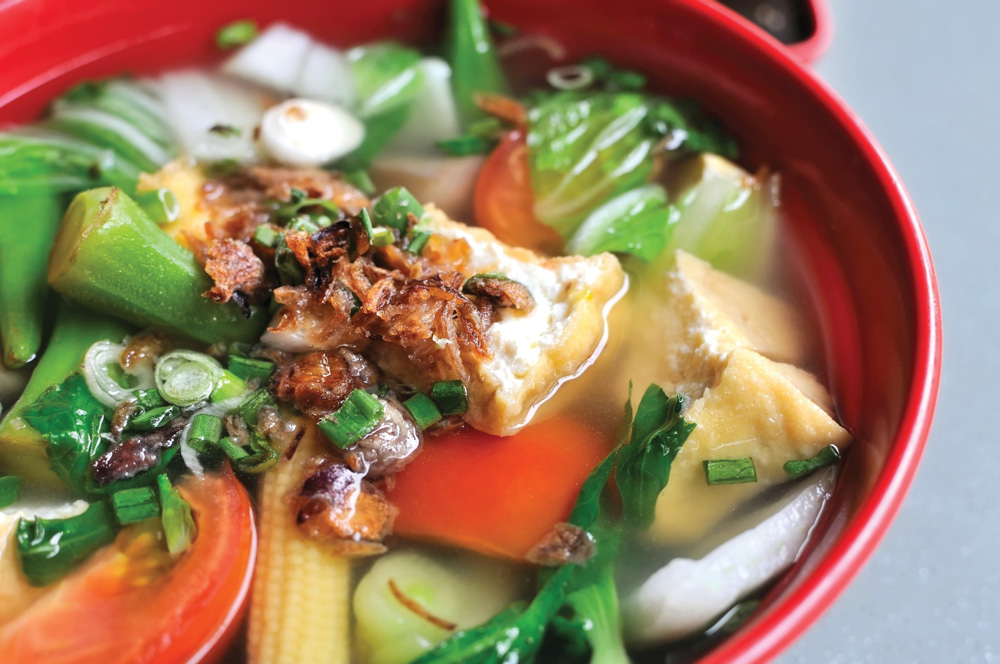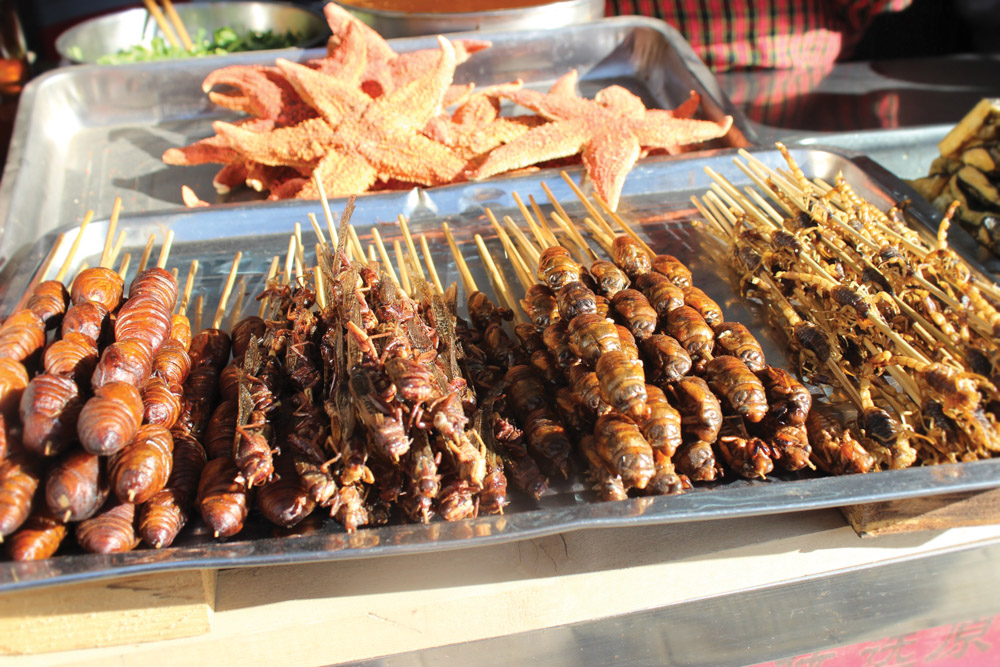 Before departing this enthralling city that exceeded all my expectations, we relished our last hours by slurping homemade noodles served in ceramic bowls as big as sinks and toasting "Ganbei" ("gon-bay") to a wonderful introduction to China.
Good luck was abundant during my visit because the skies above Beijing couldn't have been sunnier or clearer. Unfortunately, China's cities continue to grapple with significant smog problems. In fact, Beijing almost had to cancel its centuries-old tradition of fireworks when it recently rang in the Year of the Horse. Hopefully, this incredible superpower, equipped with deep pockets and centuries of ingenuity, will step up their pollution-fighting efforts and heed the sage advice of their fourth-century philosopher, Lao Tzu, who said, "If you don't change direction, you may end up where you are heading."
— V —
ARTICLE CATEGORIES