REEDS Takes Fine Jewelry to Another Dimension
By Angela Diffly | Photography by Brenna Kneiss
Founded in 1946 by Bill and Roberta Zimmer, REEDS Jewelers remains family owned and operated today, with nearly seventy stores in thirteen states throughout the Southeast. The philosophy of its founder, Bill Zimmer, is rooted in the principle "You've just got to do right by people"—a simple yet somewhat elusive quality among many businesses.
As I walked into the Panama City Beach REEDS store, located in a lovely outdoor shopping complex called Pier Park (a Simon Mall), I was a little intimidated. I don't usually wear fine jewelry, so I didn't know what to expect from the upscale store environment. I had some old rings I was hoping to revitalize and turn into a new creation.
In order to design my custom piece, I was guided through a process that involved collaboration with store manager and designer Jerome Gray. Gray told me he had transferred from the company's Memphis store, where he spent six years selling mostly big-ticket brands.
Saving the Store
The Pier Park store is one of REEDS' newer locations, having relocated from the Panama City Mall when the Simon Mall opened to the public in 2008. Due to the newness of the mall itself, the store didn't perform well for the first few years after the move. "Our owner was thinking of shutting the store down," Gray recalls. "He said, 'Jerome, go down to the new Pier Park store for eight months and we'll see if we can turn it around.'" He goes on to explain, "I didn't have enough Rolex watch sales here to do two million dollars, so we had to generate our own business." That decision changed the trajectory of the Pier Park REEDS store and created a game-changing differentiator, along with impressive new revenue streams, for the entire franchise.
Gray got to the Pier Park store, and there he discovered a secret weapon: third-generation master jeweler David Adamson, who had been with the company since the early 1980s. "He was doing a lot of custom jobs just using torch and heat, and it got to where our imaginations outgrew the process," Gray says. "We thought if we could get a 3-D printer, we could do so much more." He says most jewelers have an Achilles' heel when it comes to technology, "but not Mr. David Adamson. He really opened my eyes to what was possible." Just three months after Gray took over as manager at the Pier Park store, Gray and Adamson together convinced the store owner to take a chance on 3-D printing.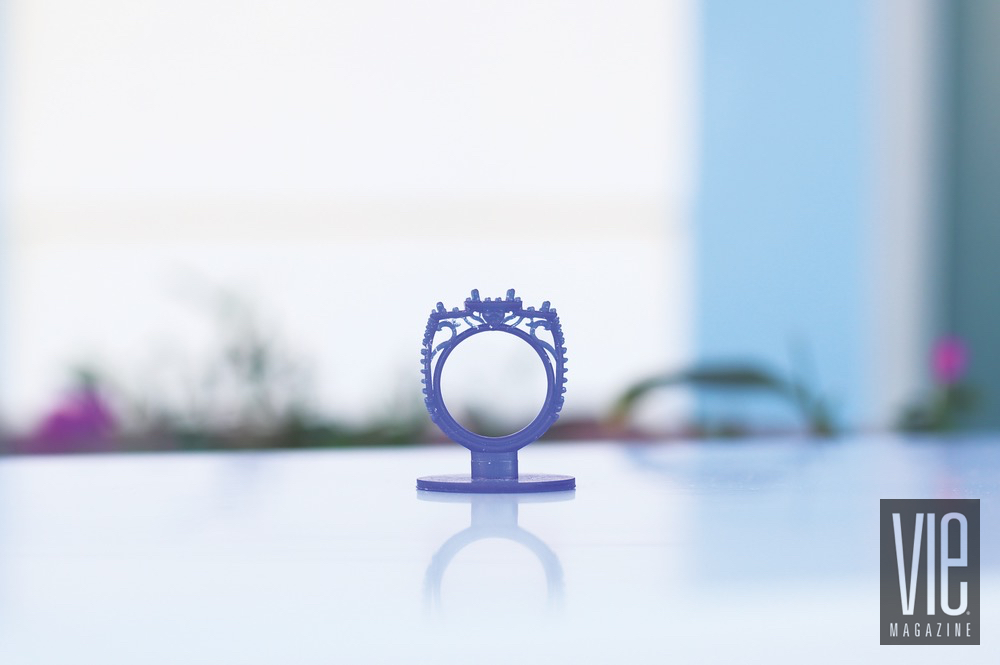 The Game Changer
"We had the idea to purchase a small 3-D printer and instead of hand-carving a wax mold, which would take hours and hours of artistry, we'd just let the 3-D printer do it for us," notes Gray. "We could get more detailed and cut down customer wait times." It used to take about eight weeks to create a handmade custom piece of jewelry. Now, Gray says, "If we meet you on a Monday with a cocktail napkin drawing, you can pick up your ring, diamond set in gold and platinum, on a Friday afternoon." He calls the process an "aha moment" and equates it to Henry Ford's conception of mass-production assembly lines. Gray told me that ten years ago, custom jewelry took ten to twelve hours of design and six to eight weeks of carving, which added up to ten thousand dollars just for the labor. With 3-D printing, that price is sliced in half.
The first-generation 3-D printer REEDS purchased was not very expensive, but it provided a proof of concept. "Our sales went up right away," Gray says. Since then, the store has upgraded to the Formlabs Form 1 3-D printer with high-resolution allowance and Rhinoceros 3-D software. Within the first six months, the 3-D technology had paid for itself. "As the years go forward, we'll do a lot more investing in this," predicts Gray.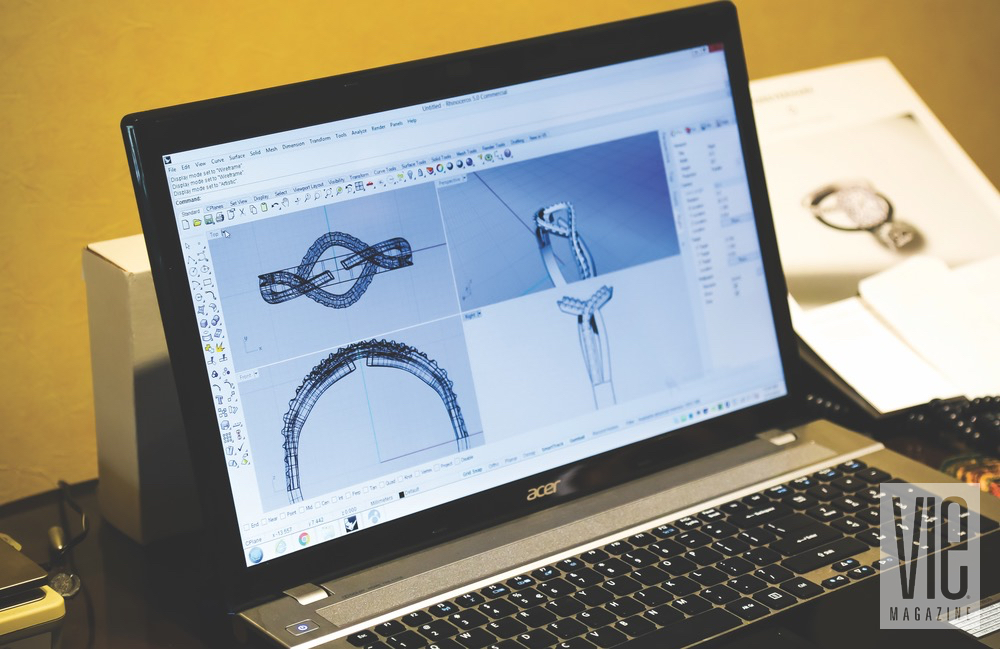 All Things Are Possible
When I asked why they did not replicate the model in other stores, I found out it's not that easy. The Gray-Adamson team has a winning combination of design expertise and technological know-how. It's a formula that works well. Gray is the designer jeweler, manipulating the software on the front lines and collaborating with the customer to define a perfect, one-of-a-kind design. Adamson is the hands-on bench jeweler. His work includes a complex and detailed technical process that spans from printing the file on the 3-D printer and creating a cavity of the resin model to bead blasting, cleaning, polishing, and setting, and then more polishing and detail finishing. As Adamson puts it, "The journey from idea to finished jewelry can seem long and complicated, but to a jewelry designer, it's a labor of love!"
Before they introduced 3-D printing, the store was only doing one or two custom designs a month. After the inception of the 3-D process, that turned into one per week during the first year.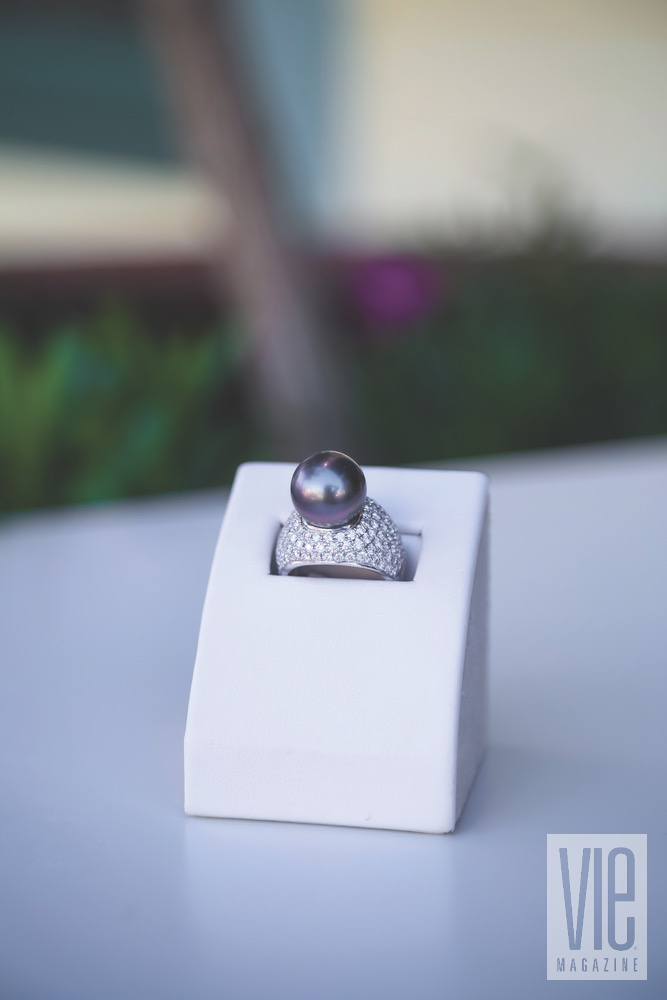 Word got out about REEDS' new technology, and orders came pouring in. Before they introduced 3-D printing, the store was only doing one or two custom designs a month. After the inception of the 3-D process, that turned into one per week during the first year, and now they're up to about two per week. According to Gray, in December 2015—the company's busiest month ever—they created twenty-five to thirty custom designs.
While traditional jewelry stores used to offer simple engraving, 3-D printing allows REEDS to incorporate creative fonts and designs into pieces such as necklaces with names (even in foreign languages), dog collars, and rodeo belt buckles—and these can become big-ticket items. One of the store's dog-collar creations, for example, cost nearly seven thousand dollars. "With 3-D printing, all things are possible," Gray says.
Made In America
Other jewelry stores offering 3-D printing are outsourcing it to larger manufacturers abroad (60 percent is done in China and 30 percent in India, according to Gray). The large-scale production allows companies to save in labor costs, but the process may suffer due to other factors, such as limited design options and the extra time and expense to ship items and clear customs.
Very few jewelry stores (if any) have the capacity to do 3-D printing in-house. The Pier Park store remains the only store under the REEDS umbrella with this capability. Since the jewelry is customized from start to finish by REEDS, the company can proudly proclaim the products to be 100 percent American made.
Sweet 3-D Success
The Pier Park mall really picked up after a few years of operation, with growth of about 18 percent. Thanks to 3-D printing's limitless custom-design possibilities, REEDS is one store in the mall with even more impressive growth, having doubled its business over the past two years.
Gray modestly credits Adamson and his staff for the success. "They really grasp that customization is our big differentiator," he says. A large portion of the company's revenues now comes from customization, and much of the store's diamond business has some element of customization to it.
A large portion of the company's revenues now comes from customization, and much of the store's diamond business has some element of customization to it.
As for me? In the end, I'm glad I wandered into REEDS instead of one of its competitors. My ring turned out better than I could have imagined. I went through the entire design process: looking at 3-D renderings on a laptop in the store, choosing among several designs sent to me via e-mail, selecting the exact stones (for just the right pinkish color), and even bringing in old jewelry to offset my costs. It was all done in a matter of weeks. I'm thrilled with the end result: a one-of-a-kind creation I designed with the help of my friends at REEDS. (I'm looking at you, Jerome Gray).
REEDS, for its part, is thrilled with the return on its investment in 3-D printing. In addition to the healthy bottom line, the retailer earns a deeper level of customer loyalty with every customization project—something even the largest retailers are clamoring to do in one way or another.
REEDS took a technological leap of faith with 3-D printing. As a result, the future looks shiny and bright here in the Sunshine State.
— V —
---
Angela Diffly lives locally in Laguna Beach, Florida, and is the founder and editor-in-chief of SMB Retail Technology News (www.smbretail.com). She is always looking for small- to medium-sized retailers doing smart things with technology for her national e-zine. Find her at angela@smbretail.com.
ARTICLE CATEGORIES