By Ainsley Rogers
A vacation, as Webster's defines it, is "a respite or a time of respite from something." That "something" (for those like me) is a hectic schedule, an extensive to-do list, and numerous meetings in a fast-paced workweek. For us, a vacation can seem annoyingly elusive. Nevertheless, capturing a time of respite from the real world is just what I found myself doing this past March when I embarked on a journey to the ancient fishing village of Zihuatenejo, Mexico.
Tracey, my friend and work colleague, and I chose Club Med Ixtapa Pacific for our weeklong destination of relaxation and rejuvenation. Located 161 miles from Acapulco in the Costa Grande region along Mexico's Pacific Coast, this beach resort is nestled just below a mountain range, offering breathtaking views of both the soothing Pacific and majestic peaks—an idyllic natural setting in which to savor an array of expertly designed and delivered amenities. With more than eighty resorts in twenty-five different countries, Club Med employs an impressive staff, adept at anything and everything guests might need in between the cheerful welcomes as they arrive and the sincere good-byes as they begin their sobering departures back to reality. In every instance, resort personnel, articulating their rich native accents from countries around the world, speak the same language through excellent service delivered with a smile and a helping hand. Their mission: to ensure the perfect vacation experience. In turn, Tracey and I had declared the goals we shared for our trip: rest, rejuvenation, and letting the cares of the world slip away. In the proficient hands of Club Med, we experienced how simple that would be.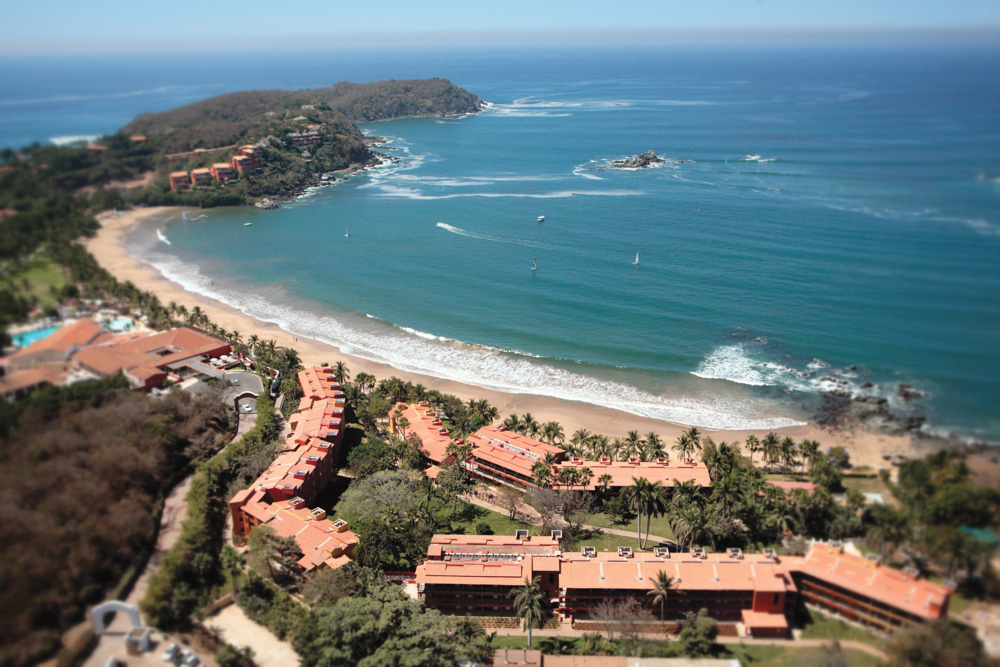 Rest and Rejuvenation
Club Med Ixtapa Pacific's accommodations—298 guest rooms and fifteen suites—offer pleasing possibilities for families, friends, and couples. Decorated in vibrant colors and generously equipped with in-room luxuries, our spacious suite was located in Sol, an exclusive boutique complex within the resort. Along with guaranteeing comfort with ample closet space, multiple bedrooms, and a larger-than-life bathroom, our suite created a fantasy escape amid stunning sunset views and the sound of the waves crashing in the background. Family vacations, friend trips, and romantic getaways become unforgettable thanks to Sol's exclusive amenities, which include a private lounge and services galore: personalized concierge, room service for continental breakfast, turndown service (complete with chocolates on the pillow!), and—perhaps the amenity that spoiled us the most—private beach access. From our secluded cabana, framed by curtains blowing in the gentle breezes, I watched the sun take its daily dip into the water's horizon on that first evening and realized I would be hard pressed to find words that described my luxurious sense of tranquility.
Acclimated to our vacation home, we quickly dived into resort life, beginning with a massage at the Club Med Spa by Comfort Zone, the ultimate indulgence for guests in search of a place "where beauty, well-being, and relaxation reign supreme." Doted on upon arrival, we received plush robes to wear and then followed our escorts to the Zen area for hot tea, where we relaxed on chaises longues facing floor-to-ceiling windows overlooking the Pacific. Only our soft-spoken masseuses, reminding Tracey and me of our appointments, could disrupt our reverie. Calmed by the spa's soft lighting and soothing music, I let the expert masseuse work out the tension and stress in my muscles. I was well on my way to rejuvenation.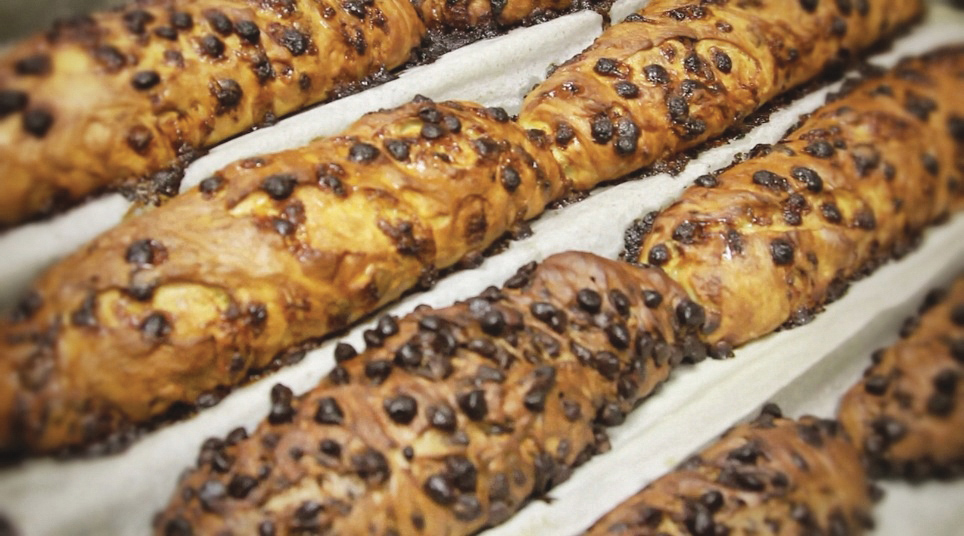 Wine and Dine
Fine dining—without restraint, of course—was a critical part of our rest and rejuvenation process. While staying with Club Med Ixtapa Pacific, we enjoyed the added pleasure of attending Food & Wine magazine's annual Food and Wine Festival throughout the village. Celebrity chefs Michael Symon and Marcus Samuelsson, with wine expert Mark Oldman, joined renowned Mexican chefs in serving decadent wine and food pairings that explored fresh local flavors and traditional dishes with modern twists. We were in culinary heaven as we mixed and mingled with the industry's connoisseurs!
Back at Club Med Ixtapa Pacific, gourmet dining, featuring all-inclusive bars and expansive buffets, prevailed. Appealing to any palate, resort restaurants serve a variety of fresh local seafood dishes, exquisite cheeses, succulent side dishes, and freshly baked breads. Our culinary explorations soon led us to Club Med's acclaimed (and, yes, decadent) white chocolate bread. When we asked, the gracious Club Med chefs provided us with the recipe!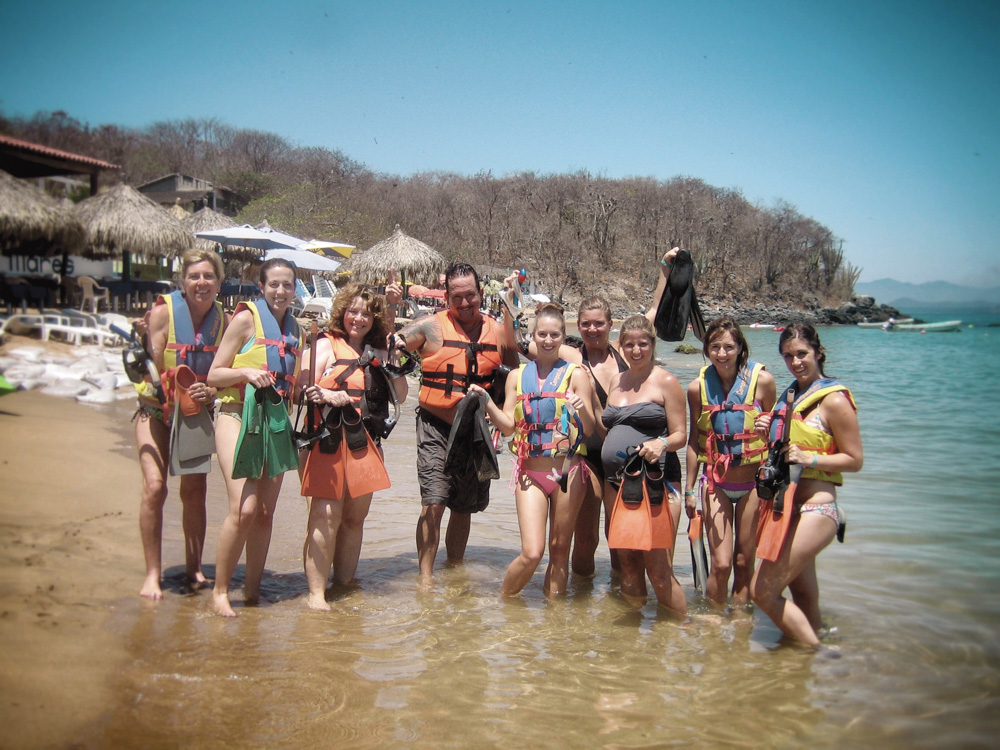 Play and Explore
Along with eating and relaxing, recreation was a priority of our mission to recharge, and, oh, did the resort let us play! Each day posed an enticing selection of adventures. From tennis to archery, instructors offered age-appropriate classes that, in some ways, were reminiscent of summer camp, although no summer camp I ever attended had snorkeling trips to private islands or a full trapeze training session! To prepare for such exploits, Tracey and I began most mornings with a yoga session on the beach. When we wanted less to do, we found a spot by one of Club Med Ixtapa Pacific's many pools. With the perfect proportion of shade and sun, a cocktail is easy to enjoy poolside.
Between the two of us, Tracey proved to be the more daring. To swing on the trapeze, she climbed the fifty-plus steps above a catchall net to a small perch. At that point, directed by a Club Med trapeze trainer, she held only a small bar while hooked to the lines above as she sailed through the air, gracefully turning circles before safely coming to rest on the ground. If she ever decides to leave the magazine industry, she has a future in the center ring under the Big Top!
On one of my favorite excursions entailed a short boat trip to a small local island. Joining Zihuatenejo residents who seek out the spot in the afternoon to play in the surf and eat fantastic local food, we became immersed in the culture. Suiting up in snorkeling gear, we made an underwater circle of the island, catching gorgeous views of vibrant coral and tropical fish—all while keeping a watchful eye out for sharks! After such an exhilarating experience, we decided to dine at a beachside restaurant. Savoring delicious fish tacos and dips, we chatted with the waiters and the chef. No one wanted to leave when the time came to pack up our bags and head back across the water.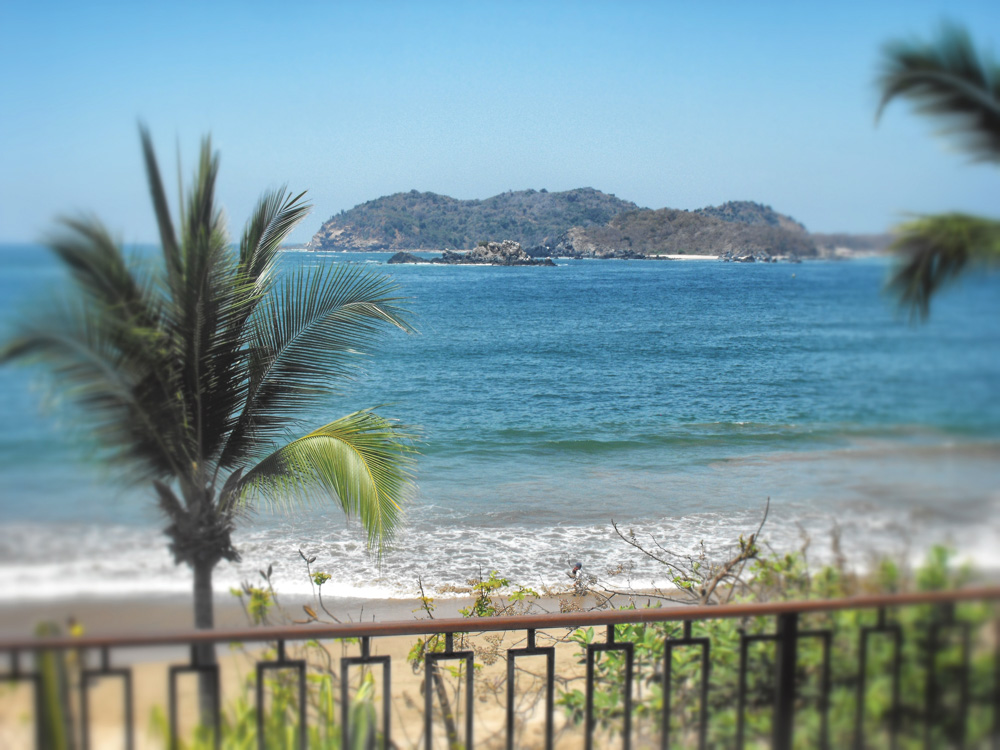 On one of our last evenings in Zihuatenejo, we boarded a sailboat just before sunset to experience the Pacific at dusk. As a resident of Northwest Florida, I am blessed with the opportunity to view beautiful sunsets from my backyard regularly, but this one was uniquely spectacular. Perhaps the camaraderie shared with my fellow passengers on the boat heightened my senses, but I suddenly found myself aglow in the most beautiful golden light. The sun had descended, and, in turn, gilded the water and set the Mexican sky afire in a masterpiece of brilliant pinks and oranges. I had never seen such beauty. If I had to select a single moment that captured the essence of our Mexico vacation—one that absolutely succeeded in providing the utmost rest and rejuvenation—that would be it.
For a respite of your own, visit ClubMed.com for a full list of luxury accommodations and to plan your next vacation.
— V —
---
White Chocolate Bread
Courtesy of Club Med
Ingredients 1 1/2 cups flour 14 grams yeast (2 packets) 1/4 teaspoon salt 2/3 cup water 6 ounces white chocolate chips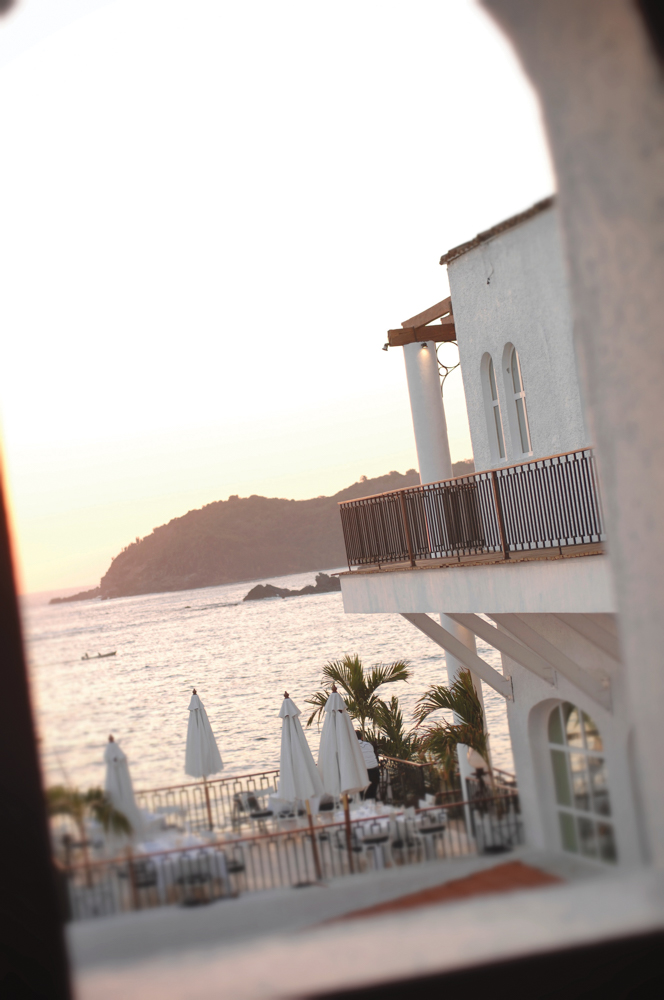 Directions Place the flour, salt, and yeast in the bowl of an electric mixer. Mix on medium-low or first speed for one minute. Add 2/3 of the water at first, then add the rest as needed and mix for ten minutes. If the dough needs more water, add as needed. The dough should be smooth, homogenous, and should not stick to your fingers when you touch it. It should pull away from the sides of the bowl. Add the chips and mix for an additional 2–3 minutes or until the chips are well distributed throughout the dough. Take the dough out of the bowl and lightly knead into a ball. Let rest for five minutes. Preheat the oven to 400 degrees Fahrenheit. After five minutes of resting, pound the dough flat and then form the dough into the desired shape of the loaf you want. This can be done by folding the dough into the middle and sealing it with your palm. Repeat this procedure until you have formed a loaf shape. Place the loaf on a sheet pan lined with parchment paper and let rest for approximately 45 minutes or until it has doubled in size. If you are in a dry environment, place a damp cloth over the loaf. Once the dough has doubled, place in the oven (make sure to place 1/2 cup of water in a pan or directly on the oven bottom to create a vapor) and bake approximately 20 minutes at 400 degrees Fahrenheit or until nicely browned on top. Don't be alarmed if any exposed white chocolate chips get burned—this is normal. Once the bread is baked, remove from oven and let rest on a cooling rack for ten minutes. Serve warm.
ARTICLE CATEGORIES