Baytowne Wharf's Many Surprises
By Sallie W. Boyles  |  
Photography by Romona Robbins
Does The Village of Baytowne Wharf—a little town tucked within Sandestin Golf and Beach Resort—offer attractions and activities that children love? Yes!
Do fun-loving, sophisticated ladies choose Baytowne for their girlfriend outings? Absolutely!
Do couples reconnect over many simple pleasures? Most certainly!
Baytowne's Old Florida ambience—an idyllic setting by the Choctawhatchee Bay with quaint architecture and a welcoming and safe environment—captivates people of all ages and stages in life. Despite The Village's warmth and charm, this is not just another friendly, pretty place. No matter how well traveled, guests and visitors realize how rare it is to encounter Baytowne's special blend of premium offerings in a single, easy-to-navigate location.
Before arriving, you might choose to preview Baytowne's options and the day's calendar of events, particularly if you have certain goals in mind. Nevertheless, go with the flow. An impromptu entertainer or unexpected temptation could easily lure you off course, and that's the idea!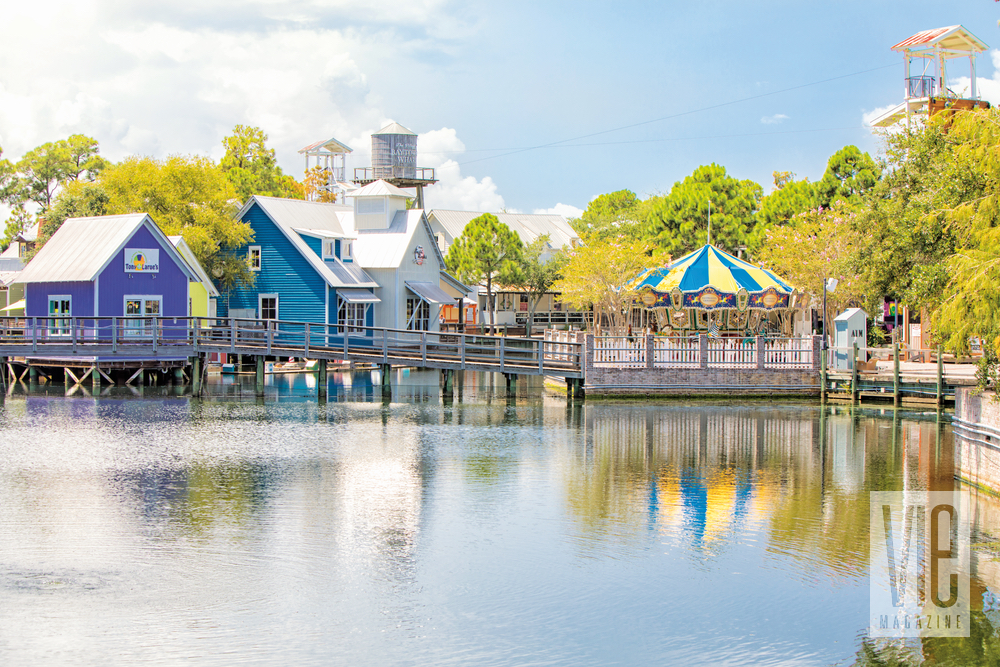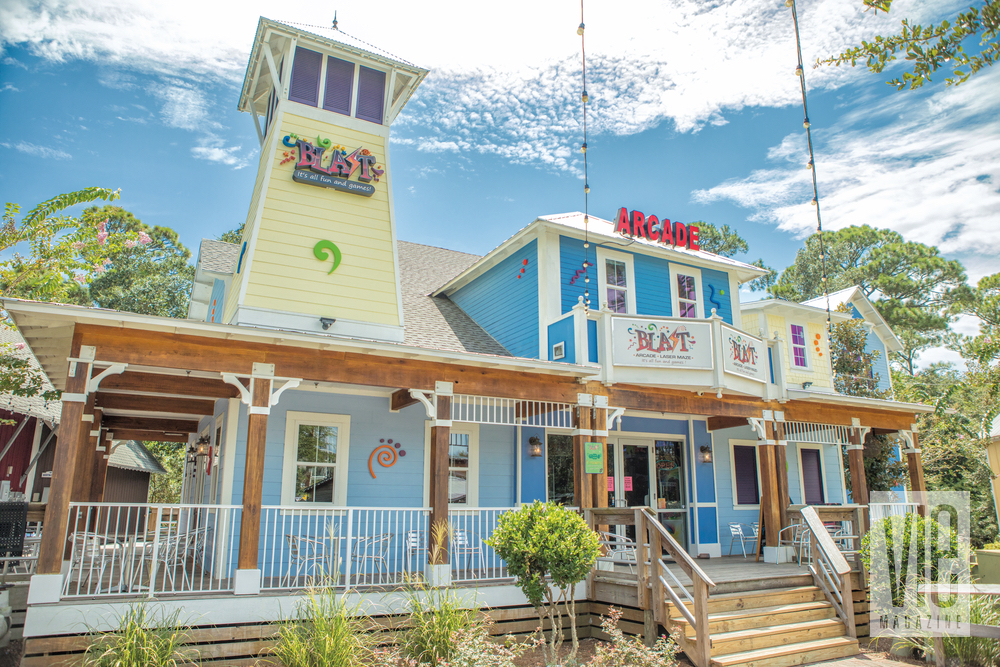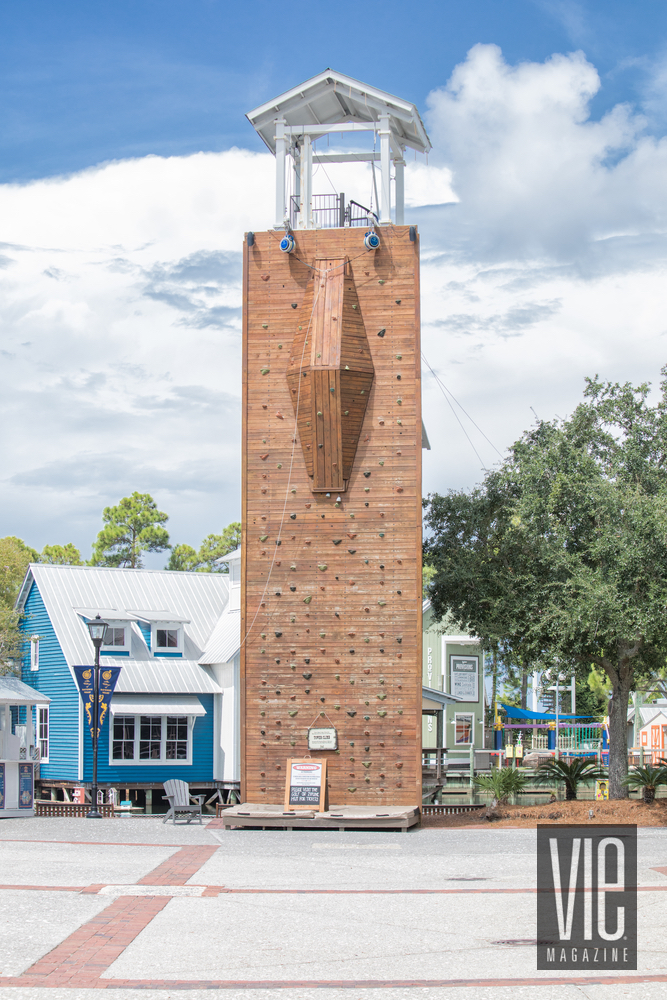 Maximize the Morning
Many agree that the early morning temperatures and tranquility grant the best time to stroll, power walk, or run through Baytowne. The primary road, Baytowne Avenue, takes you to The Village, where sidewalks abound throughout the twenty-four-acre property. Going for a morning walk is a fine way to become familiar with the layout.
While exploring, you'll thank the coastal breezes for carrying aromas of bacon, baked goods, and coffee throughout Baytowne Village. Fortunately, Another Broken Egg Cafe prepares New Orleans–style waffles and countless other breakfast delicacies to satisfy hearty appetites. If a cup of coffee or a cappuccino and pastry sound more to your liking, then Caffe Siena is the perfect place for you. Newcomer Baytowne Provisions also adds breakfast options with biscuits, coffee, and tea.
After breakfast, children (and, let's face it, adults with the excuse of chaperoning their kids) love catch-and-release fishing in Baytowne Lagoon. If you didn't bring your tackle, Baytowne Marina stocks bait and poles.
Usually, the earlier it is, the less likely you'll wait for your turn at Baytowne Adventure Zone, so encourage your children to dive into activities in the morning. The Baytowne Zipline, which crosses Baytowne Lagoon, is a must for youngsters who have never tried a more elaborate course. Other feats to endeavor before the sun rises high in the sky are EuroBungy, the Sky Trail Ropes Course, and Tower Climb. Sky Tykes is an alternative ropes course for little ones under four feet tall.
When parents and grandparents need a morning break, Adventure Land Playground—a safe, fence-enclosed area with swinging and climbing equipment—allows children with boundless energy to run off steam. Residents of the area graciously provided the funds to build the playground, designed with a nautical theme, for young ones to engage with one another and make friends.
They're also terrific sources for apparel by local and regional designers not found in every other city or department store.
Nothing beats shopping the morning (and the afternoon) away. Baytowne's specialty boutiques are known for procuring top-trending labels in fashion and performance wear. They're also terrific sources for apparel by local and regional designers not found in every other city or department store. Along with clothing for all ages, shops carry artisan jewelry, fabulous footwear, and gorgeous accessories. When making your way around, venture into Aloha Surf Company, Barefoot Princess, bluCALYPSO, Blush Boutique, High Performance Offshore, Island Clothiers, Rockwell Tharp, Sandestin Clothing Company, and Uniquely Chic.
Providing gracious, attentive service, Baytowne's store owners and employees maintain an established, loyal clientele while getting to know their first-time customers and helping them assemble outfits and choose distinctive statement pieces. Several stores will keep track of who's purchased what so that patrons who attend the same events don't show up in identical attire. Original styles also make Baytowne's boutiques prized go-to sources for seasonal party attire, vacation wardrobes, and garments for other important occasions.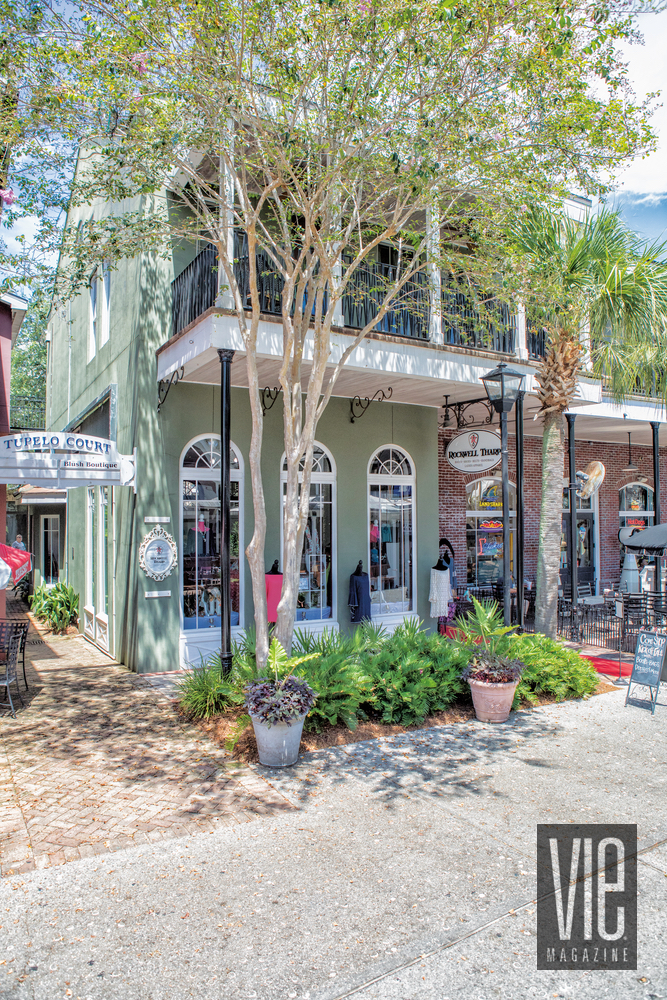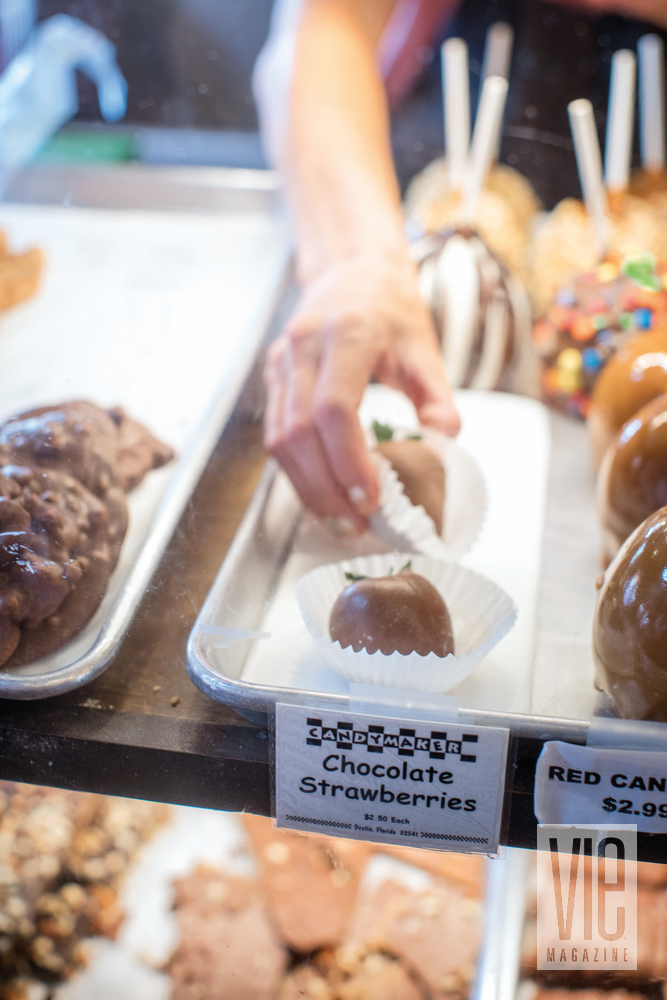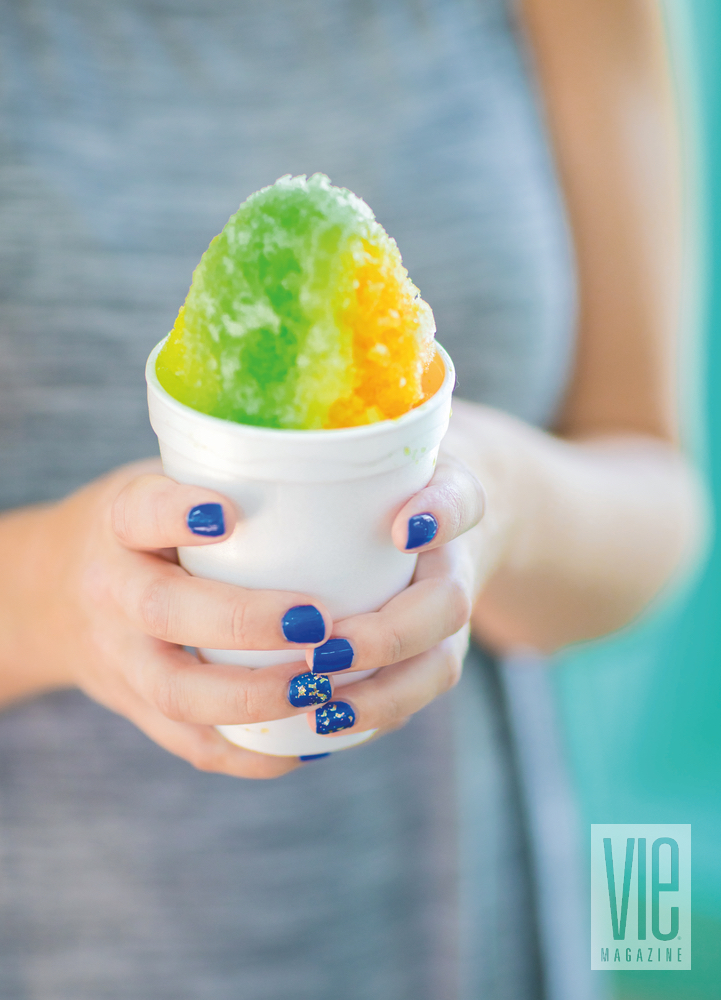 Delight in the Afternoon
Amusements have a way of making the morning fly by, but even if you lose track of time, your olfactory sense should remind you that lunch preparations are under way. Follow your nose and your cravings. If blackened lobster makes your mouth water, consider Poppy's Crazy Lobster. For a juicy, old-fashioned burger, head to Hartell's Village Diner. Go to Baytowne Provisions to savor an unforgettable twist on a grilled cheese sandwich. Alternatively, the Lazy Gecko Deck Bar serves Mexican, South American, and Caribbean dishes, and Roberto's Pizzeria gratifies Italian-food lovers. Most of Baytowne's eateries serve a midday meal.
Plan to return to the stores after lunch? All-day shoppers often devise a strategy such as trying on clothes in the cooler morning hours and devoting the afternoon to browsing all the other types of merchandise: home decor, gourmet foods and sweet treats, gifts to pamper the body and soul, souvenirs, toys, and more. You might decide to circle back to stores you've already visited, but be sure to visit Candymaker and Paradise Found for all the other treasures to give as gifts—or keep for yourself!
Knowing they'll encounter a splendid variety of merchandise that they wouldn't see back home, many visit Baytowne precisely to shop, and quite a few vacationers travel with their holiday, birthday, and other gift lists in hand. Likewise, stores assist by shipping packages to their customers' homes or directly to gift recipients.
Be forewarned that the colorful shops are just as tempting to little ones as they are to adults and teens. Dolls & Friends, for one, specializes in American Girl and Bitty Baby dolls and accessories, while Coconut Kidz displays the hottest Disney costumes, in addition to toys and adorable clothing.
Be forewarned that the colorful shops are just as tempting to little ones as they are to adults and teens.
During the day, take time to chill with a whimsical ride on the Baytowne Carousel. Next, if you're a cool kid, enter the Blast Arcade and Laser Maze. Play over fifty games and redeem the tickets you collect for prizes. Rest assured that you're never too old to have a blast in the Blast 'Em Shootin Gallery and Laser Maze.
At some point in the afternoon, indulge in something sweet and frozen. Baytowne's irresistible options, ranging from family friendly to adults only, include ice creams, milkshakes, gelatos, sorbets, snowballs, and daiquiris. A picture might be worth a thousand words, but the following names of those providing the goods also speak volumes: Moo La-La Ice Cream and Desserts, Pino Gelato and Frozen Yogurt, Tony Larue's New Orleans Style Snowballs, and Fat Tuesday Daiquiri Bar.
Once refreshed, do you think you could sink a hole in one? With floating targets in Baytowne Lagoon, the Baytowne Adventure Zone's Golf Challenge tests the most proficient golfer's skill and patience. Conveniently right next door, Baytowne Tug Company lets youngsters take the helm as captains of model boats (originally from Disneyland in Anaheim) on a voyage in Baytowne Lagoon.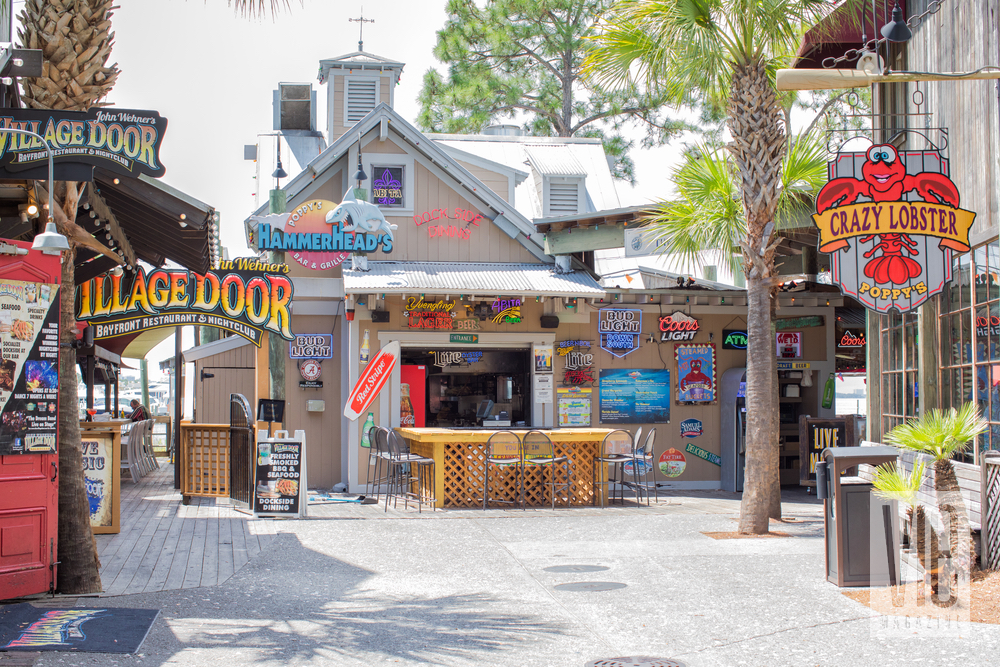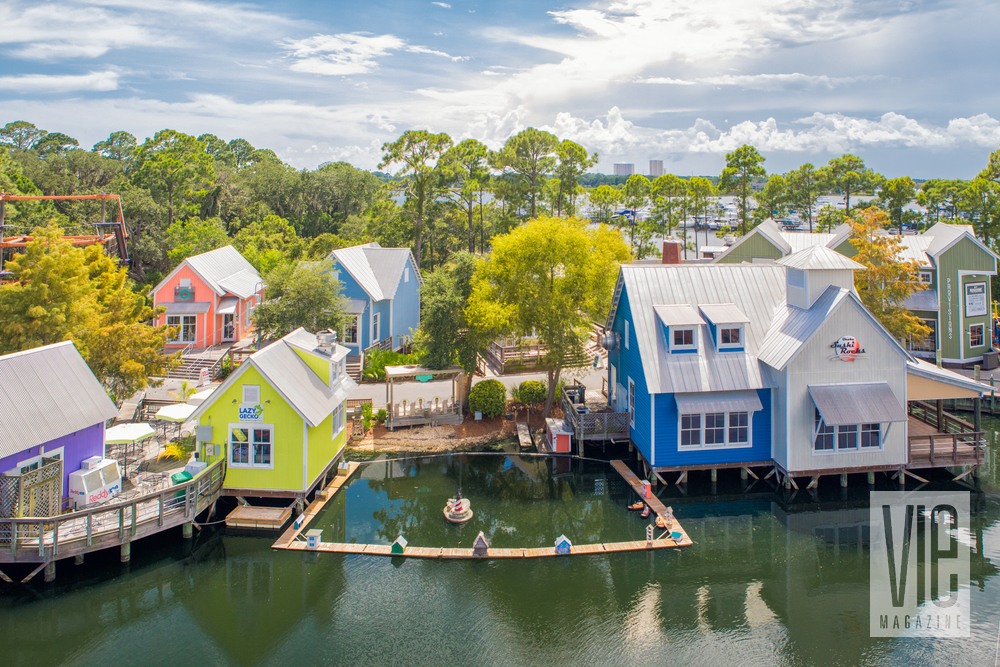 Cool Down for a Hot Night in Baytowne
If a cool cocktail sounds refreshing after a busy day, Baytowne's happy-hour experts stand ready to pour fine wines, craft beers, specialty martinis, signature tropical drinks, and more. Several locations, such as Hammerhead's Bar and Grille, Village Door Dockside, and Baytowne Provisions, present ideal vantage points for sipping and tasting while watching sunsets.
Facing a wide range of dinner options (barbecue, pizza, pasta, steak, and seafood, for instance), you might hear yourself saying, "eeny, meeny, miny, moe." When Baytowne is bustling, however, making a reservation where they're available is wise. Baytowne Provisions, for example, has many grab-and-go choices, but ordering a picnic basket in advance ensures that your picks are conveniently packed for an outdoor concert or movie on the lawn. Similarly, book ahead for prime-time seating at a restaurant like Marlin Grill, where diners linger over courses.
If you still haven't had enough retail therapy, don't worry. The shops are open at night and often host evening specials and events. Children also enjoy picking up where they left off or repeating activities in Baytowne Adventure Zone. The Golf Challenge is another lively spot.
Rum Runners is famous for its dueling piano players, and John Wehner's Village Door Nightclub features The Dream Band's music of many genres, including classic and college rock, disco, the 1980s, and R & B. Switching things up, a DJ, alternating with The Dream Band between acts, also plays the latest hits.
Depending on the evening and season, the nightly event—such as a fireworks display, a magic show or other themed performance, or a live concert—prolongs the fun. The nightclubs at Baytowne Wharf also play live music. Rum Runners is famous for its dueling piano players, and John Wehner's Village Door Nightclub features The Dream Band's music of many genres, including classic and college rock, disco, the 1980s, and R & B. Switching things up, a DJ, alternating with The Dream Band between acts, also plays the latest hits.
If you just want to hang out, maybe to watch the big game on TV, The Village of Baytowne Wharf has over ninety screens. Cheer on your team with tropical libations at Fat Tuesday Daiquiri Bar or over a slice of pizza at Roberto's.
Come and Go as a Sandestin Guest
The Village of Baytowne Wharf, open to the public, invites you to stay for the day or drop by for a portion of the morning, afternoon, or evening. The same is true if you're a guest enjoying the accommodations at Sandestin Golf and Beach Resort. Use Sandestin's complimentary tram to come and go between tennis, golf, beach and pool time, water sports, boating, fitness, and spa treatments. If you can't decide what to do or when to partake in activities, Baytowne Wharf's in-the-know guides love to help with suggestions.
For a list of merchants, activities, daily happenings and specials, a calendar of events and festival dates, maps, photos, and more, visit BaytowneWharf.com or call (850) 267-8180.
---
Baytowne Provisions
By Sallie W. Boyles  |  Photography by Romona Robbins
As in any thriving small town, a vibrant business community sustains the happy heartbeat within The Village of Baytowne Wharf. Owners and their staff commonly mention a sense of belonging, and they genuinely want Sandestin's residents, guests, and visitors to feel the same. Moreover, no matter their origins or travel experiences, Baytowne's entrepreneurs—retailers, restaurateurs, and architects of amusement—often say they cannot imagine living anywhere else. Several have homes on the resort. That's why so many of their products and services reflect a tried-and-true appreciation of a Southern, coastal way of life.
Among them is Chef Jim Shirley, nationally known for his award-winning dishes and acclaimed restaurants on the Gulf Coast, and Kelli Castille, a member of the famed Landry's Seafood family. After enjoying a successful two years of co-owning Baytowne Melt, a sandwich and salad eatery with al fresco seating by the lagoon, the business partners seized the opportunity to expand when a more abundant space opened up on Choctawhatchee Bay. Thus, in the summer of 2017, they debuted Baytowne Provisions, a combination general store/local specialty market, restaurant, bar, catering operation, and private events venue.
Regarding the restaurant, fans of Baytowne Melt can rest assured that the epicurean delights, like the famous grilled cheese sandwiches Jim describes as "street fare," remain on the menu. (Before arriving in Baytowne, such food originated at the Melt Down on 30A, Jim and Kelli's food truck at Seaside in Santa Rosa Beach, Florida.) With Provisions now operating as a full-service restaurant that's open for breakfast, lunch, and dinner, the choices are much broader. In addition to favorites like the gooey, gourmet grilled cheese and the Smokin' Turkey sandwich (smoked turkey, bacon, pepper jack cheese, and avocado, smothered in Jim's Albuquerque sauce), the chef's other famed dishes, such as succulent steaks, freshly caught fish, and Shrimp and Grits à Ya Ya, are served.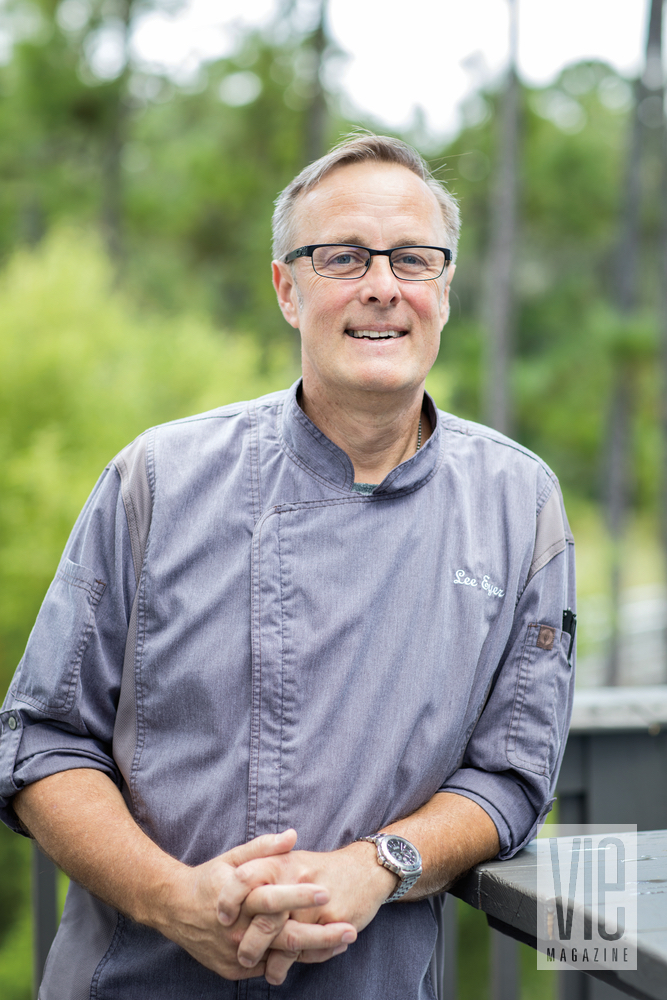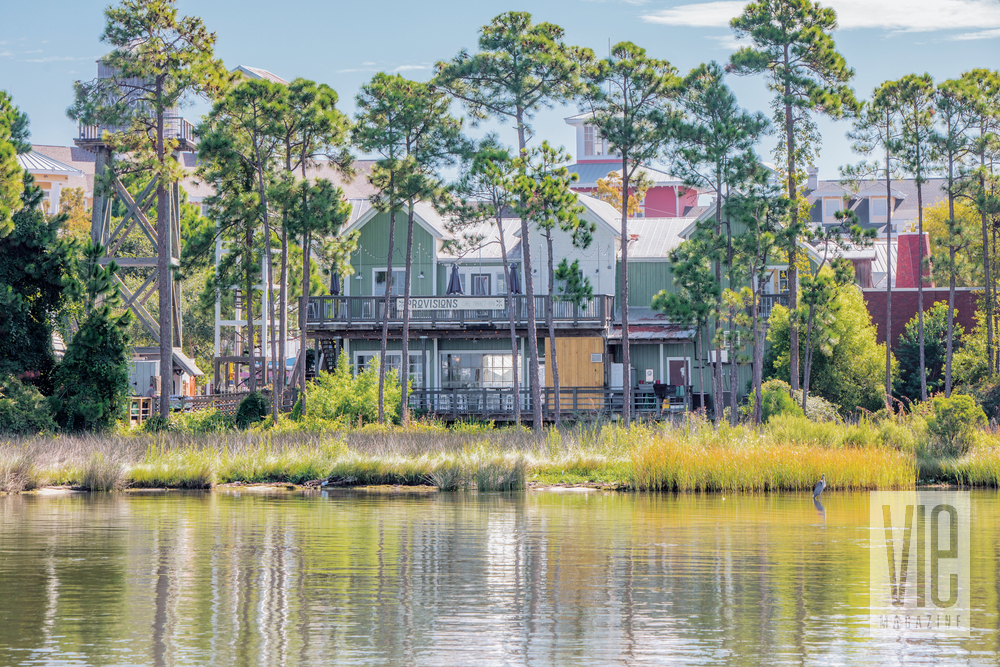 If "à Ya Ya" didn't give it away, Jim reveals that he learned the essentials of cooking from his Southern grandmother. Travel broadened and refined his palate. Jim's dad was a Navy pilot, which meant venturing far beyond their home base of Pensacola to live and savor food from different cultures. Drawn to the kitchen, Jim says, "I was flipping burgers at fourteen. I also ran a pizza place almost by myself in my teens, making a dollar ten an hour." Although he attended Mercer University with the intention of studying medicine, Jim continued to land restaurant jobs, and in 1995, he opened his first award-winning place, Madison's Diner, in Pensacola. In this latest venture, Jim conveys, he and Kelli are allowing Provisions to "morph into what Baytowne needs."
As the first to sell provisions, the retail facet is a big deal to those who live, work, and play at Sandestin. "It's a local convenience store, like a farmer's market," says Jim. Beyond the typical staples, Provisions is stocked to satisfy a foodie's cravings. Along with fresh fruits and vegetables, shoppers find the chef's prepared foods, scrumptious baked goods, gluten-free items, organic fare, gourmet cheeses and snacks, craft beers, specialty wines and coffee, and more. "We're providing grab-and-go items," Jim explains, "that you can take back to the condo or boat, or pack for a nice day at the beach."
Beyond the typical staples, Provisions is stocked to satisfy a foodie's cravings. Along with fresh fruits and vegetables, shoppers find the chef's prepared foods, scrumptious baked goods, gluten-free items, organic fare, gourmet cheeses and snacks, craft beers, specialty wines and coffee, and more.
For added convenience, Provisions takes orders in advance and even provides signature cooler bags. "We have so many activities and events in The Village," says Kelli. "If people want to grab something great to eat while watching a movie on the lawn, we can have it ready." Gift cards and gift baskets, which can be packaged for holiday, hostess, and special-occasion gifts, are also available throughout the year.
Displaying chicken salads, potato salads, pimento cheese, hummus, pasta made for Jim's restaurants and retailed only at Provisions, deep-fried smoked oysters, sauces, and seasonings, Jim and Kelli clearly value homemade and homegrown goods, and so do their customers. Naming some of her sources, Kelli says, "The short list includes local honey from the Honey Hutch, gourmet popsicles from Peace Love 'n' Pops, olive oil and balsamic vinegar from 30A Olive Oil, artisan chocolates and truffles from Cloud 9 Chocolates, and handmade ice cream from Southern Craft Creamery."
The word local also applies to the artists represented. "Andy Saczynski painted the three main pieces of art for Provisions," says Kelli, "and my friend Liza Snyder created the chalkboards and signage. We'll continue to fill those walls with local art."
Local designer friends also collaborated with Kelli and Jim to create the perfect ambience for Provisions. "We had always eyed this building," says Jim, recalling how he and Kelli would imagine how they would transform what was previously a dark, enclosed space. "It was a huge renovation project from floor to ceiling and wall to wall," he informs. "The bones of the building were great, but the spectacular water views had been underutilized."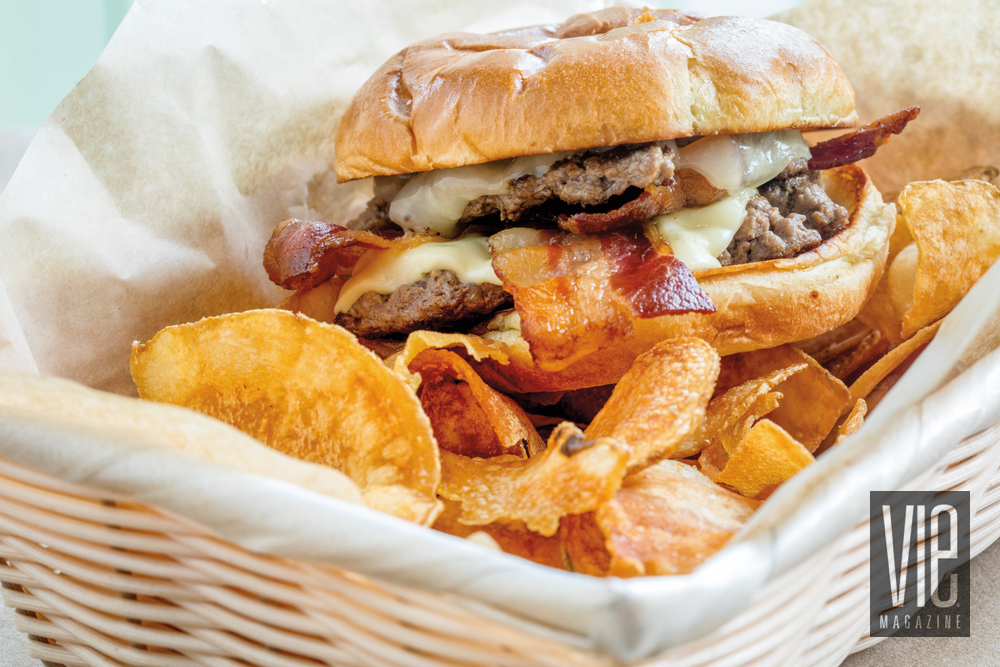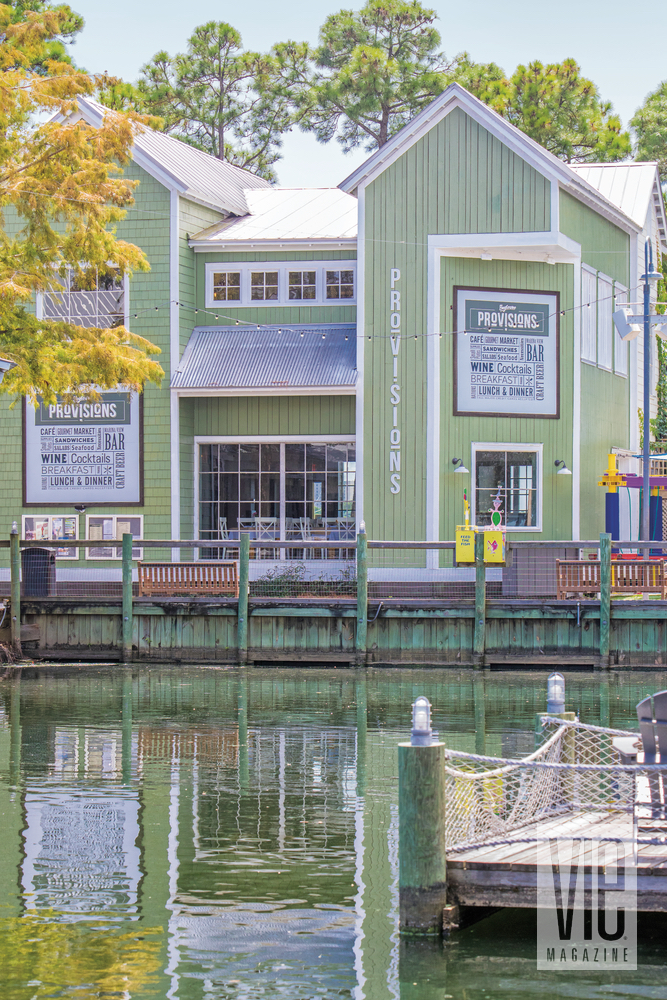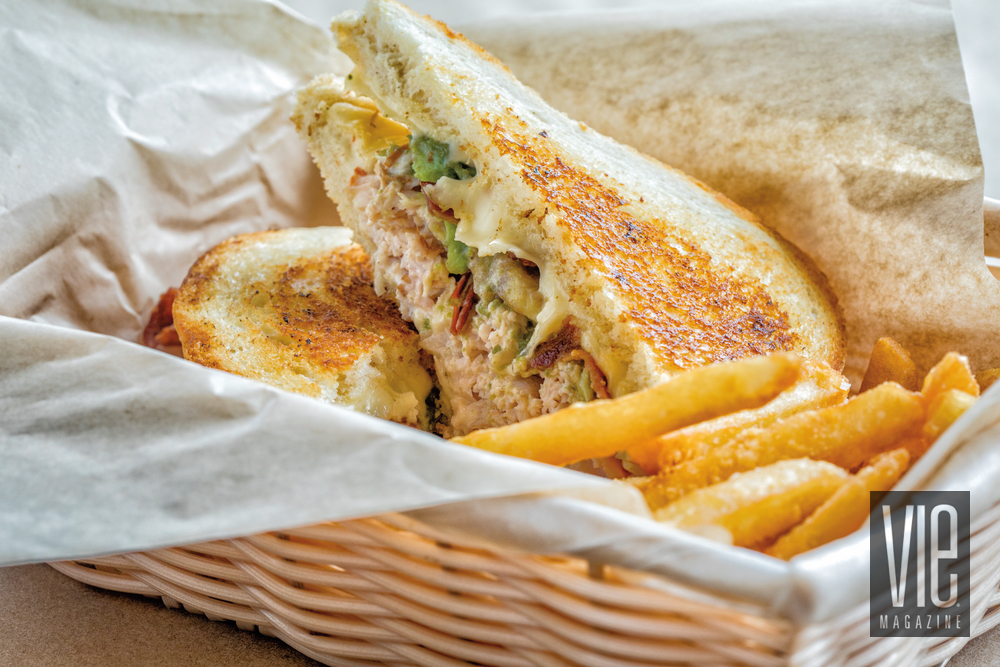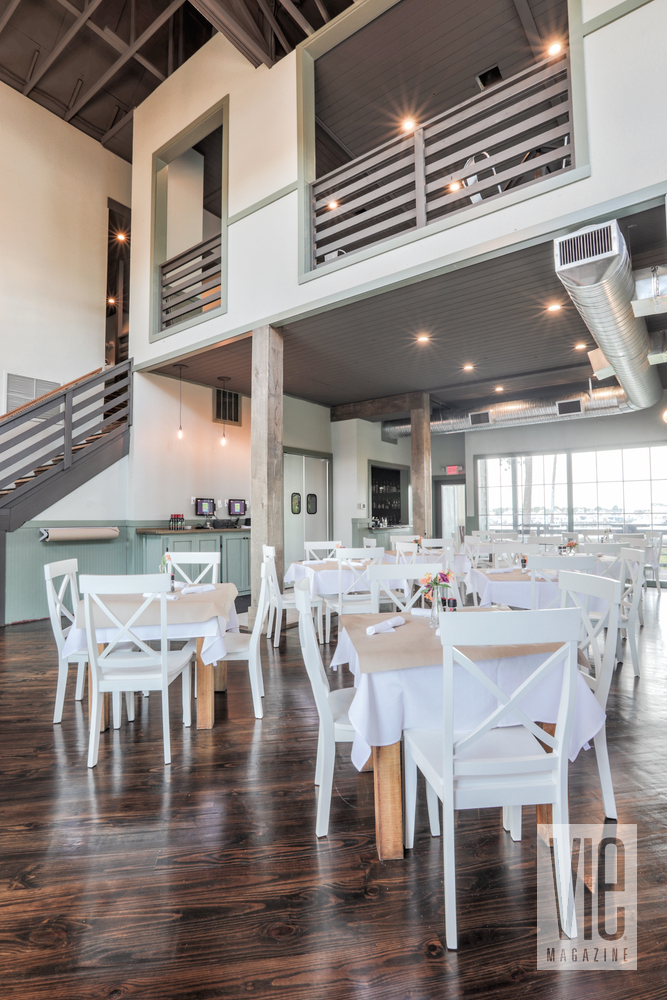 Before, the balcony, which overlooks the marina, was closed off. Today, Kelli says, "When the sun is setting on the marina and you're on that balcony, there's no better spot in Baytowne."
To optimize such an idyllic spot, Jim and Kelli added a bar and set aside an area for private events. Specializing in "modern-coastal-Southern cuisine," they cater for all kinds of occasions—holiday gatherings, football parties, convention luncheons, birthday celebrations, and rehearsal dinners, to name a few.
"We've built a comfortable, classy place that you feel great about bringing your family to," says Jim, "and we're looking to make a lot of new friends in Baytowne."
To learn more or place orders, readers should visit BaytowneProvisions.com or call (850) 460-7866. Regular updates also appear on Facebook.com/BaytowneProvisions.
---
Rockwell Tharp Settles in Baytowne
By Sallie W. Boyles  |  Photography by Romona Robbins
In 2009, Cameron Tharp was conducting business on the island of Maui when he heard the sweet drawl of a woman saying "y'all." Only a fellow Southerner would use that colloquial expression, and he had to meet her. "That's where it all began," Cameron says, referring to his remarkable friendship and business partnership with Kristi Rockwell. "We've been together ever since," he notes.
Upon meeting, Kristi—then a trauma care nurse in the ICU of a local hospital—and Cameron—a business consultant who handled mergers and acquisitions—immediately connected over their shared Alabama roots and Christian faith. They also found themselves in similar circumstances with parents experiencing health concerns. "We decided to come home," says Cameron. They each moved back to Alabama and, as Cameron relays, "We stepped out on faith."
Before getting down to business, Kristi says, "We designed some sandals and boots for a few family members."
Both exhibited an affinity for boots in early childhood. "I remember going to church in my frilly red-and-white polka-dot dress and my brown cowboy boots," says Kristi. "One day, looking back on pictures, I asked my mom why she didn't make me wear white shoes to match my dress. She said, 'Oh, heavens! It was easier to let you wear your boots with your dress than to tell you no.'" Photographic evidence also exists of toddler Cameron sporting cowboy boots and a diaper.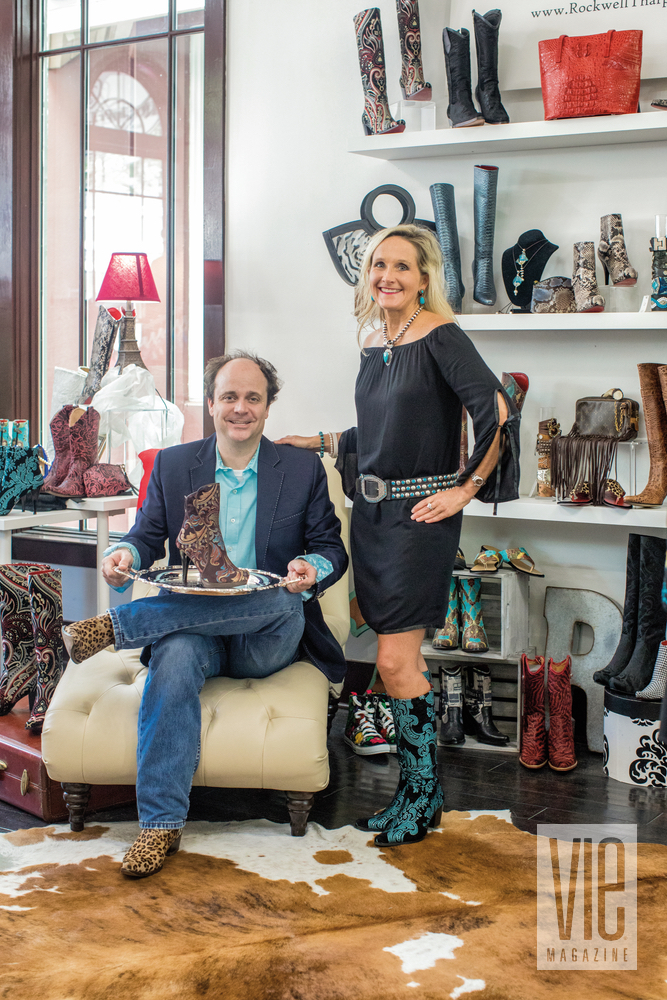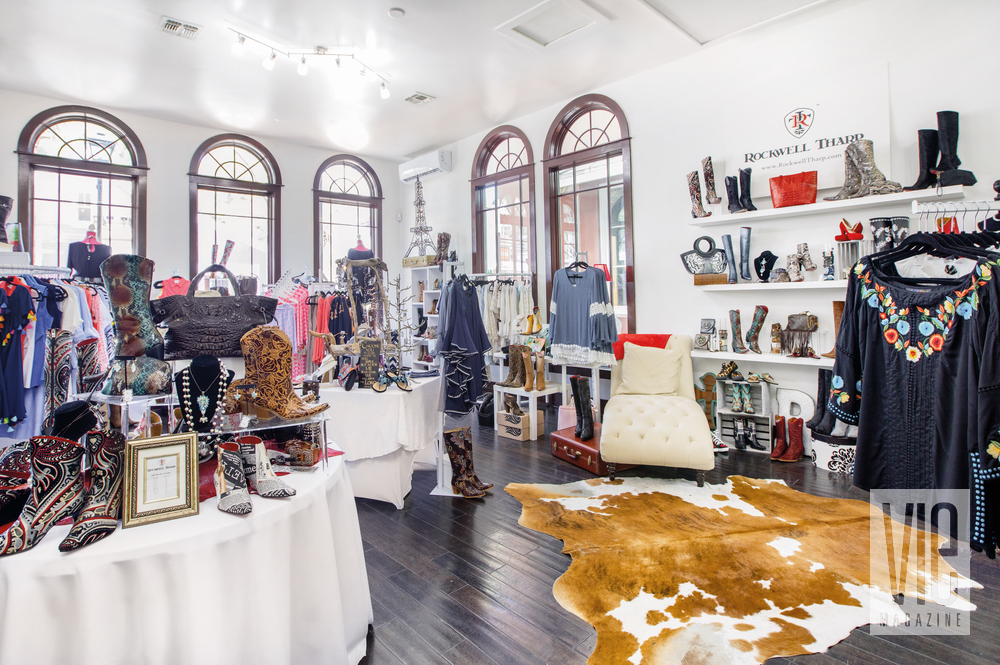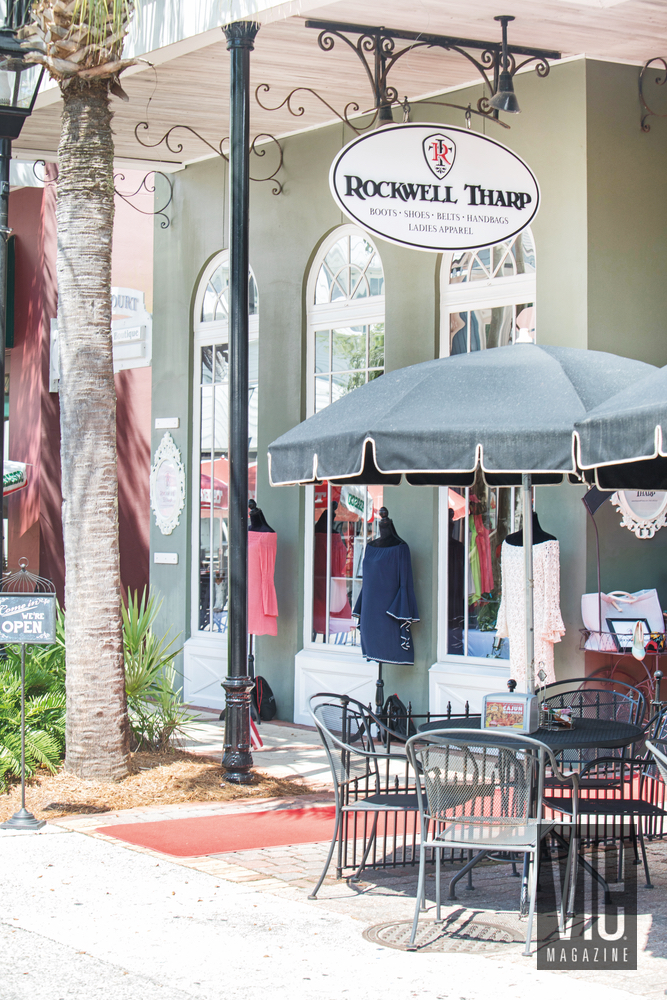 Creative and passionate about all design, they set up a home office for Rockwell Tharp while still caring for their parents. "Kristi and I decided to walk away from our corporate jobs to follow our dream," says Cameron. "We built everything from our own personal money and sweat equity. It's one thing to talk and dream; it's another thing to do. My father used to tell me that if you get up each day and put one foot in front of the other, good things will happen."
Good things happened quickly for Rockwell Tharp, known for daring but classy-to-the-hilt handmade boots, shoes, handbags, and belts. Within the first six months, their business had taken off. "I think I knew we had something special when Kristi put on the first pair of artistic boots and wore them in public," Cameron says.
"They were black with a lot of bright, colorful flowers and whimsical designs in fuchsia, lime green, and purple," Kristi elaborates. "I would wear them, and people would stop me to ask where I'd bought them."
Today, as wholesalers to designer boutiques across the United States, Canada, Europe, and Australia, Rockwell Tharp remains privately owned and controlled by the dynamic duo. "We are passionate about creating unique and classy items," says Cameron. "We are not looking to be in major department stores."
"We are passionate about creating unique and classy items."
Expressing that they "thrive to make people smile," Cameron and Kristi, who love working directly with the people who'll don their creations, decided to launch their first ever brick-and-mortar Rockwell Tharp boutique at The Village of Baytowne Wharf in Sandestin, which opened in spring of 2017. From vacationing on the resort as children, they talk of their fondness for the area, and both have since made it home. "We've been fortunate to travel the world," says Kristi, "but we still feel there's no place like Sandestin."
The location also makes perfect business sense. "This store is working," Cameron attests. "We are busy every day, and ladies are excited to stop for new, unique, and creative designs that they can't find anywhere else."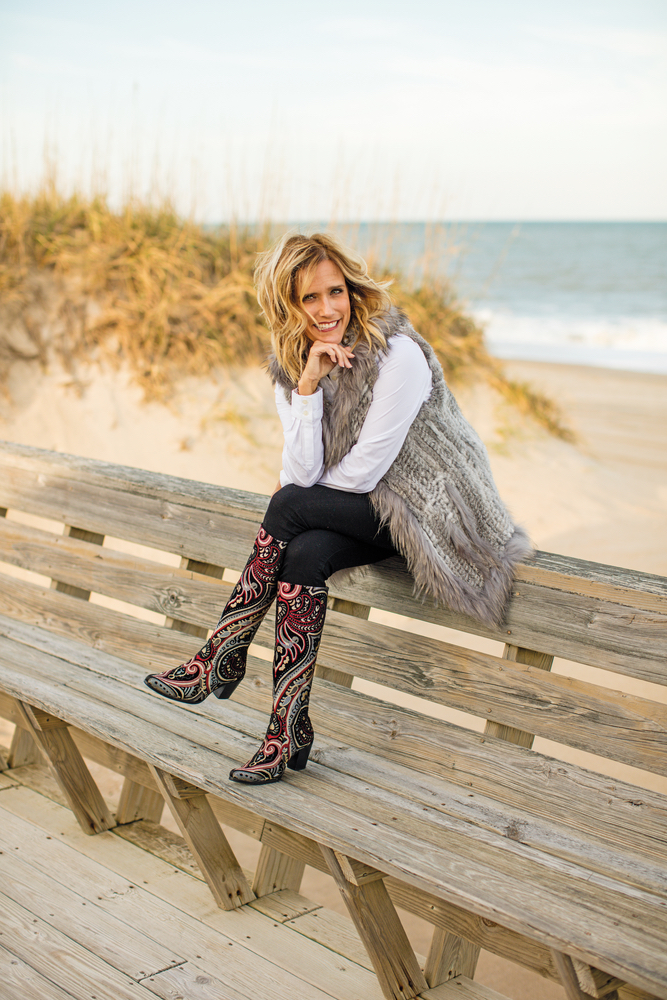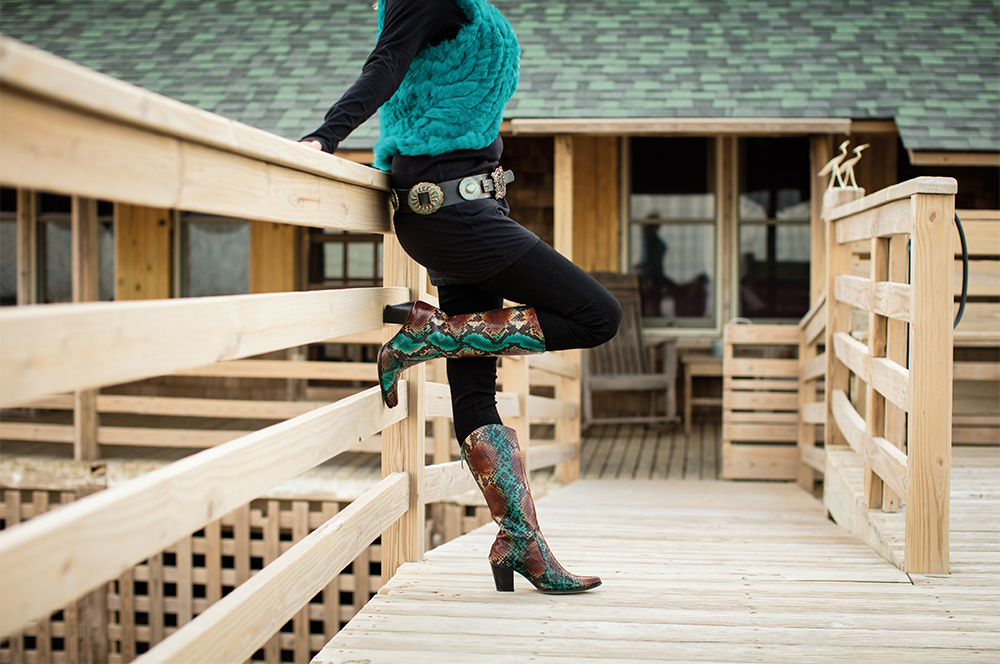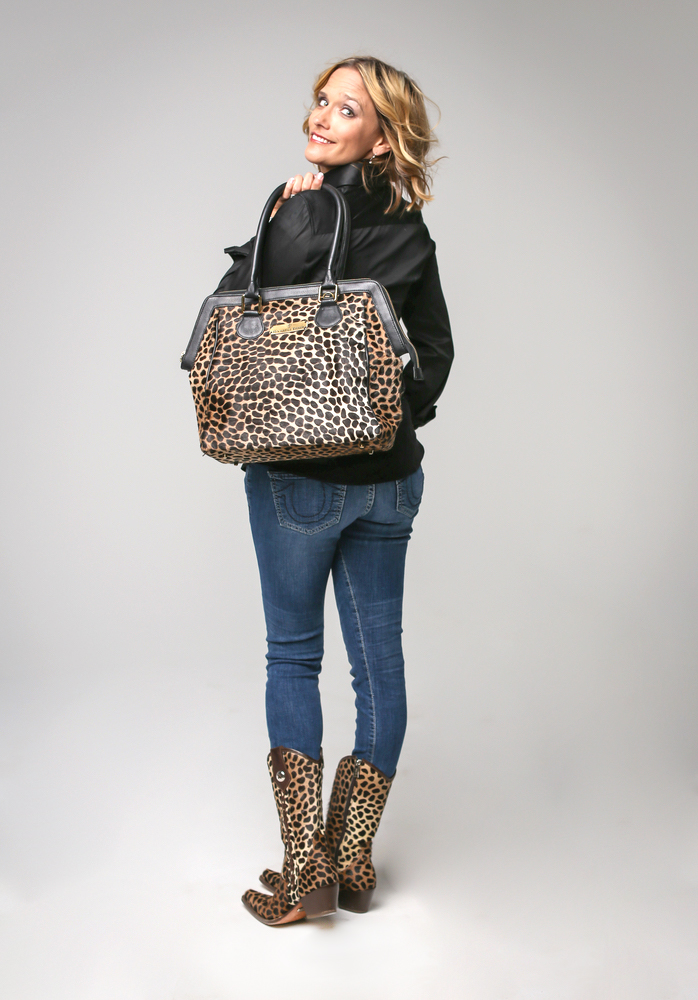 That said, Rockwell Tharp is not an elitist label. Collections are priced well within the range of high-end department store brands, and many believe they are a superior value. Aficionados love having one-of-a-kind footwear and accessories with features like genuine calf hair, leather linings, hand embroidery, fascinating textiles, Swarovski crystals, and intricate beading. Accordingly, limited editions, found only in Rockwell Tharp's signature store, sell out quickly. "We might make six boots in a style, and when they are gone, they are gone," explains Cameron.
The designers take custom orders, too, and the Rockwell Tharp boutique is a great place to collaborate with individuals in person. Requests range from altering one aspect of an item from the line, such as rounding the pointed toe of a boot, to creating something totally different. "We also design a lot for celebrities and rock stars," Cameron offers. Although the majority of the line is for ladies, men's items include boots and wallets.
Currently, the Rockwell Tharp boutique at Baytowne Wharf is the one store to display the full selection from each collection. In addition, the shop carries apparel and accessories from other specialty designers. "Some are designing unique items for this store only," says Cameron, remarking that the exclusive looks go quickly. "We made some clothing items that sold out in ten days."
In all matters, whether they succeed or not, the two remain focused on serving God first. "We walk by faith, not by sight," they say, referencing a passage from Corinthians. That's why every boot with a zipper carries an engraved Bible verse—a controversial move. "Our business advisers said, 'Don't do it; you'll alienate customers,'" Cameron divulges. The opposite seems true. "Almost all our customers notice the inscription after they get home, and they are over the moon when they see it."
"We walk by faith, not by sight," they say, referencing a passage from Corinthians. That's why every boot with a zipper carries an engraved Bible verse—a controversial move.
Customers also like how Rockwell Tharp boots feel. "Since the beginning," Kristi reveals, "I always said, whatever we do, we have to make our boots comfortable." Extra foot pads in the insoles and ultrasoft, natural leather linings are important. "It just makes my heart smile every time a lady puts on a pair of boots and says, 'Wow, these are comfortable!'"
Operating Rockwell Tharp according to their standards compels Cameron and Kristi to travel extensively—four continents and eight countries in the past year alone. "Kristi and I personally source and select every piece of leather and textile that we use in our brand," Cameron tells. "We have also personally visited and seen every supplier that we're working with, and we do our own quality control."
The concept of procuring goods from around the world is not foreign to Cameron. "My family spent about fifty years in the wholesale business in Mobile, Alabama," he says.  In addition to importing home furniture for retailers like Pier 1 Imports and Bombay Company, they also supplied flowers for the Rose Bowl Parade. Kristi says, "We applied whatever we knew, as well as conducted our own research."
While abroad, Cameron and Kristi make a point of visiting Christian missionaries (as of now, eighteen family and individual units) whom they support financially, always arriving with personalized care packages containing goodies from home. "The reward is ours," says Cameron.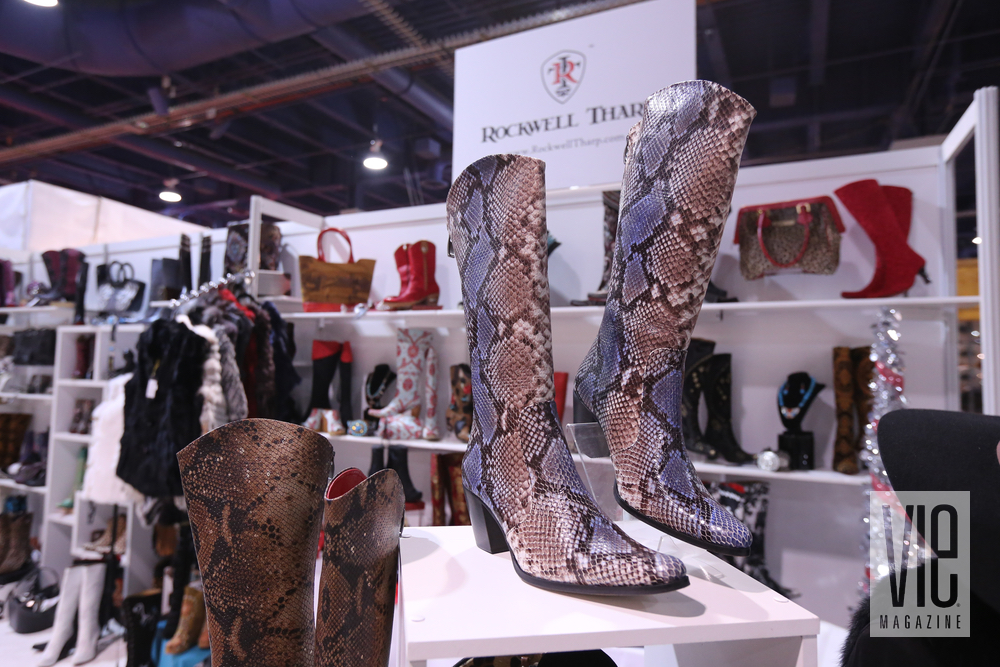 Grateful to make a difference through the talents they attribute to "God's grace," the partners remain the chief designers for their boots, shoes, belts, and handbags. "In our minds, we dream the designs and draw them up," says Cameron. "We feel blessed to have a good eye for designs and a strong sense of what will work and what won't."
All the while, Cameron gives Kristi tremendous credit. "She's a creative and passionate Southern lady with great taste," he says, noting that ladies not only feel joyful to express themselves with bold designs, textures, and colors, but also empowered to step out with confidence.
"We love to make our customers feel loved and confident in what they are buying and wearing," says Kristi. "We want them to feel fabulous!"
For the latest fashions and more, please visit RockwellTharp.com. To contact the Rockwell Tharp boutique at The Village of Baytowne Wharf, please call (808) 268-6131.
---
By Sallie W. Boyles  |  Photography by Romona Robbins
To experience The Village of Baytowne Wharf, a hub of amusements with boutiques, eateries, entertainment, and activities within Sandestin Golf and Beach Resort, visitors usually enter through the front gate at 9300 Emerald Coast Parkway in Miramar Beach, Florida. Baytowne Marina on the Choctawhatchee Bay, meanwhile, offers yet another option—this one to boaters. Just a half-hour cruise from East Pass (also known as Destin Pass, where Choctawhatchee Bay opens to the Gulf of Mexico), the marina is located at the following coordinates:
Latitude: 30.378230° N 30° 22″ 41.6″ 30° 22.6938′
Longitude: -86.330954° W 86° 19′ 51.4″ -86° 19.8572′
Upon disembarking, visitors quickly reach The Village of Baytowne via a tree-lined, scenic boardwalk.
Consistently praised for its impeccably maintained facilities and all-encompassing services, Baytowne Marina has 113 slips and accommodates yachts up to 140 feet. "We take in all sizes and shapes," says Jason Draughn, director of activities at Sandestin.
With people coming and going throughout the year, the marina is especially lively when The Village of Baytowne is bustling, such as during the Sandestin Wine Festival at Baytowne Wharf in April. Deemed by many to be the best annual happening in the region, the event celebrates wine, food, and music in a congenial atmosphere with beautiful weather, all for a delightful pairing of festival-going and relaxing on the water.
The Emerald Coast Blue Marlin Classic, hosted by Sandestin in early June, is another big draw to Baytowne Marina. With huge cash prizes awarded to winners, this fishing tournament is the "richest" on the Emerald Coast, which magnifies the thrill of the sport. For other anglers, Baytowne Marina has light fishing charters and pontoon boats to rent. Guests and visitors can also rent or purchase tackle for fishing in the Village Lagoon (catch and release), Choctawhatchee Bay, and the Gulf of Mexico.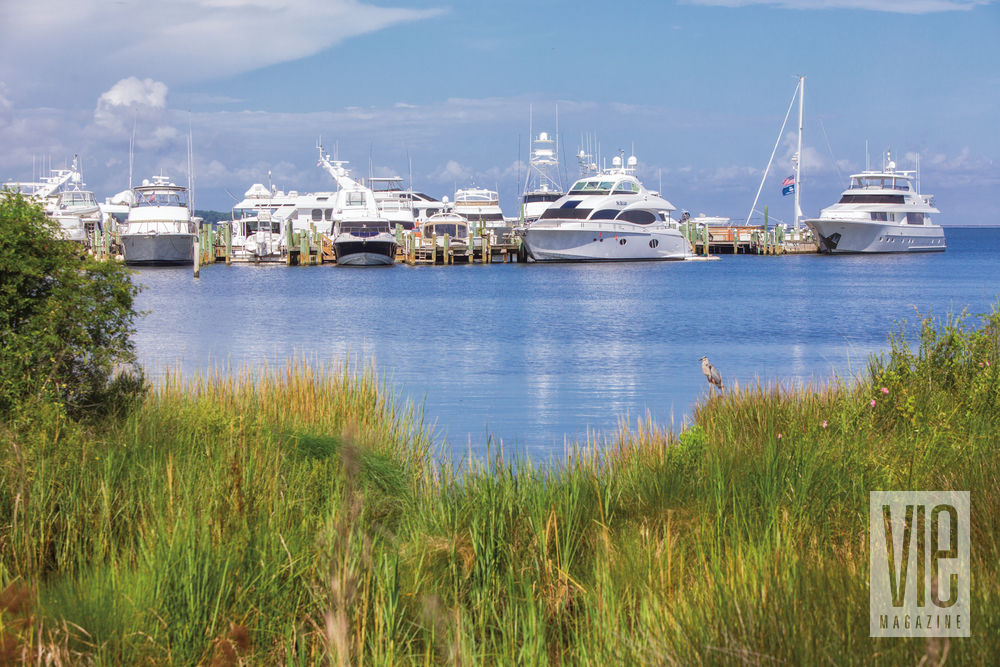 Throughout the spring and summer, amidst The Village's ongoing festivities, Jason and his crew remind guests to reserve their places at the Baytowne Marina's Tuesday evening luau, featuring a pig roast, additional Hawaiian-themed cuisine, and fun for the entire family. The marina's resident macaw and cockatoo, Mary Ann and Skipper respectively, also play a colorful part in greeting guests and posing for pictures.
The flurry of fall and winter happenings at Baytowne Village might surprise newcomers, but in-the-know holiday visitors and guests make a point of docking at Baytowne Marina to attend an array of seasonal festivals and events and shop at the boutiques for one-of-a-kind local gifts and the right attire for every gathering. Yachters also have a tradition of ringing in the new year at Baytowne Countdown's live concert and massive fireworks display.
From January to early March, a variety of human snowbirds (some are Loopers, who make a circle from north to south through waterways of the eastern United States) land at Baytowne Marina to bask in the peace and quiet. "It's a great time to visit," Jason reveals, "with the most beautiful sunsets and no hustle and bustle."
"It's a great time to visit," Jason reveals, "with the most beautiful sunsets and no hustle and bustle."
As someone who began working for Sandestin as a cabana boy for a summer job after graduating college and, eighteen years later, continues to "love it every day" with his wife and children, Jason maintains that the lifestyle is hard to beat. Without question, boaters are among those who make the most of it. Residents of Baytowne and others who dock at the marina have even formed their own social group, the Baytowne Floating Society.
The marina's appeal (the protected harbor presents another bonus) to locally based owners means that most of the slips are reserved on an annual basis, and returning guests wisely book months in advance. Therefore, Jason says, "You definitely want to call ahead to get on our list. We have a variety of power requirements and sizes, so making the reservation is an important, hands-on process." The marina, of course, welcomes day-trippers to The Village of Baytowne and readily assists with their small vessels.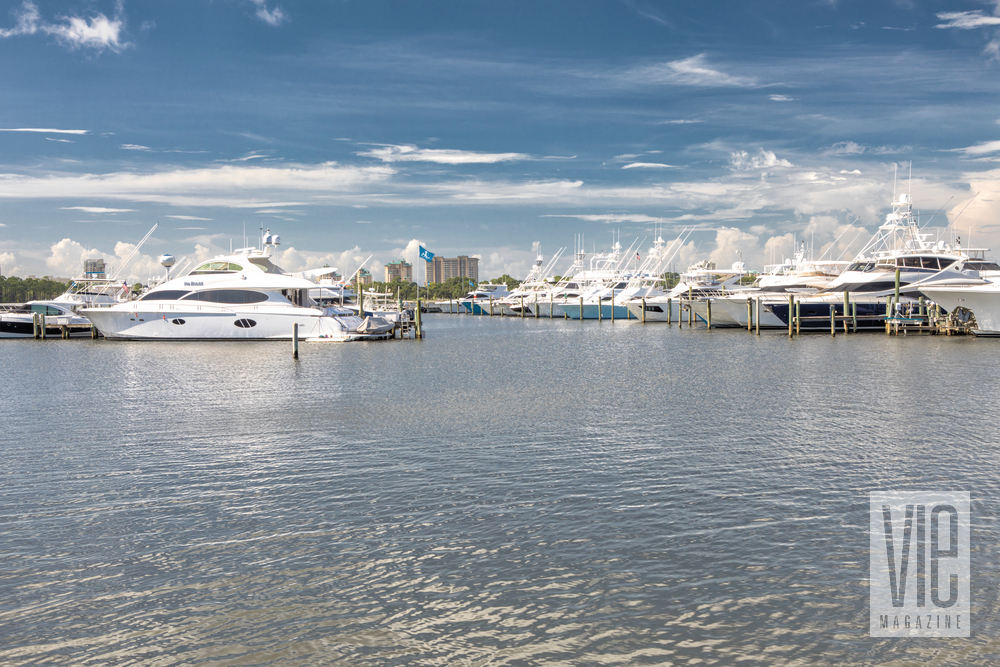 Upon arrival, patrons of the marina find an extremely congenial, obliging staff with a personal concierge and all the creature comforts, including a laundry and showers. Furthermore, they can purchase the sweet necessities, like gourmet coffee and scrumptious bread, from Baytowne Provisions, a fresh market/general store in The Village. Baytowne Marina's guests also receive an amenities card for complimentary access to the Sandestin Golf and Beach Resort tram, plus the enjoyment of bicycles, kayaks, boogie boards, tennis courts, and more. Golf carts also remain on hand at the marina for boaters to rent.
For Baytowne Marina reservations and answers to specific questions, readers should call (850) 267-7773. Sandestin.com/Sandestin-Marina
---
By Sallie W. Boyles
Nearly twenty years ago, a plan materialized to erect a village on twenty-four tranquil acres beside Choctawhatchee Bay in Miramar Beach, Florida. When the word got out, many wondered why The Village of Baytowne Wharf, open to the public, would operate within the gates of Sandestin Golf and Beach Resort. Thankfully, from the resort's inception in 1973, Sandestin has been shaped by visionaries, not naysayers, allowing Vancouver-based Intrawest Corporation, which owned Sandestin from 1998 to 2010, to leave the legacy of Baytowne.
Known for creating alpine villages that turned great mountains to ski into full-fledged destinations, Intrawest conceived The Village of Baytowne Wharf as a family-friendly hub with forty-something boutiques, eateries, and nightspots, as well as a venue for special events and ongoing attractions. Baytowne would also have its own residential district, since completed with 724 units. Beyond gratifying owners and resort guests with abundant on-site entertainment and activities, The Village would welcome visitors.
The concept for what would become the heart and soul of Sandestin began with Eldon Beck, the architect for Vail and the original Whistler Village. "Eldon came up with the vision for The Village, and it was my privilege to be its keeper," says Connie Wynne, then Baytowne's master planner/project manager and now managing director for Replay Resorts Inc. More than a backdrop, the land, water, wildlife, and vegetation, blended with generous helpings of Southern culture, inspired what Wynne describes as "an old fishing village that developed over time." She and others, in fact, wrote a history that guided their labor of love. She recalls, "Our small development and design teams knew we had something special from the start, and we wanted The Village to be rich in experience."
"Our small development and design teams knew we had something special from the start, and we wanted The Village to be rich in experience."
The story unfolds with brightly painted Florida cracker–style houses, distinguished by their metal roofs. One can imagine such rustic structures first cropping up around Baytowne Lagoon before prosperity ensued, producing the architecture of old New Orleans and antebellum Mississippi.
Evoking simpler times, meandering lanes, crossroads, porches, and verandas beckon one to wander, explore, and visit. "As soon as you take the car out of the interaction of the storefront, the pace becomes slower," says Mark Knott, who was Baytowne's director of commercial development and is now director of business development for T&G Constructors, the general contractor for the project at the time. "You have things to look at and places to stop and sit."
"The details mattered," says Wynne. For authenticity, she reveals, "We looked for salvaged materials. Even the contractors working on the project got into the spirit of what we were trying to do. The plumber called me from New Orleans on a Saturday, having stumbled on a building about to be demolished. With that, we found our St. Joe brick." The water tower, well over a century old, was rescued from North Carolina.
Knott relays how his search for a nightlife operator yielded two unique treasures. From scoping out the hottest clubs on Bourbon Street, he met John Wehner, who moved his famed Village Door into Baytowne. "When we were building the space out," Knott adds, "we went back to New Orleans and found the big red doors in a warehouse." One hundred years old, the music venue's entryway has become a village landmark.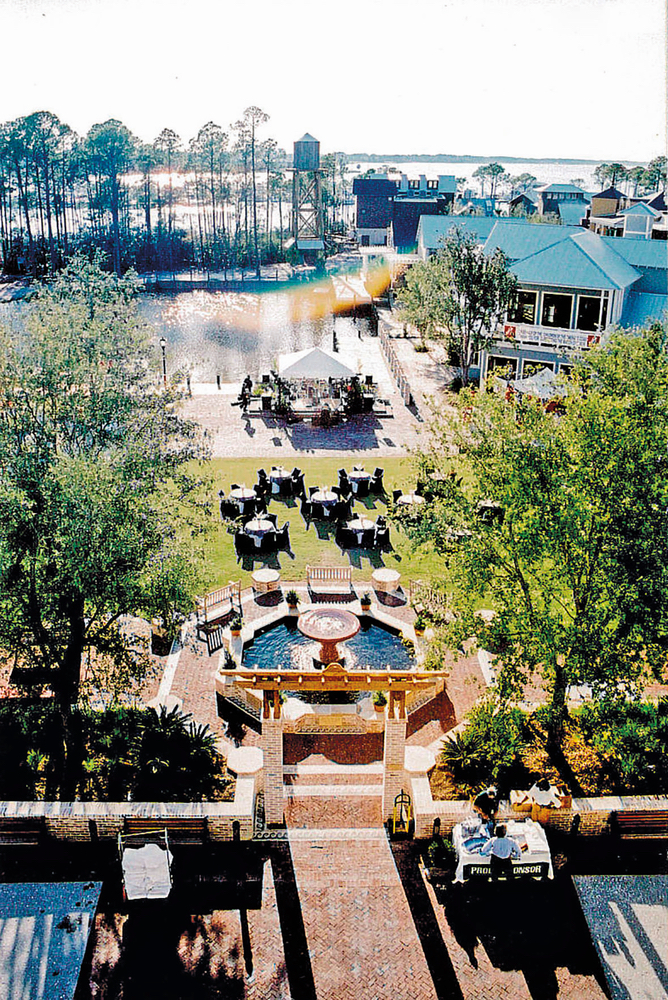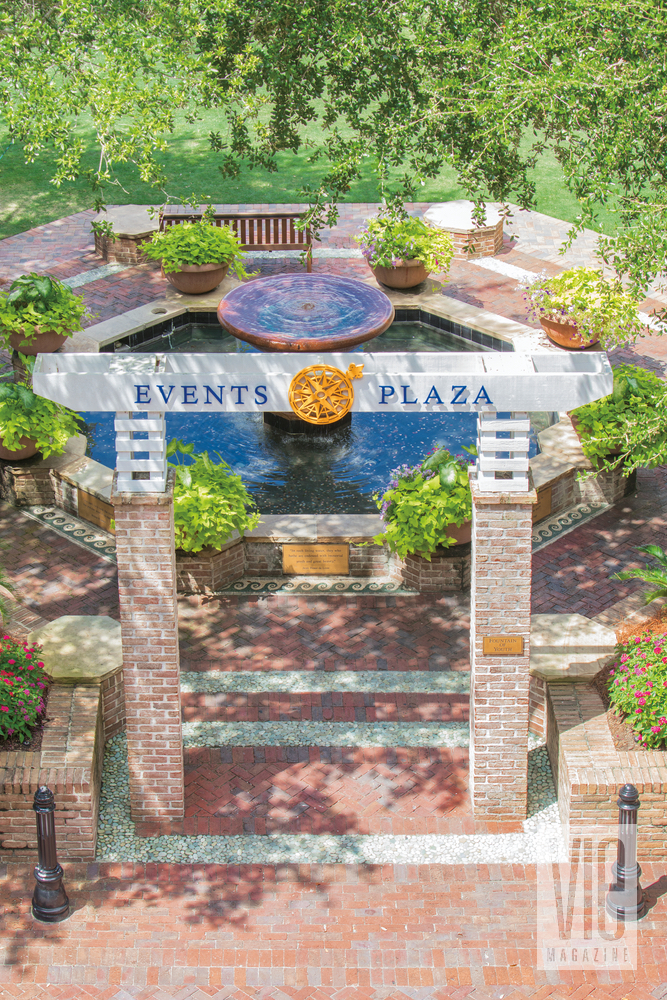 Responsible for events and programming, Katy Syco, the first director of The Village of Baytowne Wharf Neighborhood Association, attributes Baytowne's distinctive character to the people who live, work, and play there. Nicknamed "the mayor" early on, she honored all interests—those of the independent merchants, the homeowners, and the resort's management—in every undertaking. Beginning with the grand opening in August of 2002, Syco also considered the greater community's wishes. "We hosted a huge dinner under a tent to benefit a local hospital," she recalls. Indeed, outside attendance was so strong throughout the New Orleans–themed weekend that every parking lot was full.
That happened to be when the current "mayor," Alan Meyers, a.k.a. Baytowne's executive director, first went to work at Sandestin—parking cars! Moving up the chain of command through valet services, Meyers says, "When I became involved with the operational side of events, I could see the guests smiling and the kids laughing after the fireworks shows, and then I understood why people were coming."
"We had worked about four years not knowing how The Village would be perceived by the community," says Wynne, "but when the lights came on, it was amazing. I walked around by myself, just watching and listening to folks make their assessments. Then, while sitting back on a park bench in the events plaza, it struck me that we had created a place where people of all ages would come and tell stories, share laughs, and live life. It was rich and rewarding work. I think we did something worthwhile."
---
—V—
ARTICLE CATEGORIES