By Darby Kellum |  
Photography by Quinn Ballard
As a small-town boy with big dreams, Roger Higgins grew up knowing he would not be the fourth generation to carry on in the funeral home business, which was the family tradition. Instead, Higgins determinedly set his eye on design.
Higgins moved to Nashville from his "Mayberry-like town" in East Tennessee and attended O'More College of Design. There, fate stepped in and he met Ann Shipp. The two became business partners after graduation and opened the doors of R. Higgins Interiors in 1994. The design duo has been unstoppable since.
Roger Higgins and Ann Shipp work as the principal designers of the company, which is nestled in the Hillsboro Village area of Nashville, along with four design assistants, a bookkeeper, a receptionist, and members of the custom framing department. The expert designs of the group have not gone unnoticed. The work of R. Higgins has been published on the cover of Traditional Home, and within Architectural Digest, Classic American Home, At Home Tennessee, and Nashville Lifestyles.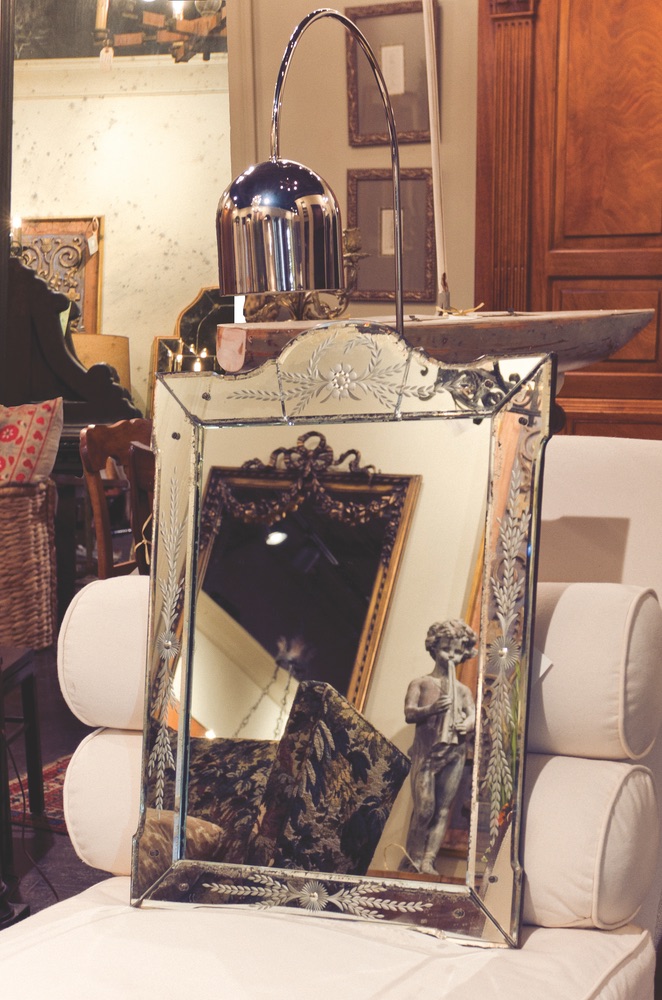 Not your average design house, R. Higgins embraces a perfect mix of old and new, resulting in timeless creations. A mix of antique and modern pieces may seem unhinged, but R. Higgins has perfected the art. To master this craft, the passion for design must be deep and the vision unique.
Higgins's passion stems from his love for old houses. He believes this to be a "Southern thing" and has always been interested in auctions and tours of historic homes. This love of all things old has undoubtedly influenced his designs. Higgins believes that "historic homes seem to have more presence than new homes" and works this philosophy into every design.
I'm inspired by anything that is done well and that can stand the test of time. An interior could be European or contemporary or historical, but if it's done right and the vision comes together, then I'm inspired.
To execute his inspired visions, Higgins focuses on a few basic guidelines to help in the creative process.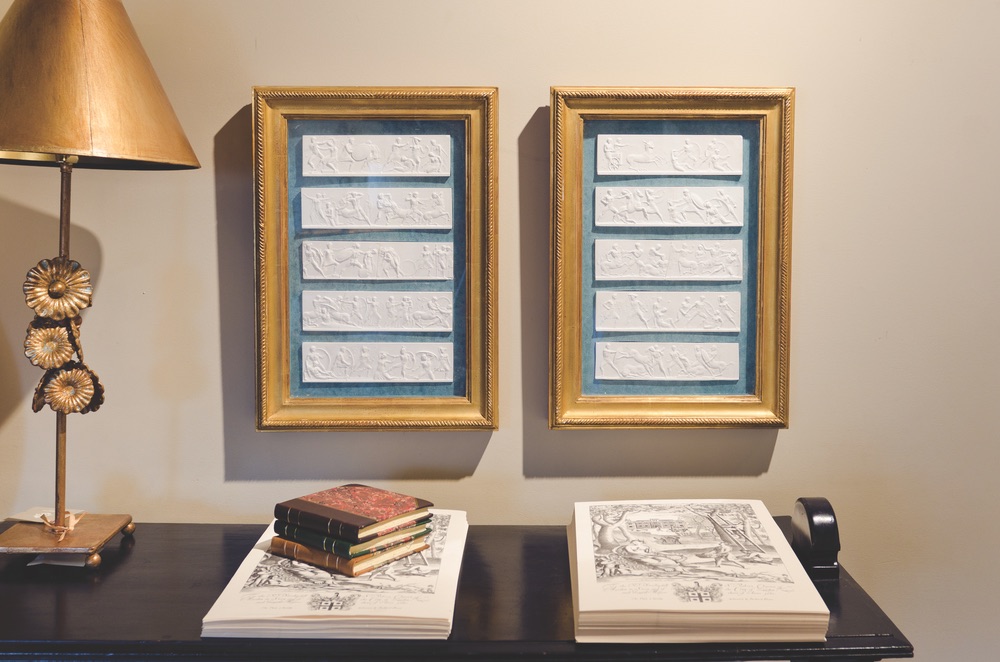 "Allow yourself to be surprised with something unexpected," the designer says. For Higgins, there is not just one right answer in the design world. Stepping out of a comfort zone and being open-minded while incorporating new styles often yields unique yet successful results.
Quality is also a key ingredient. "Do less, and do better," Higgins often says. Concentrate on investing money in quality pieces versus spreading it too thin across cheaper options—and be consistent with quality. By keeping these simple guidelines in mind, Higgins's work embodies the designer's fresh and unique taste that his growing clientele is avidly seeking.
In addition to their design services, R. Higgins offers a showroom that allows shoppers to find anything from light fixtures and unique accessories to extraordinary furniture pieces and fabrics. Because each item in the showroom is picked by hand, individuals have the opportunity to shop and leave with a piece of Higgins's eye for design. Whether shoppers are in the market for classic pieces or unique eclectic items, the R. Higgins showroom is guaranteed to equip even the novice decorator with beautiful decor.
The showroom at R. Higgins Interiors has become a Nashville staple, boasting only the best antiques and home goods. With Roger's vision, the designs and showroom of R. Higgins Interiors are truly one-of-a-kind.
— V — 
---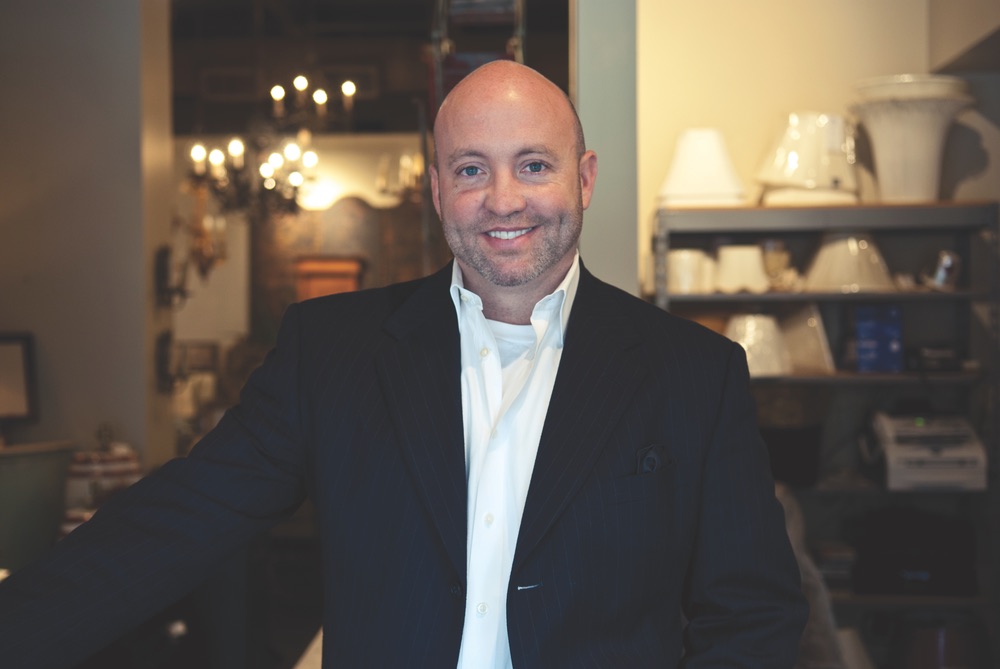 Ten Showroom Pieces Roger Higgins Adores:
Exclusively for VIE, Higgins himself chose his top ten pieces to incorporate into the home. But first, he gave us three building blocks he believes every home should have.
First, comfortable seating. Whether your home looks like a museum or is ultracasual, there should be seating options that make guests feel at home.
Good lighting is also key in a space. Higgins says the way to achieve good lighting is to have it layered in one given space. At the very least, you should have access to a dimmer switch for the recessed lighting. However, to truly bring a room to life and give it more versatility, you should try layering recessed with a chandelier and table lamps at different heights.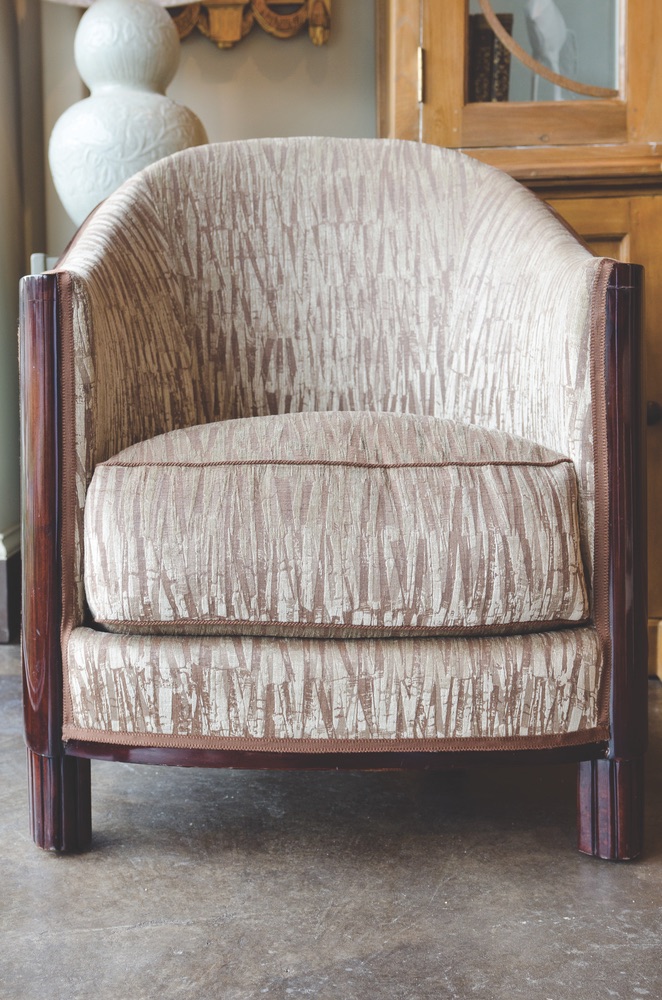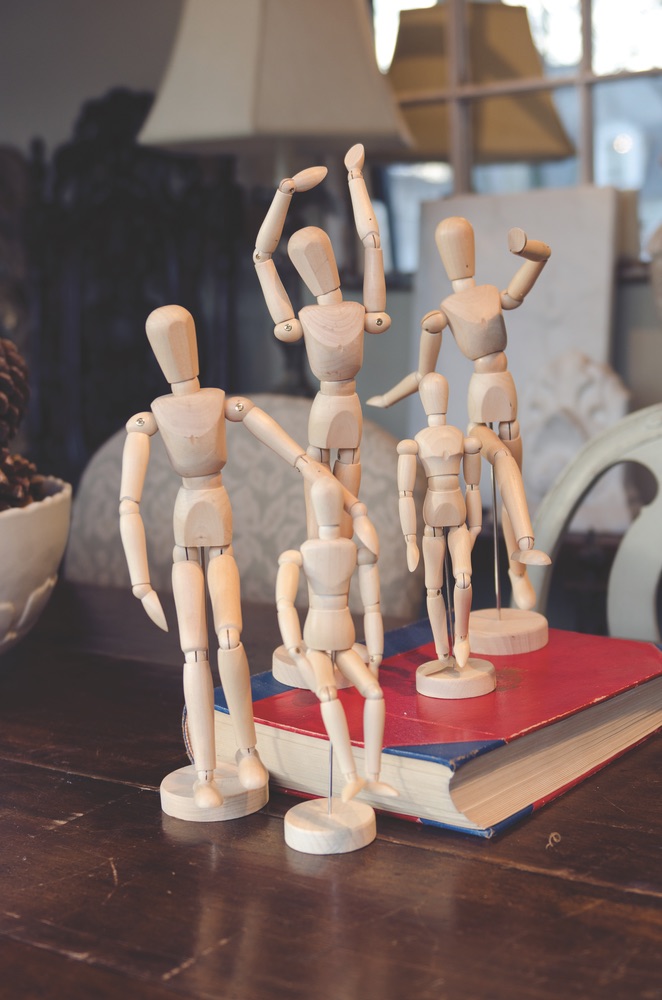 "Every house needs something old or salvaged," Higgins said of the third and most design-oriented must-have. "If there is one thing that I believe, it is that the old pieces make you appreciate the new, and the new pieces complement the old. It's all about balance."
Art Deco Chair: "I love it because people are into clean-lined pieces right now, and it incorporates that style while also having an attachment to history. If something can possess both a modern element and a vintage idea, then I like it."
Giant Bird's Nest with Ostrich Egg: Include the unexpected. Visual pieces like this add a little surprise to your decor. "You have to notice pieces like this," says Higgins.
Black Leather Trunk: "It's a versatile piece. You can use it as a coffee table or at the end of the bed and it will look great. It's made from old English camphor wood that will keep the moths away. I also love that you can still smell the wood even though it's a million years old."
Framed Replica Carvings: Include personal pieces, like these antique replica carvings of the Parthenon, to add personality to the home. These carvings were the artist's copies that were reproduced and sold as souvenirs. Accents like these are great conversation starters!
Dinner Chime: "You just can't beat it! It was the pre-texting way to call for dinner."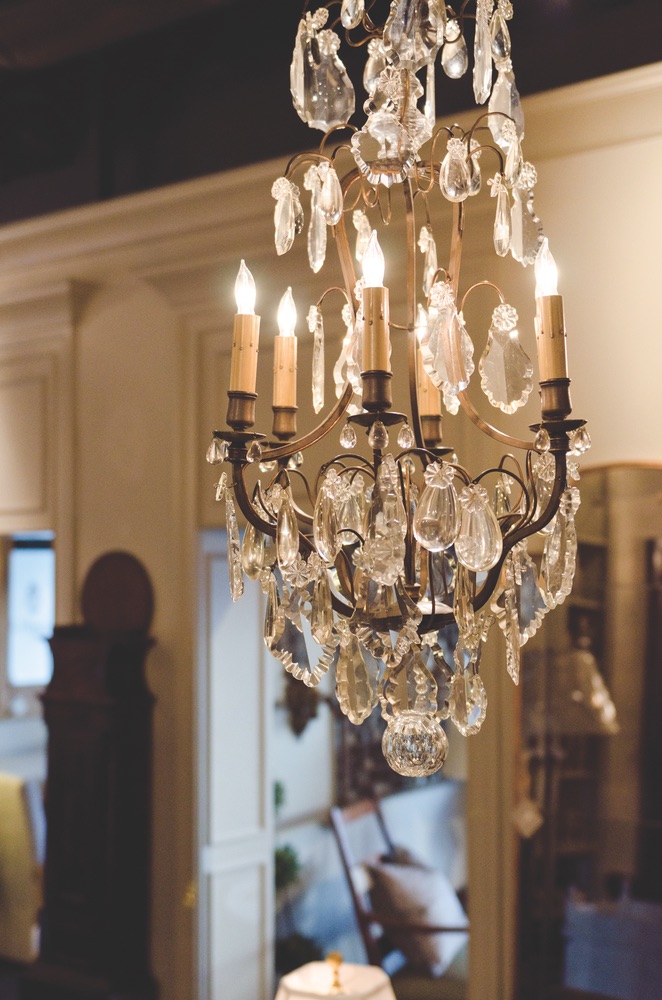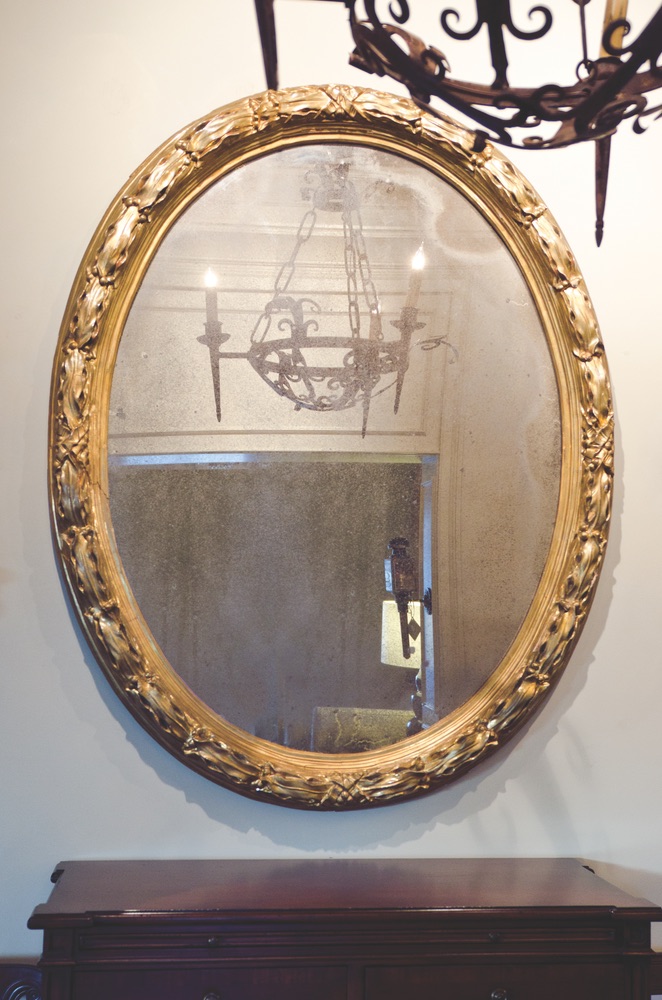 Artists' Models: These are inexpensive, interesting, and add life to a space. "They're sculptural and artistic without being too serious. They don't make you feel old!"
Wooden Cubes: "They are indestructible! You can put one next to a sofa in a playroom or beside a gilded Louis XVI chair to make it hip and modern. Their simplicity can fit into any space."
Venetian Glass Mirror: "It's pretty and feminine—perfect for a woman's dressing table. The vintage shape and style appeals to a lot of people because it's nostalgic without looking old."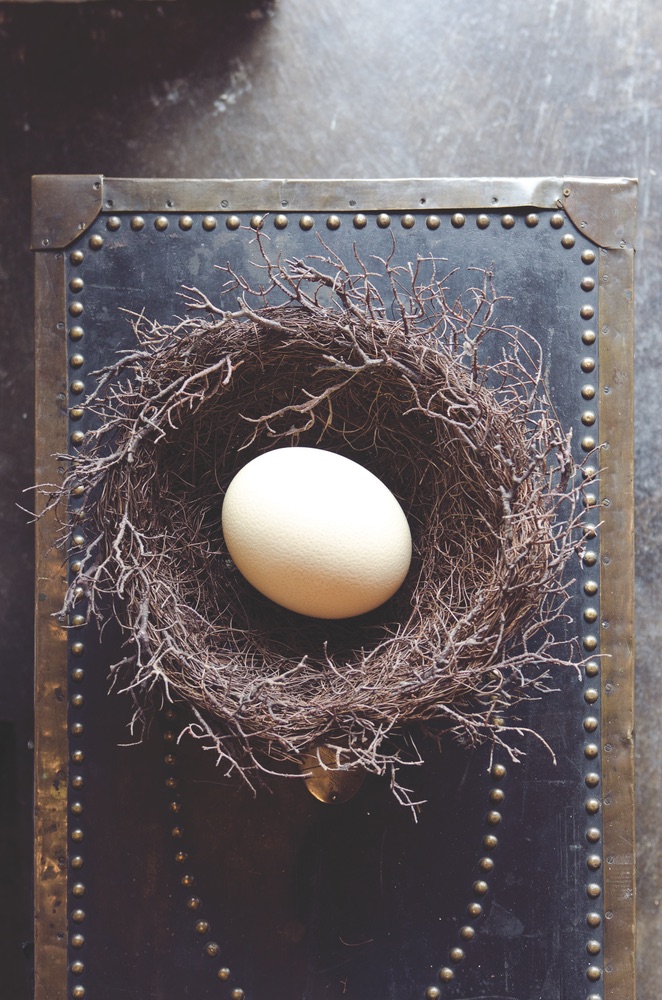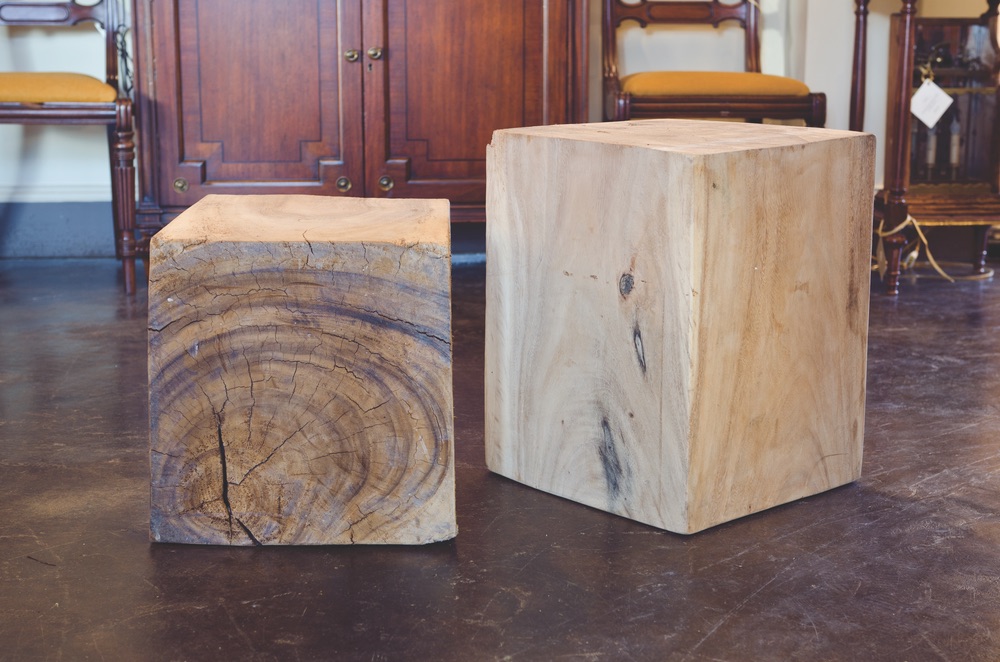 Louis XV Crystal Chandelier: This chandelier is extremely versatile. "It's the perfect size and shape for a bedroom or a cozy dining room. It's a timeless fixture that will only get better with age."
Gilded Gesso Oval Mirror: "It's like a pair of great black shoes: classic." It's perfect for an entry hall or even a very grand dressing room. It's a piece that will always make a statement without being overwhelming.
ARTICLE CATEGORIES