The Voice for the Silent Is Heard
By Lisa M. Burwell  |  Photography courtesy of the Humane Society of the United States
A revolution is under way and Wayne Pacelle is leading the charge. This well-spoken, charismatic man with movie-star good looks is a passionate protector of animal rights and a force to be reckoned with. As president and chief executive officer of the Humane Society of the United States (HSUS) for the past thirteen years, he is the general and this is his battlefield, so don't get in his way—he isn't afraid of a fight.
I briefly met Wayne on April 9, 2016, at the E.O. Wilson Biophilia Center in Freeport, Florida, for an invitation-only event hosted by the beloved Alaqua Animal Refuge and its founder, Laurie Hood. Wayne was the guest speaker to a standing-room-only group of Laurie's supporters and animal rights activists. Alaqua celebrates its ten-year anniversary this year, and what Laurie has accomplished in that time is astounding. Both Laurie and Wayne are down-to-earth people with virtue and goodness running through their veins.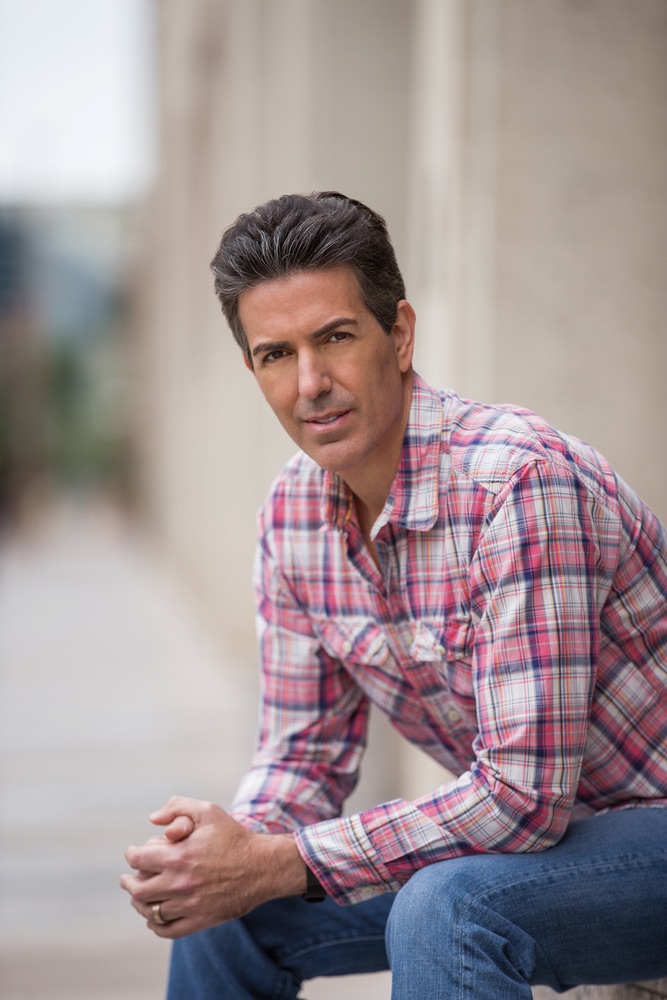 The day following his Alaqua speech, I met with Wayne for a one-on-one interview. His authenticity and passion was impressive. For Wayne, the role as CEO of HSUS is not a job—it is a war against cruelty to animals. With a staff of a thousand animal rights advocates under his command, he leads the nation's largest animal care provider and protector. Wayne shared that he had an internal fortitude and dedication to advocate for animal rights with an intensity that only a person on a mission can muster. "I get emotional nourishment seeing other people join the cause. What Laurie Hood has done with Alaqua is outstanding," he said fervently. Wayne further stated that if he's done anything right, it has been to take his message mainstream while simultaneously driving so many parallel initiatives.
"I get emotional nourishment seeing other people join the cause. What Laurie Hood has done with Alaqua is outstanding," he said fervently.
An intense schedule like Wayne's is not for the faint of heart. He is constantly traveling for media interviews, lobbying efforts, touring of inhumane facilities, and speaking engagements across the country. All of this requires immense stamina. When he mentioned that he was being interviewed by Oprah at her home the following week, it struck me how privileged our community was to have a person of his caliber come to speak about something so important. "My mission is to raise awareness of what HSUS stands for and to get people involved on any level they can," said Wayne. The organization combats large-scale cruelties such as puppy mills, animal fighting, factory farming, seal slaughter, horse cruelty, and captive hunts, as well as the negative impacts of international wildlife trade. As the ambassador of this cause, Wayne has been named Executive of the Year by the NonProfit Times. He has used the power of the pen as the author of the New York Times bestseller The Bond: Our Kinship with Animals, Our Call to Defend Them and the blog A Humane Nation, which is published each weekday, and he is a contributor to noteworthy newspapers and magazines.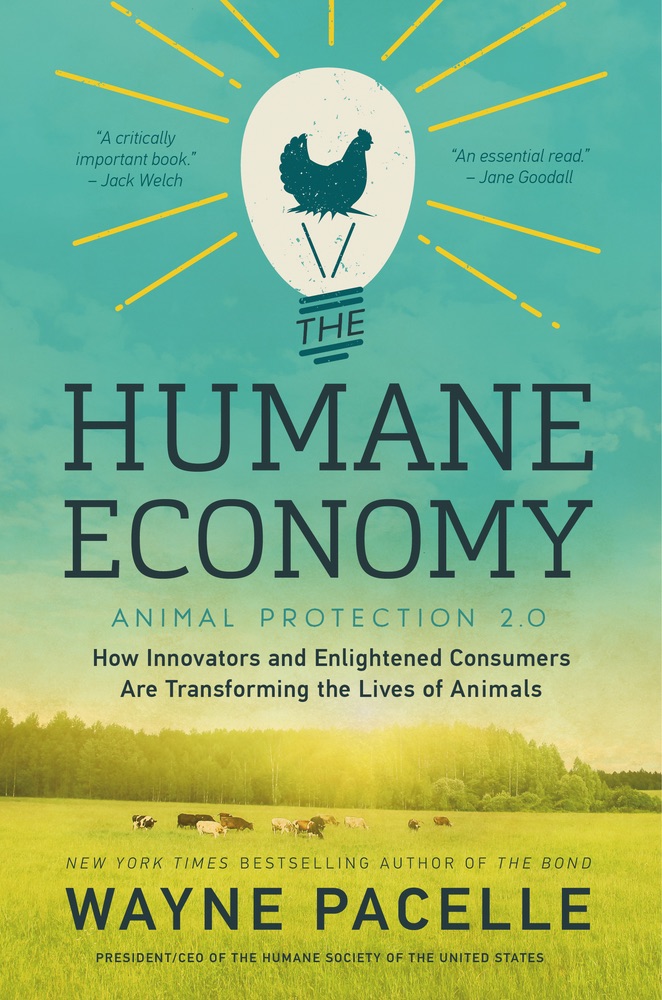 Wayne's most recent book, The Humane Economy: How Innovators and Enlightened Consumers Are Transforming the Lives of Animals, sets forth the premise that changing a collective consciousness in advocating for animal rights is only the first line of defense to bring about change, and that information and technology are leading transformative changes to that end. In his book, he describes how a revolution in American business and public policy is changing forever how we treat animals and conduct commerce. "We are now a society that recognizes that cruelty to animals is wrong. Innovation is going to offer new opportunities to act on our beliefs, and we, as a society, will eat better as a result," said Wayne. The book was lauded by John Mackey, co-CEO and founder of Whole Foods Market; Jane Goodall, PhD, DBE, United Nations Messenger of Peace, and founder of the Jane Goodall Institute; and Jack Welch, founder of Jack Welch Management.
"I make my life a protest on animal cruelty," he said. "I really value farmers who care and adhere to the principles of good farming, which includes humans connecting to animals."
Since his teenage years, Wayne has felt a strong connection to animals and he is clearly carrying out his destiny in this world. "I make my life a protest on animal cruelty," he said. "I really value farmers who care and adhere to the principles of good farming, which includes humans connecting to animals." This is really the foundational premise of his captivating book: that humans and animals are connected and we should be good stewards over them, not their captors. In 2016, SeaWorld stopped its orca-breeding program and began negotiations with the HSUS with a pledge to rescue and rehabilitate distressed marine animals. SeaWorld has also begun advocating against whaling, seal hunting, and the senseless killing of sharks for their fins. The 2013 documentary Blackfish led a groundswell of public outcry and is credited, along with HSUS, for raising awareness to evoke the change. SeaWorld's decision to change their business model sets an example to other animal-attraction businesses, and shows the importance of listening to their customers as well as their consciences when it comes to animal welfare. On the flipside, Ringling Bros. announced last year that it was phasing out its elephant acts in traveling circuses due to customers' concerns for animal welfare. The growing customer pressure and costly legal battles with animal rights activists have ultimately caused the 146-year-old circus to close in May of this year—another milestone on the battlefront. Walmart recently joined other major food retailers, including Costco, McDonald's, and Target, in a pledge to buy eggs from suppliers that allow hens to move around freely instead of inhumanely packing them into crowded cages on large-scale factory farms. This mind-set is the crux of his book, which lays the premise that businesses who do right by animals will soar, and those who don't will face hardships.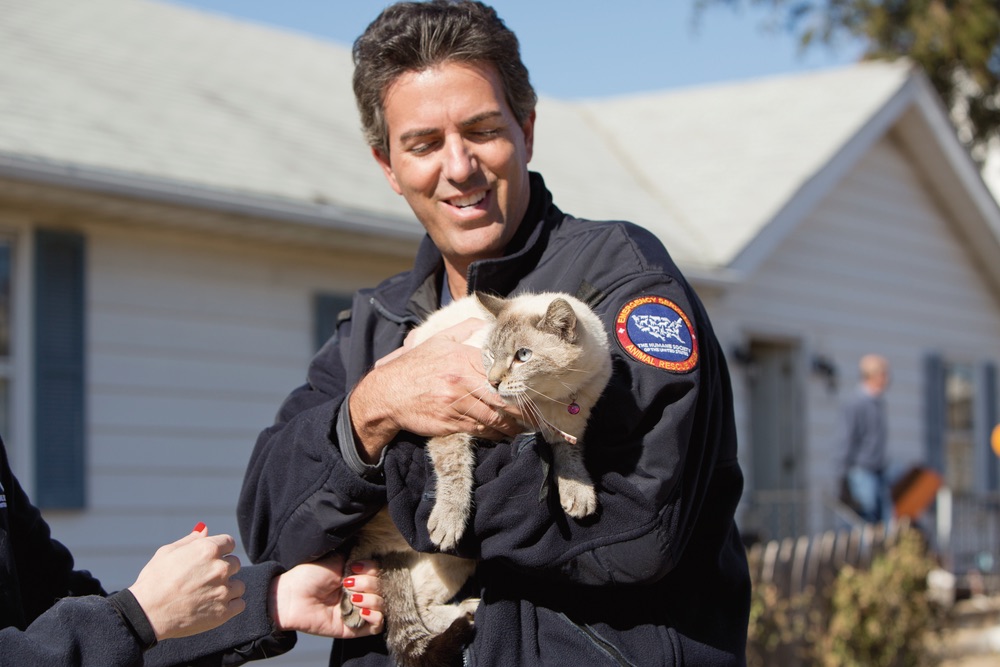 Animal protection is one of the great social movements of our time, and visionaries and businesses alike are offering solutions to show us the way forward. "I get great joy when I see corporate reform enacted or see animals being rescued from dire circumstances. I throw myself into the change," Wayne continued. As a vegan for thirty-one years, he is excited to see innovative plant-based food alternative companies like Hampton Creek and Beyond Meat, who with twelve billionaires among its investors is one of the world's fastest-growing food start-up companies. Petco and PetSmart have turned the pet store model upside down by favoring shelter dogs instead of buying from puppy mill suppliers.
Wayne Pacelle's powerful and tireless voice is a lion's roar for animals who cannot speak. He champions for them with visionaries, politicians, lobbyists, consumers, and influential CEOs alike. But not all are keen to his cause. Wayne is disrupting the status quo and making people think about how things can be done differently and how everyone can be better off because of it. "They don't have a voice, and I am their voice."
— V —
ARTICLE CATEGORIES