By Liesel Schmidt
With the barrage of cooking shows on television in the last five or six years, the considerable interest generated has resulted in food as its own culture––even in the realm of the everyday home cook. Using blogs and other social marketing venues, self-proclaimed foodies are wielding enough power to make restaurants rise or fall faster than a soufflé.
As the foodie culture explodes, so too do the appreciation for cooking as an art and the regard for dining as an event. "People are more appreciative of the culinary nuances," says Chef Innocent Utomi, executive chef at Fleming's Prime Steakhouse and Wine Bar at Grand Boulevard in Miramar Beach, Florida.
In this economy, the task of keeping a restaurant current and successful can often resemble a battle—a battle that requires passion, something that Chef Innocent seems to possess in abundance. As a child in Nigeria, he watched his mother's passion for food and cooking, and his own natural ability became a gift that would eventually carry him across oceans.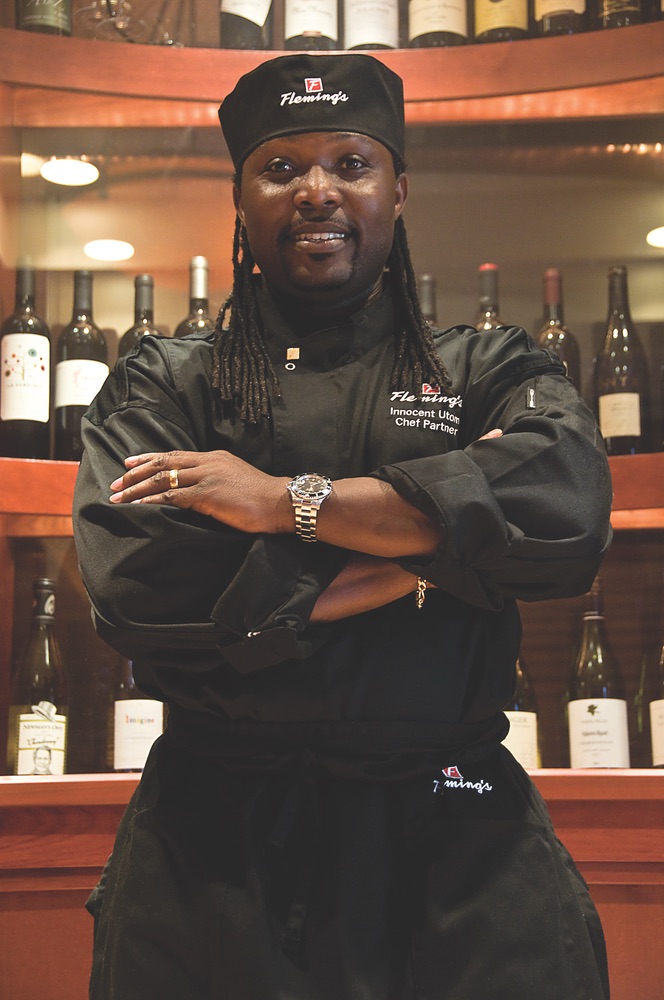 Leaving the familiarity of home, Chef Innocent made his way to London where, while earning a degree in business, he fostered his love of cooking. As he fine-tuned his mastery of French cooking under the apprenticeship of a renowned chef, Utomi began to realize his own potential for chefdom. Again, his passion was placed on the back burner for two more years as he traded London fog for the shores of Rhode Island and worked his way through an accounting degree. But numbers did not capture his fancy like food did, and after learning Italian cooking at an upscale restaurant, Chef Innocent's destiny in cuisine seemed sealed.
Relocating to Florida, Chef Innocent refined his skills over the next few years in the restaurants of Miami. American, Caribbean, Cuban, and fusion influences crept into his repertoire and, in 1995, Chef Innocent achieved a major professional benchmark when he snapped on a chef's coat for Capital Grille. In his eleven years with Capital Grille restaurants, Chef Innocent was instrumental in the company's expansion, training chefs to create the foods that contributed to the chain's growth to more than forty restaurants.
A solid background as a first-class, innovative chef positioned Utomi perfectly for the right moment. When an opportunity at Fleming's presented itself, he realized he had found his new home. Now living in South Walton with his Brazilian wife and their three young children, Chef Innocent has made his mark, designing exquisite plates for the diners who come to the Grand Boulevard location he oversees. "If you're a guest who likes to travel a lot, I like to create different dishes from different countries to remind you of where you have been—the kinds of food you have tried before," says Utomi. The chef's attention to detail and ability to capture the palate of his customers is evident by the plates he presents.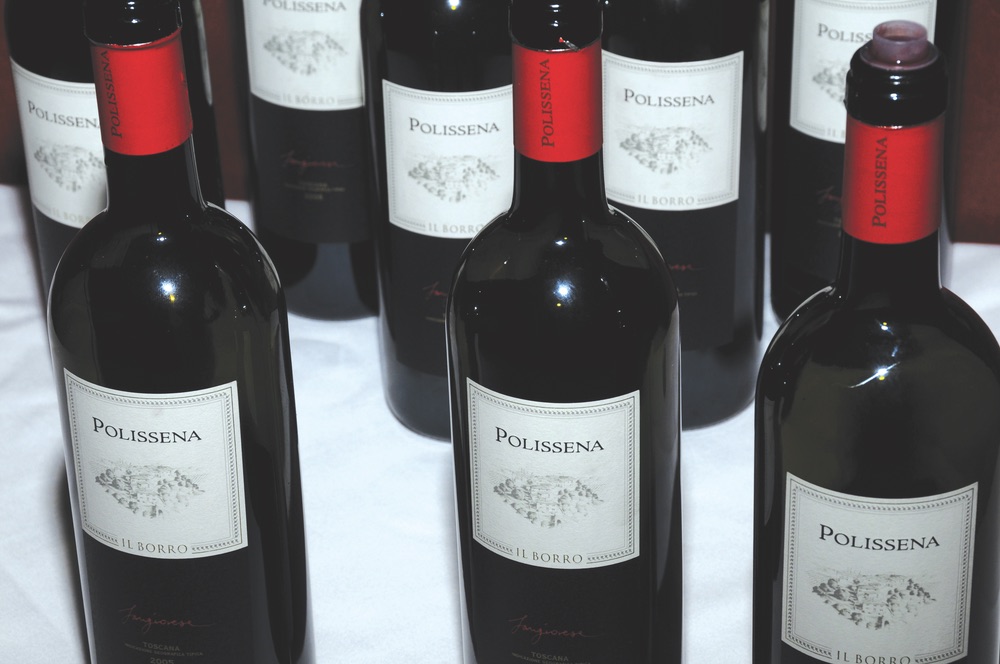 "That is innovation," says Chef Innocent of the Fleming's menu. "As chefs, we are given a lot more freedom for creativity, and you see that more than before," he continues, referring to recent changes that have come about in the restaurant's offerings. And those offerings bear no resemblance to the run-of-the-mill plates seen at so many chain restaurants liberally peppering the map. Chef Innocent designs his menu mindfully, fully appreciating his environment. "When cooking, I change the kinds of dishes I'm creating to cater to the season," says the chef. "Summer would have to be my favorite season because there are a lot of vegetables and fruits."
Changes in seasonal, locally sourced ingredients aren't the only change that Chef Innocent has noticed during his time on the Emerald Coast. "The people here are very, very nice. They're more laid back," the chef notes. "I've been in the big cities, in Miami, where everything has to go fast, and now I'm more used to this easy-going style. It's very cool, and I like it. It's mellow."
That mellowness has, in no way, affected his desire for excellence. Even on his days off, Chef Innocent can be found at the stove of his own kitchen, preparing meals for his family. "My wife is very selective in what she eats, but she likes me to make sushi and little salads for her. She challenges me a lot. As a result, I have mastered the sushi dishes."
Most recently, Fleming's has been focusing on attracting a wider following, though they are hardly abandoning their lofty standards. "I want to make sure my guys are perfect with a dish before I put it full blown on the menu," insists the chef. "We're tailoring smaller and lighter plates. Many are gluten free—we are sensitive to those with food allergies so that we have something on the menu for them to choose from. We are doing a lot of things to be more aware of the modern diner."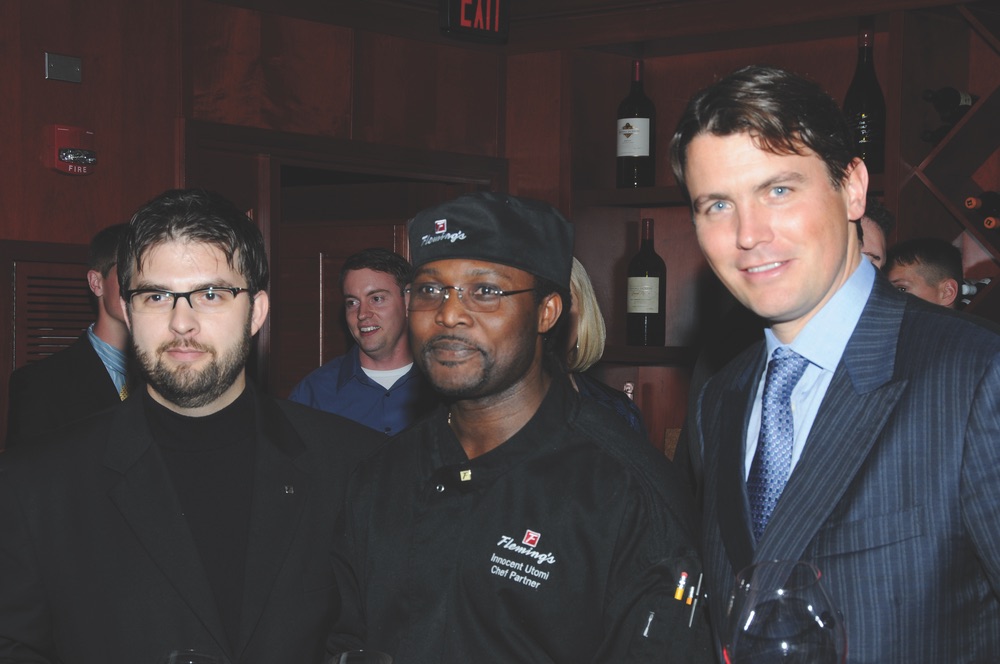 As dishes are prepared and presented, the lifelong dreams of chefs and restaurateurs are made and shattered––precious and fragile as handcrafted sugar showpieces. "One thing that I have learned in my experience, and I have been doing this for almost twenty-five years, is that you just have to be patient. Be patient and you'll see it. Everything will come together. A little off in temperature and you can mess everything up." It is an analogy that could well be made of life as a whole, a lesson that can be applied even outside the confines of a kitchen. "You never know what the future holds," intones Chef Innocent. One look at his résumé, at the battle scars earned from cooking on the line, at the miles traveled over the course of his own life, and those words are given that much more weight.
— V —
ARTICLE CATEGORIES