The Doc is in the Zone
By Lisa Burwell
You don't have to be from New Orleans to be a fan of the Saints NFL team. If you are a fan, then you probably know that the current Saints lead quarterback, Drew Brees, had badly injured his shoulder in 2005 when he played for the San Diego Chargers. Brees's shoulder was operated on and the determined quarterback signed with the New Orleans Saints. In the four years that followed, Brees consistently posted performance stats as a leading quarterback in the league and ultimately led the Saints to win the Super Bowl in 2009. Wow! That's incredible!
Oh—you think I was talking about Drew Brees? Yes, he is an incredible athlete, but I was referring to the part about the shoulder surgery. The characteristics of Brees's 2005 shoulder injury were so bleak that just about the entire world of sports medicine had little hope for his recovery and viable return to professional football. There was one man in particular who did not give up hope for Brees—a man of amazing stats, character, and determination of his own.
You may be asking, "Who Dat?" but maybe not. Almost everyone in the Gulf Breeze-Pensacola area knows of him, and certainly just about everyone in the world of sports medicine has heard of him. He is world-renowned orthopaedic surgeon Dr. James Andrews—founder of the Andrews Institute for Orthopaedics and Sports Medicine—the best of the best in his profession for knee, elbow, and shoulder injuries.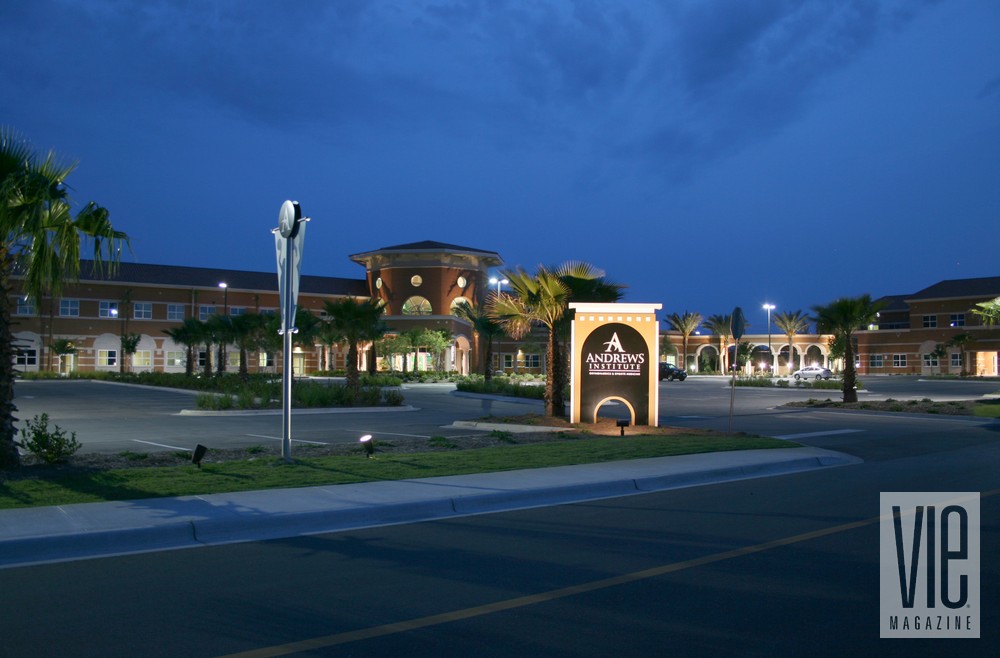 To be granted the opportunity to look inside the Andrews Institute in Gulf Breeze, and into the life of the amazing man behind it, was a great privilege for me. Its design, size, equipment, and professional staff rival any medical facility found in larger cities, although upon entering, you feel as though you've entered a spa for the well heeled. Physicians and nurses dressed in green scrubs briskly walked the halls, and people were coming and going with a pace you'd find in a metropolitan medical facility in Boston or New York.
On the day of my interview, before meeting with Andrews, I was invited for an extensive tour of the very impressive campus-like complex. In a nutshell, Andrews Institute is a one-of-a-kind center—a medical mecca dedicated to the prevention and treatment of musculoskeletal injuries. Over forty physicians and medical experts provide quality care in specialties ranging from orthopaedics and podiatry to ophthalmology, joint care, and neurology. It is the only facility offering surgery, diagnostic imaging, rehabilitation, and athletic performance training all on one campus. There is an air of precision and excellence in the facility and you notice it in every nook and cranny. It's not something you find often, so when you see it, you appreciate it that much more.
One of several divisions under the Andrews Institute umbrella is the Andrews-Paulos Research and Education Institute. This highly specialized facility maintains a Human Performance Biomechanics Laboratory with motion analysis cameras to measure baseball and golf swings, a Biodex System 3 Isokinetic Dynamometer for strength assessment, and a surgical skills lab for research and testing. It looked more like an updated film set for The Six Million Dollar Man television series than a medical facility located in Gulf Breeze. This branch of the institute also performs all the research for the Pensacola-based Baptist Hospital network.
Next, the tour took us to the 42,000-square-foot Athletic Performance and Research Pavilion, where top NFL draft picks for the past several years have been trained, including 2010's number-one draft pick, Sam Bradford. Bradford, picked earlier this year by the St. Louis Rams, who was operated on by Dr. Andrews at the Institute's Birmingham location but rehabbed in Gulf Breeze. One of the major reasons that professional athletes prefer Andrews Institute over other locations is that, in addition to this being one of only five facilities of its kind in the country, the lack of paparazzi enables high-profile athletes to concentrate on their rehab or training and not be bothered by the crazed celebrity culture in which we live.
The Andrews Institute has all the amenities an elite athlete needs to perform at an optimal level. Equipped with custom-built and prototype equipment by Keiser, Power Plate and Skiz, the complex includes HydroWorx performance pools, a performance and testing lab, a seventy-meter sprint track, a turf field, an outdoor covered agility and court area, pitching mounds and a batting cage. With all of these amenities, it is not surprising that the institute is on par with or exceeds other professional facilities across the country, but what is surprising is that everyone has access to this professional and elite care because it is open to the public.
Being enlightened to the amazing resources and qualifications of the Andrews Institute, I was somewhat anxious about meeting the man behind it all. When I finally caught up with Dr. Andrews for the interview, I was delightfully surprised to find a genuinely warm and caring person. As the interview unfolded, Andrews explained his passion and drive behind what it is that he does—and I came closer to understanding why the Andrews Institute maintains the level of excellence that it does.
"Everything from the design to the ambience is intentional as I believe that a patient's state of mind and attitude have so much more to do with the outcome of their rehabilitation than the actual surgery," Andrews humbly stated. A younger man would be hard-pressed to keep up the rigorous pace that Andrews maintains day in and day out. Andrews recounted that he had been to six football games in six different states the previous weekend. I asked him how he travels to so many destinations in such a short time frame. He replied with, "My wife, Jenelle, lets me." The unlikely response caught me off guard and I quickly realized that this superhuman was also down-to-earth with a great sense of humor. He explained the various games and how much he enjoys attending them with his family. His approachable demeanor is part of his charisma and clearly he loves what he does. "If you love what you do, and do what you love, you'll be successful," added Andrews.
At present, Andrews serves as Medical Director for Intercollegiate Sports at Auburn University; Senior Orthopaedic Consultant for the University of Alabama; and orthopaedic consultant for the athletic teams of Troy University, University of West Alabama, Tuskegee University and Grambling University. He serves on the USA Baseball Medical and Safety Advisory Committee and on the board of Little League Baseball, Inc. Andrews practices mainly from his office at the Andrews Sports Medicine and Orthopaedic Center located at St. Vincent's Medical Center in Birmingham, Alabama, and one day a week at the Andrews Institute for Orthopaedics and Sports Medicine in Gulf Breeze, Florida.
In the professional sports arena, Andrews is Senior Orthopaedic Consultant for the Washington Redskins football team; Medical Director for the Tampa Bay Rays baseball team; and team physician for the Birmingham Barons Double-A level baseball team, an affiliate of the Chicago White Sox. He is also the Co-Medical Director of the Ladies Professional Golf Association.
Traveling among sports royalty is part of a typical day for Andrews. He has consulted with Tom Brady and operated on Brett Favre. An athlete himself, Andrews won a Southeastern Conference Championship in pole vaulting while at Louisiana State University. Andrews is an avid fan as well as a fierce competitor—racing yachts is one of his passions. His racing sloop Abracadabra III won the 1990 International 50-foot Yacht Association World Cup and was named one of the best one hundred vessels of the twentieth century by SAIL magazine.
I asked Andrews what he thought about his success with Drew Brees's shoulder. "Drew Brees was a little bit of a miracle. I give him most of the credit for his recovery as I've never seen anyone work harder in rehab," he said humbly. The day Andrews watched as Brees led the Saints to their first Super Bowl victory, he was particularly proud: proud of his successful operation, proud of Drew's ability and unwavering perseverance to fight through a grueling rehab, and proud to be a Louisianan.
Andrews has performed over forty thousand surgeries throughout his stellar career and he has been credited with performing some of the earliest arthroscopies. Though many of these were performed on both professional and amateur athletes, countless more were done on others—members of our military, wounded veterans, and even grandmothers—all who were in need of his gifted handiwork so that they could go on to lead happy and productive lives.
Of all that was discussed that day, one of the most important to Andrews seemed to be the national program he began during his tenure as president of the American Orthopaedic Society for Sports Medicine (AOSSM) called STOP Sports Injuries, a program that he is emphatically championing at Andrews Institute. According to the American Academy of Orthopaedic Surgeons, each year more than 3.5 million children ages fourteen and younger are treated for sports-related injuries. Andrews believes that "prehab" is just as important as rehab, and that is why he continues to preach education and research in the prevention of sports injuries. Research conducted thus far reveals that the number one reason for the increase in sports injuries in children is that sports are now being played yearlong as opposed to seasonally. "Parents think they're doing the right thing for their children by having them play and practice longer, but they're actually hurting them," stressed Andrews. There is an epidemic of youth injuries across the country. The research has shown a 5–7 percent increase in youth sports injuries just in the last few years.
Recently, the Andrews Institute began fundraising efforts for the Eagle Fund, designed to return injured military athletes to the highest level of activity possible. "For all our patients, we use the pro-athlete model, which consists of easy access, quick diagnosis and timely treatment. Our physical therapists typically watch surgeons through cameras placed in the operating room and begin crafting a patient's treatment right then," noted Andrews.
Throughout the interview, Andrews shared anecdotes about his opinions for success in life and in business. One that struck me more than any other was "If you're still talking about what you did yesterday, then you're not doing that much today." Listening to Andrews talk about his life and career was inspiring. Accompanying Andrews through the halls of the institute, it was evident that he is revered by his patients and staff alike. When staff spoke to Andrews, they did so in reverent tones and were to the point. They know his schedule is to be guarded well and it's unlikely anyone makes a habit of wasting his time.
At the close of our interview, Andrews was making plans to have his boat put in the water so that he could take his daughter and her friends out for a cruise that evening. For all the fame, accomplishments, success, and exhausting travel schedules, he's just a normal father of six getting ready for a weekend with his family. WOW!
— V —
---
To learn more about Dr. Andrews and the Andrews Institute for Orthopaedics and Sports Medicine, please visit www.TheAndrewsInstitute.com.
Notable Patients**
The patient list of Dr. James Andrews is a cross section of star athletes from many different sports. Some of the most notable athletes who have been treated by him:
Football players • Bo Jackson: shoulder, 1984; hip, 1992 • Doug Williams: knee, 1988 • Bruce Smith: knees, 1990 and 1991 • Troy Aikman: elbow and shoulder, 1991 • Michael Irvin: shoulder, 1994 • Emmitt Smith: shoulder, 1994 • Trent Green: knee, 1999 and 2001 • Chad Pennington: shoulder, 2005 (twice) • Deuce McAllister: knee, 2005 • Daunte Culpepper: knee, 2005 and 2006 • Takeo Spikes: Achilles tendon, 2005 • Donovin Darius: ACL, 2005; shoulder, 2006 • Drew Brees: shoulder, 2006 • Byron Leftwich: ankle, 2006 • Donovan McNabb: knee, 2006 • Matt Hasselbeck: shoulder, 2007 • Joey Porter: knee, 2007 • Kenny Irons: knee, 2007 • Isaiah Kacyvenski: knee, 2007 • D. J. Shockley: knee, 2007
Baseball players • Roger Clemens: 1985, shoulder, 1985 • David Wells: 1985, elbow, 1985 • Jimmy Key: elbow, 1988; shoulder, 1994, 1995 • José Rijo: elbow, 1995; five more elbow ops, 1996–2003 • Steve Karsay: elbow, 1995; shoulder, 2003 • Kerry Wood: elbow, 1999 • John Smoltz: elbow, 2000 and 2003 • Carl Pavano: elbow, 2001 and 2006 • Jon Lieber: elbow, 2002 • A. J. Burnett: elbow, 2003 • Andy Pettitte: elbow, 2004 • Gary Sheffield: shoulder, 2004 • Jim Thome: elbow, 2005 • Mark Prior: shoulder, 2007 • Anibal Sánchez: shoulder, 2007 • Freddie Garcia: shoulder, 2007 • Chris Ray: elbow, 2007
Basketball players • Charles Barkley: shoulder, 1990 • Michael Jordan: shoulder (therapy, not surgery), 1994 • Penny Hardaway: knee, 1996 • Randy Livingston: knee, 1996 • Scottie Pippen: elbow, 2001 • Allen Iverson: elbow, 2001 • Aaron McKie: shoulder, 2001 • Chris Webber: knee, 2003 • Shaun Livingston: knee, 2007
Golfers • Jack Nicklaus: knee, 1984 • Jerry Pate: shoulders, 1985, 1986, 2003, 2006 • Mark McCumber: shoulder, 1996
ARTICLE CATEGORIES