Callaway Gardens in Georgia's Appalachian Foothills
By Kim Duke-Layden | Photography courtesy of Callaway Gardens Resort
If your image of a fairy-tale wedding includes a serene mountain setting draped in natural beauty and understated elegance—and has the conveniences of a world-class resort—then beguiling Callaway Gardens, nestled in the southern foothills of Georgia's Appalachians, could be your picture-perfect match.
Conveniently located one hour southwest of Atlanta near the tiny town of Pine Mountain, Callaway Gardens Resort is a nature lover's utopia with thirteen thousand acres of gorgeous flowers, lush woodlands, and glistening lakes. In addition to its breathtaking scenery, Callaway Gardens features two pristine golf courses, a freshwater lake with white-sand beaches, numerous accommodations, restaurants, shops, beautiful banquet facilities, and an award-winning spa, not to mention year-round events, countless outdoor recreation opportunities, and Southern hospitality galore. Simply put, Callaway Gardens makes an idyllic location for a romantic wedding and honeymoon destination.
Having grown up in a small town fairly close to Callaway Gardens, I have had the pleasure of visiting this genteel Garden of Eden on numerous occasions. Last fall, after a fifteen-year hiatus, I was excited to return with my husband, John, for a romantic getaway and to show him around my childhood haunt. To my delight, I discovered that Callaway Gardens is like a fine wine; it only gets better with age.
Our four-hour drive from Sandestin, Florida, to Pine Mountain breezed by as we cruised along in my convertible under blissfully sunny autumn skies. If you're lucky enough to have your own plane, you can land at the Harris County Airport, which is only two miles from the resort. When we arrived at the outskirts of town, I was surprised to see that Callaway Gardens' main entrance had moved from Highway 27 to the resort's northwest corner off Highway 354. This was the first indicator that my childhood stomping ground had kicked things up a notch while I had been away. Even more amazing was the resort's chic new lodge with a world-class spa and full-service conference center.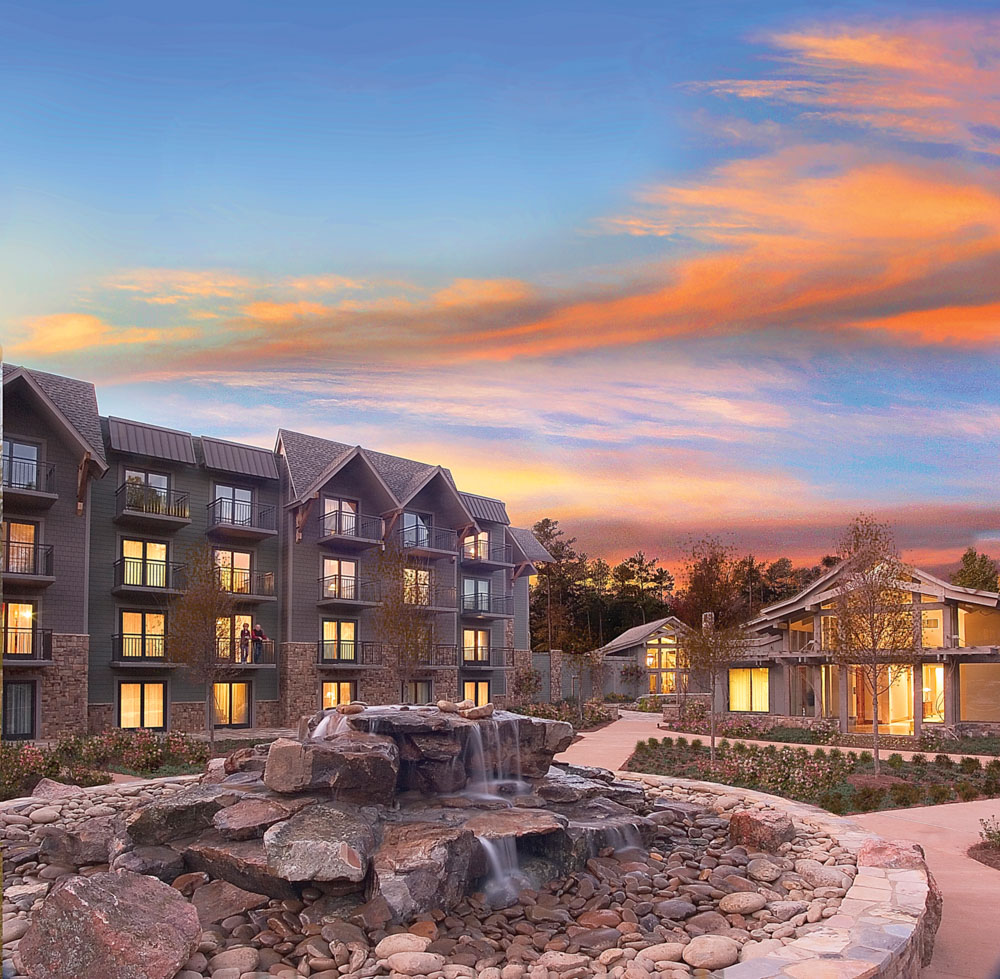 A Luxurious Lodge and Spa
The Lodge and Spa at Callaway Gardens is a member of the Marriott's select Autograph Collection of independent boutique hotels and is recognized for its personality and Southern hospitality. The Lodge houses the resort's newest and most luxurious accommodations, and guests can utilize and earn Marriott Rewards points while staying there. The inviting lobby has cathedral ceilings crisscrossed with wooden beams. Its two-sided river rock fireplace can also be enjoyed from the adjoining outdoor courtyard on chilly evenings. At check-in, the front desk staff and bellmen are as welcoming as the charming surroundings.
Each of the Lodge's guest rooms and suites is tastefully appointed in contemporary mountain-chic decor done in calming earth tones. All rooms feature comfy beds, mini fridges, coffeemakers, free Wi-Fi, and private balconies perfect for enjoying a morning cup of coffee or sunset toast. Our room's balcony had sweeping views overlooking a huge cascading rock fountain and nearby patio with a heated pool, hot tub, and outdoor fireplace. Our lavish bathroom—as spectacular as the view—included a separate shower and soaking tub, double sinks, granite countertops, and homey touches such as decorative tiles detailed with pinecones and framed black-and-white photographs of the area.
A stone's throw from the lobby is the cozy Ironwood Lounge, which also has a fireplace and outdoor seating. It's a popular gathering spot for pub-style fare, a refreshing beverage, and good conversation. For a taste of local flavor, guests can nibble on black-eyed pea hummus or fried pimento cheese fritters served with red pepper jelly and candied pecans. The Ironwood Lounge also serves several Georgia-inspired specialty cocktails such as the Muscadine Manhattan, made with fresh muscadine purée from locally grown grapes, and the bewitching Georgia Moon, featuring Thirteenth Colony Southern Corn Whiskey from Georgia's only legal moonshine distillery.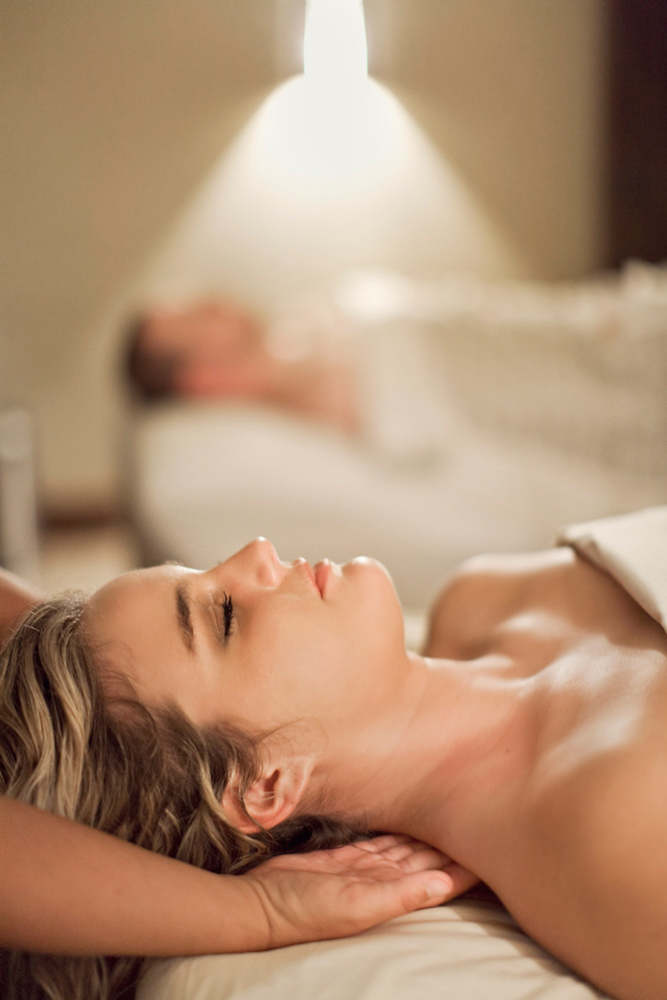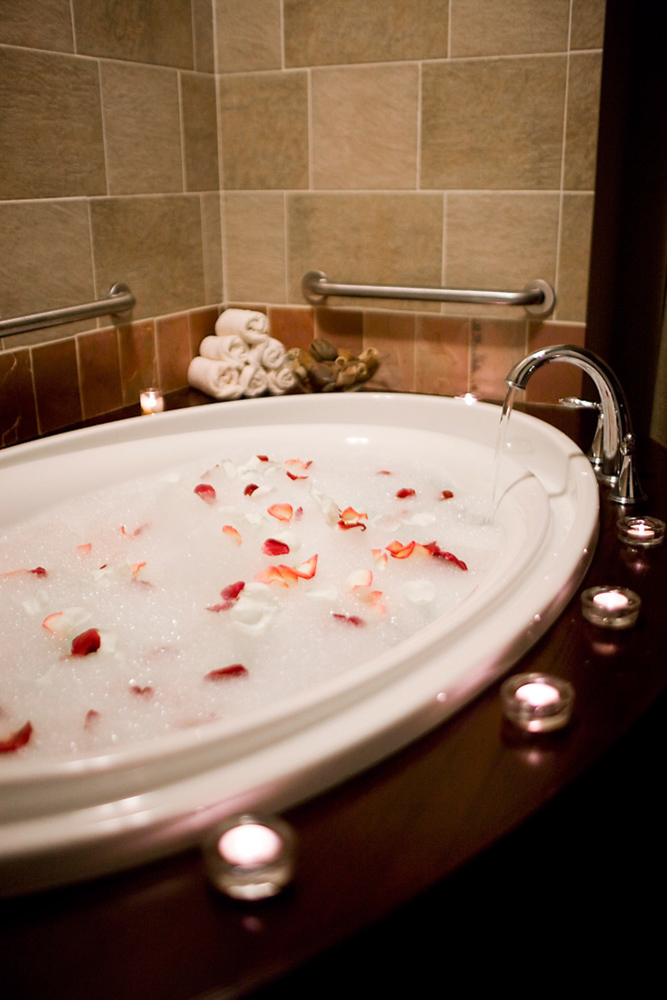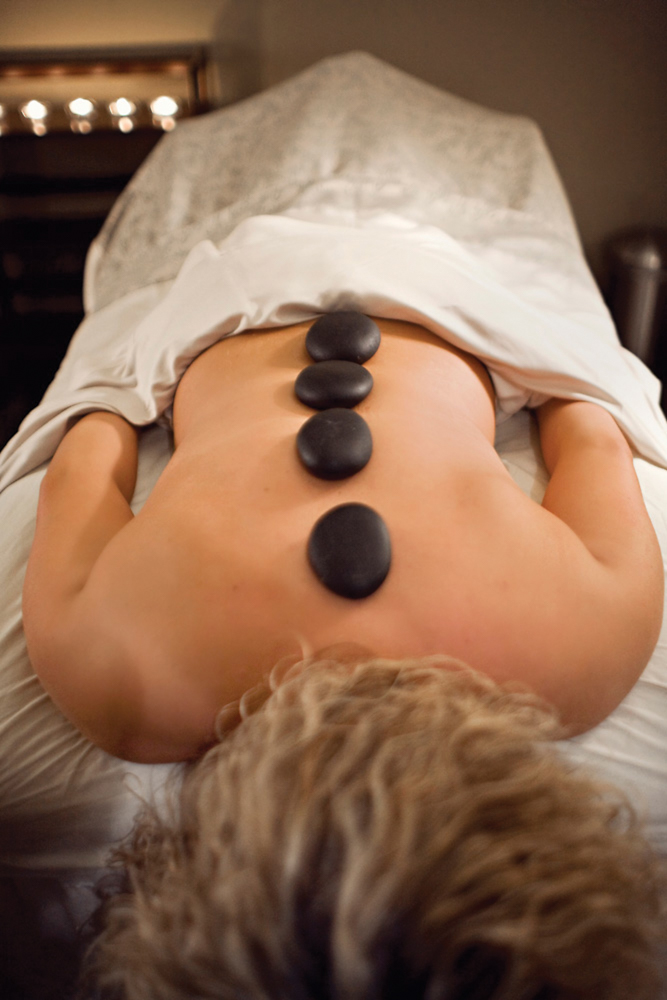 The Piedmont Grille is the Lodge's full-service restaurant, offering Southern cuisine that highlights locally sourced organic produce and ingredients. We ate here several times during our stay; the service and food were consistently good. Noteworthy menu items include crab cakes served with rémoulade and pickled sweet onions; pan-seared local trout atop black-eyed pea succotash; coastal Georgia shrimp with locally milled Speckled Heart grits; and a homemade red velvet Cheesecake Napoleon, which was as delicious as it was artfully presented. The Piedmont Grille also features popular weekend breakfast buffets and a Friday night seafood buffet, which seem to attract as many locals as lodge guests.
Located at the opposite end of the hotel are the well-equipped fitness center and the Spa Prunifolia, which was named after the rare plumleaf azalea that grows naturally in only a few areas of Georgia and Alabama. Included in Condé Nast Traveler's list of Top 100 Spas by its 2010 and 2011 readers' polls, the 13,000-square-foot relaxation and rejuvenation haven is Callaway Gardens' only spa, featuring thirteen treatment rooms and offering an array of organic body treatments. John and I enjoyed a scalp-to-toe "botanical body melt" aromatherapy treatment and massage, which erased a week's worth of stress and fatigue in eighty blissful minutes. Spa Prunifolia especially caters to brides by offering full salon services including hair and makeup, and complimentary use of a huge private room where she and her bridesmaids can get ready before the wedding.
Callaway Gardens makes an idyllic location for a romantic wedding and honeymoon destination.
Versatile Wedding Venues
For weddings, receptions, and pre- and post-nuptial functions, the Lodge and Spa at Callaway Gardens offers a host of beautifully appointed ballrooms and outdoor venues with serene woodland views, such as the Longleaf Lawn that can accommodate up to 350 seated guests; an experienced banquet staff is also on hand to help the celebration go smoothly. According to the Lodge's catering and sales manager, Sally Biles, "The Lodge and Spa at Callaway Gardens is the resort's most convenient wedding location because all of your rooms, spa and salon services, and wedding-related functions, plus breakfast, lunch, and dinner, are all contained under one roof; and you don't have to worry about transportation. Many couples choose to get married at Callaway Gardens because we provide a serene and beautiful backdrop that is classy rather than flashy. Shabby-chic wedding motifs are popular here, with lots of natural hues and materials in beiges and whites, often with a little pop of color."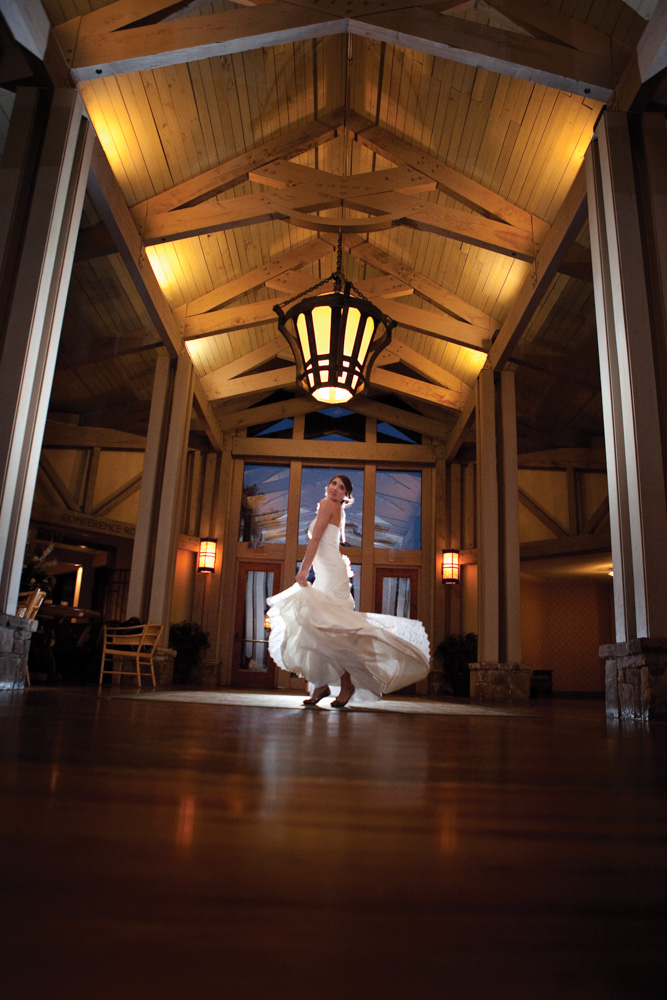 For couples who want to stay at the Lodge and have a traditional church wedding, there is the Ida Cason Callaway Memorial Chapel. Tucked within the gardens and overlooking a picturesque lake, this quaint stone chapel was built in a sixteenth-century Gothic design. The sanctuary has pitch-perfect natural acoustics and can comfortably seat up to fifty guests. In addition to stained glass windows, the chapel also has a stone altar and a rare handmade Möller pipe organ.
Although the Lodge and Spa at Callaway Gardens is independently owned and operated from the rest of the Callaway Gardens Resort, Biles said, "We have a great working relationship with one another and often collaborate on weddings and pre- and post-wedding activities. In May, we are hosting a unique multidenominational wedding that will begin with a Christian ceremony at the chapel, followed by a Hindu wedding and reception at the lodge." Biles also said that she regularly interfaces with numerous other resort departments on behalf of her bridal clients to organize activities such as golf outings for the groomsmen.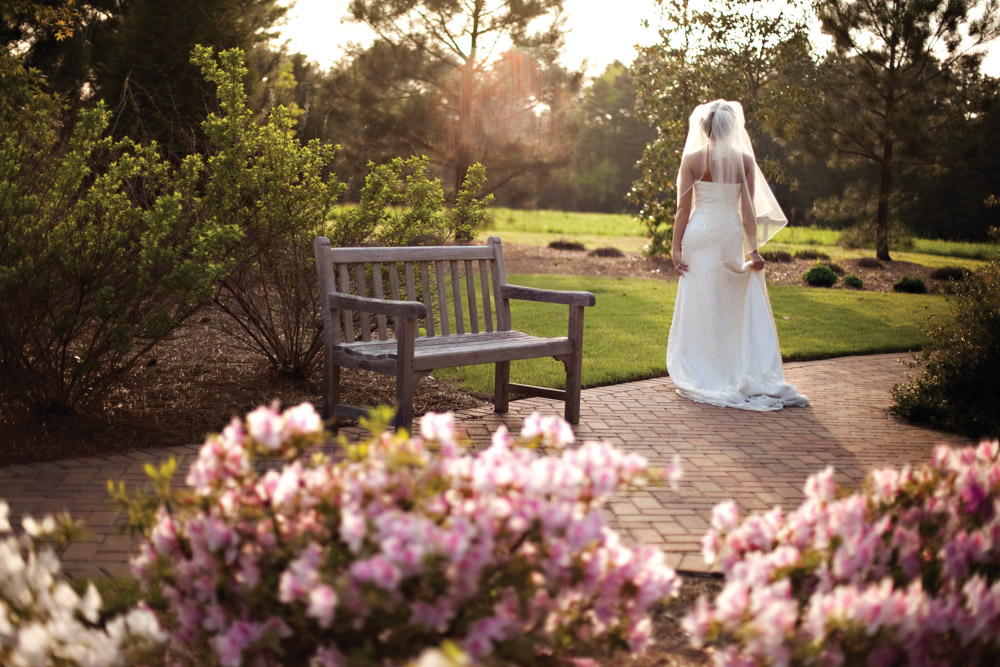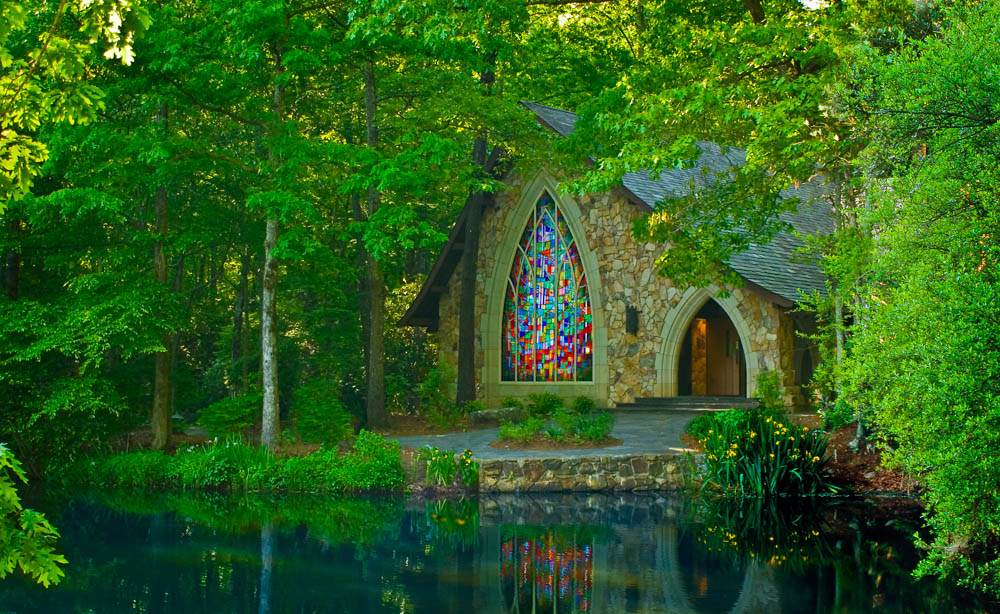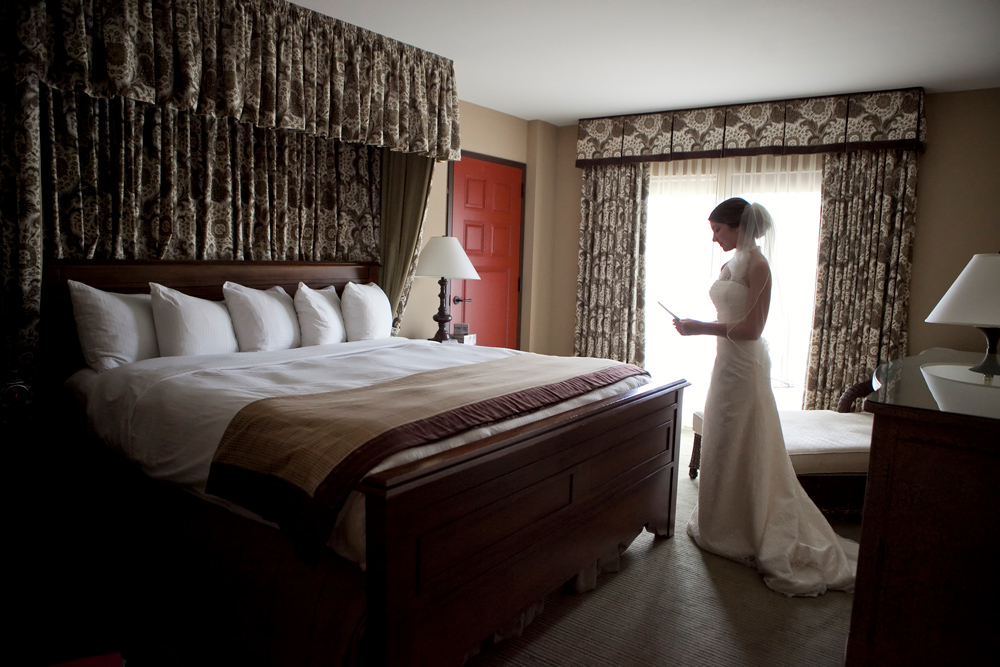 Many couples choose to get married at Callaway Gardens because we provide a serene and beautiful backdrop that is classy.
Allure and Attractions
All guests who book accommodations with any of the resort's lodging venues receive complimentary access to the gardens throughout their stay. Callaway Gardens' botanical spectacle is undoubtedly its heart and soul and has been drawing millions of admirers since 1952, when local textile mill magnates Cason and Virginia Callaway first opened their six-thousand-acre sanctuary to the public.
Majestic Callaway Gardens emerged from humble roots—from one single azalea plant, to be exact. Twenty years earlier, Mr. Callaway discovered a rare azalea growing in the area, which inspired the avid horticulturist couple to transform an unusable piece of decrepit farmland into a flourishing Eden full of azaleas, magnolias, dogwoods, daffodils, tulips, and crabapples. They later added a three-thousand-acre forest preserve filled with mountain laurels, sourwoods, crape myrtles, and hollies.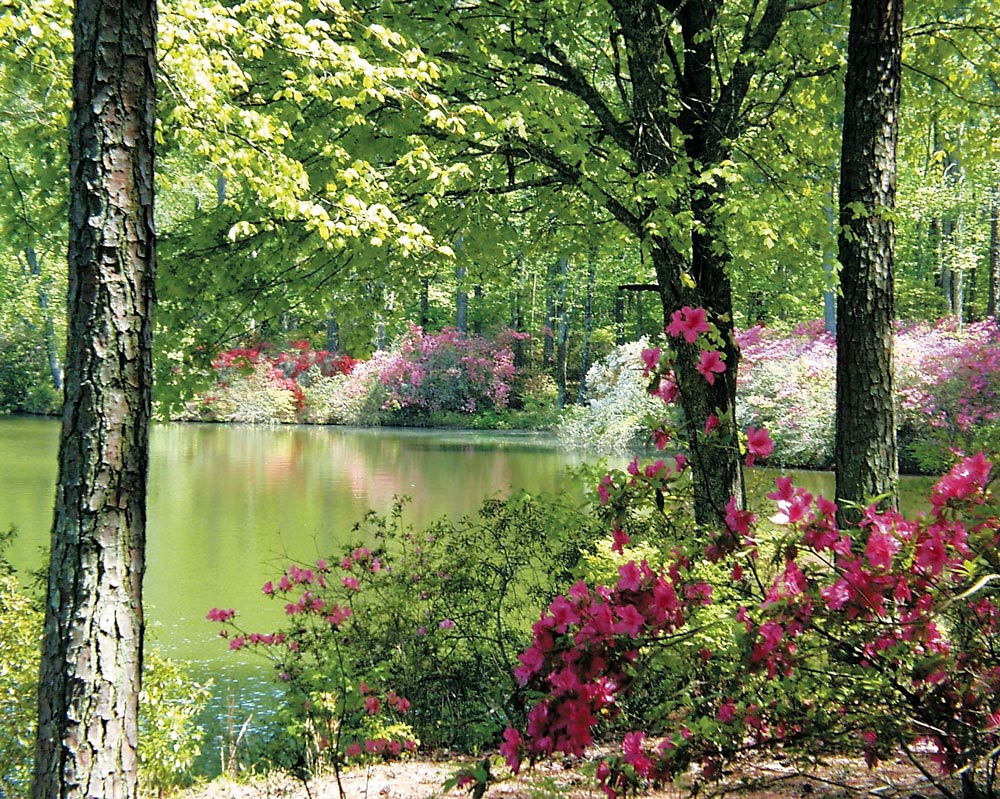 Many visitors come to Callaway Gardens for the abundance of outdoor recreation: golf, tennis, kayaking, canoeing, walking trails, and fishing. My favorite way to explore the resort is on the scenic ten-mile Discovery Bicycle Trail, which crisscrosses the diverse, ever-changing landscape and connects to the resort's many sites and attractions. A popular stop is the Cecil B. Day Butterfly Center, which is one of North America's largest tropical butterfly habitats and contains more than fifty species of the ethereal creatures. Nearby is another unique site, an authentic nineteenth-century log cabin consisting of two rustic pine-hewn rooms; the cabin was once home to a family of fifteen.
A great place to start your tour of Callaway Gardens is at its state-of-the-art Discovery Center, which hosts exhibits, concerts, and free-flight birds of prey shows. Nearly as hair-raising as the hawk that grazed the top of John's head en route to the stage is one of the resort's newest attractions, nearby Treetop Adventure. As we maneuvered an exhilarating series of zip lines and aerial obstacle courses that challenged our balance at dizzying heights, we were rewarded with gorgeous views of the lake and woodlands.
Four-Season Inspiration
Callaway Gardens is, by its very nature, a four-season destination where Mother Nature unveils new and wondrous sights every few months in a kaleidoscope of dazzling colors. Adding to the enticing array of seasonal backdrops is the resort's exciting calendar, which is chock-full of special events, cultural activities, recreational events, and competitions.
Spring
By far one of the most stunning seasons to experience Callaway Gardens in all its glory is springtime, when millions of azalea blossoms explode in a spectacle of vibrant pink, red, purple, coral, and white. The forty-acre Callaway Brothers Azalea Bowl alone has more than three thousand azalea trees and shrubs interlaced with picturesque walking paths and gentle slopes. The Overlook Azalea Garden that Mrs. Callaway helped to design is a must-see with its prism of natural beauty. As the site of one of the world's largest displays of native and cultivated azaleas, March and April at Callaway Gardens hold breathtaking sights and are a perennial favorite for weddings and vow renewals.
Annual spring event highlights include Easter egg hunts; Sunday buffets; the juried Plein Air Paint Out, Art Show, and Sale, which showcases artists from across the country; and Symphony on the Sand with the Atlanta Symphony Orchestra performing under the stars on Robin Lake Beach.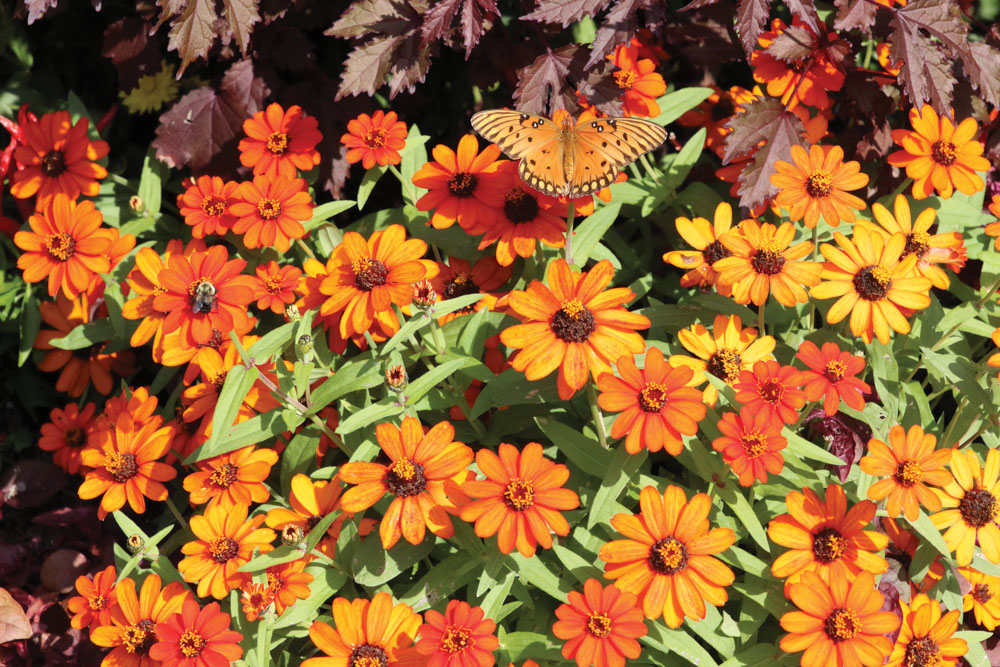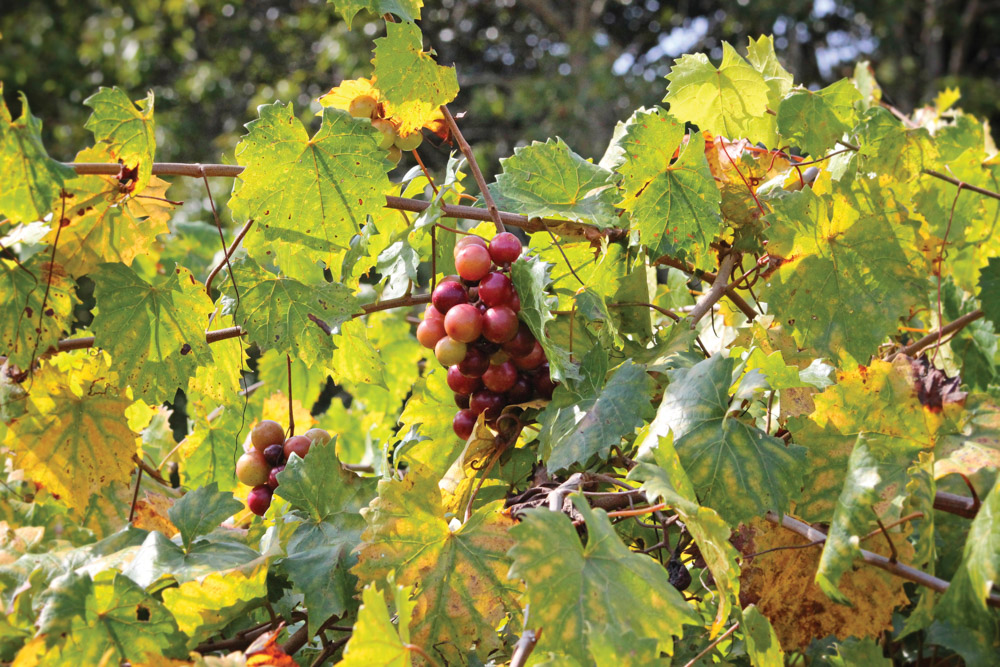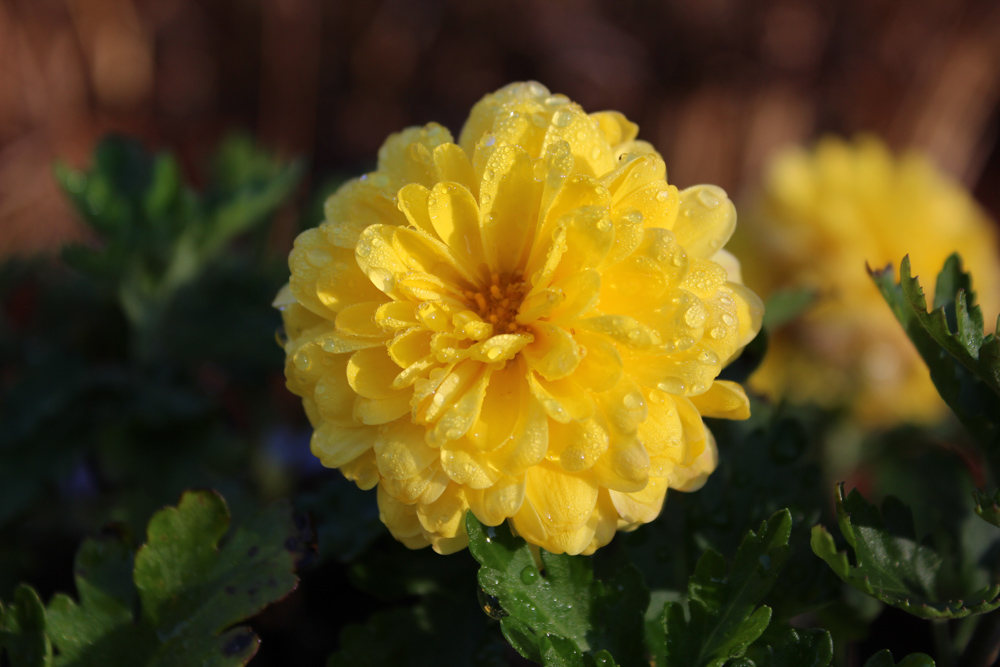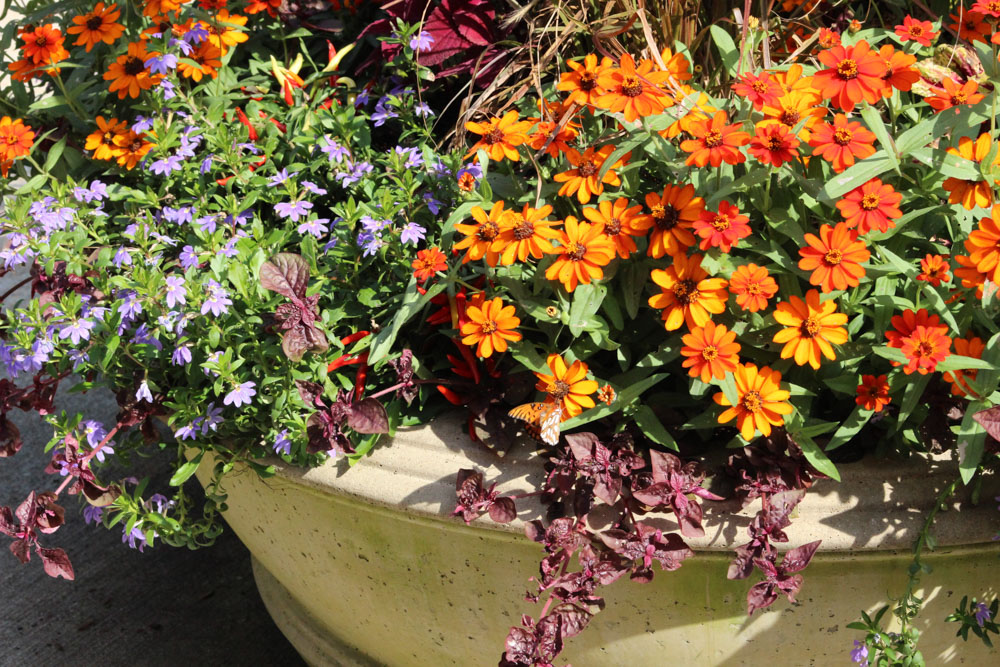 Summer
While Callaway Gardens is irrefutably mesmerizing in spring, summertime is also delightful and brings with it a rainbow of vibrant blooms, verdant lawns, and shady trees that flourish during the long, sunny months. Mr. Cason's Vegetable Garden is a popular resort attraction and was featured as the Southern setting in the PBS series The Victory Garden. During summer, the garden is a fragrant and colorful array of edible delights including organic fruits and vegetables, Mexican bush sage, and terraced vineyards of purple and bronze muscadine grapes, just like the ones my grandfather used to grow.
Summertime at Callaway Gardens is also synonymous with family fun kicking off Memorial Day Weekend, when Robin Lake Beach—the world's largest man-made inland white-sand beach—hosts the annual Masters Water Ski and Wakeboard Tournament. Highlights of summer activities include daily performances by Florida State University's Flying High Circus (a tradition dating back to 1961); weekly farmers' markets; swimming; waterskiing; and miniature golf. Couples who wish to schedule their wedding festivities or honeymoon around a holiday weekend can also enjoy the Fourth of July Star-Spangled Beach Party with live bands and fireworks, or Labor Day weekend's Sky High Hot Air Balloon Festival.
Autumn
As summer transitions into fall, September brides can let their "something blue" be the countless pairs of sapphire-colored, iridescent wings that illuminate the butterfly conservatory during Blue Morpho Month. In October and November, when the temperatures grow crisper, countless chrysanthemums burst into bloom in a bucolic backdrop of brilliant reds, yellows, oranges, and purples.
Annual fall events include a charity golf tournament, exciting horse racing during the Steeplechase at Callaway Gardens, and Thanksgiving festivities. In mid-September, avid cyclists can participate in the annual Bike MS: Cox Atlanta Ride through Pine Mountain's picturesque countryside (bikemsgeorgia.org).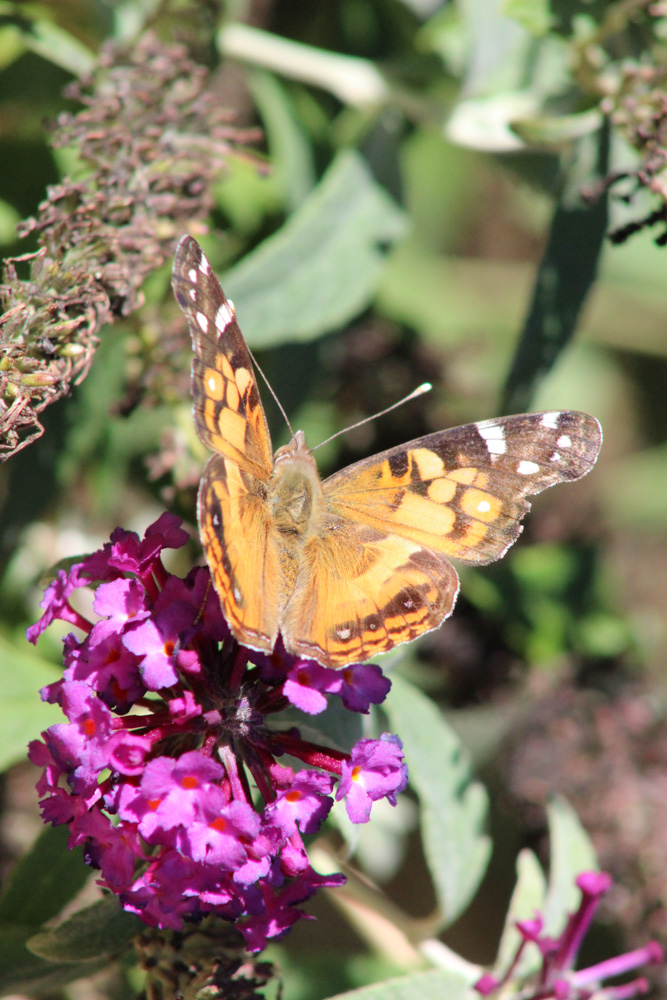 Winter
More than eight million twinkling lights illuminate Callaway Gardens during its famous Fantasy in Lights extravaganza. The glimmering five-mile loop around Robin Lake Beach is touted as one of the country's premier holiday light and sound displays, and National Geographic Traveler named Callaway Gardens as one of the world's top ten best places to see holiday lights. During the holidays, the resort also hosts elegant Christmas dinners and festive New Year's Eve celebrations.
If you're contemplating a holiday wedding, what could be more romantic than an elegant mountain lodge? Plus, the Lodge's elves will have already taken care of decking the halls and trimming the tree, so you can enjoy a stress-free celebration with family and friends!
Budget-conscious couples can take advantage of the Lodge and Spa at Callaway Gardens' first quarter of the year savings. With a minimum food and beverage package booking, rental fees on the Lodge's ballrooms and other on-site venues are waived during January, February, and March. If you have your heart set on tying the knot later in the year, the Lodge also offers a 50 percent discount on Sunday rental fees, excluding December holidays.
Miscellaneous Must-Sees
No visit to Callaway Gardens is complete without a stop at the Country Kitchen and Store, a Callaway Gardens institution. Located on Highway 27 a few miles northwest of the gardens' original entrance, the historic midcentury stone building reflects a simpler, bygone era. Once inside, follow your nose past the homemade fudge, jars of muscadine jelly, and small wine store to the rustic dining room with red-checkered tablecloths, Southern comfort food, and mason jars filled with sweet iced tea that has been served here for more than fifty years. The sweeping ridge views are reason enough for making a pit stop for breakfast, lunch, or dinner.
Nearby, you can also ride horses, cycle the scenic back roads, and hike countless trails at F.D. Roosevelt State Park. If you prefer a slower pace, explore downtown Pine Mountain's eclectic shops, antique stores, and mom-and-pop eateries. Particularly linger-worthy are the Cat's Meow with its extensive collection of Polish pottery, artwork and novelties (catsmeowpolishpottery.com), the French Market's ooh-la-la trinkets, and the homemade goodies at the Bakery and Cafe at Rose Cottage (rosecottagega.com).
No matter the season, Callaway Gardens Resort offers serenity, lovely landscapes, local flavor, and Southern charm—not to mention countless amenities.
— V —
---
For more information on weddings at the Lodge and Spa at Callaway Gardens, visit callawaygardens.com or contact Sally Biles at (706) 489-3339 or sally.biles@thelodge@callawaygardens.com.
ARTICLE CATEGORIES