An Adventure Destination Wedding
By Lisa Burwell  |  
Photography compilation by Bob Brown, Gerald Burwell, and Romona Robbins
The kiss. Gustav Klimt's oil painting The Kiss, considered a masterpiece of the early modern period, and the famous embrace between Burt Lancaster and Deborah Kerr on a Hawaiian beach in the 1953 blockbuster film From Here to Eternity, are iconic examples that capture the emotion and passion behind the kiss. It is accepted as the universal expression of human love, and it is the first act by newlyweds to signify their new social union.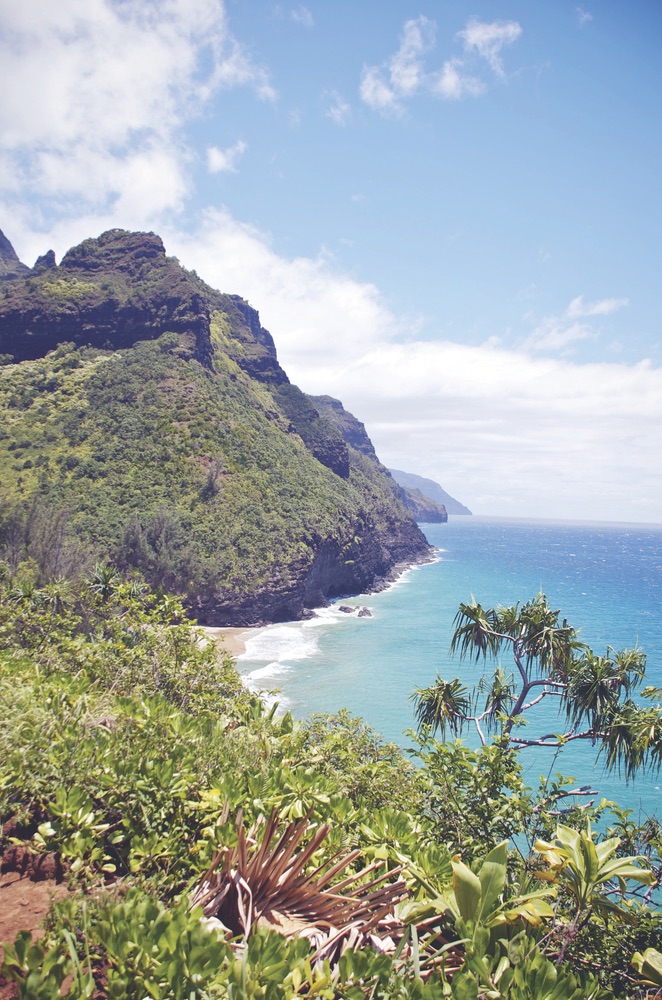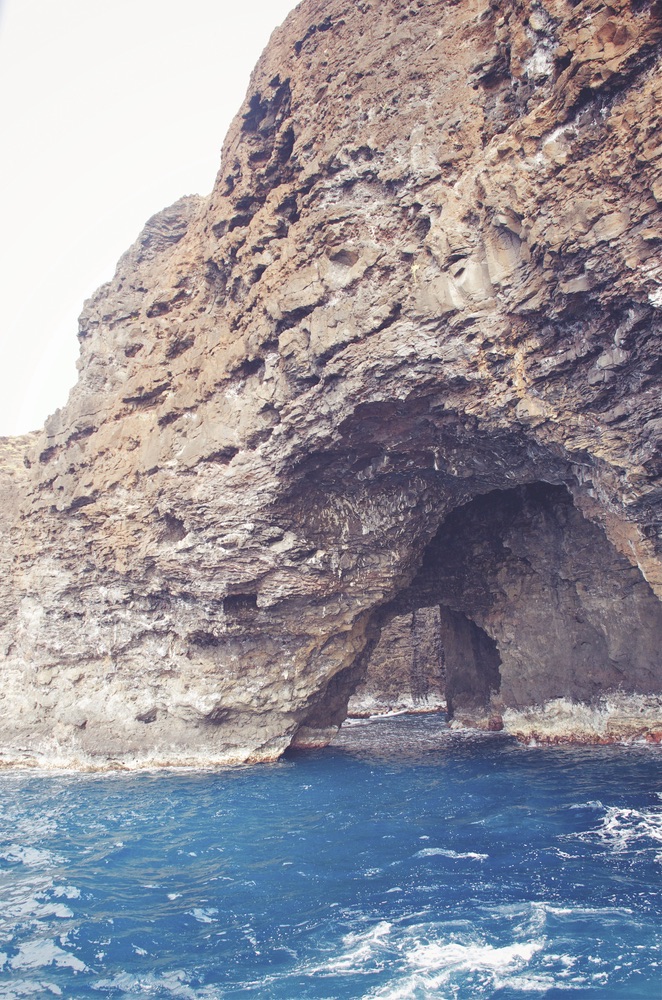 The Anticipation
It seems appropriate to begin this story of a couple's nuptials with "the kiss." In early June 2012, family and friends of Bob Brown and Meredith Snow converged onto the tropical island of Kauai, Hawaii, to celebrate their union. Because Bob and Meredith had been working toward this momentous day for sixteen years and because they are both avid outdoor enthusiasts, only a weeklong adventure destination wedding would suffice.
For several months leading up to this destination wedding, Meredith would send DVDs and notes about places we'd be visiting and thoughtful reminders about such things as bringing sunscreen and placing our mail on hold. Who would plan this well? Only the music director for Emerald Coast Middle School in Santa Rosa Beach, Florida—a music aficionado. Bob and Meredith outdid themselves in their preparation for this adventure.
The Setting
Home base for the adventure was the rustic yet beautiful resort of Waimea Plantation Cottages, located in the quaint village of Waimea on the island of Kauai (also known as the "Garden Isle"), which is the northernmost of the Hawaiian islands. Located on the southwestern shore of the island and with thirty acres of luscious grounds, Waimea Plantation is home to forty-eight cottages (these represent the architecture of westside sugar plantations dating from 1884 to 1938) and to an abundant collection of birds, plants, and flowers. The sights, sounds, and scents of this tropical wonderland could easily lull any guest into a state of spiritual bliss.
Upon arriving to the resort on the evening of Tuesday, June 5, after a long day of travel, our exhaustion was immediately banished by bride-to-be Meredith bearing fresh leis and hugs. Her native Hawaiian joy and excitement was contagious as she bestowed the traditional Hawaiian greeting.
In our cozy one-bedroom bungalow, table lamps warmly lit the space as we perused welcome packages with notes lovingly placed by Meredith and her mother. There was no air-conditioning, but spinning ceiling fans and brisk breezes from a Pacific trade wind that flowed through screened doors and windows kept the interior comfortable. A gray and white tabby cat lovingly watched through the porch screen door as we settled in, almost as if she had been waiting for us. The convenience of the fully equipped kitchen wasn't enticing enough to overpower our travel weariness, so we grabbed a good dinner at the resort restaurant just a short walk away. After, we unpacked, fed the cat some scraps, and hit the bed. No, our Waimea Plantation cottage was no Marriott but, in many ways, was so much better. It felt like we had always lived and belonged there. We had a glorious sleep!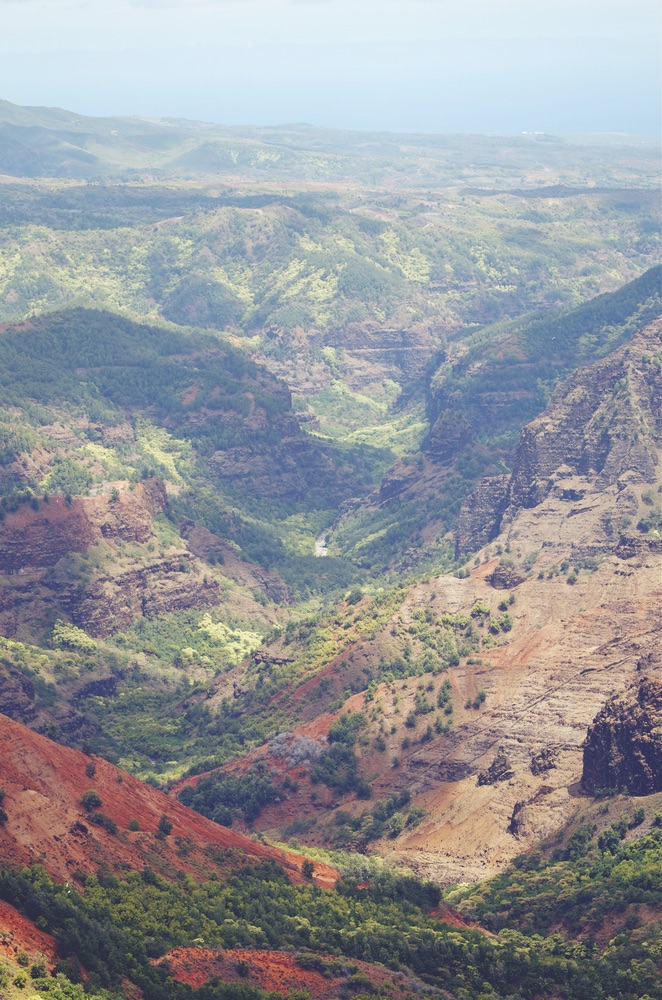 We awoke early to morning rooster calls. We quickly recognized that these calls were not isolated to daybreak—they go on all day! We grew fond of these beautiful birds as we watched roosters and hens corral their broods using a language we were fluent in by week's end. "Cat" seemed relatively content, especially after we gave her some Fancy Feast. Reading entries from our cottage log, we realized that past guests all did the same.
In daylight, with lovely Hawaiian coffee in hand, we surveyed our surroundings from our private covered porch. Our cottage was one of several alongside a large common lawn. At one end of the perfectly manicured grass, the main resort building; at the other, an incredibly huge banyan tree with the beach and Pacific Ocean beyond. Our cottage (like the others) was expertly positioned to maximize views and breezes from the Pacific. Mindful building placement, lush landscaping, and well-placed windows give each cottage the necessary privacy within close proximity of other guests. The pleasant scents from the surrounding vegetation seemed incredibly unreal. Ah, what the Garden of Eden must have been like!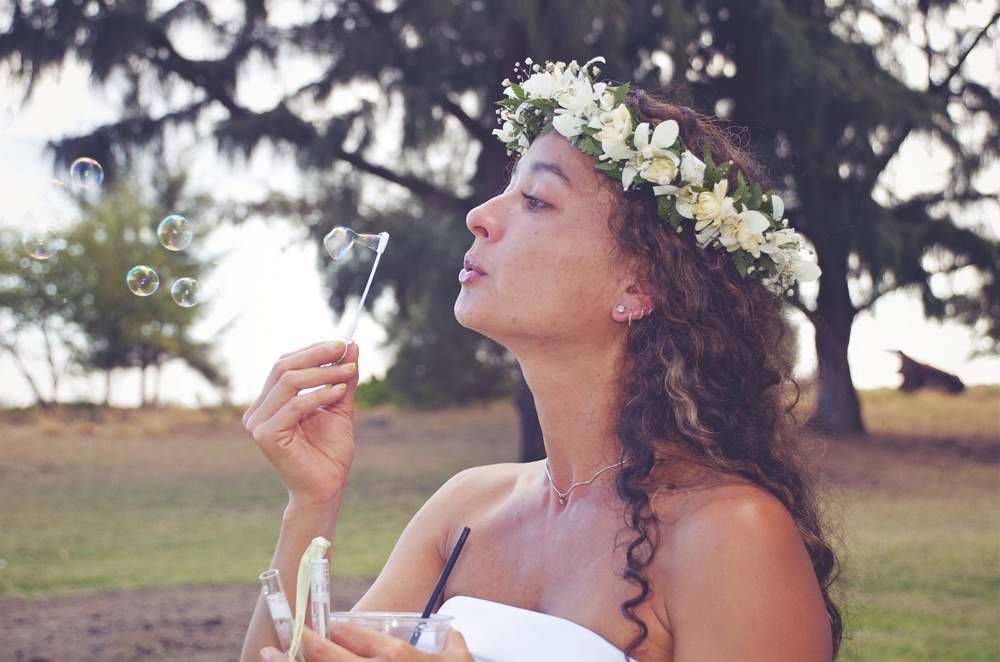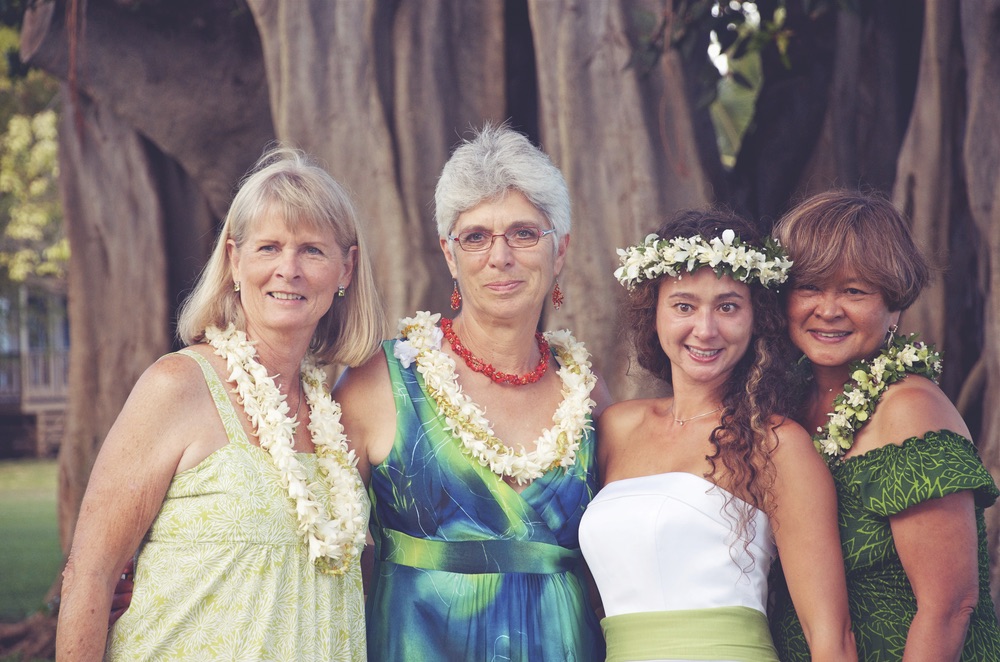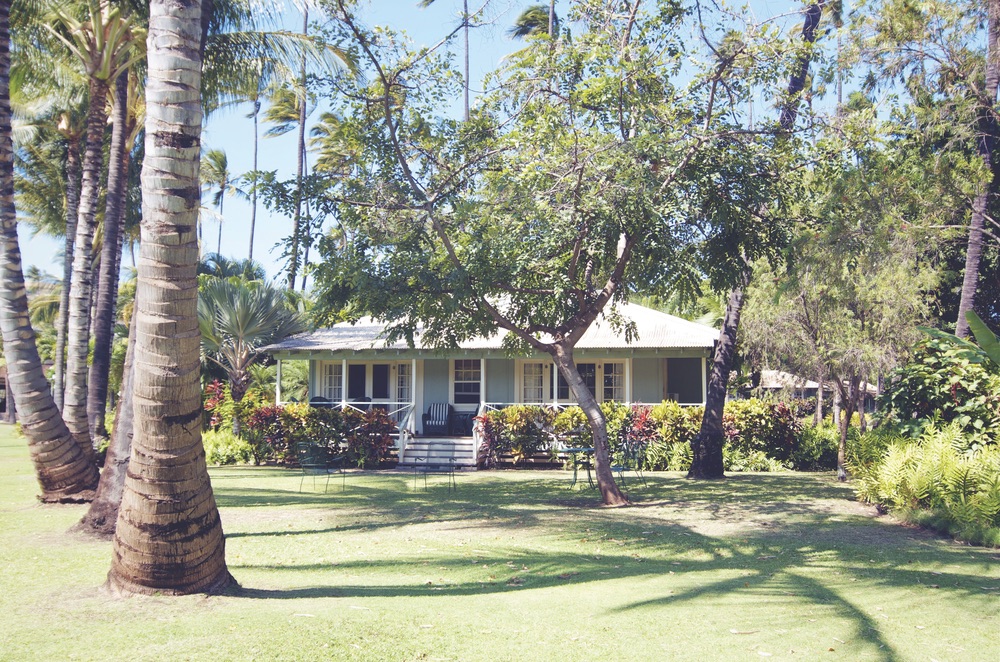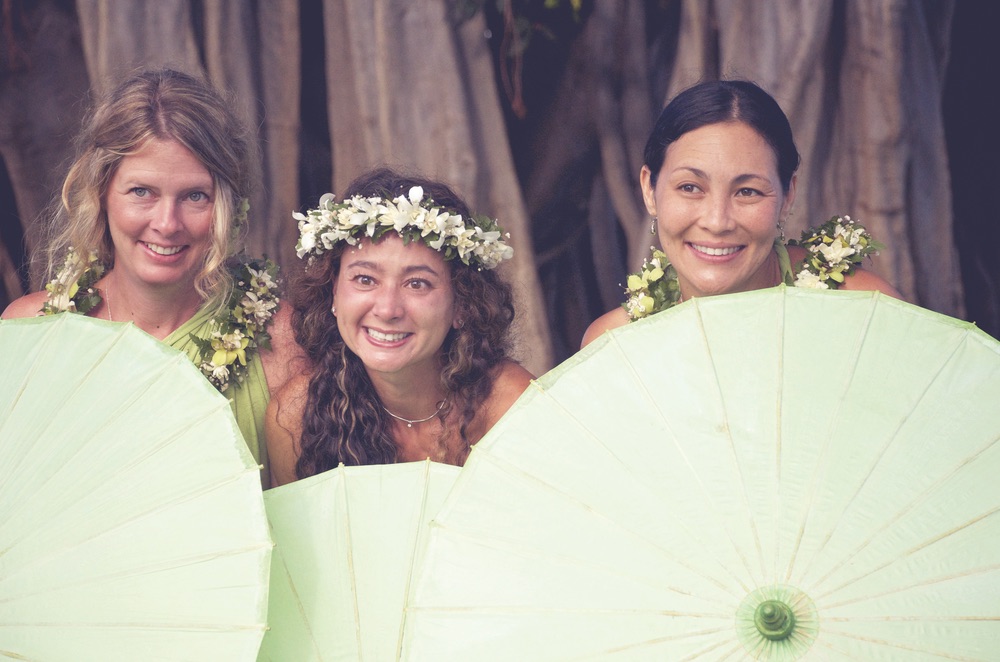 While most other wedding guests stayed in other one- and two-bedroom cottages, the bride- and groom-to-be, along with their parents and other honored family members, occupied the Manager's House, a two-story, 4000-square-foot, five-bedroom oceanfront estate. Also on the resort property are a refreshing beachfront pool, oversized hammocks large enough for two, and a beach volleyball court. For those who absolutely have to remain connected, all of the units have TVs and high-speed Internet with Wi-Fi.
The Big Moment
With three full days of adventure under our belt, the afternoon of Saturday, June 9, 2012, was upon us before we knew it. The families were up late the night before managing last-minute details, including handmade leis for guests and the wedding party. The lei custom was introduced to Hawaii by early Polynesian conquerors from Tahiti. Meredith, her mother, Gerry, her aunt Steph, and auntie Mel taught Meredith's matron of honor, Romona Robbins Reynolds, her bridesmaid, Amy Brown, and Meredith's new sister-in-law, Young, how to make tea leaf leis for the men. The craftsmanship and care that went into this tribal and sacred act was just one of the gestures that made the wedding so authentic.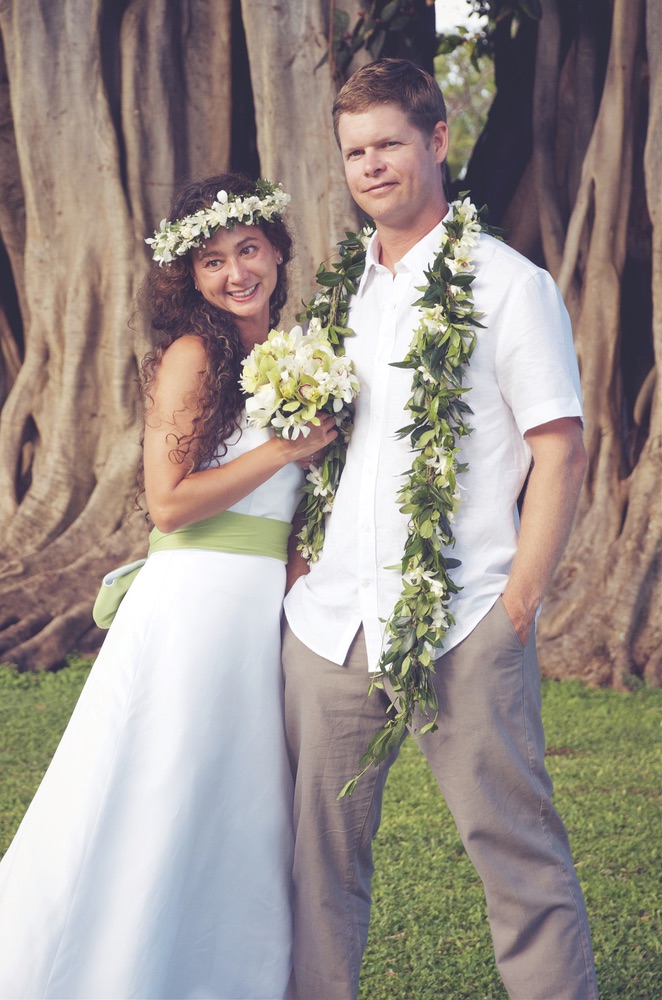 Every detail of the magical wedding ceremony seemed to be pulled from the pages of a fanciful tropical island fairy tale. A magnificent banyan tree served as the place of honor for the ceremony—and it was no less impressive than a majestic cathedral. Instead of finely detailed stone columns supporting an elaborate system of vaulted ceilings, here we had the banyan's sinewy, mammoth trunk supporting an intricate awning of huge limbs and large leaves that soared high above and with a reach more than enough to roof the guests, who were seated in white wooden chairs delicately placed on a carpet of lush, green grass. And, in place of a stained-glass clerestory window, the sun sparkled in through the tree canopy that quietly rustled from gentle Pacific breezes. A breathtaking and elegant aisle was simply defined by plumeria flowers scattered only moments before the wedding party strolled to the banyan tree trunk, which also served as the altar. It was the only cathedral that could possibly be worthy of the occasion.
Enter Meredith, walking arm in arm down the aisle with her father, Ron. Looking like a real Polynesian princess, she wore a delicate haku (floral headband) and a white strapless gown with a green sash that wrapped around her waist, tied in a bow at the back, and cascaded to the floor. Meredith's stunning bouquet of tropical flowers by Flowers Forever was echoed by those carried by the bridesmaids. The intimate ceremony was officiated by Meredith's auntie Mel Tejada, a native of Kauai with a beautiful spirit, who gave the couple a heartfelt blessing in her native Hawaiian tongue. A deep and abiding love could be felt when Bob and Meredith kissed for the first time as husband and wife. That kiss rivaled those in famous paintings and movies because it was authentic, magical, and real.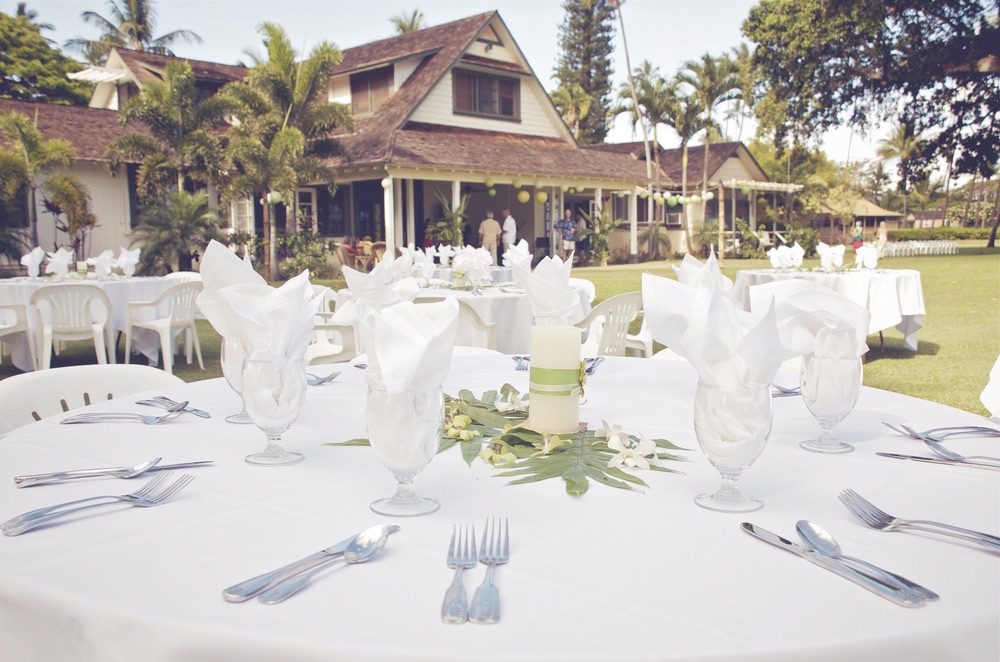 Of course, you can't forget the celebration! Contemporary Flavors Catering had magically transformed the expansive sprawling lawn behind the Manager's House into an elegant outdoor dining room with only the beautiful sky for a ceiling. Guests enjoyed appetizers passed by waitstaff and soothing music and vocals performed by a traditional Hawaiian trio. Eight-top tables were dressed with crisp, white linens, and paper lanterns twinkled and swayed in the breeze. Just through the French doors of the great room was an incredible gourmet dinner buffet of Hawaiian delights. Later, after all the plates had been cleared away, the covered lanai became the center of attention as the newlyweds danced for the first time as husband and wife to "They Can't Take That Away from Me." From then on, the lanai was the place to be!
The week of Bob and Meredith's Hawaiian adventure wedding was an amazing experience. It is one that will never be forgotten—which is the whole point! Oh, yeah … when we arrived back home, with our week's worth of mail was a CD of Hawaiian songs with a sweet note that simply said: "Aloha!"
"A hui hou kakou!" (Until we meet again!)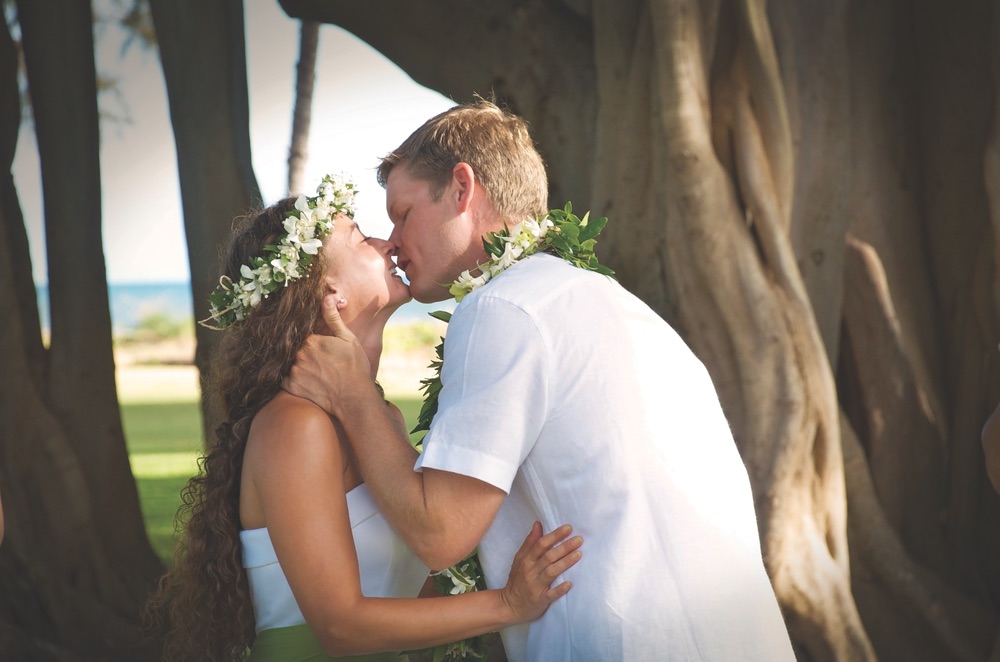 THE ADVENTURES
---
The Mother of All Hikes
Our first day on the scene was jam-packed—on the agenda: a group breakfast; a multistage hike on the north side of the island along the superscenic Nā Pali Coast; and a group dinner to close out the day. The vast majority of Kauai is inaccessible by road, which makes it a pristine paradise for hikers and adventurers. Geologically, Kauai is the oldest of the Hawaiian isles, and its dramatic and prehistoric appearance led Steven Spielberg to shoot major portions of Jurassic Park on the island, including scenes of the Nā Pali Coast—another reason the island is so appealing to the adventurous!
We stopped halfway to our principal destination for a group breakfast at Ono Family Restaurant in Kapa'a. Though you can find franchise eateries on Kauai, most of the restaurants are of the colorful mom-and-pop variety. Ono's, no exception to this rule, is a rustic "funky dive" that has a charming hometown atmosphere. The coffee is authentic Hawaiian and the pancakes are very popular; order extra syrup, though, because they are insanely fluffy and absorbent.
Another forty-five-minute drive along the coast and we were at our destination, Ke'e Beach in Hā'ena State Park, which marks the beginning of the Hanakapi'ai Trail, one of the most beautiful in Hawaii. Hanakapi'ai Trail at its longest is eleven miles (twenty-two miles roundtrip). However, it is commonly broken down as two smaller hikes: the first, as a four-mile hike that ends at a beautiful and secluded beach; and, the second, an eight-mile hike that ends at a spectacular waterfall. Each of the two smaller hikes can easily be done in one day, but the eleven-mile mack daddy is recommended for those who intend to camp overnight.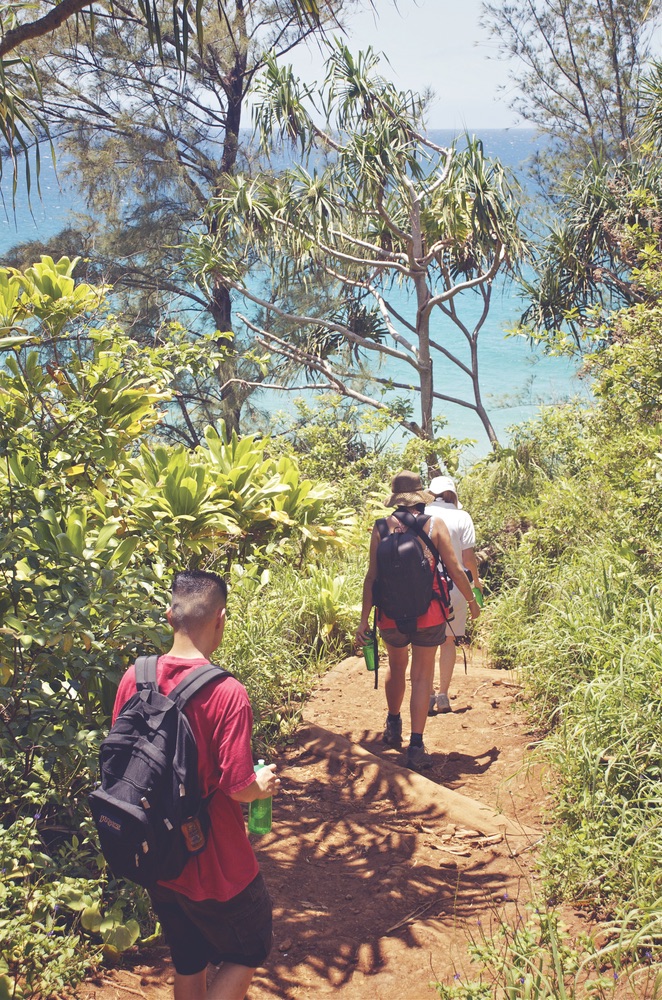 Our intentions for the day were to do the four-mile (eight, roundtrip). In the first mile, the trail climbs steadily to an elevation of four hundred feet. At the two-mile mark is Hanakapi'ai Beach, where a bubbling brook flows into the ocean. Reaching the beach felt like reaching an oasis in a desert, and the caves there seemed to set the scene for intrigue and romance. During the well-deserved rest, our group realized that we were more than an hour behind schedule. To make it back in time for dinner, we had to give up on making it to the waterfall and headed back. It was a good thing, too—some people really lost steam about a mile before we reached the cars. (But, I refuse to mention names—like mine!)
That night everyone was invited to the Manager's House for a family potluck dinner to get better acquainted. Due to some strange time rift on the island, the group reconvened more than two hours later than expected, despite altering our hike schedule. (Perhaps I had stumbled upon the reason the producers of Lost chose Hawaii for a film location. It was weird!) Appetizers included various poke (raw fish), Somen (buckwheat noodle) salad, and lomi salmon. Furikake salmon and kalua pork with white rice were served as entrees, and butter mochi for dessert. The relaxed setting and general overall happy vibe of the group perfectly complemented the dinner. The Brown and Snow families really clicked together; it seemed the union of the two families was meant to be.
Hawaiian Adventures
from
VIEzine
on
Vimeo
.
Kipu Ranch Adventures
An authentic working cattle ranch, Kipu Ranch occupies three thousand acres on the island's southeastern side; Hawaiian royalty actually once owned the ranch land. Because of this special heritage, hundred-foot Norfolk Island pines line the drive of the property entrance.
Our group was warmly greeted by our friendly shepherds for the adventure du jour—an all-terrain vehicle (ATV) tour through Kipu Ranch. Most in our group had never ridden an ATV before, so there was some anticipation as we geared up with helmets and handkerchiefs for what would turn out to be an unforgettable ride. As expected, Kipu Ranch puts a high priority on safety, but their biggest priority is fun! This isn't a five-mile-per-hour sightseeing tour. This is a fast-paced, adrenaline-pumping adventure through a rugged and extremely beautiful landscape.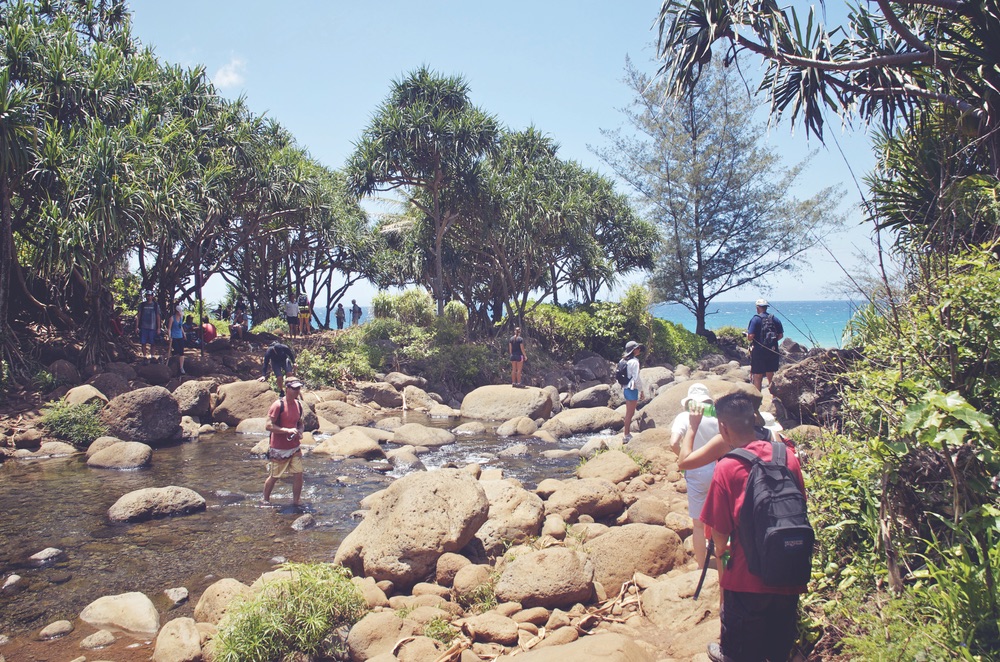 The trail took us through lush valleys, down steep inclines, and over rivers and mud holes; periodically, we stopped for breathtaking views of the surrounding countryside. Our guides (and animated storytellers), Justin and Lumbo, entertained us at each stop with tales of Hawaiian myths and legends and the history of the ranch, and they pointed out places where Hollywood movies had been filmed. Though the stories were interesting and the countryside beautiful, I found myself eager to just ride.
These ATVs offer a thrilling alternative to your typical sightseeing tour. The nimble machines are so simple to operate that our previous fear was quickly quelled and replaced with excitement as we sped through the narrow trails in single file. Our adventure trail ended at a nearby waterfall. Several of us took a refreshing swim in the cool, spring-fed waters in an attempt to remove the layer of dirt that had accumulated during the ride. Surrounded by a rock wall and majestic hundred-foot-tall bamboo, the waterfall was picturesque, to say the least.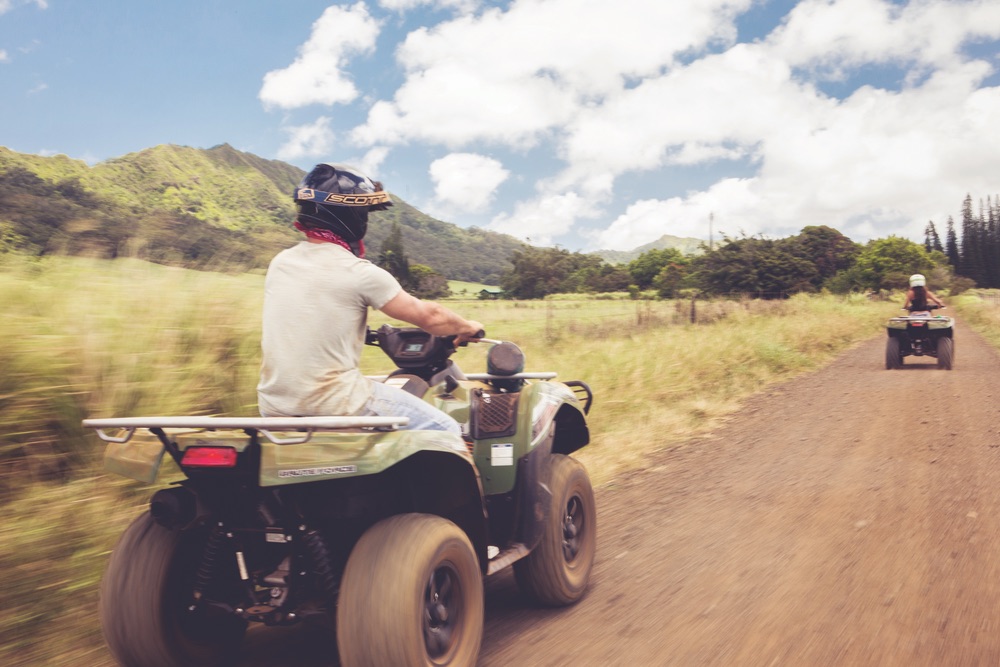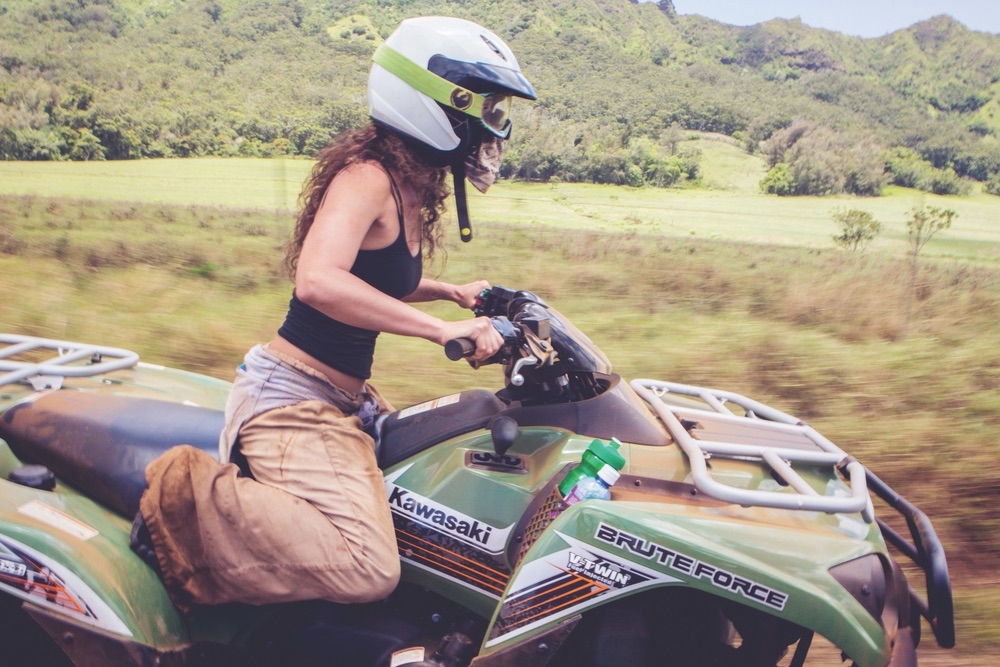 After the four-hour tour, we were sad to disembark our machines and part ways with our new friends, Justin and Lumbo. There is something about experiencing an action-packed adventure with close friends and family: a bond forms that can be shared and reminisced about for years to come. We are now in a club of sorts that no one else can really understand—that is, until they try it for themselves. I believe the entire group would agree that this adventure was a real highlight of our trip to the Garden Island.
Kauai Sea Tours' Catamaran Sunset Cruise
The last of our three big island adventures was suddenly upon us—a five-hour tour of the Nā Pali Coast by boat. Moving like clockwork by now, the entire group of about twenty arrived in unison at Kauai Sea Tours in Port Allen, just ten minutes from Waimea Plantation. Two young and energetic crewmates from the tour company politely corralled the group of almost fifty passengers together in preparation for a 3:00 p.m. departure. Everyone assessed provisions of cameras, clothing, liquids, sunglasses, and sun protection before the point of no return.
At the pier, Captain Brian and his four crewmen, Jay, Paul, Evan, and Rick welcomed us aboard the 60-foot Lucky Lady, a power sailing catamaran that was custom built especially for servicing sea tours along the Nā Pali Coast. Once aboard, passengers were proficiently instructed about boat safety, and the mooring lines were cast. Within minutes, we were cruising at about twenty knots, enjoying complimentary mai tais, soft drinks, and light snacks in nearly ideal boating weather.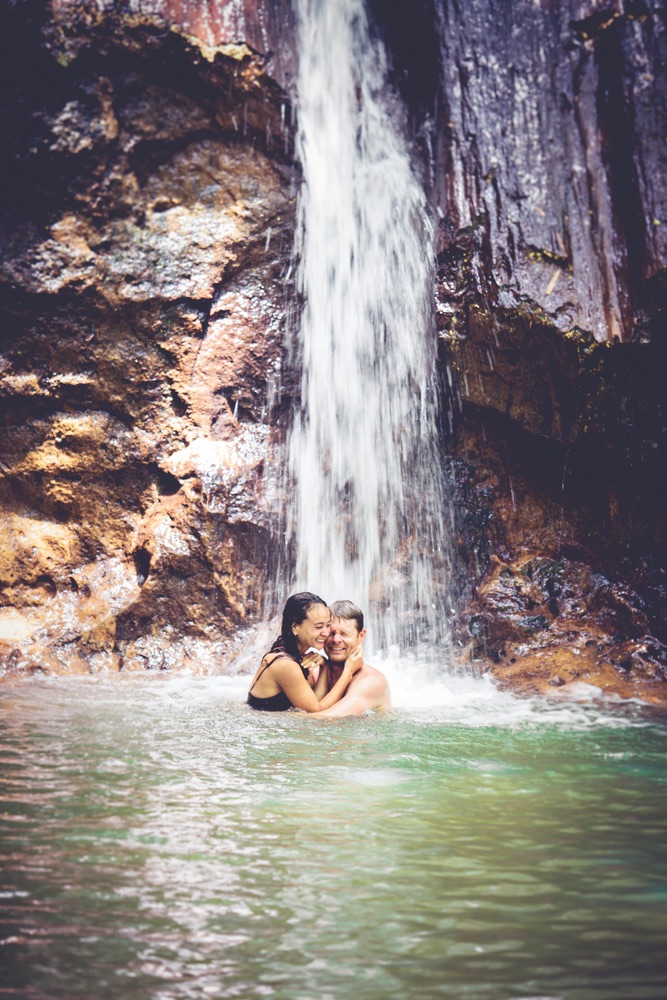 The four-hour trip is divided into two parts of almost equal length. The outbound portion maintains a distance from shore conducive for informative sightseeing. Rounding the northwest corner of the island, the breathtaking Nā Pali Coast came into view. Words cannot describe the awe-inspiring sheer cliffs that seem to ascend straight up from the sea. Experiencing it by water is a must-do. Nearing our halfway point, we came upon a cave at the base of a waterfall. Our captain invited any newlyweds or couples to the bow of the boat for a shower under the "lucky" waterfall. With Bob and Meredith at the bow, the captain skillfully maneuvered the boat for their wet reward. Afterward, he slyly admitted that the act was legendary for promoting fertility!
For the inbound leg back to port, the charted course is a little further from shore—perfect for a scenic backdrop to the complete onboard buffet dinner. It also allowed the passengers to relax, put the cameras down, and to enjoy each other's company. The conditions on the return trip were a little rougher but not too bad. It was clear to see that if the waves wanted to kick it up a notch or two, we would have been in for a more adrenaline-filled outing. Safety tips from the captain actually came in handy, so it was a good thing I had been listening. Before heading into port, the captain positioned the boat to view the setting sun. The boat's crew gladly assisted passengers who wanted photos of themselves with the sunset in the background.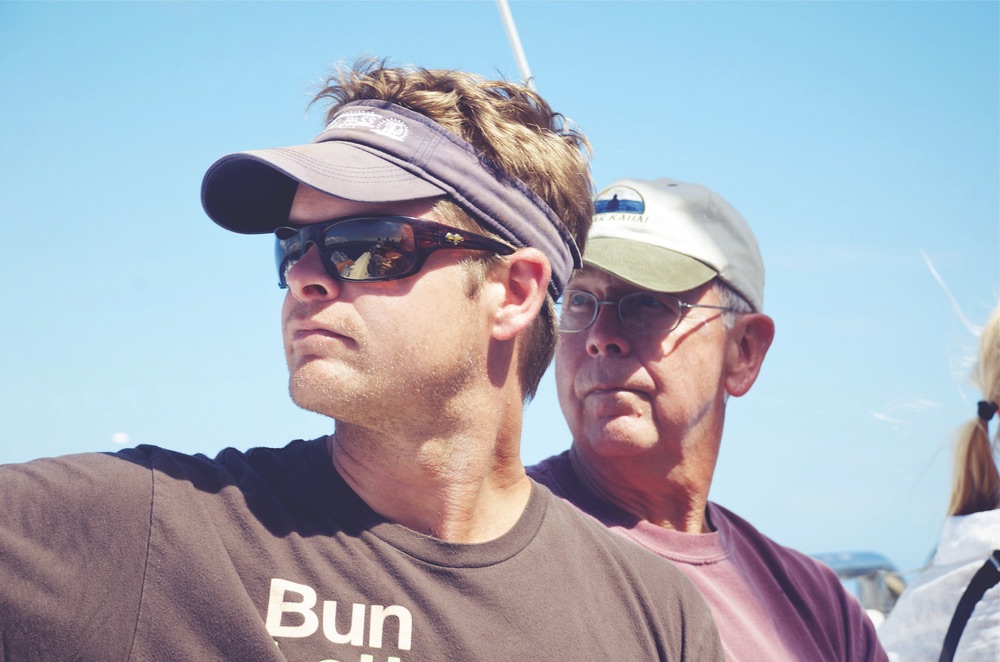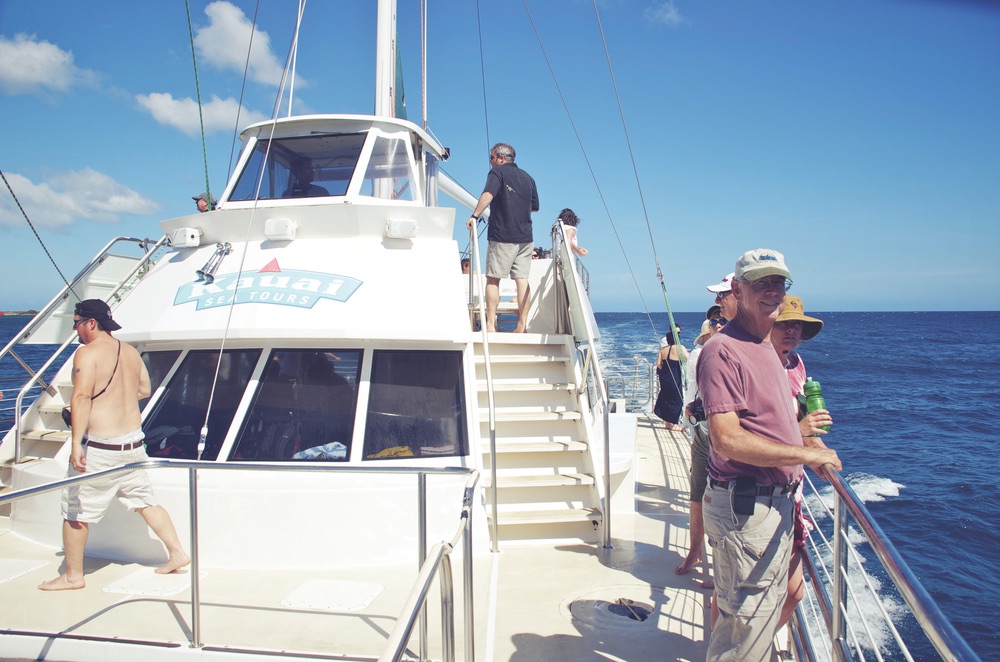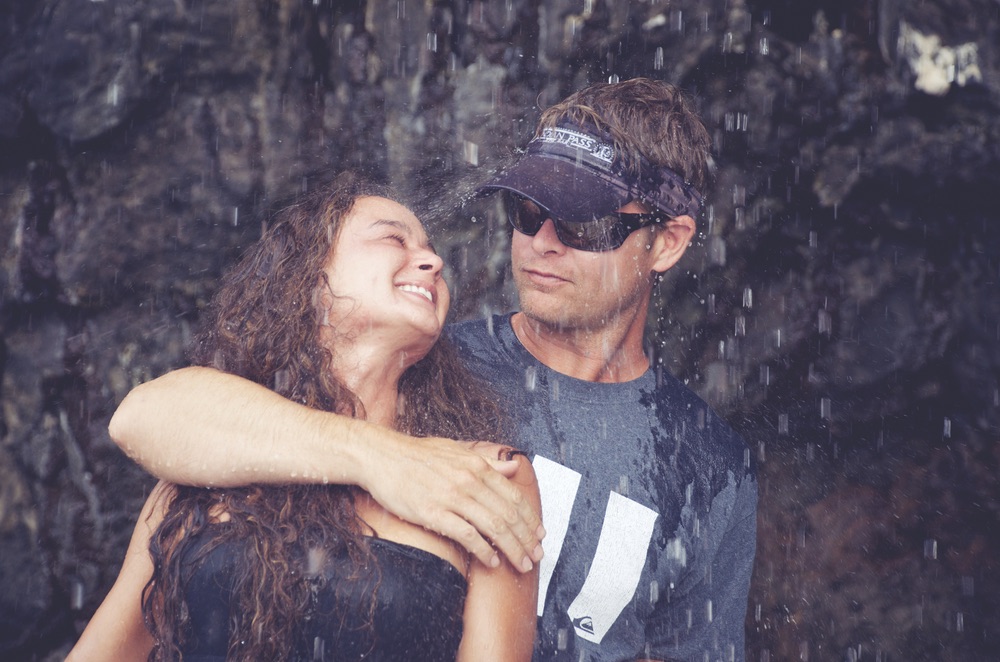 It was about that time it occurred to me: I had almost forgotten that I was on an island boat tour. Thanks to the captain and the crew's disarming method of service, it did not feel like we were on a tour at all but rather an excursion planned among fifty friends. It was obvious that they enjoy what they do—they were having just as much fun as we were!
— V —
---
A special "mahalo" (thanks) to all who helped make Bob and Meredith's wedding an event to remember forever!
Waimea Plantation Cottages 808.338.1625 waimeaplantationcottages.com
Contemporary Flavors Catering (a.k.a. Mark's Place) 808.245.2522 www.contemporaryflavorscatering.com
Flowers Forever 808.245.4717 or toll-free 800.646.7579 www.flowersforeverhawaii.com
Kipu Ranch Adventures 808.246.9288 www.kiputours.com
Kauai Sea Tours 800.733.7997 kauaiseatours.com/cats-tour10.html
Andrews Bros. Printing, Inc. of Fort Walton Beach, Florida for the beautiful invitations 850.244.2400 andrewsbros.com
ARTICLE CATEGORIES