A BOHEME Works Magic
By Jordan Staggs | 
Photography by Jack Gardner
Ten years in business is a celebrated milestone in any industry. For a boutique architectural design firm that has weathered economic recessions, hurricanes, and now a global pandemic, it is even sweeter. Founding principals architect Darrell Russell and Jonathan Hampel named their firm A BOHEME Design for the creative energy of the artists and free spirits labeled bohemian in the mid- to late-1800s French art scene. It's this sense of higher purpose and creativity that they strive to assert in every design they create.
Located near the shores of the Gulf of Mexico in Inlet Beach, Florida, A BOHEME (also known simply as BOHEME) has completed stunning residential and commercial projects for clients along the Gulf Coast, in Miami, and beyond. As they approach the firm's eleventh anniversary, having assembled an incredible body of work, Russell and Hampel reflect on some takeaways from their first ten years in business and their high hopes for the future.
"Jonathan and I have been blessed with many great projects, and we are very thankful," Russell says. "Behind those great projects are always great people, the clients who trust us to serve them. So many of them have become our close friends. We are fortunate to meet and work with them, not to mention the luxury of practicing in such a beautiful, desirable beach area. Regardless of economic changes, hurricanes, or health pandemics, people love the beach and anxiously return as quickly as they can. Similarly, we love our profession and consistently work hard to provide outstanding client service. We firmly believe excellent client service has always been and always will be critical to the successful outcome of our projects. Plus, we want our clients to continue to like us afterward!"
Although the coronavirus pandemic initially caused several of BOHEME's clients to cancel their projects, which caused Russell to hold his breath in anticipation of another economic crash like the one in 2008, he says it wasn't long before his team added new projects to their workload this spring. "It became obvious that beach lovers desired the freedom to be here whenever they want in the future, and the demand for owning houses rapidly increased. A Texas client mentioned a similar dynamic there—residents living in the cities suddenly wanted to own a ranch."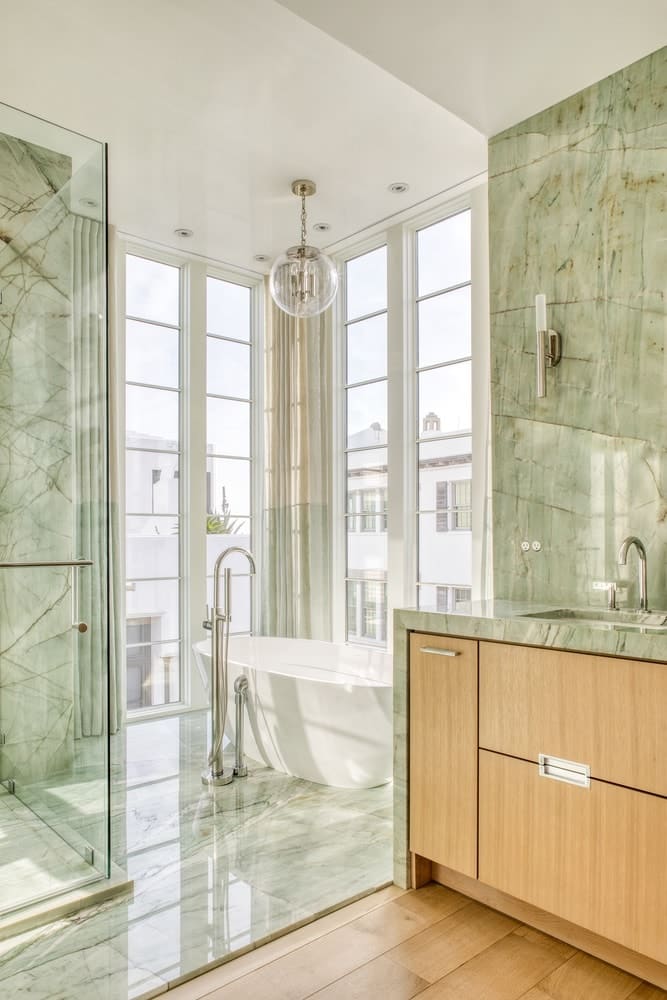 Still, the pandemic affected BOHEME's working environment in more ways than one as Russell, Hampel, and their team were forced to leave their beautiful office in the 30Avenue town center in favor of working remotely for weeks. It just wasn't the same, according to Russell, as it hampered the very artistic spirit for which A BOHEME was named. "We quickly realized that working at home was not fun and was terribly inefficient. Our entire staff hated working at home, and we hated having them remote," Russell says. "Architecture and design, like any creative process, are most successful as the result of team interaction, in my opinion. I've always believed creative problem-solving input from three people is far better than the design opinion of only one person. Also, face-to-face, hands-on design communication is far more efficient and effective."
Despite the unsettling nature of the first half of 2020, the team at BOHEME moves forward with the pioneering spirit it has always embodied, with several exciting upcoming and recently completed projects on the docket.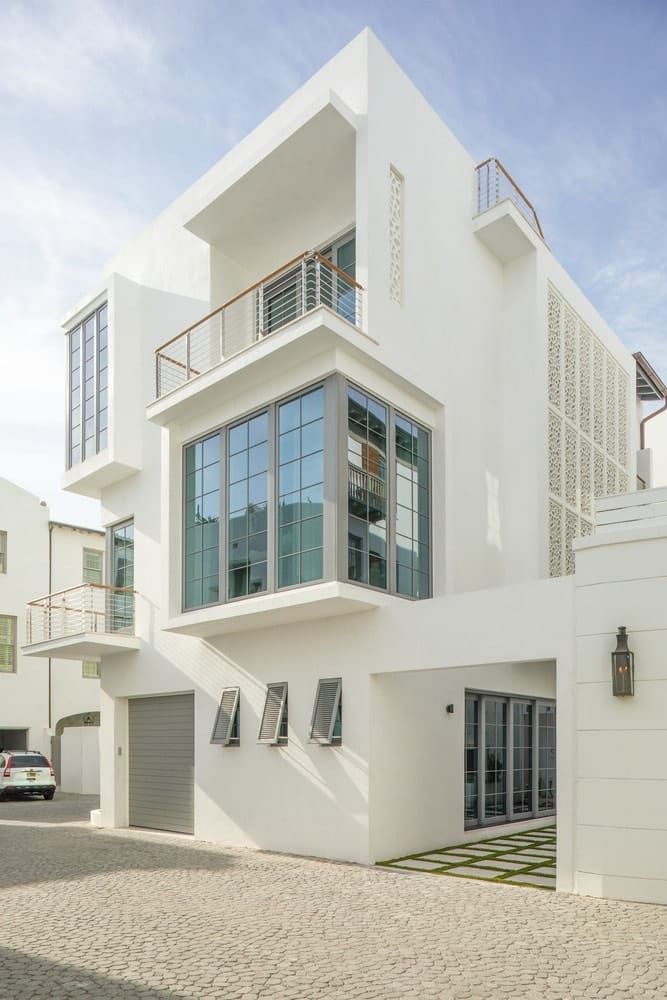 One standout project is a sublime private residence in Alys Beach, Florida, located in one of the town's New Urban blocks master planned by Porphyrios Associates, a subset of the overall master plan by Duany Plater-Zyberk. "This plot is very small, and the house footprint was only allowed an area of twenty-four by forty feet—by far the smallest plot we have ever had for a new house design," recalls Russell. "Typical of the plots in Porphyrios's master plan, this plot is irregular and designed such that the house could have wonderful views to the Gulf of Mexico protected in perpetuity. Although the lot is tiny, the final house design includes 2,758 air-conditioned square feet, plus a garage. We nicknamed it Little Jewel Box because several people have referenced it as such."
BOHEME partnered with John Brown of Gulfview Construction to complete this custom home, incorporating several special accent materials, including a soapstone entry surround. Cast concrete screens on the facades appear decorative from the exterior; however, they provide a degree of privacy while still allowing plenty of daylight to flow in. "The pattern also offers very nice light patterns inside the home," adds Russell. In the master bathroom, a beautiful stone called Cristallo Tiffany quartzite stands out and reflects the gorgeous colors of the Gulf. "I had never seen the stone species until it made an appearance on social media. It was love at first sight. I thought it would be perfect in this house."
"It became obvious that beach lovers desired the freedom to be here whenever they want in the future, and the demand for owning houses rapidly increased."
Another element in the home that BOHEME knew was a perfect match was the technologically advanced Colorbeam lighting system. "Jonathan and I visited with Sean Stevenson and Ryan Canterbury at Innovative Environments for a presentation—if you have not been, their new showroom is worth a visit," says Russell. "I have never seen such an incredible lighting system. In practicing architecture for decades (I'm telling my age), I have experienced many changes in lighting technology; I remember lighting before we had the (now almost obsolete) halogen lamps and fast-forwarded to LED. Lighting color, a factor of temperature measured in Kelvin, is crucial, and many LED lamps and fixtures vary in temperature, which limits the ability to allow the color consistency we expect in a home. When presented with the capability of Colorbeam's system, I was more than thrilled. This house is our first use of Colorbeam, and I believe it is the first installation in both Alys Beach and Walton County."
The Colorbeam system is installed by a specialized team instead of an electrician, and there are several lighting fixture options available—some tiny in size. In situations where little ceiling plenum space is open, they have solutions. "The lighting can be dimmed to a level as low as 1 percent and is adjustable in 1 percent increments," Russell expounds. "Each fixture can be color adjusted to a level as warm as 2700 Kelvin and as cool as 6500, in addition to dimming level adjustments. For example, multiple pieces of art in a room can be individually accentuated with varied lighting and color temperature. What is further exciting is its ultimate flexibility; the programming can be changed at any time according to a homeowner's preferences. I love options!"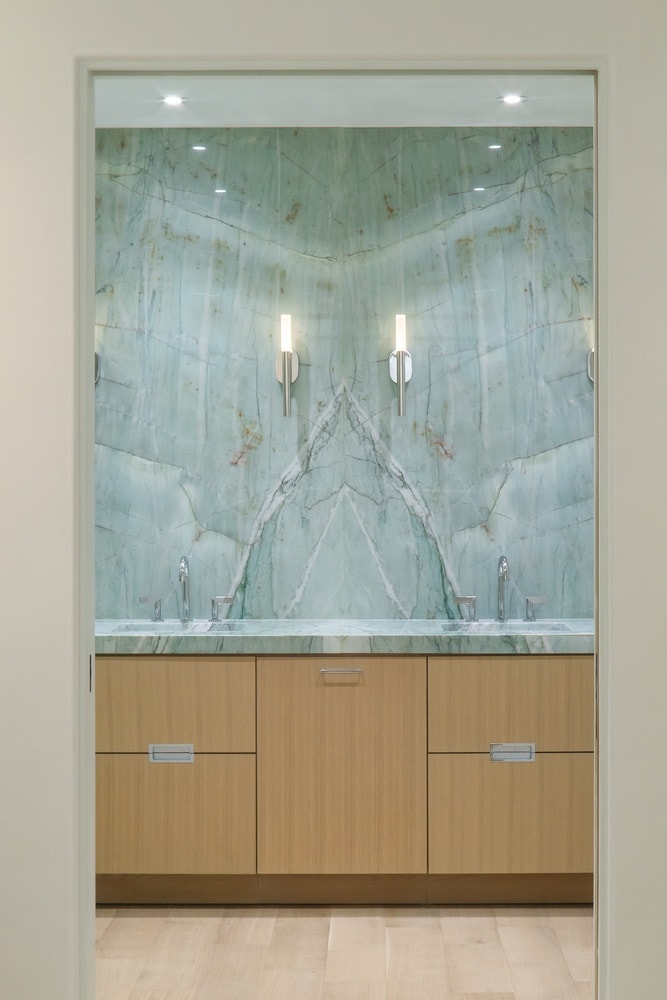 Russell describes the overall style of the house as contemporary, although it incorporates the required traditional Alys Beach architectural elements. The rooms and spaces are incredibly functional, making use of all available space with impressive results. "The palette of natural materials detailed with restrained architecture creates a perfect backdrop for softer, more traditional beach house furnishings, contemporary furnishings, or anything in between. There is a nice balance of walls for large pieces of art and large expanses of windows and doors. The rooftop view and soaking pool remind me of being in Santorini. I love the proximity to the water along with the visual surround of ever-fascinating Alys Beach rooftops."
Another exciting BOHEME architectural project is a new Gulf-front residence that recently broke ground in Seagrove Beach with general contractor Earthbuild. "Sadly, we had to displace a small old beach house to make way for this one," Russell says, "but it fortuitously worked out that our clients gave the old house to Paige and Mark Schnell, allowing them to relocate it to Grayton Beach. We were thrilled and so were our clients—if at all possible, I never want to see an old house destroyed. I think the Schnells were happy, too, once the house was on its way down the highway."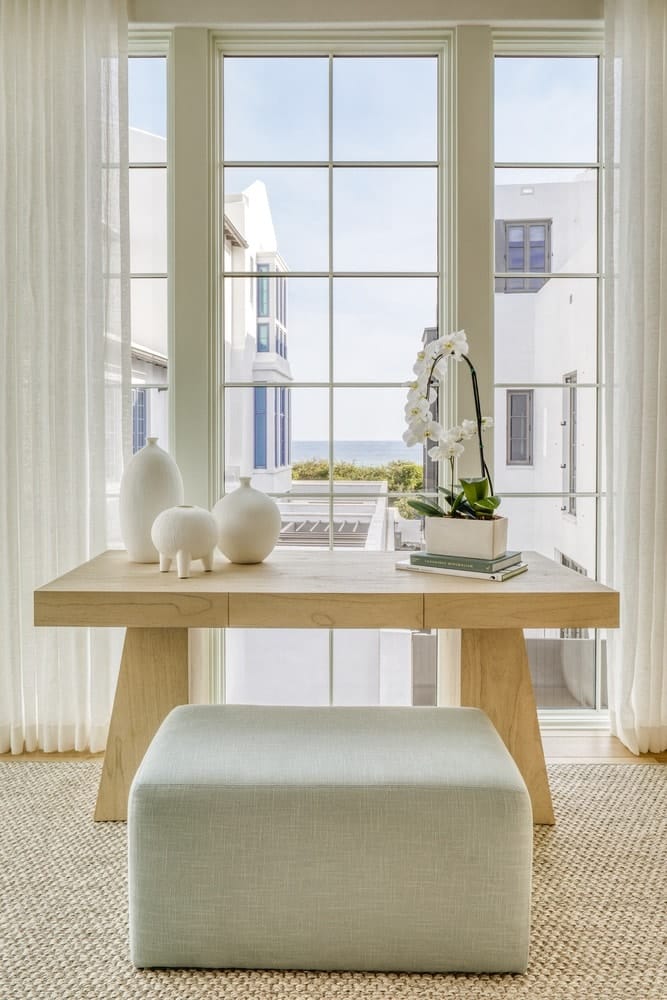 This new expansive home reflects BOHEME's mission to always design with the homeowners' lifestyle in mind. "As architects, designing for the 'known users' instead of the unknown is liberating," Russell says. "It allows the house to be a home, reflecting the owners' personalities and needs. We like designing around the things people love, such as collectibles that instill memories of a travel experience, an event, or family history."
Russell, Hampel, and their team will undoubtedly continue to reflect the values of great architects while instilling the creative bohemian spirit into every project and detail for years to come.
— V —
---
Visit ABOHEME.com to learn more.
ARTICLE CATEGORIES