Alys Beach Commemorates the Original Dates of Digital Graffiti 2020 with DG from Home
---
May 7, 2020
The virtual celebration of the projection art festival will feature original digital artworks from artists around the world this May.
At Alys Beach, Florida, they will always find a way and a reason to celebrate life's moments, from big to small and in spite of current challenges. While the beloved annual Digital Graffiti festival at Alys Beach has been rescheduled for October 2–3, 2020, the team at Alys Beach will honor the original dates of the event with a virtual celebration. #DGfromhome will be hosted on the Alys Beach Instagram and Facebook pages and on 30A.com during the week of May 11– 17. 
In keeping with the full Digital Graffiti experience, #DGfromhome will be an immersive, participatory virtual event. The digital artwork created and carefully curated for the festival is designed for an interactive experience, and audience engagement transforms the art and informs the creative process. Though we're unable to gather and interact with the art projected onto the iconic white architecture of Alys Beach, everyone is invited to come together in family groups to project/display/interact with these artworks in their own homes.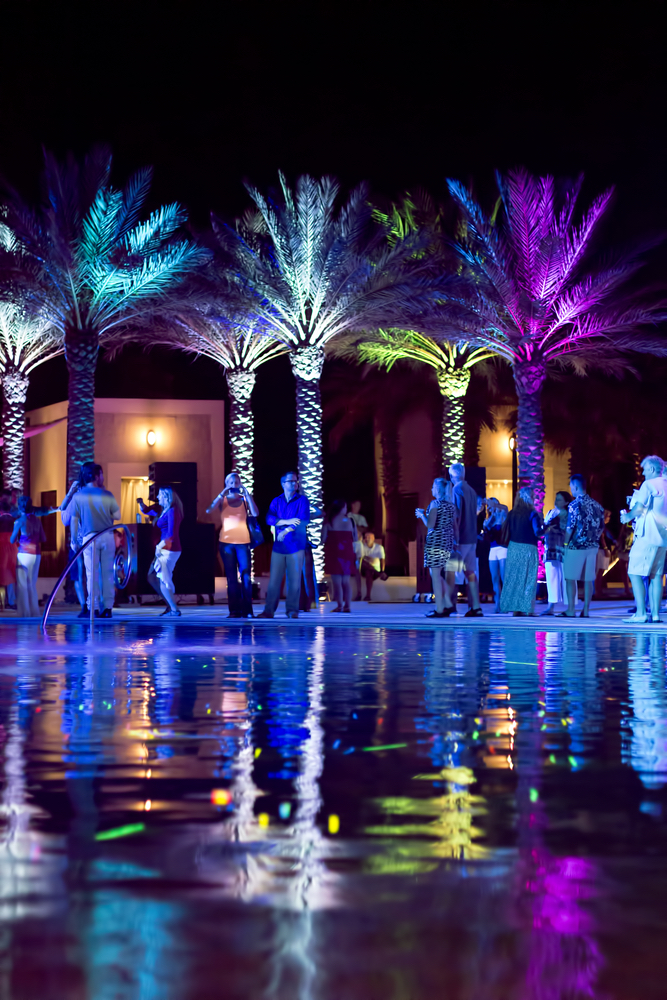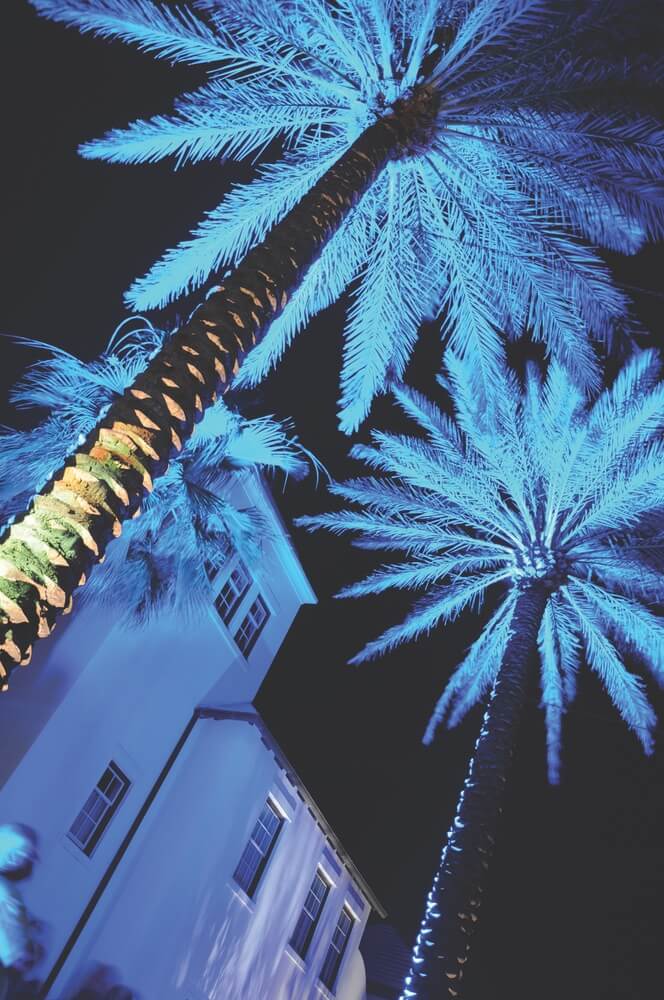 #DGfromhome will celebrate the festival from years past, offer interviews with past DG artists and a message from the event curator, stream a live DJ set, and partners 30A.com will host DG-themed trivia, in addition to providing the public with artwork for digital display in their own backyard, living room, (makeshift) theater, or anywhere they can comfortably and safely enjoy this intimate Digital Graffiti experience. Whether they are using a TV screen, laptop, or phone, participants are invited to immerse themselves in the creativity and innovation of Digital Graffiti with their own #DGfromhome adventures. Logistics will be simple and easy, with a resource for information, tips, and FAQs provided here.
For anyone wishing to participate in #DGfromhome, email events@alysbeach.com. The Events Team will email a Dropbox link to download the #DGfromhome digital art loop on Monday, May 11.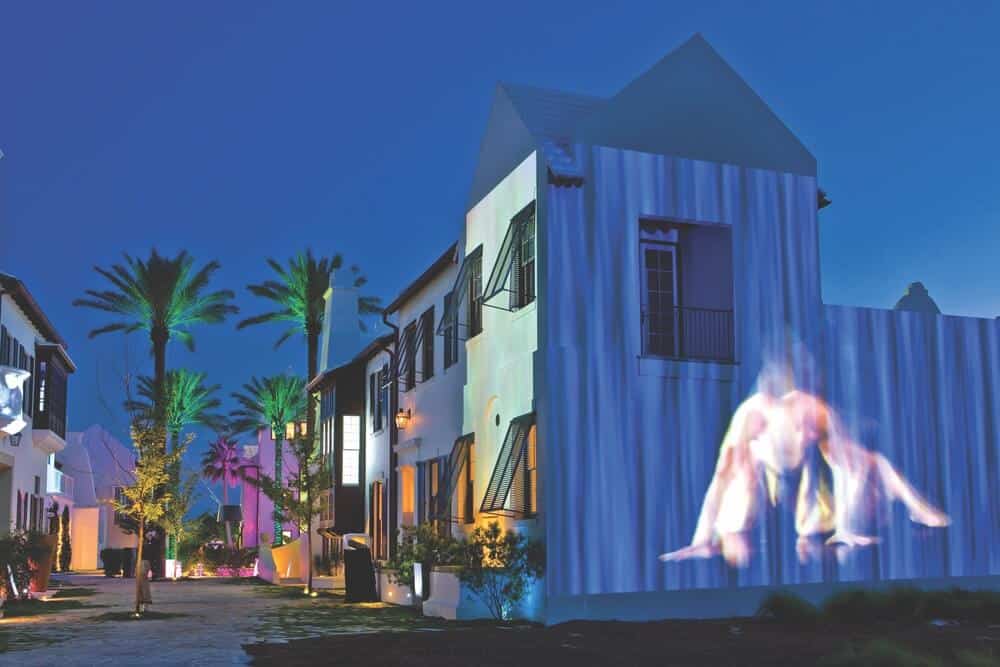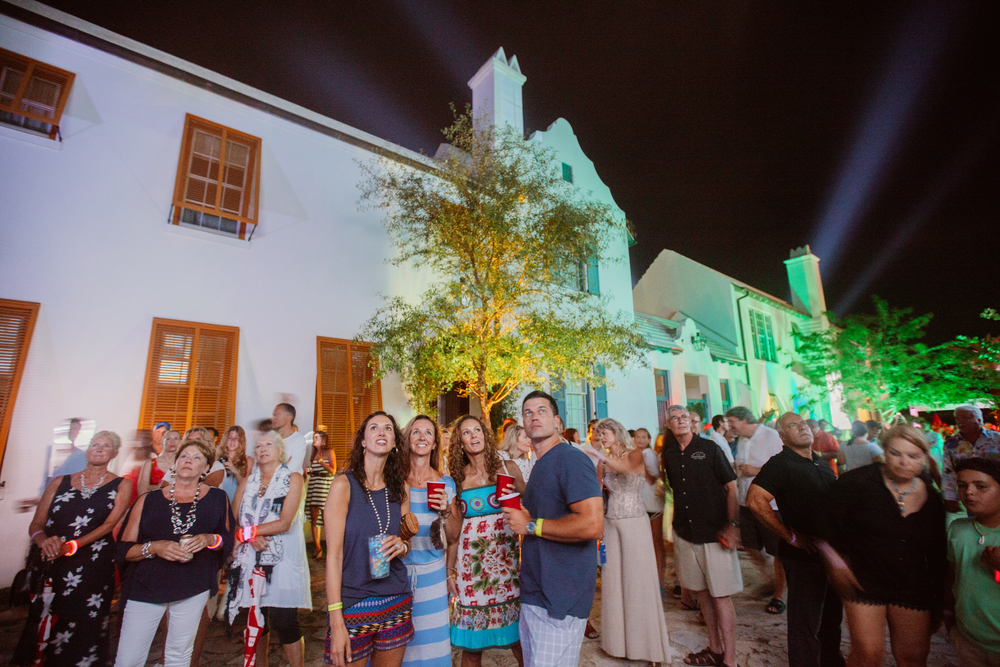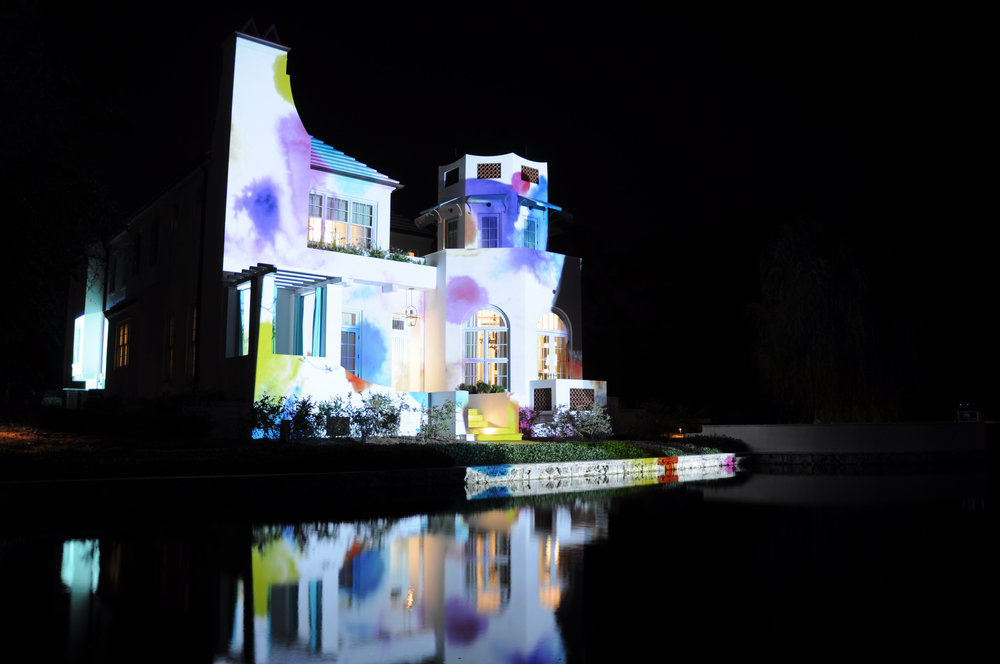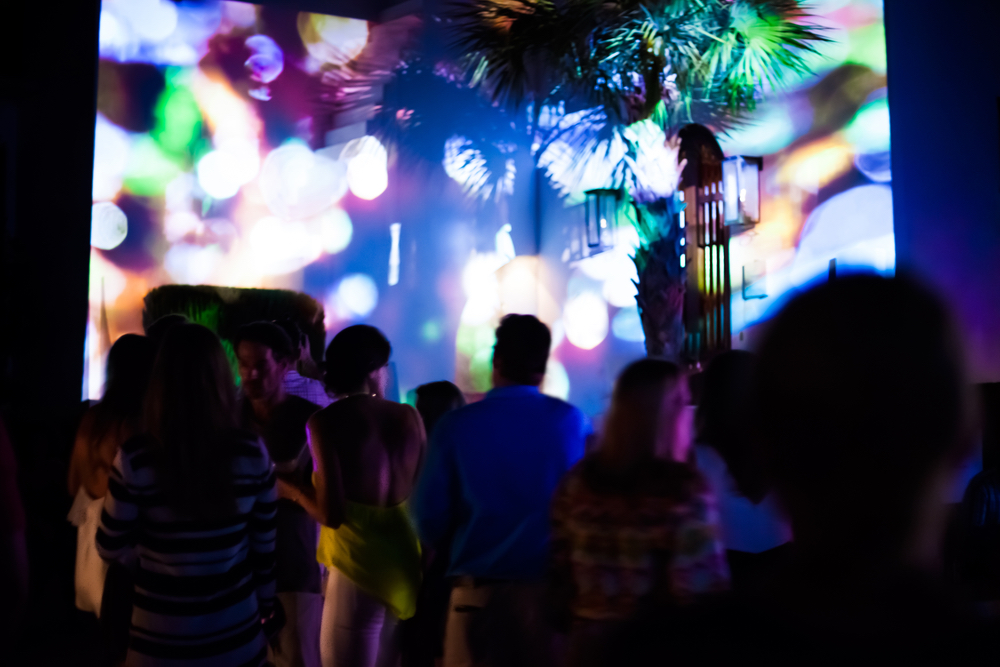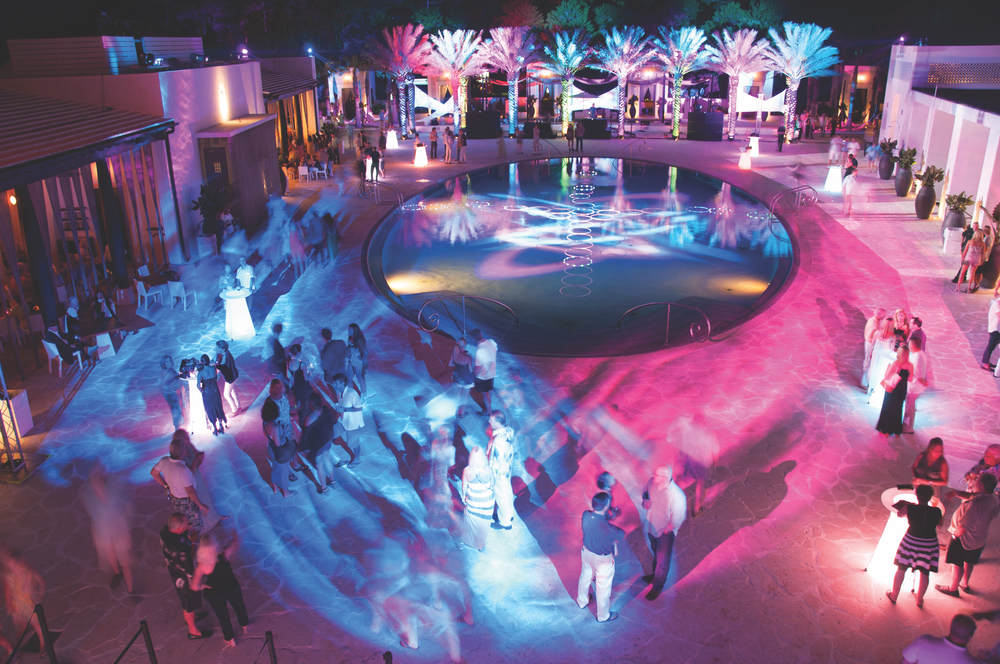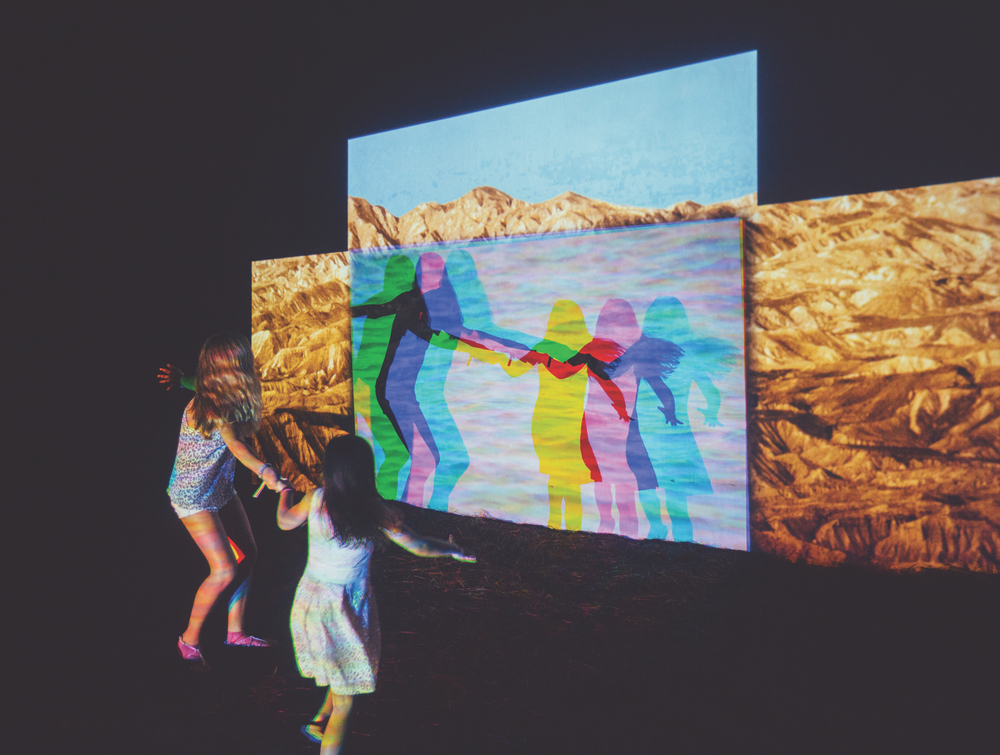 As we stay at home during the COVID-19 pandemic, we hope that we can engage the curiosity seekers in a creative playground as we embark on this virtual celebration. Alys Beach hopes everyone will share their #DGfromhome experiences, including past Digital Graffiti festival moments, via social media and/or by emailing images to events@alysbeach.com. They will share these images and videos in a round-up video commemorating the festival!
Questions for technical setup for projecting can be sent to events@alysbeach.com.
---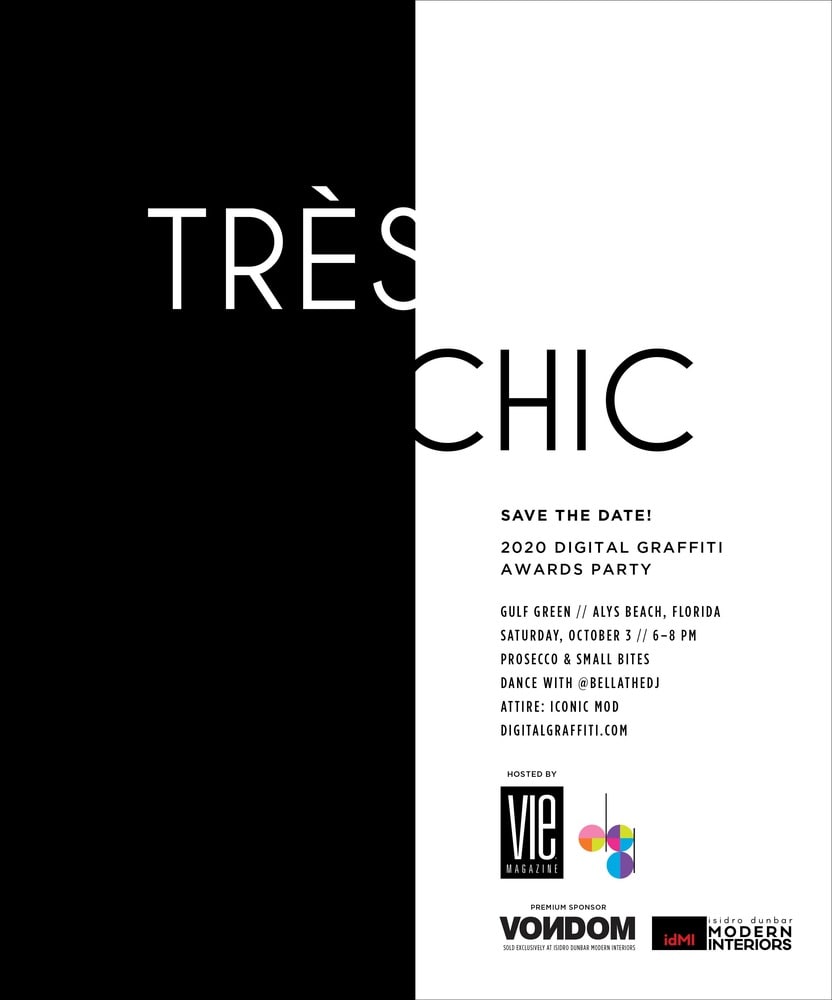 Save the Date for a Très Chic Affair!
Voulez-vous célébrer avec VIE? Get ready to sip, dance, and enjoy incredible views from the Gulf Green in Alys Beach, Florida, as VIE magazine presents the annual Digital Graffiti Awards Party, Très Chic by VIE, on October 3, 2020, from 6:00 until 8:00 p.m.
Inspired by the stunning architecture of Alys Beach and the international cavalcade of cutting-edge digital art that the Digital Graffiti Festival brings to Northwest Florida each year, this prelude to the Illuminated+ main event on October 3, 2020, will be a soirée to remember! In partnership with Spanish furniture maker Vondom and the design team at isidro dunbar Modern Interiors in Miramar Beach, VIE will transform the Gulf Green into a hangout that evokes the feel of a luxurious yacht or beach club from the modern age, but with a futuristic twist. If the mod glam of 007's Goldfinger and the sleek digital world of Tron: Legacy had a brainchild, this might be it!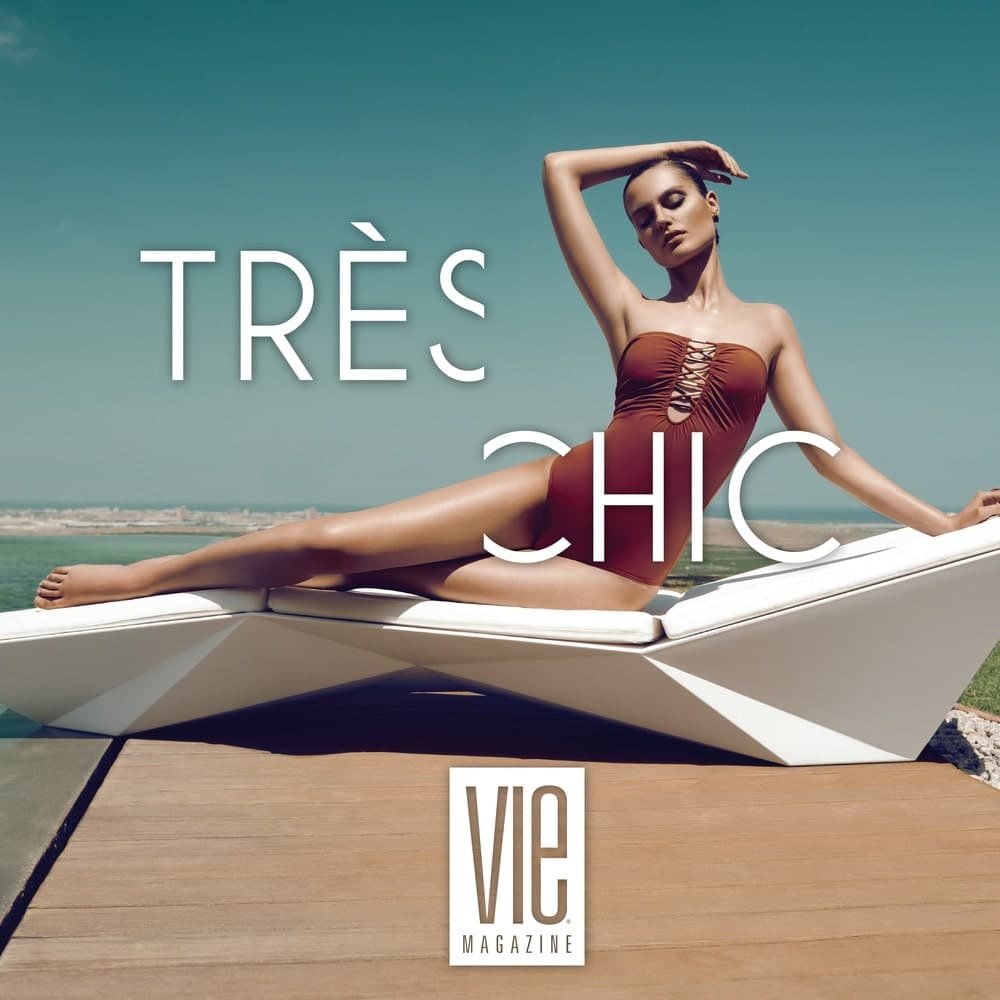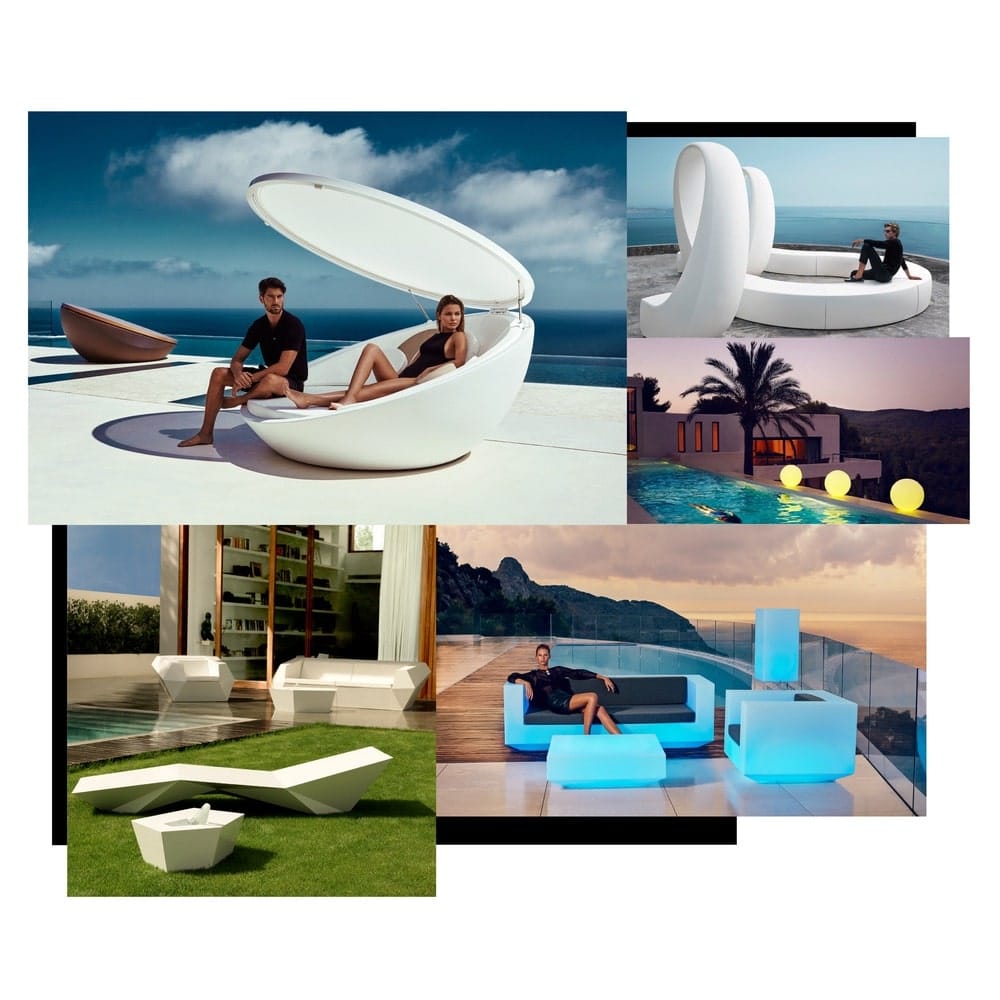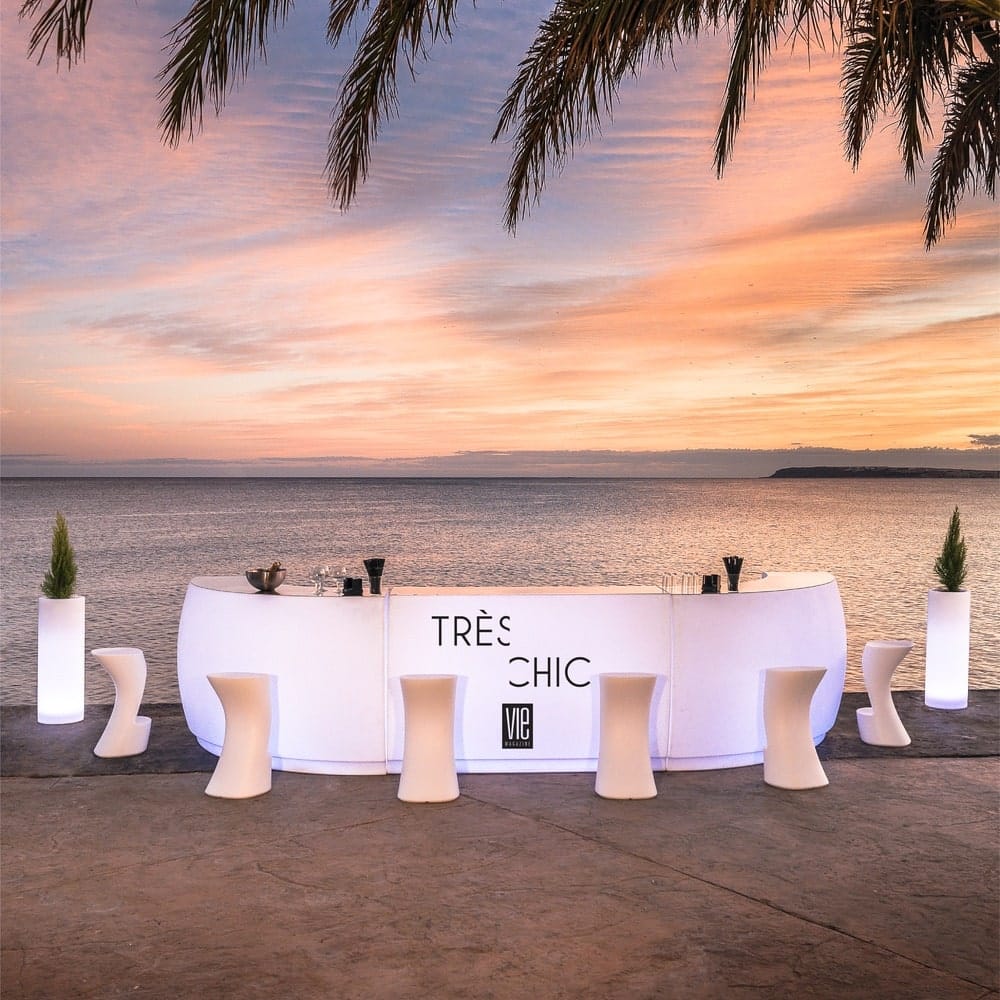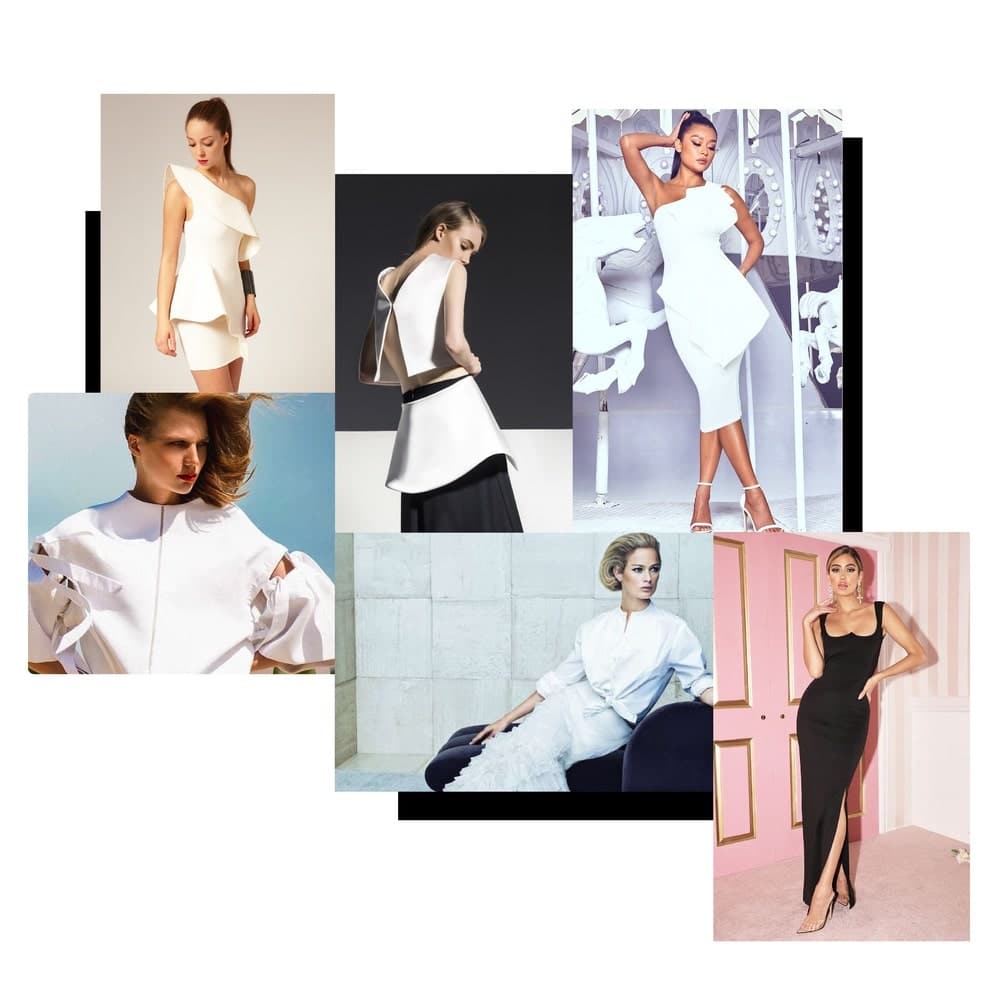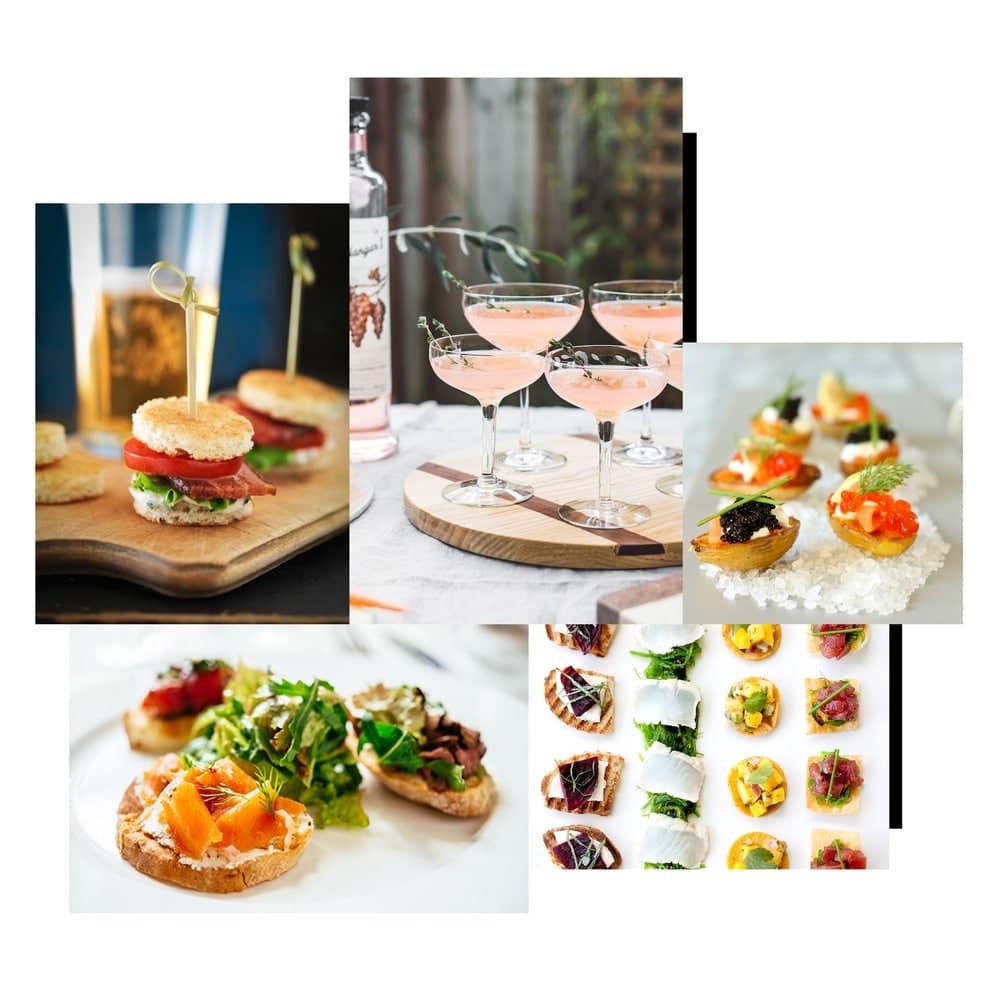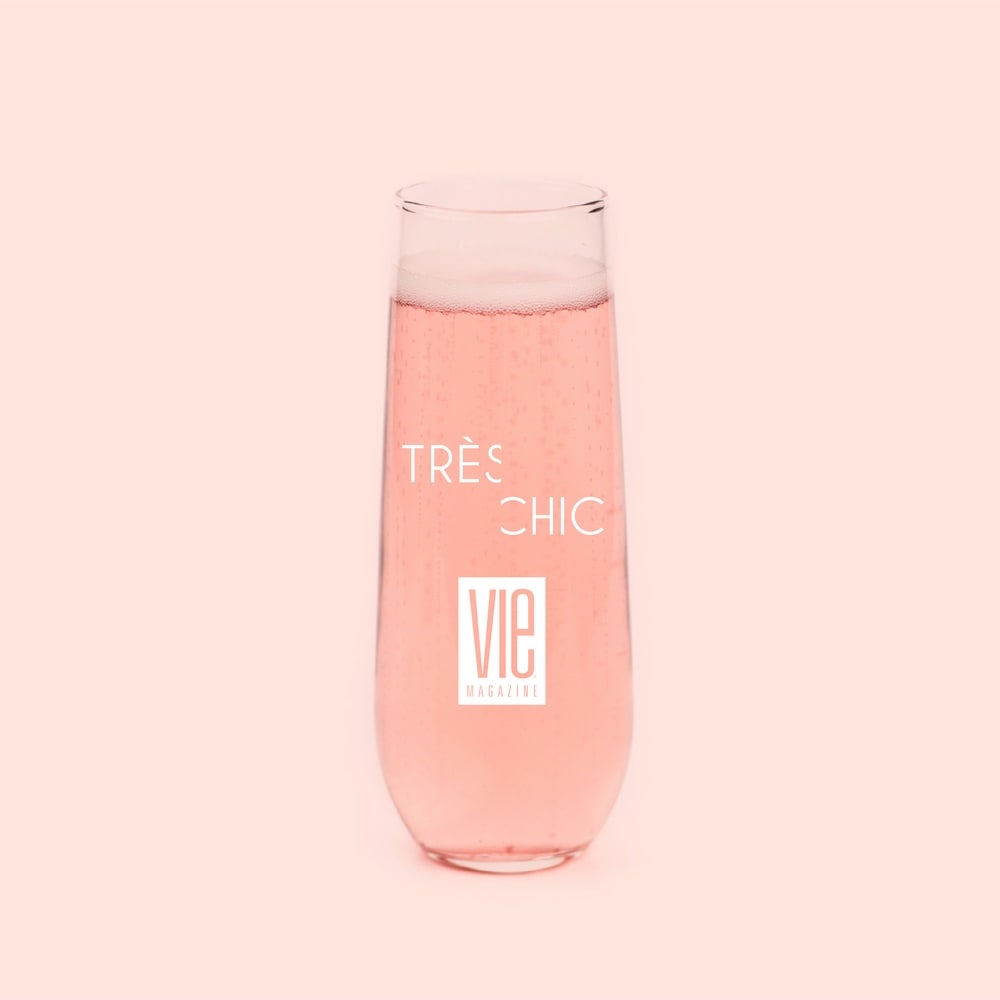 Vondom's incredible collection of seating, bars, lighting, and accessories will adorn the space and allow guests to sit or stand as they mingle, while the talented and beautiful Bella the DJ will be spinning the best dance beats for the crowd. Passed hors d'oeuvres and complimentary prosecco will make their way around throughout the evening, delivered by the Très Chic models in the latest fashions from the Alys Shoppe; meanwhile, a cash bar by Alys Beach will ensure there's something for everyone. Suggested attire is "Iconic Mod," drawing inspiration from the chic black-and-white Vondom furnishings with pops of color.
Click here to learn more about Très Chic by VIE.
---