A Literary Treasure Hunt
---
February 1, 2017
Breakfast Tea & Bourbon
At first glance, motivational speaker and life coach Pete Bissonette's 2017 novel Breakfast Tea & Bourbon is a lighthearted tale about five friends on a treasure hunt. But it's actually much more than that. The narrator, Nelson "Nels" Ware, offers his (often humorous) insights on what it means to live a happy and joyous life while recounting tales of his friends and their many exploits, most of which include life lessons that the reader will realize are teaching moments throughout the novel. This interesting intertwining of fiction, life coaching, and a treasure map is a quick and delightful read.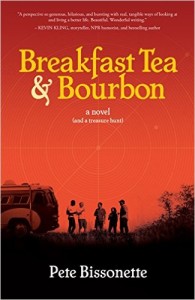 Treasure map, you ask? Yes, perhaps the initial reason this book captivates potential readers is that woven within its pages are subtle (and at times not-so-subtle) clues to a real-life treasure worth $50,000. The hunt begins when the book is released on February 9, 2017, and 5:08 p.m. Could that be a clue? You never know!
"Clues are woven into the storyline, so we recommend first reading the book leisurely and full-on enjoying the story," the book's website states. "Then go through the book again, searching for what could be clues. Stay positive and imaginative. Someone is bound to find the treasure, and that someone may as well be you."
As enticing as the prospect may be of an Indiana Jones adventure come true, Breakfast Tea & Bourbon (so named for Nels' two favorite beverages—and yes, sometimes he mixes them together) is enjoyable for readers from all walks of life. Young adults will find humor and fun in the characters' cross-country road trip in a dilapidated RV nicknamed "The Beast." More seasoned readers will find Nels' commentary on grief, loss, and life itself a poignant picture of the things all people will surely experience at some point, and how to live fully and with joy despite the hardships. Nels' life lessons span everything from friendship to feng shui, and include tips on qigong, meditation, motivation, business, and even recipes. Several simple recipes for snacks and cocktails are found throughout the book as the friends celebrate along their journey, creating an immediate sense of intimacy with the reader, like you're right there in the Beast sipping a QB Cosmo with the gang. Definitely try at home!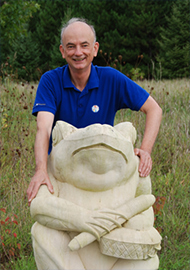 As the president of Learning Strategies, an organization that creates programs and events designed to help its clients get the most out of life, Bissonette knows what works when it comes to achieving success and happiness. Breakfast Tea & Bourbon, along with his $50,000 treasure hunt, is the perfect vehicle (unlike the Beast) to deliver his message that anyone can experience personal and professional growth, as well as true happiness, with the right attitude and the tools found in Nels' story.
Breakfast Tea & Bourbon is available for preorder now on Amazon.com and BreakfastTeaandBourbon.com. Those preordering three or more copies directly from the book's website will also receive Paul Scheele's Finding Treasure Paraliminal, the audiobook of Breakfast Tea & Bourbon, and the Genius Mind video program to access the power of your inner mind. The first 1,500 to preorder three or more books will also receive the hit movie, The Secret, on DVD.
Interview with Author Pete Bissonette

Don't forget—one lucky reader who joins in the hunt will also find a treasure worth $50,000! The hunt begins February 9 as the clues to the treasure map are revealed within the pages of Breakfast Tea & Bourbon. Who will find it first?
---