30AEats Holiday Menu
---
October 31, 2012
Susan Benton, traveler, writer, and culinary extraordinaire behind the blog 30AEats, was one of the contributors to VIE's 2012 Holiday Issue recipes article. We couldn't fit all the delicious recipes into the magazine, so we are featuring her entire exclusive holiday menu here for all our readers at home to try! Bon appetit!
VIE People + Places
Christmas Dinner Menu
Serves 8
By: Susan Benton

Champagne Julep:
This cocktail is the perfect way to celebrate dinner with family and friends and toast the holiday season.
Recipe:
1/2-cup sugar
1/2-cup water
1 1/2 cups packed mint leaves, plus 12 mint sprigs, for garnish
6 limes cut into wedges
2 cups light rum
Cracked ice
3 cups Champagne or sparkling wine
Preparation:
In a small saucepan, combine the sugar and water and cook over high heat just until the sugar has dissolved. Let cool to room temperature.
In a large pitcher, combine the sugar syrup with the mint leaves and lime wedges and muddle well with a wooden spoon. Add the rum and stir well. Strain the drink into another pitcher.
Fill tall glasses with cracked ice and pour in the drink, filling them about two-thirds full. Top with Champagne, garnish with the mint sprigs and serve.
Note:The mojitos can be prepared through Step 2. Refrigerate the mojitos in the pitcher overnight.
Oyster Bites:
Living on the Gulf Coast, many folks love to incorporate briny bivalves into their holiday meal plans, and I am no exception. These delicious oyster bites go perfectly with a champagne mojito to start off the evening.
Recipe:
1 tablespoon unsalted butter
2 tablespoons all-purpose flour
1/2-cup milk
1 tablespoon minced onion
1 bay leaf
1 1/2 teaspoons prepared horseradish
Salt and freshly ground pepper
3/4-cup panko (Japanese bread crumbs)
1/2 cup freshly grated Parmesan cheese
2 tablespoons extra-virgin olive oil
24 prebaked mini phyllo shells
24 small-shucked Apalachicola oysters
Preparation:
Preheat the oven to 400°. In a small saucepan, melt the butter over moderately high heat. Stir in the flour, then whisk in the milk until smooth. Bring to a simmer, whisking. Stir in the onion and bay leaf and simmer over low heat, whisking, until no floury taste remains, 10 minutes. Pass through a coarse strainer set over a small bowl; discard the bay leaf. Stir in the horseradish and season with salt and pepper. Press a piece of plastic wrap onto the sauce.
In a small bowl, combine the panko and cheese and stir in the olive oil. Arrange the phyllo shells on a rimmed baking sheet. Place an oyster in each shell. Spoon about 1 teaspoon of the horseradish sauce into each shell, and sprinkle the panko mixture on top. Bake in the upper third of the oven for about 10 minutes, until hot throughout and crisp on top. Serve right away.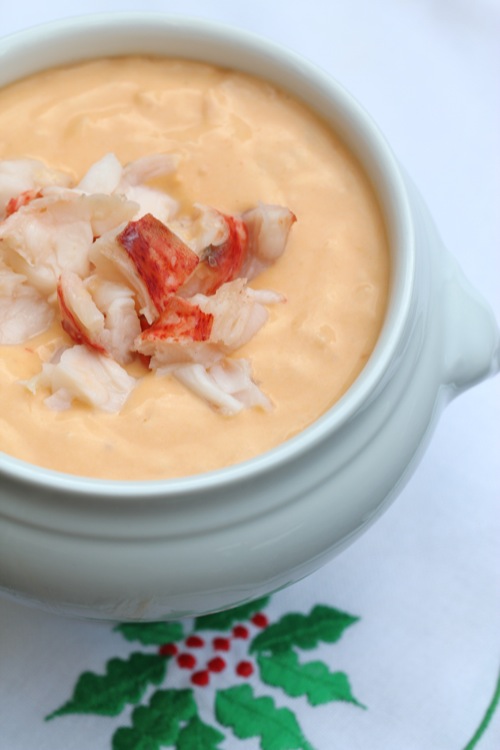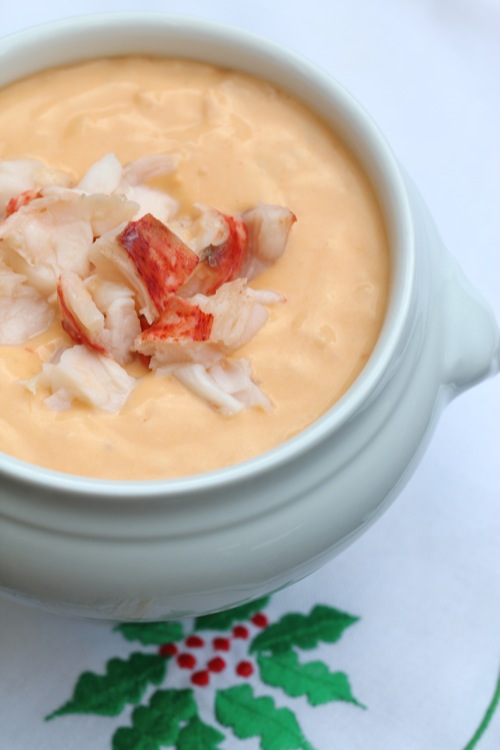 Lobster Bisque:
My family enjoys beginning a special meal like that of Christmas with a comforting soup or bisque. This recipe is from the restaurant archives of my former beloved mother-in-law who hailed from New Orleans.
Ingredients:
4 1-11/2 pound steamed fresh lobster tails (set aside ½ of a tail for garnish)
5 tablespoons butter
1 small white onion, finely chopped
2 stalks celery finely chopped
4 ounces canned San Marzano crushed tomatoes
2 cloves garlic minced
1/3-cup all-purpose flour
3 cups seafood stock
2 cups whipping cream
Sprig of thyme
1 teaspoon Creole seasoning
Preparation:
Remove lobster meat from shell; coarsely chop and set aside.
In a large saucepan, melt butter over medium heat. Add onion, celery, and garlic; cook for 5 minutes, stirring occasionally. Add tomatoes. Cook for 2 minutes. Stir in flour, and cook for 2 minutes. Add sprig of thyme and stir in seafood stock slowly cooking for 10 minutes, stirring occasionally, until thickened.
Add lobster meat. Slowly stir in whipping cream and Creole seasoning; cook for 10 minutes, or until heated through, stirring occasionally. Remove sprig of thyme. Serve immediately.
Note: If too thick, add a bit more stock.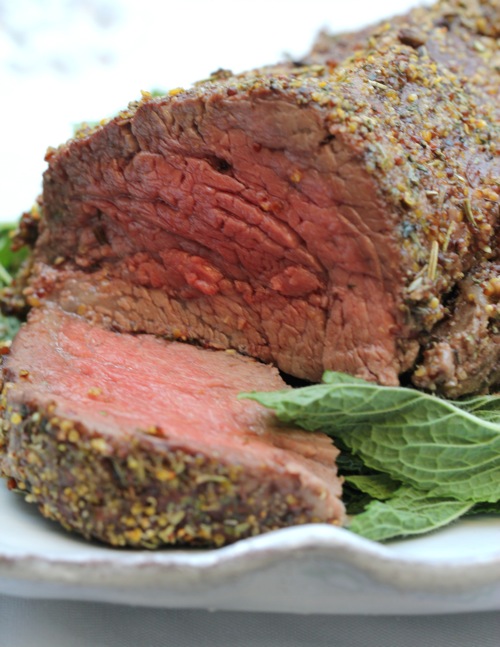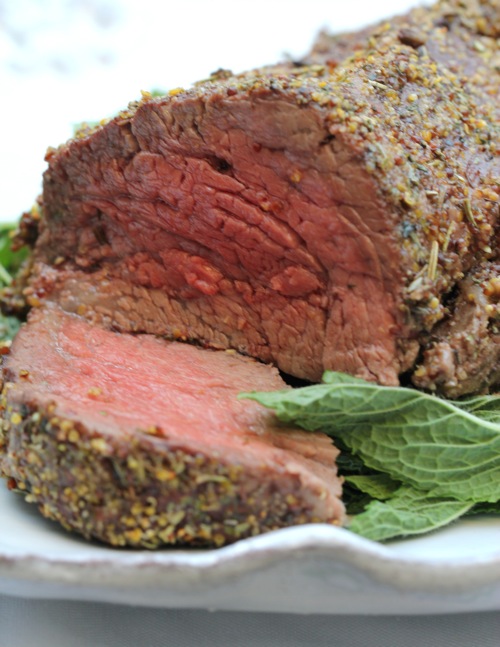 Herbed Crusted Beef Tenderloin:
Growing up my Dad was always in charge of the beef tenderloin for Christmas dinner, and the tradition continues today, as I am fortunate to have my parents living near me in South Walton. We enjoy serving horseradish cream on the side, which is 50/50 part horseradish and sour cream.
Recipe:
1 head of garlic, cloves coarsely chopped
1 stick unsalted butter, softened
1/2 cup prepared horseradish
3 tablespoons chopped fresh thyme
3 tablespoons chopped fresh rosemary
3 tablespoons chopped fresh sage
One 4-5 pound beef tenderloin trimmed with butt in tact
Salt and freshly ground pepper
Preparation:
Preheat the oven to 500°. In a food processor, combine the butter with the garlic, horseradish, thyme, rosemary and sage and process to a paste.
Put beef on a sheet of plastic wrap. Spread the horseradish-herb butter all over the top. Wrap in plastic wrap and let sit room temperature for 1 hour.
Place beef on rack on rimmed baking sheet and close oven door. Cook for 25 minutes without openingoven door. Instant-read thermometer inserted in the center should registers 125° for medium rare. Transfer tenderloin to a carving board and loosely cover with foil to rest for 15-20 minutes. Temp will rise. Slice and serve. It will be pink and rare.
The horseradish-herb butter can be refrigerated overnight. Let the butter soften before using.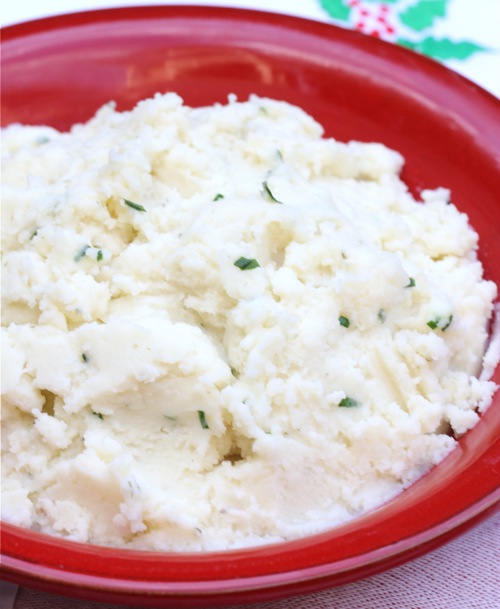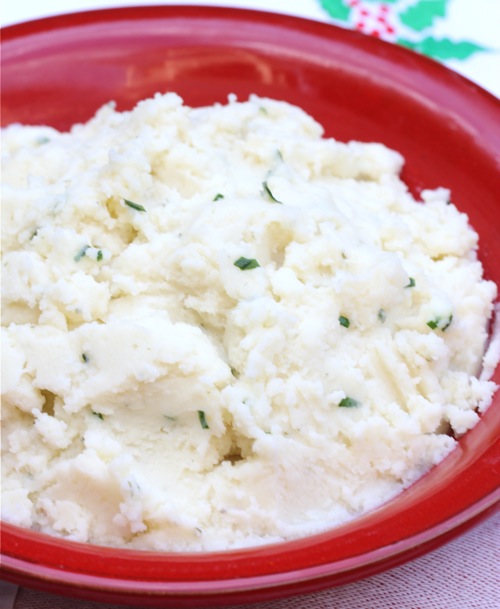 Mashed Potatoes With Crème Fraiche and Chives:
6 pounds Yukon Gold potatoes, peeled and halved
1-cup whole milk
1-cup whipping cream
1 1/2 sticks unsalted butter
Kosher salt
1-cup crème fraîche
1/2 cup finely chopped chives
Freshly ground pepper
In a large pot, cover the potatoes with cold water and bring to a boil. Cover and cook over moderate heat until the potatoes are tender, about 20 minutes; drain. Press the potatoes through a ricer into a large saucepan set over low heat.
Meanwhile, in a small saucepan, combine the milk and half-and-half with 10 tablespoons of the butter and 1 tablespoon of salt and cook over moderate heat until the butter is melted, about 3 minutes.
Pour the hot milk over the riced potatoes and cook over moderate heat, stirring occasionally, until blended, about 2 minutes. Stir in the crème fraîche, the remaining 2 tablespoons of butter and the chives and cook until the potatoes are heated through, about 5 minutes. Season with salt and pepper, transfer the mashed potatoes to a bowl and serve.
Note: The mashed potatoes can be kept covered at room temperature for up to 3 hours. Reheat before serving.
Braised Kale:
Ingredients:
1/4-cup extra-virgin olive oil
4 garlic cloves, minced
1 1/2 cups chicken stock (low-sodium broth)
8 cups firmly packed kale, stems and inner ribs discarded, leaves coarsely chopped
1-teaspoon salt
Freshly ground pepper
½ teaspoon red pepper flakes
Splash cider vinegar
Preparation:
In a very large soup pot, heat the olive oil. Add the garlic, red pepper flakes, and cook over moderately high heat, stirring, just until fragrant, about 30 seconds. Add the chicken stock, then add the kale. Season with salt and pepper, cover and cook over moderate heat until the kale is tender, about 5 minutes.
Remove the lid and cook until the liquid has evaporated, about 3 minutes longer. Add a splash of cider vinegar. Transfer to a bowl and serve.
Italian Crème Cake:
The star of the show! My mother makes this moist and decadent cake at Christmas, and the recipe has been with my family as long as I can remember. I sat down with Mother, and read through her scribbles on a sheet of paper so I that we could share this delicious recipe with the readers of VIE. Freezing the layers and icing the cake when frozen makes this recipe less labor intensive, and you won't be fighting a losing battle with crumbs.
Ingredients:
1/2-cup shortening, room temperature
1 stick butter, room temperature
2 cups sugar
5 egg yolks, separated and at room temperature
2 cups flour
1-teaspoon baking soda
1/2-teaspoon salt
1-cup buttermilk, at room temperature
1 cups shredded coconut
1 cup finely chopped pecans
1-teaspoon vanilla extract
Frosting:
1 (8-ounce) package cream cheese, at room temperature
1/4 cup butter, softened at room temperature
2-teaspoon vanilla
1 (16-ounce) box powdered sugar, sifted
3/4 cup finely chopped pecans
Directions:
Preheat the oven to 325 degrees F and grease and flour 3 (9-inch) cake pans.
In the bowl of an electric mixer, cream the shortening and butter until light and fluffy, then add sugar beating until smooth. Add the egg yolks 1 at a time, beating well.
In a separate bowl mix baking soda, salt and buttermilk. Sift the flour in another bowl. With the mixer on low speed, add the sifted flour in batches alternately with the buttermilk mixture, beginning and ending with the dry ingredients.
In a separate bowl, beat the egg whites until stiff, and gently fold into the prepared batter. Add the coconut, pecans and vanilla and fold into the batter. Divide the batter among the 3 prepared cake pans and bake for 25-30 minutes, or until golden brown and a tester comes out clean when inserted into the middle of each cake. Allow the cakes to cool in the pans for about 15 minutes before turning them out onto a wire rack to finish cooling. When the cakes are completely cool, stack the layers with the frosting and frost the sides and top.
Note: While the cake is baking, prepare the frosting. In a large bowl combine the crème cheese, butter and vanilla, and using an electric mixer, beat until smooth and creamy. Add the sifted powdered sugar and mix until thoroughly combined. Add the nuts and fold together. Keep refrigerated until you are ready to frost the cake.
Decorate with holly leaf and cherry on top.
Freezing the cake layers prior to frosting, will add to the ease of icing the cake.
---