VIE's Top 10 Moments of 2016
---
December 30, 2016
Strolling down memory lane
Happy New Year—well almost! As eager as we are to take a step forward and embark on a new journey celebrating our tenth year of storytelling in 2017, we'd like to take a look back and reflect on the highlights of last year. Like any other year, 2016 has been a whirlwind, full of excitement. To celebrate our upcoming ten-year anniversary, we're counting down our top 10 moments of 2016!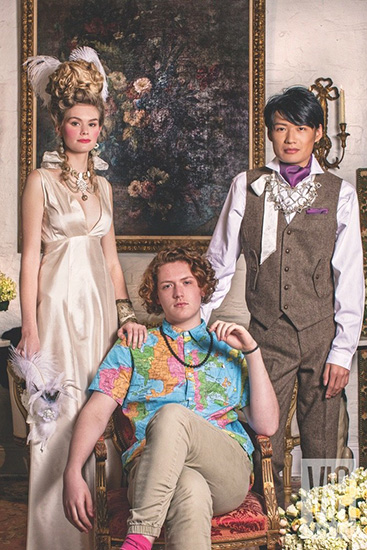 VIE takes NOLA
Big hair, big gowns, big cakes, and the Big Easy! We took our decadent "Let Them Eat Cake" photo shoot featured in our Culinary & Couture issue to New Orleans, Louisiana. After carefully planning a shoot showcasing South Walton Fashion Week 2015 Emerging Designer winner Tieler James's collection and Sheila Goode Models of the Year Miranda Abney and Xinbang Tang, there was no where else more ideal to execute the vision of our Marie Antoinette-inspired spread than at the New Orleans Auction Galleries. The high ceilings and spacious rooms filled with rococo-styled furniture and antiques naturally created the perfect set design. The cool, industrial feel allowing us to modernize the shoot was an added bonus. From the decadent sweets by Sucré and Swiss Confectionery to the rich props and Mary Kay Samouce's dazzling jewels, this shoot brought the crowning touch fit for a queen! Working with photographer Romona Robbins, hairstylist Brooke Miller, and makeup artist Yvette Nation, our team had a great time and we offer our sincerest thanks to the New Orleans Auction Galleries team for all their help! Check out the results in "Let them Eat Cake: Regalness is Delicious."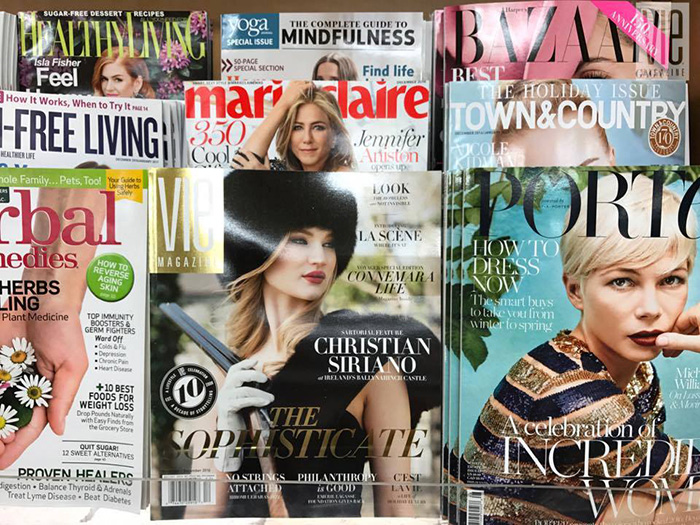 The Circle of Issues
In addition to being sold on newsstands at various Walmart stores, Books-a-Million, Barnes & Noble, and most international US airports, VIE was picked up to be sold at all 1,120 Publix locations this year, increasing our circulation tremendously so more readers can enjoy our stories. It never gets old for us to see each of our issues on newsstands, so keep your eyes peeled and join in our excitement. Feel free to snap us a picture and we might just share it on our social media pages!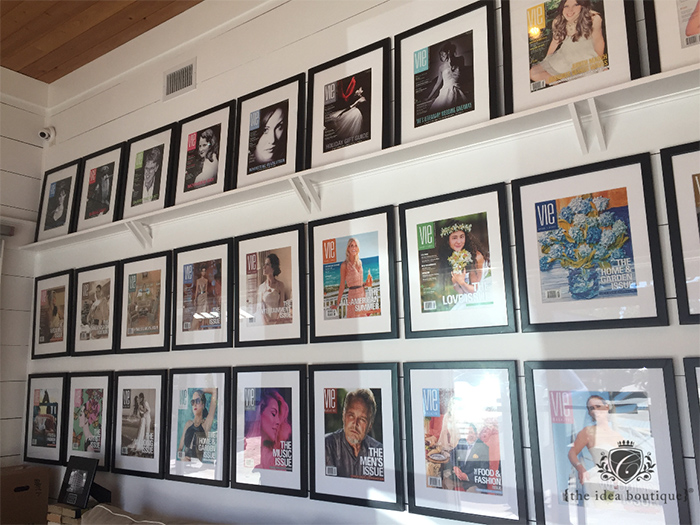 VIE Starts Construction
With our tenth year coming and our circulation expanding, we couldn't think of a better time to build our new, chic office, complemented with a charming garden. Inspired by big industrial windows and sleek, open minimalist style, VIE's cofounder and publisher Gerald Burwell has brilliantly designed the gorgeous office space which we can't wait to debut. Stay tuned, because it's coming soon!
The Get Down
In honor of South Walton Fashion Week 2016 and VIE's upcoming office expansion, we were determined to plan and host a party unlike any other. Full of glamour, style, disco, and dancing, The Get Down was certainly the party of the year! Chic white tents filled the outdoor space alongside our headquarters, with a red carpet to welcome groovy guests including artist Ashley Longshore, photographer Carlo Pieroni, model Carol Wilson, all the talented Emerging Designers of South Walton Fashion Week 2016, and many more. The music by Nashville's DJ Rate was killer, the entertainment was hopping, the drinks kept flowing, and there wasn't a single dull moment of the night. Get all the details of the party and check out video on our blog "Get Down, Get Funky, Get Loose."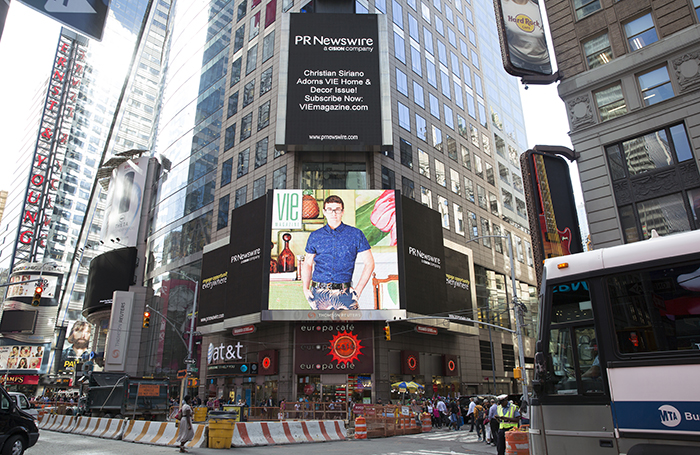 At Home with Christian Siriano
What goes around comes around, and we mean this in a positive and happy way! Last year, we got to feature stage and film star Kristin Chenoweth donning a gorgeous Christian Siriano gown for our 2015 Cultural Issue cover, which was featured on the bright screens of Times Square in New York City. This year, we had the pleasure of flying to Connecticut to photograph Christian and his husband, Brad Walsh, in their country home for the Home & Decor Issue, which also shined on the monitors of the Times Square Reuters building! Check out the beautiful cover and his home shot by photographer William Waldron here.
Ireland Photo Shoot
As avid travelers, and with our publisher The Idea Boutique's branch in Clifden, Connemara, Ireland, offering breathtaking landscapes, how could we not take advantage and plan a dreamy, fairy-tale photo shoot? Set on a brisk day at the grounds of the Ballynahinch Castle Hotel, the shoot featured two Irish beauties, gowns by Christian Siriano, and jewels from Destin Jewelers telling the story of two mysteriously charming feminine hunters for VIE's Sophisticate issue and for our sister magazine in Ireland, Connemara Life. Check out the final images in "An Enchantment."
VIE Officially Goes National
It's been a big year for us to say the least, and our announcement to officially become a national publication was just the start of it! As we gear up for our ten-year anniversary, we have also made brand adjustments and updated the look of VIE, adding new exciting departments and a refreshed aesthetic to old favorites! VIE will become a monthly publication rather than bi-monthly starting in May 2017, giving our fantastic readers more chances to catch up on Stories with Heart & Soul. Don't forget to let us know what you think of our new look and of our 2016 issues by writing to us at info@VIEmagazine.com, or send us a private message on our Facebook, Twitter, or Instagram page. You might just find one of your comments on our new "La conversation" feedback page!
New York Fashion Week
In addition to our year of photo shoots, we've also been on the go—but that's nothing out of the ordinary. Not too long after our trip to Ireland, we were off again, jet-setting to the Big Apple for New York Fashion Week! The streets and runways of NYC became a fashion wonderland as everyone in the city got out their best looks for the occasion. As always, we enjoyed some daytime exploration and excitement by night, including Christian Siriano's Spring/Summer 2017 runway show and after-party. Check out "La scène" from the night on our website!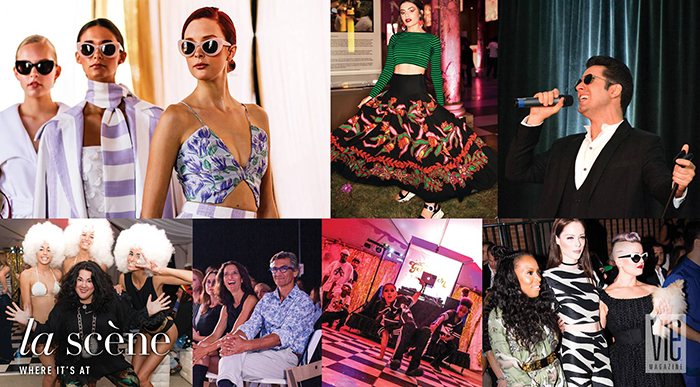 La scène
Speaking of La scène … As a lifestyle magazine that captures current events that are happening around the world, and with a new branding initiative put in place, it was time to revive what was once our "People + Places" section and elevate it into what is now "La scène." Now you can stay up to date on the who, what, where, and when in upcoming issues of VIE and on our website at LaScene.VIEmagazine.com.
VIE's Brand Alliance
Rebranding is more than a new look, it's a full rebirth. As we always look for new and exciting ventures to keep things fresh and to keep our audiences captivated, we have developed a Brand Alliance program, partnering up with other brands to share their products, messages, core values, and visions that our readers will enjoy. For more information or to become part of the alliance, contact a VIE Brand Ambassador today!
We couldn't be more excited for 2017 and to celebrate our first decade of storytelling. Of course, this milestone wouldn't be possible without all of our wonderful readers and supporters. We'd like to thank you all very much. Here's to another ten years and many more after that. Happy New Year!
---