Don't Panic—Hangout Music Festival 2016 Rocks On
---
June 7, 2016
A Music Fest with Rock, Soul, and Sugar-White Sand
By Mariana Zechini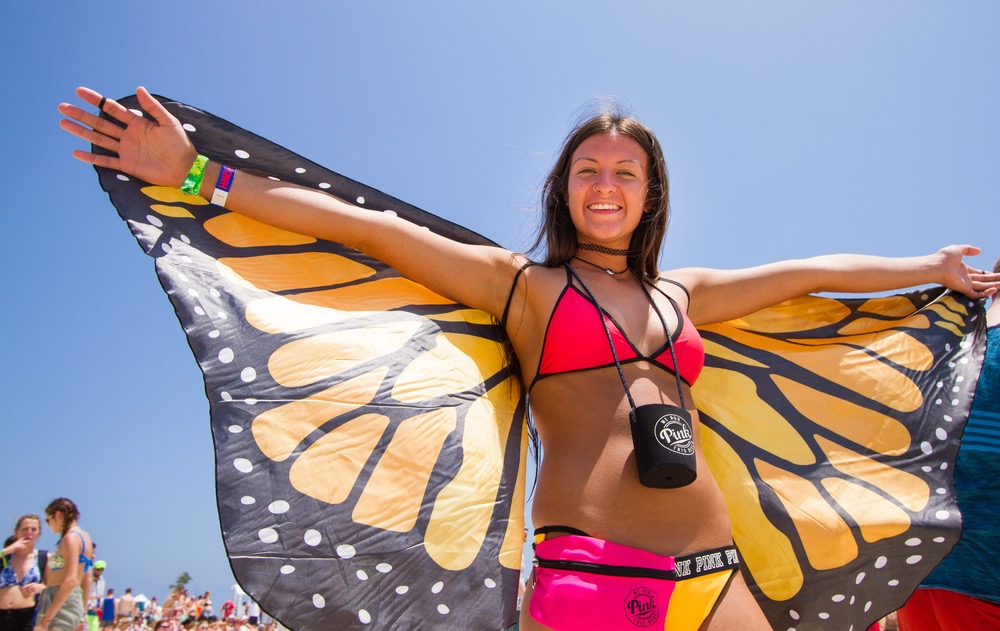 The Hangout Music Festival is an annual music festival located on the white-sand beaches of Gulf Shores, Alabama. In terms of festivals, it isn't as large as Coachella or Glastonbury, but it provides its attendees with a unique experience. For one, it's directly on the beach, which means festival-goers get to have sand, sun, fun, and music all in one place. It's also located on Alabama's gorgeous Gulf Coast, which means that one can sample award-winning, mouthwatering seafood. Hangout's sixth year, taking place May 20–22, 2016, saw headliners such as The Weeknd, Florence + the Machine, and Panic! At the Disco (who filled in for Calvin Harris who unfortunately had to cancel his appearance due to injuries sustained in a car accident). Additionally, other outstanding bands and musicians such as Lenny Kravitz, Ellie Goulding, the Alabama Shakes, Cage the Elephant, The Griswolds, Atlas Genius, Portugal. The Man, X Ambassadors, Leon Bridges, Jason Isbell, and Grouplove all performed on the festival's stages this year.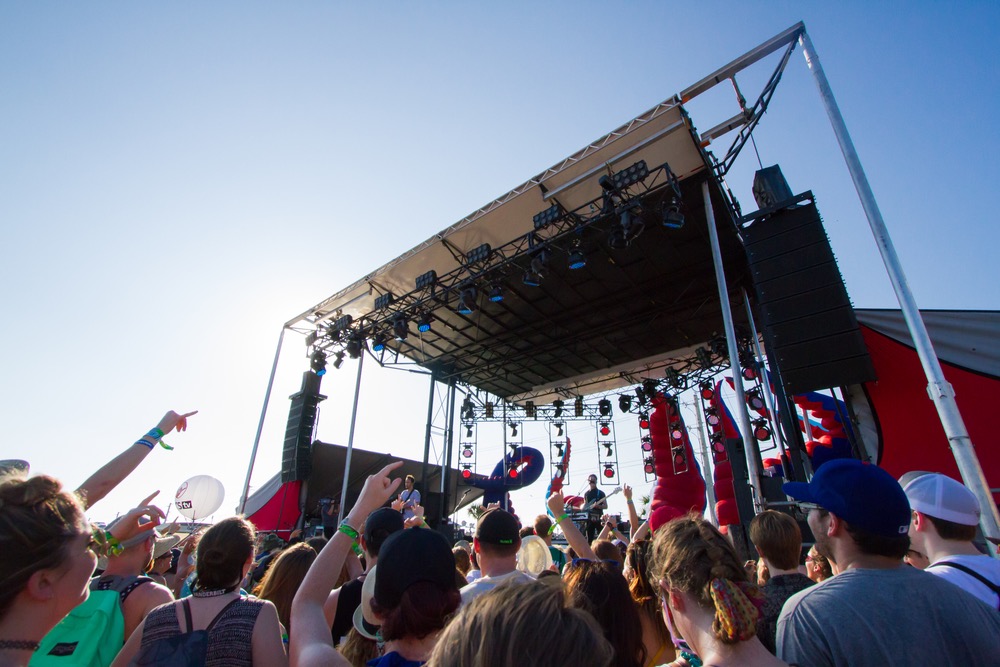 I have lived on the Gulf Coast for almost two years now (Pensacola, specifically), and this was my first time at Hangout Fest. I'm somewhat of a festival newbie—I have only been to two other music festivals: Nos Alive in Lisbon, Portugal, and Jazz Fest in New Orleans. So, I had expected the large crowds and intense heat, but I was very excited to attend Hangout this year and add it to my (still small, but growing) list of music festivals. I was especially thrilled because this year I attended the festival as press with my close friend and former roommate Rinn Garlanger. Rinn and I met in art school at Virginia Commonwealth University five years ago and instantly clicked. She graduated one semester before me and moved to Idaho. When I decided to go to graduate school at the University of West Florida, Rinn informed me a few weeks later that her husband had been stationed at Eglin Air Force Base along the Northwest Florida coast, and we would once again be (kind of) living in the same city. Fast forward two years, and I have managed to have a little piece of home with me in Florida.
Rinn and I made the easy hour-long trek from Pensacola to Gulf Shores early Saturday morning. After successfully avoiding traffic by going up Alabama's Coastal Connection and down Highway 59, we lucked out and found a parking lot about a half-mile away from the venue. The minute we entered the gates of Hangout Fest, we felt we were in an entirely new world. We managed to land right in the center of the festival, completely surrounded by food trucks, stages, henna tattoo stands, carnival rides, games, vendors, and a sea of smiling faces. There is definitely no shortage of activities to engage in while spending the weekend at the festival.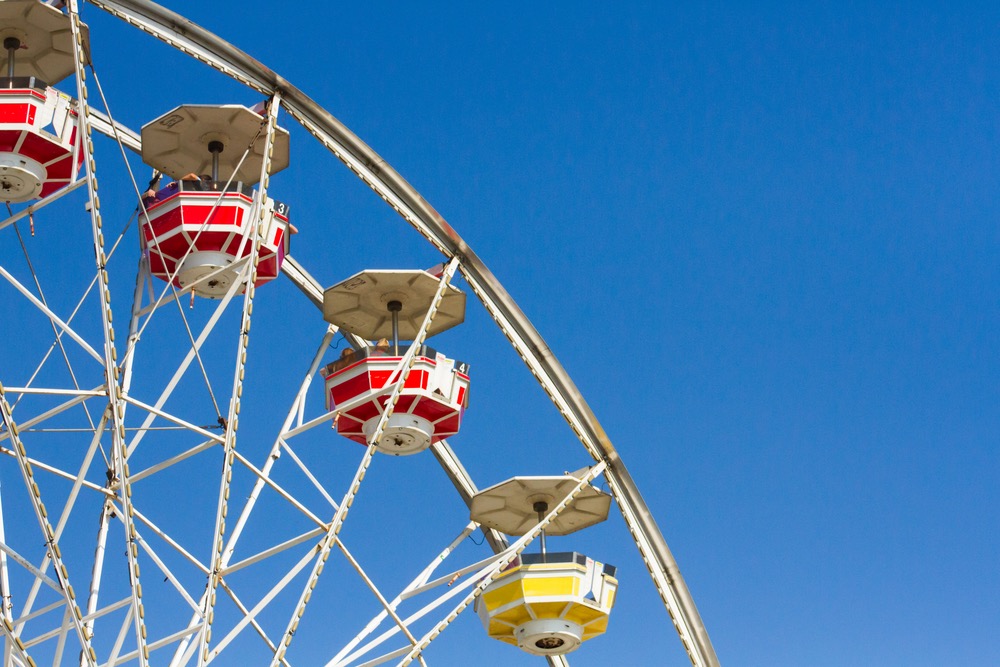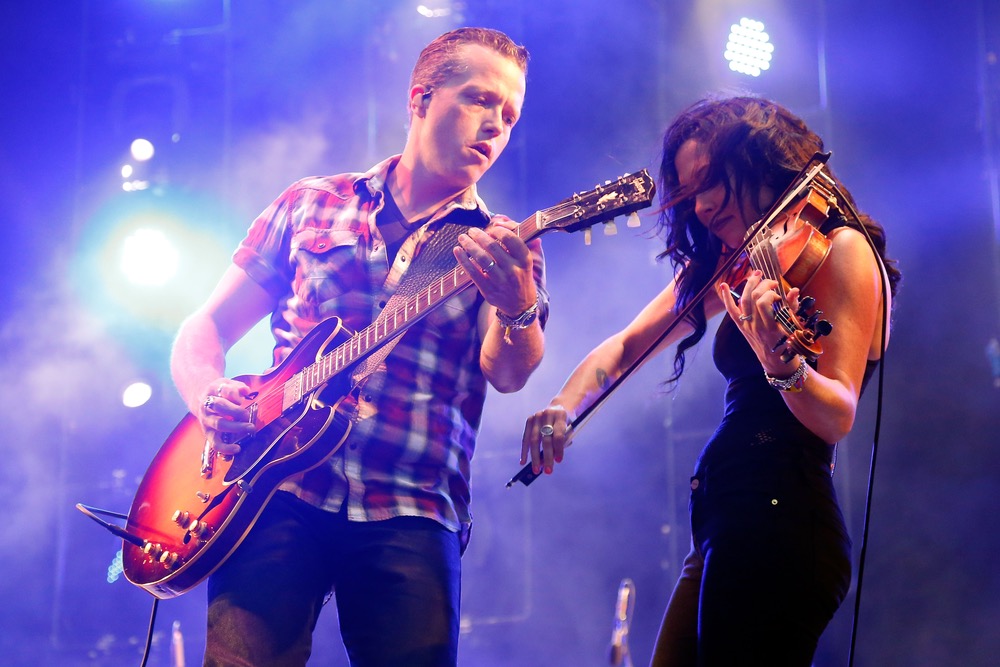 Hangout treats its guests very well. One never has to walk far in search of food or a restroom. There is constant entertainment both during and between musical performances. Camelback sponsored stations giving out free refills of water, while sponsors Bud Light and Pandora kept festivalgoers happy with access to the beach and music constantly playing. Hangout also had a wedding chapel if you and your S.O. (or another willing participant) are in the mood to get hitched! My personal favorite feature was the puppy kissing booth, where one could donate money to local animal shelters in exchange for puppy kisses!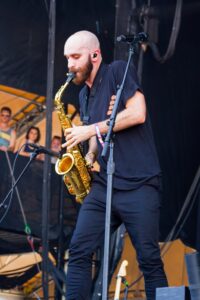 The first band we saw was X Ambassadors, an alternative-rock quartet from Ithaca, New York. The band is most famous for their catchy song "Renegades," which debuted in 2015 and appeared in the Number 8 spot of the Billboard Top 40. They performed many tracks off of their newest album, VHS, which has songs that also feature Imagine Dragons and Jamie N Commons.
Our next move was to take a break from the heat in the press tent, where Atlas Genius and Portugal. The Man were coincidentally doing interviews. Atlas Genius is an alternative-rock group that hails from Australia and is comprised of the Jeffery Brothers: Keith on lead vocals and guitar and Michael on drums, with Darren Sell on keyboard. Their most notable song, indie-pop tune "Trojans," was released in 2011 and appeared on Billboard's Alternative Songs Chart at Number 4. The band's most recent album, Inanimate Objects, was released in 2015. Portugal. The Man (yes, the period is part of the name) is an American rock band from Alaska comprised of band members John Gourley, Zach Carothers, and Kyle O'Quin. The band has been playing music together since high school and signed onto Atlantic Records in 2010. Their name is based off the idea of David Bowie's larger-than-life fame, which is fitting with their colorful, unique, and psychedelic tracks that translate into an entertaining set. As a young Portuguese girl, I remember seeing their band name and becoming immediately excited and doubly thrilled once I heard their music. Both of these bands are incredibly talented, and also very friendly. Both said hello to us as they were entering and leaving the press area (I squealed just a bit), and Keith from Atlas Genius reached out for a high-five and let us snap a photo with him.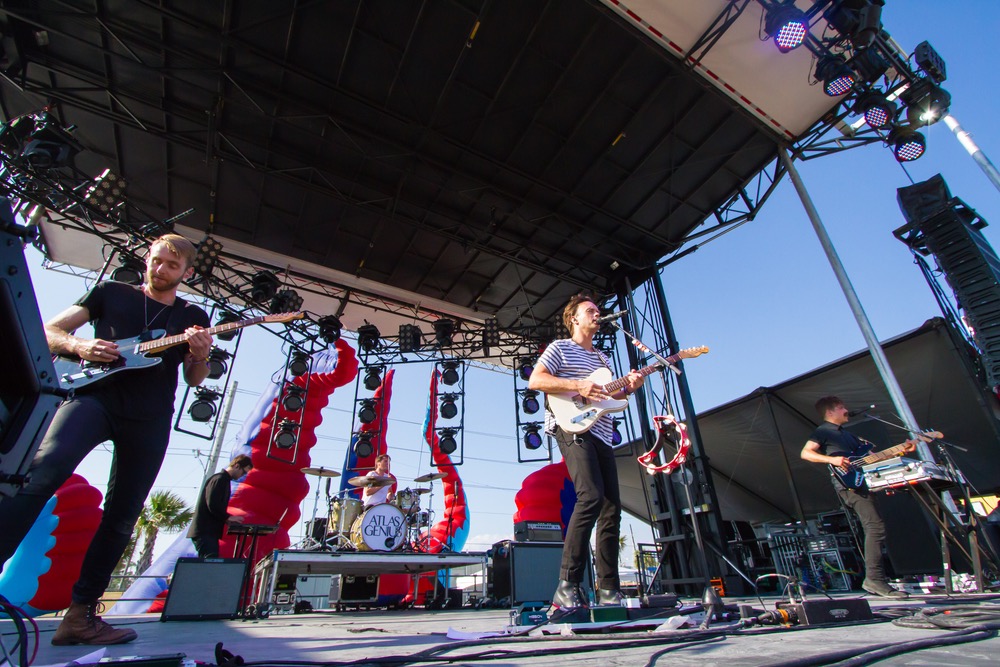 Another performer that gained a lot of attention during the festival was soul musician Leon Bridges. He showed up in the press tent dressed in high-waisted navy blue slacks, a white button down, oxfords, and Ray-Bans, and it was like people instantly became more alive when they saw him. Even if one was unaware of Leon Bridges and his music (like I was), it's easy to tell he is special just by watching and listening to him one time. The twenty-six-year-old Texas native has a smooth voice, and accompanied by his guitar, his music resembles 1960s rhythm and blues. His first album produced hits such as "Coming Home," "Better Man," and "River." His gospel/soul style stood out in a mix of alternative-rock and indie-pop bands at Hangout Fest.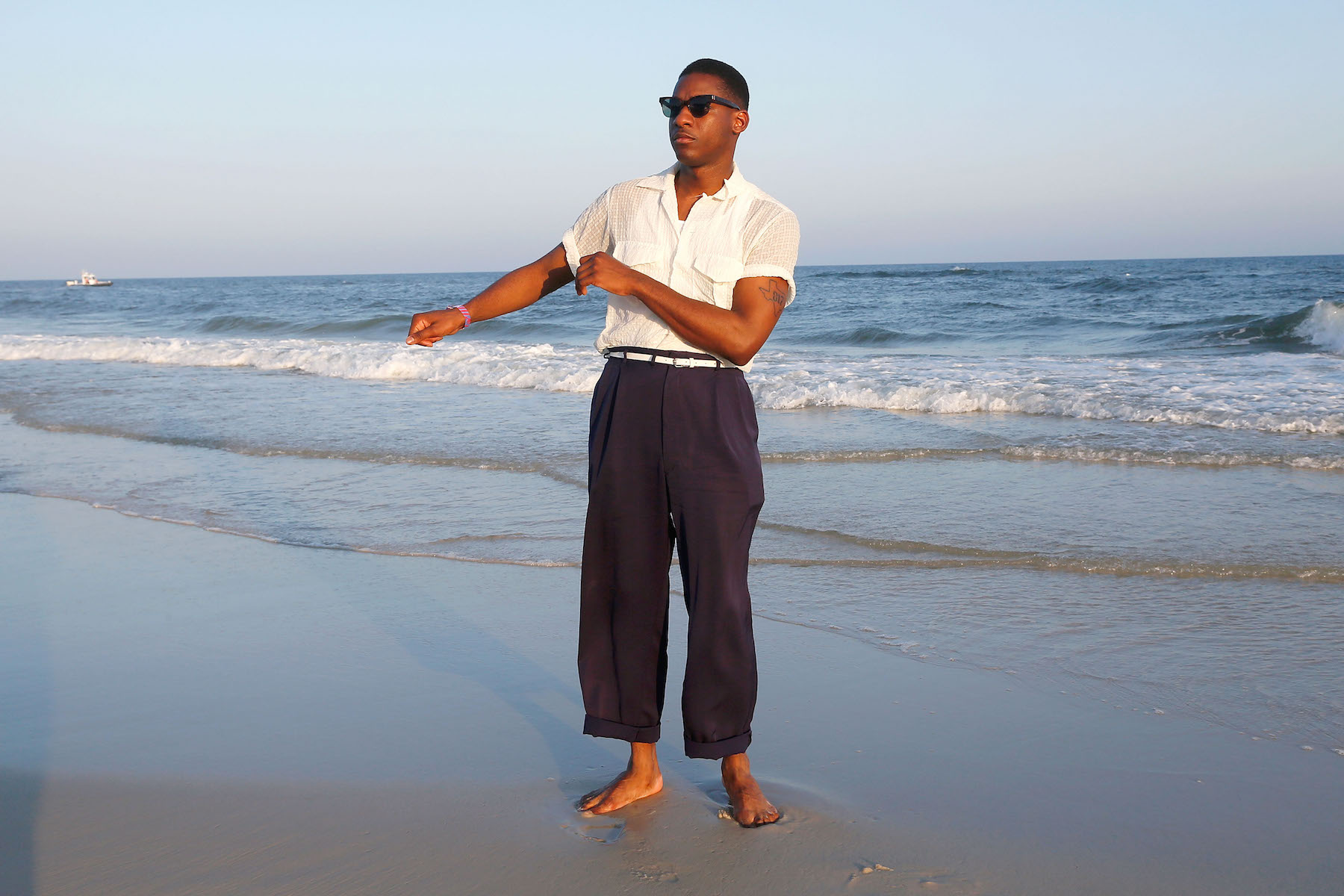 After punching myself for not listening to Leon Bridges sooner, I walked with Rinn to the other side of the festival grounds, where Cage the Elephant was set to perform. Throughout the day I had heard about how good their performance was going to be. They definitely delivered, because it was one of the most energetic concerts that I have witnessed (Panic! At the Disco's is also on that list). Cage the Elephant performed a high-energy set with vocalist Matthew Shultz being incredibly animated from the very beginning. The band is best known for hit songs such as "Ain't No Rest for The Wicked," "Shake Me Down," and "Come A Little Closer."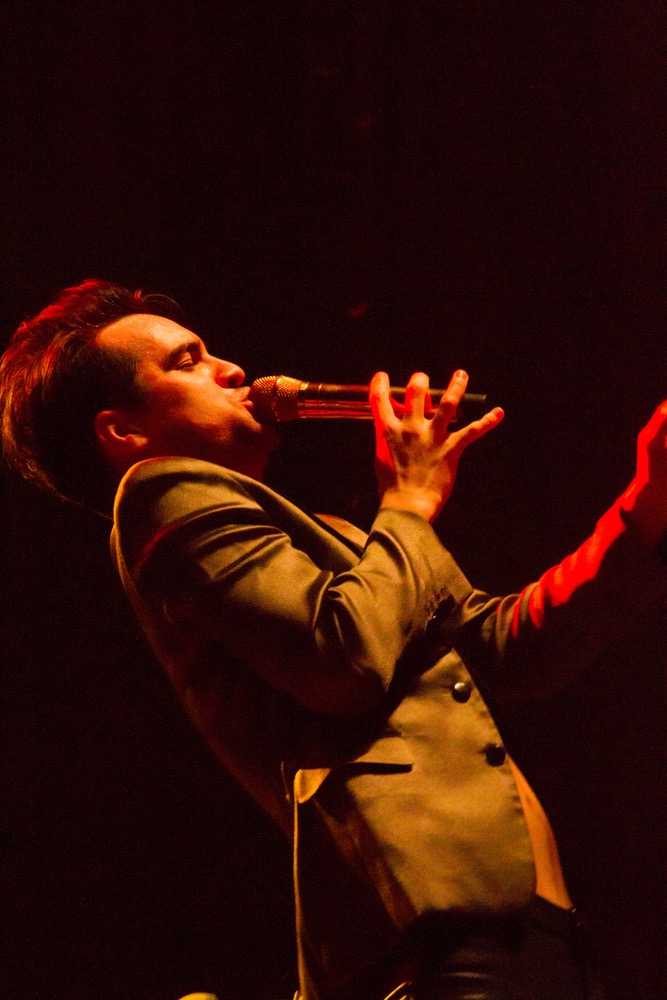 After perusing the games, shops, and food vendors on our way back to the main Hangout Stage, Rinn and I waited patiently for Saturday's headliner, pop-rock band Panic! At The Disco. Panic! At the Disco had big shoes to fill in the event of Calvin Harris' cancelation, and they did not disappoint. Even if people had never heard of P!ATD, they will definitely be adding songs from the band's latest album, Death of a Bachelor, to their summer playlists. Front man Brendon Urie is extremely talented, switching from guitar, drums, and piano throughout the entire set, all while captivating the audience with a wide vocal range. He can croon like Frank Sinatra and falsetto like Freddie Mercury, as evidenced by the mixture of songs on the newest album. Their performance included lights, smoke, fire, and offers to go skinny dipping with the band. Their set list included songs from all five of their albums, from "I Write Sins Not Tragedies" from their vaudevillian first album, A Fever You Can't Sweat Out, really amping up the fans. They even performed two classic rock covers, Queen's "Bohemian Rhapsody" and AC/DC's "You Shook Me All Night Long." Throughout the performance, a crowd of longtime fans sang along to each song, and many who may not have been fans before came to the realization that this band is talented. Call me biased, or just another P!ATD devotee, but their closing performance on Saturday night was the perfect end to a magical (and sweaty) day on the beach.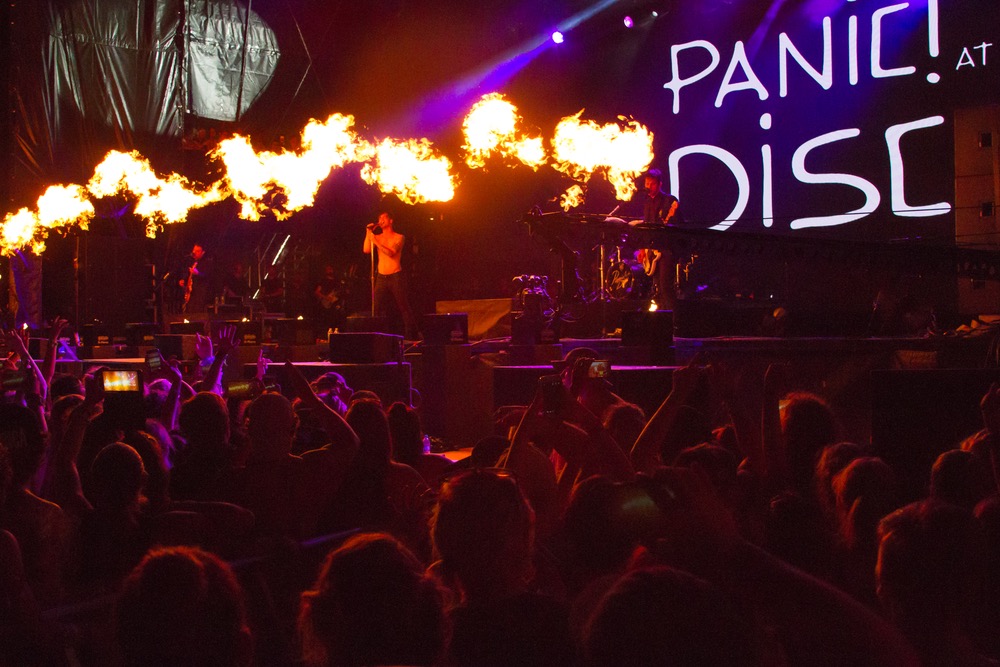 To learn more about Hangout Music Festival or to get tickets for future events, visit HANGOUTMUSICFEST.COM!
MORE PHOTOS from Hangout Music Fest 2016: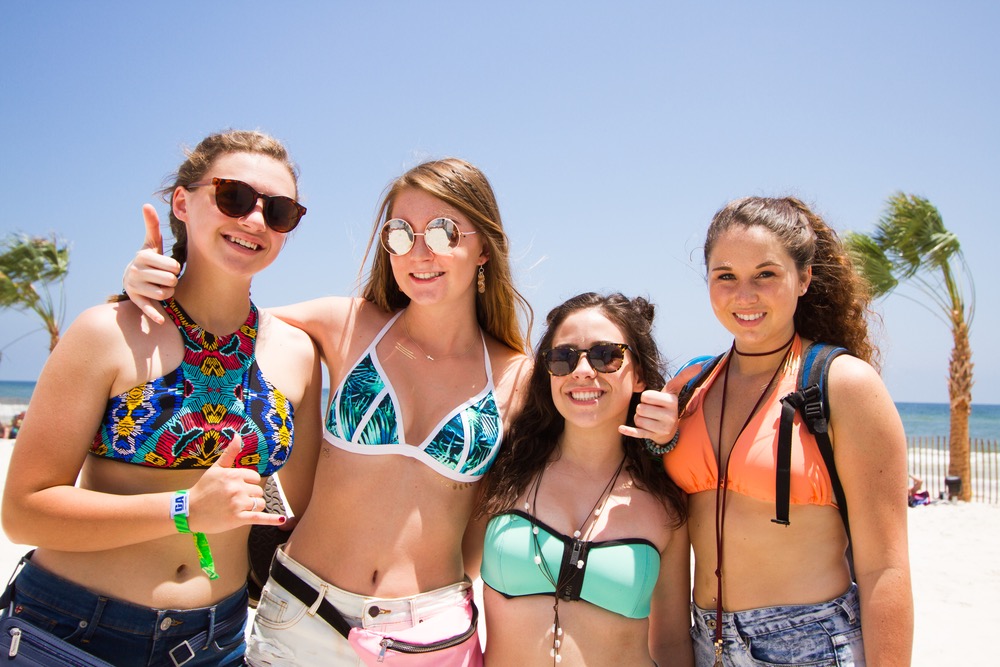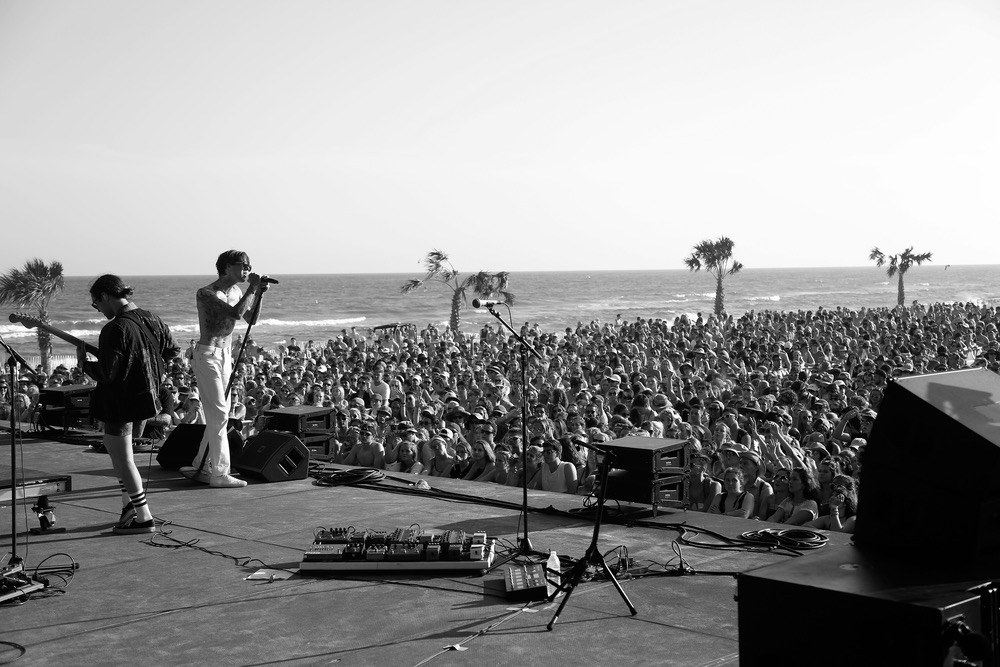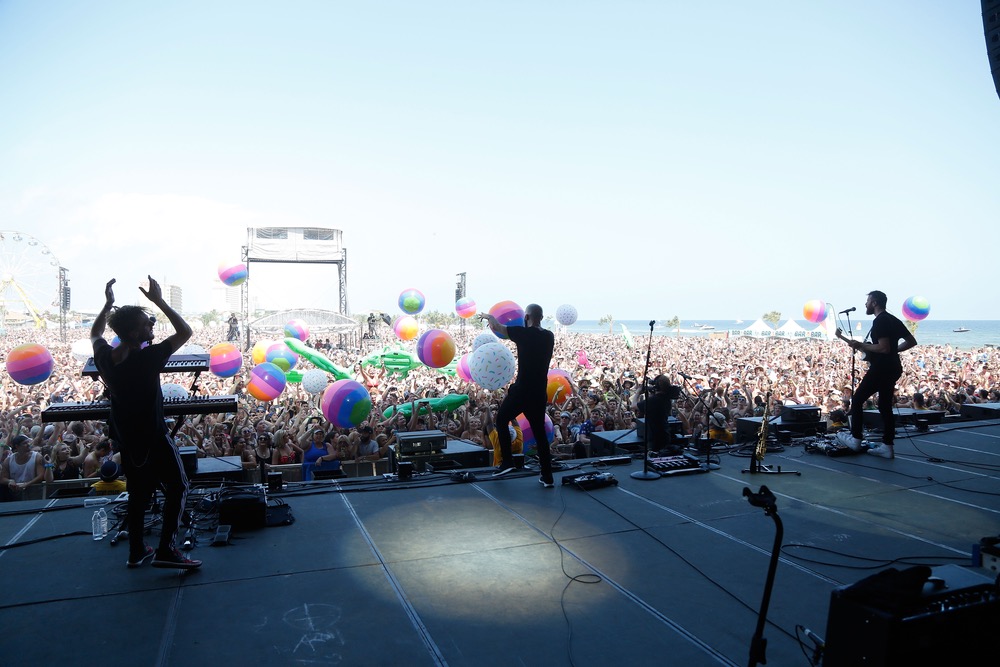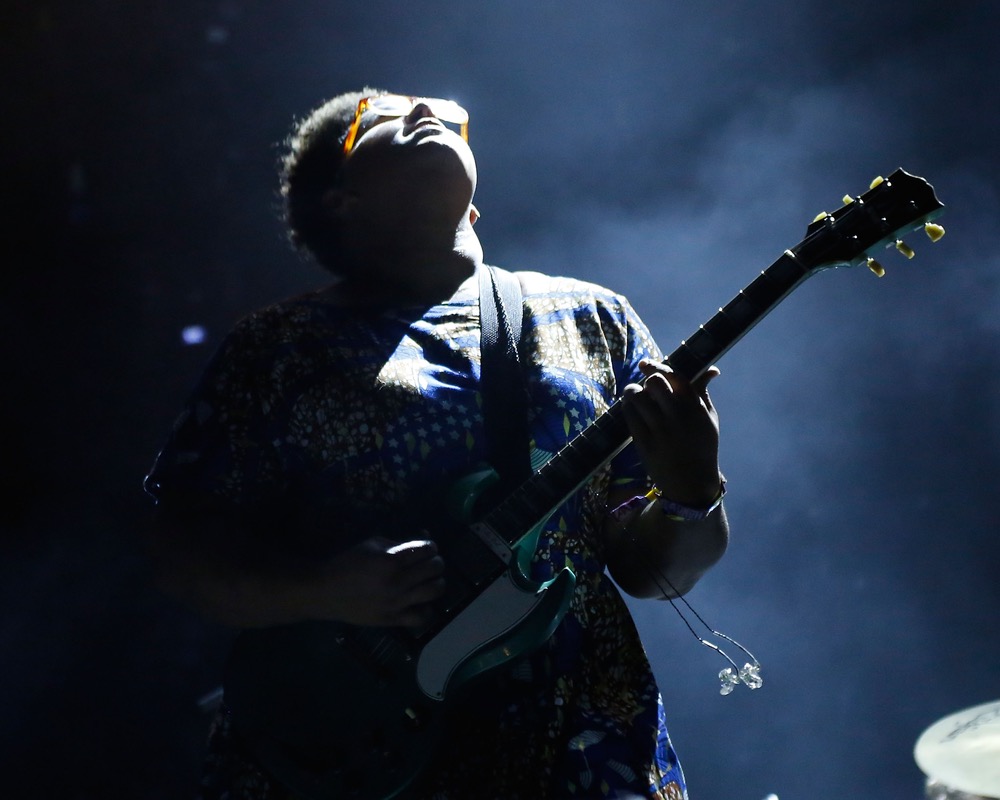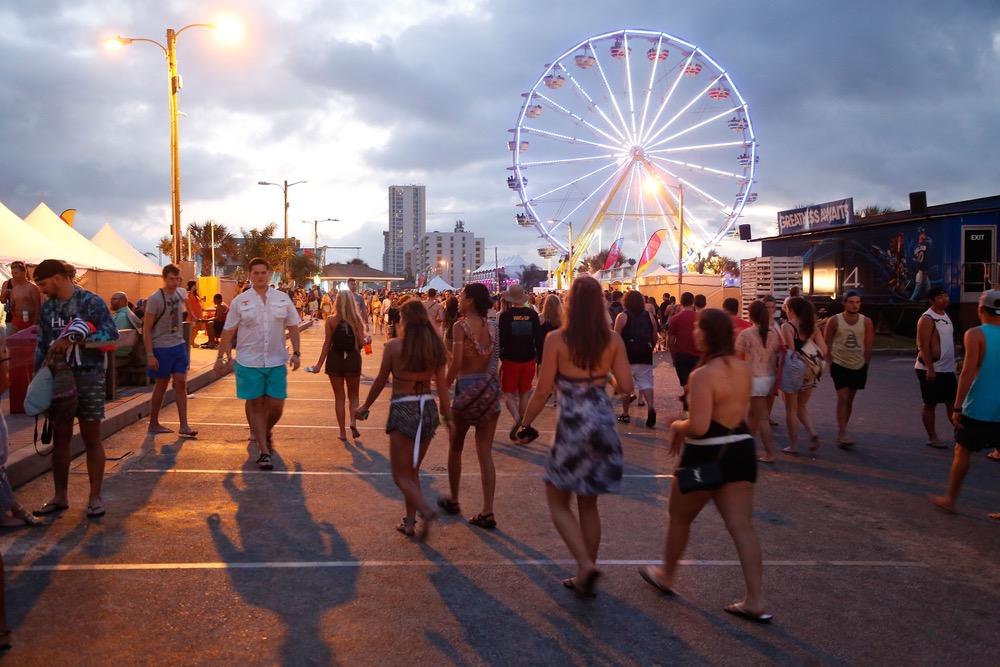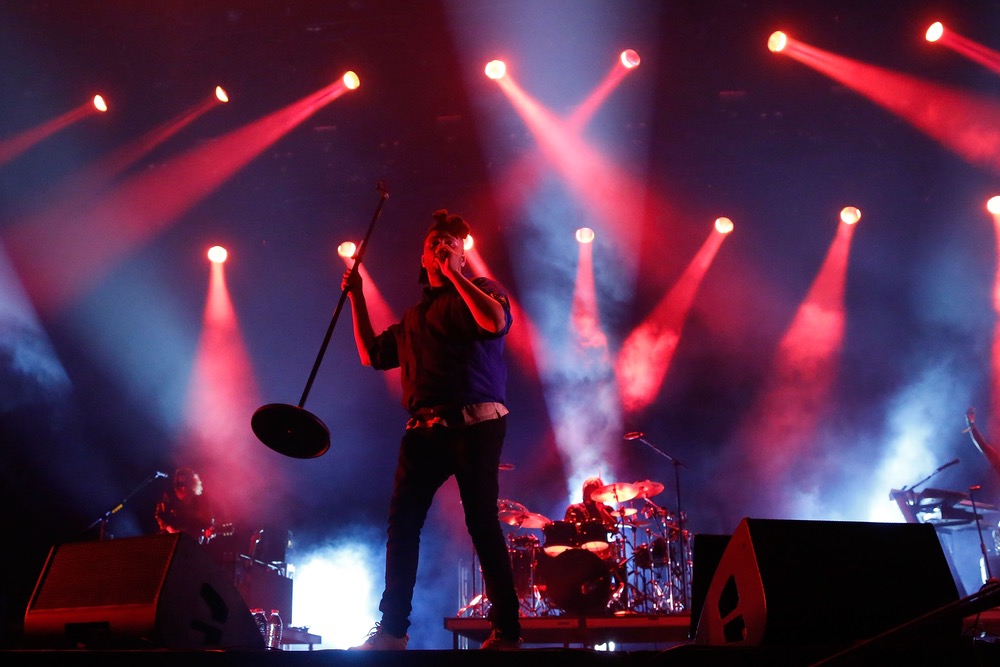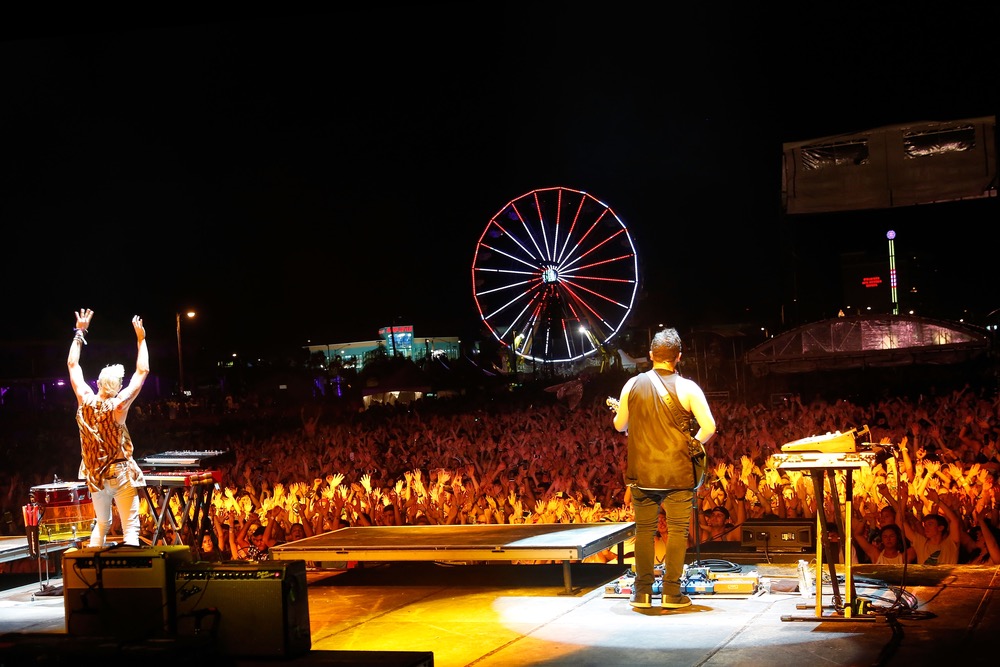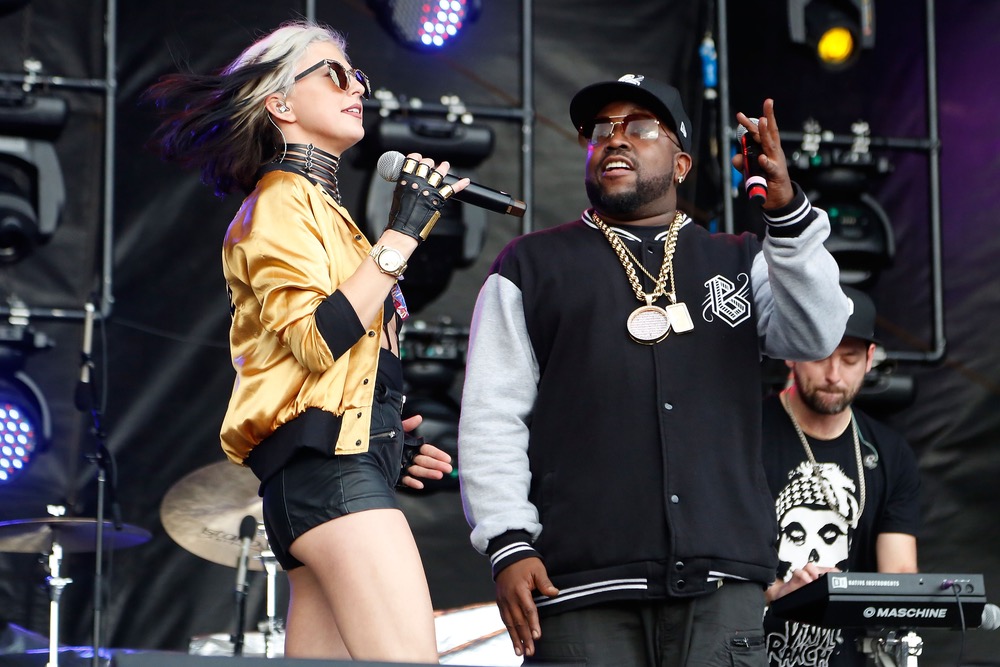 ---