All You Need Is Love
By Lisa M. Burwell | Photography by Romona Robbins
What brought Kimberly Moskowitz and Tarek Nahabet together exactly four years ago was a fairy tale set in motion by Divine Providence. Real life, like all fairy tales, has twists and turns that reveal themselves along the way. Unfortunately, Kimberly recently endured a life-threatening setback on her enchanted journey through life. But, with the help of her loving and supportive family—and with the simple blessings of joy, hope, gratitude, and peace of mind—she has sailed through it gracefully and miraculously. She is very much a faith-filled and soulful person who loves to help others find beauty both on the inside and the outside of themselves. And she has graciously invited VIE into her home to share her private sanctuary and her soul.
There are certain people in life that appear to have it all figured out—who seem to live lives that few could hope to attain. Enter Dr. Kimberly Moskowitz. She lives a life of balance as if it were ripped from the pages of a best-selling self-help book. I met Kimberly nearly a decade ago on a sunny Saturday afternoon for an alfresco lunch at Wild Olives Market and Café in Rosemary Beach, Florida. Aside from being a beautiful, petite brunette (with not a hair out of place), Kimberly is a self-assured, well-spoken powerhouse. She is a physician, lecturer, and author. She is also the mother of two children, Emma and Luke, and the guardian of a third, Darius, so it is hard not to be impressed.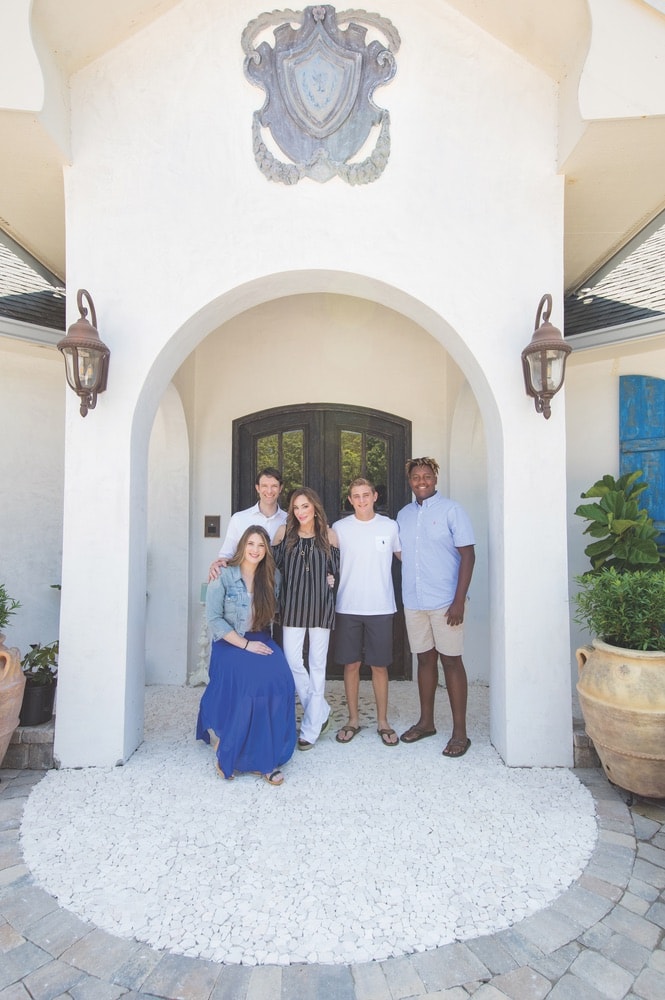 Relocating to Panama City Beach, Florida, in 2004, she established a thriving practice, the Cosmetic Vein and Laser Center, which offers dermatologic procedures, treatments for vein disorders, internal medicine, and antiaging skin-care medicine. Kimberly holds a master's degree in physiology with a medical degree from Georgetown University. She performed her internship at the prestigious Washington Hospital Center in Washington, D.C., focusing on cosmetic and clinical dermatology. And Kimberly is an expert in phlebology (vein disorders). Her impressive pedigree also includes being a member of the American College of Phlebology and the American Medical Association. Kimberly received additional training in endovenous laser closure techniques at Harvard's Brigham and Women's Hospital and was selected to be the lead physician in the prestigious American Vein and Vascular Institute in the Washington, D.C., area. She was also the first to perform nonsurgical closure of varicose veins using endovenous laser treatment (ELT or EVLT) combined with sclerotherapy.
In preparation for this editorial, I drove to Panama City Beach to meet with Kimberly several times this summer to scout and plan the photography shoot, and we had the chance to get better acquainted. She is magnanimous and has a hearty laugh, and she smiles a lot. It is obvious that she loves her life and the home she has made for her family—her fiancé, Tarek, and the kids. It is literally one big happy family set in a beautiful estate overlooking Lower Grand Lagoon, which Kimberly has painstakingly designed and restored these past several years. Her love of things that have character and real personality is evident everywhere you look. The estate grounds include the main residence—a gorgeous yet unpretentious Dutch Caribbean–inspired home with a large pool terrace on the water—a separate well-equipped gym, and a charming old-fashioned red board-and-batten chicken coop, which houses a brood of beautiful Easter Egger chickens.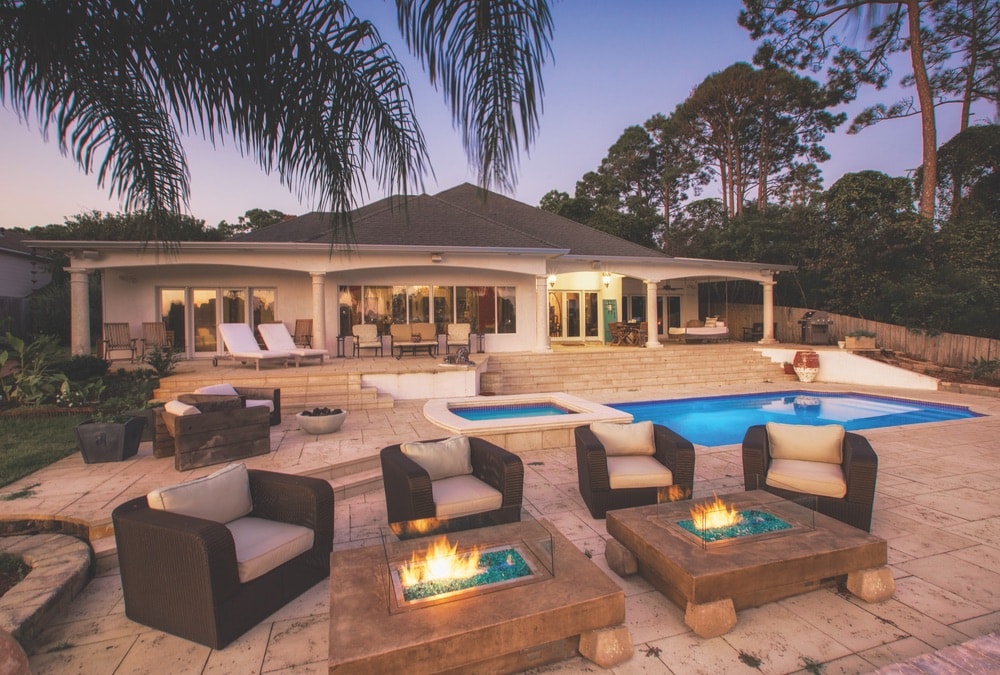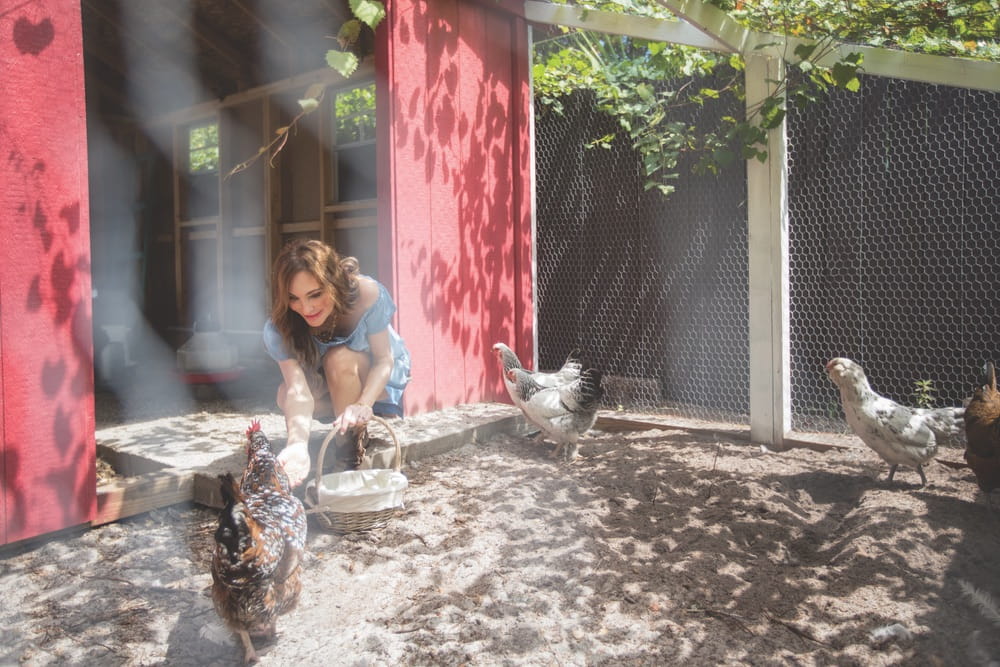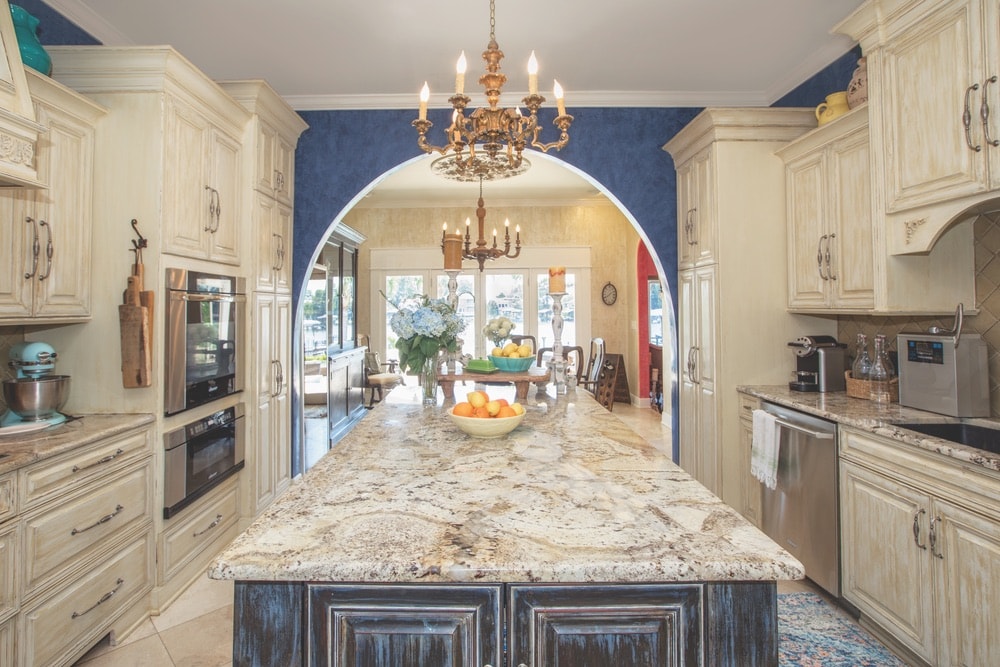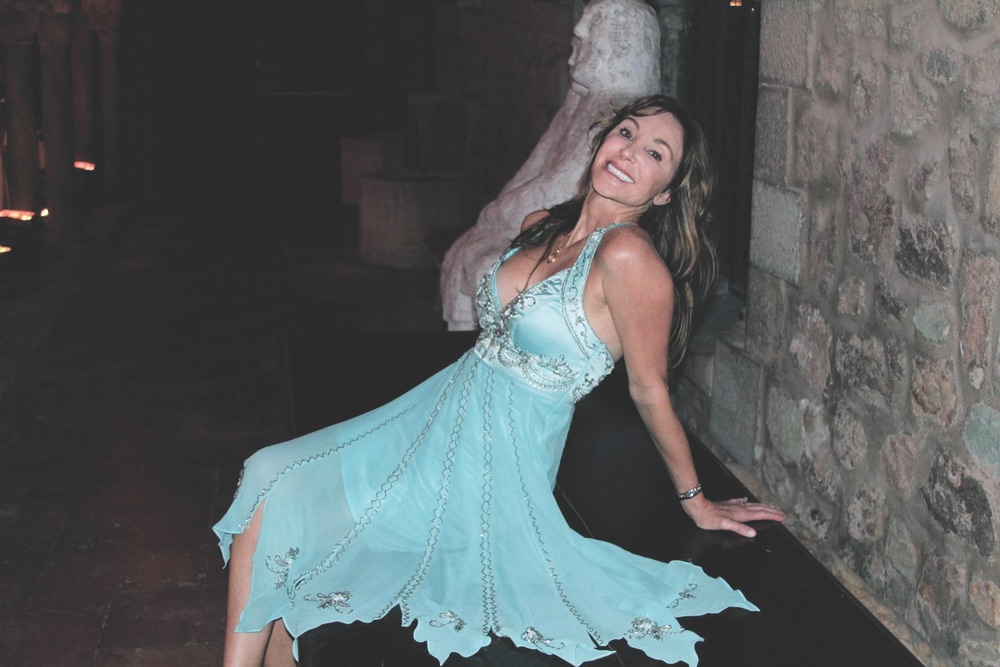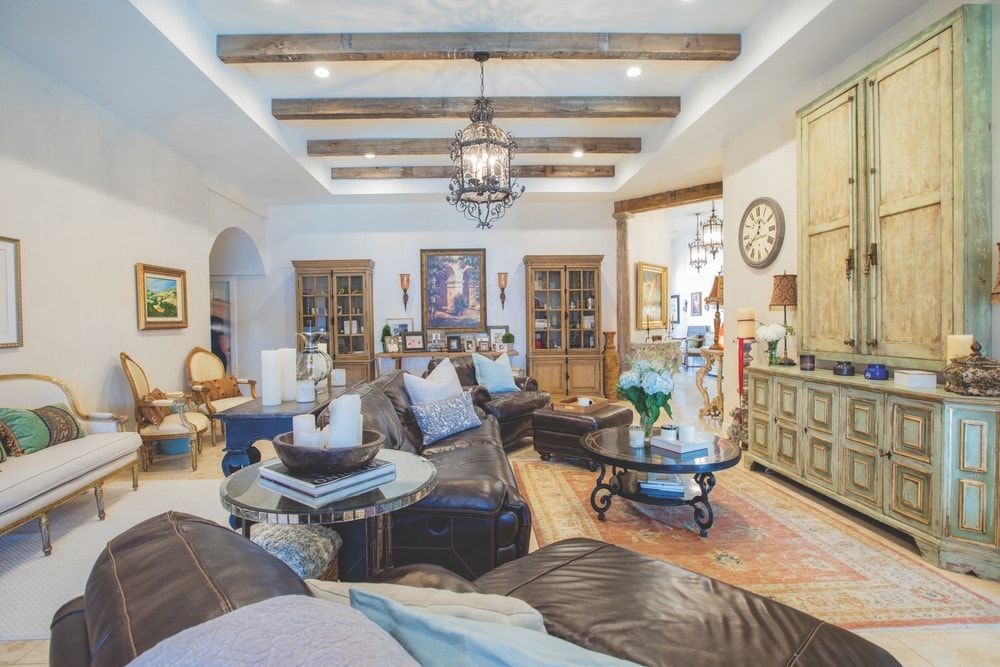 Kimberly and Tarek recently became engaged and are planning a fall 2018 wedding. They practice Transcendental Meditation, and their morning mantra includes envisioning gratitude for the children, family, staff, and patients, and that they are happy and well with the common goal of making the world a better place. Coincidentally, it was a mutual friend and fellow transcendentalist, who had recently trained under TM guru Prudence Farrow Bruns, that suggested Kimberly and Tarek meet one another. Prudence is sister to Hollywood actress Mia Farrow, and she is the namesake of the famous Beatles song "Dear Prudence," penned by John Lennon. The song is based on the Beatles' trip to India in the sixties where they were studying, along with Prudence and Mia, under Maharishi Mahesh Yogi. As Tarek reconnected the story, he smiled and said, "I knew I loved Kimberly on our first date at Firefly restaurant. I proposed to her one year later."
Tarek was very helpful before and during the photo shoot—fixing whatever needed to be tended to, coming and going with ease. Yet it was evident that he had a lot on his mind and was very busy with other things. Tarek is an interesting man and madly in love with his bride-to-be. He believes it was Divine Providence that he relocated in 2012 from Arlington, Virginia, to Panama City Beach, where he'd meet Kimberly shortly thereafter. It is fitting that he is well traveled and educated, as it would be hard to match Kimberly's sophistication if he weren't. A graduate of Boston College, Tarek studied abroad in Strasbourg, France, and is fluent in three languages, including French and Arabic. He also holds a master's degree in international conflict resolution from the Elliott School of International Affairs at George Washington University. His family hails from the Middle East, where his grandfather was Egypt's deputy prime minister under President Anwar Sadat. Tarek works for the founder and CEO of a company based in Arlington, Virginia, which provides professional services to the U.S. Government in the area of health IT, strategic communications, and media production, focusing on counterterrorism. When asked to describe himself, Tarek said, "I am a servant of God, someone who, very simply, is put here on this earth to make a difference for people."
Overlooking the pool and the lagoon, her bedroom is fit for a queen; there is an expansive bathroom and closet with a clothing and shoe selection that could rival Carrie Bradshaw's wardrobe.
It's a unique and magical encounter when someone opens their home and reveals a glimpse into their life—especially when it's for the pages of a magazine. While VIE's creative crew storyboarded shots and set up lights, Kimberly's perfectly appointed bedroom was transformed into a production studio complete with hair and makeup stations, lighting umbrellas, cameras, a garment steamer, and a clothes rack. Overlooking the pool and the lagoon, her bedroom is fit for a queen; there is an expansive bathroom and closet with a clothing and shoe selection that could rival Carrie Bradshaw's wardrobe. Kimberly was perfectly calm throughout the hair and makeup process and multiple wardrobe changes; it was as if she'd done this a thousand times before. Her beautiful daughter, Emma, was next up. She took a semester off from the University of Florida to be home with her mother, who was recovering from an operation to repair a life-threatening brain aneurysm. So, while Kimberly was a delightful hostess and completely unaffected by the fact that her home was being overrun with people rearranging her furniture and pulling clothes from her closet, she was still recovering from major surgery that had taken place just six weeks earlier. As Kimberly parted the locks of her gorgeous hair, we bore witness to the deep scar on her head. She thanks God that the aneurysm was found in time and that she is going to be all right.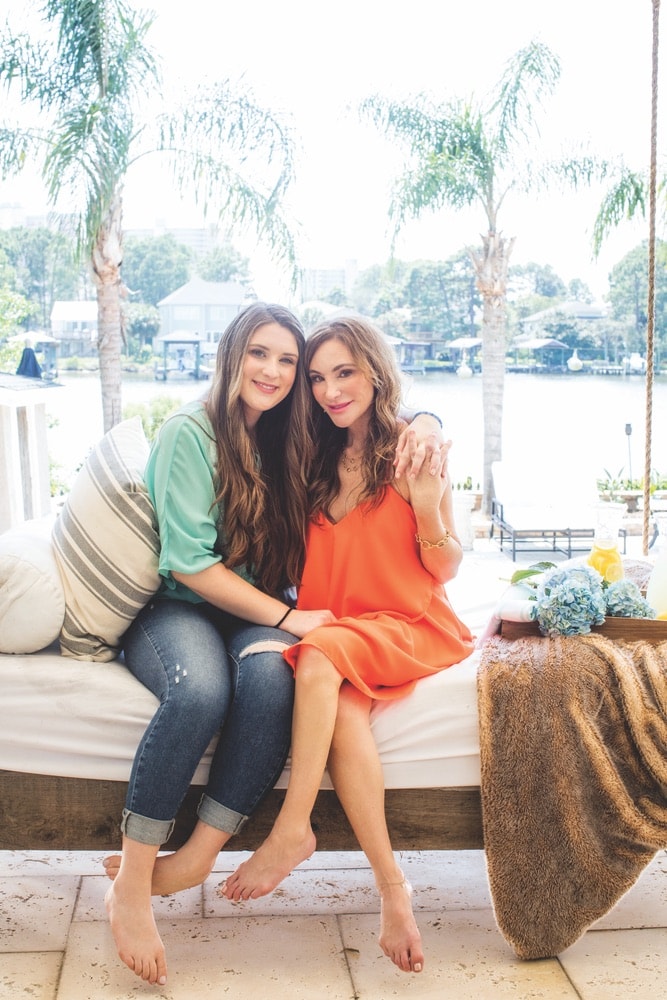 With a second home in Costa Rica, a passion and love for scuba diving, and travels to faraway places like London, Paris, and Bordeaux, it would be hard to keep up with this family. But this family—people that can light up a room—sticks together, and it's an uplifting thing to witness. They are a testament both to their faith and to the saying that all you really need is love.
— V —
ARTICLE CATEGORIES