Alaqua Animal Refuge's 100-Point Wine Dinner
By Jill Tanner | Photography by Dawn Chapman Whitty
At the end of a winding dirt road just north of the sugar-white beaches of South Walton, Florida, you will find Alaqua Animal Refuge. The ten-acre award-winning refuge, located in Freeport, Florida, may be a little off the beaten path, but is one of the top no-kill animal shelters in the country. At any given time, the refuge is home to nearly 250 animals, including horses, chickens, pigs, bunnies, emus, wild hogs, sheep, goats, dogs, cats, and one very hefty steer named Loverboy (rumored to be the largest steer in the state). The animals of Alaqua lead a charmed life thanks to the care and love they receive from the staff and volunteers who give their time to make Alaqua a little piece of heaven on earth. Since its inception in 2007, Alaqua Animal Refuge has rescued nearly ten thousand homeless, abused, and neglected animals. 
Just across the street from the refuge is the home and ten-acre horse farm of Alaqua's founders, Laurie and Taylor Hood, and their two sons, Garner and Crockett. The property, situated right on Alaqua Bayou, is adorned with moss-draped oak trees. Rare white pelicans frequent the bayou, and it's not uncommon to see dolphins put on a show as you ride your horse along the water. The Euchee Indian tribe called this land home many years ago. They were known for protecting the land and the animals that shared it with them. Their spirit lives on at Alaqua Animal Refuge, which was named in their honor.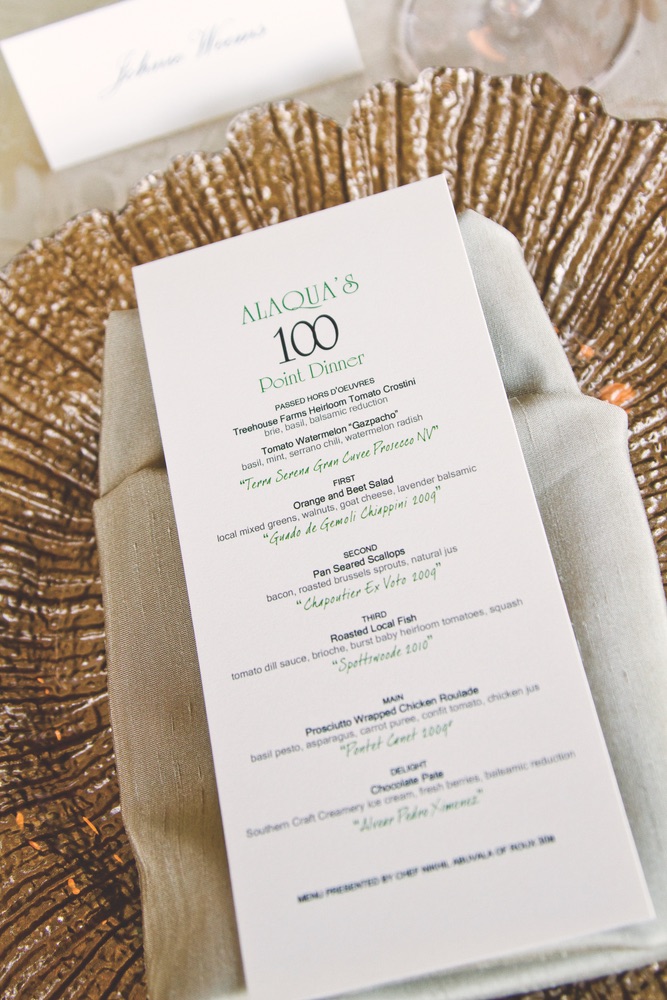 Before Laurie founded Alaqua, there wasn't a shelter or an adoption center of any kind for neglected animals in Walton County. Thousands were euthanized each year without a glimmer of hope or love. Laurie has since changed the entire state of animal welfare in this county, but having such a large operation in such a small town makes finding funds very tricky. Creativity often comes into play, which is exactly how the 100-Point Wine Dinner was conceived.
Laurie turned to French wine expert Michel Thibault to help her create the unique event known as the 100-Point Wine Dinner. Michel, who was recently inducted to the eight-hundred-year-old wine society, the Jurade de Saint-Émilion, in Bordeaux, France, scours the globe in search of 100-point wines. The wines are often held in private collections and locating them can be quite a task. Once the wines were procured, the dinner that followed was nothing short of superb.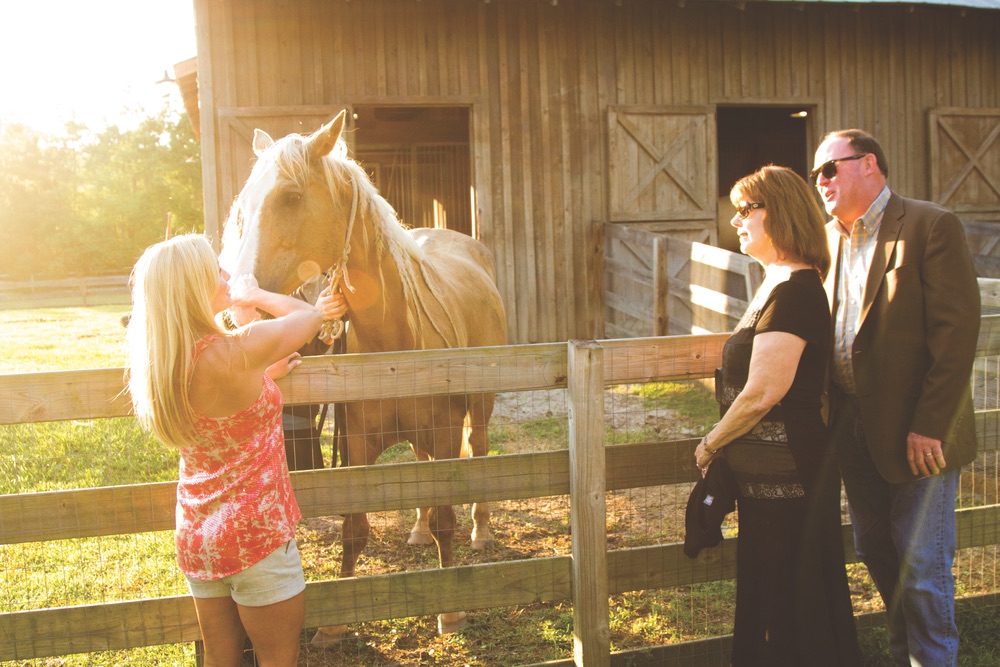 The 2014 100-Point Wine Dinner was held on June 14 at the Hood farm in the award-winning barn designed by architect Les McCormick. The evening began with a champagne and cocktail party featuring Nashville performer Daphne Willis, who serenaded guests with her unique vocal styling and distinctive brand of music during the reception.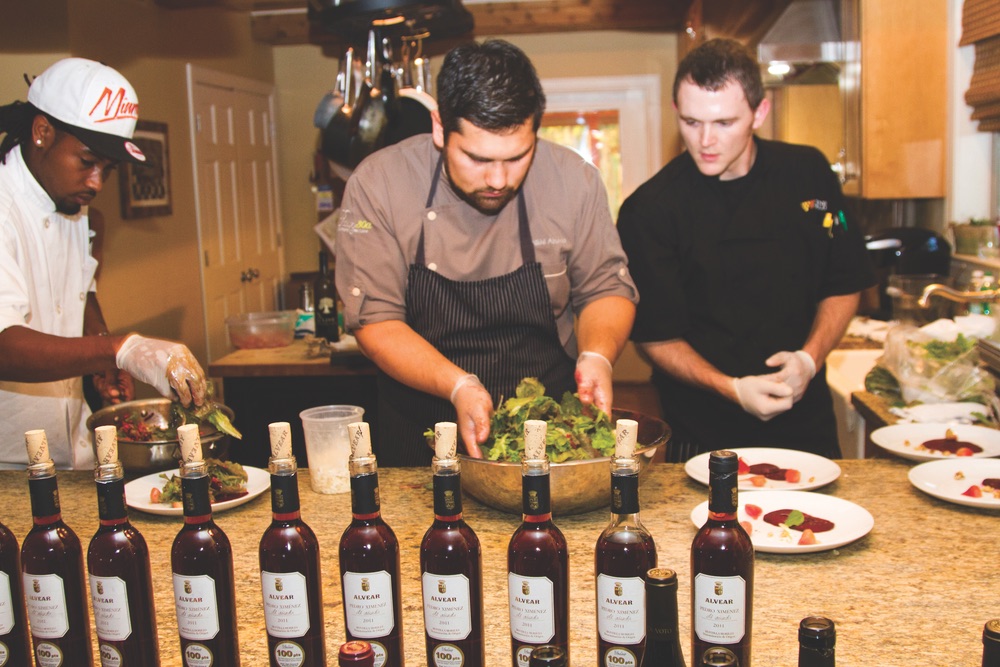 Following the reception, a five-course farm-to-table meal was donated and served by Chef Nikhil Abuvala of Roux 30A. Chef Nikhil created a superior menu and worked closely with Michel to pair each course perfectly with each 100-point wine. The chosen wines, such as the 2010 Dominus from the New World and the 2009 Château Pontet-Canet 2009 from the Old World, delighted the guests. Even the dessert wine, the 2001 Château Rieussec Sauternes, was rated 100 points.
Only fifty seats were available for this exclusive event due to the rarity of the wines. Jetsetters from around the country were in attendance, and this distinctive wine dinner made for a night that guests would never forget as they gathered together to help the animals of Alaqua. The evening was a huge success and garnered $95,000 from ticket sales, live auction lots, and silent auction items. A private donor also pledged $125,000 that night to build the medical facility at the new Alaqua, and $22,000 was pledged by other private donors for the Alaqua Relocation Campaign (ARC).
— V —
---
Many thanks go out to all who donated their time, services, and money to Alaqua's 100-Point Wine Dinner. Alaqua Animal Refuge is excited to announce another way you can help—the very first Hunks and Hounds calendar will soon go on sale! Local photographer Dawn Chapman Whitty has generously donated her services and captured local "hunks" with their best four-legged friends to be featured in an exclusive 2015 calendar. 
ARTICLE CATEGORIES