By Crystal Hamon | Photo by Lisa Ferrick
Like many who have migrated to our shores, John Finch, a native of Memphis, had fond childhood memories of Northwest Florida and had always dreamed of living on the beach. However, living in our beautiful and somewhat isolated area sometimes comes with a price when it comes to accessibility. In 2004, while visiting the Emerald Coast to explore relocating here, John was presented with this problem, and solving it is now his passion.
During John's travels to and from Highway 30A, he attempted to arrange for transportation to the airport. On two occasions he used different shuttle companies that left him stranded. During another attempt, a man purporting to be a shuttle service arrived in an old Ford Bronco with a poodle in the backseat. John remembers it clearly. "By the time I boarded my flight, my navy suit was covered in poodle hair," he said. "It was then that I recognized the need for a high-quality transportation service in this popular, growing region."
With only two minivans, a lot of passion and no experience in the transportation industry, John started Sunshine Shuttle & Limousine in 2004 under the umbrella of Finch Transportation. In the six short years since, he has developed three thriving companies: Sunshine Shuttle, Sunshine Limousine, and Southern Bus Lines. Today, the full-service transportation company includes a fleet of eighteen vehicles that service locations from Escambia to Bay counties, and John sees room for more growth.
Based in Santa Rosa Beach, this business has continued to expand, even through the peaks and valleys that the local economy has endured in recent years. John attributes his success to two factors. First, he cites the influx of visitors that this region has experienced. As the national economy has retracted, people who might have vacationed in Europe, the Caribbean, or other exotic locales are choosing more economic options closer to home. The other reason is the exceptional level of quality and service that John's company provides.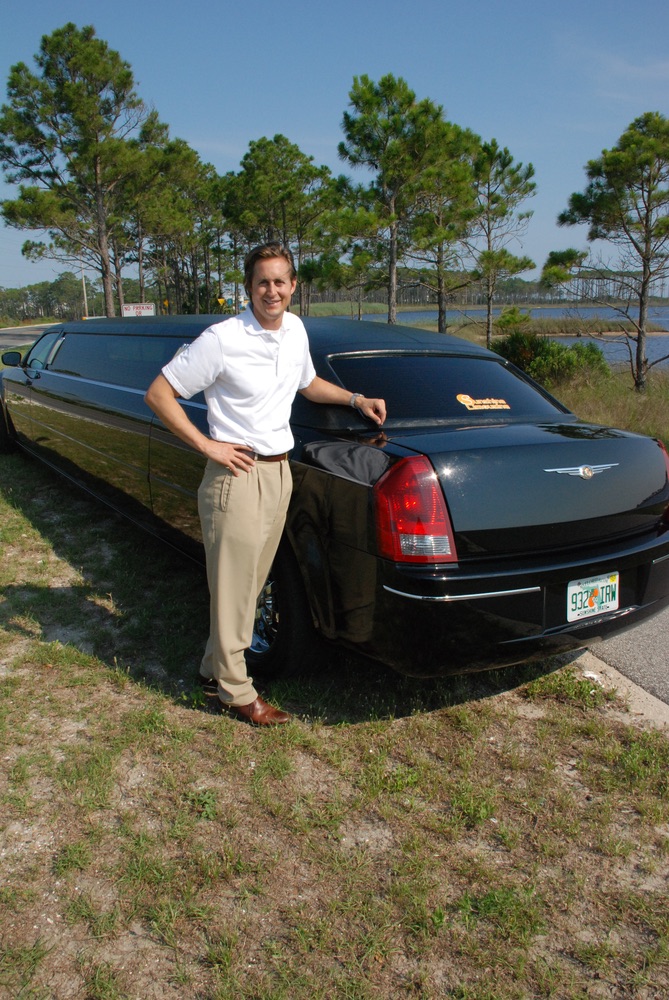 For John, professionalism, efficiency, and good customer care are important characteristics of a well-run service-oriented company. To help ensure customer service and safety, the company runs background checks and drug tests on each of its drivers. Every driver wears a uniform and carries a PDA with GPS capability from which he receives instructions for pick-ups and tracks flight information. The company uses state-of-the art technology to provide 24-hour answering service and online booking, features that separate the company from its competition.
John has worked hard to make his company what he calls "a one-stop shop" for quality transportation. This important component as well as great customer service and vehicle quality standards have made his company the first choice during many large-scale local events. In April of 2009, the Seabreeze Jazz Festival entrusted Finch Transportation with everything from airport pickups of musicians and their equipment to charter bus transportation for the estimated 4,000 festival-goers. When The St. Joe Company and Airport Authority held groundbreaking ceremonies in November of 2007 for the new Northwest Florida Beaches International Airport, they too turned to this company to handle all of their transportation needs. Finch Transportation has also been a popular choice among wedding planners. "When a wedding planner has a lot on his/her plate, they don't want to deal with separate limousine, charter, and airport pick-up companies," said John. "With us, they only have to pick up the phone or visit our website, and we take care of the rest."
John is passionate about making a remarkable first impression on guests who stay in luxury accommodations while visiting our beautiful beaches. Rather than having visitors arrive at the airport and find only a gypsy cab or run-down shuttle van, he believes visitors should be greeted by a clean, well-kept, professional service. Even during tough times, this company continues to put its best foot forward, strive for excellence, and keep a positive outlook. Perhaps that is why it has continued to bask on the sunny side of the local business scene.
— V —
ARTICLE CATEGORIES