Story and Photography by Kim Duke-Layden
When people conjure up images of the Greek Isles, they often picture the Cyclades—the Aegean island group southeast of the Greek mainland. Like a rugged strand of pearls, the Cyclades float amidst the brilliant blue waters of the Aegean Sea. As breathtaking as a Greek goddess, crescent-shaped Santorini is arguably among the most photographed and beloved of all Greek islands. Besides world-class lodging, dining, and shopping, Santorini touts endless enticements—legendary sunsets, dozens of wineries, beaches, and plenty of adventure! When the hordes of visitors, intense temperatures, and peak-season prices subside (mid-September through October), why not make for the Mediterranean and—mamma mia!—be swept off your feet by seductive Santorini!     
It had been twenty years since I visited Greece, the place where I first fell head over Achilles' heel in love—with Europe. This time, I returned with my husband, John, to celebrate our seventh wedding anniversary. We landed in Athens and, like many visitors to Greece, split our trip between the capital and the islands.
Both Athens and I have changed a lot over the past two decades. Although thousands of years old, Athens looked better than ever—compliments of an extreme makeover prior to the 2004 Summer Olympic Games. From the new, state-of-the-art international airport, we sped (very inexpensively) on the new Metro train towards Plaka, the heart and soul of ancient Athens. We spent two nights at the friendly and moderately priced Hotel Plaka. Both our room and the hotel's rooftop terrace bar afforded us spectacular panoramas of the Parthenon and Acropolis. Once again, these iconic sights were as mesmerizing to me as they were when I first saw them.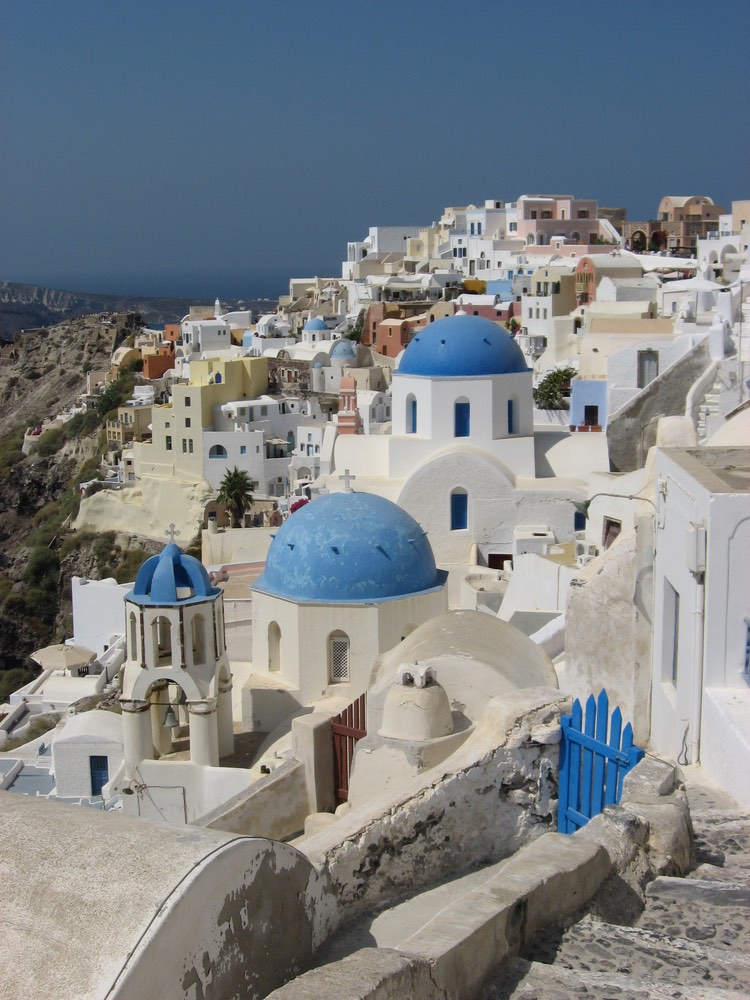 During our whirlwind stay in Athens we explored amazing archaeological ruins and museums, shopped Plaka's charming boutiques, listened to Greek folk music played on the bouzouki (a Greek instrument that resembles the mandolin), and discovered fabulous tavernas, including Savvas, home of the "World Famous Thanasis Kebab." Savvas served its kebabs—or gyros (pronounced "year-ohz")—open-faced on grilled pita with savory slices of roasted ground lamb slathered with garlicky tzatziki (a cucumber-yogurt sauce), and crowned with a roasted tomato. Unequivocally, it tasted better than any gyro that I have ever eaten! Equally delightful were Savvas' friendly staff, low prices, and sidewalk tables on a lively, pedestrian promenade near our hotel.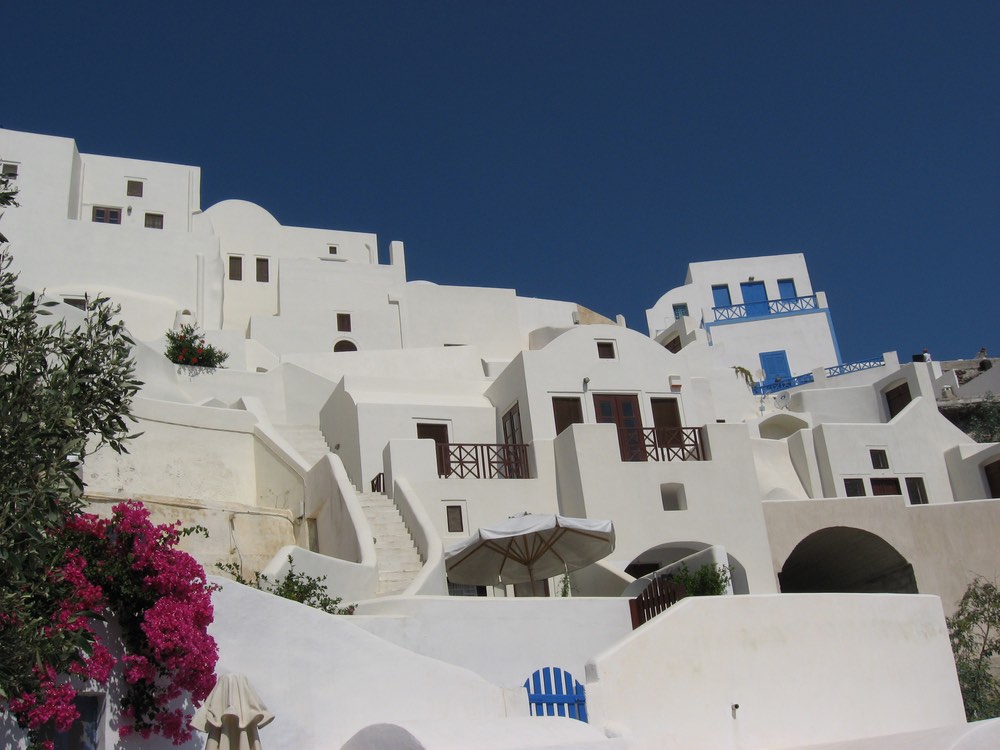 On our third day, we ate breakfast at the hotel and took advantage of their free luggage storage service. After leaving our large bags behind, we zipped back to the airport via the Metro for our 30-minute flight to Santorini on Aegean Airlines (www.aegeanair.com). Although cruising to the islands by ferry, catamaran, or hydrofoil is less expensive and more scenic, for time efficiency, you can't beat flying.
As we began our descent to Santorini's small airport, I pressed my face against the window and peered down into the mammoth blue caldera (volcanic crater). Pictures that I had seen didn't do it justice. The caldera was formed around 1450 B.C. when a horrific, volcanic eruption occurred and blew out the island's center, causing it to sink to the bottom of the sea. This cataclysmic event continues to link Santorini—or Thira, as the Greeks call it—to the mythical lost continent of Atlantis. Outside the terminal we were greeted by Vazeos Car Rental (www.vazeos.gr) customer representative Achillion, who looked like a modern-day Greek god. However, rather than handing over a chariot, he gave us keys to a toy-sized Matiz with a sunroof. Quicker than you could say "Opa!" off we drove.
Under the intense Mediterranean sun, my skin felt hot. But in humidity-free Santorini, I didn't feel sticky. Wending our way along the curvy two-lane road, we passed miles of rugged, windswept hills that sloped into the shimmering sea. I loved the traditional Greek architecture—marshmallow-white houses with Aegean-blue doors, window frames, and shutters. Charming dwellings added vibrant hues to the variegated green-colored landscape, where olives and super-sized capers grew wild.
Hovering above the caldera, blindingly white cubic structures clung to jagged crimson cliffs.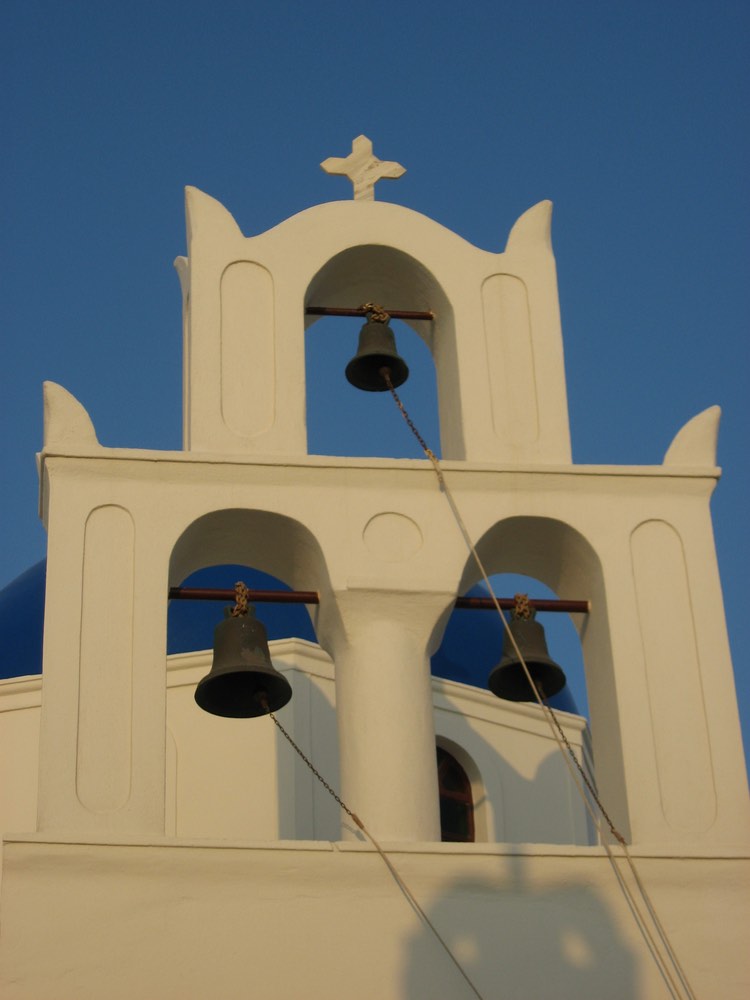 In under an hour we reached Oia (pronounced "ee-ah"), which is situated on Santorini's northernmost tip and is the second-largest village on the island. Hovering above the caldera, blindingly white cubic structures clung to jagged crimson cliffs. After parking, we followed Oia's winding pedestrian promenade, which skirts the caldera's rim, to the center of town. Blue-domed churches and ancient windmills with pointy thatched roofs and huge pinwheels punctuated the jaw-dropping skyline.
Postcard-perfect Oia is renowned for its legendary sunsets and laid-back lifestyle, which is why we stayed there rather than frenetic Fira, Santorini's capital. At Chelidonia Villas (www.chelidonia.com), we spent four wonderful nights in a self-catering "cave home" nestled within the cliffs. In mid-1980, Chelidonia's owners lovingly restored nine ancient dwellings that a devastating earthquake had nearly destroyed decades earlier. Our cozy, one-bedroom apartment (named "Paros") featured modern amenities (central air and daily housekeeping) and epitomized rustic charm—dark antique furniture against limestone walls, arched doorways, hand-chiseled niches decorated with local art, and stone floors warmed by homey hand-woven rugs. (At press time, prices per night start at $230–$250 in the high season, with a 3-night minimum stay.) Our sprawling terrace overflowed with fragrant flowers and herbs such as wild rosemary and thyme and a tree-sized bougainvillea—the largest I'd ever seen! But the dramatic caldera sea views captivated me even more.
It was difficult leaving our comfy surroundings, but Santorini beckoned to be explored. We were just minutes, and many steep steps, away from irresistible shopping. John and I snaked our way through the labyrinth of inviting boutiques that sell exquisite handmade jewelry, European fashions, art, and books. Plus, we found great souvenirs—CDs of traditional bouzouki music, olive oil, local wine, and "evil eyes" to ward off bad luck. I bought all of the above—and then some!
Besides great shopping, Santorini has a reputation for gastronomy and wine. For such an exotic destination, we found the prices surprisingly affordable. On the rooftop terrace of a restaurant called Skala, we joined local families for traditional taverna fare. The roast lamb and horiatiki (a lettuce-free Greek salad) with Santorini's signature waterless cherry tomatoes tasted delicious.
We celebrated our anniversary at Finikia, a small family-owned hotel and restaurant near the outskirts of town. On their intimate, candle-lit terrace, we sat enveloped by sea breezes and rolling hills as we dined on artfully presented nouvelle Greek cuisine (baby goat with feta and white aubergine or eggplant). Yamas!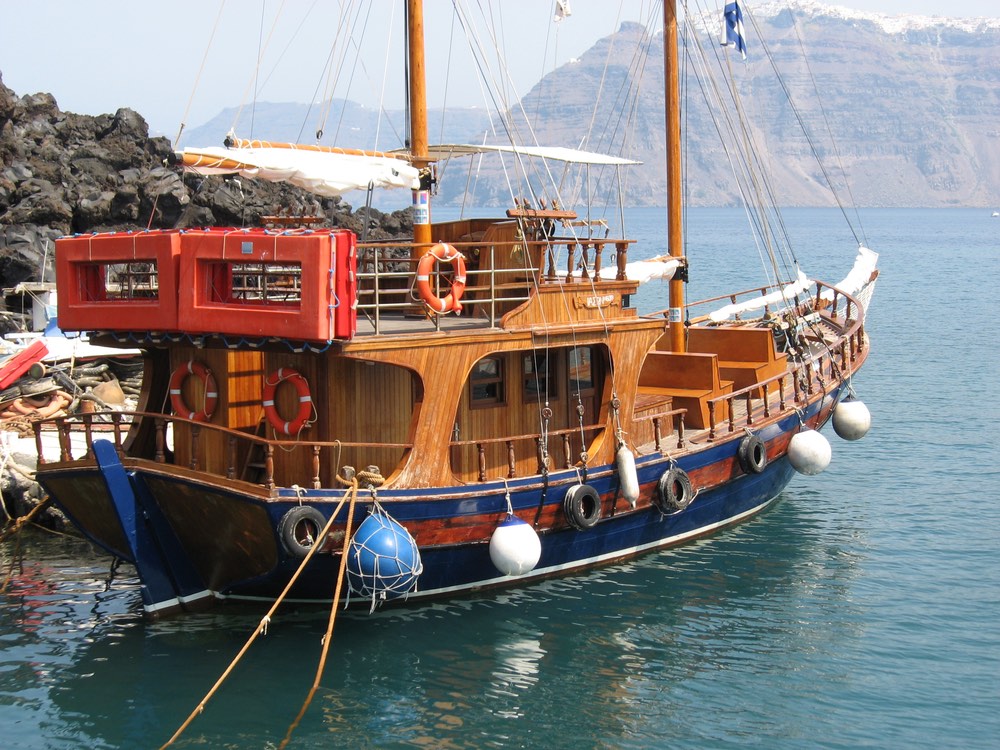 Tucked within a maze of passageways, the restaurant Kandouni Restaurant (www.kandouni.com) won our vote for "Most Atmospheric." Under white linen swags, we dined in Kandouni's romantic courtyard. Tucked within wall niches, cream-colored candles dripped, forming large wax stalactites from years of candle-lit dinners. The fusion bistro food (with a Greek twist) was tasty and the chef/owners were welcoming. Judging from the owners' photos, which they shared with us during a nightcap, the cast and crew of The Sisterhood of the Traveling Pants enjoyed Kandouni as much as we did.
Each evening after dinner, our moonlit dessert crawls for baklava and honey-and-yogurt gelato became as ritualistic as Oia's sunset celebrations—and twice as addictive!
Thankfully, Santorini offers plenty of enjoyable ways to burn calories. With a small group of tourists, we took a guided sailing excursion from Fira's harbor to the nearby island of Nea Kameni (meaning "Young Burnt Island"). There, we hiked to the summit of a smoldering volcano. We climbed past numerous black lava-rock craters—indicators of past volcano eruption. From across the expansive caldera, Fira resembled several red velvet cupcakes with thick cream cheese icing. On our return to Fira, we anchored in a picturesque channel, where some of us plunged into the cool, refreshing water of the crater and swam through strong currents to a shallow tributary, where hot springs gurgled up from the ocean floor.
Once in port, rather than hiking up the twenty or so steep switchbacks to Fira, John and I opted to go local and rode donkeys. I soon discovered that my donkey—like many drivers I've known—was passive-aggressive. During our ascent, as soon as another donkey tried to nose past us, mine trotted ahead to resume lead position. Needless to say, I beat John to the top by a white-knuckled long shot!
Tucked within wall niches, cream-colored candles dripped, forming large wax stalactites from years of candle-lit dinners.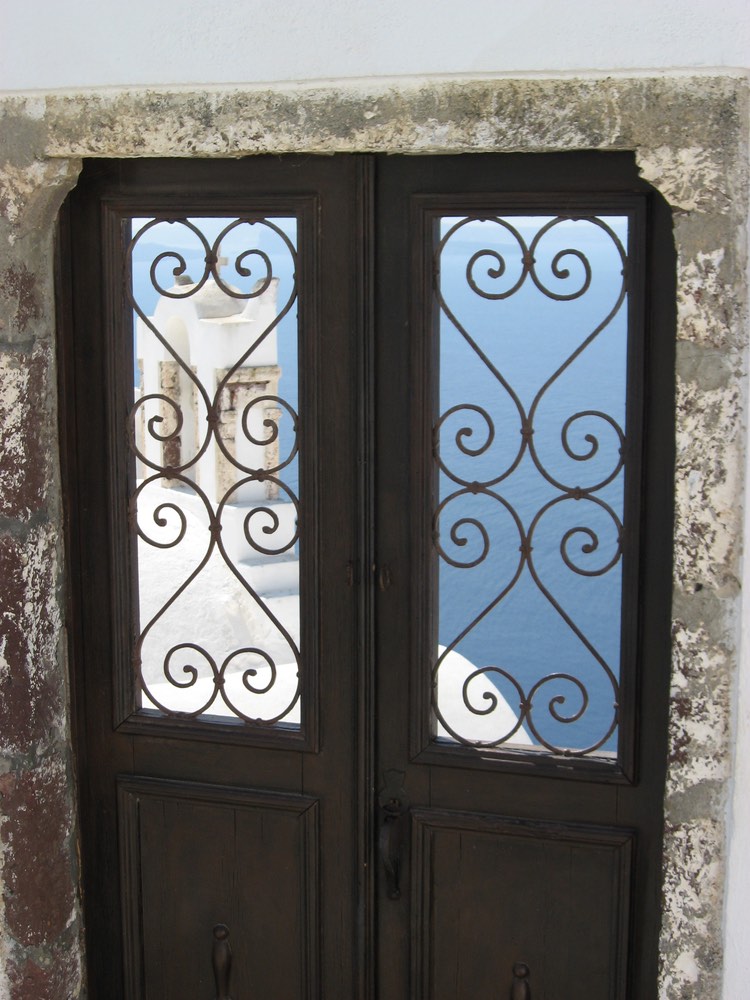 While in Santorini we swam at a different beach every day. Santorini's beaches come in all forms—sandy, rocky, crowded, secluded, amenity laden, wild, and natural, and in red, brown, and black, or all three colors. One beach in particular stands out in my mind—Katharos Beach near Oia. Like goats, we descended the chalky, rugged path to the rocky shore, which hurt my feet. But the refreshing water washed away any lingering pain. As I floated on my back with the late afternoon sun warming my cheeks, I didn't want the moment to end.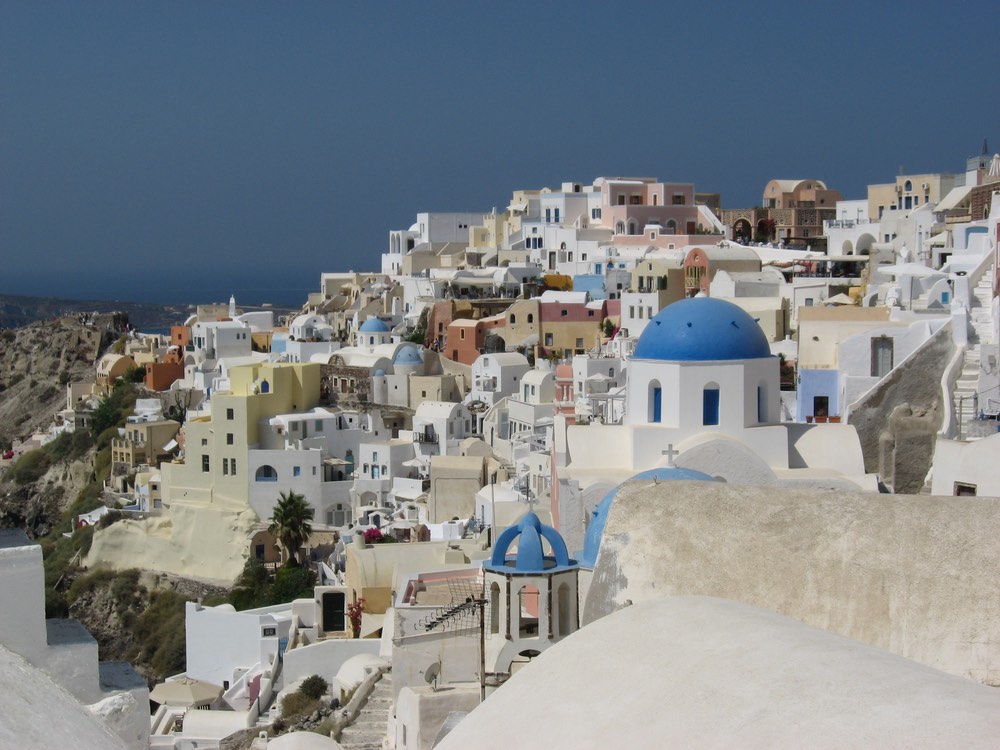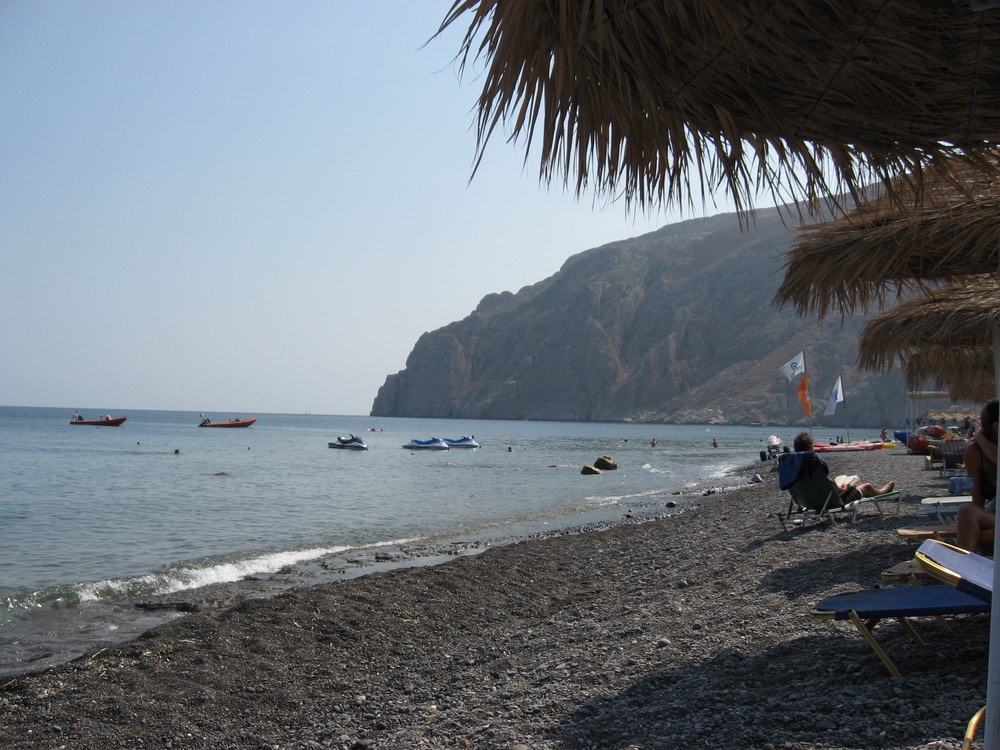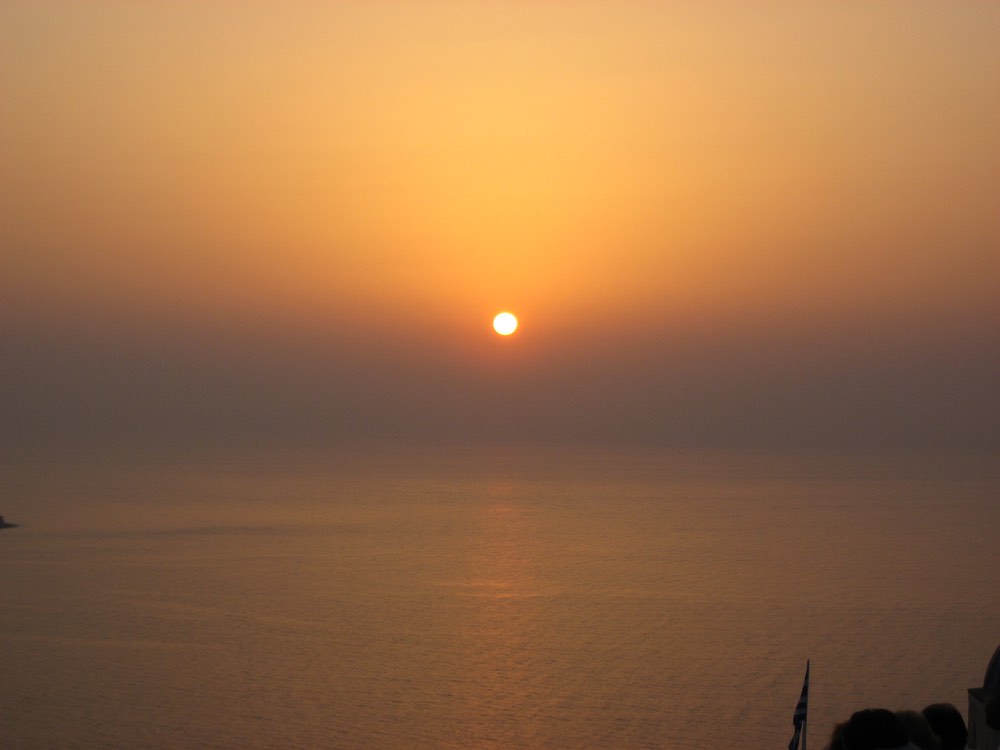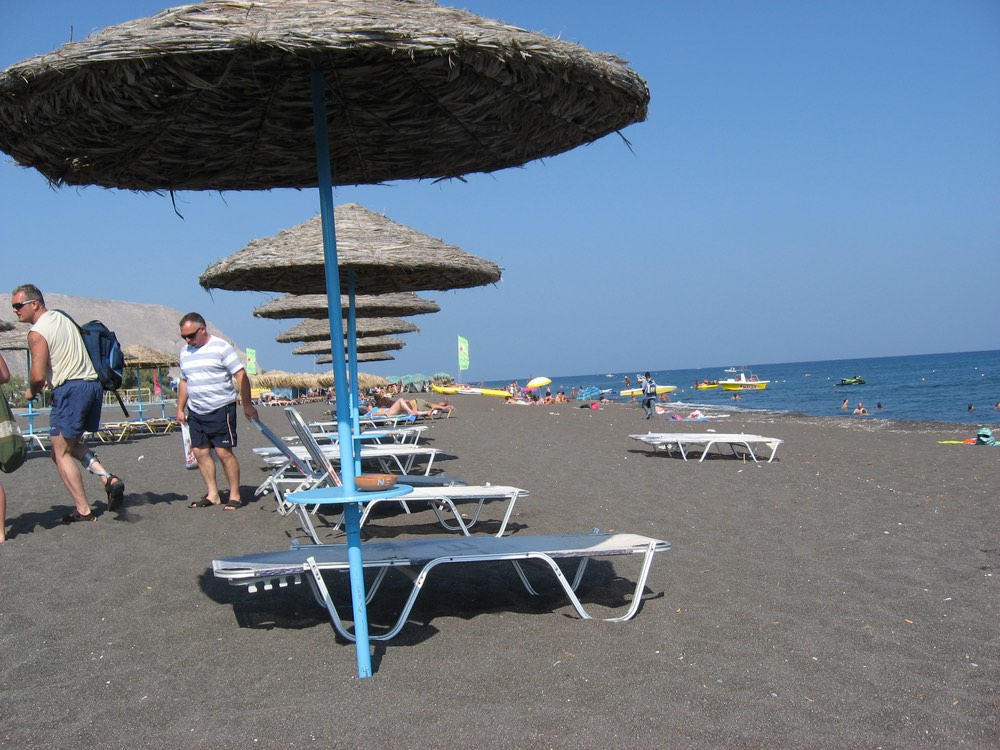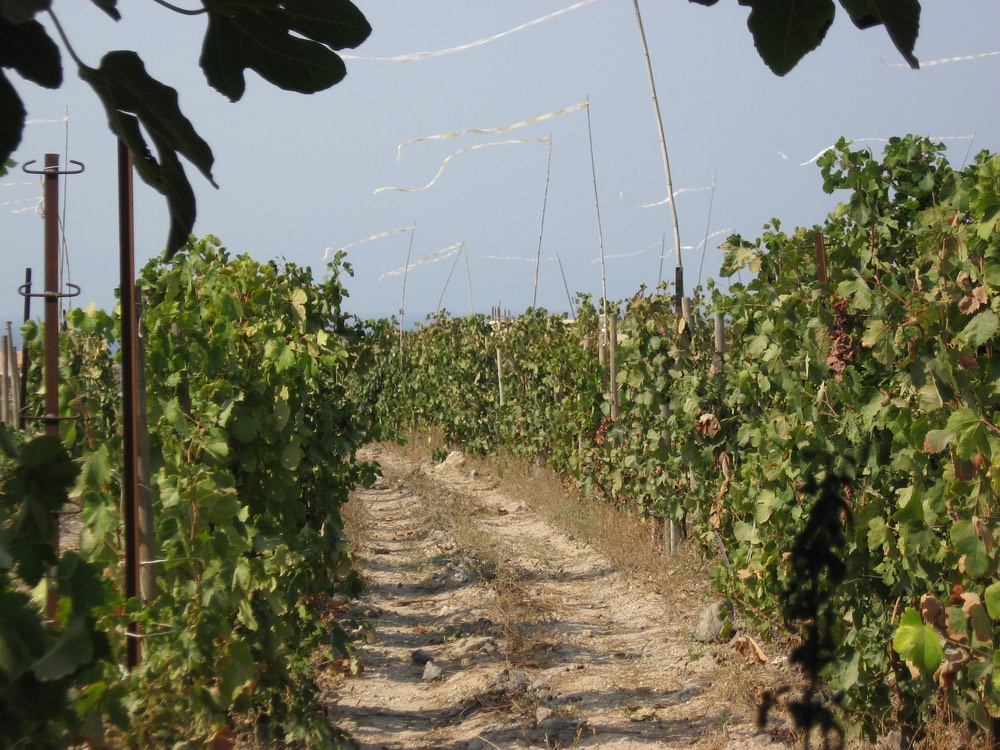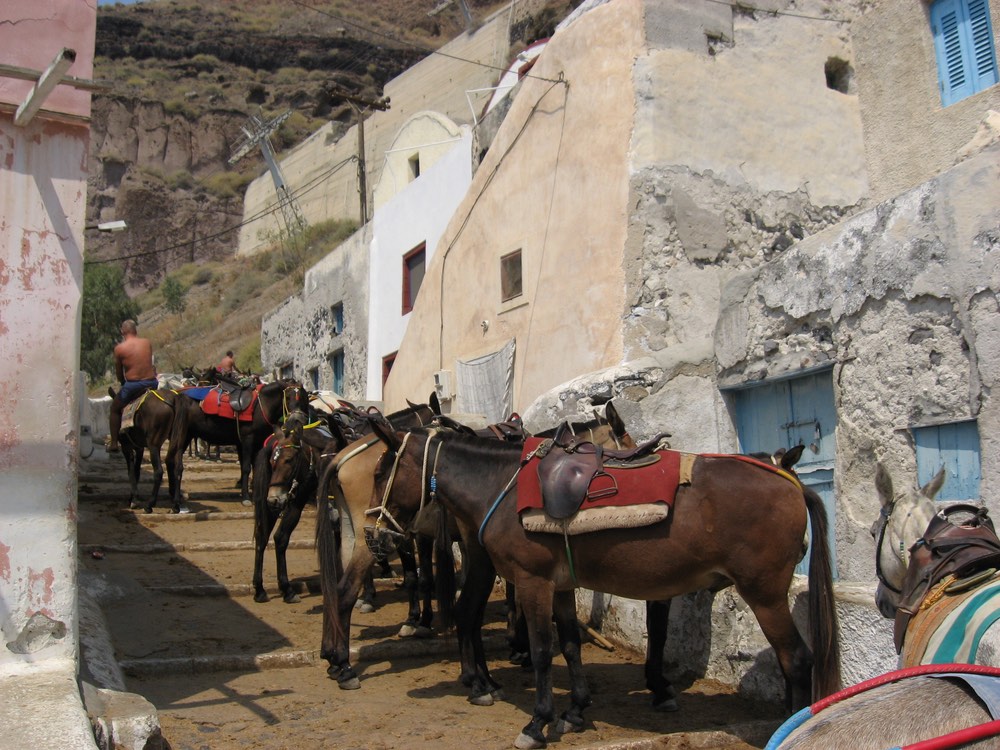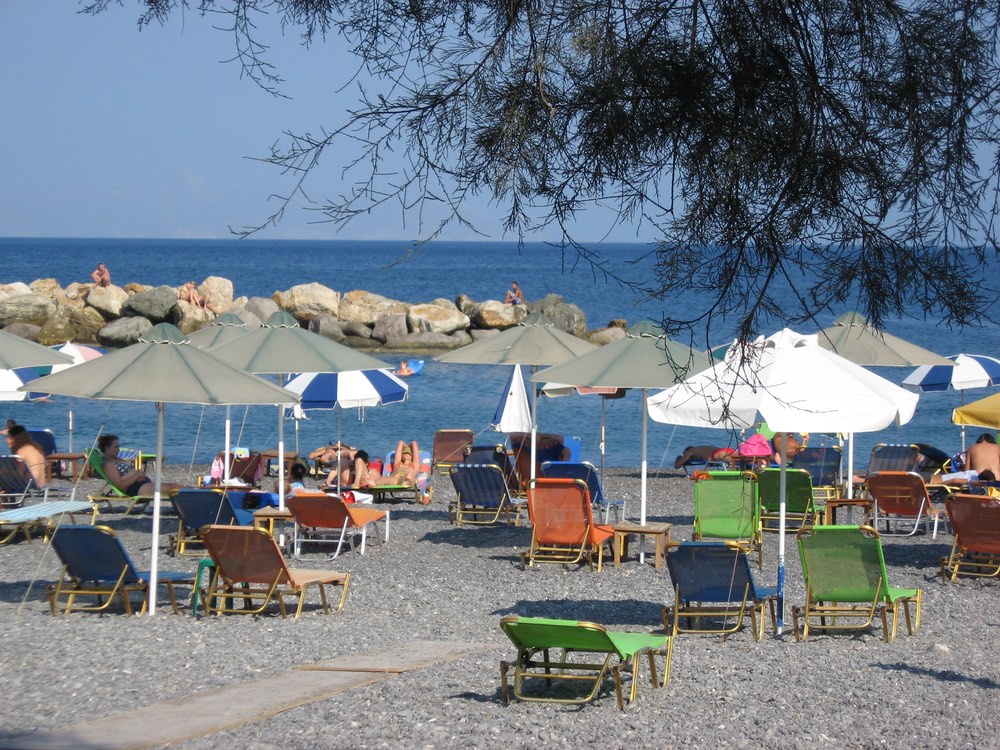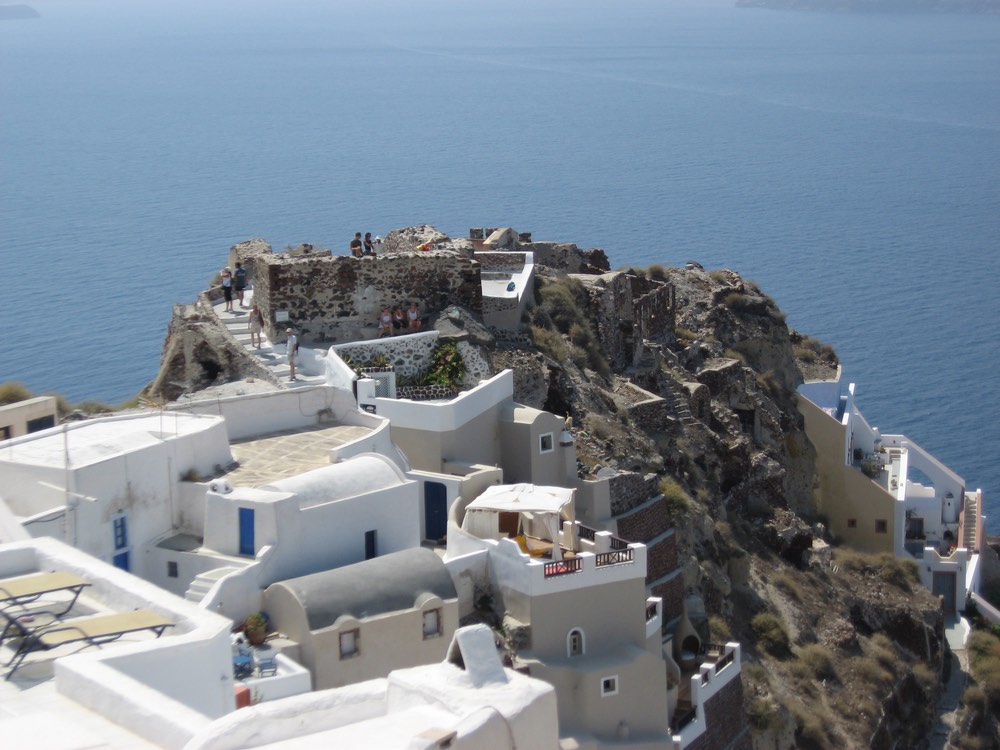 On another day, after a hot, strenuous hike to the bird's-eye perch where ancient Thira lies in ruins, we stopped off at Kamari Beach for a swim. Although Kamari's black sand beaches are some of Santorini's most popular, in September the beach was not crowded. Feeling rejuvenated from a few hours of sun and surf, we took a stroll down the beachside promenade. As we passed countless cafés, bars, and souvenir shops, a menagerie of international music serenaded us. Too inviting a setting to leave, we stopped at Nostros Café, where we sat facing the Aegean, and drank cold Amstels, munched on mezes (appetizers), and watched the sky change from blue to orange.
Santorini is one of Greece's premier wine-growing regions, and we couldn't wait to visit a local winery. White rather than red rules Santorini's wine world, where Assyrtiko, Aidani, and Athiri are the reigning grape varietals. We enjoyed a casual one-on-one tasting at Sigalas, a boutique winery near Oia. Amidst the vineyards, we sat in their quaint courtyard with sea views and tasted nine wines: five crisp whites, two acidic reds, and two Vinsantos (commonly served for dessert and Communions). We liked Sigalas' smooth, oak barrel-aged Assyrtiko "kallista" the best, so we bought two glasses and lingered a while longer.
During our short trip, we barely scratched the surface of this multi-faceted, beguiling island. Like a siren, Santorini continues to call out to us for a return rendezvous. Will we give in to temptation? It's not a matter of if, but when.
— V —
ARTICLE CATEGORIES