By Sallie W. Boyles | Photography courtesy of Emmanuelle Moureaux
Eight years ago, when the district of Shinjuku in Tokyo invited her to create an installation for the Shinjuku Mitsui Building, Tokyo-based architect and designer Emmanuelle Moureaux conceived what would be her first work in an award-winning art exhibition series, 100 colors. "Because it was a special time, the tenth anniversary of my Tokyo studio," says Moureaux, "I decided to express my concept of shikiri in its simplest and most beautiful way—creating a space using layers of colors.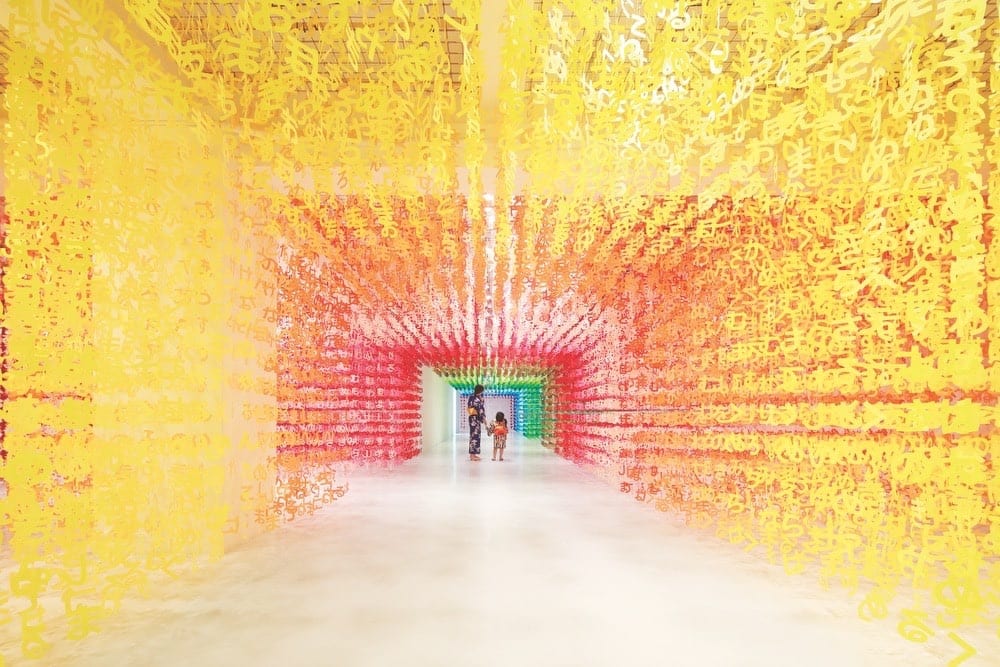 "In Japanese," she explains, "shikiri means 'partition.' In traditional Japanese architecture, partitions, such as sliding paper screens, were used to divide spaces according to the function or the climate. These beautiful screens were disappearing from Japan, replaced by occidental walls or doors." Altering the Japanese spelling, she added the Japanese character color and created a new meaning—dividing (creating) space with colors—while keeping the same pronunciation as the original Japanese word. "My shikiri concept is inspired by the colors and layers in the cityscape of Tokyo and also by the traditional Japanese screen," she shares.
"Usually in architecture or interior design," Moureaux continues, "color is often considered as a minor, two-dimensional element, a finishing touch applied on surfaces and decided at the end of the design process—for example, the color of walls, flooring, etc. I use colors as three-dimensional elements, like layers, to create spaces. For me, color is a medium to create space and emotion. I want people to breathe and immerse in colors, see colors, touch colors, and feel colors with all their senses. I want people to feel color with their entire body."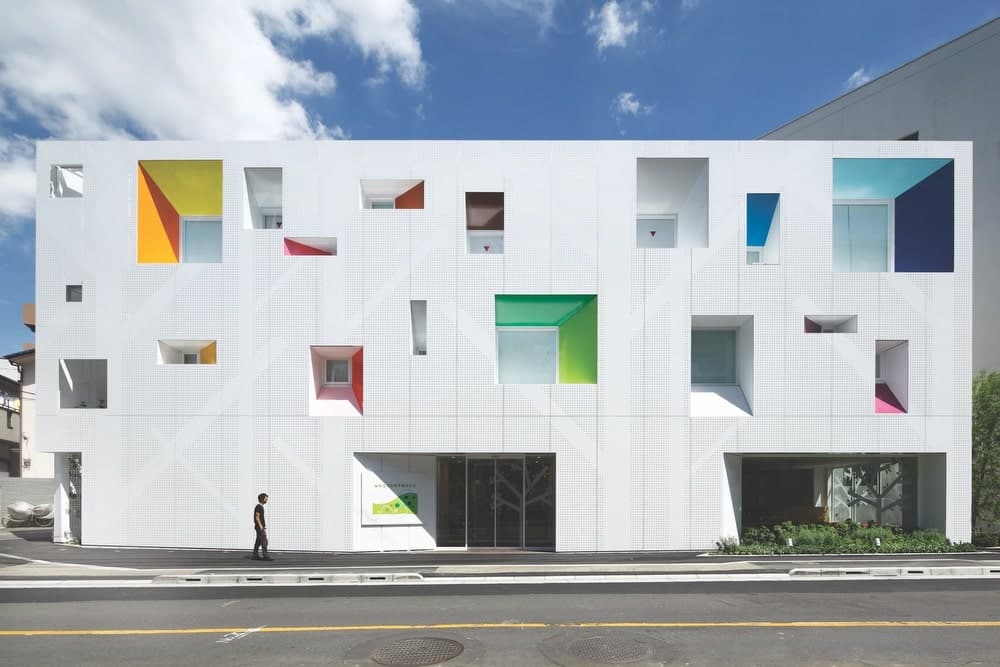 Reactions to her work affirm that Moureaux is succeeding. "When an installation starts," she confides, "I am always hiding in a corner and looking at the people. They usually smile when they enter the space and see the colors."
Moureaux vividly recalls her awakening to color in 1995, when she first stepped off a train in Tokyo. Having discovered Japan through books, she says, she was finally visiting from her native country of France. Remembering the spectacle that appeared before her eyes that day, Moureaux says it was "as if I saw colors for the first time. Thousands of colors seemed to be floating in the cityscape as layers, as three-dimensional elements."
Her trip left Moureaux feeling "like I was a baby again. I wanted to live like the Japanese people." Still a student, she returned home to finish her degree. Then, wasting no time, she moved to Tokyo in 1996, two months after she got her architect's license from the French government. "I came with one suitcase, no connections—only the strong will to live in Tokyo and the dream to open my own studio."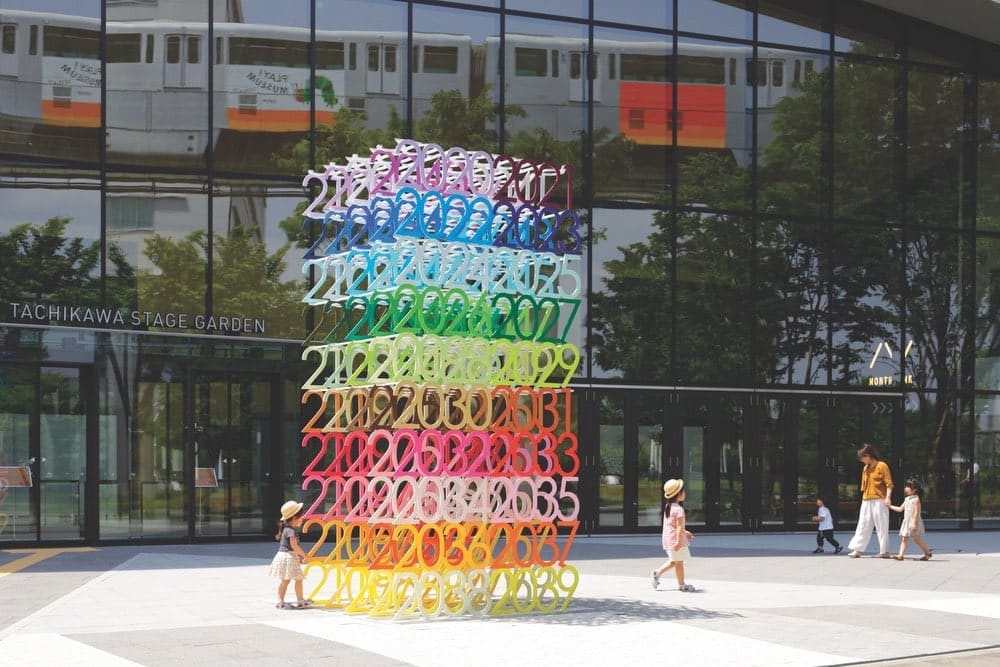 I want people to breathe and immerse in colors, see colors, touch colors, and feel colors with all their senses.
To earn a living, she taught French. Likewise, she took four hours of Japanese lessons daily for two years. In her spare time, she would hop on a train, randomly choosing a different location each time, where she'd walk around "to see and feel Tokyo and the Japanese culture," she says. "When one of my students asked me to design her office, I was at last ready in my mind to work by myself." Since her French license wasn't valid in Japan, Moureaux earned a Japanese first-class architect's license in 2003 and opened her studio.
Multidisciplined in her work, she says, "I create architecture, art installations, artworks, products, and color design. I'm always on a journey between different scales, from a small art piece to architecture, trying to give emotions to people with colors. There are no specific boundaries between each work, and my work process is the same. All my works are based on my concept of shikiri."
Moureaux reveals that an installation in her art series, 100 colors, can contain tens of thousands—or sometimes hundreds of thousands—of modules. "It's a long production process, starting with the preparation of the 100 colors material, then the cut of the material, then the production of lines. I use a lot of materials—paper, fabrics, wood, steel, aluminum, acrylic, and so on." She employs local Japanese teams who carry out all the steps under her supervision.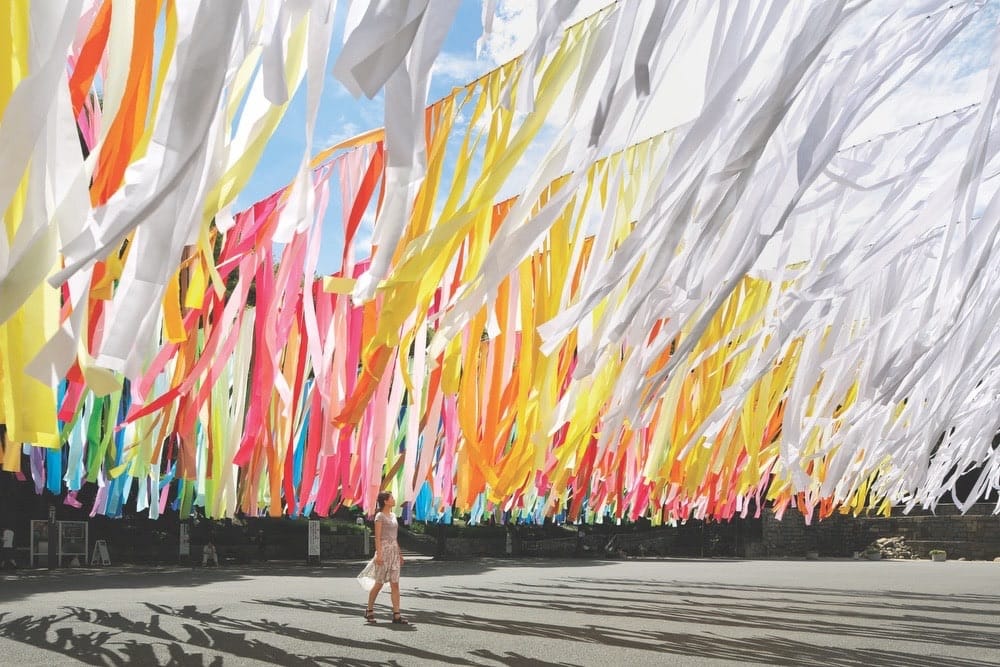 Her focus, no matter the material, is on the color. An absolute criterion for any component is its ability "to obtain the beauty of colors" Moureaux desires. "The colors have to be perfect and exact. For 100 colors, it took a lot of time to set the perfect one hundred recipes." In other words, each "formula" had to be precise. "Of course," she expounds, "the recipes are different according to the material and the way to color it, the type of paint, dye, print, etc.
"When I start a project," she continues, "I first decide the number of colors I will use, depending on the function, the site, and my inspiration." Since each project is distinctive, she now has thousands of colors to choose from in her studio. Preferring to showcase one hundred at a time, she says, "You never have the opportunity to see one hundred colors in one space at the same time."
Pointing out that humans can see millions of colors, she says, "People are living among the limited classification of colors, such as yellow, orange, pink, red, green, blue, and so on. This situation is clear when people are asked to choose their favorite color, as they tend to name one of the seven from the rainbow."
An associate professor at Tohoku University of Art and Design since 2008, Moureaux says she challenges her students "to explore the possibilities of color through a project I named '100 colors lab.'" Their assignment is to incorporate everyday objects, such as "glasses, bubble foam, rice, umbrellas, watches, CDs, chocolate blocks, and so on," in creating a color palette.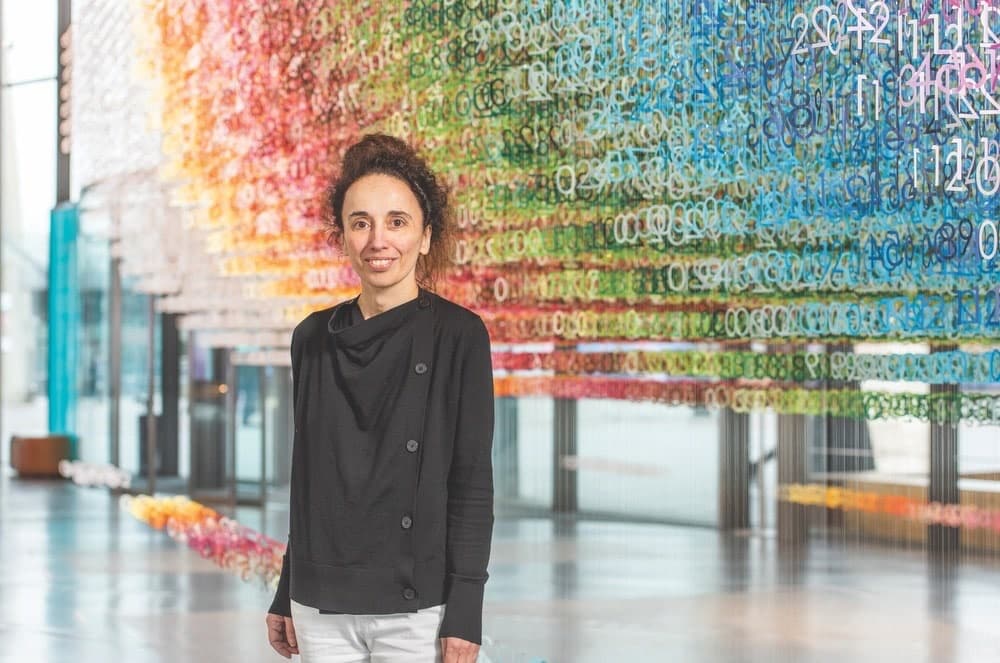 Moureaux, in turn, finds her colors everywhere. "It might be a blue in a page of a magazine that I will give to the paint or dye factory." When she says, "It's important for me to collect as many colors as possible," she means "real colors, not colors seen through a monitor. I do not use digital technology to select colors." Moureaux is also particular about "creating colors, selecting colors, checking color samples, etc. in my studio on the same white table near the windows on a sunny day. If it rains or the weather is not clear enough, I don't work with colors on that day." Interestingly, with thousands of options and counting, she will not use black ("except for Color of Time, where it was necessary to express the moment colors disappear into blackness," she says) or pastels.
To date, numerous 100 colors installations have appeared throughout Japan and other parts of Asia as well as in cities in Europe, the US, South America, and the Middle East. Most of her installations are temporary, Moureaux informs, "like colors blooming somewhere and then disappearing." Promising only that her next will be a big surprise, she offers her website and social media for the latest updates!
---
— V —
Visit Emmanuelle.jp or EmmanuelleMoureaux.com to learn more. You can also follow the artist on Instagram @emmanuellemoureaux and Facebook.com/emmanuellemoureauxstudio.
ARTICLE CATEGORIES