By Sarah Freeman | Photography courtesy of Mashpi Lodge
More than just a gateway to the Galapagos, Ecuador's mainland is brimming with natural riches too. A soft adventure to its cloud forests promises hikes to ethereal waterfalls, aerial rides through the treetops, and encounters with rare species found nowhere else on earth.
Not seen, but most definitely heard, a clamorous flock of bronze-winged parrots rustles in the canopy while a collared trogon flaunts its head-turning plumage like a showgirl. It's a scene that unfolds two hundred feet above ground from an open-air gondola, which affords passengers a parakeet's-eye view of the canopy.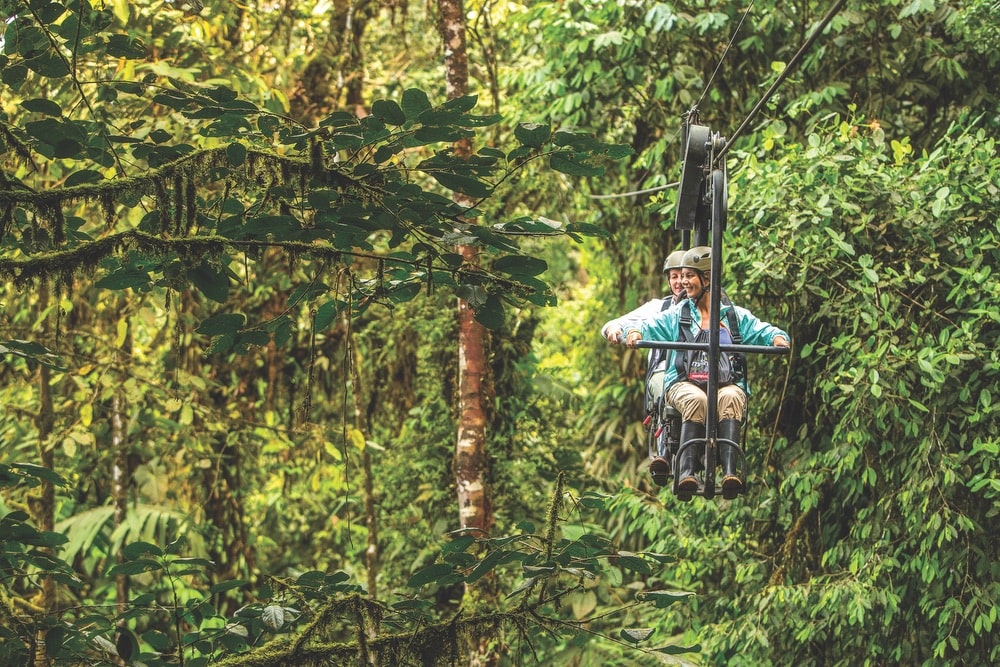 From glow-in-the-dark fungi to mantled howler monkeys, biodiversity bristles from the roots of the trees all the way up and over their crowns in this stunning swathe of forest in the Andean foothills of northwestern Ecuador. Painting the landscape fifty shades of green as far as the eye can see is Mashpi, a 3,200-acre reserve nestled in the heart of the Chocó Bioregion. This vast wilderness spans one of the world's most important biodiversity hotspots.
An exemplar of sustainable tourism, Mashpi and its namesake luxury expedition lodge's story is rooted in conservation. In 2001, the former director of WWF Ecuador, Roque Sevilla, procured the land from a timber company. Making use of an already laid network of logging roads, the long-time environmentalist built a luxurious cocoon in the cloud forest where a sawmill once stood. Remarkably, not a single tree was razed in its or Mashpi's mile-long cable car's construction. Christened The Dragonfly, the five-year feat of engineering maneuvers noiselessly so as not to stress wildlife such as three-toed sloths, which are adapted for a quiet life in the treetops.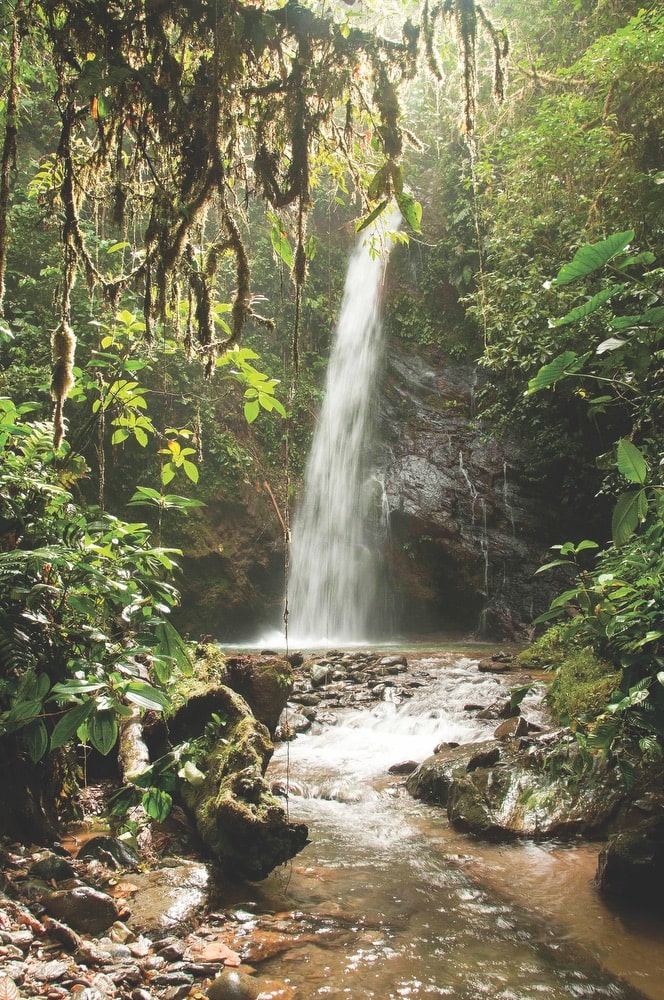 Ten minutes into the renewably powered ride, I spotted the serene waterfall where our group of three had cooled off an hour earlier on the Magnolia Trail. It's one of eleven walking paths that thread through Mashpi's life-nurturing forests. Guests can choose from a range of daily guided excursions—including trekking to a community-run cacao farm and visiting the onsite butterfly sanctuary—which are categorized by physical difficulty.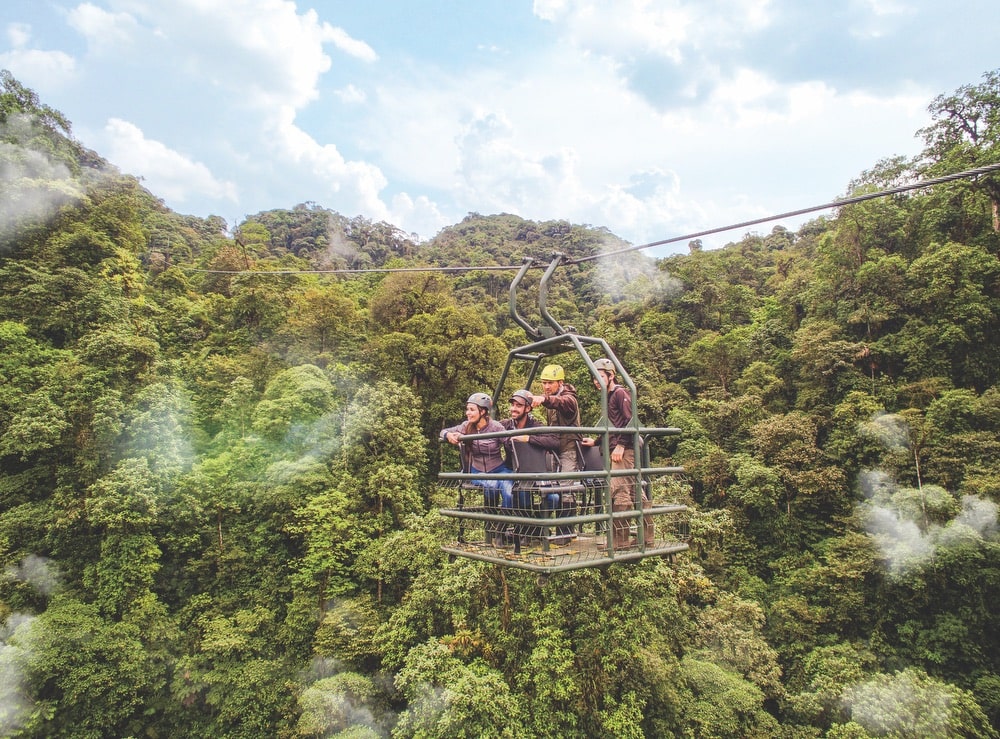 Most activities begin on (rubber-booted) foot from the twenty-four-room lodge, a contemporary architectural ode to the natural world hewn out of glass, recycled steel, and wood. Despite its remote setting, Mashpi has all the trappings of a five-star hotel. While boasting a sustainable spa, an outdoor hot tub with a yoga deck, and sleek forest-facing picture-windowed rooms, the modern monolith also turns out fine-dining cuisine.
The building's centerpiece is a tri-storied, glass-fronted restaurant designed to invite nature (but thankfully none of its critters!) inside. Our evening's three-course dinner began with an Andean potato soup, followed by caramelized pork belly with panela sugar and seasonal vegetables, culminating with a delightfully fluffy blackberry mousse. In keeping with Mashpi's eco ethos, the menu—described as a modern spin on traditional Ecuadoran cuisine—celebrates Pichincha province's bountiful larder. In the spirit of locavorism, locally harvested cacao and coffee, organic fruits sourced from communities in the buffer zone, and lodge-grown herbs also enliven its dishes.
A soft adventure to its cloud forests promises hikes to ethereal waterfalls, aerial rides through the treetops, and encounters with rare species found nowhere else on earth.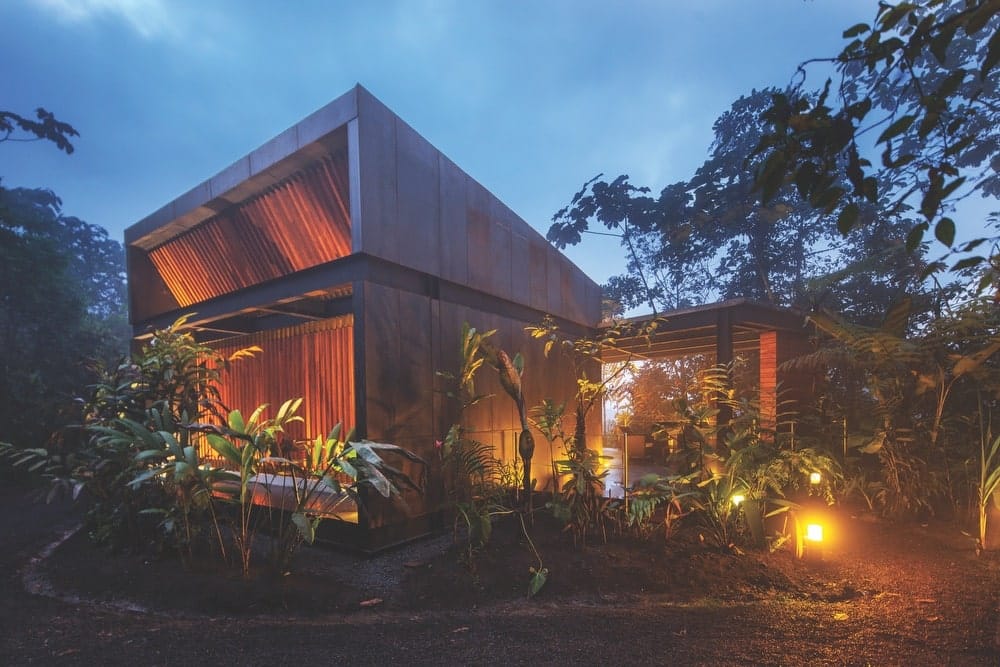 Just as guests are winding down for the evening, the reserve rouses from its afternoon slumber—a realization I made while splish-splashing along Torrenteer Lagoon, a shallow stream whose banks thrum with life. Ever attentive to the forest's smells and sounds, my guide, Luis Puente, found furry spiders on the underside of leaves, giant owl butterflies, and translucent frogs, which provide the soundtrack to nocturnal walks. Although pumas and oncillas (an endangered spotted cat) stalk these forests, Mashpi's magic is manifested through smaller creatures like bioluminescent scorpions, which Puente uncovered for me not far from the lodge's entrance.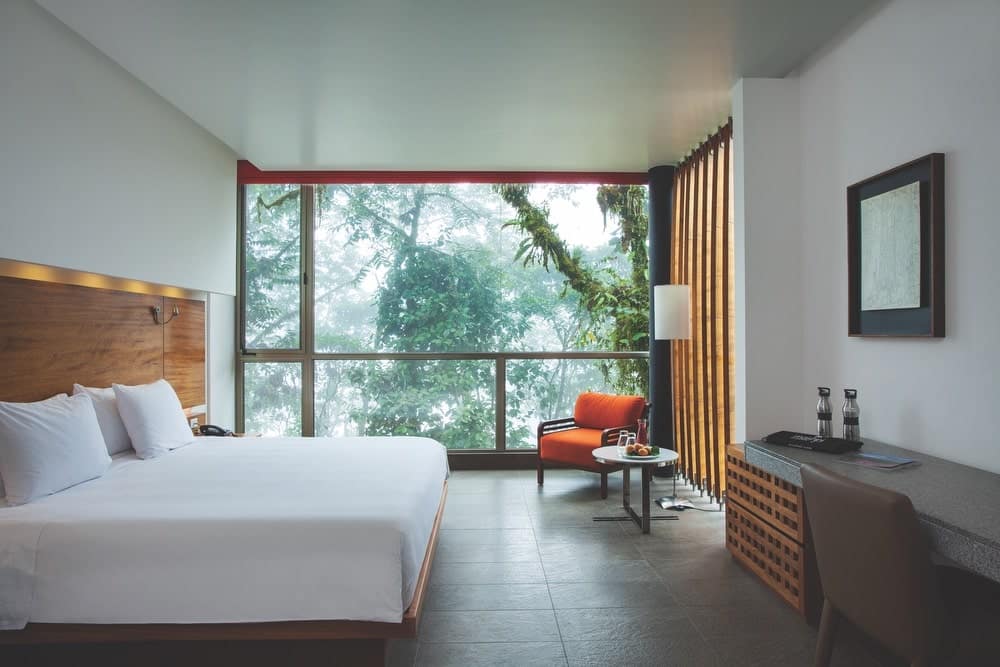 Excursion bound, the next day I set out on the Copal Trail, which (mercifully) is reinforced with recycled plastic crates on its steeper and slippier segments. "The word Mashpi means 'friends of water,'" local Anderson Orosco revealed, as rain—two hundred and fifteen inches of which nourishes the reserve annually—sobbed down on our poncho-wearing group. He's one of Mashpi's twelve naturalist guides, many of whom are former loggers, miners, or hunters-turned-custodians of the cloud forest who hail from the reserve's six bordering communities.
Differentiated from their rainforest cousins by their higher elevations and cooler temperatures, cloud forests host species specially adapted to this unique ecosystem, like the moss-backed tanager. Endemic to the Chocó cloud forest, the olive, violet-blue, and yellow bird even inspired Mashpi's logo. However, one of the reserve's most extraordinary species isn't an animal but a champagne-scented flowering plant called Mashpi magnolia. Locals nicknamed it cucharillo after its little spoon-shaped petals, which rain down on the forest floor like cream-colored confetti.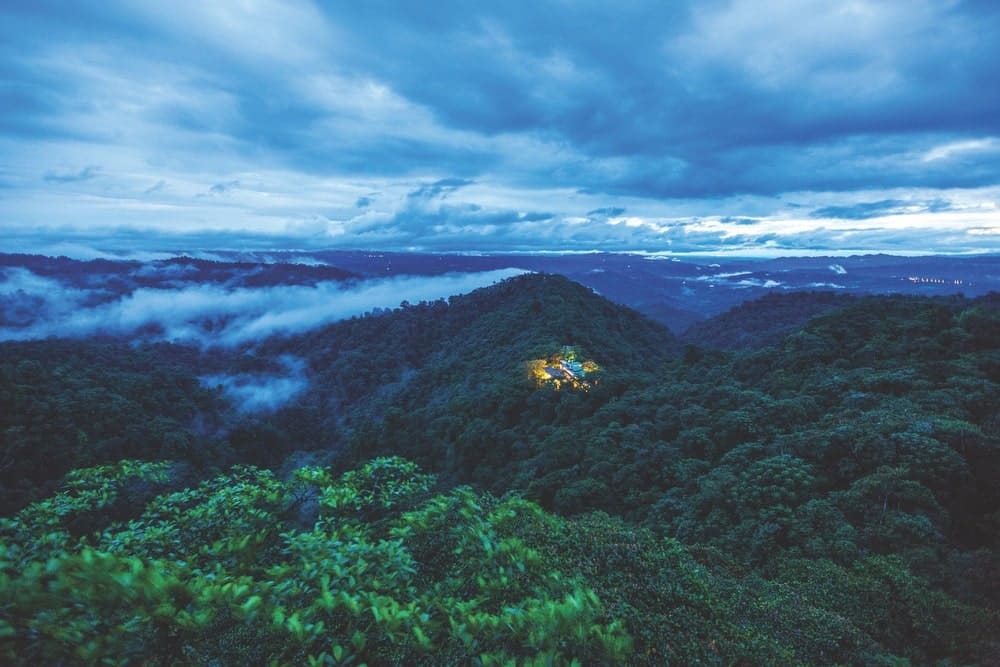 Mashpi magnolia is one of ten discoveries of new-to-science species (which include a luminous tree frog and a pencil eraser-sized orchid) made in the last decade at Mashpi. Research and biology director Mateo Roldán and his team of para-biologists and visiting PhD students are at the cutting edge of cloud forest conservation. "Fifty percent of species live in the forest canopy," Roldán remarks of this understudied habitat zone. Curious guests can tap into his wealth of knowledge at the reserve's pioneering research station, located a whisper from the main lodge.
The learning spilled over into lunch (a tangy ceviche and quinoa soup) as a flock of chattering birds stirred around the dining room, six of which I managed to identify. That's six of a staggering four hundred avian species that call Mashpi home!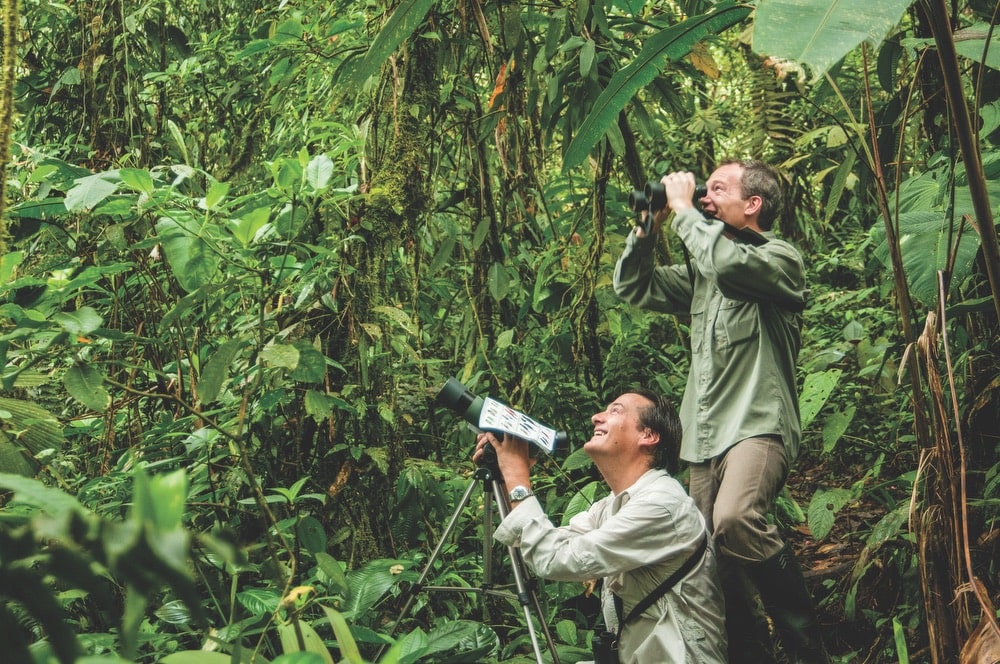 On my final morning, I woke to find the trails veiled with thousands of cobwebs transformed into glittering chandeliers by supersized raindrops. Eerily beautiful and atmospheric, it set the mood for a thrilling thirty-minute tandem sky bike ride across a river gorge. One of the reserve's most popular activities, the pedal-powered contraption soars through the treetops, suspended from a zipline. "Finally, the cloud forest is living up to its name," I mused, my legs dangling two hundred feet high over the swirling mist that shrouds parts of this ecosystem daily. As the tree-hugging fog slowly rose, so did our sure-footed group as we scaled the nearby eight-story observation tower. In addition to rewarding us with 360-degree views of the reserve, the leafy aerie is a birder's paradise, where we admired a toucan barbet proudly surveying its territory.
Our group slipped into a contented silence. Our heads, as well as hearts, were most definitely in the clouds.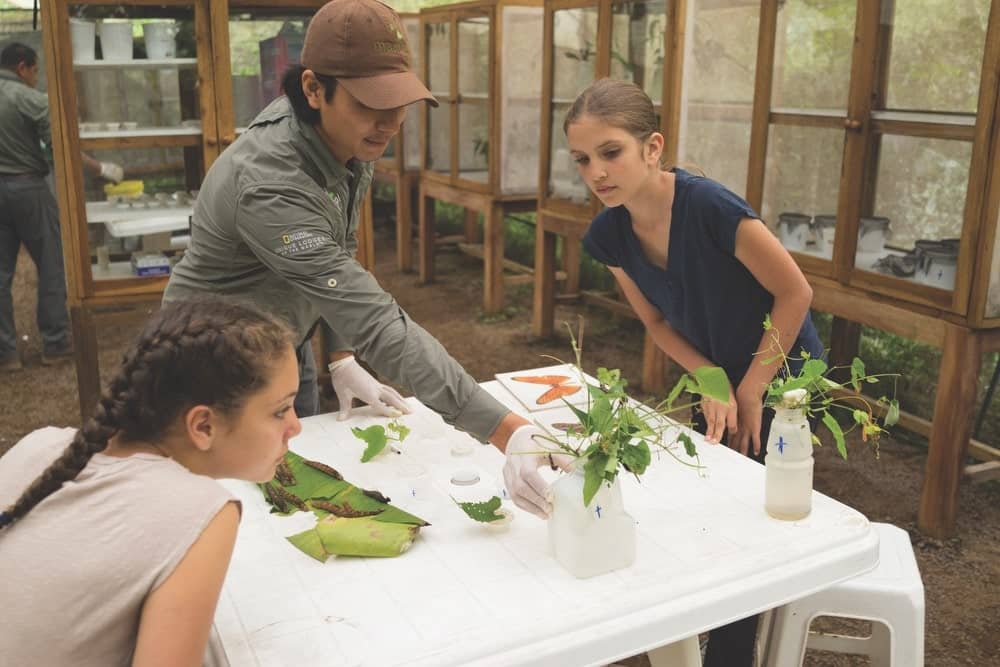 Back on terra firma, more feathered friends awaited us at Mashpi's hummingbird garden, where these pint-sized powerhouses dart in and out of nectar-filled feeders with a sonorous hum. "Males position themselves in the sunlight to show off their iridescent colors to attract a mate," Orosco explained. The reserve hosts some twenty hummingbird species, including the velvet-purple coronet endemic to the Chocó. Mesmerized by their aerial mastery, our group slipped into a contented silence. Our heads, as well as hearts, were most definitely in the clouds.
— V —
---
Mashpi Lodge is located just a three-hour drive from Ecuador's capital, where you can bookend your trip with a stay at Casa Gangotena, a five-star heritage hotel in Quito's sixteenth-century Old Town. The sister property of Mashpi Lodge, it's owned by Ecuadoran-founded Metropolitan Touring, a socially and environmentally responsible travel company that can arrange your vacation. Visit Metropolitan-Touring.com to start planning!
ARTICLE CATEGORIES