Endless Summers on Montauk
By Emme Martin | Photography courtesy of the Surf Lodge
Spending a summer by the sea never fails to evoke those true human feelings of contentment. Salty air and sun-kissed skin remind us that joy doesn't have to be complicated. Mother Nature always surpasses materialism, no matter what. Artistry joins her in this realm of superiority, as it enables us to step outside our thoughts and imagine another experience, even for just a moment. In Utopia, these principles could embody our everyday lives, but a weekend stay in Montauk will suffice for now.
Jayma Cardoso, owner and creative director of the Surf Lodge in Montauk, New York, recognized the property's authenticity the moment she saw it in 2008. It was built in 1967 as an Irish dive bar beloved by surfers, artists, and musicians. The creative energy flowing through the walls was palpable for Cardoso. As the daughter of a well-respected Brazilian architect and natural visionary, she intrinsically knew this place was special. Before we expand on the fruition of the largely successful Surf Lodge, let's start at the beginning.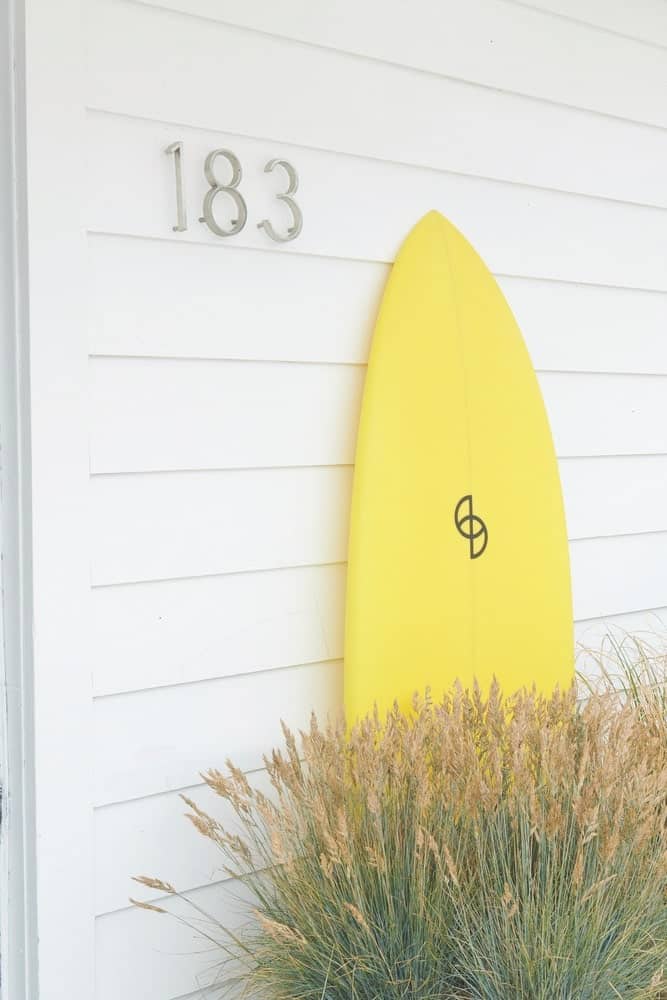 Cardoso's journey to discovering the lodge is as fascinating as it is organic. A Brazilian girl moves to America to study biology and finds herself working at Boom, a bar in the SoHo neighborhood of New York City. Cardoso was not unlike most young people in the city, trying to sustain herself during those precarious college years. The distinction was that Boom is where she found her calling. She soon noticed that her skills lay in hospitality and her sixth sense for juggling the books, dealing with operations and vendors, and managing staff made her the perfect personality for the multifaceted business. "If you can't get your hands dirty and juggle a lot, then this industry isn't for you," insists Cardoso. Her natural talent led her to partner with and own other nightlife establishments in the city—Cain, GoldBar, and LAVO, to name a few. Cardoso realized the fundamental ingredient for providing a luxury experience is the staff's ability to make guests feel warm and welcome.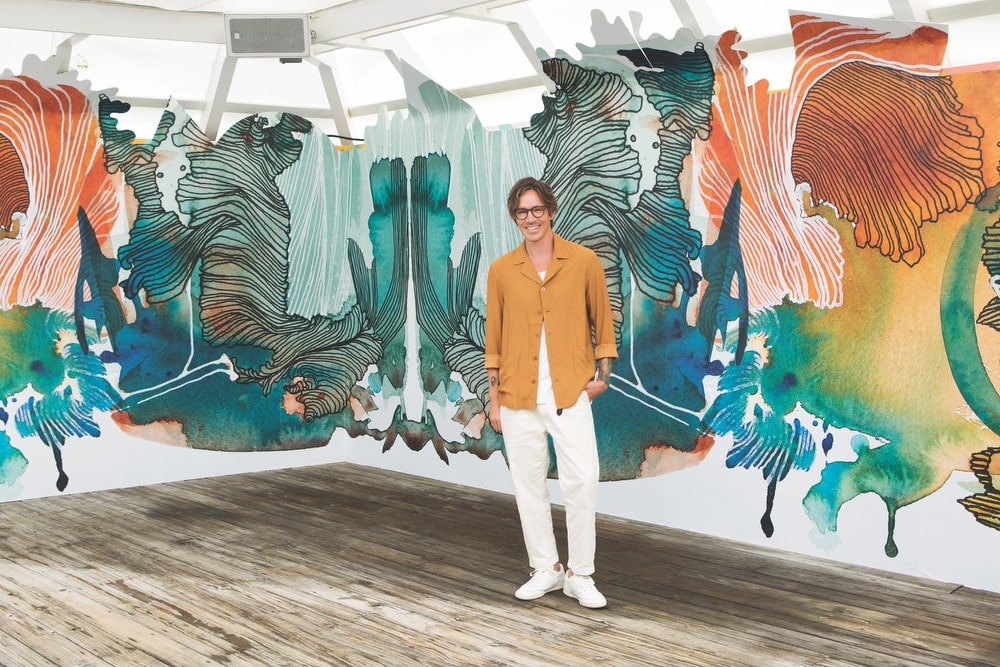 Intuitively aligning with her vocation, Cardoso evolved to create an elevated guest experience in the hotel industry. Her heart drew her to Montauk, the quintessential beach town at the end of the world—a symbolic moniker the destination acquired by being the easternmost point in New York State. Travel was Cardoso's recipe for inspiration, as she considers exploring an essential aspect of the creative process. However, Brazilian pousadas (small, often family-run inns) gave Cardoso the most enlightenment when forming her concept for the Surf Lodge. A native Brazilian, she discusses how she's been to what seems like almost all of them and admires the laid-back, charming feel.
"They are so connected to nature, allowing an honest reflection of the towns they reside in, and that represented exactly what I wanted to accomplish with the Surf Lodge," she remarks.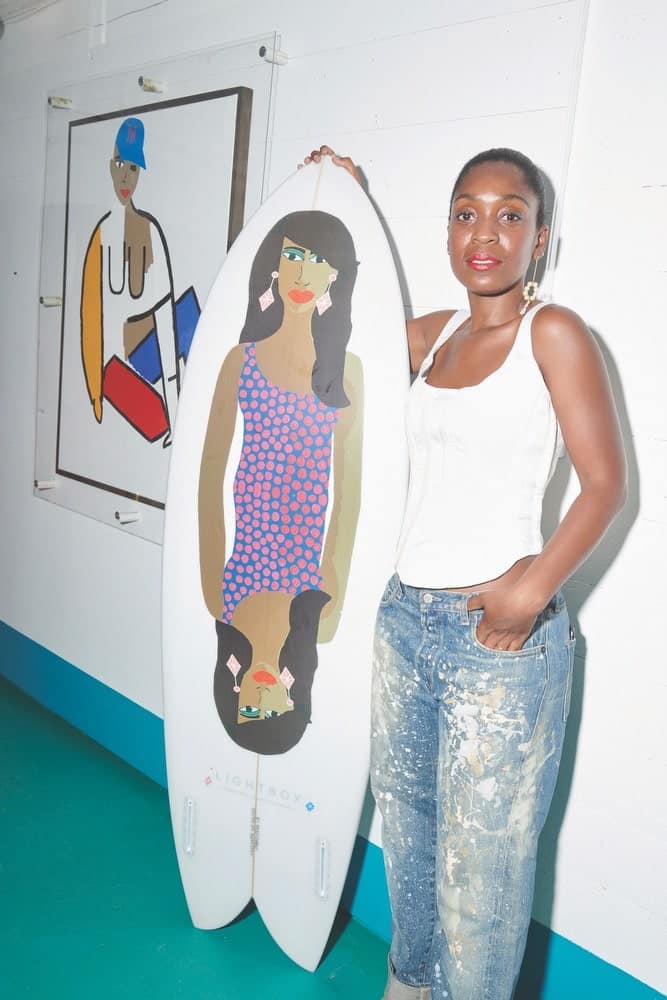 Cardoso and her design team's ability to execute a perfect beach-chic aesthetic has made the Surf Lodge the destination of choice for contemporary travelers visiting Montauk. The original bones of the building, married with new, luxurious finishes, create an authentic charm. The rooms encourage blissful feelings through all-white bedding and walls with pops of color that are good for the soul. The minimal vibe is beautiful without being pretentious—just what high-quality design is all about.
Naturally, sustainability was a relevant factor in conceptualizing an establishment that embraces its natural surroundings. The Surf Lodge boasts a sustainable wastewater system, and one would be hard-pressed to find any single-use plastic on the property. The in-room beauty products continue the trend as they prioritize brands that follow sustainable and ethical practices. One of Cardoso's favorites is the Biography glow drops. "The product is cruelty-free, and all of the packaging is recyclable," she explains. Not to mention it is gorgeous—a prerequisite for great twenty-first-century beauty branding.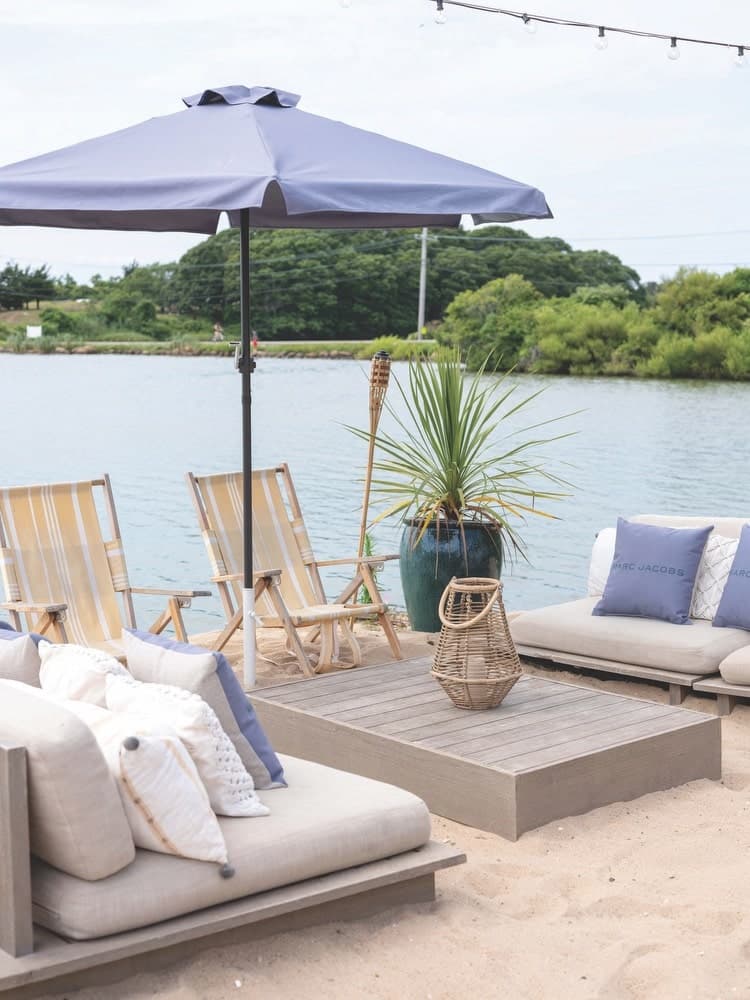 The Surf Lodge's dedication to green operations has made it possible for guests to feel good and appreciate the beauty of Montauk without contributing to further deterioration through pollution. They can do this in style, too, thanks to the Surf Lodge's partnership with electric carmaker Polestar for the season. Guests can take one of the fully electric vehicles as their method of transportation around town for an unsullied adventure. Beach cleanups every Tuesday offer another opportunity for guests to act virtuously while on vacation, no doubt a therapeutic and contrasting experience for those who are visiting from nearby New York City.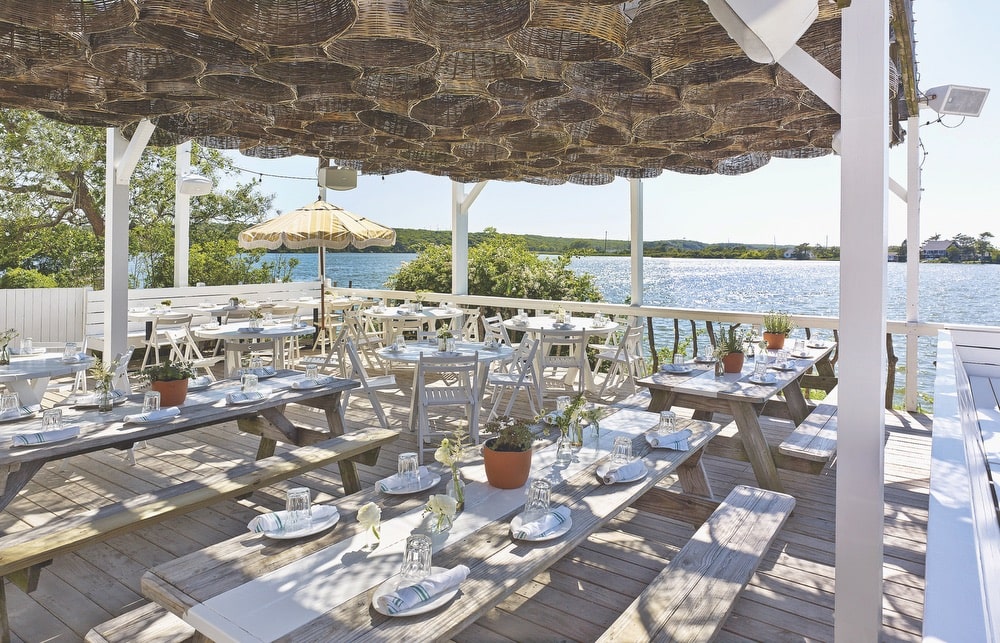 Cardoso and the design team at the Surf Lodge have ensured the bohemian and creative spirit of the original dive bar remains through their dedication to making art one of the core experiences at the inn. Cardoso compares it to a blank canvas, repainted every season to tell new artists' stories. "The design of the Surf Lodge changes each year, but the principles of our aesthetics always remain the same," she sums up. The Surf Lodge features up-and-coming celebrities in the art and music worlds, such as Daniel Arsham and Brandon Boyd. Cardoso enjoys finding unique ways to incorporate the arts. Rajni Jacques, the creative director of Snapchat, created custom-painted surfboards for Lightbox, a lab-grown diamond company that partnered with the Surf Lodge this summer for their wellness series. It involved weekly workouts led by fitness favorites such as Isaac Boots, Nina Agdal, Stephen Cheuk of S10 Training, and Sarrah Strimel of Damn Good Yoga. Cardoso is keen on making these connections between creatives, tastefully benefiting everyone involved.
Luckily, Cardoso plans to expand the Surf Lodge modus operandi with slightly different vibes through new locations in other cities. She has already started to do this through the Snow Lodge in Aspen. The Snow Lodge, like the Surf Lodge, highlights creative energies through concerts and social events, though its mantra is more "après-ski" than "hang loose."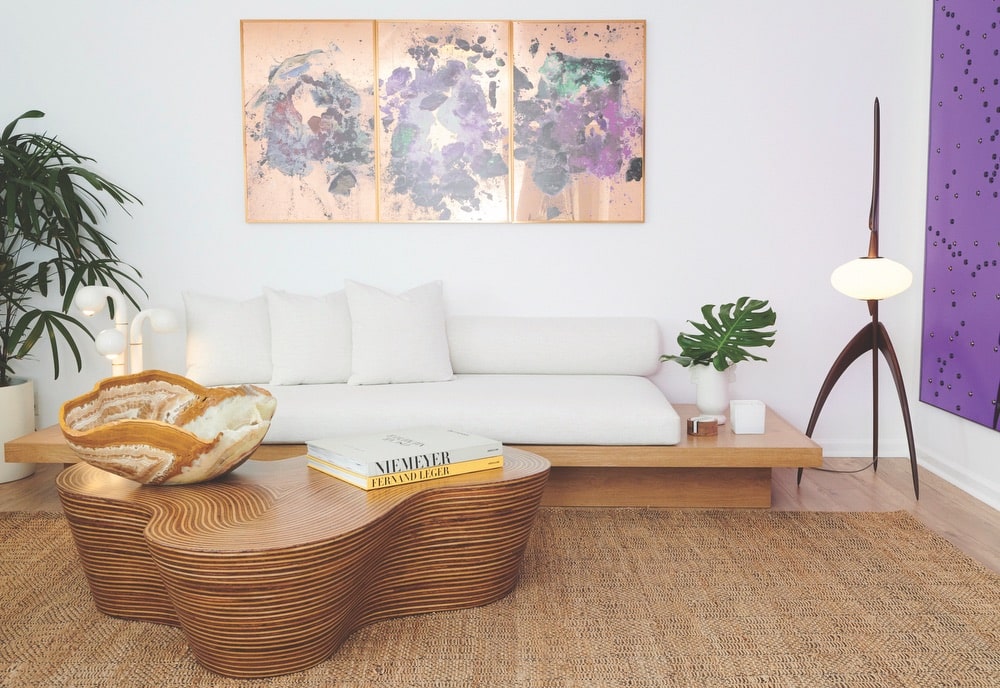 Whether for a weekend getaway or a day party, a stay at the Surf Lodge offers all guests an authentic Montauk experience. The sustainability factor not only adds to the inn's allure but is also necessary for protecting the planet. And while they're not relishing the natural surroundings that encompass the Surf Lodge spirit, guests can contemplate the stories told through seasonal art exhibits. The Surf Lodge is a tastefully organic and charming experience—the epitome of a chic beach summer by the sea.
— V —
---
Visit TheSurfLodge.com to learn more or book your stay.
ARTICLE CATEGORIES