November 15, 2014
Our Love Story
Brad is from Memphis, and I'm from a small town in Mississippi. We both attended Ole Miss and were in the same graduating class (2010); he was a Sigma Chi and I was a Chi Omega. We'd attended swaps, parties, and date parties together with each other's friends, but we'd never met each other. We'd heard of each other throughout our four years at Ole Miss but were both in other relationships during our time at school, so the stars just never aligned.
I was living in Florida in 2012 and had gone home to Mississippi for the holidays. One of my best guy friends was throwing a New Year's Eve party at his lodge, which we frequented on weekends back in college, and my girlfriends talked me into delaying my trip back to Florida for a day to go with them. Turns out, that friend was one of Brad's very best friends as well, and he got talked into the same thing. Our friends didn't intend for us to go to meet one another—it just sort of all fell together perfectly.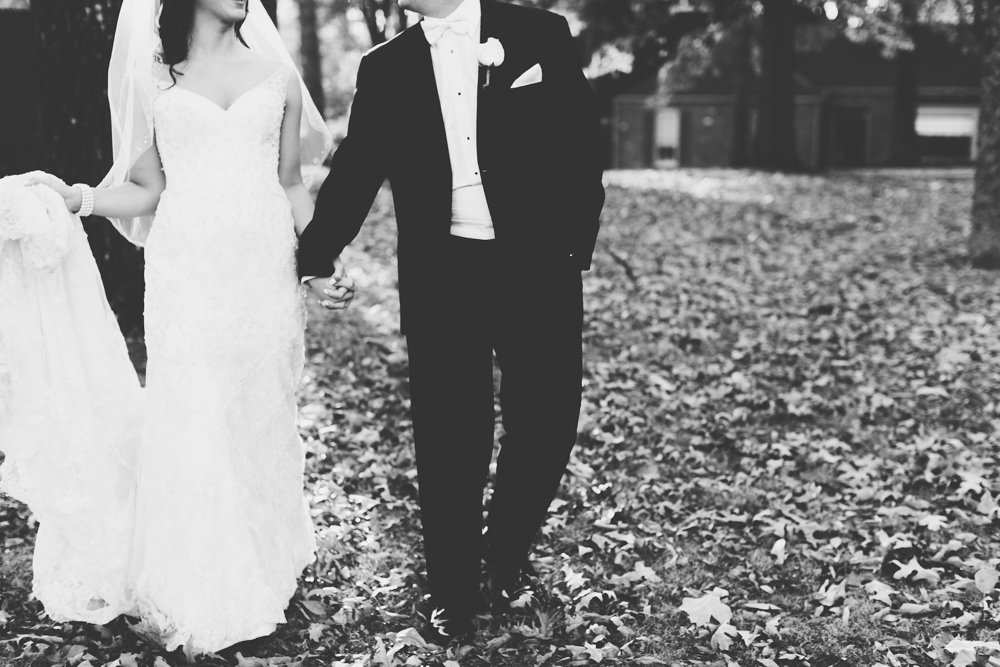 Our relationship was somewhat of a whirlwind from there—we were exclusive not long afterward and dated long distance (Florida to Memphis) for about six months until I moved to Nashville for a while. Then in December of 2013, I was offered my dream job at St. Jude Children's Research Hospital, where I work now, and I moved to Memphis.
I walked into a house filled with candles and roses and him on one knee! I don't think I even let him finish the question before I said yes!
Just a few months later, on Good Friday (April 18, 2014), Brad knocked my socks off when I got home from work (and a manicure—a big thanks to my old roommate for talking me into getting one with her!). I walked into a house filled with candles and roses and him on one knee! I don't think I even let him finish the question before I said yes! We made calls to our family and best friends before we went to "meet his parents for dinner"—which actually turned out to be a surprise cocktail party he had planned. He had invited both our families, all our best friends from out of town, and all our Memphis friends. Our loved ones had gathered together just to celebrate our engagement with us. It was such an overwhelming night—I was there with all the people we love most and my forever beau had just popped the big question!
Our Venue – Emmanuel United Methodist Church, Memphis
Brad and I had originally wanted a beach wedding, but we knew we wanted a short engagement more. That meant we'd be marrying in the fall, and a destination wedding wouldn't be conducive to football season for us or our loved ones—the true test of an SEC fan! So, we picked a free weekend for the Rebels in November and decided to marry in Memphis, where we were starting our lives together.
Our ceremony venue was an easy choice—we got married in the church Brad had attended growing up. But we looked at a ton of reception venues—I am extremely particular—and we saw everything from art galleries to music halls before we finally visited the Tower Center. The Tower Center ballroom is on the thirty-third floor of Clark Tower, one of the tallest buildings in Memphis. Three of the four walls of the ballroom are floor-to-ceiling windows. We met the wedding planner there for happy hour, and with the lights of the Memphis skyline twinkling as the sun set, we realized it was the perfect setting for our celebration.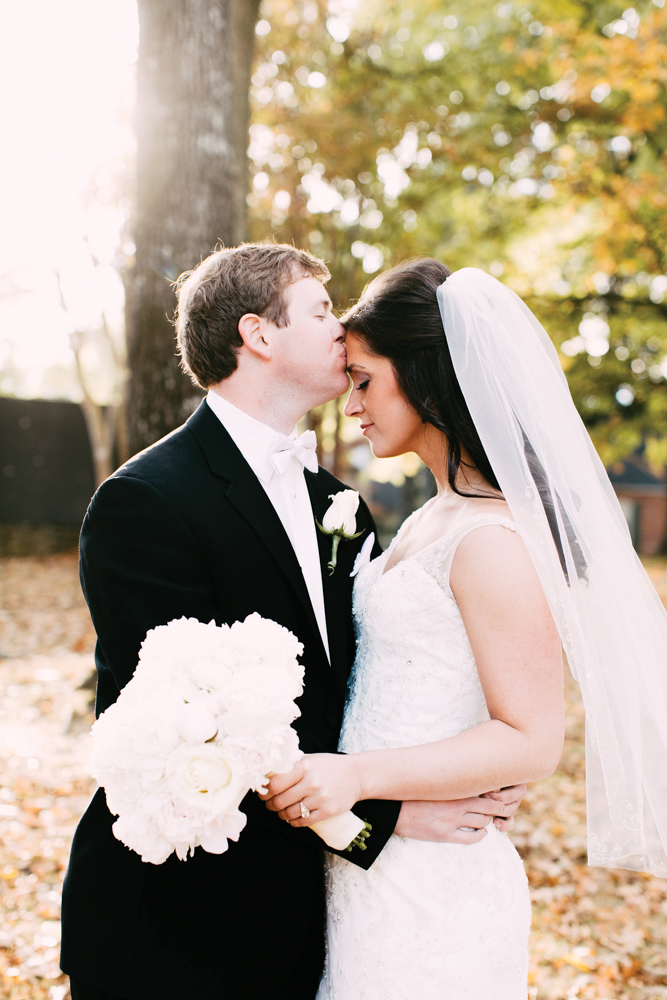 Our Wedding Plans
Planning the wedding was like nothing I had ever done before. I'm a big planner—I've planned parties and events of all sorts, and I regularly host parties and dinners in our home. But I had a very particular vision in my head for my wedding, and the one thing that Brad and I both fully agreed upon was that we wanted it to be fun. This gave us great perspective as we planned the details—if it wasn't something that would make an impact on us or on our guests, we let it fall by the wayside. We planned the majority of the wedding with the vendors we had selected (and we had amazing vendors!) but hired a wedding coordinator for the actual weekend to execute all our hard work—Kathy Farris kept me sane.
Our Wedding Day
Our wedding day was relaxed—that is one thing we have continuously heard from our family and from our wedding party. Some sweet friends threw me a "breakfast with the bride," where my bridesmaids and I had breakfast and mimosas in our pajamas while we had our hair and makeup done. Brad and his groomsmen went to a local hot spot for "BBQ and beer with the groom" until it was time to go to the church to change. The weather was beautiful, the leaves were changing, and the temperature was mild; all the elements you can't control but worry about anyway seemed to fall into place for us.
I had a very particular vision in my head for my wedding, and the one thing that Brad and I both fully agreed upon was that we wanted it to be fun.
We didn't have a "theme" to the decor because we were very adamant about not having anything cheesy, but I wanted our wedding to feel like Gatsby had thrown a garden party. I wanted to capture a classic, soft romance but with some gilded, luxurious elements that were identifiably of that era. My gown was one of my favorite things, of course—it was the perfect juxtaposition of vintage detail and modern silhouette. My bridesmaids wore different bridesmaid dresses in the same shade of platinum, while my sister, who was my maid of honor, wore a unique dress in a darker, stormy shade. Brad and his groomsmen wore classic black Ralph Lauren tuxedos with cummerbunds and bow ties—there's nothing better than a man in a tux!
The ceremony was candlelit, so everything just glowed. My two brothers lit a memory candle at the very front of the sanctuary to honor our late grandparents and aunts. We hung three crystal chandeliers in the reception space, draped the walls and columns around the dance floor with white chiffon, and used candlelight uplighting that made the ballroom glow against the city lights. We had gorgeous gold Chiavari chairs placed around tables covered with white silk tablecloths, and we used sterling silver, gold, and mercury glass accents, from candles to framed photos of ourselves, throughout the room.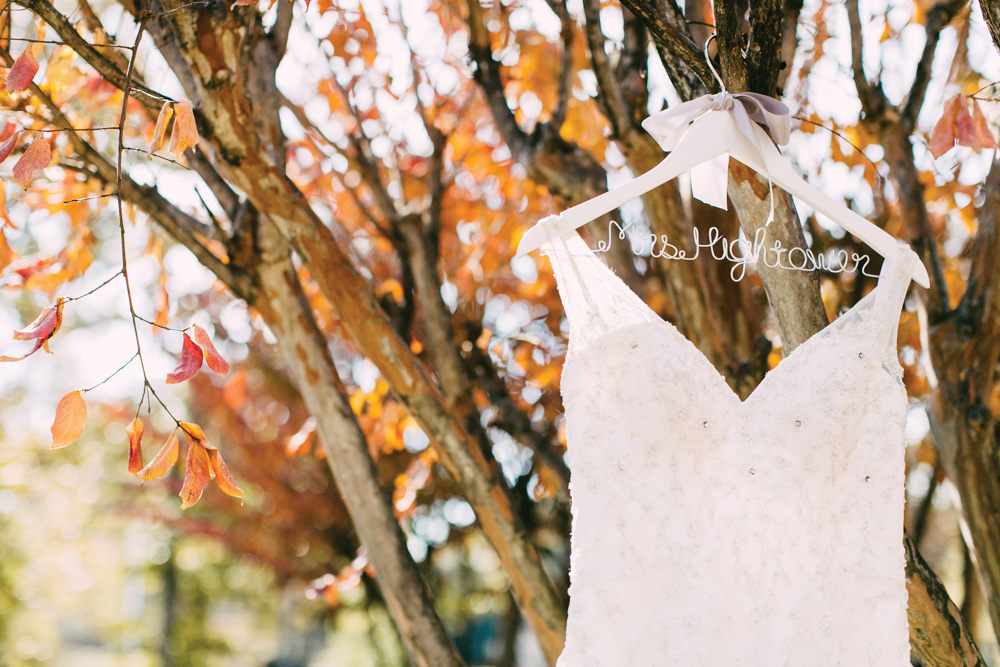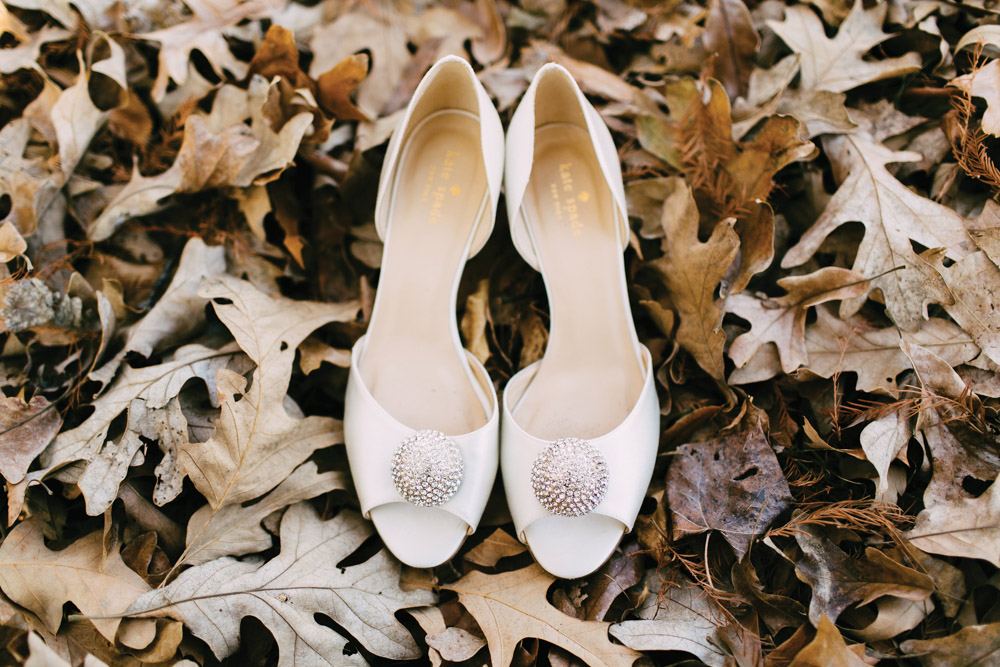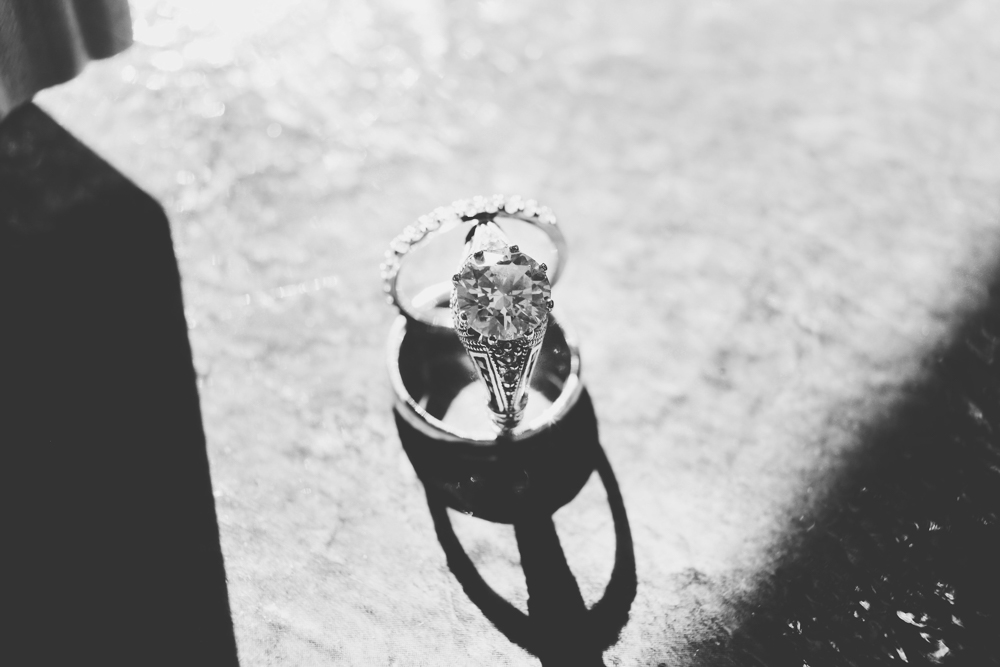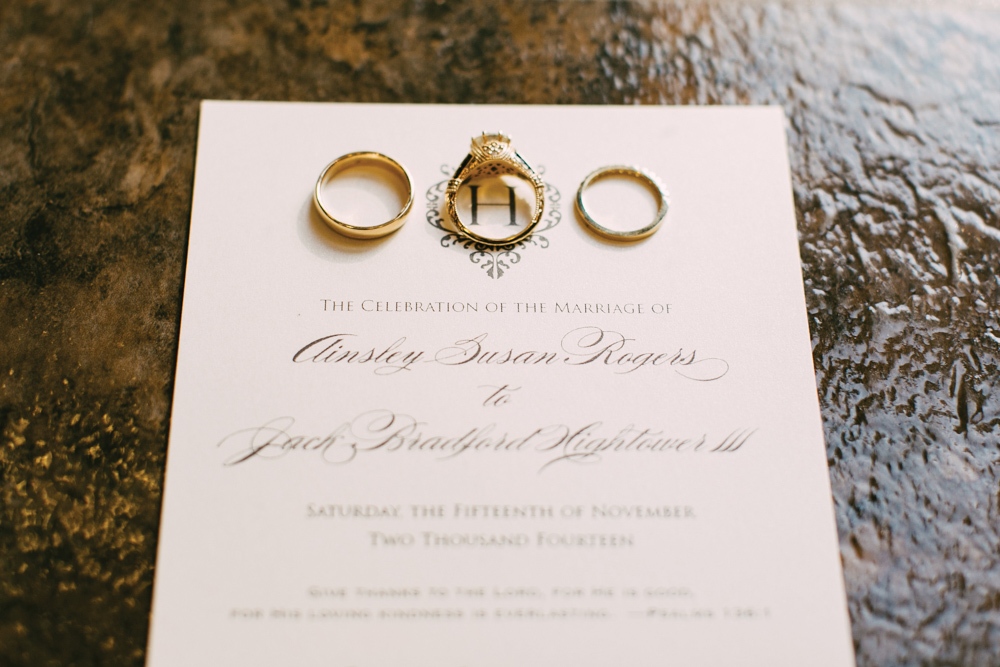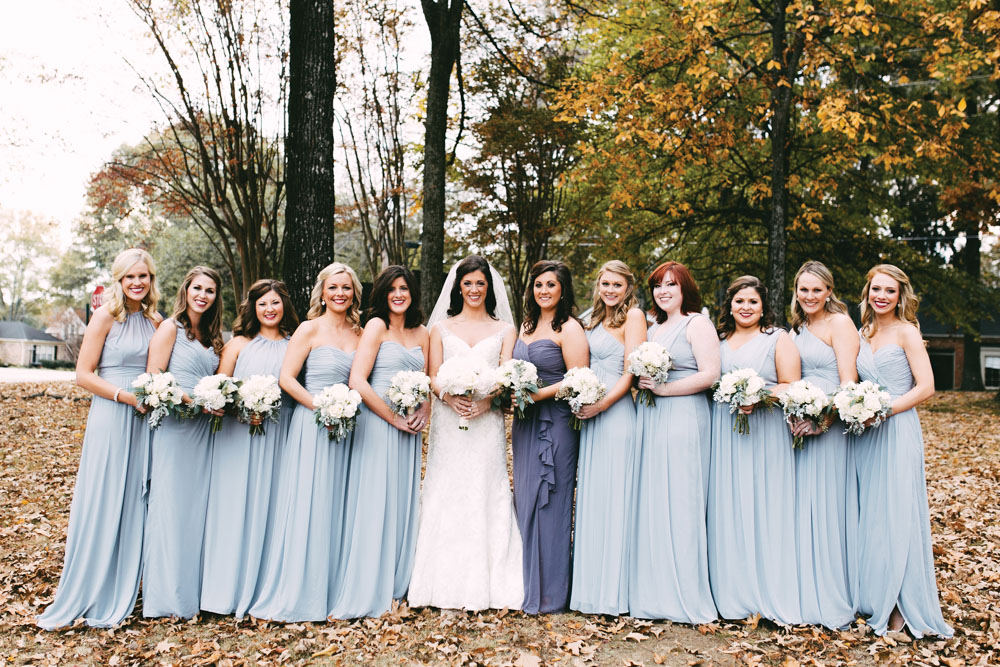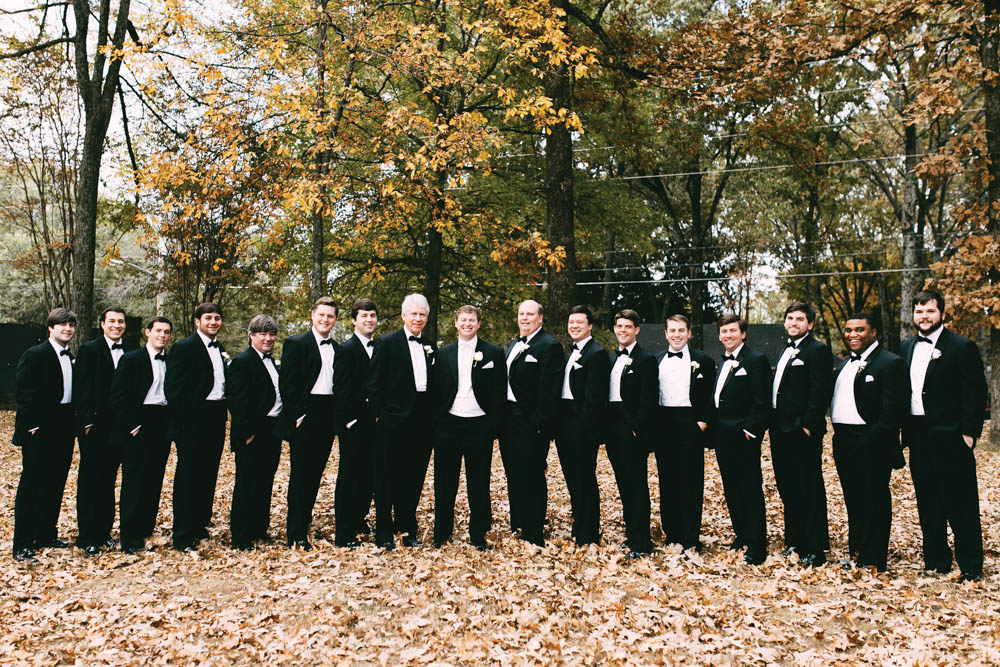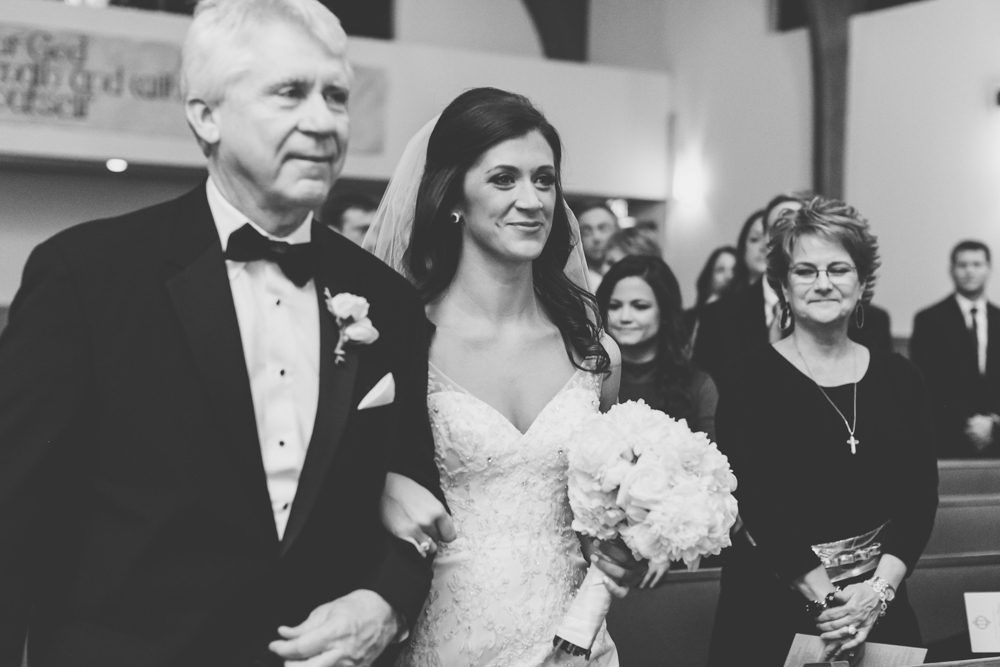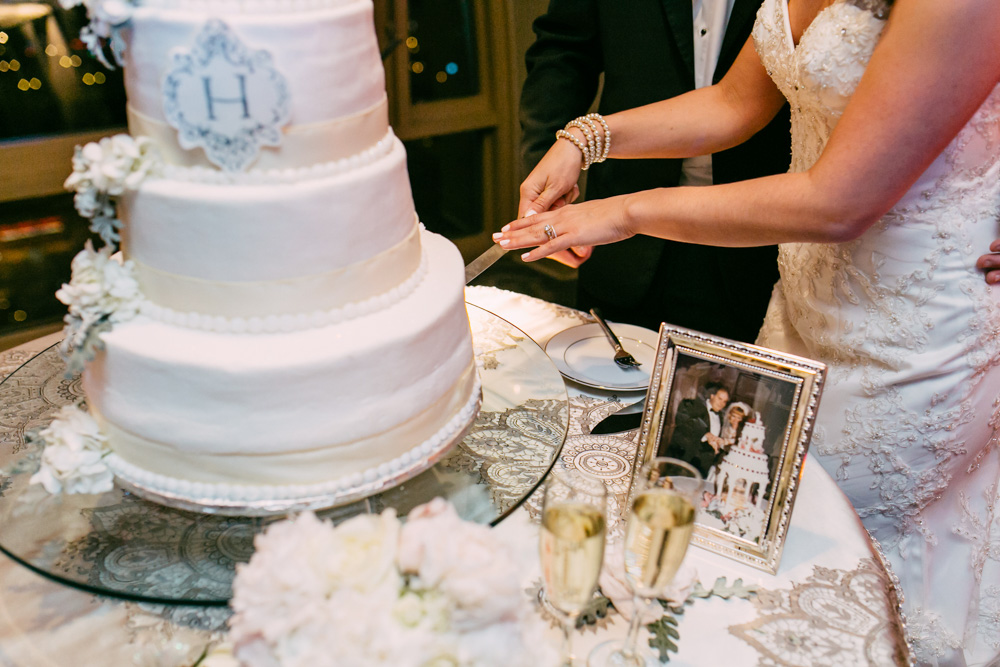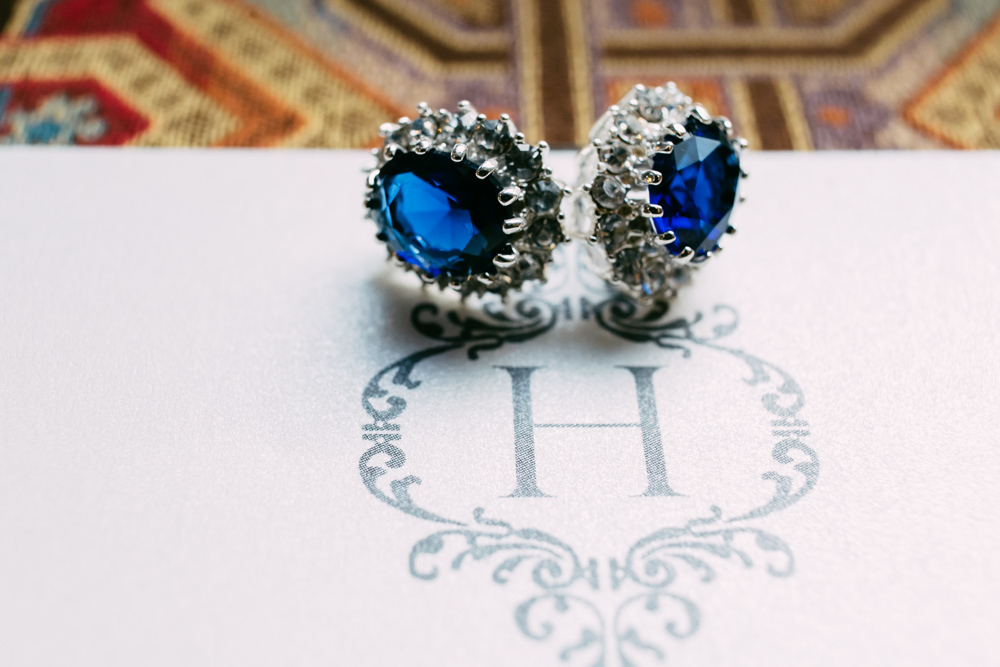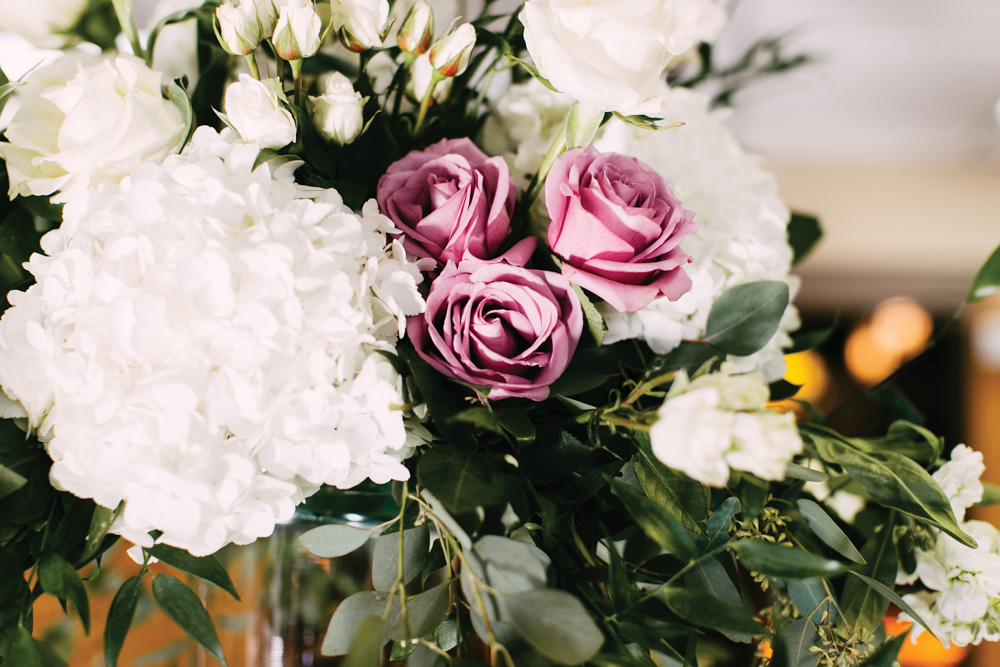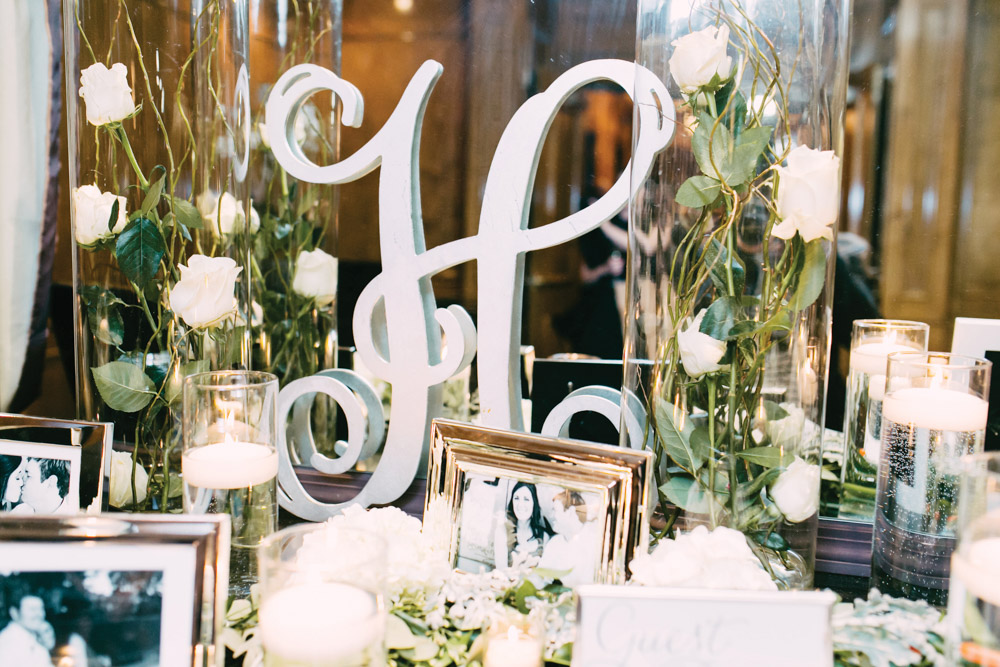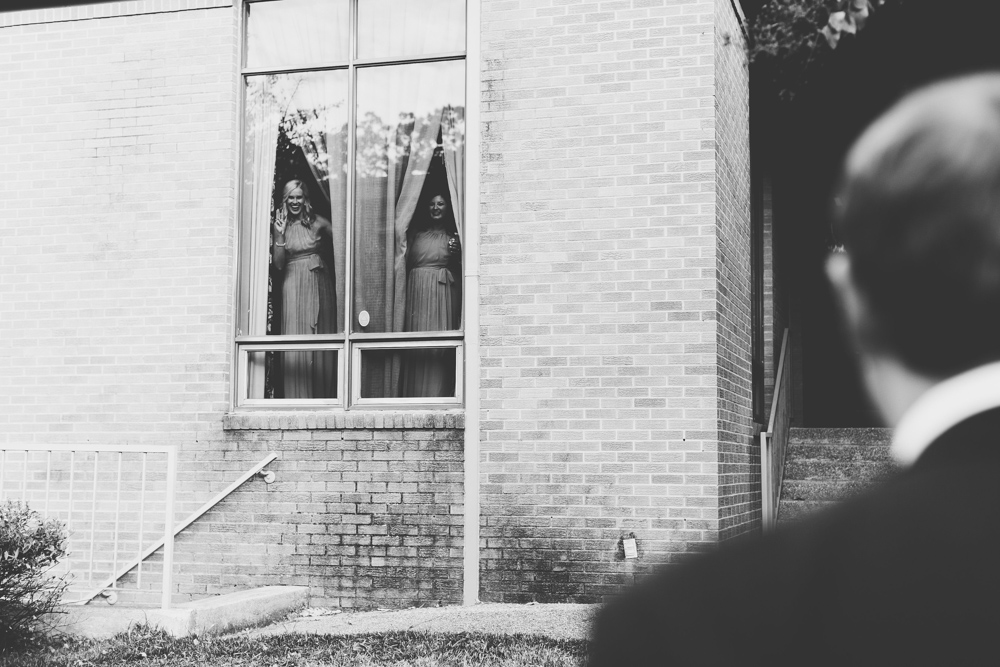 The floral arrangements were important to me because fresh flowers are among my favorite things in life. We had huge, lush, fluffy white arrangements of garden roses, peonies, and hydrangeas embellished with lavender rose accents and cascades of gorgeous silvery foliage. My bouquet was completely white and filled with garden roses and peonies, while the girls carried white hydrangeas, lavender roses, and the same pretty accents made up of seeded eucalyptus and other greens.
My cousin Jessica, a graphic designer, did all of my paper products. She designed an H crest for us, which we put on everything. (I guess you know you're in marketing when you brand your own wedding.) It was on the welcome boxes for out-of-town guests at the hotel, the invitations, the ceremony programs, the cocktail napkins—everything! We even put it on our cake, which was a classic four-tiered beauty, each layer a different flavor. Our talented florist constructed a seven-foot arch of branches and hydrangeas with floating tea candles hanging down; this was placed behind the cake table and it took my breath away when I first saw it. And we had little photographs of our parents cutting their own wedding cakes, as well as Brad's parents' cake topper, which had also belonged to his grandparents. The groom's cake was Colonel Reb (big surprise), and the table was decorated with red and blue pom-poms and two framed Ole Miss needlepoints (one of the Lyceum, one of the Ole Miss Sigma Chi crest) that his late aunt had done for his father and uncles.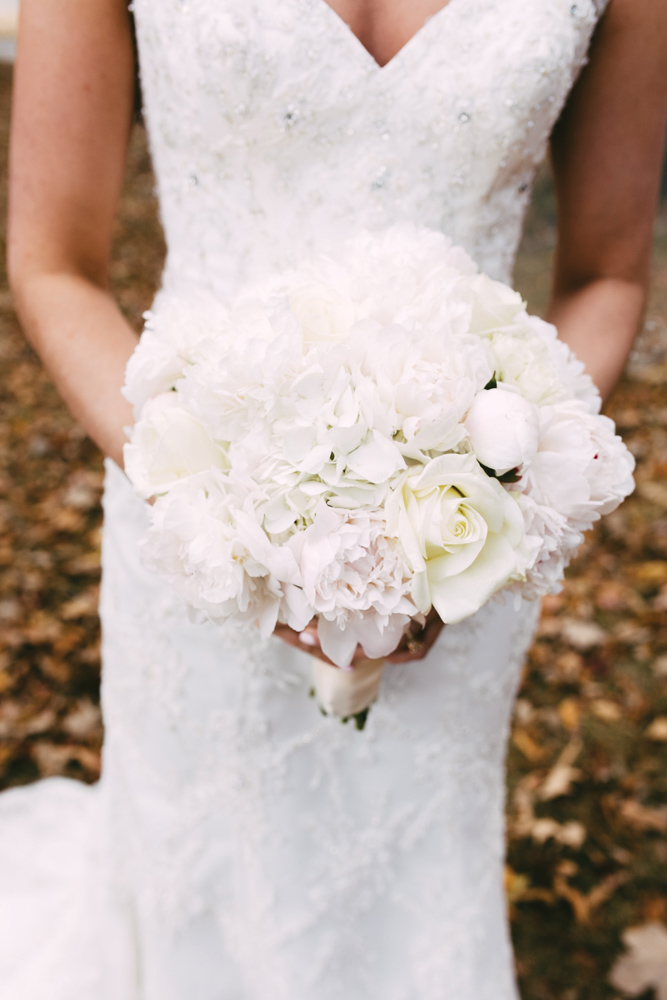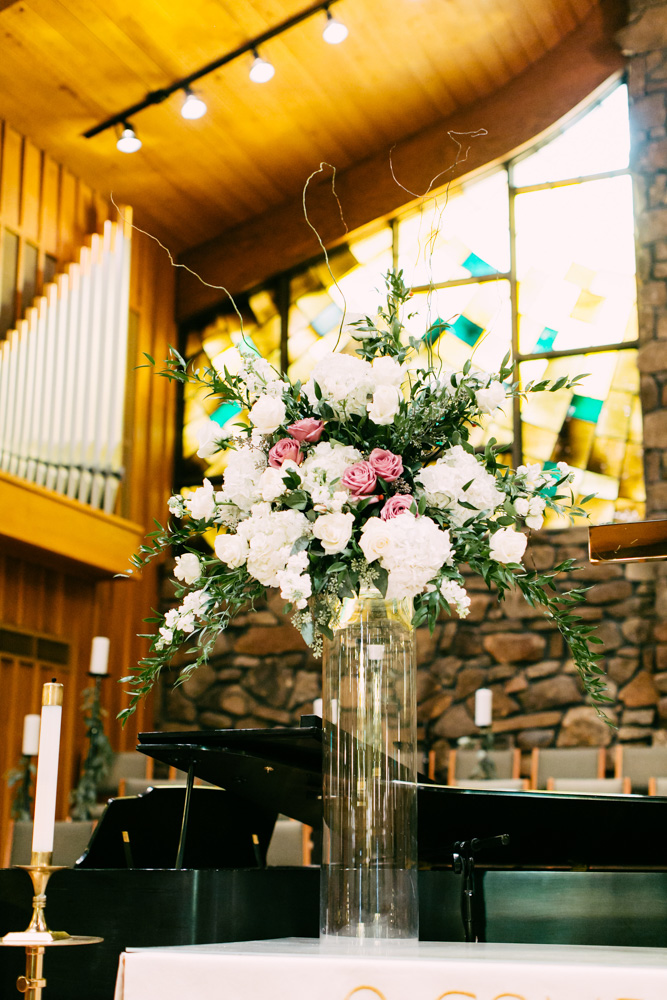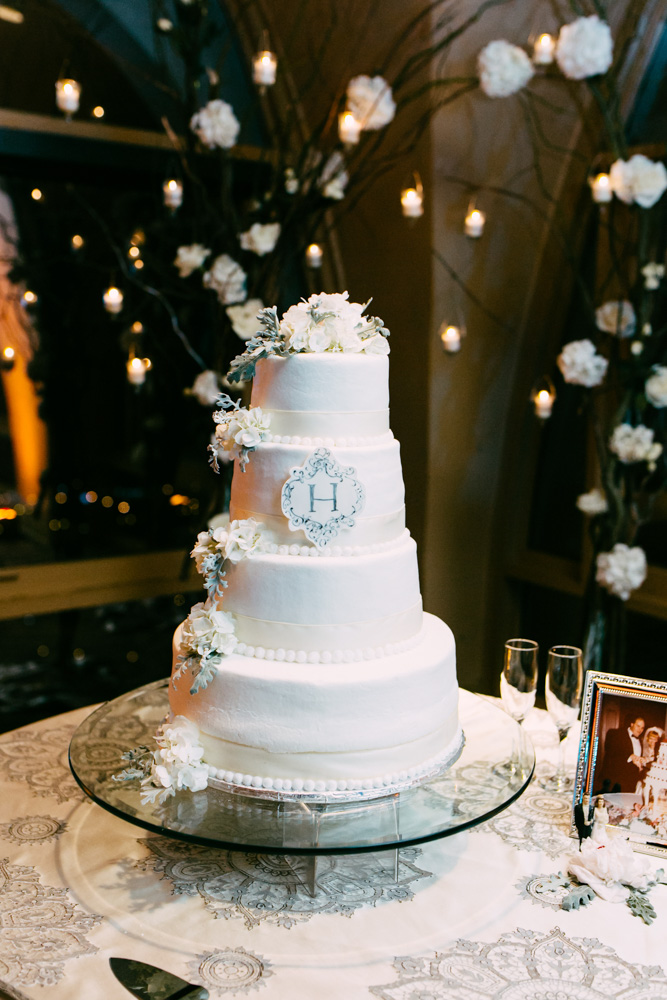 Brad and I are both big music lovers, and we really hit the nail on the head with our wedding choices. The ceremony featured a string quartet and two of our friends, Callie Self and Steven Gresham, who sang and played the acoustic guitar, respectively. Our reception band—Party Planet from Memphis—was out of this world. They had the big band, Motown sound that Brad and I both adore, but they also played some current tunes to get the crowd going. They learned Alabama Shakes' "I Found You" (a special song for us) for our first dance and played it almost better than the original. I think I had fifteen people come up to me during our reception and tell us how amazing the band was. My grandmother didn't even leave the dance floor. In fact, I have a photo of her dancing with the lead singer!
We had the staff bring out tambourines and glow sticks for our guests when the party really got started, and this was a huge hit—it also made for some hilarious photos.
Seeing the joy in my husband's eyes during our first look before the ceremony is something I will never forget. Getting ready for that moment with my bridesmaids, my sisters, and my mother was also really memorable—these women are some of my favorite people in this world, and it was incredibly special to me that they helped me prepare to be a bride. But our reception exit was my favorite moment. We wanted a big exit, full of pure celebration. During our planning, I kept thinking of the scene in the new adaptation of The Great Gatsby when the fireworks explode behind Leonardo DiCaprio at his party. Our exit would be taking place from the thirty-third floor (so all 250 guests wouldn't have to take the elevator down), and we couldn't exactly shoot off fireworks. Instead, as a nod to our cute New Year's Eve meeting and our Gatsby-inspired celebration, our guests tossed metallic confetti as we sprinted for the elevators. I wore a fur stole that had belonged to Brad's late grandmother, and our talented photographers captured all those amazing elements, along with the excitement of our guests, in what I believe is the most perfect photo from our big day! I'll treasure it forever.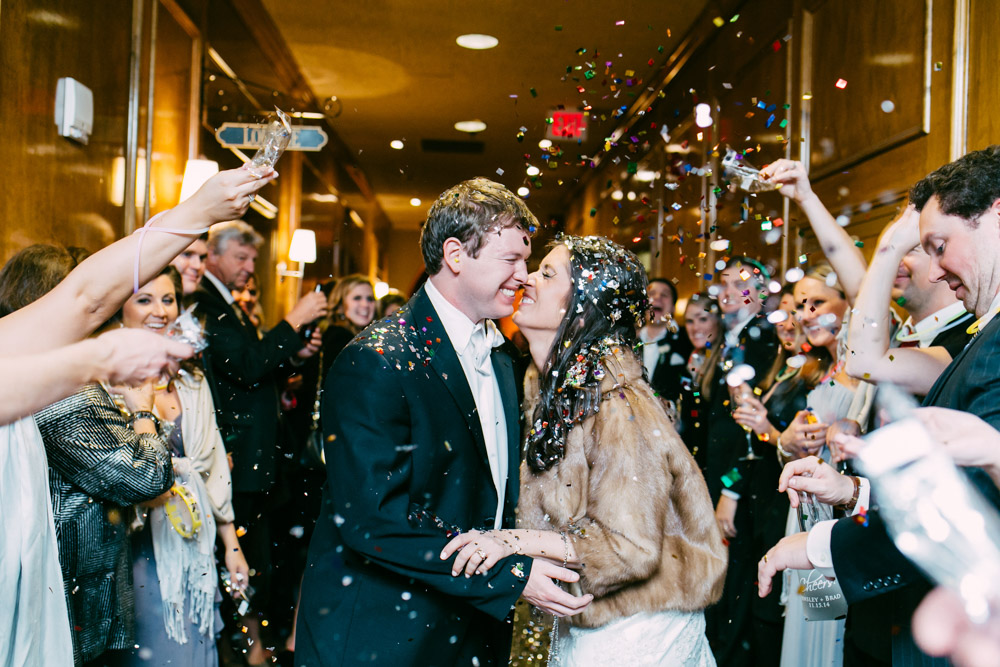 Our Honeymoon
The day after our wedding, Brad and I rose bright and early to take off for the Zoëtry Agua Punta Cana resort in the Dominican Republic. We wanted a luxurious, all-inclusive resort but didn't want the crowds (and kids!) that often come with one. Through research and recommendations from friends, we found Zoëtry, which is a boutique resort that has a five-star spa, butler service, and gourmet restaurants. We couldn't have been happier and would definitely go back again—we didn't lift a finger the entire time, and the resort holds only 180 at max capacity, so we were practically on our own little island oasis.
Being engaged is lots of fun. And having your wedding is the most amazing blur of excitement and love. But being married is the best! I couldn't have imagined the amount of fun that I have during the little moments of each day with my sidekick for life.
— V —
---
Special Thanks
Photography – Kelly Ginn Photography Flowers – L & Jay Productions Reception Band – Party Planet Ceremony Music – The Jackson Four String Quartet Reception Coordinator – Tara Jones at the Tower Center Wedding Coordinator – Kathy Farris Wedding and Groom's Cakes – Cakes by Carolyn Paper and Pretty Little Details – Jessica Wood
To Our Families – To my patient mom, who listened to me stress, worry, and pick through the tiniest of details throughout our seven-month engagement and who, when I couldn't find what I was looking for, would push up her sleeves and make it or search for it herself. To my mother-in-law, who accompanied me to so many vendor meetings she probably could have created my vision for the wedding herself. To both of our dads, who reminded us to stay relaxed and were always lighthearted so that we were able to do just that. And to our siblings, who throughout the entire engagement celebrated with us, helped us, fulfilled the oddest requests, and were always ready to be the life of the party. Thank you!
ARTICLE CATEGORIES