10 Fashion Trends to Try in 2017
---
January 10, 2017
New Year, New Look, New Closet!
There's no turning back from here. It's a new year, which means it's a new chance to start fresh with a whole new look and attitude; and there's no better way to make a statement than with fashion.
Single-handedly one of the most visible and overlooked factors in culture, fashion is more than just materialistic items or clothes in your closet. In fact, fashion trends can be quite influential, and in some ways, philosophical, as they usually reflect the mood of current events and society.
Did you think Marie Antoinette toned down her fancy aristocratic attire after the Romantic era just because she felt like it? In her last efforts of win affection from the people of France, she traded in her shiny, embroidered silks for dull, darker dresses. We know this era to be the French Revolution, and it was not the first—and definitely not the last—influential fashion period.
The Edwardian period quickly reflected the shift in politics and the growing political awareness of the working class. The Roaring '20s (my personal favorite), emphasized the social, artistic, and cultural energy of the time. Hemlines rose in the 1940s to cut costs during World War II, better known as Dior's iconic "New Look" silhouettes. The "flower power" era of the '60s and early '70s, popularly known as the hippie look, introduced humble colors with down-to-earth materials and patterns during the movement against the Vietnam War.
Breeze through the Yuppies Era and the Naughty Nineties, and you'll find yourself in today's time, recycling all these trends in your own way.
To paraphrase the influential words of Miranda Priestly from the 2006 drama The Devil Wears Prada, "trends" aren't just some silly fashion statement.
Last year, the minimalist trend seemed to go beyond our closets. From home decor and design to fashion and ingenuity, it polarized almost all industries and became a way of life. The movement reflected the growing money-conscious populace and how many, particularly millennials, focus more on only the necessities. Needless to say, many of our bank accounts should thank this trend.
During the last few months of 2016, we seemed to experience a wave of positive energy and optimism for the future.
This year, we'd like to encourage you to turn a new leaf and adopt a positive outlook, starting with your out(er)look! Begin spring cleaning early as you update your wardrobe. Out with the old and in with the new. Channel in your inner Miranda Priestly, because this is going to be your year—and your closet's, too! Here's what every woman should have in her closet in 2017.
Like A Boss
Just as when the 1930s and '40s brought more tailored and menswear-inspired looks to women's wardrobes, so did the 2016 election. Need I remind you of former Secretary of State Hillary Clinton's array of colorful suits? We don't recommend filling your closets with a rainbow of pantsuits, but some inspiration can certainly be taken here.
Often misconceived as masculine, a well-fitted and well-made two-piece suit can be sexy and sleek. Try softening the look by picking soft colors and fabrics (like crepe) or a really feminine neckline and pairing it with a chiffon blouse underneath. Nothing says "I'm prepared to take over" like a good suit. Seriously though, every woman should have at least one or two power suits in her closet. From Karl Lagerfeld to Yves Saint Laurent, and even Tom Ford's separates, you can't go wrong.
Color Me Optimistic
Colors are often associated with optimism, so don't be shy. From Alice + Olivia's and Schiaparelli's Spring 2017 collections to Delpozo's resort collection, it looks like a bright future in fashion!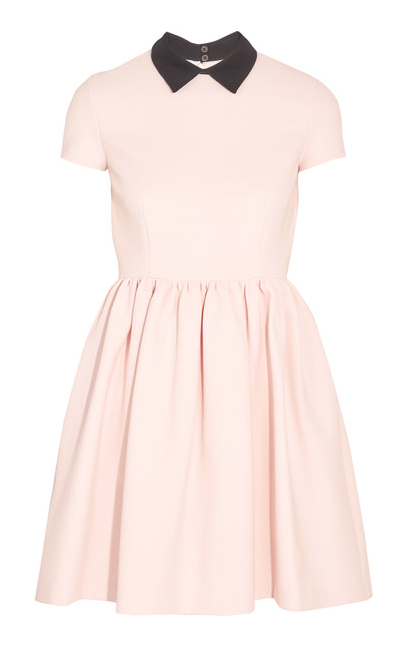 Make Me Blush
Easily one of the most versatile colors to wear and one of my favorite neutral tones, this color looks great on all skin tones and ages. Sweet, feminine, and classic, you can't go wrong with some classic blush pieces. I love pairing it with a pop of color or even making a statement by going monotone. We adore Miu Miu's Ribbed Stretch-Jersey Mini Dress!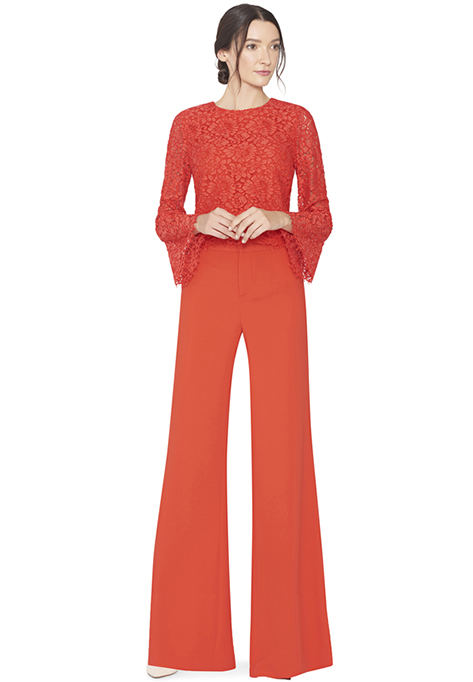 Go with the Flow
Wide-leg pants and palazzo pants are a classic that won't go out of style. They've made an impactful appearance a few years ago and now seem to be resurging on runways in and stores. One of my favorite ways to wear the easy-going, flowing pants is pairing them with a structured top for a clean look. Worried your leg will drown in a sea of fabric? Don't! The shape of these Alice + Olivia Paulette Highwaist Pants give your legs the definition they need but still have that fun flowing look.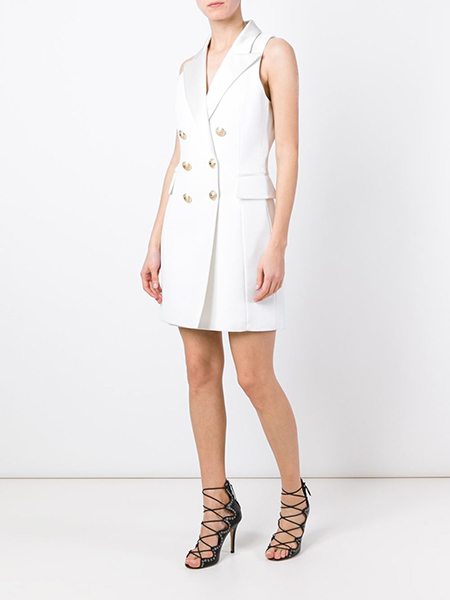 In-Vest in Your Dress
The wrap dress or long vest-style trend is easy to love for many reasons. It's always looks polished and put-together, it's comfortable, you can layer it up or down… The list just goes on. The chic menswear-inspired look can work as an open vest over a dress, or as a dress on its own. Get the look with this Balmain Sleeveless Waistcoat Dress.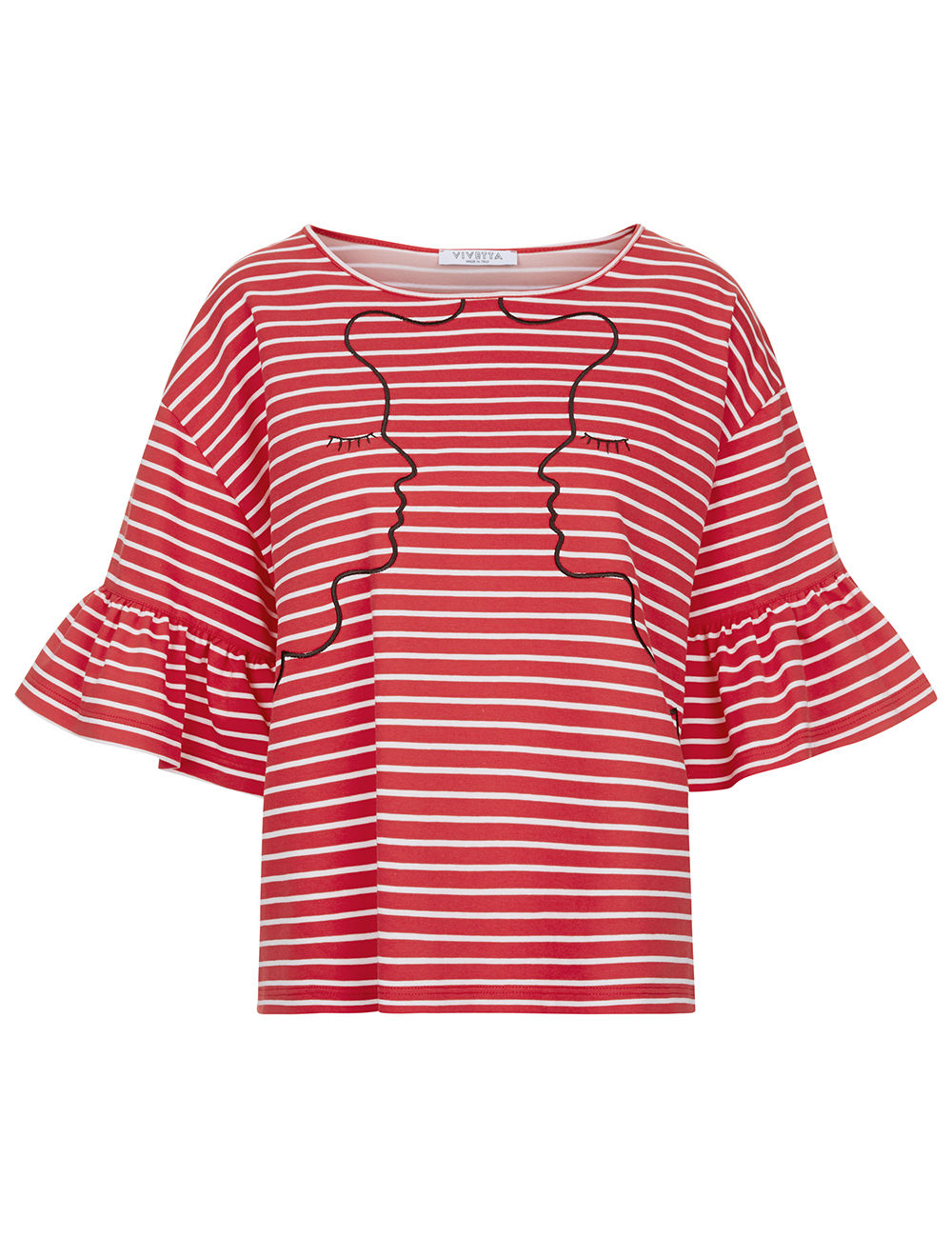 Read Between the Lines
Big stripes, small stripes, micro stripes, and more! Stripes are a classic pattern that everyone can wear, and should be an essential in your closet. There's so much you can do with them. Experiment! Mix your horizontals with your verticals, or mix stripes with textures. You might just surprise yourself. Have fun with this Viveta Red Striped Flounce Sleeve Face T-Shirt from Avenue 32, or play around with width and dimension with this Pero Striped Wool Twill Blouse.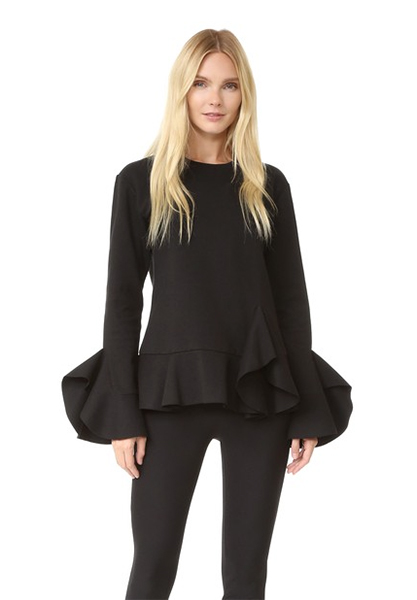 Up my Sleeves
Exaggerated sleeves are the new romantics in style. Bell sleeves, ruffle sleeves, bishop sleeves—you name it—it's the sweet, flowy, and darling trend of the moment. Don't want to go completely frilly and femme? Mix these soft looks with structured pieces to create balance. This sleek Goen J. Long Sleeve top is the perfect balance of fun and chic without being over-the-top.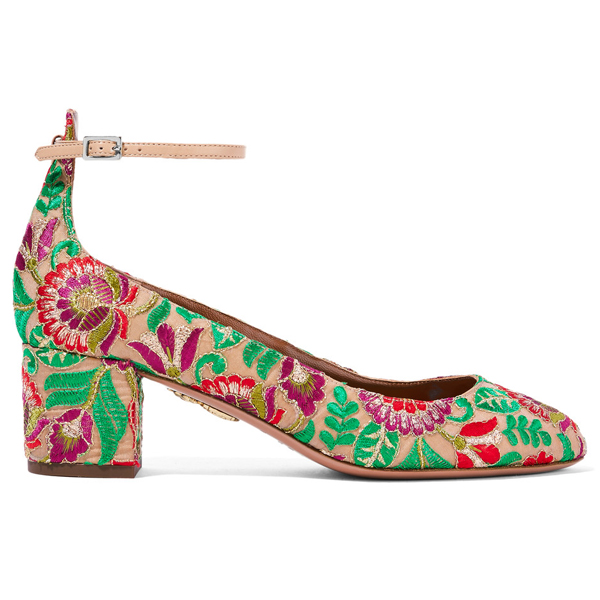 Stitch Fix
Is embroidery becoming the new sequin? I don't think anything can replace the blinding sparkling fabric; however, embroidery is a separate fashion statement that can turn heads. From denim pants to bomber jackets and silk dresses to shoes, we love it all. If you're looking for a subtle approach, try out these gorgeous Aquazzura Alix Embroidered Canvas Pumps. More daring? This Valentino Floral Embroidered Dress  is like a daydream come true!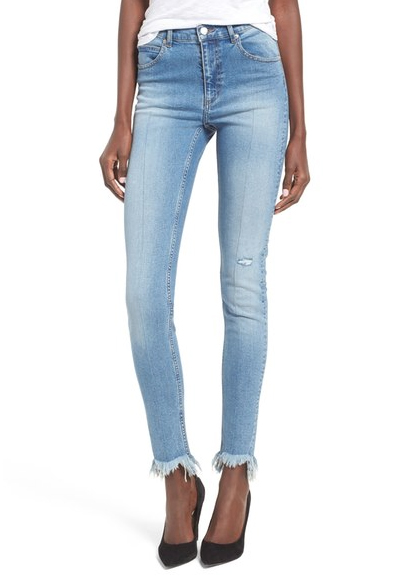 Frayed Hem 
Between the flower-power patterns, fringes, and high-waisted pants with rectangular patch pockets, it was clear that the 1970s are emerging back into the twenty-first century, but with the minimalist twist. It makes sense, with a less-is-more, money-conscious lifestyle the, the '70s carries that "down-to-earth" idea and adds some flavor. Besides the undertone of political and cultural implications, frayed hems are bringing life to denim style this 2017. We love these Cheap Monday Frayed Hem Skinny Jeans in Edit Blue from Nordstrom.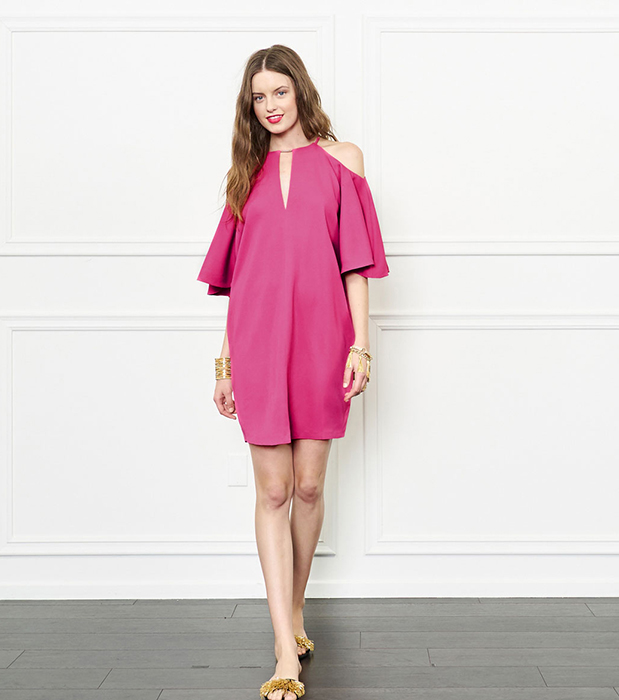 The Cold Shoulder
This trend found its "peek" last summer and has continually stayed strong. The cut-out feature can come off as very playful and youthful; however, with the right design lines and materials, it can graduate to a sophisticated look. I love Rachel Zoe's Cora Wide Leg Jumpsuit or Andrea Open-Shoulder Dress.
Whether you're going with the flow and contributing to the latest fashion movement, or you're just looking to conquer 2017 in style, we encourage you to take a leap of fashion faith and try these trends out. You might be surprised at how timeless they can be!
---