New York Fashion Week – Spring 2014 Collections
---
September 13, 2013
Why do we attend Fashion Week? Besides the obvious fact that it is a thrill to be part of the epicenter of fashion as established and emerging designers showcase their creativity to a niche group of buyers, photographers and the media six months before they will be sold in the retail market? It is because it inspires us to be creative and keeps us fresh! Fresh. My new favorite word because it says so much. As publisher of VIE, fresh is something I strive for. It's current. It's clean. It's new. As much as we love fashion, VIE is so much more as we delve into topics ranging from travel, philanthropic endeavors, health and wellness, and people.  "Stories With Heart and Soul" is our brand moniker, and we strive to stay true to our roots with each topic we cover. So without further ado, here is our Fashion Week story.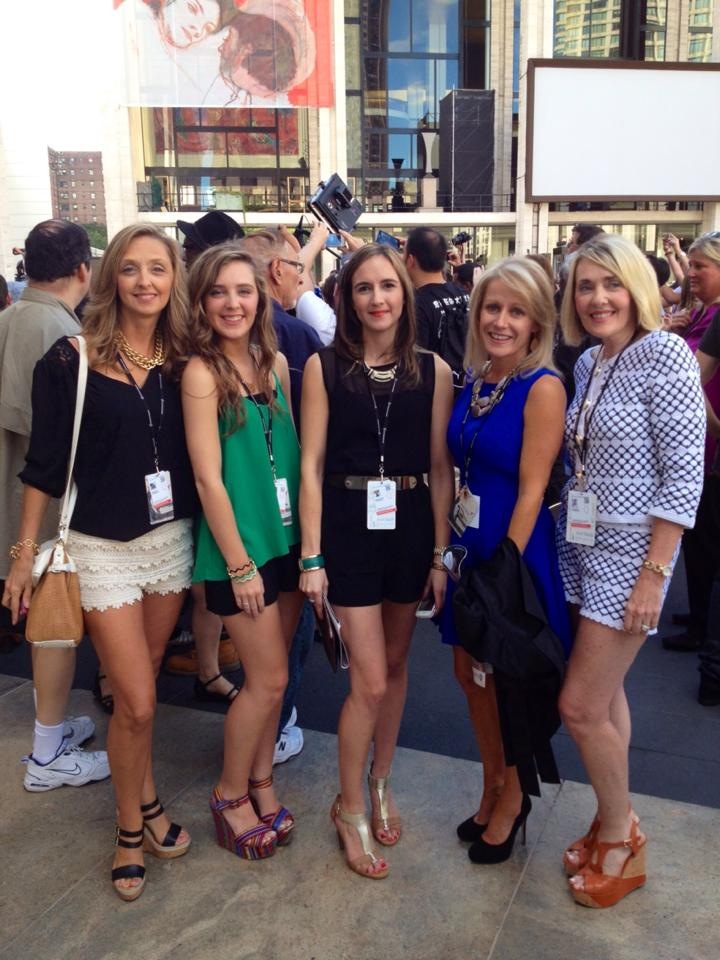 The all female VIE crew of six arrived in New York on Thursday, Sept. 5 to go and get some culture, see some art, shop, walk through Central Park, attend various fashion shows at Lincoln Center, see Orlando Bloom in Romeo and Juliet, celebrity-sight, meet with advertisers, and show my seventeen-year-old niece, Abigail Ryan, the city for the first time. As a former VIE cover girl in the Summer 2010 issue and an aspiring photographer, she was accepted as a VIE photographer and got to sit in the pit at the end of the runway with the "big boys." These were photographers from all over the world who were predominantly of the male persuasion. I know I push the envelope from time to time. OK, maybe all the time. But seeing Abigail having this opportunity of a lifetime made my soul sing with joy. A photographer for a notable fashion magazine helped her adjust camera settings and fight her way through the throng of men with the largest camera lenses you have ever seen at the end of the runway. A kind soul had favor on her and made her feel comfortable. Favor. Another lovely word that means a lot. It gives you breaks and chances that you really shouldn't have the pleasure of getting, and we all need that in life. She began clicking away at her first show—Rebecca Minkoff. Her photos will appear in the March 2014 issue, so stay tuned.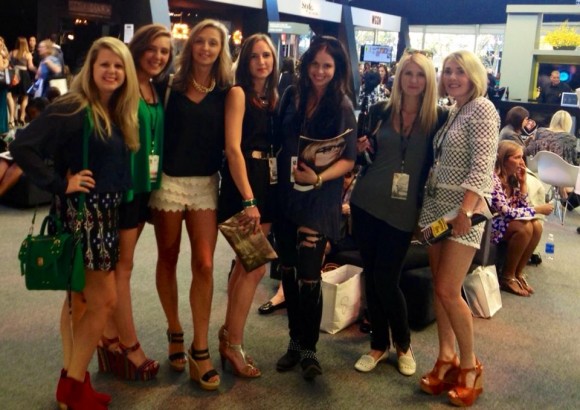 Our assistant editor, Jordan Staggs, met a lot of contacts she made the first time she attended just a short six months ago in February. She was moving and shaking throughout Lincoln Center like a pro and is a great ambassador for VIE. She is a young hipster with lots of brains, sweet spirit, and gorgeous blonde locks just like Goldilocks. I just love Jordan Staggs. You work it girl!
What can I say about Tracey Thomas, VIE's creative director who looks like she stepped off the runway everyday of her life? She was photographed by the paparazzi every day en route to Lincoln Center. The girl has class and there is no mistaking it. She is a gifted designer and has incredible fashion style.
Mary Jane Kirby, VIE account executive, missed her calling as a comedian, but she is just as good at selling the heck out of VIE. Meetings with Brooks Brothers and a few others in the Big Apple are just part and parcel of her repertoire. Oh, and she can stay out later than anyone else and still look amazing the next day. Don't know how she does it!
My sister-in-law, Renee Ryan, the mother of Abigail, was with our posse again and I just love traveling with her. We have known each other for twenty-three years and been through thick and thin together. It feels good to know someone for a long time and still like them a whole lot! Love you Sister Woman. So glad you were there to see your daughter shine bright!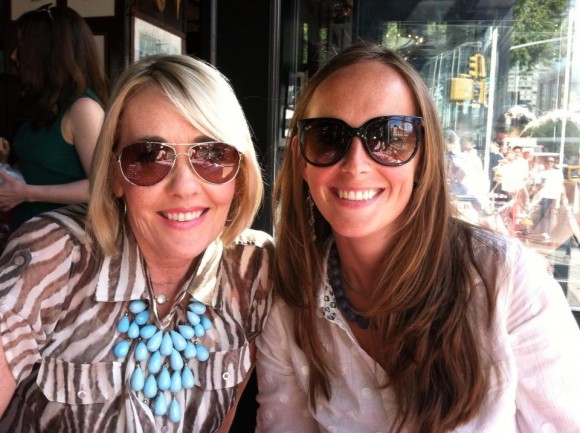 And, then there was me. My highlights of the trip were that my cousins Susan and Elizabeth Shriner took the train from Rhode Island to hang with us for a few days and attend shows. Lizzie owns a quintessential yarn boutique called The Mermaid's Purl Yarn and Bead Shop in lovely Wickford, Rhode Island, and she was inspired to bring back new styles and patterns to her shop! Our latest cover girl, Lauren Spring, owner of The Fuss Boutique, was also at the big event. She and Fuss general manager Caroline Watts were there as buyers and have both been models for VIE. They represented!
We saw some amazing fashions as art, with some of the standout runway shows for us being Christian Siriano, Venexiana by Kati Stern, Emerson, Argentine Designers, Noon by Noor, Nicole Miller, Nautica, and Custo Barcelona.
And, last but not least, I was able to see the Diane Von Furstenberg show, which was a big thrill for me as I had met her at the Ms. Foundation Gloria Awards at Cipriani's in NYC in May—read the story on page 144 of our new Home and Garden Issue!
The fact that people in the NYC fashion industry and beyond know VIE, and that it is accepted and welcomed in the city where dreams are made for many, just warms my heart. The camaraderie, the laughs, the excitement, and the fact that the trip makes us feel alive are the reasons we go to Fashion Week.
Read Jordan Staggs' experience from Fashion Week in the Home and Garden Issue on page 92 and see more photos in our Spring 2014 Fashion Week Facebook album!
---