McClary Bros Makes Holiday Drinks to Wow!
---
December 11, 2015
Cocktails with sophistication!
Looking for the perfect holiday drink to wow your party guests? Forget that grocery store margarita mix and go with something more sophisticated and festive this year, such as a fine "shrub" mix. McClary Brothers Old Timey Drinking Vinegars infused with your favorite liquor is sure to please! Try one or all of the recipes McClary Bros. was kind enough to create exclusively for VIE's holiday drink feature. Find the recipes under our Q&A with Jess McClary, founder/creator of McClary Bros.
The Skinny on McClary Brothers: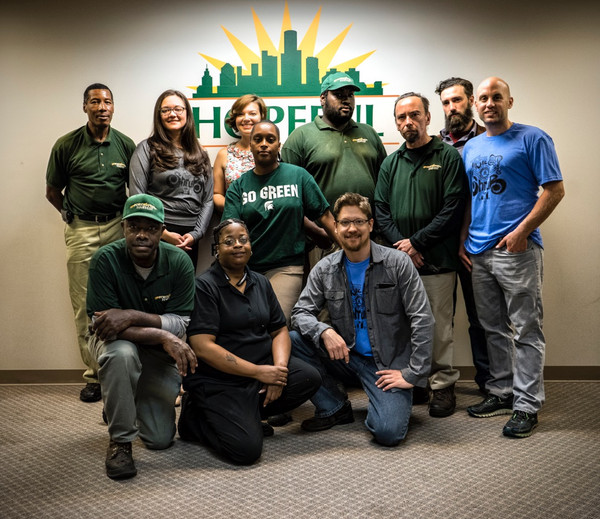 The company is based out of the Detroit metro area and known for its delicious, high-end, handcrafted drinking vinegars (also known as shrubs). What makes these vinegars so great? The fruits, vegetables, and herbs used to make them are all organic and sourced from local famers market in the Detroit and Southeast Michigan region, giving that rich flavor to intoxicate your tastebuds.
There's always more to love with McClary Brothers, as they are also a charitable company. All of their vinegars are manufactured at Forgotten Harvest, the Metro Detroit Food Rescue. The program is designed to bring profits into their nonprofit entitled "Hopeful Harvest," which aids their efforts to provide meals and resources around the region.
A Look Through McClary Brothers with Jess McClary: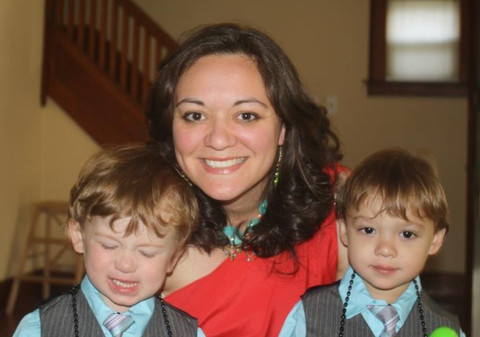 VIE: What's the story of McClary Bros?
JESS: I started McClary Bros. from my home kitchen three years ago. Our Drinking Vinegars are not only delicious, but the majority are locally-grown. We still have farmers that we used to buy one bushel a month from—now that same farmer supplies us a hundred-plus bushels a month. We've been growing like crazy and we have some very exciting things coming soon.
VIE: What has been your biggest challenge?
JESS: In the early days, it was consumer education. We often had to spend a lot of time explaining the products. That's less challenging these days, particularly with the growing popularity of craft cocktails, but it has not disappeared entirely.
VIE: What are you most proud about of McClary Bros?
JESS: Sixteen jobs. When it was just me in my kitchen, it was an idea. So far, sixteen jobs have been created, and that number keeps growing. There are many things I'm proud of in McClary Bros., but what happens today wouldn't be possible without the support and hard work of the whole team.
VIE: Everyone here at VIE loves the packaging. Did you design that yourself?
JESS: I'm a branding-geek. When we started the process of developing our logo/label I had a very specific concept I wanted in order to express a specific aesthetic for the brand. But I'm not a graphic designer; I knew elements that I wanted to see come together and we found a designer that could execute it. It was a long process though, because it had to be perfect and that meant a lot of back and forth. Its not perfect until its perfect.
VIE: Drinking vinegars seems to be growing in popularity, and you hear about their health benefits—what are some of those?
JESS: Apple Cider Vinegar has, for many years, been used for its health properties. That quality of vinegar is the same that we use in our vinegars. There are countless things that we've heard over the years, but I've read studies done that show that ACV helps combat heartburn and acid reflux, aids digestion, and can help reduce spikes in blood sugar after meals.
VIE: You have two little ones (very cute if we may add); are they starting to ask to be little helpers around the business?
JESS: They are certainly anxious to! They both have their own favorite flavors (Ben loves Beet & Carrot and Jack loves Basil) and they regularly tell me that they want to make shrubs when they grow up.
Cocktail Time!
The Fennel Fox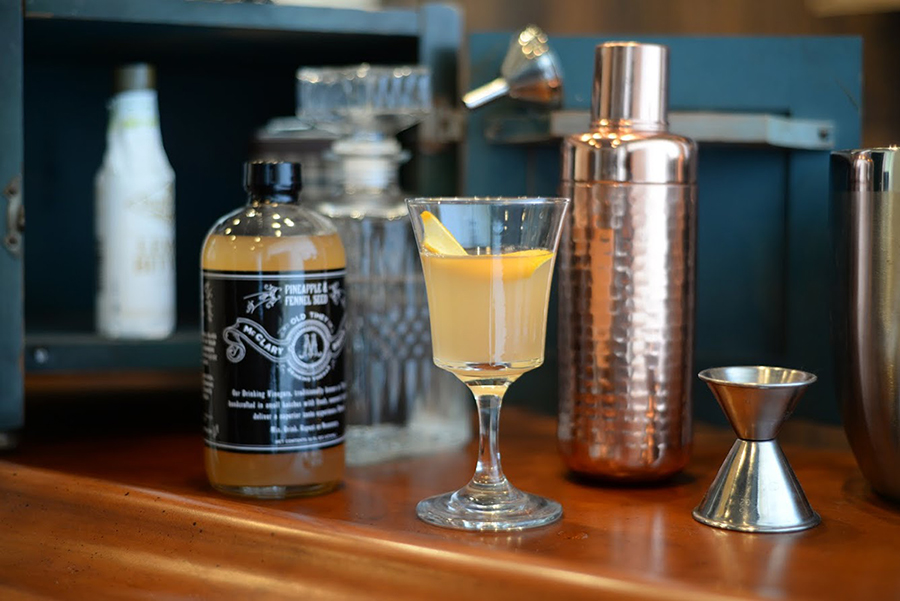 2 oz. English-style Gin
1.5 oz. McClary Brothers Pineapple & Fennel Seed Drinking Vinegar
3 drops Lemon Bitters
Violet Maria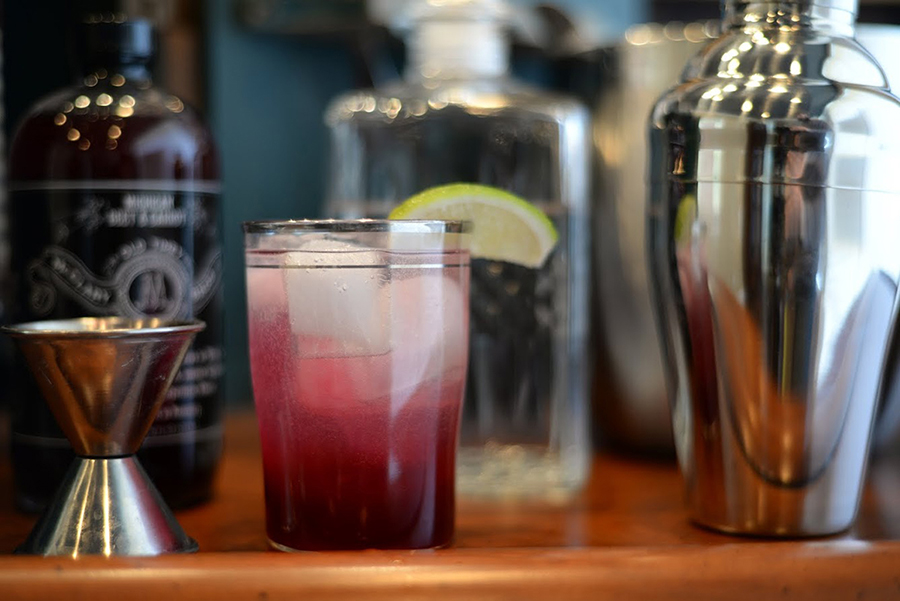 2 oz. Silver Tequila
1.5 oz. McClary Brothers Beet & Carrot Drinking Vinegar
2 oz. Sparkling Water
Lime Wedge
Build in glass over ice. Top with soda, squeeze lime wedge over drink.
Stir gently to mix. Enjoy!
McClary Brothers' Hot Apple Shrub Cider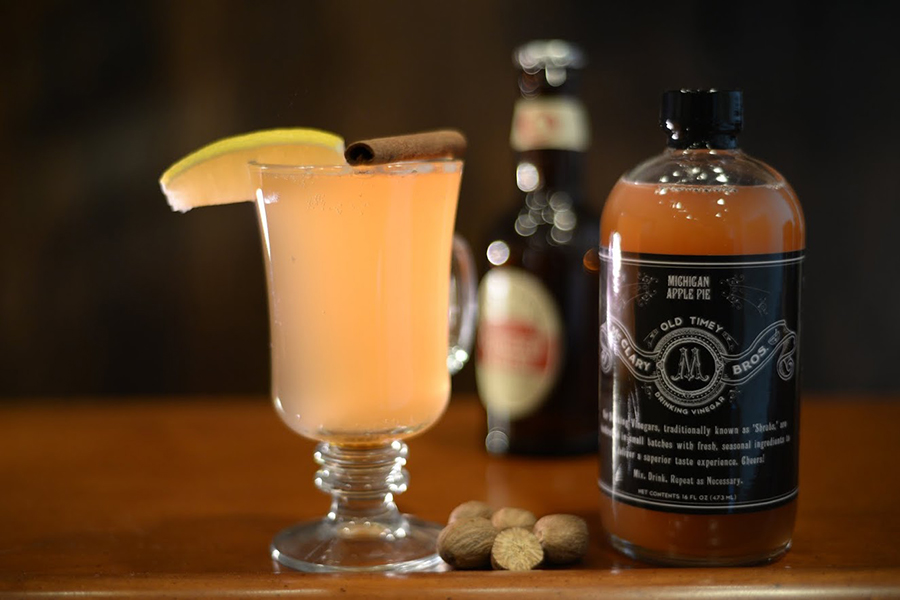 1 oz McClary Bros. Apple Pie Drinking Vinegar
3 oz Apple Cider, heated
1 1/2 oz Hot water
1 oz Ginger beer
Fresh nutmeg
Orange wheel garnish
McClary Brothers' Beet & Basil Shrub Soda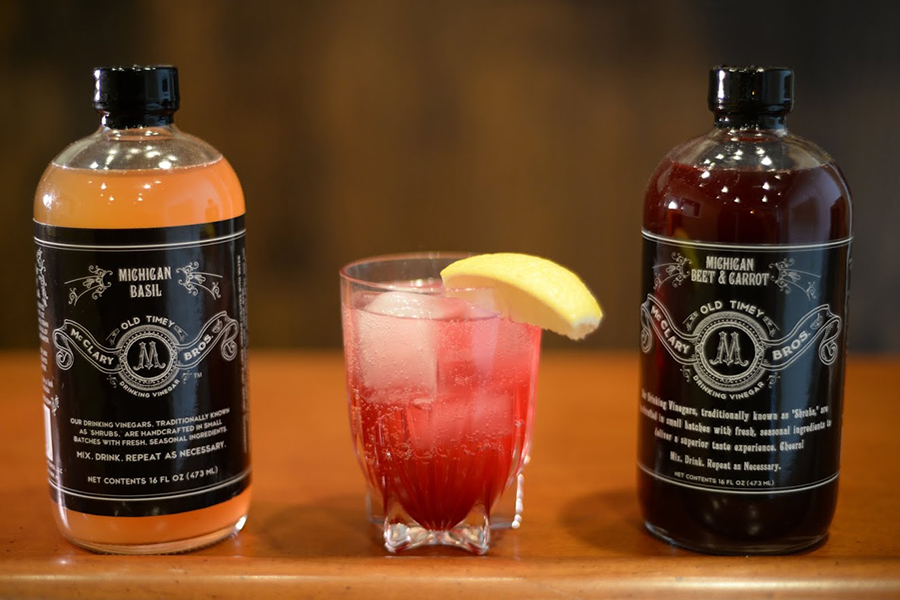 1/4 oz McClary Bros. Basil Drinking Vinegar
3/4 oz McClary Bros. Beet & Carrot Drinking Vinegar
4 oz sparkling water
Lemon
Combine vinegars and sparkling water in a glass of ice, stir.
Squeeze a small lemon wedge over the drink.
Here you have it! Make your holiday parties as ravishing and delectable as these McClary Bros cocktails. Order your McClary Bros shrubs before the holiday madness! Remember to Mix, Drink, and Repeat!
Special Thanks: Thank you to Jess McClary for taking the time for our Q&A and to Jeremiah Miller and his team for creating the delicious holiday recipes for us!
---