A Journey into the Wild
---
May 29, 2015
Hi there. My name is Kelly Beasley.
I am a simple girl from a small beach town in Florida and I have an idea that will change my life. I have a wanderlust that has gone mostly unfulfilled, mostly because of what I learned to be the "way to do things" in life. But now, I will finally fulfill that desire. What this means is that I broke up with my boyfriend of eight years, sold most of my possessions, rented out my home, purchased a travel trailer and a truck, and am hitting the road for full-time RV living!
This has been a rather quick transition; from its conception in November 2014 to its execution it's been roughly six months.
Why did I decide to make this change? Well, after the breakup I found myself in my three-bedroom, two-bathroom home with a yard that takes a LOT of work and I thought, "Ugh, I don't NEED all of this." It was too much, too big, and the simple fact was I wasn't in the mood anymore to keep it all up. I am far from being a hoarder but I had accumulated a lot of stuff in my forty-two years. It was weighing me down emotionally, financially, and energetically. I would have to clean it, maintain it, move it, or even 'get to it later'. A lot of my things were pending projects. I kept this or that, thinking I would use it one day. The reality was that most of the stuff had simply become clutter in my home and in my head. It required energy to manage my stuff. I had to simplify.
But I didn't just want to simplify with less stuff—I decided to make an even bigger change. Why not really go for it? I liked the recent 'tiny house' movement, and the idea of living in an RV was right up my alley. It would kill three birds with one stone: I would be living on the cheap (keeping more of my money for myself), living with less (simplifying), and traveling as much as I want!
I did it, and now, literally, everything I own is now packed into a twenty-four-foot travel trailer and my Toyota truck. (Well, in full disclosure, I do own some furniture that my renters are using in the house. Oh, and I have a small owners' closet in the house.) Other than that, I don't have a storage unit or anything else. I have never felt freer!
I'm heading out West. What am I going to do out there? Well, for work, I write and I have a part time job as a customer service agent for a movie rewards card. These two jobs allow me to work remotely; I highly recommend it! I have been in the fitness industry for over sixteen years, so this has been a recent change in career.
My original plan was to live off the grid, becoming self-contained with solar power and a generator. However, I am not ready to jump into that straight away. Instead, I began looking for places to park my RV. There's something called "workamping" where you work off your rent at a campground. You can be the camp host or help out with maintenance and things like that. However, I didn't really like the idea of cleaning bathrooms, which is a part of many workamping jobs. So I kept looking. I liked the idea of working as a wrangler at a dude ranch and started looking at those options, but I was looking late in the game as the season has started already out West, and there was not much available.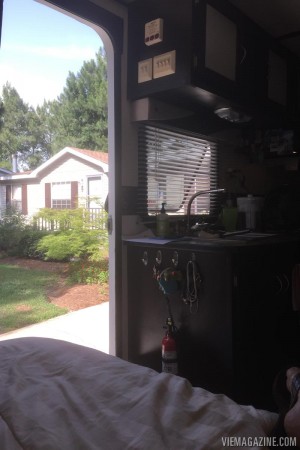 So I reached out to my friends Karen and David Lail, who have a home in Montana, to see if they knew any ranchers that were looking for help. They did not. Instead, they made me an offer I couldn't refuse—they offered to let me stay on their VRBO property, Broken Leg Ranch, in exchange for helping out in the organic garden and with the VRBO turnaround. SOLD! Are you kidding me? We are talking about God's country, Montana, with no less than three (maybe more?) National Parks within about a five-hour drive! I get to park next to a river at the base of the Sierra Mountains have access to a power hookup, Wi-Fi, laundry facilities, AND one of the nicest gyms I have ever seen—a 3,000-square-foot facility complete with Pilates and Gyrotonic equipment. I think they will have to kick me out at the end of the season! (Well, the snow will do that effortlessly. Snow and RVs don't mix.)
The most exciting part is going to be the actual journey. Getting to the starting line has already been fun, enlivening, and such an adventure!
What I want to convey the most with this story is that I think I finally let go of so much thinking and assessing what I should do with my life. I just went with what I wanted to do, not what I thought I should do, and so far it has worked flawlessly. Every decision has felt right. Most decisions have been easy for me—the girl who usually agonizes over everything. It's almost like I have been led by something. This has changed my decision making for the future as I see how everything has worked in my favor, and I haven't even really started the journey yet! The moral of the story is to learn to listen to that inner voice a little more—or a lot more. It's been the best thing I have ever done.
My plan is to meander up to Bigfork, Montana. I am in no rush, I have no deadlines, and I want to see the country. Of course, I am not going to see it all on my way there, but I can see a little. I am looking forward to the drive just as much as I am to being there. I will be visiting and writing about Glacier, Yellowstone, and Banff National Parks. And I will be writing about my journey every week for VIE's blog, La Muse. I will also write feature travel articles for VIE, so look for the National Park stories—I can't wait to share my experiences and discoveries about nature at its wildest! I want to pet a bear. (Just KIDDING!)
Well, I do, but not a wild one.
I mean, I do, but you know…
The bears won't let me.
I need to go now; I have to get this RV ready to roll!
Oh, I will be traveling with my two pups, Trixie and Gizmo. You will be seeing a lot of them! I wouldn't be doing the trip without them, or I think I might get lonely.
I hope you have enjoyed reading about a little slice of my life—I will do my best to make it exciting for you to follow along!
Kelly
---