7 Restaurant Cocktails You Must Try at Home
---
March 27, 2018
It's Five o'Clock Somewhere!
Spring has sprung, which means it's time to enjoy the hot sunshine, warm breezes, and fun get-togethers with your closest friends. If you're on drink duty, we've got you covered! Look no further than this curated collection of signature cocktail recipes from restaurants and bars mentioned in our April 2018 Culinary Issue.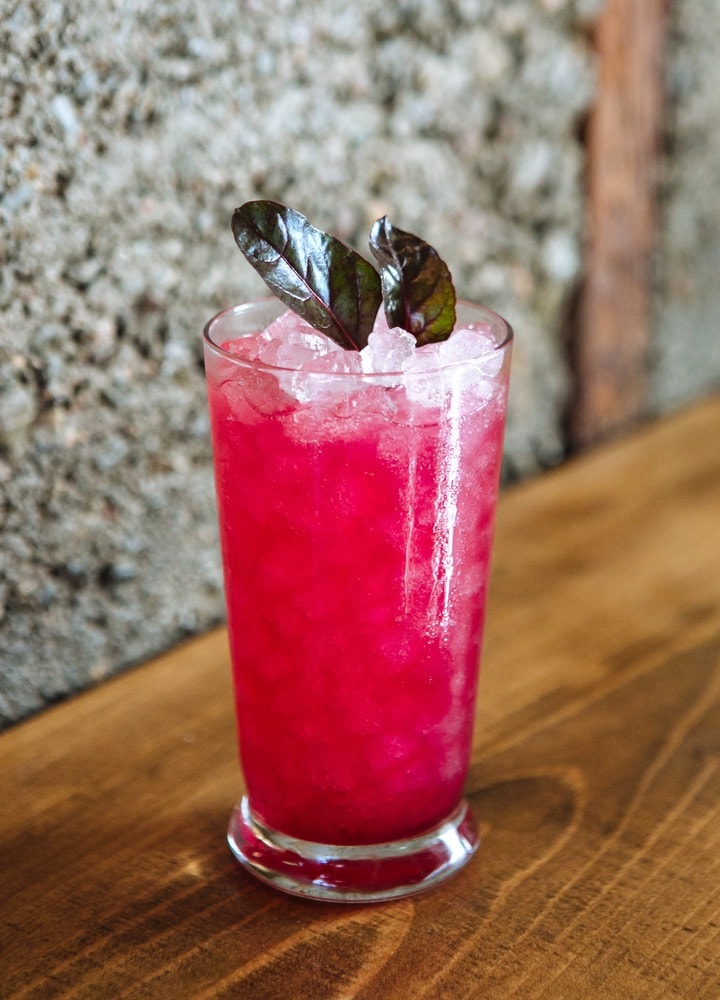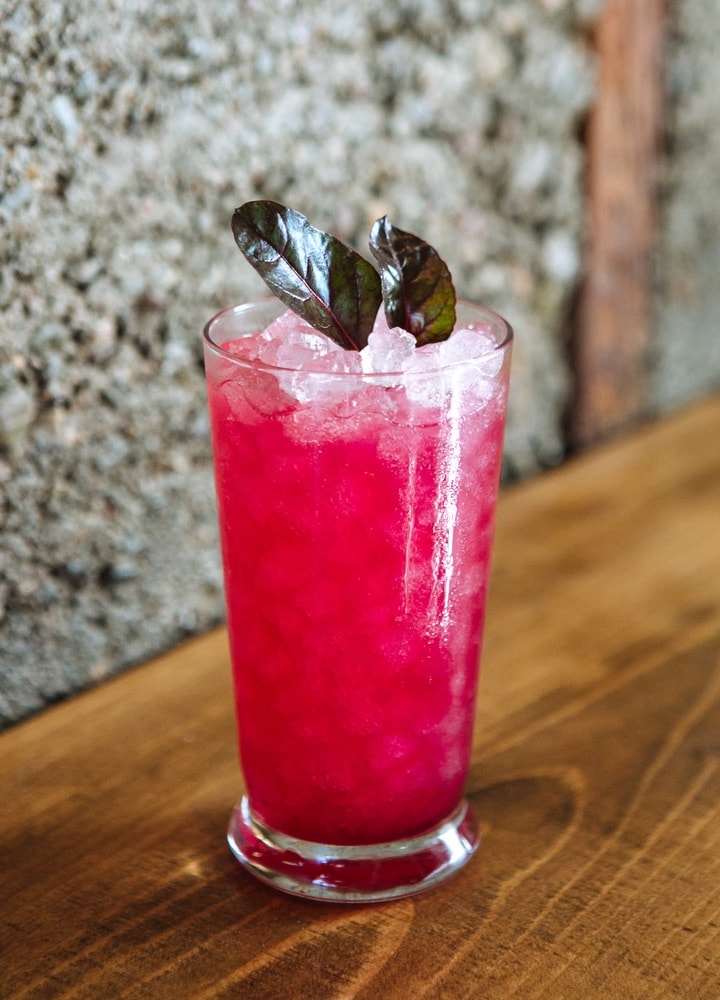 The Erotic City
Duke's Spirited Cocktails – Healdsburg, CA
A complex and thoroughly crafted cocktail that is sure to impress! (Note that the strawberry-red beet shrub in this cocktail requires three days' prep time.)
For the Strawberry-Red Beet Shrub:
Ingredients
3-4 med sized red beets
2 baskets ripe strawberries (looking to end up with equal parts beets/strawberries)
Rice wine vinegar
Sugar
Directions
1. Roast beets, then allow to cool.
2. Remove stems from strawberries.
3. Put both cooled roasted beets and strawberries into a food processor, pulsing until you get a pulp, but not so much that it becomes a juice; should still have some small chunks.
4. Measure this pulp, then add the same amount of sugar, stirring well. (Make a note of this measurement, you'll need it again.)
5. Leave this mixture in the refrigerator for three days, stirring once a day.
6. At the end of the three days, stir again, then strain through a chinois.
7. Whatever your amount was, divide it by three (many shrubs are an exact 1:1:1, but this one is lower in vinegar so that it doesn't conflict with the soft earthy beets). For example, if you had an original amount of 20 ounces beet-strawberry pulp, and therefore added 20 ounces of sugar, you would add just under 7 ounces of rice wine vinegar. This now vinegar fortified syrup is your shrub.
For the Yuzu Syrup:
Ingredients
Yuzu essential oil
Sugar
Water
Directions
1. Make a 1:1 simple syrup using equal parts sugar and hot water
2. Stir until the sugar is dissolved.
3. Allow to cool.
4. Add eight drops Yuzu essential oil and stir.
For the Cocktail:
Ingredients
1 1/2 oz D. George Benham's Vodka
2/3 oz fresh lemon juice
2/3 oz strawberry-red beet shrub
1/4 oz Yuzu syrup
Directions
1. Shake with pebble ice (bigger cubes can be smashed with a mallet in a bag at home to get pebble sized shards)
2. Pour entire drink into a collins glass.
3. Garnish with red beet frond.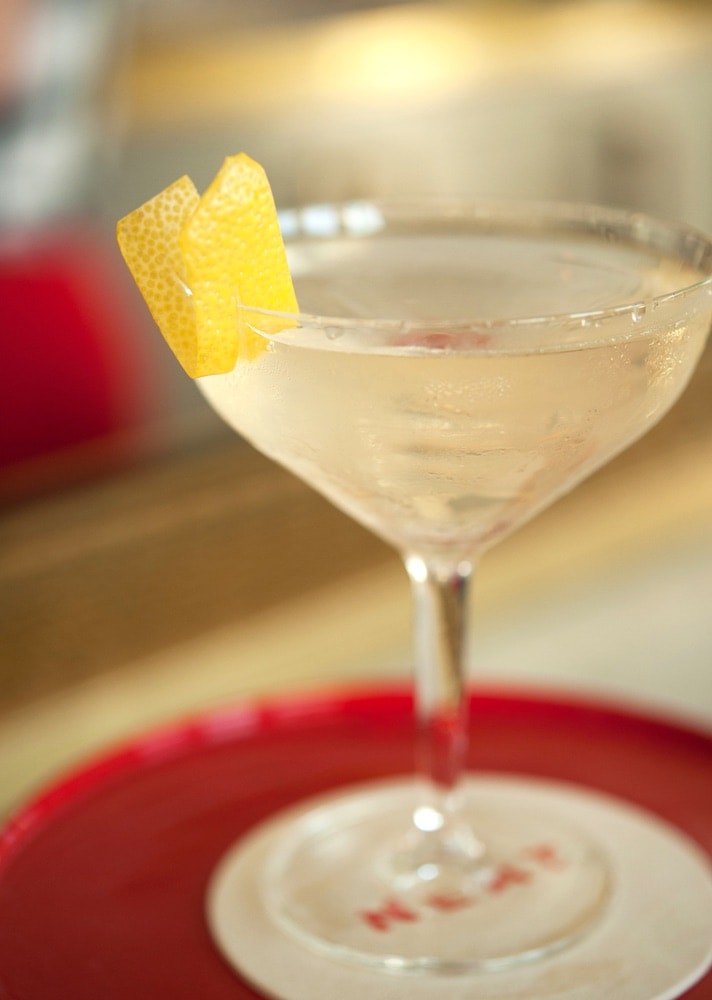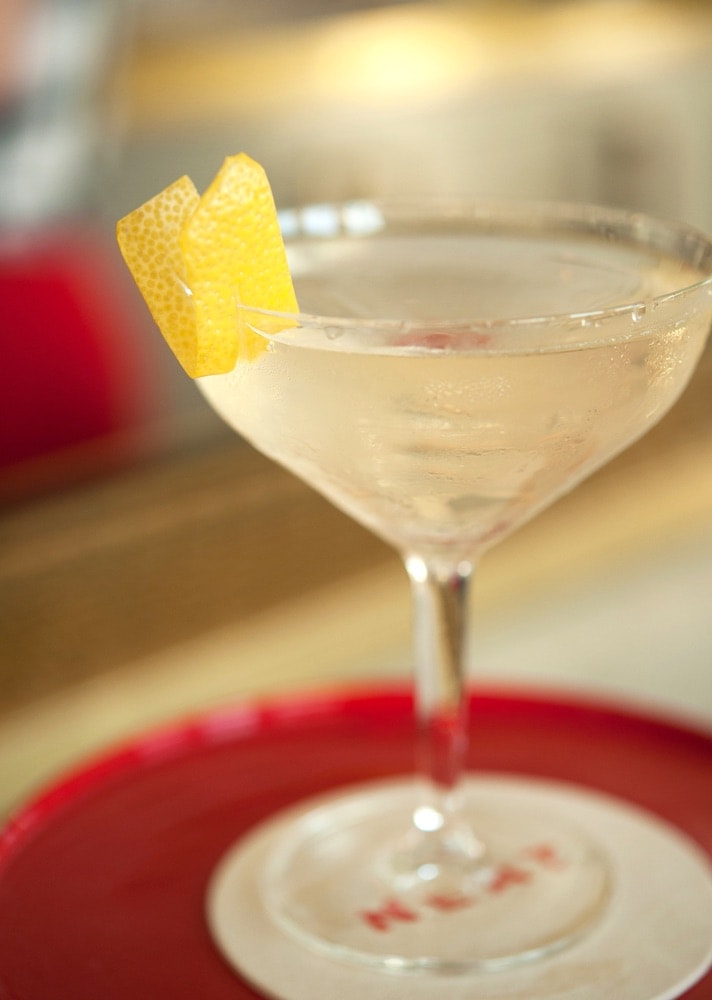 The Riveter
NEAT – Alys Beach, FL
This cocktail is named in honor of Rosie the Riveter (her real name was Naomi Parker Fraley) who passed away this year.
Ingredients
1 1/2 oz Bobby's Gin
3/4 oz Lillet Blanc
3/4 oz Massenez crème de pêche
3 Drops Bittermen's celery bitters
Lemon for garnish
Directions
1. Add all ingredients in a mixing glass with ice and stir until fully chilled.
2. Strain into a chilled coupe glass.
3. Express lemon peel over the top of the cocktail, then twist and place the peel resting on the rim of the glass.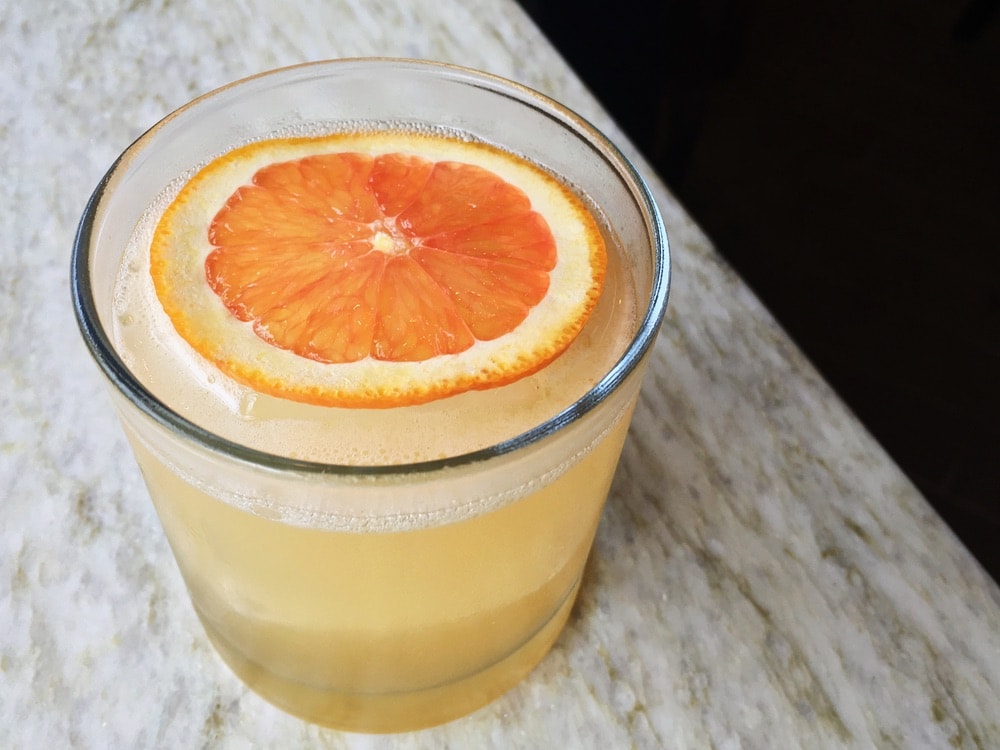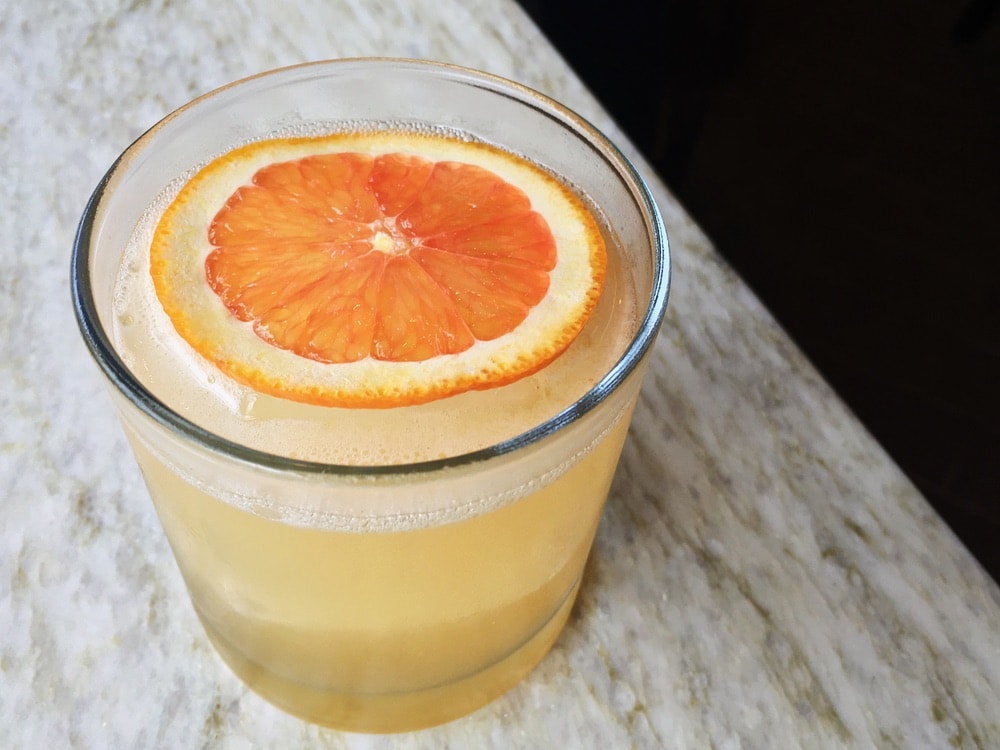 Nonna's Nonino
FIG – Charleston, South Carolina
The bar at FIG takes inspiration from the restaurant's core philosophies. Just as the chef will use a whole animal or vegetable, the bar utilizes the whole fruit as much as possible. The "Citra-cello" in this cocktail will change based on the different citrus varieties FIG receives from local farms and purveyors. The backbone of this cocktail will remain the same, but the recipe will see some subtle changes throughout the season.
Ingredients
1 oz neutral grain spirit, such as Everclear or high-proof vodka
1/2 teaspoon sugar
Seasonal citrus
1/2 oz water or tea to dilute
1 oz Amaro Nonino Quintessentia
3/4 oz fresh lemon juice
1 large ice cube
Fresh citrus for garnish
For the Citra-cello:
Create using grain spirit such as Everclear or high-proof vodka. Stir in sugar, then infuse with seasonal citrus—FIG is currently using Meyer lemon peel and orange blossom extract—and dilute with 1/2 ounce water or tea.
Directions
1. Combine Citra-cello, Amaro Nonino, and lemon juice in a shaker.
2. Shake all ingredients and strain into a chilled old-fashioned glass over a large ice cube.
3. Garnish with a perfect seasonal citrus wheel (FIG is currently using Valencia orange).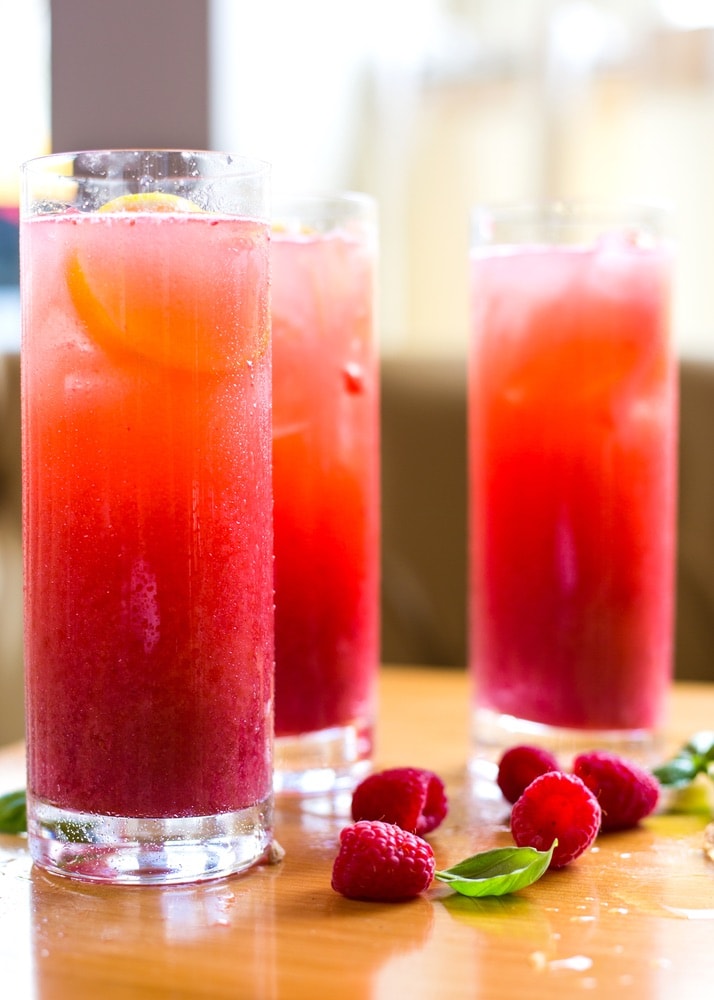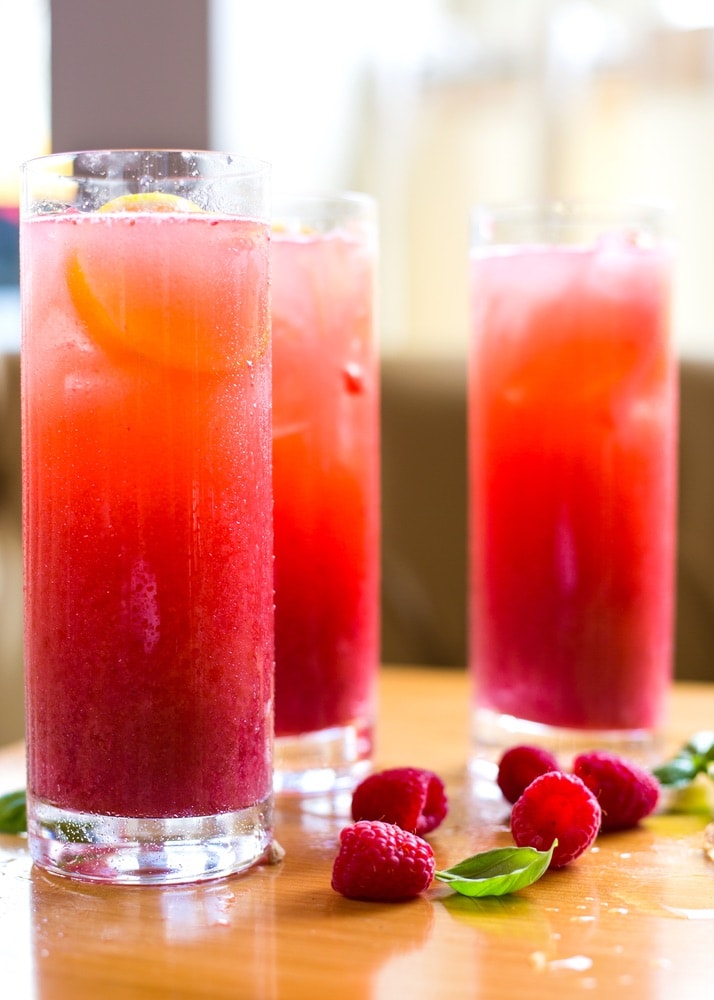 Bare Minimum
Proof on Main – Louisville, KY
Kentucky cocktails might be best known for their bourbon, but this gin-based concoction reminds the drinker of a sunny day at the derby.
Ingredients
1 1/2 oz New Riff Kentucky Wild Gin
1 oz ginger syrup
1/2 oz lemon juice
6 raspberries
1 basil leaf
Club soda
Lemon for garnish
Directions
1. In a cocktail shaker, add the basil leaf, raspberries, and ginger syrup. Muddle ingredients and then remove basil leaf.
2. Add remaining ingredients, shake, and single strain into a Collins glass.
3. Fill just over halfway with soda, then fill with ice.
4. Garnish with a lemon wheel.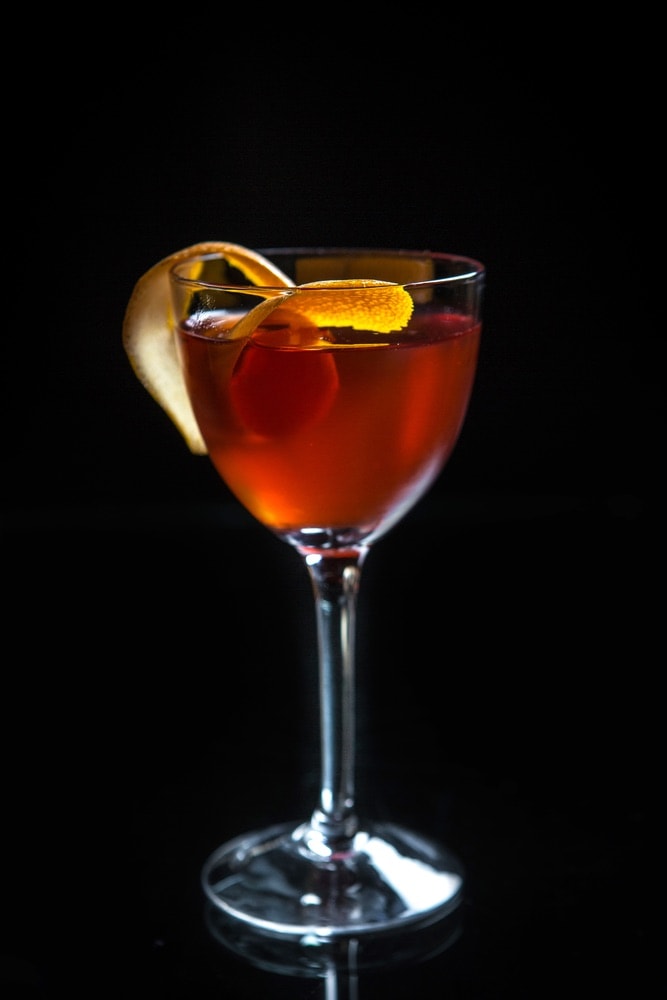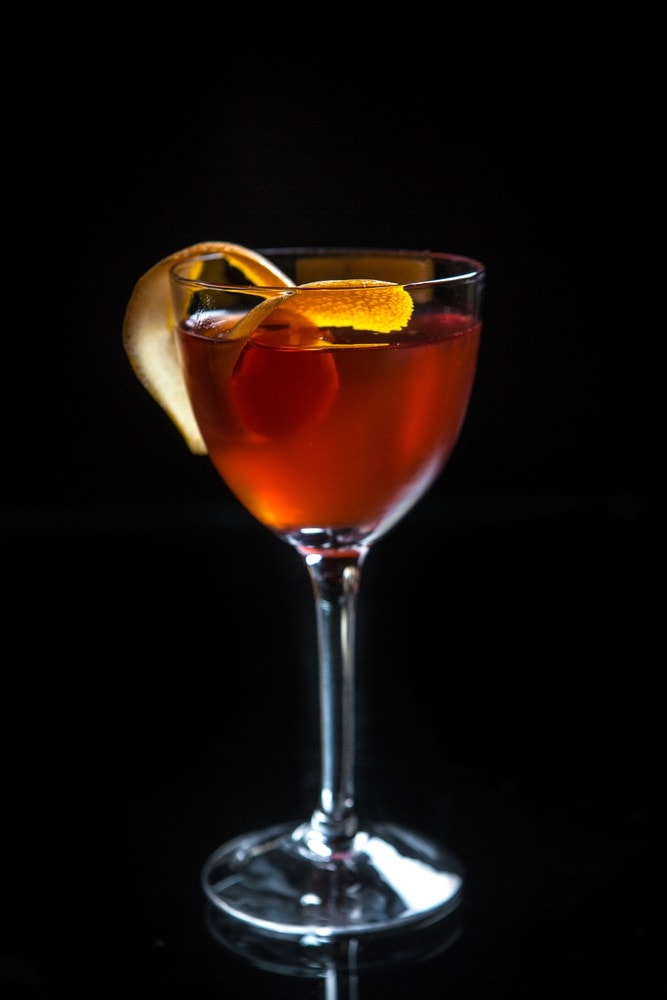 Beyond the Red River
The Punch Room at the Ritz-Carlton – Charlotte, NC
Still a little chilly where you are? Cooler evenings can be especially romantic as the temperatures drop, the bonfires blaze, and the cocktails get a little boozier. Grab your loved ones or significant other and cozy up with this cocktail that will give you all the feels.
Ingredients
2 oz Bulleit Bourbon
1/2 oz freshly pressed cranberry juice
1 oz Cappelletti apertivo wine
Orange for garnish
Directions
1. In a shaker, stir all ingredients except orange.
2. Pour into a long-stemmed glass and garnish with orange rind.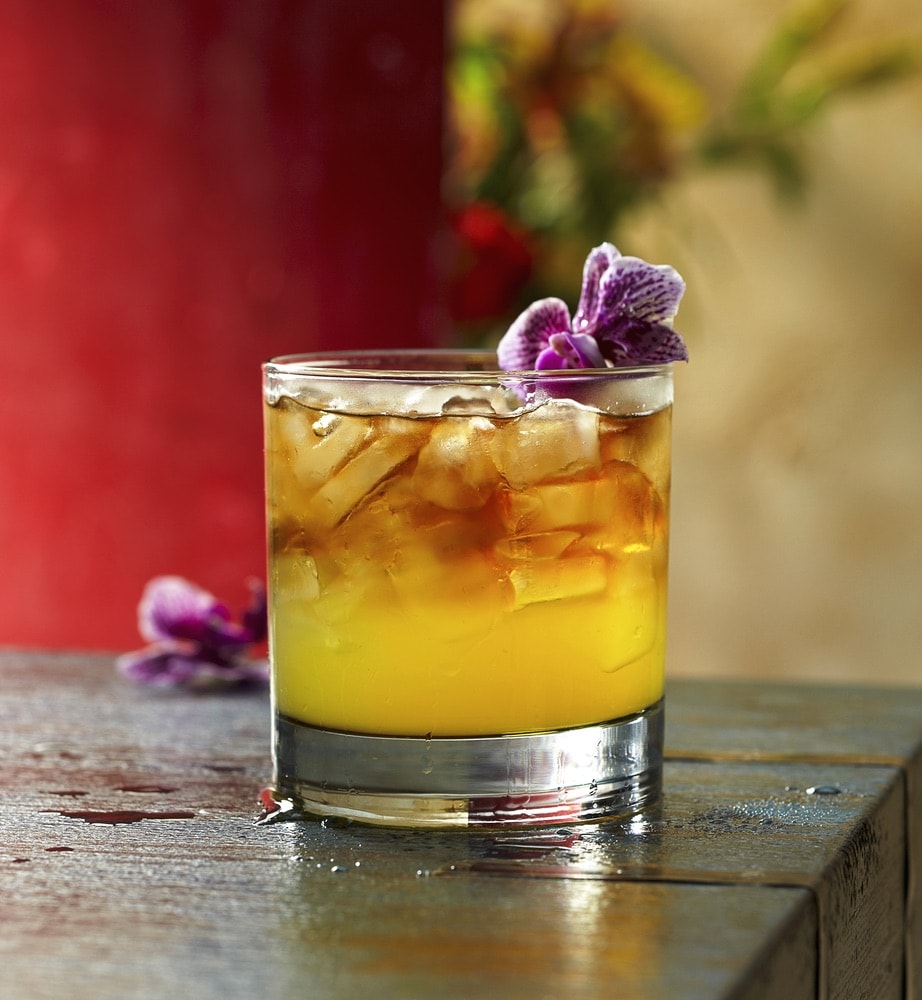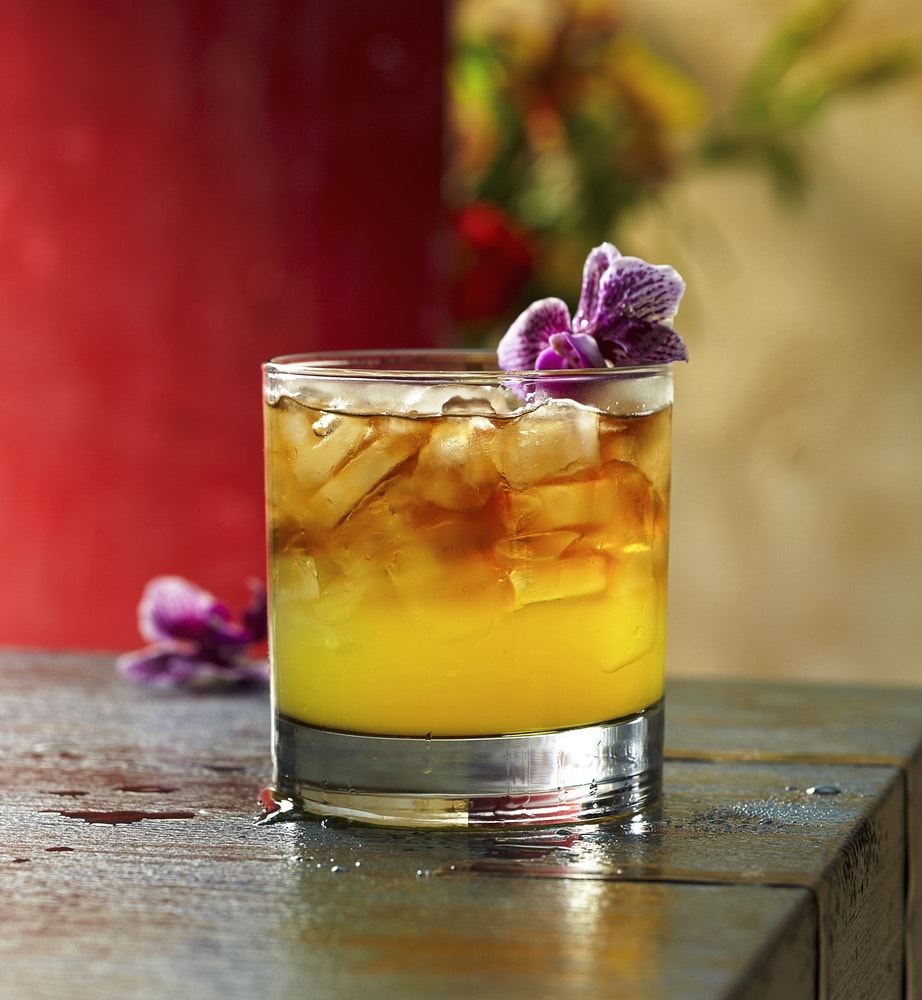 Mai Tai
Tommy Bahama – Miramar Beach, FL
"Trader Vic" Bergeson's reputation as a master mixologist is based on this heady cocktail. Unlike the Caribbean Islands, Hawaii did not distill much of its sugarcane into rum, mostly because of the high cost of export. Bergeson simply used rum in his drink mainly because he needed to use up the overstock at his joint in Oakland, California.
For the Cocktail
Ingredients
1 oz white or silver rum, such as Bacardi
1 oz triple sec or Cointreau
1 oz orgeat syrup*
3/4 oz From-Scratch Sour Mix
3/4 oz pineapple juice
1/2 oz fresh lime juice
1 oz dark rum, such as Myer's
Edible orchid for garnish
For From-Scratch Sour Mix
Ingredients
1/2 cup fresh orange juice
2 Tbsp fresh lime of lemon juice (preferably 1 Tbsp each)
1/4 cup superfine sugar
Directions
1. To make sour mix: Shake the ingredients with 1/2 cup water in a covered jar until the sugar is dissolved. (The mix can be refrigerated for up to one week.)
2. Add all the cocktail ingredients except garnish to an ice-filled cocktail shaker. Shake well.
3. Fill a double old-fashioned glass with ice. Strain the cocktail into the glass.
4. Garnish with the orchid and serve.
* Note: Orgeat, a syrup flavored with almond and rose water, is available at well-stocked liquor stores. If necessary, substitute an equal amount of almond syrup (the kind used in Italian sodas and to flavor tea and coffee) with a drop of rose water.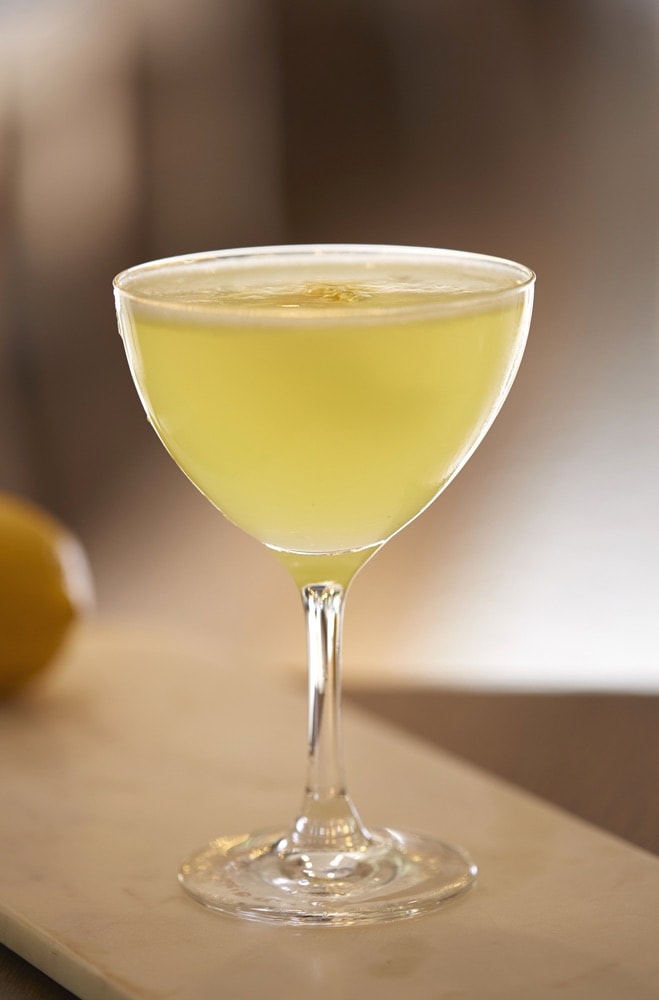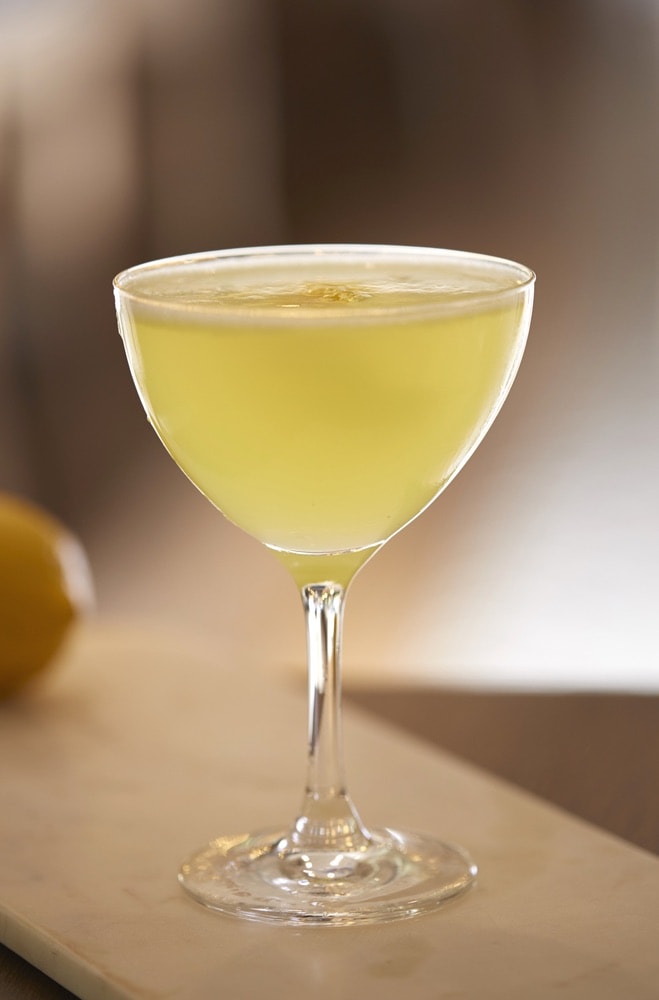 Limoncello Spritz
Emeril's Coastal Italian – Miramar Beach, FL
A perfect pick-me-up with refreshing citrus and sweetness that remind you of summertime lemonade—with a kick!
Ingredients
2 oz Luxardo Limoncello
1 oz lemon juice
1 oz simple syrup
Prosecco
Lemon for garnish
Directions
1. Pour all ingredients except prosecco into a shaker with ice.
2. Shake and strain into a martini glass or coupe.
3. Top with prosecco.
4. Garnish with a lemon twist.
---