At-Home Date Ideas
---
May 4, 2020
By Olivia Manthey
At-home date ideas used to be an inventive way to spice things up and break away from the familiar going-out rut of dinner and a movie. Now that the world is changing, many are staying in out of necessity and might be falling into a rut at the house, too. How can we spin new life into our stay-at-home dates? Thinking of fun at-home date ideas can be tough, but we've put together a list of favorite at-home date ideas for couples (or the whole family)!
Cook a Nice Dinner
Make a homemade dinner with your loved one! Try an old favorite "special occasion" recipe or search for something new that you've never made before. Get out of your gym clothes and dress up for your significant other—maybe you can both even put on something sexy with an apron. Light some candles! For extra romance, splurge on a nice bottle of wine that you've wanted to try!
Hold Your Own Film Festival
Pick out your favorites and your love's favorites for a collection of movies (bonus points if there's a running theme), pop some popcorn, and make a full day out of it!
Camp out in Your Living Room
Channel your inner adventurer and make a blanket fort or get out your camping gear and set up the tent in the comfort of your own home! It's climate-controlled and, best of all, no bugs!
Have a Breakfast Date in the Bedroom
Breakfast in bed? Count us in!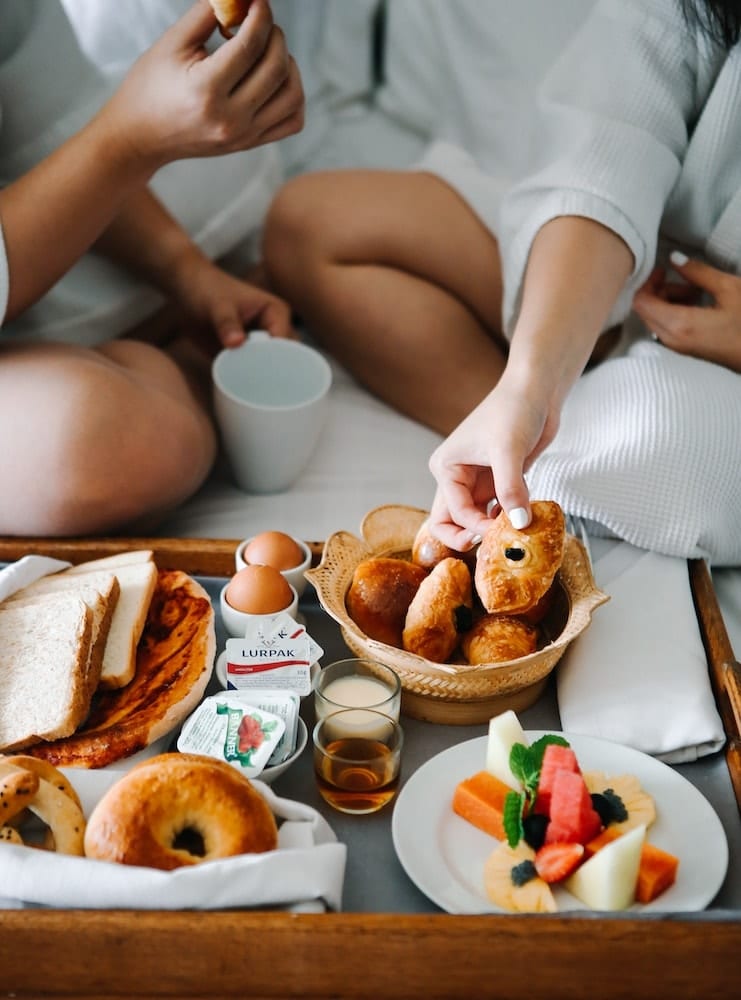 Watch a Movie Outside
Making a movie theater outside is super simple and romantic! First, you'll need a projector—then, just drape a sheet over your fence or hang one from a wall, put some blankets and pillows on the grass, and you're good to go!
Play a Game Together
A little competition is perfect for a fun and feisty date night! (Just don't be a sore loser or winner.)
Indulge in an At-Home Spa Day
An at-home spa treatment is relaxing and calming—a great stress reliever during this crazy time! There's no need to be fancy; just try giving each other a soothing face mask treatment and a massage, play some soft music, and light some candles!
Bake a Sweet Treat
Satisfy your sweet tooth with your sweetie! Chocolate covered strawberries are an easy favorite for those who don't want to go all out.
DIY a Personalized Pizza
How about a personalized homemade pizza? Toss your own crust and pile on whatever toppings your heart desires. Then share with your amore! Perfection!
Hold an At-Home Beer or Wine Tasting
Having a beer or wine tasting is the perfect at-home date idea. Explore new labels and pairings. It's educational, and you might just find your new favorite vino or brew! An added bonus—there's no need to worry about driving home or hiring an Uber!

Plan a Future Excursion
After the coronavirus threat subsides, we will all be itching to take a vacation! Plan your perfect trip now while you can devote some time to exploring new ideas and itineraries with your S.O. The second we get the all-clear, you'll be ready to book it!
Tackle a Home Improvement Project
Create a gallery wall using your favorite art and photos, start an herb garden, paint something together—the opportunities are endless!
Binge Some YouTube Videos
There is something that never gets old about hopping in a soft bed and getting stuck in the rabbit hole of YouTube! Whether you're into vloggers, motivational speakers, travel videos, or something else, there's endless entertaining content for everyone. Pop some popcorn and take a break from reality!
Look through Old Photo Albums
Reminisce about how you met and how far you've come by pulling out old photo albums (even on social media) or video footage from years ago.
Have a Backyard Picnic
Get outside and breathe in some fresh air! Picnicking is so easy when in your backyard. Forgot the silverware or wine glasses? Just run inside! For extra romantic vibes, picnic at sunset.
Have a Vinyl Listening Party
Vinyl records are the best way to listen to music! There's just something nostalgic and pure about the sound and the process of dropping that needle on your favorite albums. If you don't have any vinyl albums or a record player, it might be time to shop around and hit "add to cart!"
Paint and Sip
Plan your own paint-and-sip night, and make it a contest! You both paint the same object, and at the end of the night, have the kids vote or post it on your social media to see who wins!
We hope you're all having fun together and spending some quality time at home. Let us know your favorite "date night in" ideas or which ones above you want to try!
---