Mr. and Mrs. McIntyre
By Hailey Bethke | Photography by Rylee Hitchner
Can you hear the church bells ringing? Seaside's characteristic white chapel paired with a sweet-smelling sea breeze seems like a wedding taken out of a fairy tale. But to Shelby and Cale McIntyre, it was reality; a sophisticated celebration of their love took place on December 3, 2021, in Seaside, Florida, under a blanket of brilliant stars and to the sound of nearby waves crashing on white sand.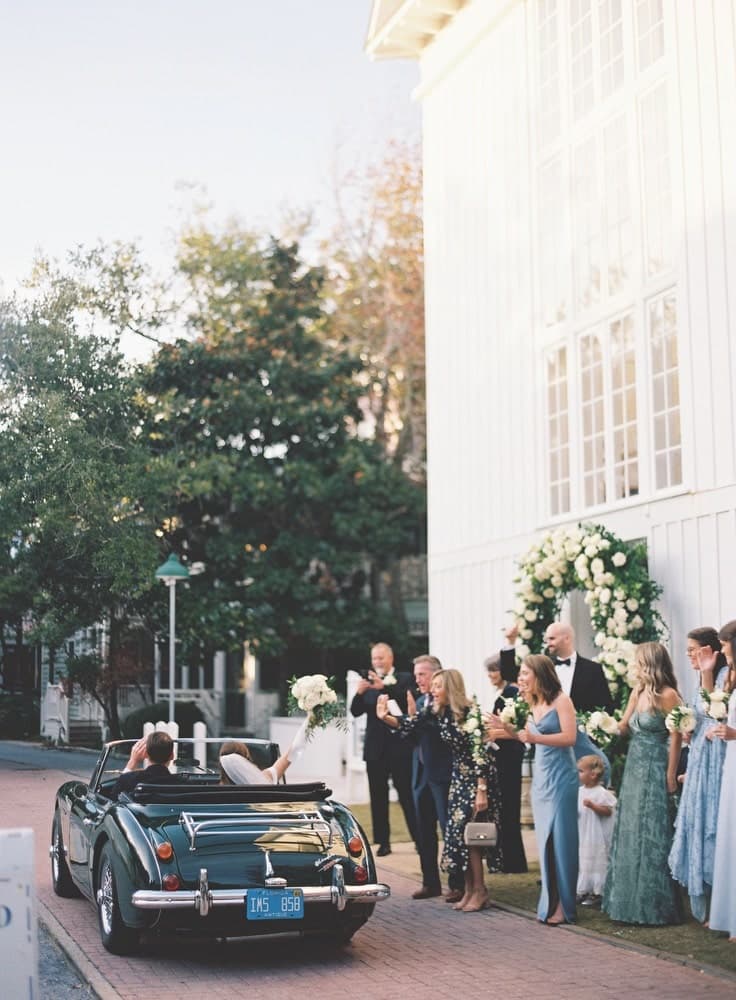 The Love Story
When Shelby Boston and Cale McIntyre first met, they both were required to take a leap of faith. A mutual friend set the two up on a blind date in the summer of 2018. While Cale was ready to ask Shelby out on another date, Shelby wasn't sure if they would be a match and politely declined his invitation. Flash forward to 2019, when Cale had moved from his hometown of Norman, Oklahoma, to Santa Rosa Beach, Florida, and the two ran into each other at a Christmas party, briefly reconnecting. A few months later, in June 2020, Cale decided to try his hand again at a second date; this time, Shelby agreed.
From then on, the pair enjoyed getting to know each other through dinners at the restaurants along Scenic Highway 30-A, time spent at the beach with friends, and long walks with Cale's dog, Cash.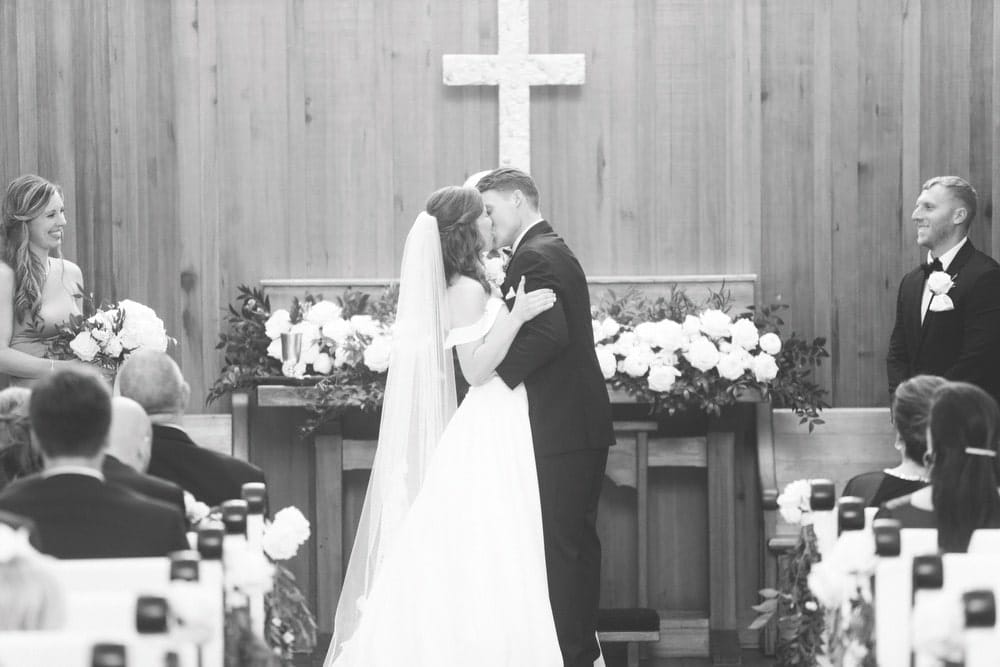 Through this time spent together, "I saw Cale's servant heart and learned about his passions for Land Rovers and coffee," Shelby recalls. She also recognized Cale's confidence and joy, two qualities she deeply admires. Cale similarly describes seeing Shelby as a beautiful woman filled with joy. "She is intentional in all her relationships, is totally selfless, and loves to serve others," he says. Cale shares that he loved seeing Shelby's creative side, especially when she spent time painting or drawing. "Shelby is one of a kind and brings joy and happiness to everyone she encounters," he notes.
Over the next year, Shelby and Cale continued to foster a deep love for each other. And it just so happens this love would last a lifetime; on June 29, 2021, Cale proposed to Shelby on a dock overlooking the bay. She enthusiastically said, "Yes, forever!"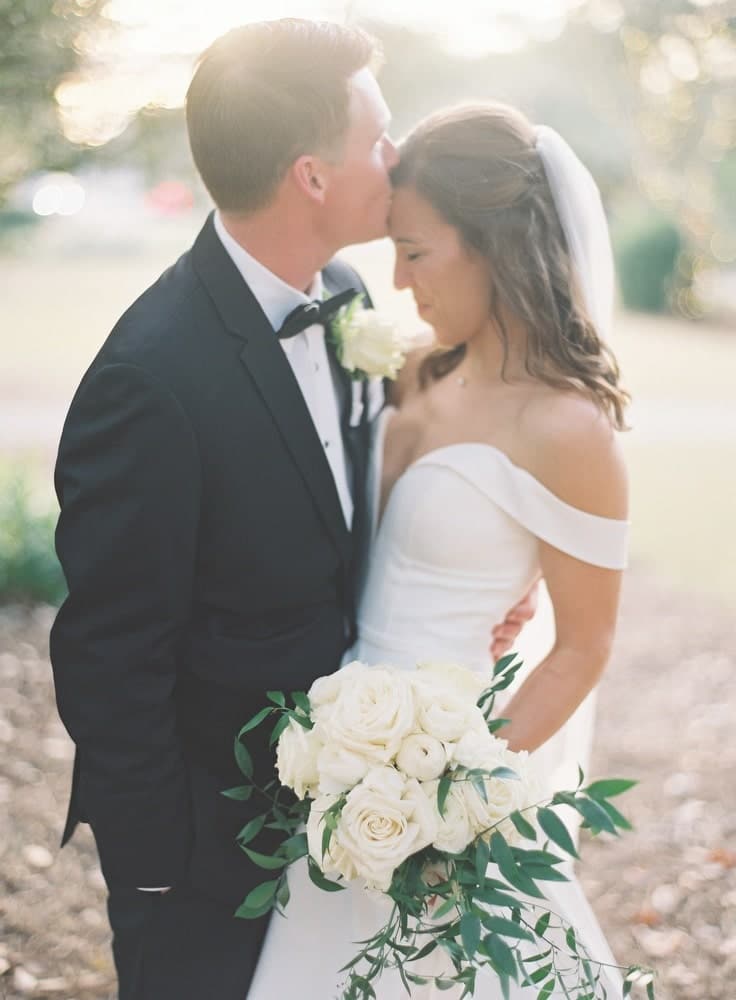 The Planning Process
Choosing a venue was an important decision for the couple. "We have both made Santa Rosa Beach home since we each moved here, and we wanted to be married in the town where we met and would be starting our lives together," Cale explains. "Shelby always wanted to marry in a white chapel, so The Chapel at Seaside was always a top option on our list. We were thrilled to be married in such a stunning location." Shelby adds that Sarah Cornwell, the events coordinator at The Chapel, made choosing the location as their venue all the sweeter. "She was so wonderful to work with, and we are grateful for all her hospitality and thoughtfulness as we prepared for our wedding day."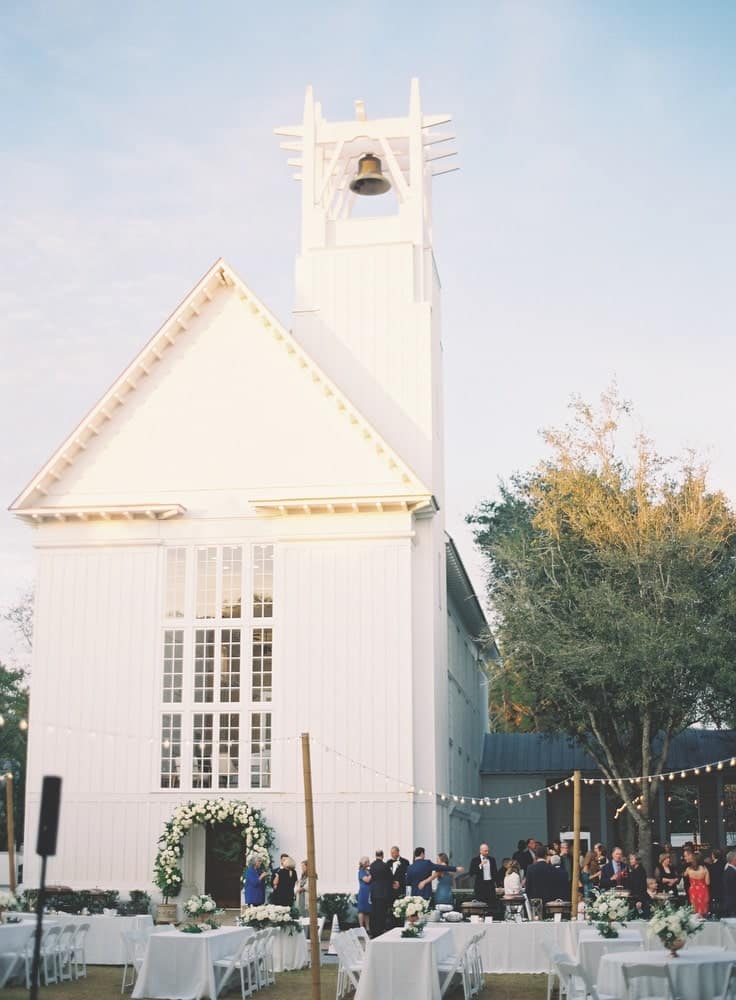 As far as the planning process goes, Shelby initially hired Kalee Baker from her hometown of Birmingham, Alabama, to help guide the start of their wedding planning. After a few hours together, Shelby says their conversations granted her guidance and confidence: "Kalee made me feel cared for and cheered on." Shelby also gives credit to her mother, who helped tremendously with everything from getting vendors booked to ensuring all big appointments went smoothly. Then, two months before their wedding date, the couple hired Erin Hadaway of Harbor District Events, which the couple says was one of the best decisions they made. "Erin was a gift to our families, full of peace that overflowed to everyone, which we needed to help us cherish the moments of the day without a worry," they explain. There were so many critical people, ranging from friends and family to all the coordinators, that "made us feel so cared for and loved. We really don't feel that we will ever be able to fully express our gratitude to them all," Shelby and Cale agree.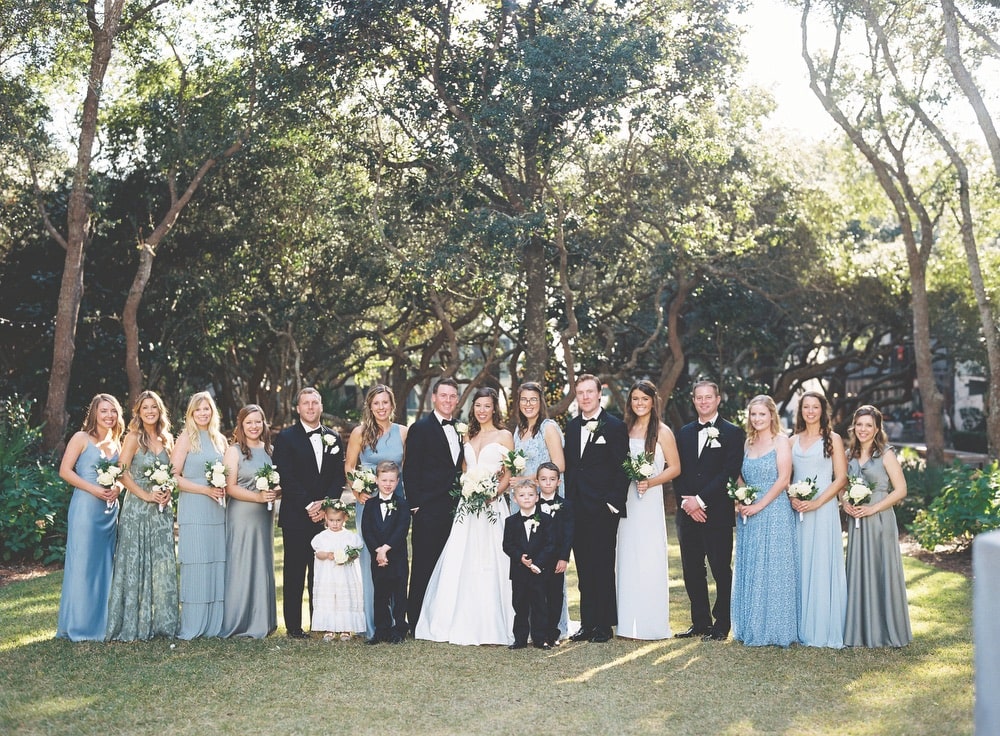 The Wedding Day
When asked what their dreams were for their big day, the couple immediately responded, "From the start of planning, we wanted the day to be filled with peace. We wanted to enjoy the time with family and close friends." Shelby's favorite color, green, was lovingly woven into all aspects of the wedding, ranging from the invitations to the bridesmaids' dresses and even their send-off vehicle: a vintage Austin Healey. "We truly wanted the theme to be more about marriage than a wedding," the couple expresses. "We wanted to make sure everyone knew our marriage was centered around Jesus Christ. We wanted everyone to experience peace and leave with joy."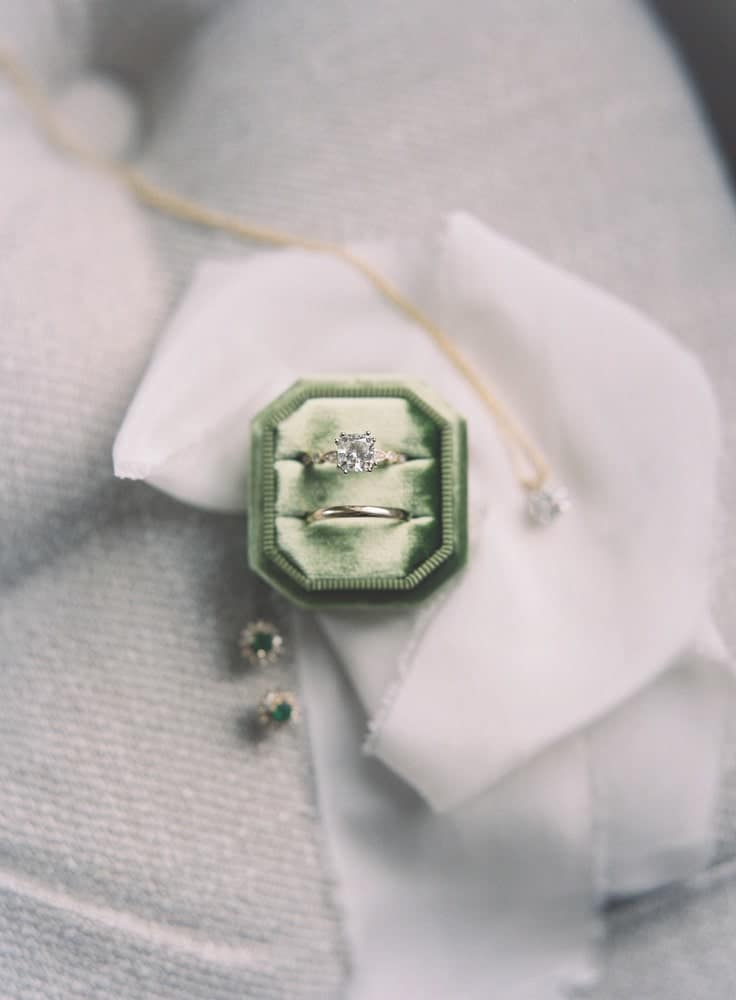 Following their ceremony in The Chapel at Seaside, the two had a few portraits taken on the WaterColor green, took a brief drive over Western Lake before sunset, and then returned to their reception. The scenic drive was an experience the couple notes as one of the most memorable moments of their big day.
After their celebration, Shelby and Cale enjoyed a stay, gifted by a few of Cale's friends, at The Pearl Hotel in Rosemary Beach before heading off to honeymoon in Key Largo amongst palm tree-lined beaches.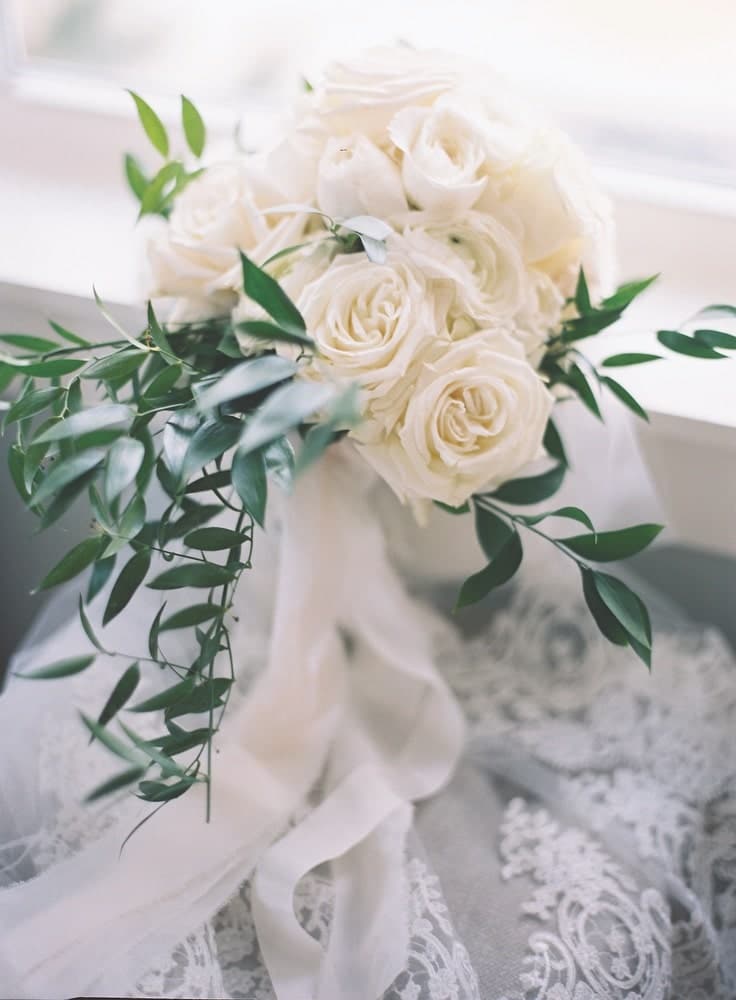 Congratulations, Mr. and Mrs. McIntyre! We wish you well as you embark on this next chapter of life; may it be filled with nothing less than peace, love, and joy.
— V —
---
Special Thanks
Ceremony venue and coordination: The Chapel at Seaside, Sarah Cornwell
Wedding planning: Kalee Baker Events; Erin Hadaway, Harbor District Events
Officiants: Dr. Danny Wood, Pastor Emeritus of Shades Mountain Baptist Church (where Shelby grew up attending in Birmingham, Alabama); Jim Ryan
Photographer: Rylee Hitchner from Birmingham, Alabama
Cake: Publix Bakery
Flowers: Rosie's 30A, Kenzie Ogle
Invitations: Dogwood Hill
Dress: Margaret Ellen Bridal, Maggie and Madison
Hair: Brooke Miller
Makeup: Gallant Glam, Jessica and Jenelle
Catering and rentals: Townsend Catering, Donna
Ceremony music: Dean Mitchum, keyboards; Winona Butler, violin
Reception music: Forever Ever Entertainment, Duane Michael
ARTICLE CATEGORIES