By Mara Clark
When my now husband, Jim, proposed on December 19, 2014, I could never have imagined that we'd be saying "I do" in the City of Light. With this being a second marriage for us both, we knew a big wedding with bridesmaids and tons of guests would not be included in our plans. The one thing we knew for sure was that we wanted a celebration of love. Our romantic, crazy-for-each-other, can't-wait-to-spend-the-rest-of-our-lives-together love.
They say "When you know, you know." That's what happened to us and what led to our decision to elope. While exploring options for the celebration of our life, I realized how time-consuming planning a wedding can really be. I spent countless hours on Pinterest, obsessing about every little detail and possibility. But, the more I pinned, the more anxious I became. I was overcome by exhaustion combined with love drunkenness, and a brilliant thought came to me: "Let's elope to Paris!" After all, seeing Paris was something we had always wanted to do. So, why not get married there? I imagined us walking through the streets of Paris with complete joy and abandon. And since Jim and I are hopeless romantics who love art and travel, the decision to get married in the most romantic city in the world felt like the right thing to do. No more pinning anxiety!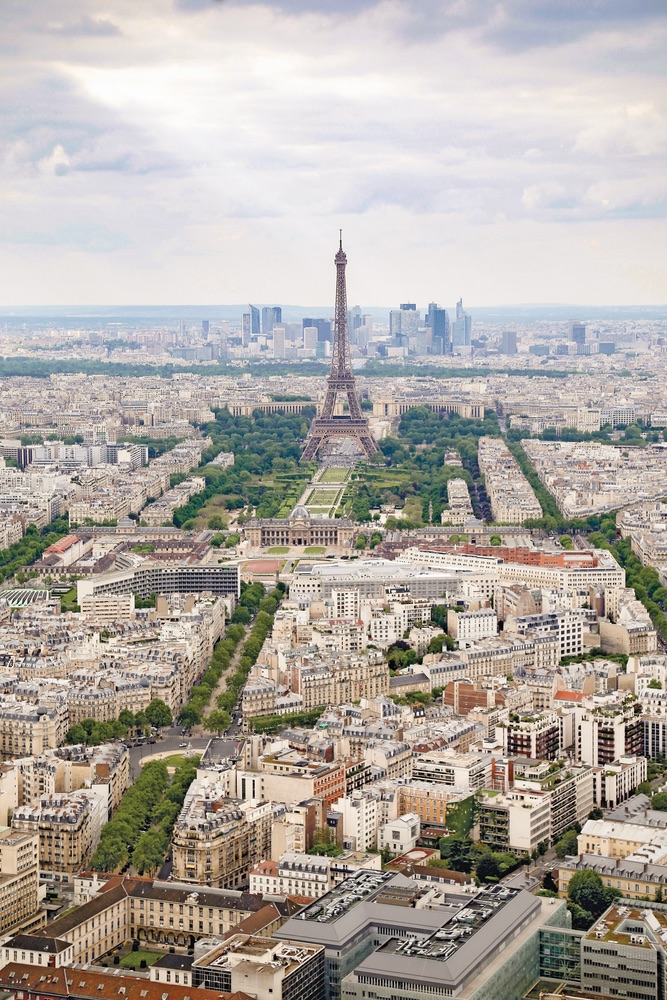 The Paris Plan
Just like in the States, Paris has plenty of options when it comes to weddings and elopement services. After much research, we decided on Wedding Paris, a full-service agency specializing in weddings and ceremonies all over the city, including close to the Eiffel Tower. I thought, "Hmm. I can marry the love of my life close to my favorite metal structure? Yes, please!" Agathe, the owner of Wedding Paris, is a Paris native with a carefree spirit and a love for making people's dreams come true. After a few e-mails to discuss dates and details—voilà—we had a wedding planner who could take care of everything. Planning a wedding requires effort, and it put me at ease to have someone who knows the lay of the land in a foreign country. France doesn't legally recognize marriages by nonresidents, which required us to arrange the official ceremony and paperwork here at home. In the end, our special ceremony in Paris would simply be a grand gesture to show our loving commitment to one another.
Once the ceremony details were set, the real questions began: Where do we stay? What do we do? Do we venture to another city or country afterward? How do I get my wedding dress there? My planning brain was moving fast and ready to tackle all these things and more. We chose Air France as the airline, and I'm so glad we did. Their customer service representative assured me that almost every one of their flights to Paris has a wedding dress on it. Silly me, to think I was the first one to have this idea. Our travel experience was delightful, and I can't wait to fly with them again.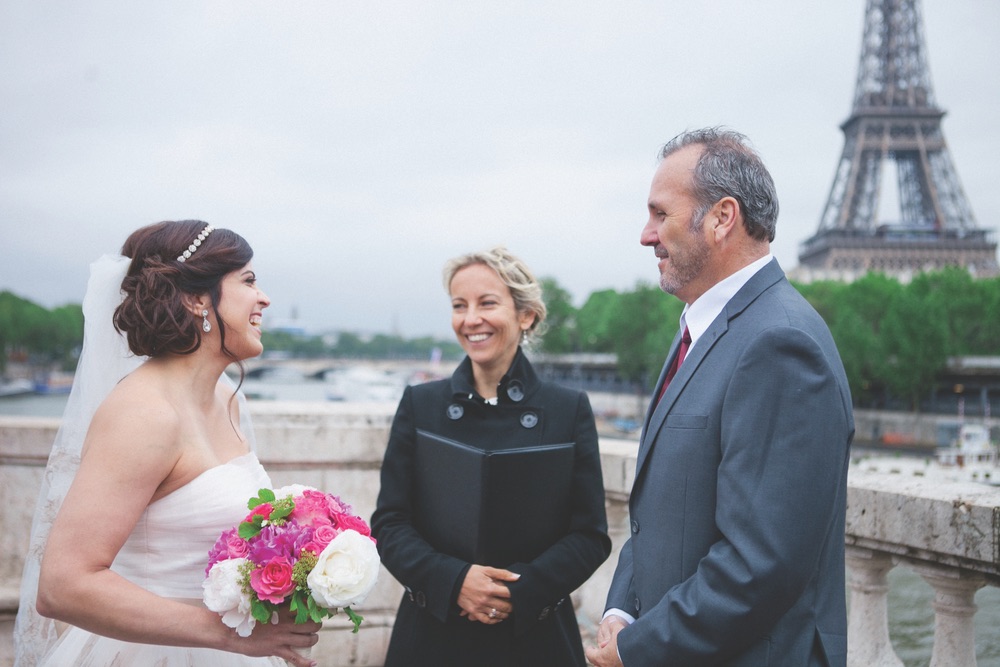 Paris, Mon Amour
For exploring the city, we took cues from Woody Allen's Midnight in Paris. The cinematography is fantastic and full of life, exactly how I wanted our Parisian experience to be. We found (via VRBO) a two-story apartment in the middle of the Le Marais district. The historic building featured the most modern details inside, including an elevator and a concierge! Le Marais, which spreads across the 3rd and 4th arrondissements, is one of the trendiest areas in Paris, and it includes the Latin Quarter, the Jewish community, and popular LGBTQ hangouts. There was so much to do and see! A melting pot of cultures, customs, and arts, the area has charming cobblestoned streets filled with art galleries, boutiques, and delicious eateries that made it an excellent place to fall in love again and again. Our apartment had a window with a view of la tour Eiffel. After a long day of walking the city, we would enjoy a glass of wine and watch the sparkling tower lights. We quickly got used to being Le Marais residents.
Our Paris days were filled with adventures and priceless memories. We indulged in a decadent dinner at Le Jules Verne inside the Eiffel Tower (excellent dinner and view!). There were trips to beautiful Giverny, where we explored Monet's house and his fragrant and colorful gardens, and more trips to the extravagant Palace of Versailles. We had a fun night at the Crazy Horse burlesque show and toured the Louvre and the Musée d'Orsay. We shared our first dance as a married couple on the Pont Alexandre III and splurged on thirty-dollar drinks at the swanky Le Meurice hotel. (This adventure included two free umbrellas, but that's a story for another time.) We celebrated our wedding with dinner at Le Dôme du Marais, where a neoclassical dome provides the most spectacular light and a charming Parisian atmosphere. Endless walks in the rain, a plethora of cuisines and flavors, a million new experiences and friends, and, of course, a wedding made this the most magical voyage we could imagine.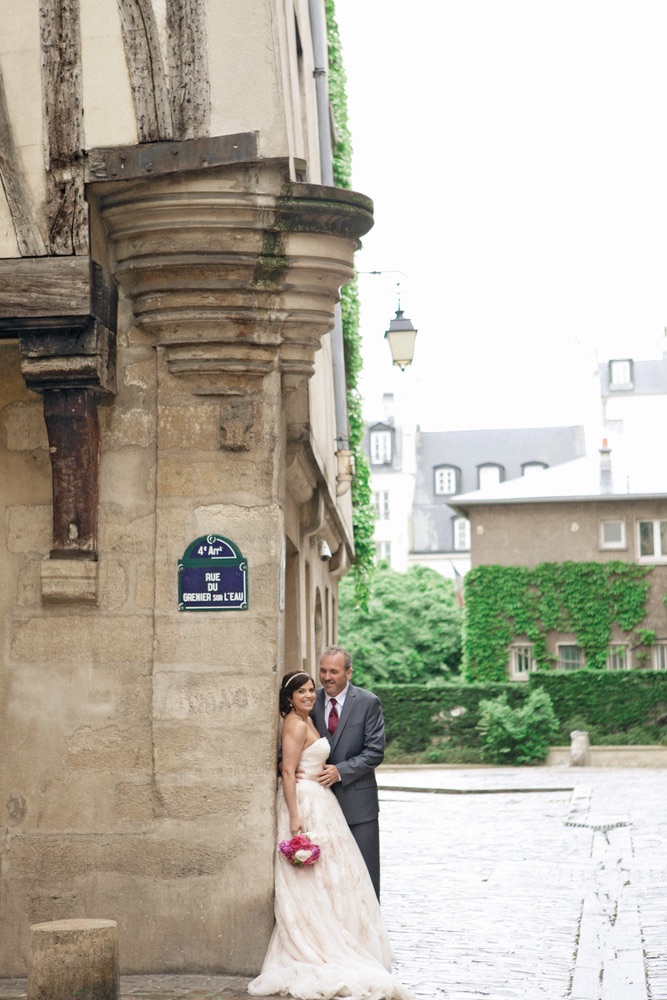 Our Wedding Day
It was a gray and rainy Thursday morning in Paris. The locals had been telling us how unusually cold it was for the time of year (May) and how much it had been raining. Great, right? Well, actually, yes. When you are excited and happy about something, no amount of rain or cold weather can take that away from you.
Our morning began promptly at seven o'clock. The ceremony was at eleven, so makeup and hair needed to start at eight. I got a quick shower, made some delicious French coffee, and sat down by the window to enjoy the Parisian scenery while trying to calm my nerves and growing bridal anxiety. The talented hair and makeup artist Anissa Renko arrived right on time. We quickly hit it off, chatting and laughing while sharing life stories and tales of the city. Jim, observant as always, grabbed the camera to capture photos. Suddenly, the anxiety I had been feeling turned to gleeful anticipation and an incredible joy. Our wedding day was finally here, and we couldn't have been more excited. When Anissa was done, I quickly peeked at my image in the mirror and loved every little detail. I looked exactly how I had envisioned, with a carefree side bun hairstyle and fresh, natural-looking makeup. Then it was time to get dressed!
In my opinion, it's not until you put on your wedding dress that you feel like a bride. My experience getting ready was so magical and peaceful. There were no "bridezilla" moments, no panic about little details—just a sense of calm and enjoyment. As Jim was helping me put on my ten pounds of wedding undergarments and gown, Sonja, our official wedding photographer, arrived. She found the perfect lighting, and we began our photo session in the living room by my favorite window. As I sat and posed for the camera, Jim and I looked at each other with "pinch me" expressions on our faces. "Is this really happening?" I thought. It was crazy for us to believe that in the next couple of minutes, we would be getting married in what felt like a romantic setting from the 1920s. It was truly a dream come true for both of us.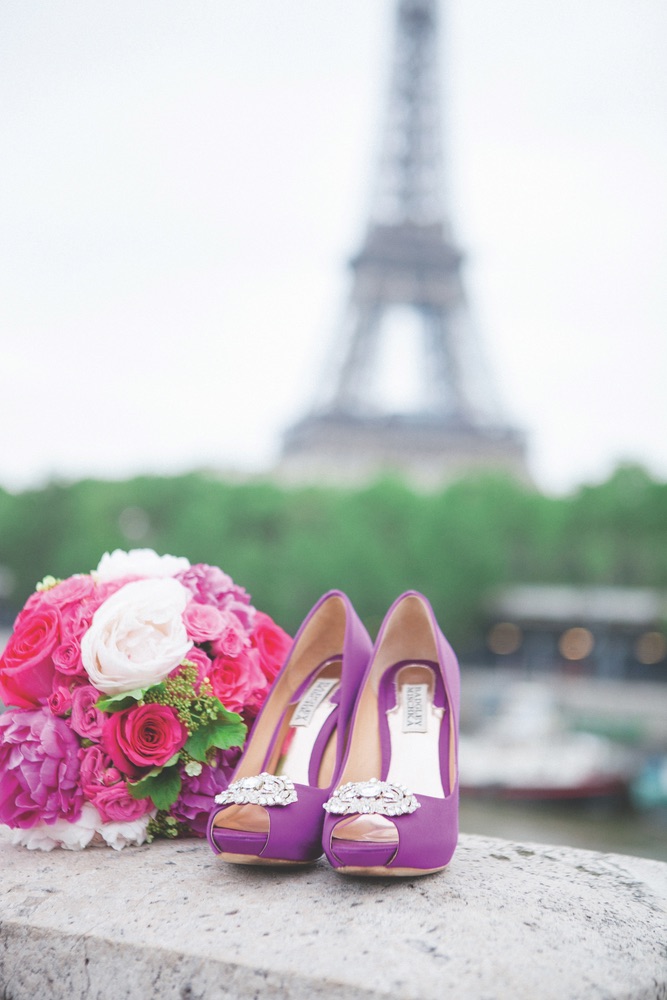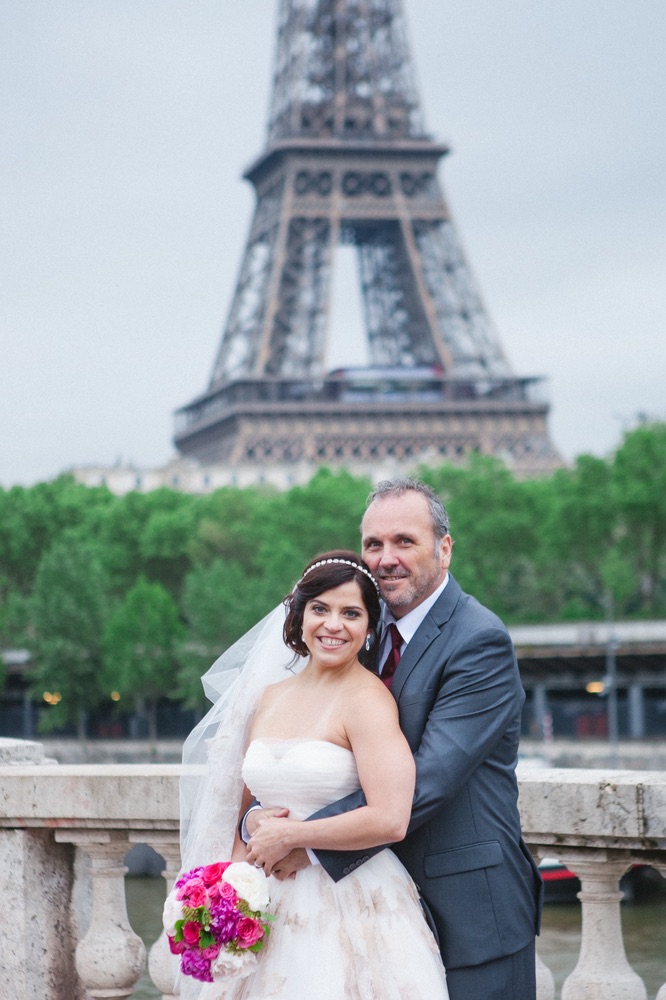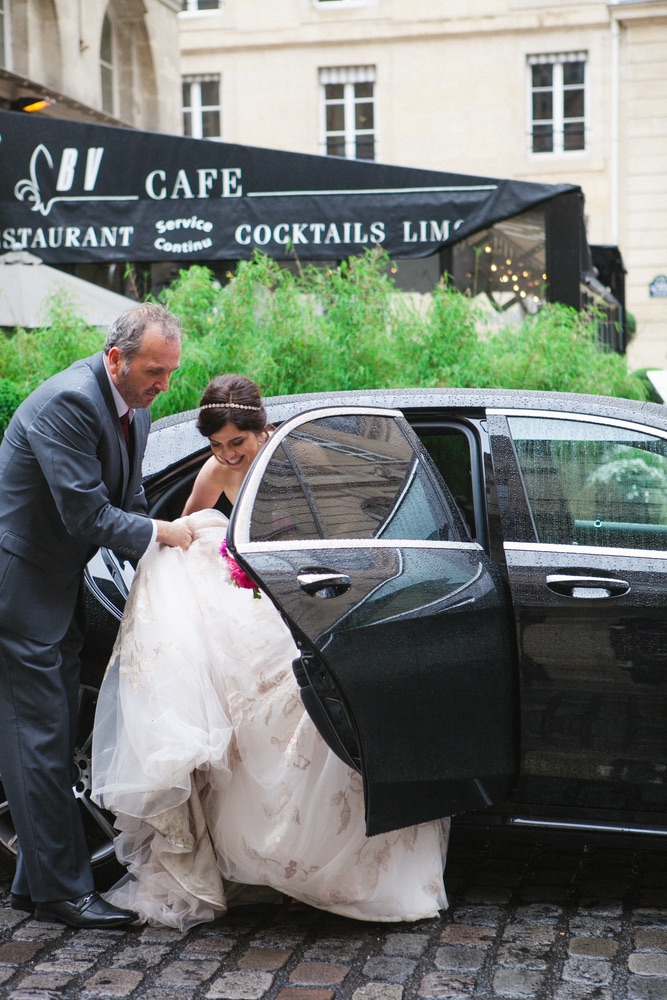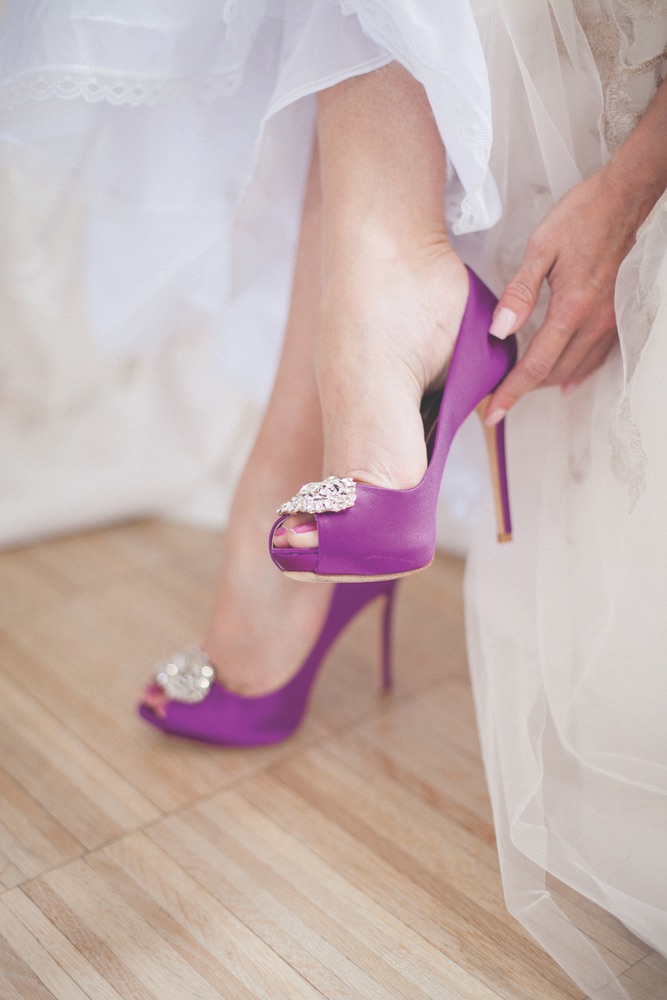 After the prewedding photo session, we headed out to our ceremony location, the romantic Pont de Bir-Hakeim. Through the car window I could see wedding coordinator Agathe and ceremony officiant Ms. Aude Abadie awaiting us with big smiles. The Eiffel Tower was there in the background, seemingly waiting for us as well. The moment had arrived. It was time to get married. Once outside the car, I immediately noticed everyone wearing winter coats. My ten pounds of dress was keeping me warm or my adrenaline was at an all-time high—whatever the reason, I was hot and sweating. I didn't really care; all I knew was we were finally there, at the moment we had been planning and awaiting for months. The ceremony was emotional and full of love. In preparation for the ceremony, Ms. Aude had sent us each an e-mail asking how we felt about each other. Happy tears came to both our eyes when she read our responses, and we said our vows. It made us immensely happy to hear how highly we think of each other and how strong our commitment is. The look of love in both our eyes said it all: Always and forever my love you will be.
After the ceremony, our driver and Sonja took us all over Paris to complete our photo session. We didn't let a little rain or cold weather stop us, and we enjoyed walking around the city wearing our wedding attire. It became one of the most fun and memorable moments of the trip. Sonja did an outstanding job capturing all the little moments of intimacy between us. The City of Light gave us the most majestic scenery and brilliance for our wedding album, and for that, we will be eternally grateful.
— V —
---
Special Thanks Elopement Services by Wedding Paris Wedding Photography by Sonja Photography Makeup and Hair by Anissa Renko
ARTICLE CATEGORIES