The Windjammer Way
Story & Photography by Kim Duke-Layden
In June of 2007, my husband, John, and I planned to celebrate our birthdays by visiting the famed land of lobsters, lighthouses and L.L. Bean. However, when Tropical Storm Barry appeared on Maine's radar a few days before our trip, my spirits dampened. Would our trip be a total washout? To our delight, it was gloriously sunny when we landed in Portland. Upon reaching Rockland, we set sail on the adventure of a lifetime—a four-day wine tasting cruise around Penobscot Bay aboard a historic windjammer. Not only did our trip exceed all our expectations, it still ranks as one of the most enjoyable vacations we have ever experienced!
I barely contained my excitement as our PT Cruiser wound its way northward along Maine's rugged coastline towards Rockland. Eating lunch at the award-winning Cook's Lobster House (http://cookslobster.com) was a highlight of our scenic drive. Cook's is located on remote Bailey Island, midway between Brunswick and Bath. We feasted on freshly caught "lobstah," fried mussels and their famous homemade coleslaw. Their service was friendly and the spectacular sea views were as plentiful as the portions were generous.
By late afternoon, we arrived in the picturesque town of Rockland, nestled along the pristine shores of Penobscot Bay. We drove to the small marina near the outskirts of town, where the 138-year-old schooner Stephen Taber (www.stephentaber.com) was moored. It was "awe at first sight" the moment I saw the sleek National Historic Landmark. Two massive wooden masts towered so high that I had to crane my neck to see the tops.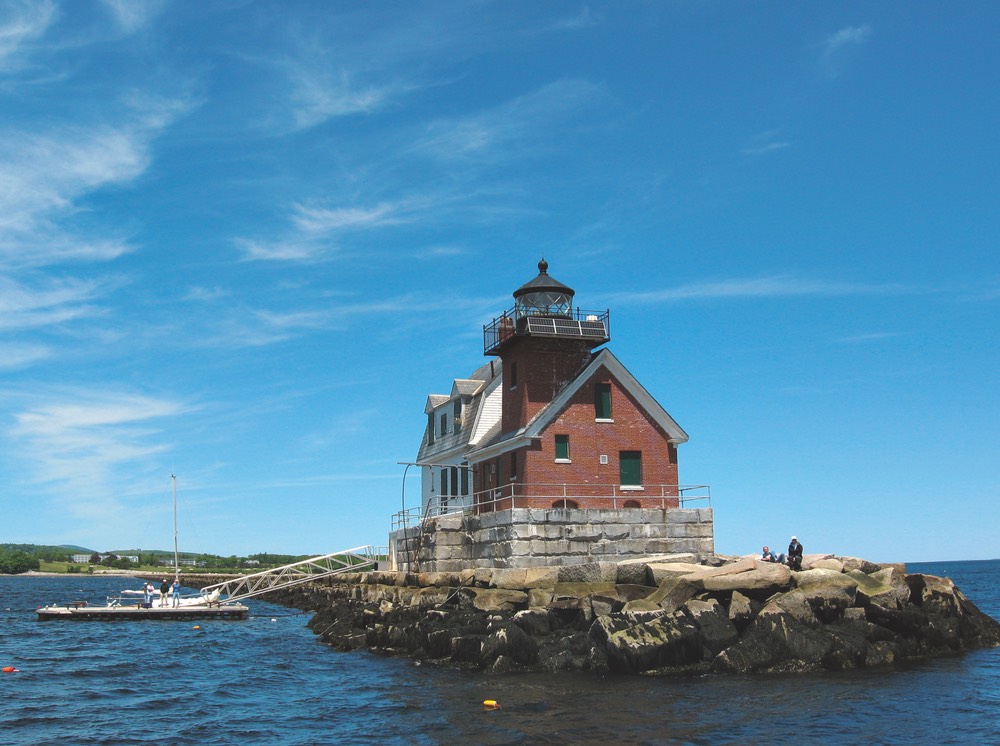 The Stephen Taber, or Taber, is among twelve distinguished members of the Maine Windjammer Association. Each of these maritime masterpieces offers three- to six-night sailing trips from Memorial Day through mid-October. Itineraries include the area's plentiful calendar of annual events, such as the Great Schooner Race and the Maine Lobster Festival in Rockland. In addition, many of the tall ships offer special themed cruises, such as lighthouses, wildlife and photography, and fall foliage. The Taber was (and still is) the only one that offered the ever-popular wine tasting cruises, which I highly recommend!
We parked and were greeted by a smiling crewman who assisted us with our duffel bags. Single file, we followed him down the long, steep ramp to the majestic tall ship—our floating home away from home for the next several days.
The Taber measures 115 feet in length and features a sprawling 68-foot wooden deck. Hewn from one single tree, its gargantuan wooden boom is the largest I have ever seen. From bow to stern, the exquisite craftsmanship was stunning. Documented as the oldest operating coasting schooner in America, the Taber earned its nickname the "Good Luck Vessel." I felt privileged to be on board such a historic treasure.
As I stood peering through the hatch towards our cabin below, my sense of adventure heightened. While climbing down the ladder into the "rabbit hole," I felt like I was part of Alice in Wonderland meets Swiss Family Robinson.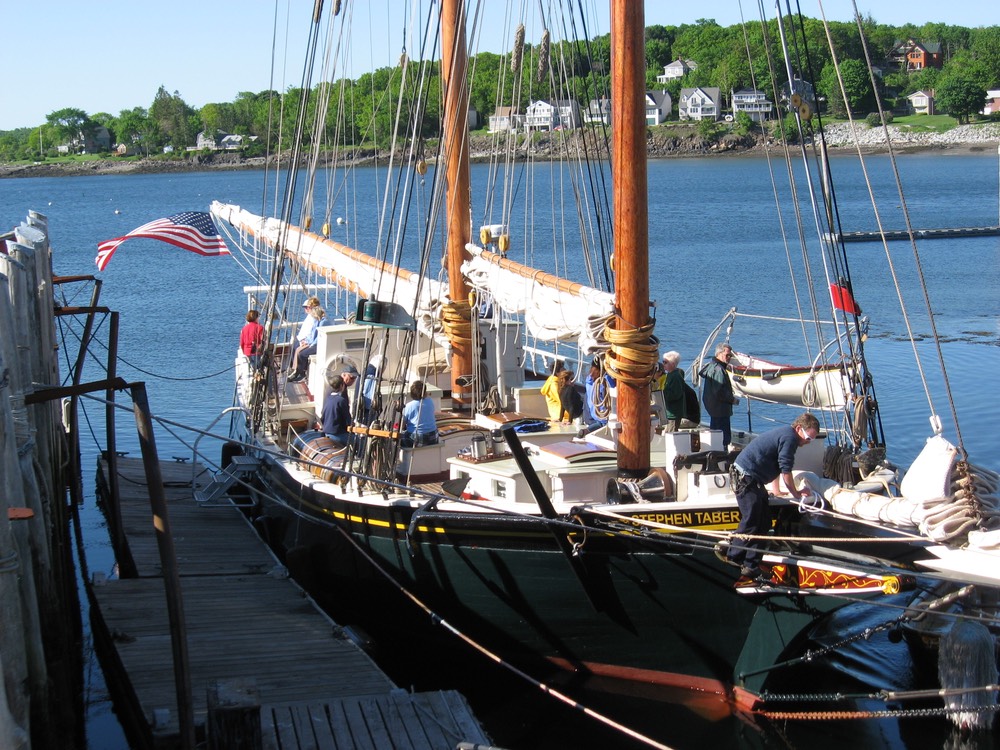 Windjammer cruises on the Taber are often described as "rustic luxury"—loosely translated, this means no-frills accommodations with over-the-top gourmet meals, similar to my family's camping trips when I was growing up. We stayed in the ship's best guest accommodations, cabin 9. It was the original captain's quarters and is the largest double-bunk cabin with the most stowing room. Cabin sizes vary but the prices are all the same, so book early to get the best accommodations. If cabin 9 is not available, other good choices are cabins 6, 2, and 1.
Regardless of the cabin, each has fresh running water (cold only), airy windows, comfy mattresses with tartan blankets and reading lights. Two communal "heads" (toilets) are located on deck and a portable shower is available upon request. Although the cabins lack electricity, ours was very comfortable and cozy. Helpful hint for first-time sailors—pack a good pair of earplugs. Since insulation wasn't invented until after 1871, the cabin walls are paper-thin.
After stowing our gear, we joined eighteen fellow passengers up on deck for the "Captain's Welcome." Captain Noah Barnes, a second-generation schooner captain and ex-advertising man from Manhattan, took the helm in 2004 from his father, Captain Ken Barnes, who retired from the Taber after twenty-five years. Reminding me of a thirty-something, red-bearded Richard Dreyfus, Capt. Noah captivated the crowd with his charisma, wit and theatrical flair. I couldn't wait to set sail!
Documented as the oldest operating coasting schooner in America, the Taber earned its nickname the "Good Luck Vessel." I felt privileged to be on board such a historic treasure.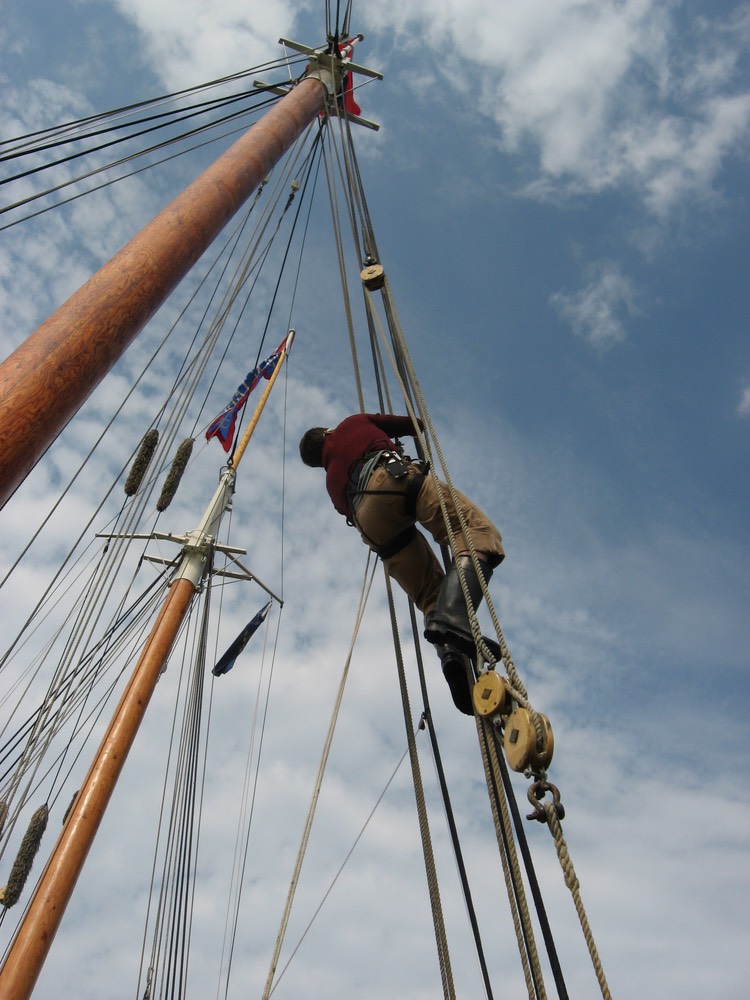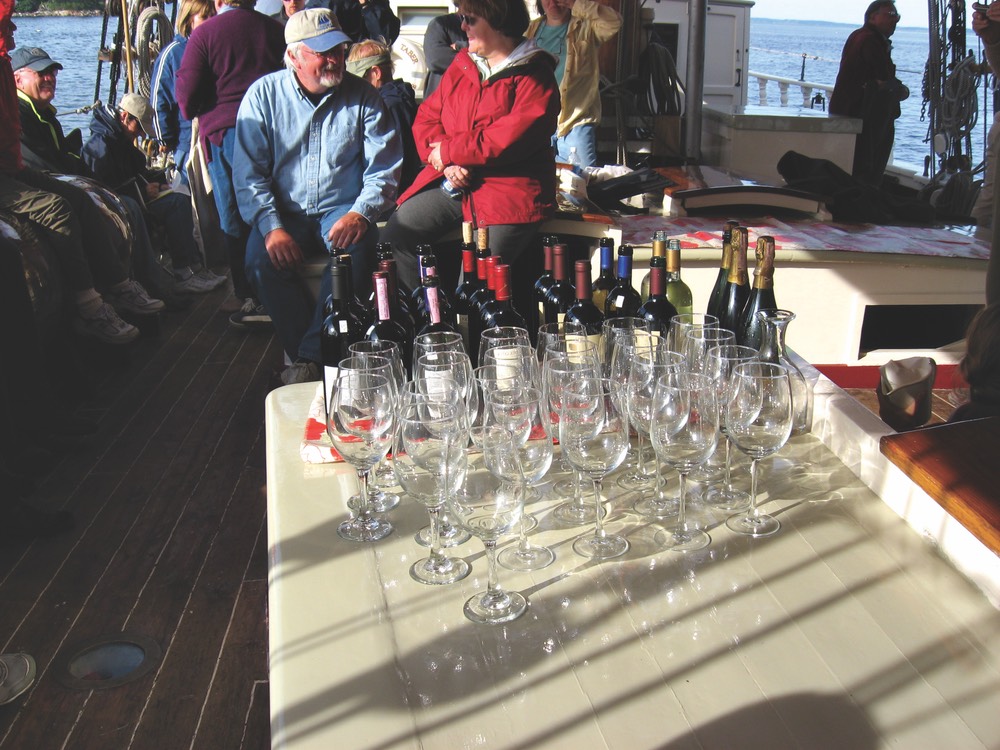 Our first night was spent docked in Rockland. Since onboard meals did not officially begin until breakfast, John and I seized the opportunity to sample one of Rockland's renowned restaurants. Located in a New England cottage, Café Miranda features an open kitchen and eclectic tapas menu. The highlight of our meal was a delectable order of crab and rice balls. Prepared Asian-style and artfully served on a platter with sliced ginger, kimchi and soy sauce swirls, it was a feast for the senses.
Star-studded skies and brisk evening temperatures made for a romantic walk back to the ship. Once snug in our bunk, the fresh sea air and lapping waves lulled me to sleep.
But, Maine mornings come very early. The 4 a.m. sunrises were real eye-openers (pun intended), but I roused only after the irresistible aroma of fresh-brewed coffee wafted down to our cabin several hours later. Up on deck, I spent the chilly morning savoring a steaming cup of joe and staring out across the calm, smoky-like water. Ahhhhhhhhh. I wished all my days could start that way.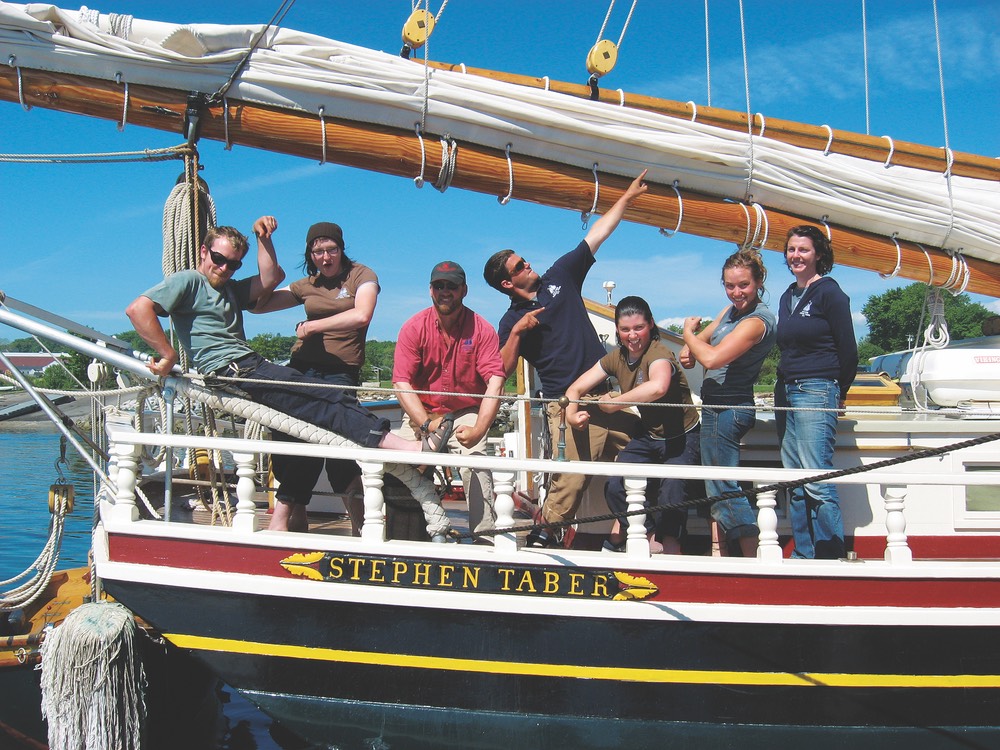 Another reason I chose the Taber over other ships was its reputation for serving fabulous food. Starting with our first breakfast, and every meal thereafter, mealtimes were grand affairs! We would all gather around bountiful spreads, complete with fresh flowers, as Chef Hannah described the menus in detail. Ingredients were often local specialties, like Maine blueberries with Maine maple syrup, fiddlehead ferns and fresh Maine lobster! Mmmmmmmm!
Except for the lobsters that were boiled in pots on deck, cooking was done on an antique wood-burning stove in the compact, yet efficient, galley. Growing up, I had heard and read stories about the "olden days" when people cooked on these cast-iron classics; however, not until boarding the Taber had I witnessed one in action.
One morning, a few of my fellow female passengers and I joined Hannah and Cara (who has since been promoted to cook) in the galley to help prepare that night's dessert. Gathered around the toasty stove, we laughed and shared stories while mouthwatering aromas permeated the air. My time in the cozy galley ranks among my fondest memories of the trip.
With the sun on our faces and wind in our hair, we spent relaxing days at sea gazing at rugged, spruce-covered coastlines and countless miniscule islands that floated amidst the shimmering, cobalt-blue waters.
Preparing the Taber for sail was a group effort, with literally "all hands on deck." Half of us went to the left side of the boat—the "throat," and the other half to the right—the "peak." Lining up single file with both hands on thick, heavy ropes, we pulled with all our might to raise the white, billowy sails.
With the sun on our faces and wind in our hair, we spent relaxing days at sea gazing at rugged, spruce-covered coastlines and countless miniscule islands that floated amidst the shimmering, cobalt-blue waters. I often saw lighthouses, playful porpoises and seals, lobster boats and colorful bobbing buoys. I found the constant bantering among passengers and crew equally entertaining. Not since a guided bike trip to France's Loire Valley in '98 had I laughed as much with a group of people whom I had met just days before.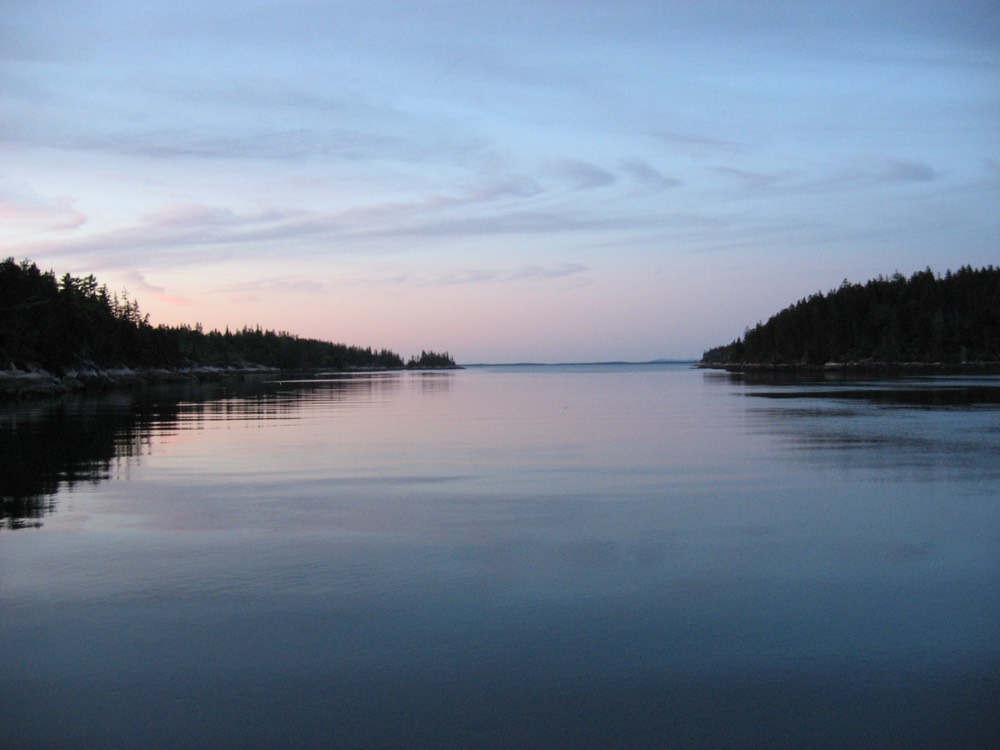 Shore excursions gave us fun opportunities to stretch our legs and explore. A hike to Owl's Head Lighthouse near Rockland rewarded me with spectacular, sweeping views of the bay. On Deer Isle, we visited the quaint community of Stonington. Among the smattering of shops, eateries and inns, John and I discovered an unexpected sight—a historic opera house. My favorite finds were a wild field of conical-shaped, purple lupines, Maine's unofficial state flower, and a beauty shop where I washed and blow-dried my hair. After two days at sea without hot water and electricity, I felt like a new woman!
As enjoyable as the days were aboard the Taber, the nights were even better! Each evening, before sundown, we dropped anchor in a picture-perfect spot. Soon after, the sounds of clinking glass and bottles being uncorked commenced. Pavlovian-like, we eagerly gathered as Noah's delightful wife, Jane, kicked off the festivities with her much-anticipated wine tastings.
A noted oenophile with 15 years in the wine industry and a full-time employee of Terlato Wines International, Jane Barnes knows her stuff. She presented her personal selection of whites and reds, sandwiched between a bubbly aperitif and dulce dessert wine. She chose the wines based on the featured menu of the evening. French wines were paired with roasted duck breast; Italian wines married perfectly with osso buco and risotto; and a diverse sampling of Californian and European wines complemented the New England lobster boil.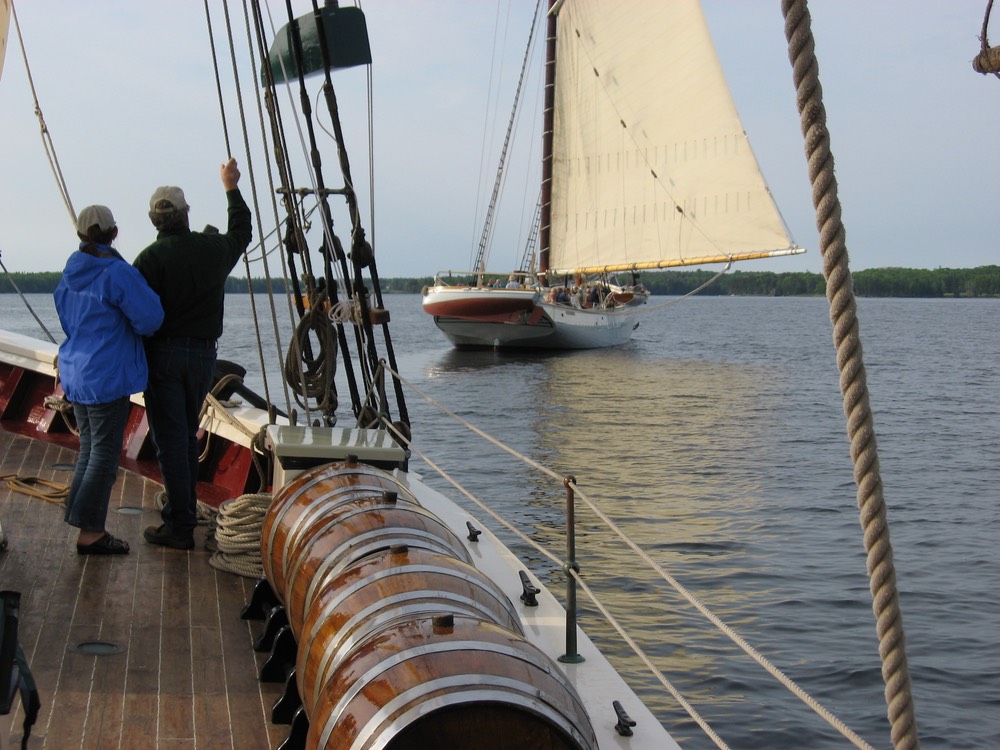 While I enjoyed all the tastings, Jane outdid herself on the Italian wines. Both the Il Poggione Rosso di Montalcino 2004 and the Banfi Brunello di Montalcino 2001 tasted delicious, but I gave the Tommaso Bussola Amarone 2002 the highest marks.
Flowing as freely as the vino, the evenings' highlights progressed from one to the next. Capping off the night, Capt. Noah, also a professional musician, and his talented crew delighted us with musical performances! Besides singing, Noah played the guitar, harmonica and mouth harp. Cara played "one mean fiddle," as Charlie Daniels might say. Dave and Phil sang humorous renditions of pop classics. Often afterwards, to quote Capt. Noah, "The hilarity ensued!"
Not often does one travel experience encompass as many great features packaged in one offering as a Taber wine tasting cruise does. If you enjoy gourmet food and fine wines, live music, breathtaking and ever-changing scenery, relaxation, history, outdoor adventure and outstanding hospitality, set your compass towards Maine and set sail on your own vacation of a lifetime!
— V —
---
Kim Duke-Layden is an avid international adventurer whose mantra is, "I have not visited Everywhere, but it's on my list!" She and her husband John live at Sandestin where she's worked for 15 years. To share your own travel pointers or to ask questions, please send them to: wanderlustkim5@yahoo.com.
ARTICLE CATEGORIES