Story and photography courtesy of Walton County Tourism
What's better than a book at the beach? Finding and sharing them in the most unexpected places, like a small library box filled with the favorite reads of people passing through, looking for that next good story to dive into.
This is what Victoria Sellers had in mind when she approached the Walton County Tourism Department about establishing her first book exchange at the Visitor Information Center.
"I love literacy, and there are so many benefits to these tiny libraries. They're great for all ages!" says Sellers.
Indeed, the concept is easy and free: take a book and/or leave a book. Sellers says all books are welcome (though they have to fit in the 15 x 13-inch space), and she especially encourages sharing children's and family books.
Sellers and her three children moved to Santa Rosa Beach from Niceville two years ago. "I love it here! It's beautiful. I love the beach and the people."
She was motivated to create the libraries after a chance conversation last summer with an elderly man. While they chatted about newspapers and other magazines, the man confessed he couldn't read, which surprised and saddened Sellers. She realized she wanted to share the joy of reading and make it more accessible.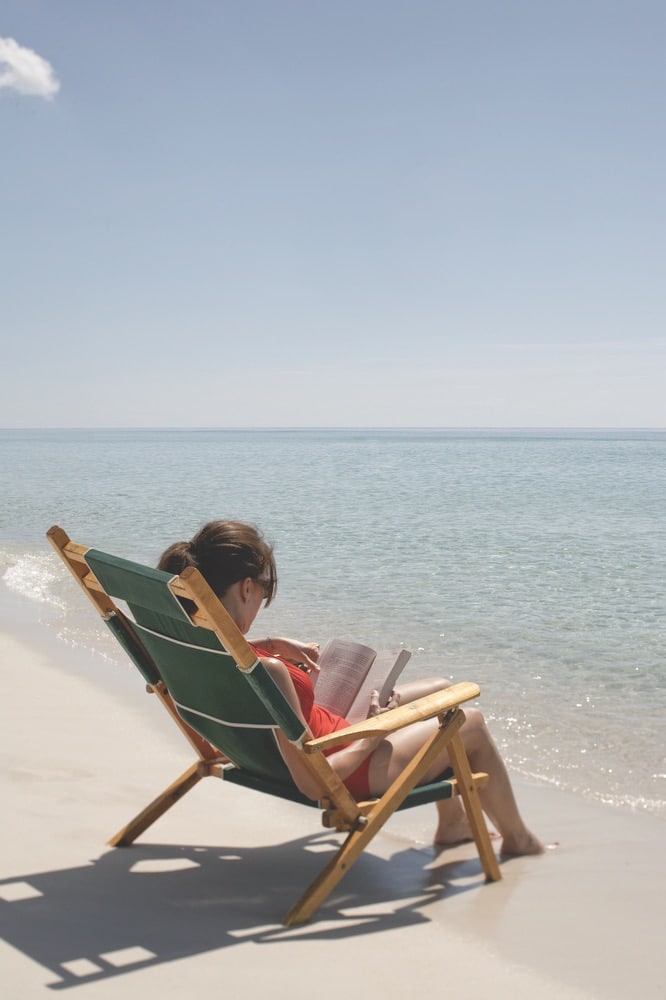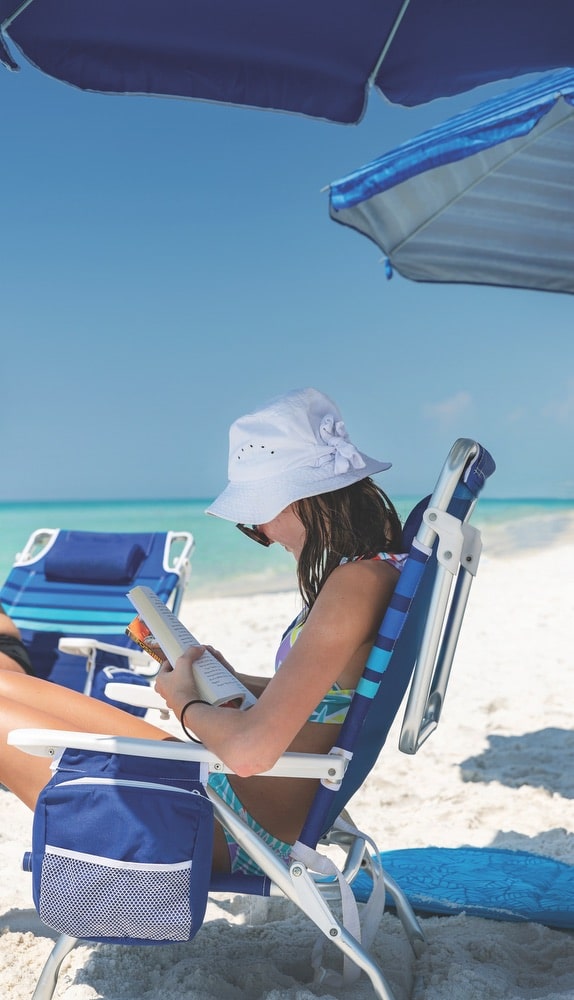 "It put a mission on my heart to add some of these little free libraries out there," she explains.
Inspired to create the small book exchange, Sellers and her nine-year-old daughter Olivia got to work. She bought some sheets of plywood, searched online for plans, and began construction of her first tiny library box. She needed help with a roof, which Bel-Mac Roofing was happy to provide. The first books were from her home and donations from Butler Elementary School and Habitat for Humanity ReStore.
The next decision was a location—and the Visitor Information Center at the corner of U.S. Highways 331 and 98 was a top choice. "My daughter loves going to the tourism center," says Sellers.
Christy Gibson, Visitor Information manager, agreed. "Immediately, we thought it would be a fantastic location for a tiny library, where visitors and residents come in and out," says Gibson, adding, "What a great opportunity for someone traveling by plane or car who wants to grab a book for the journey."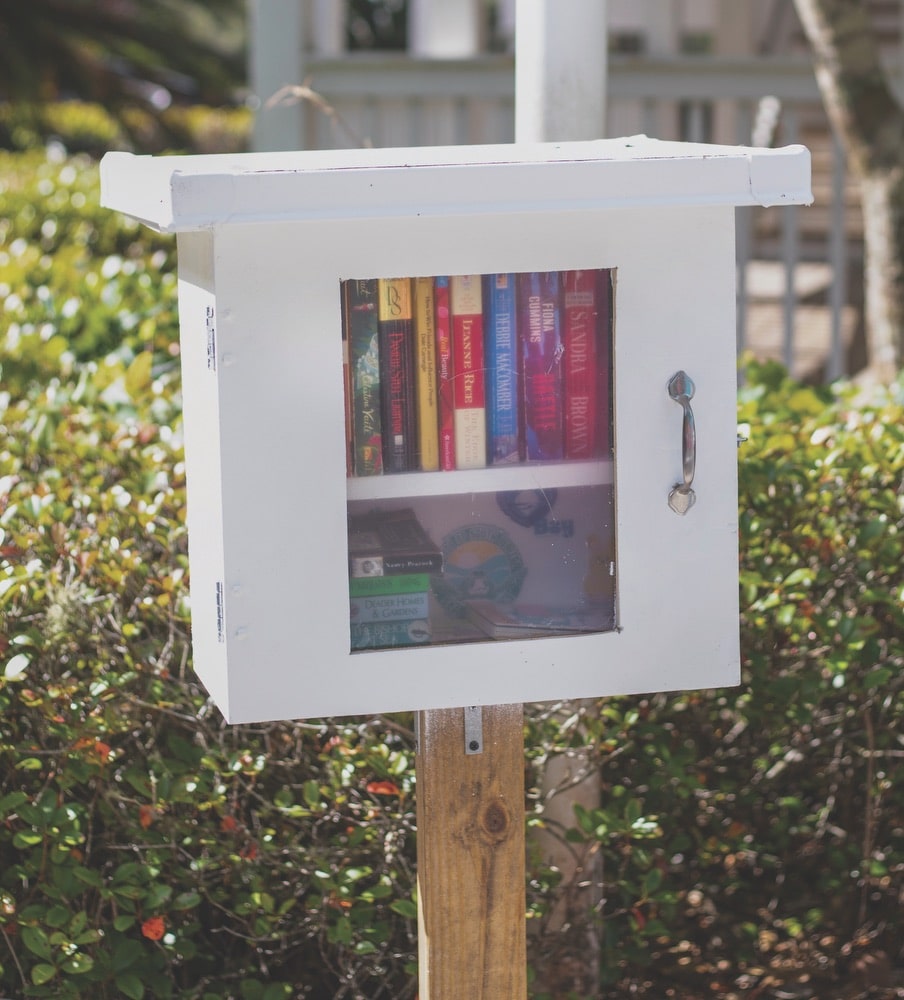 Sellers added a second tiny library in March at AJ's Grayton Beach by the bicycle rack. Soon there will be a third tiny library at the Santa Clara Regional Beach Access in Seagrove, with two more beach access locations planned, supported by WCT Beach Operations.
Sellers checks her libraries twice a week and thinks she's put out around one thousand books so far. She is thankful for support from Habitat for Humanity ReStore and Caring and Sharing of Walton County in "refilling" her libraries.
Sellers' goal is to have tiny libraries all along the South Walton Scenic Corridor, which she and her family love. The book-sharing movement is not new, and there are other small, free public libraries located around South Walton.
Sellers loves the yellow sugar-covered bunny confections popularized at Easter and thought Peeps would be a fun way to promote the library locations. She drops a card listing the "30A Peep Show" at various 30A hot spots—and challenges cardholders to find the "Peep family traveling 30A" along with their favorite books. The card features a little yellow bunny sporting a glittery gold bikini—"because we're at the beach," Sellers emphasizes.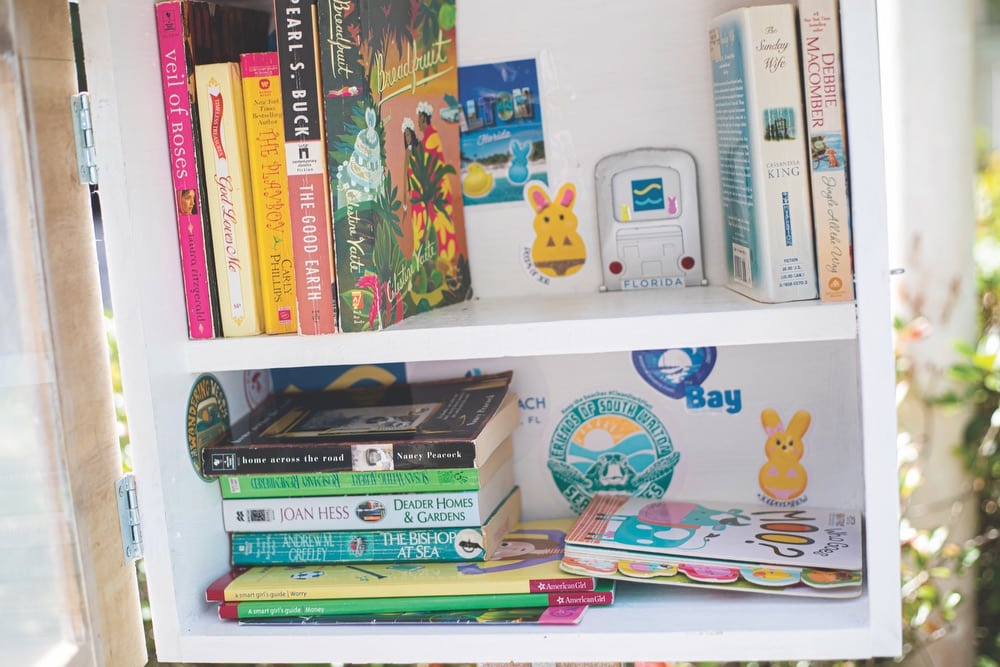 Indeed, inside each tiny library is a yellow bunny cutout.
Soon Sellers' library books will feature a stamp inside each front cover with a 30A graphic and a bumblebee.
"People come from all over the world to vacation here; a book stamp with '30A' will remind them of the interesting times they had," she says.
— V —
---
Check out the tiny libraries on social media at #TinyLibrary, #30ATinyLibrary, and #30APeepShow. If you'd like to help these small libraries grow, email Sellers at victoriasellers7@gmail.com.
ARTICLE CATEGORIES