An Inspiring Sense of Style
By Lisa Marie Burwell
When curating a team of creative professionals to collaborate with her on the VIE Beach House – A Show Home in Seagrove Beach, Florida, owner and developer Suzy Accola had a clear vision for the dream home she was creating and knew exactly what she wanted. She had worked with Lovelace Interiors in the past on several projects via her Grayton Beach–based tile and lighting boutique and design firm, Q Tile + Design Studio, and knew from the inception of the show home that she wanted Lovelace Interiors on her team. They became part of the small but dynamic group of interior designers who collaborated on various rooms and spaces of the VIE Beach House to bring Accola's vision to life. Their mission was to inspire all who stepped inside the home with a sense of peace and comfort, similar to what they might feel when putting their toes into the sugar-white sand of the nearby beaches.
Several planning meetings ensued with the show home team, with Lovelace Interiors designers Lindsay Cannon and Brooke Williams as the dream team assigned by owner and principal designer Susan Lovelace to work on this exciting project. "We love what we do every day while creating for our clients, but there is something special about working on a show home," says Lovelace. "Its intent is to highlight our design acumen while working with the developer to bring their concept to fruition. We enjoyed working on the project and are proud of the finished product."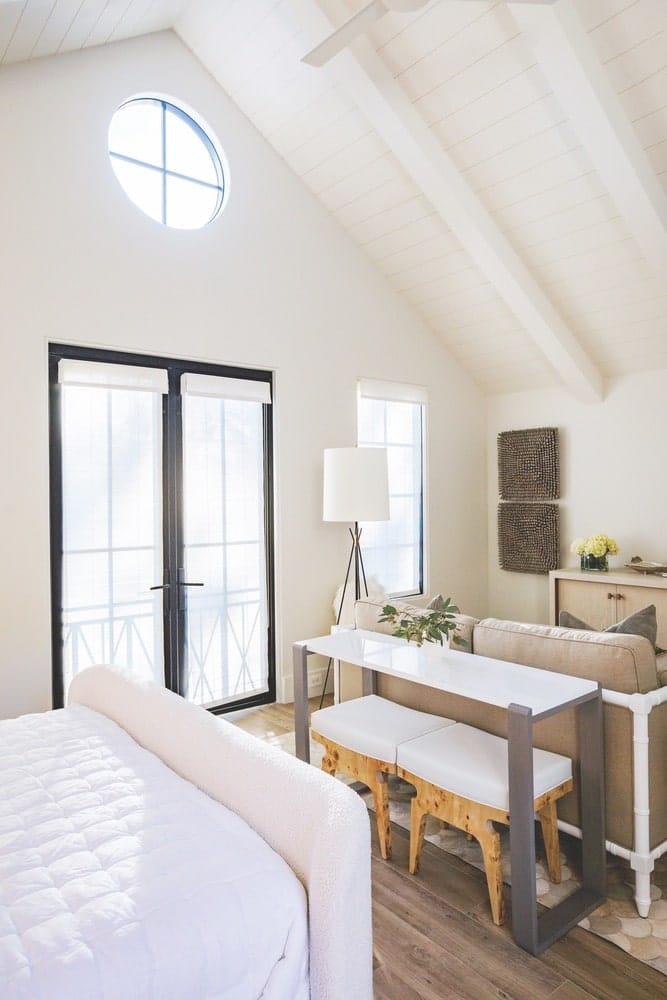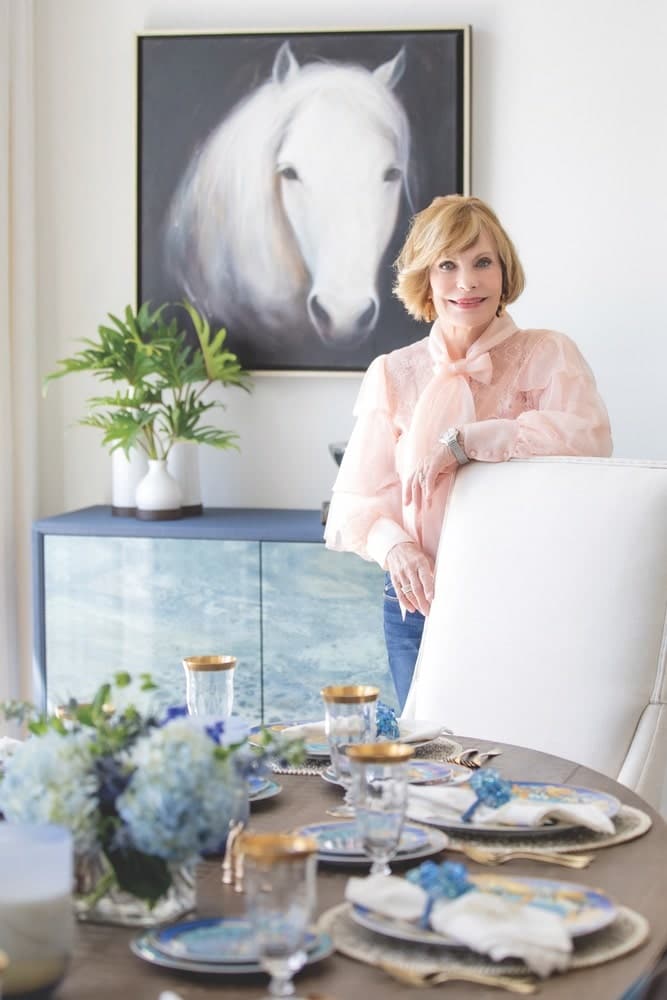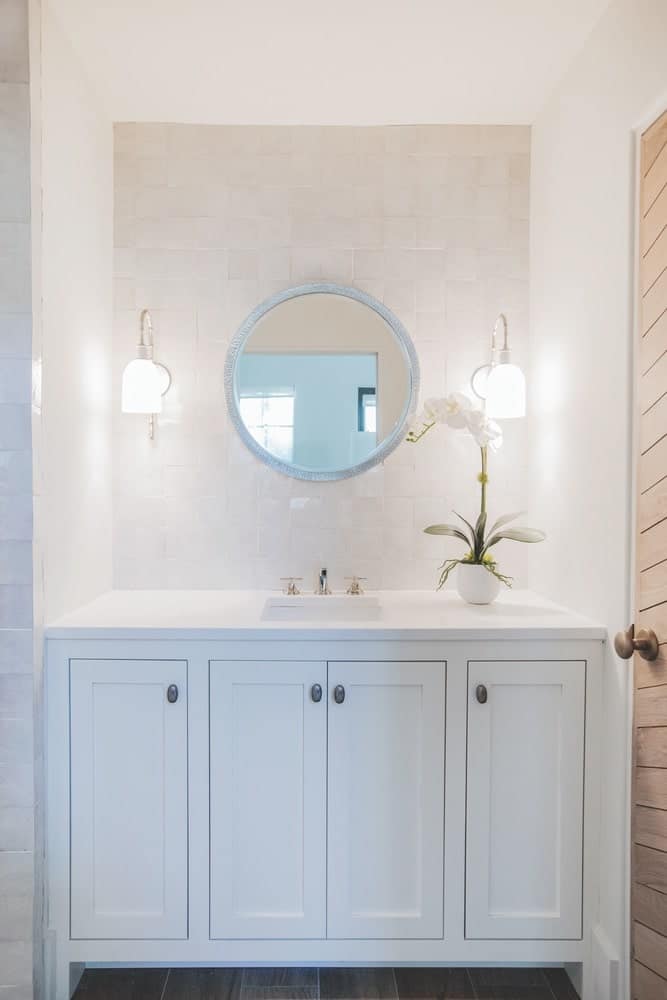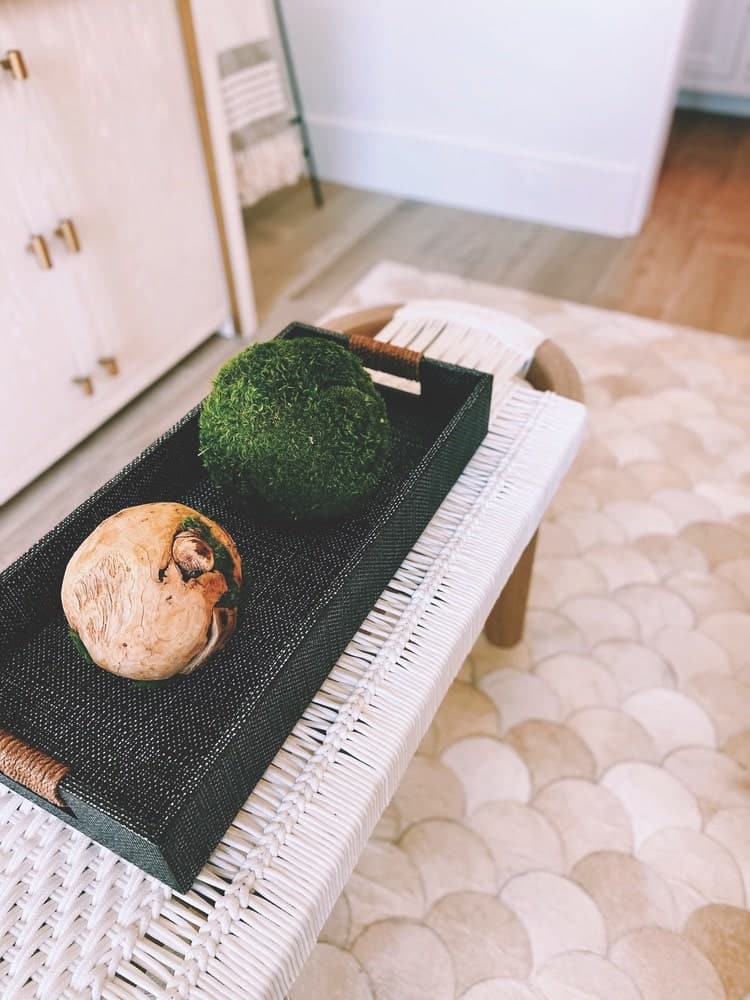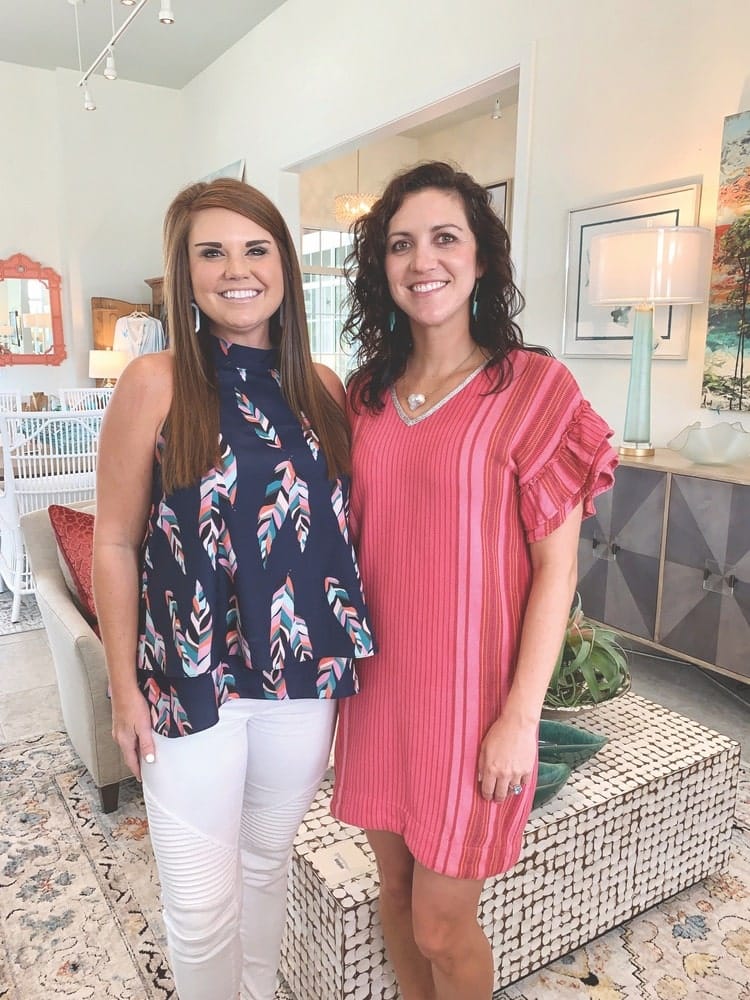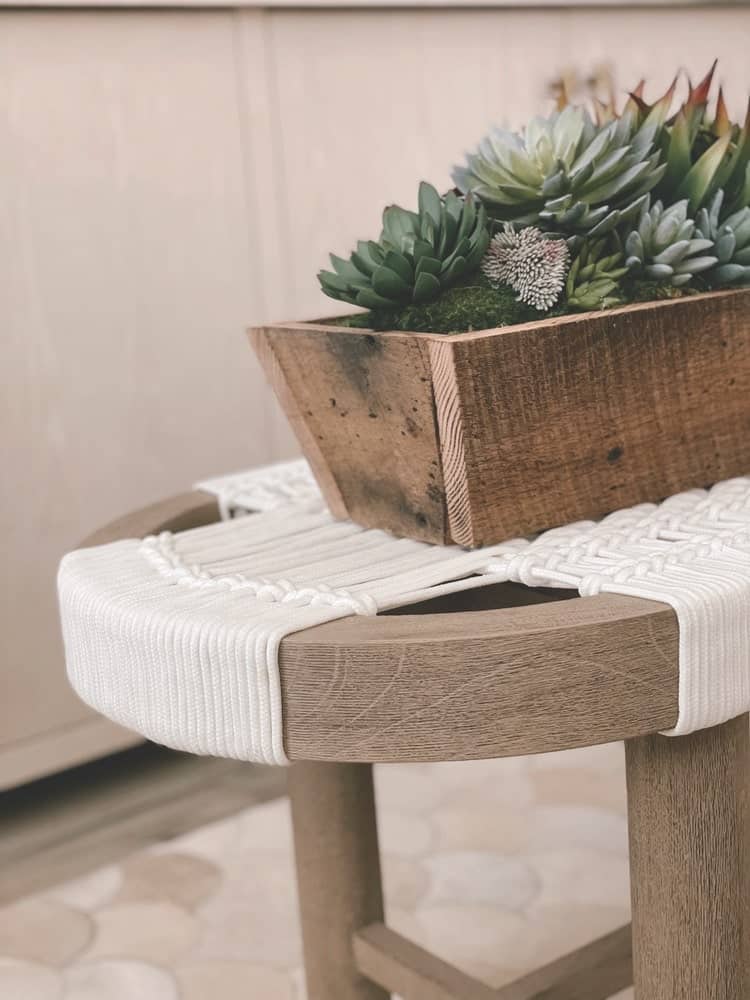 "We asked the Lovelace Interiors team to design the carriage house above the garage," adds Accola. "It's hard to work with a smaller space, but I love what the team was able to create and thought it was appropriate to the style and size of the studio-style space. It's a serene little retreat within the overall Beach House getaway."
The carriage house is welcoming, with a Bevolo gas lantern at its entrance and a kitchenette featuring custom tile by Q Tile + Design Studio. Lovelace Interiors went with a relaxing, neutral palette of cream and gray tones that evoke a spa-like feel. Soft and cozy textures, such as sherpa and faux fur, "pop" in unexpected ways, especially when paired with the natural wood and beachy textures inspired by the world outside. "Since it is a small space, we wanted to create a separation of space yet not have too many furniture pieces," says Williams. "The console table behind the sofa defines the two spaces and offers multiple functions—this piece can be used as a desk or as a dining space, with the stools for seating stored below." Cannon and Williams drew further inspiration from the home's exterior and the custom tile selected by Q Tile + Design Studio, utilizing classic design elements and principles throughout the carriage house to create a natural flow. Above the bed, a beach landscape by photographer Jonah Allen reminds us that the Gulf of Mexico is just a short walk from the home. The finished design is a mix of soothing luxury and rustic beauty.
"My design clientele is extensive, and most of my clients hire us to design their homes locally, like the Beach House, but we also have projects nationwide."
"In life, as in business, maintaining your brand's standards and having a great reputation are the most important things I keep in mind and try to live by every day," Lovelace says. "My design clientele is extensive, and most of my clients hire us to design their homes locally, like the Beach House, but we also have projects nationwide. It's a fun process to think about where and how your interior design will fit into its environment."
Lovelace's private residence, located nearby just off the Choctawhatchee Bay, also exemplifies this coast-meets-couture style. As seen in our inaugural coffee-table book, HOME—Inspirations for Home and Life by VIE, her house includes a mostly muted color palette, with clean lines and pops of blue and other colors inspired by the water and luxury coastal living.
As one of the premier interior design firms in the Northwest Florida Gulf Coast area for over twenty-six years, Lovelace Interiors has built a stellar reputation for exceeding clients' expectations by creating spaces that are tailored to their taste and vision with a wow factor that perhaps the homeowners would never have thought of on their own. With two locations—the Miramar Beach flagship showroom and the Lovelace Lifestyle retail showroom in Inlet Beach—the team is poised to serve clients with varying styles and spaces from Destin to Panama City Beach and far beyond.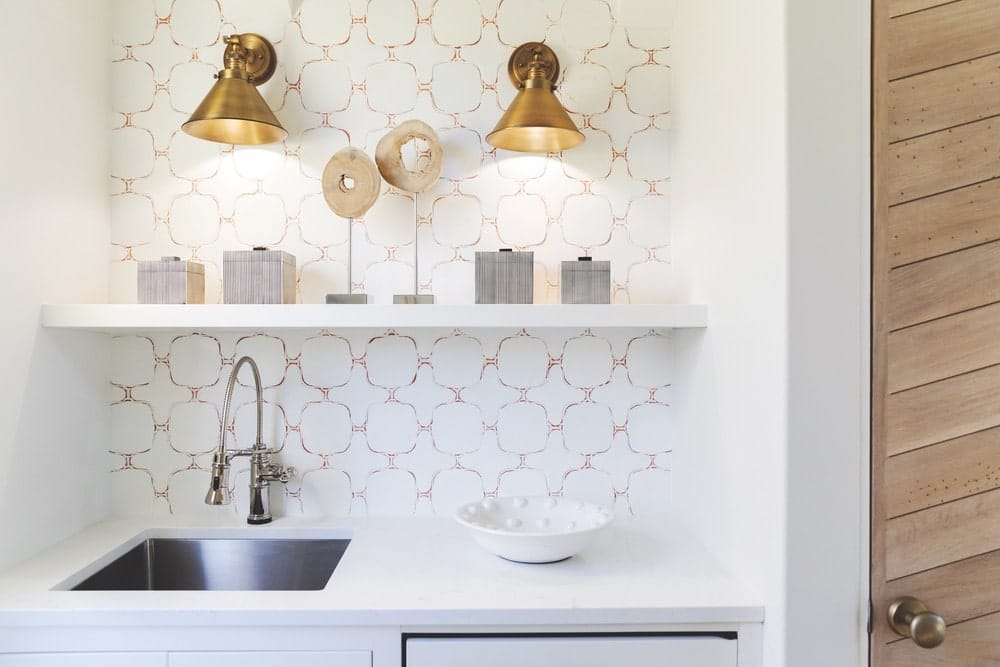 "Being part of a design team is great when you have synergy with your collaborators, and Brooke and I had worked with Q Tile on so many homes before that we knew we'd love working on the show home with Suzy," Cannon adds.
Keeping in harmony with nature is a constant theme for beachside living, and the VIE Beach House celebrates that lifestyle beautifully, as it pays homage to the gorgeous white-sand beaches, scenic nature trails, golf courses, and Choctawhatchee Bay nearby. The team of developers, designers, and visionaries who came together to honor this incredible place we call home couldn't be prouder of this tribute in the form of a one-of-a-kind residence.
— V —
---
Visit LovelaceInteriors.com or follow them on Instagram @lovelaceinteriors to see more inspiring styles.
ARTICLE CATEGORIES