By Steve Larese
The roar of flames inflating hundreds of hot-air balloons creates an exciting symphony as I climb into the gondola. It's a cold October dawn at the Albuquerque International Balloon Fiesta, and I'm preparing to take off in pilot Chris Sabia's red, blue, and yellow polka-dotted Wonder Bread balloon. But first, a safety briefing.
"There's only one rule, and that's to never, ever…" WHOOOOOOSH! Laughing, Sabia hits the propane burner, and a blast of fire drowns out his warning. The heat lifts us gently skyward, and soon the seventy-eight-acre launch field and balloons below look like a colorful mushroom garden. Scores of other balloons drift aloft around us. Traditional-shaped balloons of all colors remind me of Easter eggs, and special-shape balloons make a surreal scene even more so as a dragon floats by. The sun begins to splinter over the Sandia Mountains to the east, and the green cottonwood forest ribbons along the Rio Grande to our west. It's another perfect New Mexico day.
Every first full week in October, the Albuquerque International Balloon Fiesta splashes New Mexico's turquoise-blue skies with hundreds of colorful hot-air balloons from around the world. This year's Fiesta is October 7 to 15. With more than 320 sunny days, wide-open spaces, and a favorable air current called the Box, Albuquerque is the Ballooning Capital of the World, and the Fiesta is the largest annual hot-air balloon gathering on the planet. Since the first Fiesta in 1972, pilots and spectators flock to Albuquerque to experience nine days of ballooning, competitions, balloon glows, fireworks, music, food, and camaraderie built over the decades. Many visitors schedule their vacations around the event, reserving their hotel rooms or RV spaces for next year the day after Fiesta ends. Throughout the week, hundreds of thousands of people (there were 839,309 attendees for 2016's event) visit the grassy launch field surrounded by scores of white tents selling everything from collectible souvenir pins to New Mexico's famous green chile breakfast burritos and piñon coffee.
"People can walk on the field, speak with pilots, and even help set up and launch the balloons," says Fiesta spokeswoman Amanda Molina. "People from all over the world all come together, wide-eyed at the sight. Everyone's a kid during Balloon Fiesta."
A Bash, a Boast, and a Balloon Fiesta
The Albuquerque International Balloon Fiesta began, appropriately enough, with a party. Sid and Bill Cutter's mother, Virginia, was celebrating her birthday in 1971 and the brothers wanted to throw her a bash.
"I decided to go with a World War I theme," founder Sid Cutter told me in 1994. Cutter passed away at 77 years old in 2011, after careers in the Air Force as a pilot and with his family's business, Cutter Aviation. "I rented Snoopy and Red Baron costumes, thinking I would be the Red Baron and my brother would be Snoopy, although he got to the Red Baron costume first and I had to be Snoopy. But what I really wanted to do was get an old airplane for the hangar."
After realizing a vintage airplane would be difficult and expensive to get, Cutter was encouraged to rent "one of those new balloons."
"In 1971 there were maybe fifty balloons max in the U.S.," he said. "They were just being 'rediscovered.' So I thought, 'Well, they used balloons in World War I, and I can float it outside my business for advertising after the party.' That shows you how much I knew about balloons back then."
So Cutter—who went on to be awarded the Montgolfier Diploma by the World Air Sports Federation (the highest honor in the world for ballooning) and was the national hot-air balloon champion in 1978 and 1986—ordered and received his first balloon. It was a patriotic red, white, and blue one with gold trim, and it still flies in his honor during Fiesta each year. Stuffing it into the hangar where the party was held, Cutter kept it inflated all night long.
"So here I am in my Snoopy costume with my brother dressed up like the Red Baron," Cutter said. "Everybody was having a great time, and the booze was flowing. Some of it flowed into my brother, and he began telling people he and I were going to fly that balloon in the morning."
Cutter figured that if a hangover didn't thwart his brother's plan, the lack of propane would. But at six o'clock the next morning, the Red Baron was at Snoopy's door.
"I told him we'd used all the gas keeping the balloon inflated last night, but he had gone to the truck stop and got some more," Cutter said. "He had to save face and was determined to fly that thing. So I thought we'd just have some people hold on to the rope, learn the burner, and take Mom up for a little bit afterward, and that would be that. But we forgot to tell the ground crew to hold on to the rope, and the next thing me and my brother knew, we were three hundred feet up and heading toward power lines."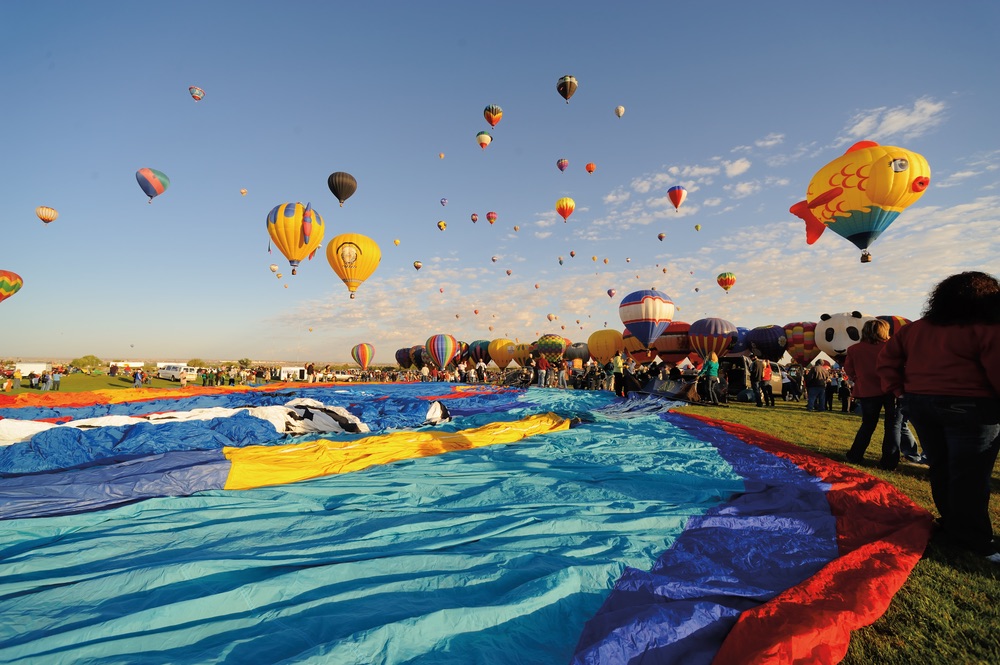 Cutter attributed the fact that his first balloon ride wasn't his last to a perfect flying day. The brothers managed to miss the power lines and landed in the rough at University of New Mexico Golf Course. While this was happening, the trusty ground crew had given up; they were getting breakfast at an International House of Pancakes. But plenty of other people noticed the Cutter brothers' jaunt.
"When we landed, there were five thousand people and five police cars waiting for us, but no ground crew," Cutter said. "People loved it. Balloons were a pretty rare sight then."
The next year in 1972, local KOB Radio was looking for a unique way to celebrate its fiftieth anniversary.
"KOB heard about my balloon and gave me a call, asking if I could fly for their fiftieth anniversary," Cutter said. "I said, 'Why don't we do it big and have a balloon race?' They said, 'Great—what's a balloon race?' and I said, 'Hell if I know.'"
Cutter found out. He contacted twenty-one ballooning teams from across the country to attend the ballooning "happening." Thirteen made it, and the Albuquerque Balloon Fiesta was born.
"This was just a radio anniversary, but twenty thousand people showed up at six in the morning to watch thirteen balloons take off," Cutter explained. "It was something else. Albuquerque was trying to find something to hang its hat on. The city had tried a couple of green chile cook-offs, but nothing compared to this. Looking at the numbers and the demographics, the city felt balloons would put it on the map."
Albuquerque was right. Cutter organized the next two Balloon Fiestas until it grew too large for him to manage, and the City of Albuquerque took over in 1974, creating the nonprofit Fiesta organization. The Balloon Fiesta injects an estimated $100 million into Albuquerque's economy annually.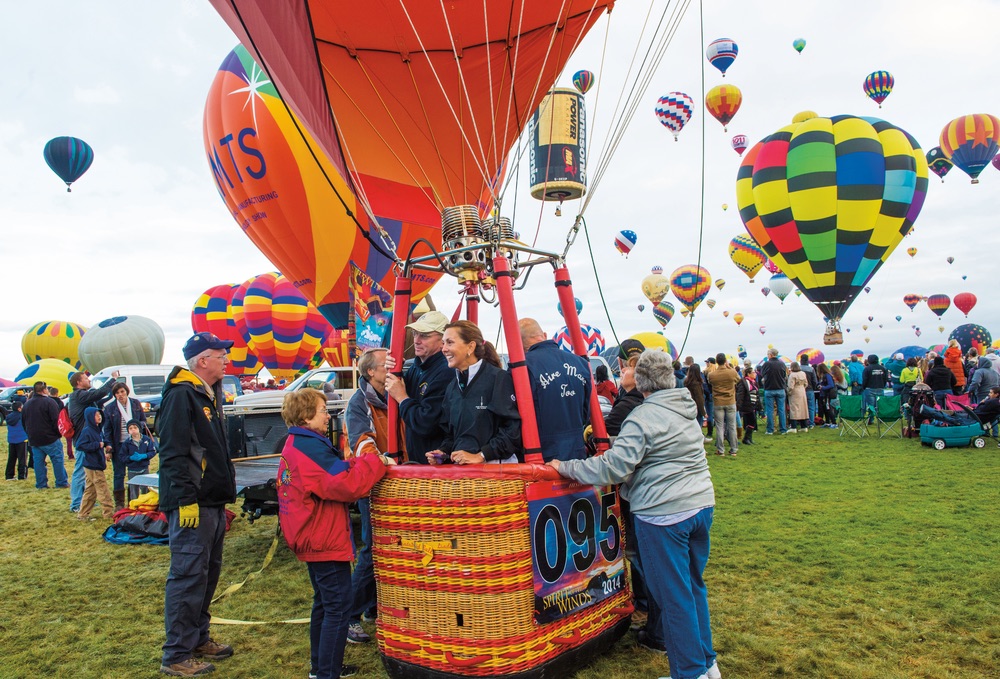 What to Expect
Several different ballooning events take place throughout the nine days. Weekends and Wednesday see mass ascensions when all registered balloons inflate and fly. Balloon glows take place most evenings. That's when balloons inflate but remain tethered, firing their burners in unison to create a glowing, seventy-eight-acre forest; fireworks follow the glows. The Special Shape Rodeos take place on Thursday and Friday when an average of a hundred one-of-a-kind balloons are inflated. Returning shapes include Darth Vader and Yoda, spaceships, bees, Smokey Bear, Humpty Dumpty, and even Spider-Pig from The Simpsons Movie. Monday and Tuesday mornings' balloon competitions include grabbing keys off of tall poles to win vehicles and dropping bean bags on targets. Competitions are fun to watch, are less crowded, and display the talent of some of the best balloon pilots in the world.
Days begin at 5:30 a.m. when the launch field opens, and the darkness is punctured by columns of flame as pilots test their burners before tipping their gondolas on their sides and attaching the envelopes. Crowds gather around the baskets to warm themselves, sipping hot chocolate and munching breakfast burritos as they chat with the pilots and crews. A few balloons, called Dawn Patrol, launch to test conditions, glowing like Chinese lanterns in the still-dark sky. As soon as the green flag is raised, indicating favorable flying conditions, hundreds of gas-powered fans roar to life and inflate the balloon envelopes on the ground. As the sky begins to lighten over the Sandia Mountains, propane burners roar and heat the trapped air, causing the billowing balloons to tip upright to the cheers of the crowd. Field officials called Zebras (for their referee-like uniforms adorned with zebra motifs to stand out in the crowd) clear the area around the balloons, and with blasts of their whistles give the all-clear for launch.
New Mexico's October days can start out near freezing and climb to the 80s, so dress in layers. Traffic to the Fiesta Park is always heavy; give yourself enough time or consider taking a Balloon Fiesta Express Park and Ride bus (www.balloonfiesta.com/guest-guide/park-ride) or even riding a bike—there's secure, free bike parking. Bring a hat and water, and make sure to charge your camera. Balloon Fiesta is thought to be the most photographed event in the world.
Balloons typically land before 10 a.m., and there's plenty to do in Albuquerque afterward. The Anderson-Abruzzo Albuquerque International Balloon Museum next to the launch field details the history of ballooning with interactive displays. The Sandia Peak Tramway takes passengers to the top of 10,378-foot Sandia Mountain for soaring views and hiking. Historic Old Town is a must-visit for local Southwest dining and shopping, and Nob Hill is full of Route 66 charm and local boutiques and restaurants. Albuquerque has many excellent museums, including the Albuquerque Museum of Art and History, the New Mexico Museum of Natural History and Science, and Explora Science Center and Children's Museum. The ABQ BioPark (which includes the Zoo, the Botanic Garden, the Aquarium, and Tingley Beach) is a fun place for families to go in between ballooning events, and Albuquerque's green chile-based cuisine and art and jewelry shopping make it a great destination anytime.
Albuquerque has many places to stay ranging from budget to luxury. Make your reservations as early as possible, as almost every room in the city is booked during Fiesta. The new Hotel Chaco in Old Town pays homage to New Mexico's ancient Native American culture and offers Balloon Fiesta packages; the balloons can be seen from its rooftop patio. Western-facing rooms at Nativo Lodge have balconies with views of the balloon launch, and its rooms, painted by Native American artists, bring a boutique feel to this locally owned property. Sandia Resort and Casino on the Sandia Pueblo east of the balloon field offers prime balloon views; make reservations at its top-floor Bien Shur restaurant on balloon glow nights. Hyatt Regency Tamaya Resort and Spa on the Santa Ana Pueblo north of the balloon field has a secluded feel but is an easy drive to the launch field, and the balloons can be seen when the winds are to the north. Tamaya offers its own balloon rides year-round ($195 a person).
During Fiesta or any time of year you can take a balloon ride with a number of companies, including World Balloon, Rainbow Ryders, Private Balloon Flights, Above and Beyond, Above it All, and Enchanted Winds.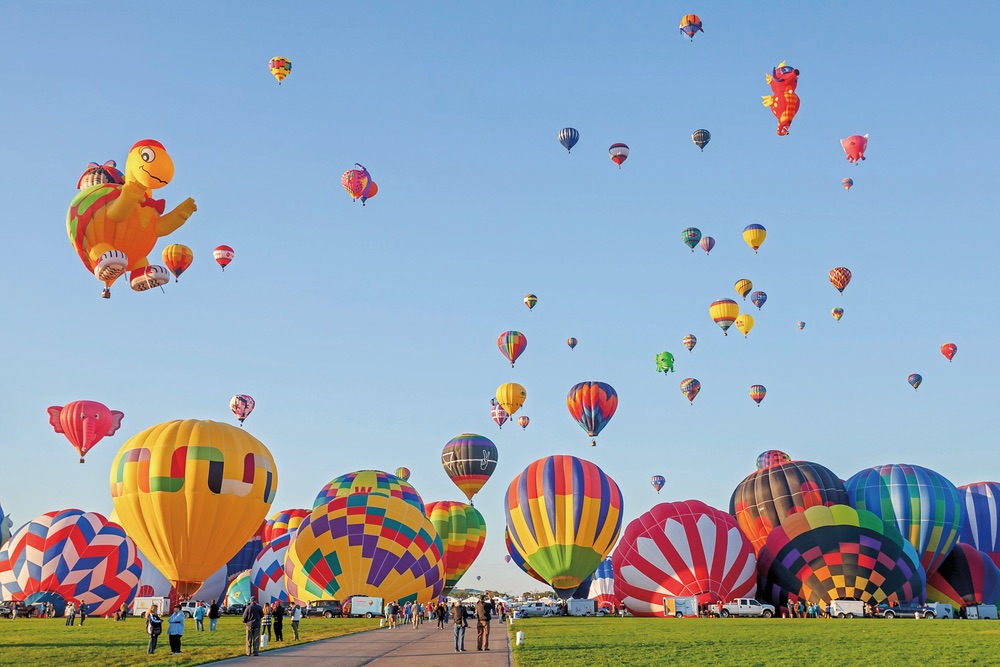 A Perfect Landing
Reading a favorable breeze, Sabia skillfully steers our balloon east toward the Rio Grande for a splash-n-dash.
"Ready to get your feet wet?" he asks me. Getting wet in a balloon was not something I had prepared for, but I'm game for anything. Feathering the burner, Sabia kisses the river's surface with the gondola before taking us skyward again. Kayakers cheer as we rise, dripping water on them as we pass overhead and clear the trees. The ride feels solid and more like looking out from a tall building than being conveyed by fabric, hot air, and the wind. Other balloons drifting down the Rio Grande create a postcard scene.
High above Albuquerque again, the flight is silent save for the occasional click of my camera and pop of the burner. Other balloons begin to pick landing sites, and soon Sabia's radio squawks to life. He's picked an open lot for landing, and our chase crew is on its way to meet us. Pulling ropes and flaring the burner, Sabia expertly glides us to the ground. Our waiting chase crew holds down the balloon as Sabia pulls a cord and the envelope deflates. My feet firmly on the ground, a champagne flute is handed to me. In 1700s France, where ballooning originated, angry farmers in whose fields balloonists landed were pacified with a bottle of bubbly, and the tradition has thankfully stuck. I raise my morning drink as the Balloonist's Prayer is recited:
May the winds welcome you with softness. May the sun bless you with its warm hands. May you fly so high and so well that God joins you in laughter and sets you gently back into the loving arms of Mother Earth.
Lightheaded either from the experience or the alcohol at nine in the morning, I help pack the balloon away. The hour-long flight already seems like a much longer dream that I know will stay with me a lifetime.
—V—
---
For more information about the Albuquerque International Balloon Fiesta and Albuquerque, visit BalloonFiesta.com and VisitAlbuquerque.org.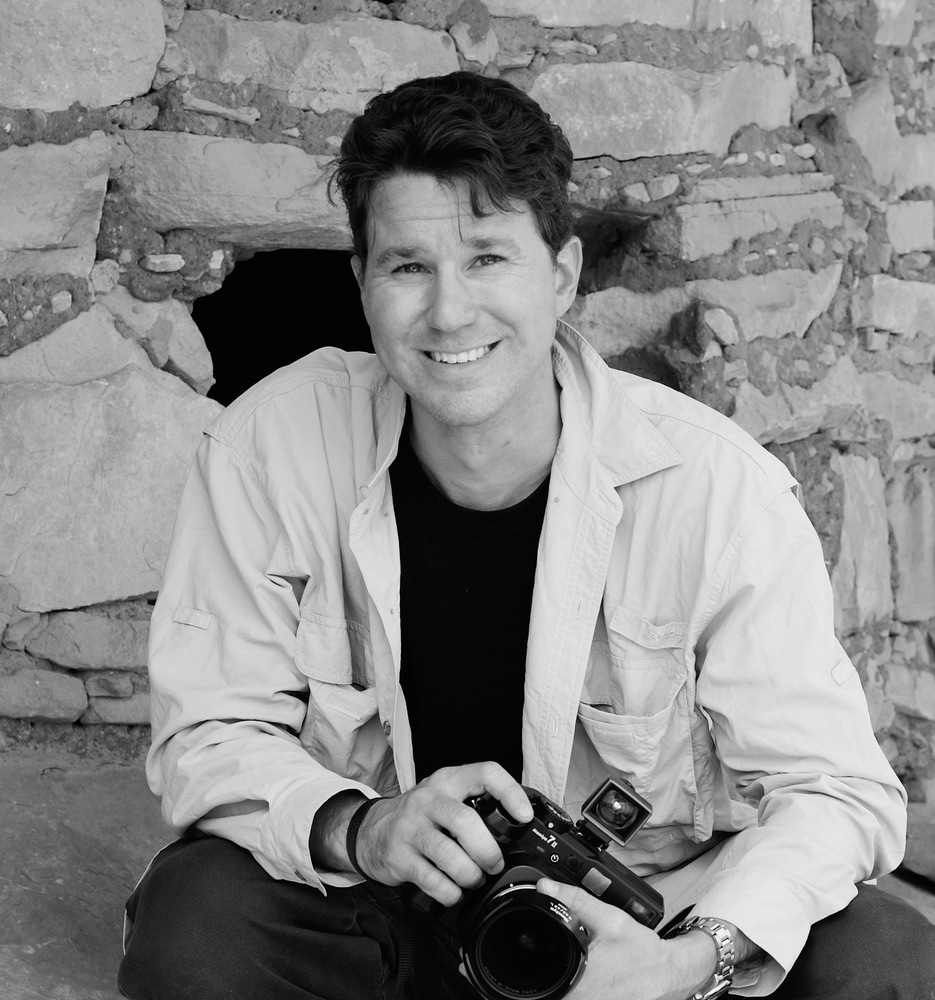 Albuquerque-based travel journalist Steve Larese also writes for National Geographic Traveler, the Travel Channel, and other publications. He experienced his first Balloon Fiesta in 1993 and has only missed one since.
ARTICLE CATEGORIES