Dynamic Duo Brittney and Brian Kelley Create a Movement
By Abigail Ryan | 
Photography by Brenna Kneiss | 
Hair and Makeup by Kaitlyn Brown
You might be familiar with Brian Kelley of the American country music duo Florida Georgia Line, but how much do you know about his wife, fashion designer Brittney Kelley, and their lifestyle brand, Tribe Kelley?
Born and raised in the Empire State of the South, this Georgia peach is no stranger to the retail industry. Brittney's love for customer service began at a young age when she used to dream of having her own store. The desire stemmed from growing up with her grandmother, who owned and operated a flea market near Indian Springs, Georgia. Brittney later made her way to the Classic City of Athens, where she attended the University of Georgia and majored in psychology. Throughout college, she created and sold custom T-shirts and repurposed vintage jewelry on Etsy and would advertise her shop via her Instagram account. As she gained fans, the shop took off, and Brittney had a feeling she was onto something spectacular.
Fast-forward a couple of years to when Brittney met the love of her life, Brian Kelley of Florida Georgia Line. The two became inseparable, were married during Brittney's last semester of college, and started their life together on a bus traveling from city to city for FGL's tours. Brittney often found herself creating custom pieces for her husband and other members of the band. She knew then and there that her zest for fashion design was real—and the rest is history.
Meet Tribe Kelley.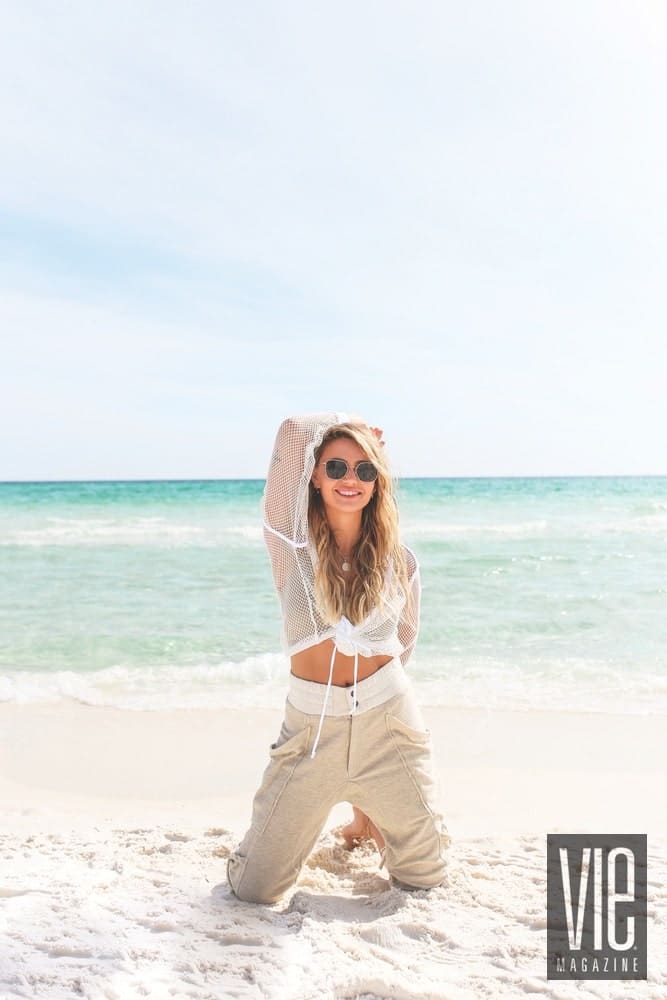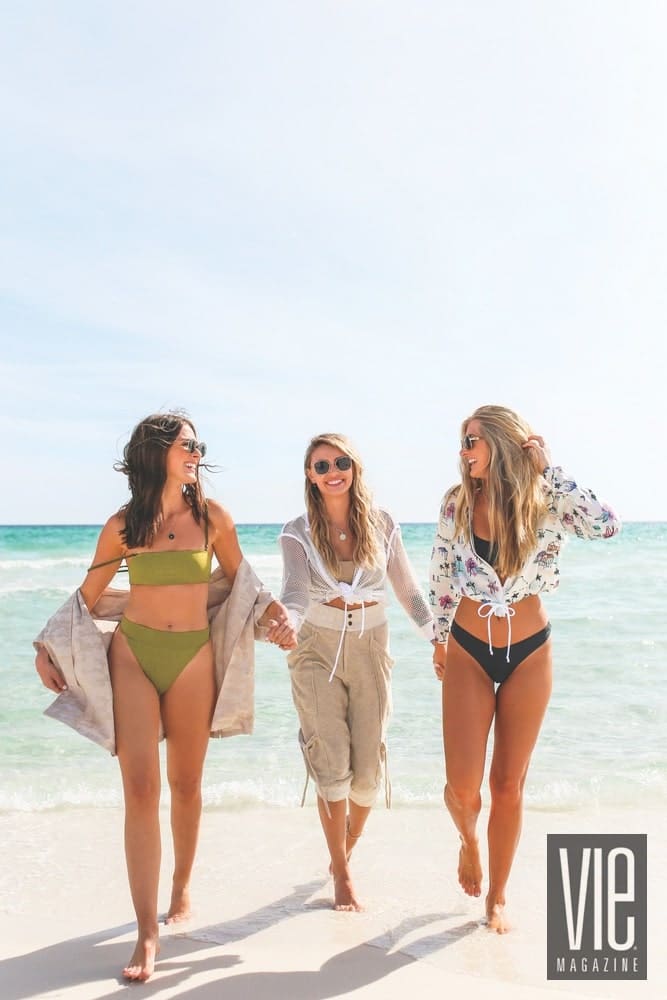 The name was born on the tour bus while Brittney and Brian were writing the first chapter of the brand. "We knew we wanted the name to represent family and our 'tribe,'" Brittney explains. "Having Native American ancestry in my maternal lineage, it was also a nod to that part of my heritage. The tepee logo is a symbolism of protection and, to me, my marriage. Brian and I had a special moment at our personal tepee the night before our wedding that we will never forget and connects us to each other for life. We wanted to make sure we carry this symbolism throughout our marriage."
The mission behind Tribe Kelley is to create a lifestyle brand that brings people around the world together through fashion and community while raising awareness to the sustainable, ethical side of the fashion industry. The Kelleys want more consumers to start asking, "Where were my clothes made?"
When intentionally researching what it takes to produce a full-scale clothing brand, the Kelleys began to wrestle with the problem that all designers face—manufacturing. "We knew we wanted to make sure the work environment was fair and safe and had healthy working conditions, no matter if it was in the United States or elsewhere," says Brittney. "We had to make a moral call on who would be sewing the mass of our production and how. We knew we had a social responsibility as humans to ensure that the people we were working with were getting paid fairly according to legal codes put in place by the United States. In thinking our production process through, we were met with the harsh reality of labor laws, or lack thereof, outside the country. The labor laws are typically not the same ones we believe in here, and so we ultimately strive to source and sew as many goods as possible from inside the States."
"We knew we wanted to make sure the work environment was fair and safe and had healthy working conditions, no matter if it was in the United States or elsewhere."
Tribe Kelley Trading Post, the brand's flagship store located in Hillsboro Village in Nashville, was the evolutionary next step for the brand, and it opened in December of 2017. It seemed fitting to open the first brick-and-mortar store in Music City, where the couple said "I do" and began their life together. "I was a small-town girl from Georgia, new to the big city of Nashville, and I wanted to share our brand with the city after three years of e-commerce," says Brittney.
"Britt is my dream girl, my love," adds Brian. "It's the best of both worlds to be married to Britt and grow Tribe Kelley together. It's a next-level bond to share that connection and vision when it comes to creativity and how to run a business. We balance each other out and really bring out the best in each other!"
Upon realizing they shared a love for historic homes and preserving the history within the walls while also bringing them new life, the Kelleys decided there was no better way to showcase the Tribe Kelley brand than on the canvas of a beautiful historic building among the magnolia trees in Hillsboro Village. They soon expanded the compound to include Meet + Greet, a private event and meeting space.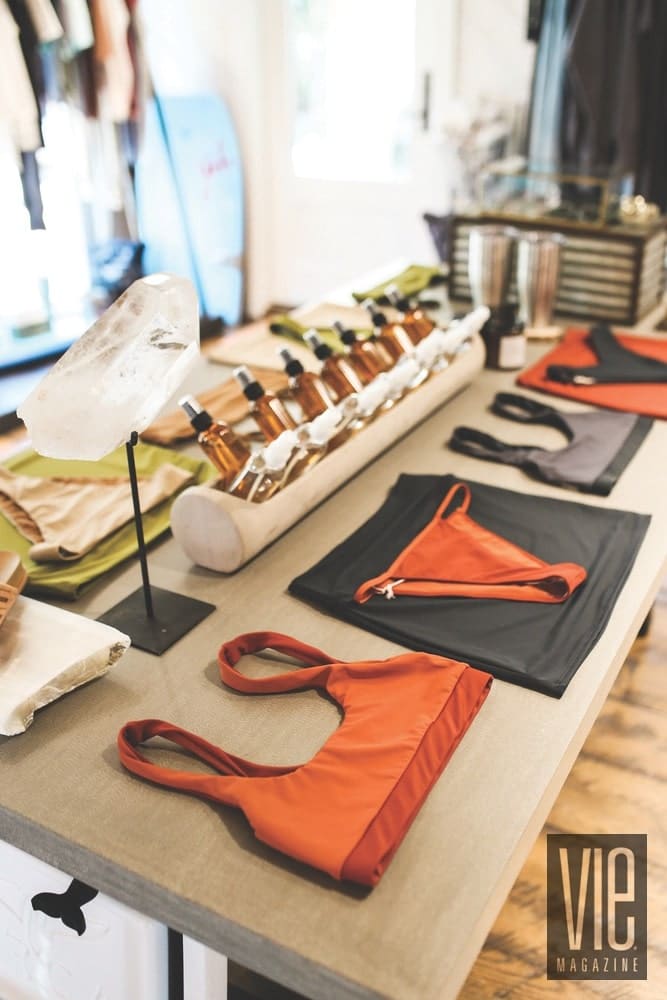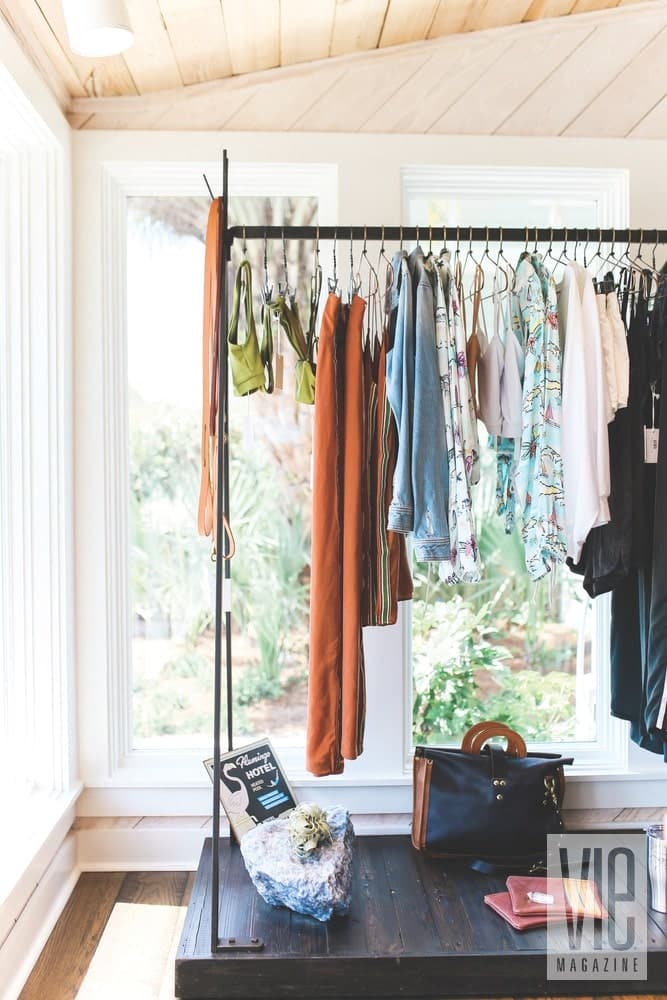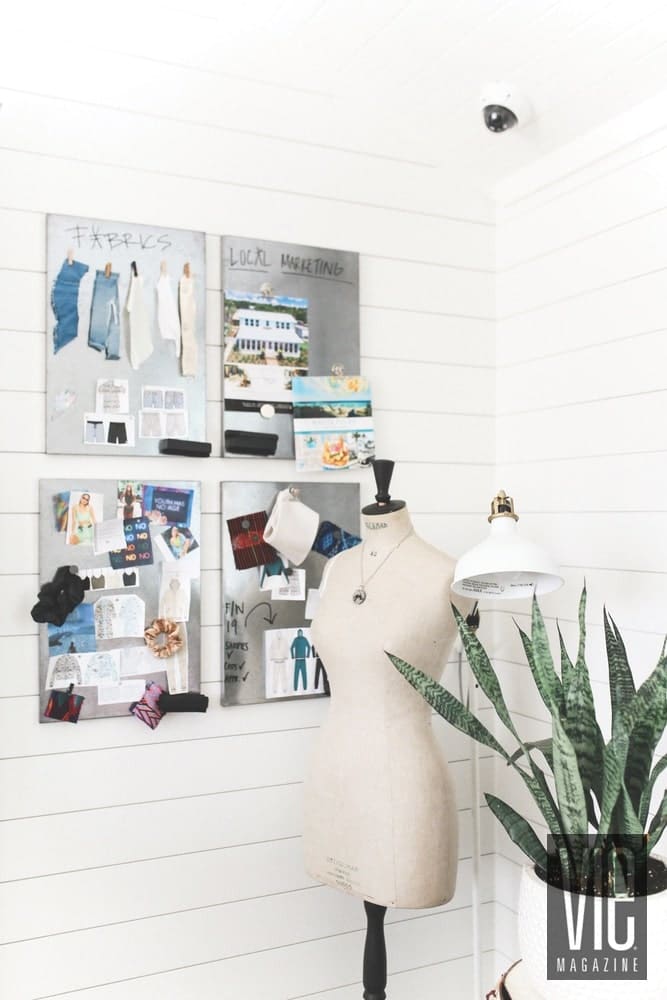 Less than a year later, the brand's second storefront opened—Tribe Kelley Surf Post. Brittney and Brian both grew up visiting the beautiful beaches of the Emerald Coast in the Florida Panhandle, so the area has long held a special place in their hearts. They even said "I love you" to each other for the first time while paddleboarding on Western Lake in Grayton Beach, not knowing that a couple of years later they would be locals. They bought a home there in 2016, and shortly after their move, the couple discovered that the original home of 30-A area veteran Van Butler was for sale; it sits across from the Red Bar, a landmark in Grayton Beach. "We felt like the house chose us," says Brittney. "We feel as if it's our responsibility to showcase the history of this corner of Hotz Avenue. The building had been on our radar since 2013. We heard it was originally the first general store in Grayton Beach and dreamed of it being back open to the public somehow. We had no idea that years later we would be able to open a boutique and restore such a historic piece of Grayton. We now have a collection of vintage photographs given to us by numerous locals showing historic Grayton Beach moments, and they're framed on the walls around the shop."
The Kelleys initially thought the whole building would be retail space, but when walking through the local landmark and approaching the second floor overlooking Western Lake and the Gulf of Mexico, they were inspired by the view in front of them and decided to use the upstairs as a his-and-hers studio. Brian's music studio is on one side and Brittney's design studio on the other, with the Surf Post retail shop below.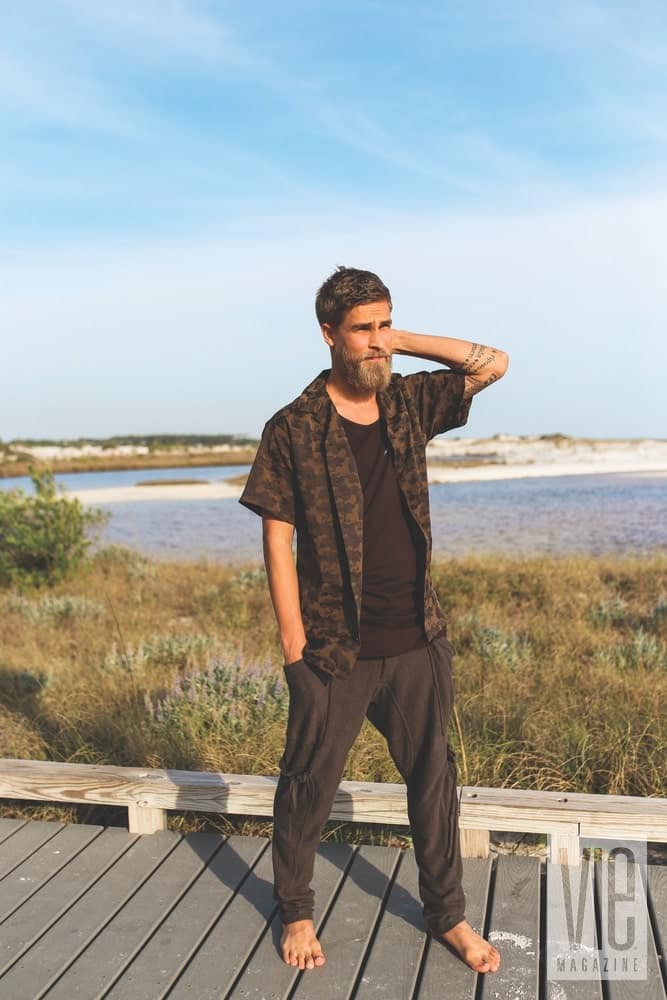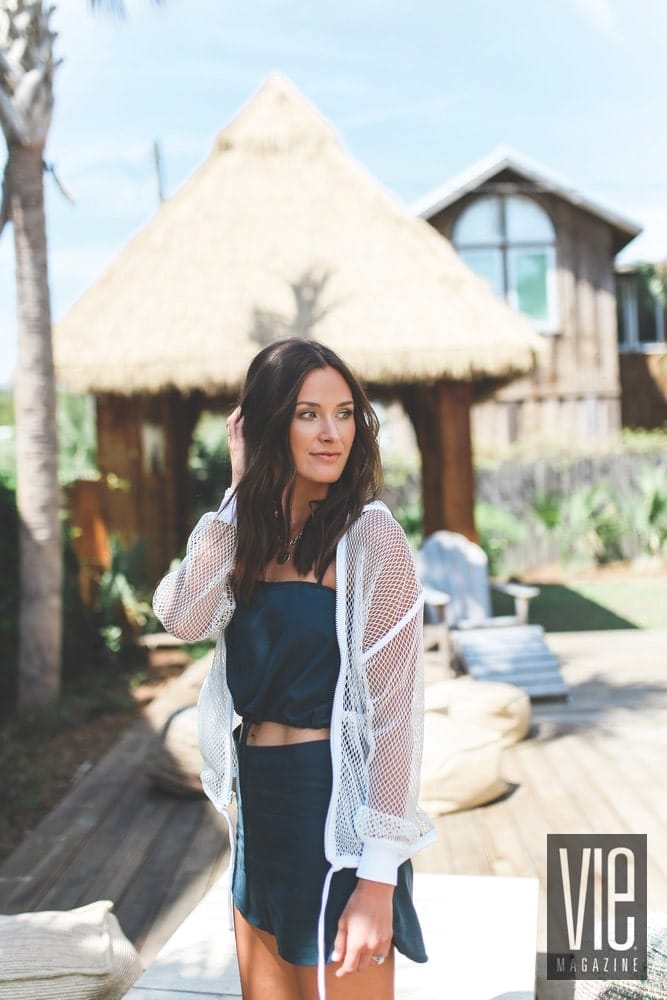 With Brian being a Florida native and Brittney becoming a local over the years, the pair have truly embedded themselves in the community. When Hurricane Michael hit the Florida Panhandle last year, the Kelleys were quick to help those in need, partnering with The Sonder Project to kick off its $5,000 Sonder Challenge program and donating $75,000 to Kingdom Impact Center of Panama City. They also worked hand in hand with locals to help clear trees and debris from homes and businesses damaged by the storm, and the Surf Post carries a line of stickers, T-shirts, and sweatshirts whose profits are donated to hurricane victims—it has raised $50,000 so far. Tribe Kelley partners with several other area charities including Alaqua Animal Refuge, Friends of Grayton Beach State Park, and the Bands of 30A. "We have seen such a positive light on the community during these times of crisis, and it has been amazing to watch everyone come together to aid those in need in the surrounding counties," says Brittney. "This local community truly embraces each other in difficult times, such as the unfortunate fire that occurred at the Red Bar." The iconic Grayton Beach restaurant and bar directly across from the Surf Post was leveled by a fire earlier this year. "We saw people from near and far come together and ensure the employees were paid their wages and the site was cleaned up. This is what community is about for Brian and me and one of the many reasons we love living here and having the Surf Post be part of it.
"The community of Tribe Kelley is a big differentiator for the brand," she continues. From team members to customers, everyone that is a part of Tribe Kelley is a part of their family. "We want our patrons to feel embraced by our tribe from the moment they walk through our doors. Our morals live in every fiber of the brand. We like to live by the motto, as Brian says, 'Work hard, do good, give back, and repeat.'"
"We want our patrons to feel embraced by our tribe from the moment they walk through our doors."
When creating unique pieces of the Tribe Kelley collection, Brittney and Brian take inspiration from the things surrounding them. "I draw my ideas mostly from my needs during my journey," says Brittney. "Tribe pieces are born from the moments when I find myself wanting a style that is not in my closet or that I am not able to purchase. Some common questions we find ourselves asking when designing different silhouettes: How does the fabric feel against your skin? How does the fit allow you to move? Can you travel in this piece? Does the color feel timeless? Will this piece last through the years? The fabrics, the quality, and the intention behind every detail from the inspiration, the design, the name, and the way it's merchandised in the stores are obvious differentiators between us and other brands."
The couple and their team continuously strive to create a unique experience for guests who visit their stores. Brittney explains, "Our all-natural candles will fill your nose with sweet aromas. You can taste our local honey and hear the sounds of music and clothing being made upstairs. You can touch unique fabrics that Brian and I handpicked, and you can see the new blended with the old. We think about all of your senses while you're in the Post." In addition to their brand, Tribe Kelley collaborates with other designers they believe in and who have a similar mission, which adds to that authentic experience. "One of the brands we partner with is Hampui Medicine Hats," Brittney says. "The collaboration was born from an organic hangout with the designer, Willee, in his garage in Berkeley, California. Brian and I work with him to hand pick each detail for every hat. Willee then blesses each hat, and together we pray over all the hats, instilling them with the message that each one will find the right head to call home." The Surf Post and the Trading Post, as well as TribeKelley.com, have a collection of vintage pieces that Brittney and Brian have curated over their journey.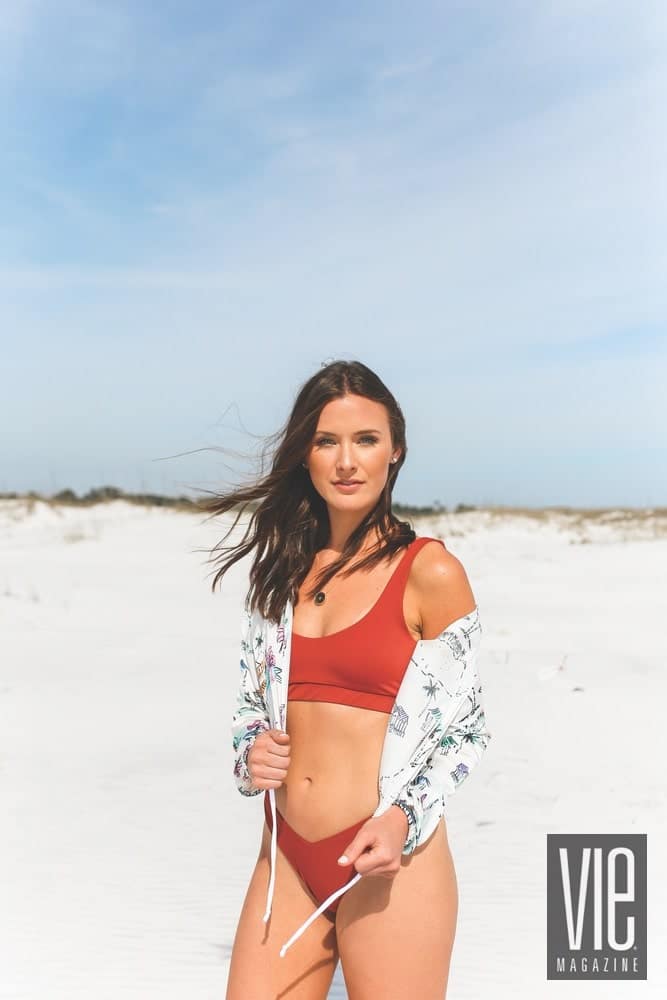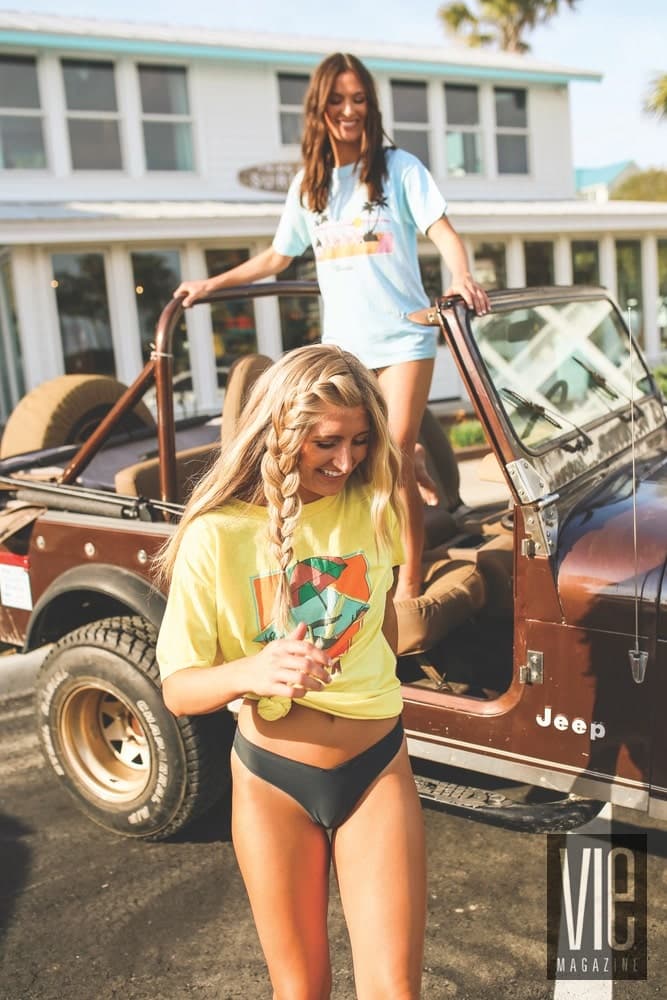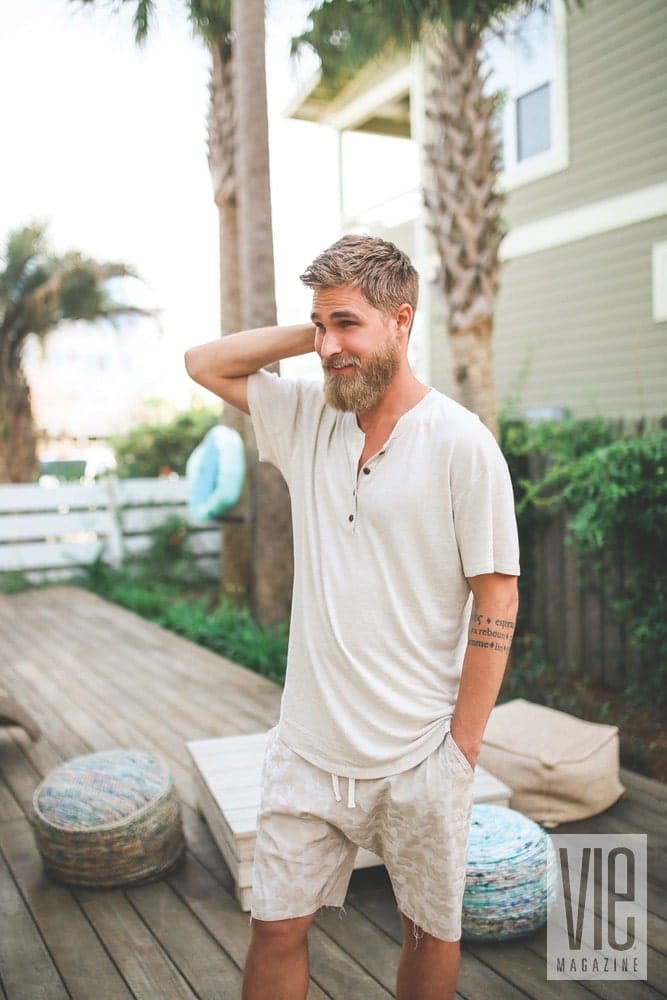 At Tribe Kelley, custom pieces are a specialty. When customers visit the Trading Post or the Surf Post and realize a piece might be too long or fit unusually, the Tribe team can custom alter it right then and there. "Most of our items are made with a raw edge and are able to be customized to your preferred length," explains Brittney. When visiting the Surf Post, you might even see their designers custom dyeing and cutting pieces in the green space in the backyard. At both locations, all members of the Tribe family are stylists! If you don't live near the Grayton Beach or Nashville areas, the team can send you a curated box of outfits to try on in the comfort of your home before purchasing any items! "One of my favorite parts about the job is customer service. I love serving our customers," says Brittney. "Styling people is so fun for me, especially customizing items to the customer's needs."
A favorite custom design of Brittney's was the outfit she wore to the fifty-fourth annual Academy of Country Music Awards in April. "I collaborated with Florida Georgia Line's stylist and created a three-piece suit out of Tribe Kelley's Orbit material. We made a tailored sports coat with custom biker shorts paired with our Orbit Traveler Bra. It was definitely a girl-boss kind of suit," says Brittney. "An all-time favorite moment for me was when rapper Lil Wayne performed at the 2017 Billboard Music Awards in all Tribe Kelley for his performance with Nicki Minaj. We knew a couple days prior to the awards show that his stylist had pulled some of our pieces, but we weren't sure if they had made the final cut. We were sitting in the audience at the Billboards when this happened, and we didn't know if he was 100 percent going to wear it until he stepped on stage, and we lost it! It was a surreal moment for us!"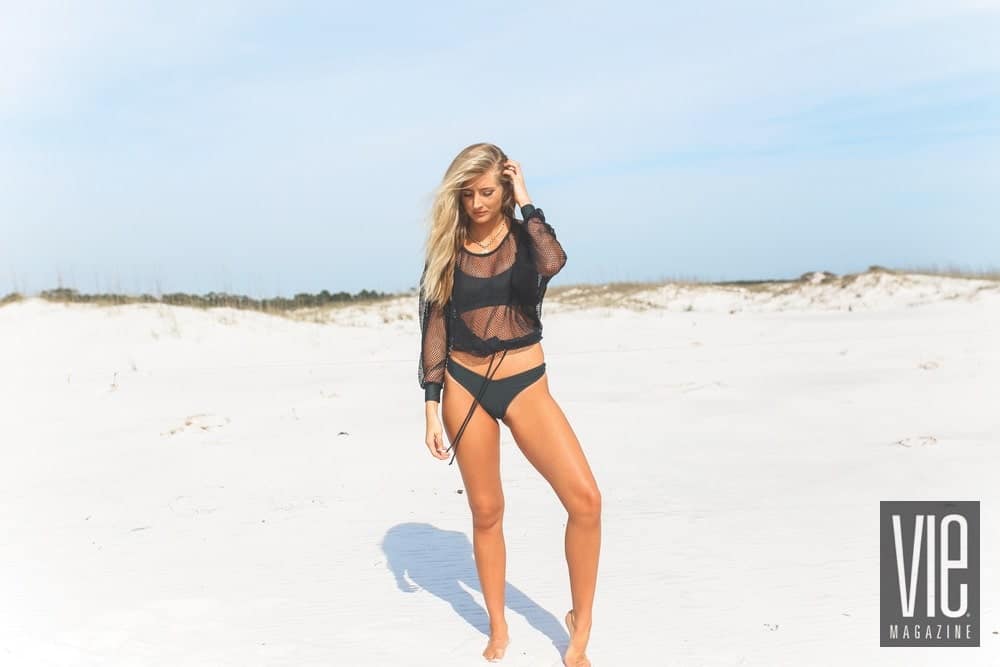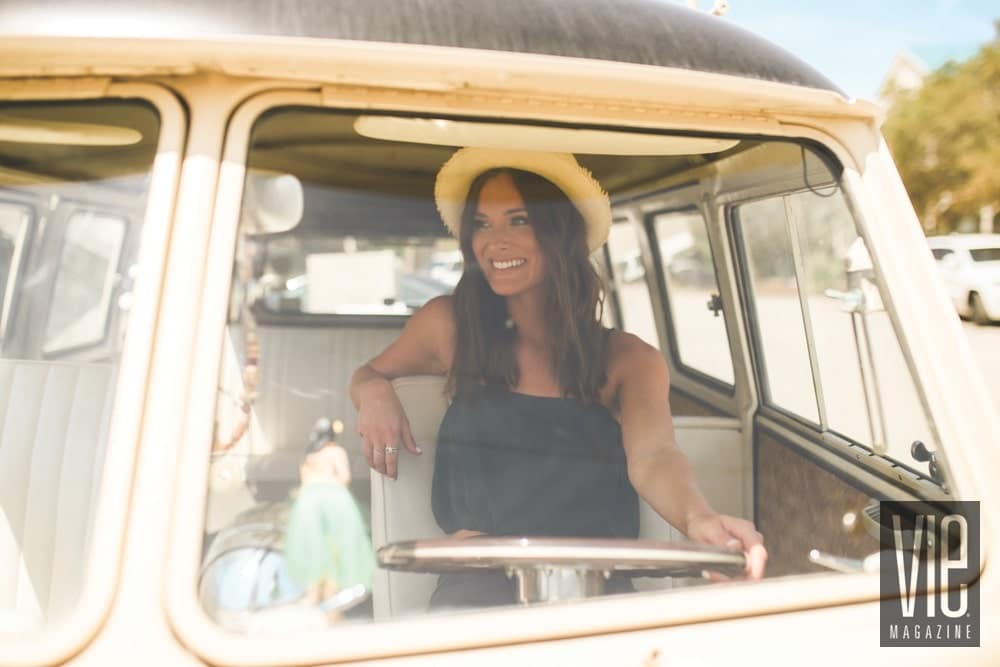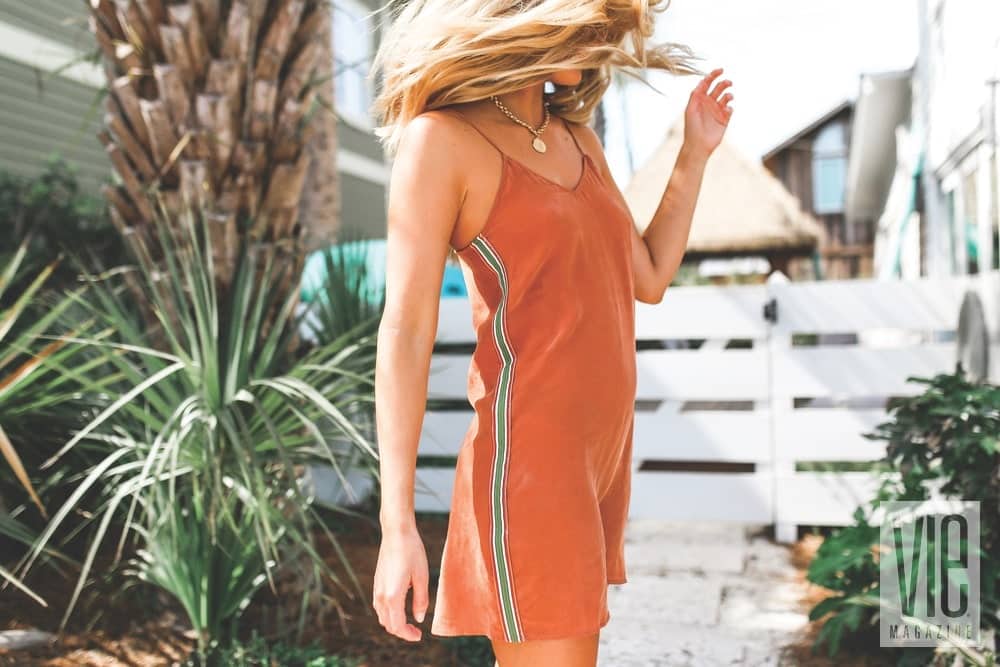 Being so intimately tied with a world-renowned country music band has influenced the Tribe Kelley brand in ways Brittney might not have expected, but it has also taken on a life of its own. "Florida Georgia Line has been a great platform to get our clothing in front of real people and get real opinions," Brittney says. Brian's fellow front man, Tyler Hubbard, often wears Tribe Kelley on stage and off these days, as well. "This platform initially gave me the support and the confidence to be a designer. What is even more of an 'aha' moment for me is when someone is wearing Tribe Kelley in public, or when I am chatting in the store with a customer who is not a country music fan and just happened to stumble upon the brand. It's moments like these that really give me the confidence that I must be doing something right!"
It seems that her husband couldn't agree more. "She's a natural-born leader and amazes me every single day with her ability to multitask and truly be a trendsetter," Brian says. "I couldn't be prouder of her, and we couldn't be more thankful and humbled to create together for a living."
What started as a small business that helped Brittney pay rent during her college years has flourished, and it's poised to become something beyond her wildest hopes. "It was a dream that I wanted to pursue, and we are trying to soak up each season of growth," she says. "We have our online shop and two storefronts near the East Coast and are sold wholesale in California. We are also in the process of setting up a pop-up shop in New York City that will open in the beginning of May and stay until the end of September. We feel extremely fortunate and are comfortable with where we are with the brand now—but who knows where the future could lead us!"
No matter where that might be, there's no doubt the Kelleys' tribe of fans, vendors, and team members will be there every step of the way.
— V —
---
To learn more about Tribe Kelley, visit TribeKelley.com. Be sure to visit the Surf Post, located at 99 Hotz Avenue in Grayton Beach, Florida, and the Trading Post, located at 1912 Twenty-First Avenue South in Nashville, Tennessee.
ARTICLE CATEGORIES