By Jordan Staggs | 
Photography courtesy of Tim Hussey
"I'd love to suggest just being honest at all times," says visual artist Tim Hussey. "We cannot know why we are here. That's impossible. It seems like the truth of each moment is the only night-light there is."
Hussey, who says he cannot remember a time when he wasn't creating cartoons as a child, believes that his quest for the meaning of life—in general and for his own destiny—is what calls him to art. "I drew to give myself some sense of differentiation," he explains. "I didn't understand what made people so sure of what life was for. I needed to find out on my own." After high school in Charleston, South Carolina, Hussey attended the Rhode Island School of Design with his "skateboarding buddy," Shepard Fairey. The latter is now known as the creator of OBEY Clothing. Dreams of sitting at a drawing board to create Rockwellian works of family and life were always in the back of Hussey's mind, but he began his career as a commercial illustrator painting sets for MTV during live television broadcasts (you know, back when they played music on MTV).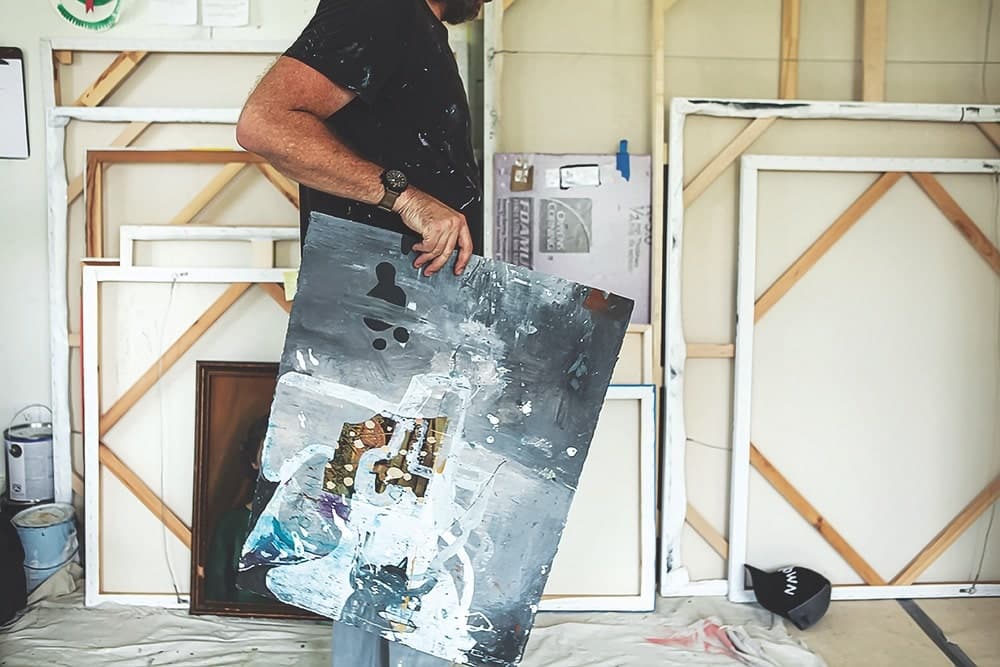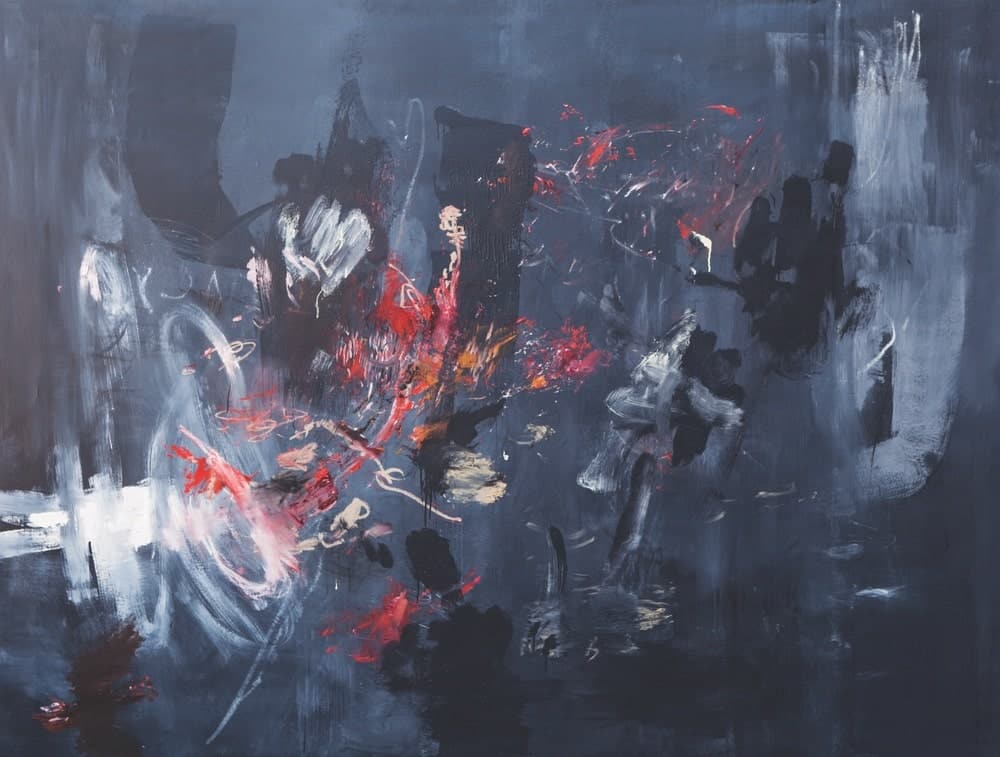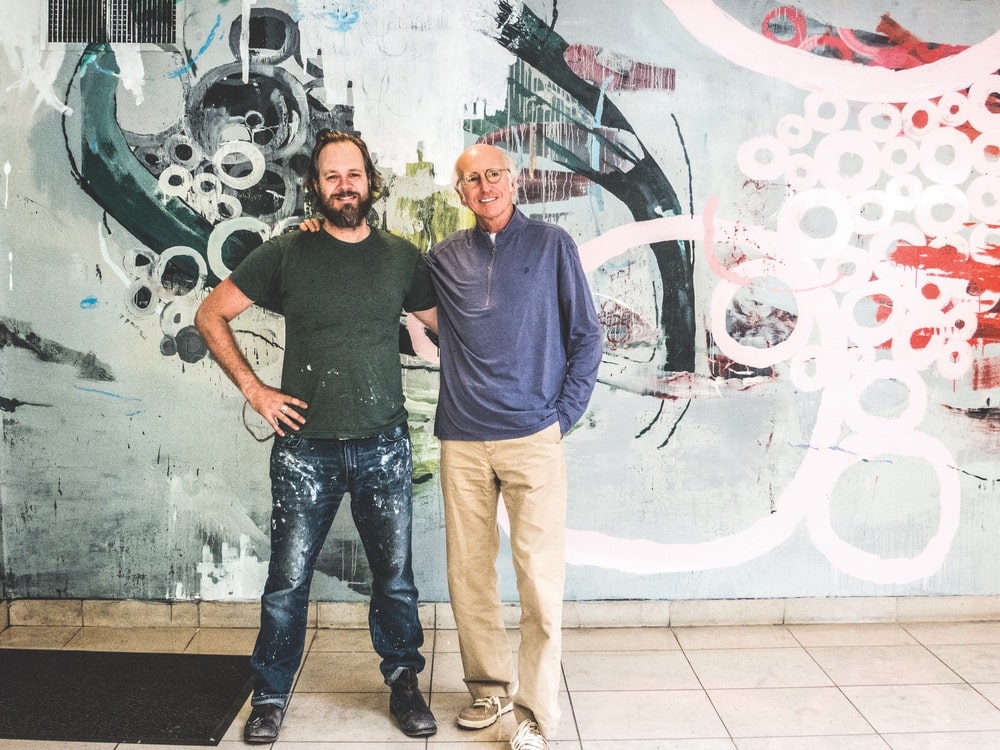 "After that, I floated from discipline to no discipline at all for six years—developing a career in illustration, which garnered some steady awards and opened doors for me to become a designer," Hussey says. "I taught myself publication design by spending late nights at Harper's Bazaar (roommate was an intern), copying Rolling Stone pages as best I could, and building out mock-ups of my own life experiences. This landed me a job at Musician magazine, then GQ, Men's Health, Outside magazine, and, eventually, launching Garden & Gun as art director in 2007."
Between his commercial projects, Hussey explored another side of himself—the fine artist who had those Normal Rockwell visions. In 2000, he spent some time off from commercial illustration and focused more on that side of the business. Zeitgeist, a Nashville art gallery, first showcased his work on the kind recommendation of stylist Joseph Cassell. "I couldn't have done it without him," Hussey says. "He found my work online and took it to Zeitgeist. He is now the most coveted stylist in Hollywood and is still Taylor Swift's personal stylist."
"I would like to think I achieve a replication of a moment or at least the basic structure of how I feel day to day."
Having grown up in Charleston—where his family lived since the Revolutionary War, he says—Hussey returned several times over the years and lived there for varying periods before heading off again to pursue his career elsewhere. "I just wasn't ready to stay," he says. After he and his wife, Elise, married in 2011, they moved to Los Angeles, "to be closer to a good art scene," he explains. "For four years, I showed in galleries and reunited with Shepard, who helped me get some great press and exhibitions. My wife and I decided to move back to Charleston after that to be close to my mother, who had Parkinson's."
Hussey's body of work is an impressive mixed bag of illustrations, graphic design, painting, photography, and more. Unlike artists who find their niche and stick with it to create a collection with a single message, his only common thread seems to be his mind, wherever it may roam each day. "I just pick back up in this unconscious realm where I am playing a game of chess with myself, only with art supplies," he says. "The soul of my work lies in compulsions to add or subtract imagery, lines, colors—all the while evaluating carefully how one thing changes when up against another. Every color, every image, every line can be beautiful when up against the right opposing subject. I am not interested in one finding meaning in my work. I more enjoy the visceral responses viewers have. My art isn't for everyone, but that goes for all art."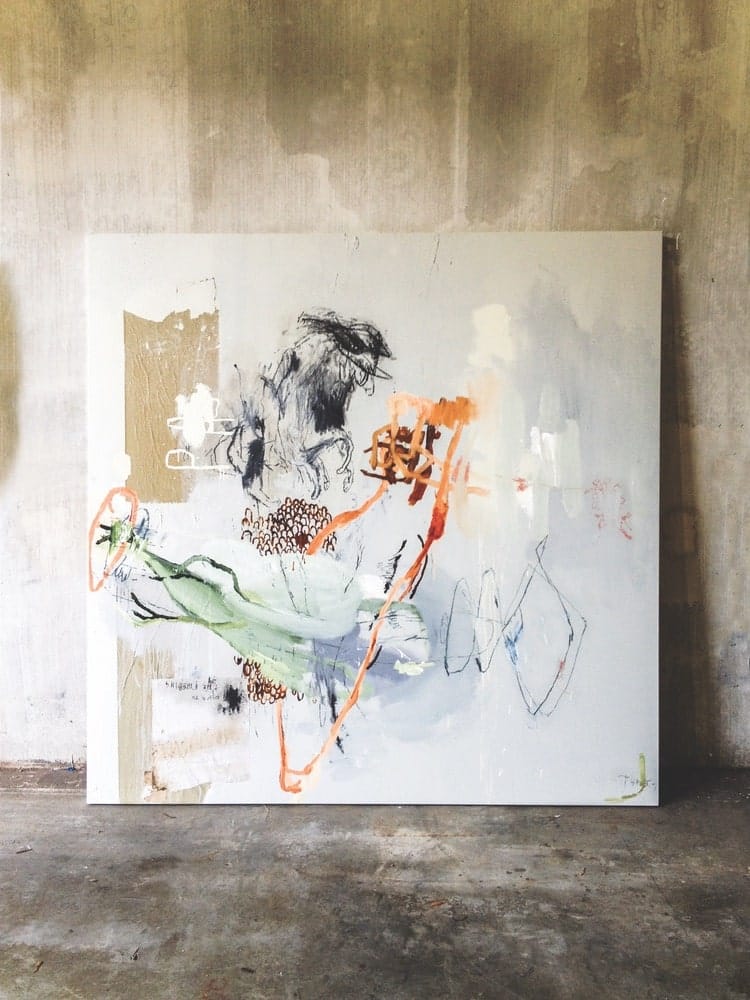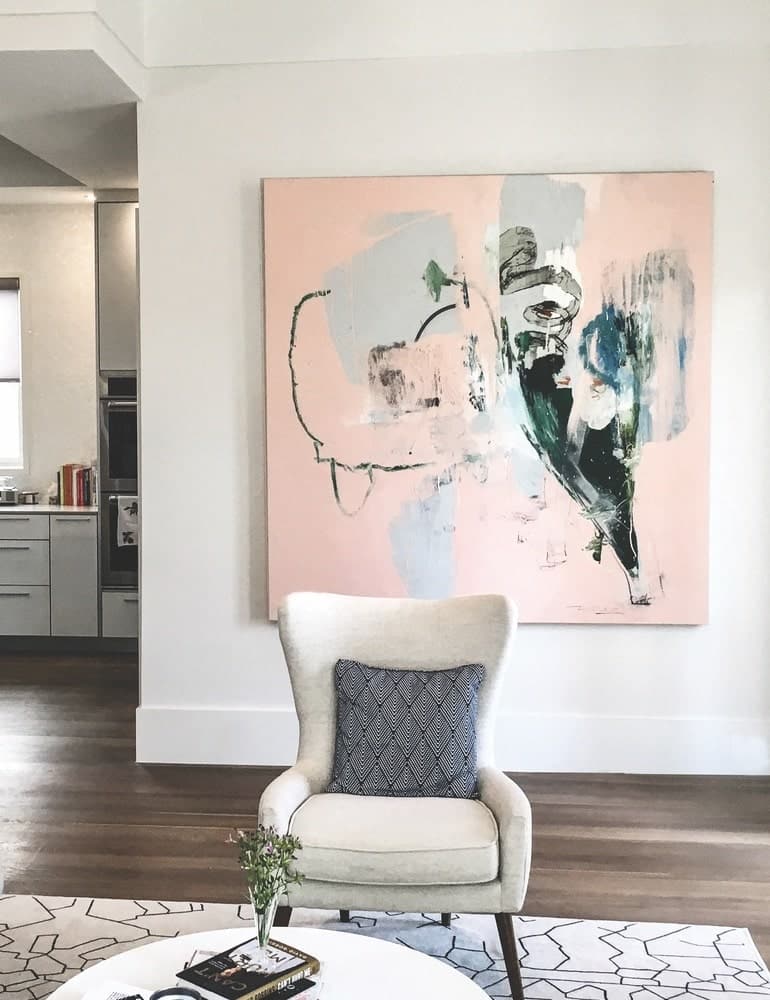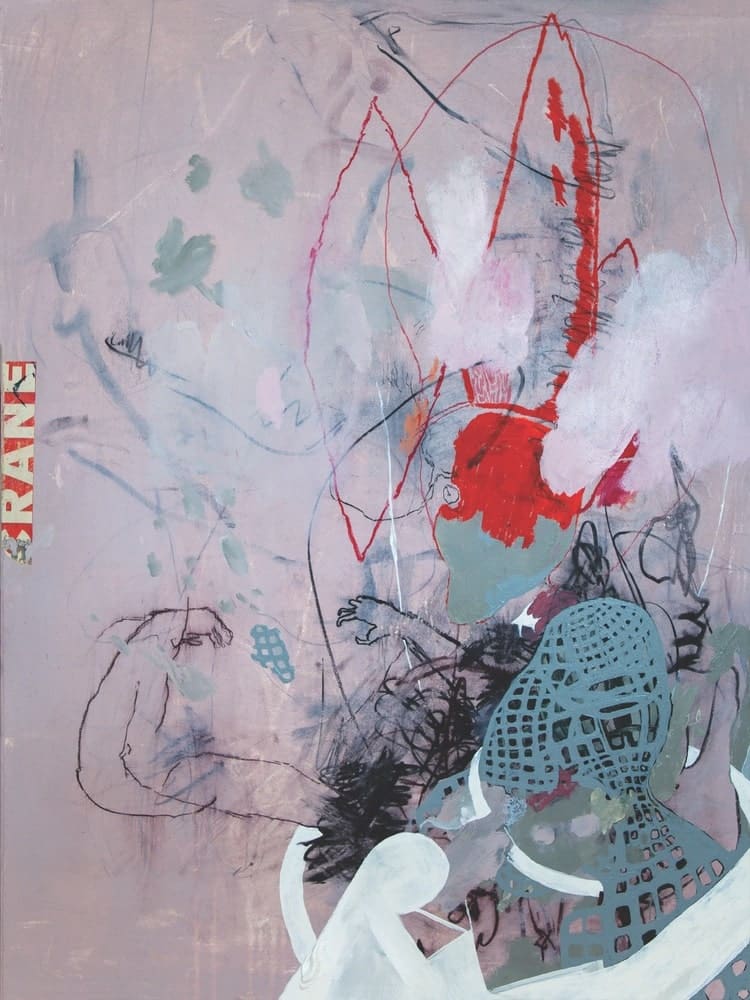 Still, his work has attracted attention from private collectors over the years and has been featured in design publications including Dwell, The New York Times Magazine, Architectural Digest, Real Simple, and more. The abstract swaths of color, lines, shapes, and simple words or phrases have a quiet power that provokes reflection. "I would like to think I achieve a replication of a moment—or at least the basic structure of how I feel day to day—and that the arrangement of these elements can open someone's eyes who has a like-minded approach to life," Hussey says of those who enjoy his work. "It's always a big surprise to stumble upon my work hanging in someone's home. It's embarrassing, for the most part, but always a treat to see it objectively, if only for a split second."
Although he doesn't have a favorite from his work, Hussey shares that the most fun he ever had while painting was creating a sixteen-by-twenty-foot mural in Santa Monica for the studio of renowned comedian, actor, director, and producer Larry David. The colorful piece spans two floors with bubble-like circles, bold red brushstrokes, and paint drips playing across a field of bluish-gray.
"I guess I see an artist's brain as being more of a lifestyle that involves certain mindfulness and sensitivity to everything around you."
Now the father of two young girls, Hussey lives in Charleston with his family and still enjoys a varied art career that includes painting, illustrating, graphic design, and photography. He shares works and snippets of his life on his Instagram account @thusseystudio, along with poignant words that some might argue could add poetry to his list of talents, though he denies being a writer. "Finding the truth in words is far easier after searching for the truth through abstract art," he offers.
"Photography will always be my first and most important love," Hussey admits. "It might not seem as unique to others as my painting, but I take great pride in trying to feel out a moment and 'getting it.' I don't want to only get it, though—I want to suggest a deeper narrative; otherwise, it's just a photo. Photography is still my purest, most natural form of expression."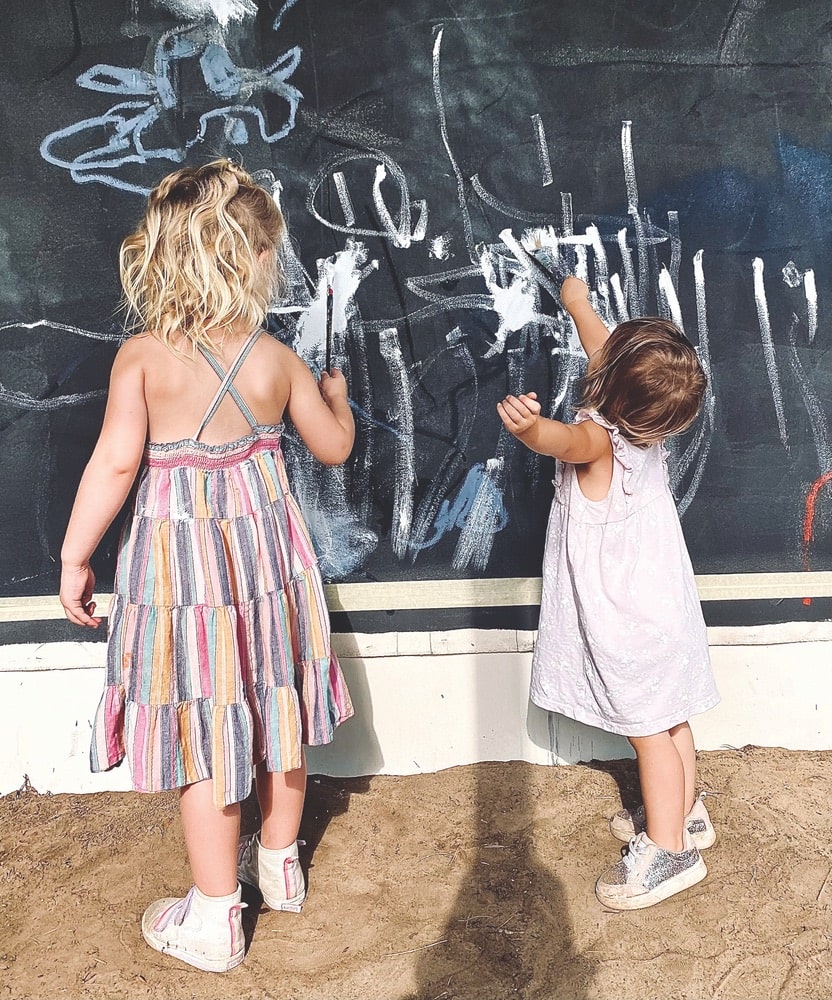 His daughters—"the best art I've ever made," he proclaims—like to create and sometimes play in their dad's studio, but Hussey says he has surprised himself by not pushing them much to pick up a paintbrush. "I guess I see an artist's brain as being more of a lifestyle that involves certain mindfulness and sensitivity to everything around you. One doesn't have to paint or even produce anything. I want to instill in my kids that a good conversation, a good story, or just a moment of reflection are the best stuff you'll get out of an artist's brain. I want them to see this whole mess of life from afar and never take it too seriously."
That advice could be taken to heart by anyone, artist or not, but certainly applies to others who dream of going into the field Hussey has pursued his whole life. He urges them to remain wary of how difficult it can be but also to embrace possibilities that can come from determination and genuine love of creating. "It has to be the long game if they truly are driven to create," he expounds. "I'd say you should never see art as a career choice, but put your heart into it, and it may join your adventure as a parallel career—one that makes money when it's supposed to, but other times drops away to nothing. David Lynch said you cannot create if you are worried about money. It took me twenty-five years to come to terms with that. But it's a wonderful ride to be an artist—it opens so many doors that others may never have access to because it defies class systems, sex, race, and age."
— V —
---
To view more of Hussey's art, visit his Instagram @thusseystudio or his website, HusseyArt.com. You can also shop available works at THussey.com.
ARTICLE CATEGORIES