Story courtesy of Linda Miller Real Estate | Photography by Alex Hall, Whitecap Productions
Linda Miller Sells Paradise on "The Smile" of Florida
With multimillion-dollar residences abounding in 2021's thriving real estate market thanks to a mix of urban flight and a desire for luxury living by the coast, Northwest Florida's Scenic Highway 30-A area has grown exponentially in the past decade. The coronavirus pandemic led to a surge of homeowners realizing they could live just about anywhere thanks to remote working technology. Walton County, Florida, has been one of the nation's fastest-growing counties for years, even before the global crisis, and it's shown no sign of slowing down. As a result, real estate has picked up even more steam; in fact, the 30-A market is on track to hit a whopping $4 billion in residential sales for 2021. Linda Miller Real Estate, a boutique luxury brokerage located in the heart of Seagrove Beach, is excited to be a leading expert in real estate and the luxury lifestyle that homeowners will enjoy in this beautiful beachside region.
"We have been so blessed to be able to live so freely and continue to work and enjoy the gorgeous area of 30-A we call home," says broker and owner Linda Miller. "I nicknamed this area 'The Smile' years ago when I was getting started in real estate, because of the shape of Highway 30-A and because it's my happy place. I've been privileged to help hundreds of customers find their happy place here, too. We were so blessed to experience a silver lining in the chaos of 2020, as so many people decided they wanted to call this place home or home away from home. My team and I are so excited to be busy and help both new and returning clients find their dream homes or, for our sellers, get amazing returns on their investments."
Linda Miller Real Estate has surpassed almost $100 million in sales so far in 2021, including two incredible Gulf-front properties that were recently listed for $12.5 million each. It's no wonder that Linda is considered one of the greats here on 30-A, with her reputation preceding her. She has guided many people to not only their dream home but also their dream net worth. "It comes as no surprise to me that I have the same clients reaching out to me time and time again," she says. "People can see when the numbers work, but they have to feel the energy beyond the figures to get behind the vision themselves. Because of this, I always embrace, love, and help my clients as I would those dear to me. My brokerage is family, not a franchise."
Lagniappe in Paradise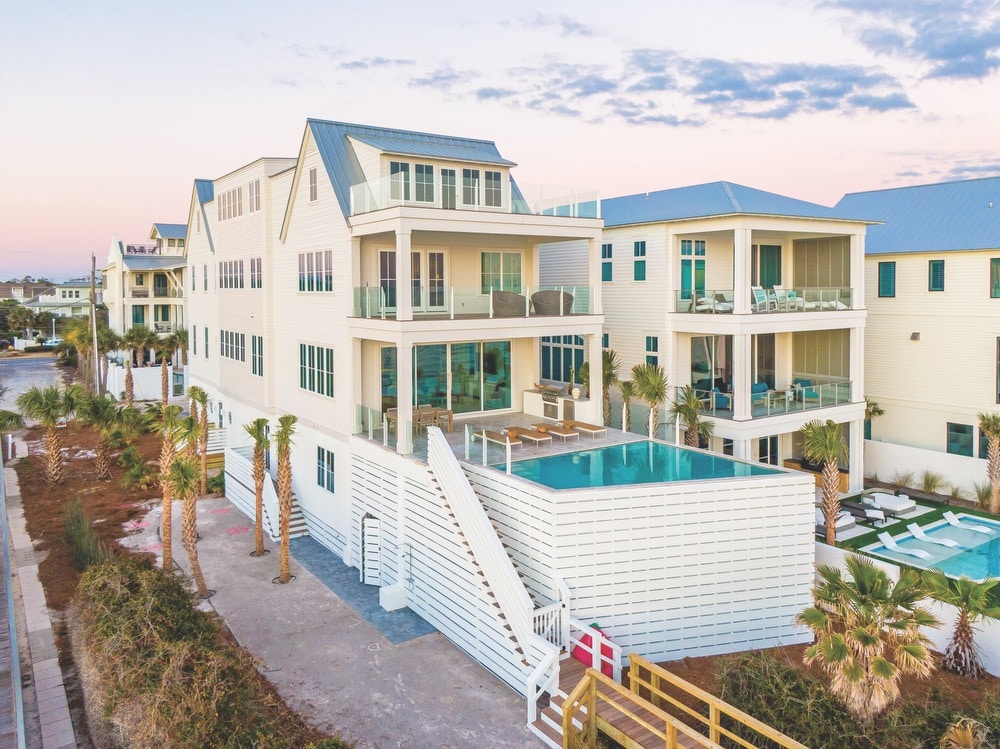 47 Hinton Drive, affectionately known as Lagniappe in Paradise, is a Gulf-front dream home built by Benecki Fine Homes and decorated by Melanie Turner Interiors. It was listed by Linda Miller for $12.5 million and sold by John Sisty, VP of marketing for Linda Miller Real Estate. Located in Seagrove Beach with seventy-six feet of private sugar-white sands and its own walkover, it's truly an oasis on the coast.
"From the second-floor negative-edge pool to the huge adjacent open living, dining, and kitchen area, this home was a dream to show and to sell."
"This is what we talk about when we picture 'something extra,'" says Miller. "From the second-floor negative-edge pool to the huge adjacent open living, dining, and kitchen area, this home was a dream to show and to sell. We are so excited for the new homeowners to make memories with their family and friends here."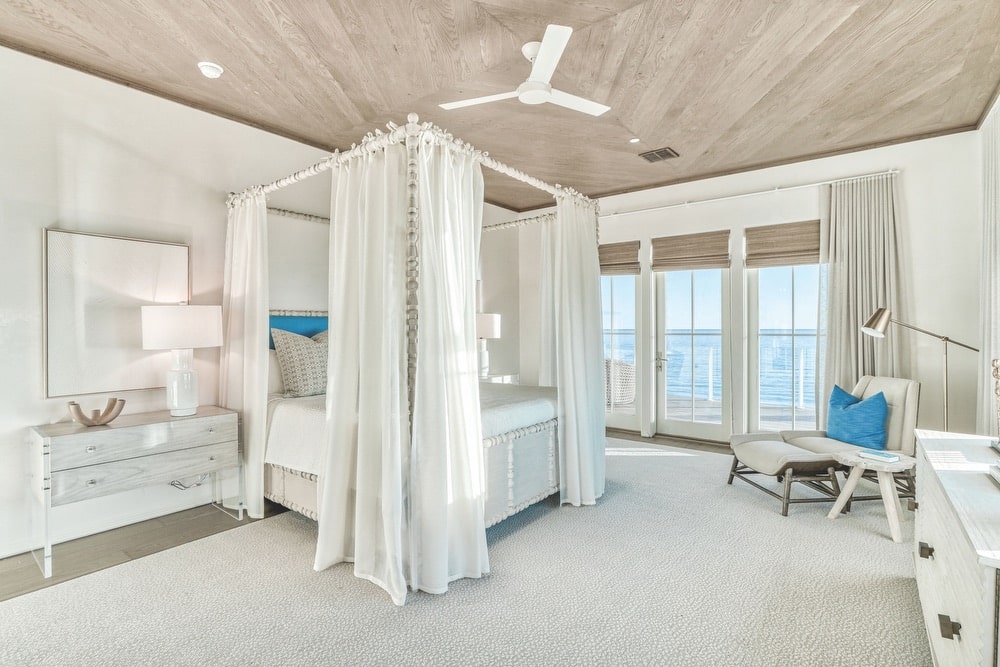 Linda mentions that "In hindsight, I can see what makes deals like these so special. The key is that they benefit all parties involved tremendously. Between the builders, the buyers, and the investors, everyone got exactly what they wanted and needed. Together, we all came out smiling!"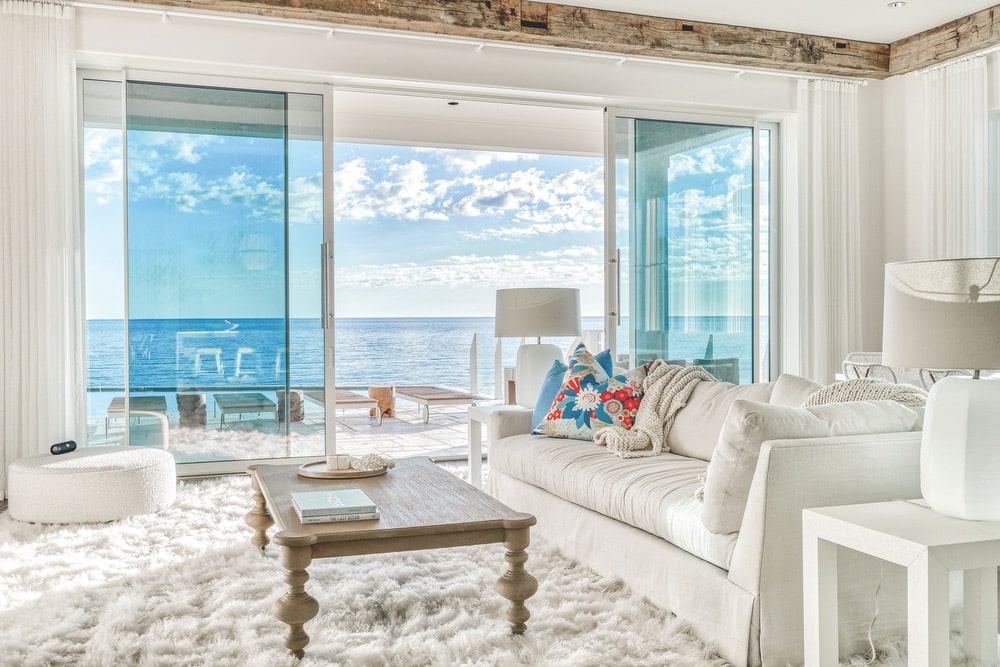 Considering that rental potential is always a factor in this popular resort town, this one tops the list with income projected at over $500,000 per year. Guests are sure to swoon over this expansive home with eight bedrooms, eight and a half bathrooms, and 8,475 square feet. The adjacent green space, sixty-mile Gulf views, three-car garage, and elevator are a few from an extensive list of luxury amenities just waiting to be enjoyed.
Sandcastle in Paradise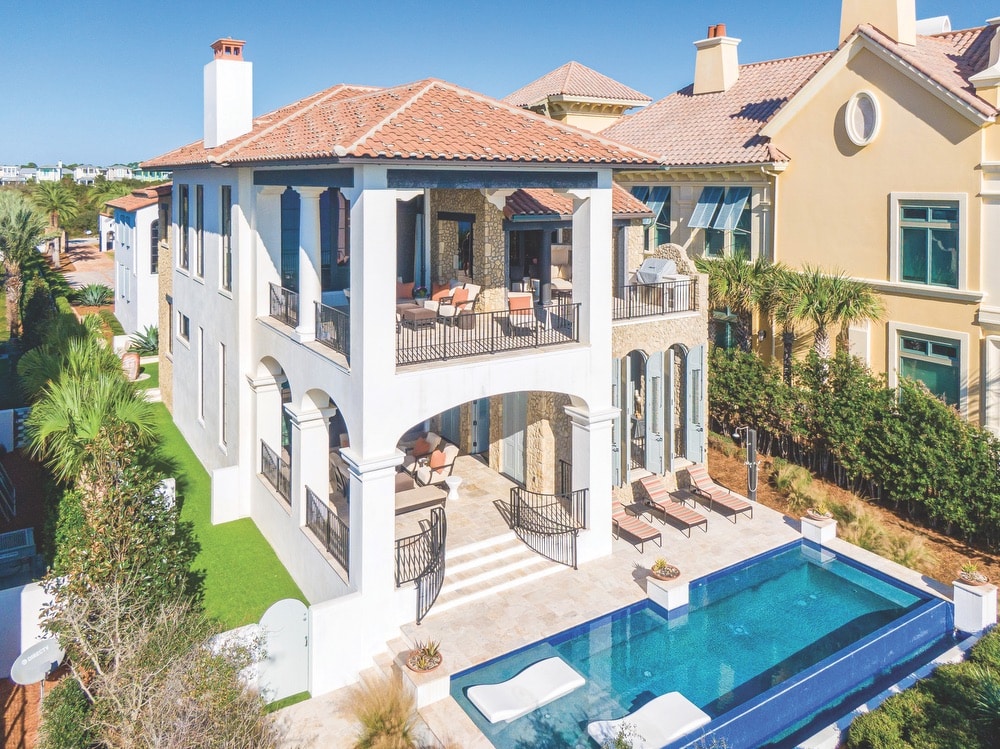 Nicknamed Sandcastle in Paradise thanks to its Tuscan villa–inspired architecture, 68 Paradise by the Sea Boulevard was designed by Linda's longtime friend and associate, Darrell Russell of A BOHEME Design. Recently listed for $12.5 million, this property sold on the first showing once the buyer saw the one-of-a-kind custom residence. It truly offers the best of classical and modern design by the beach. "It seems very common for people to dream of life by the sea or of spending their days relaxing in a villa in Tuscany, but what may not have occurred to them is that it is possible to have the best of both worlds," Linda adds.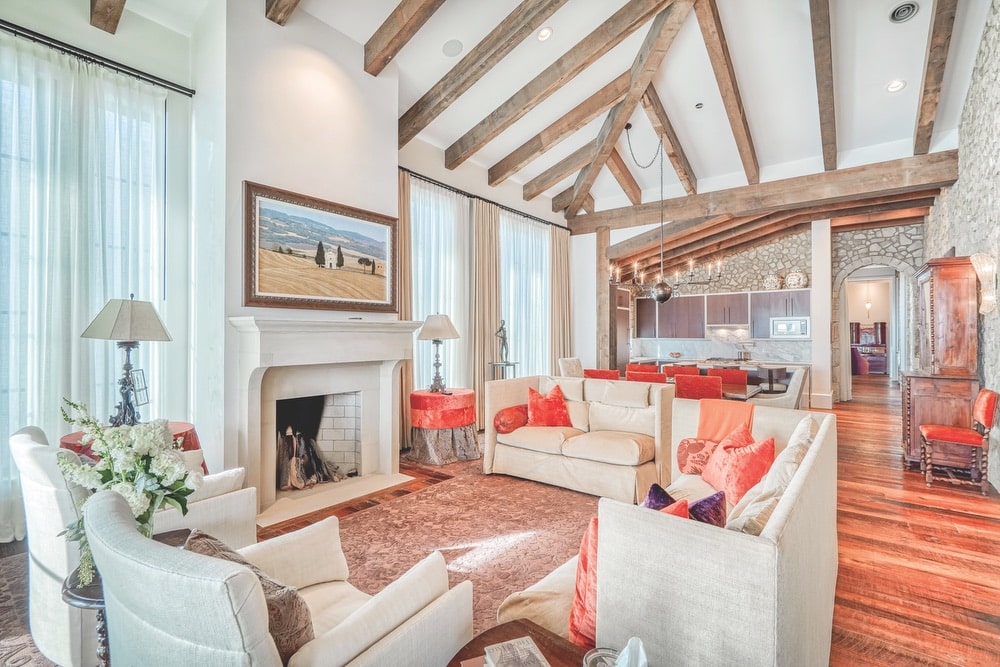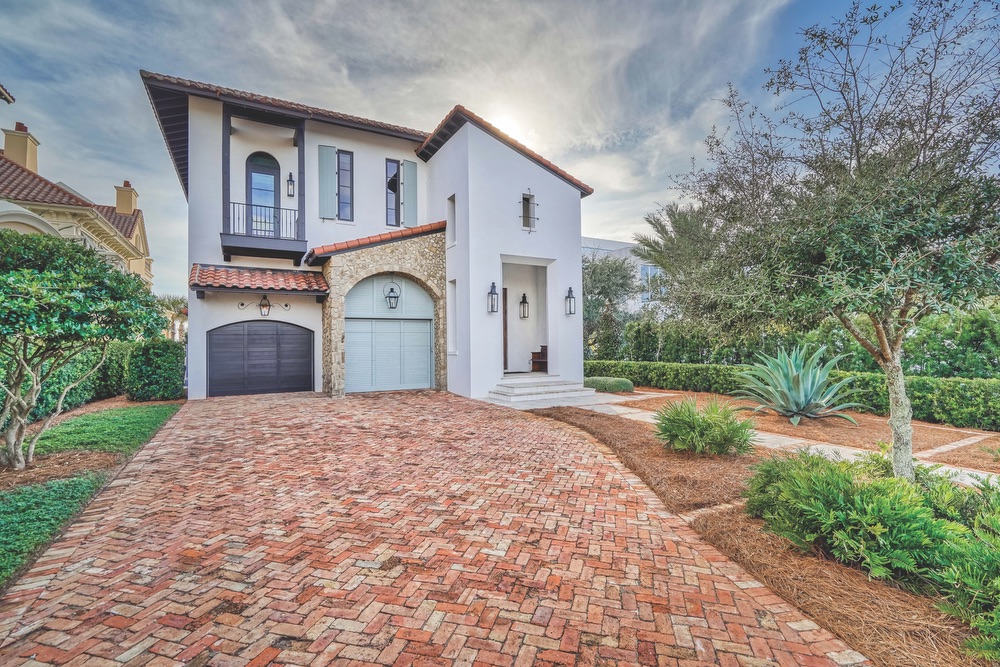 Indoor-outdoor living is unrivaled here, with sixty feet of private Gulf-front beach as well as an infinity-edge pool and loggia. Continuing the Tuscan feel throughout the home are stone accent walls and beamed vaulted ceilings, plus a spa-like master bathroom with marble throughout, a large walk-in shower, a free-standing soaking tub, and more.
This legacy home is located within Paradise by the Sea, one of the most coveted communities along Scenic 30-A, thanks to its exclusivity and unrivaled sense of privacy. The gated entrance, private beach, and relatively unknown location offer homeowners their little heaven on earth. Forbes called 30-A 'Florida's best-kept secret,' but Paradise by the Sea might be 30-A's best-kept secret for homeowners.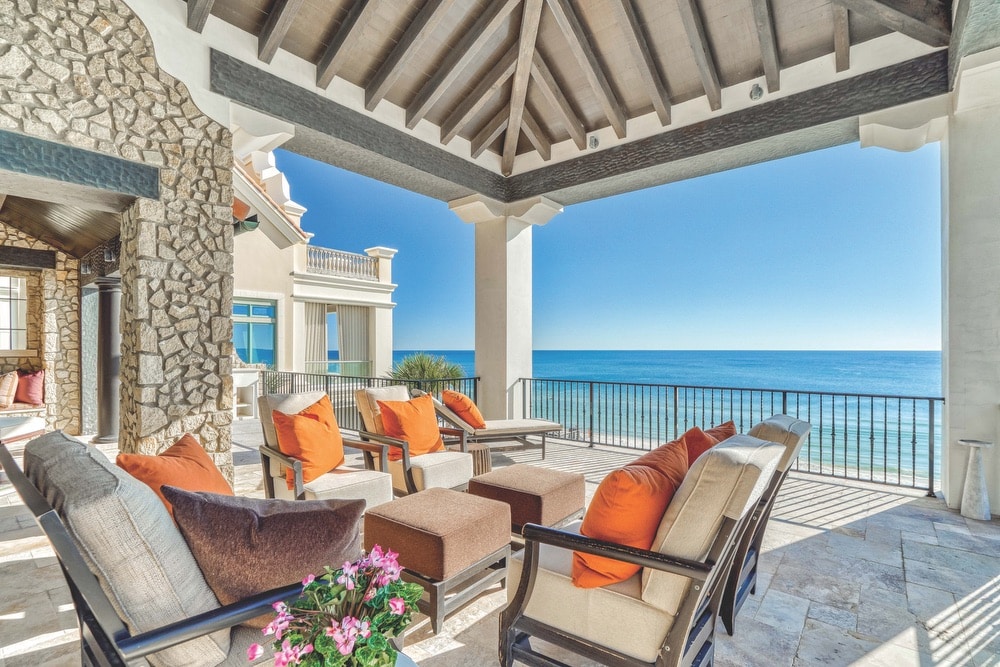 "Some of our top sales have been in this neighborhood," Miller shares. "There are very few individuals who have the means or access to garner a seasoned Rolodex of contacts in this community, but that's where I come into play. I have listed this property twice now and hopefully will a third time!"
Keeping the Smile Alive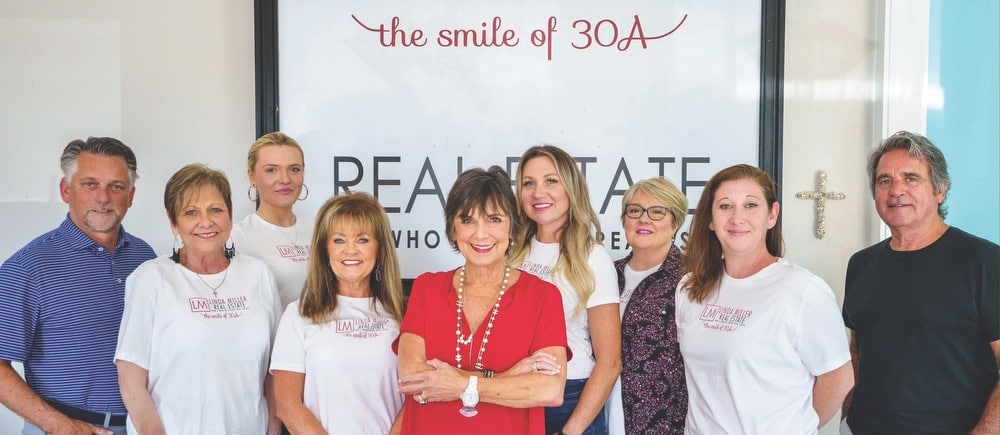 With over twenty-five years of experience selling along Scenic Highway 30-A, Linda Miller is pleased to keep the smiles coming as she helps clients in the prominent communities of Rosemary Beach, Seacrest Beach, Seagrove Beach, Inlet Beach, and more.
"They say that behind every successful woman is herself, and I couldn't agree more. I love this area and want to bring the joy of living on 30-A to my clients from near and far."
"They say that behind every successful woman is herself, and I couldn't agree more. I love this area and want to bring the joy of living on 30-A to my clients from near and far," she says. "My team is growing, and we continue to get more and more excited about the homes we get to discover, as they truly are some of the most beautiful ones in the world."
---
To learn more or see current listings, visit LindaMillerLuxury.com.
— V —
ARTICLE CATEGORIES