Planting Seeds of Cultural Change
By Tori Phelps | 
Photography courtesy of the Urban Homestead
One California family is inspiring a (non)grassroots shift by reviving lost skills for a new generation.
Most yards produce patchy grass, weeds so hearty they'll survive the apocalypse, and perhaps a few flowers. Then there's the Dervaeses' modest Pasadena yard, which yields seven thousand pounds of organic produce every year.
Raise your hand if you want to switch yards!
As pioneers in the urban homesteading movement, the Dervaes family—including dad, Jules, who passed on in 2016, and grown children Justin, Anais, and Jordanne—has spent the last forty years redefining what it means to be self-supporting in the modern world. Food, of course, is an essential component, but their brand of homesteading encompasses nearly every element of life, from making soap to cultivating herbal medicines for humans and animals.
At first blush, it may sound needlessly old-fashioned (Can't we just buy these things at the store?). But a closer look reveals that the ideas are undeniably timely. Fear of drug-resistant infections and side effects that can be worse than the original condition have put alternative medicine in the spotlight. And reducing one's environmental footprint is more in vogue than ever. The problem is that most of us need to be "reskilled" in things like sewing, making candles, drying herbs—even growing plants.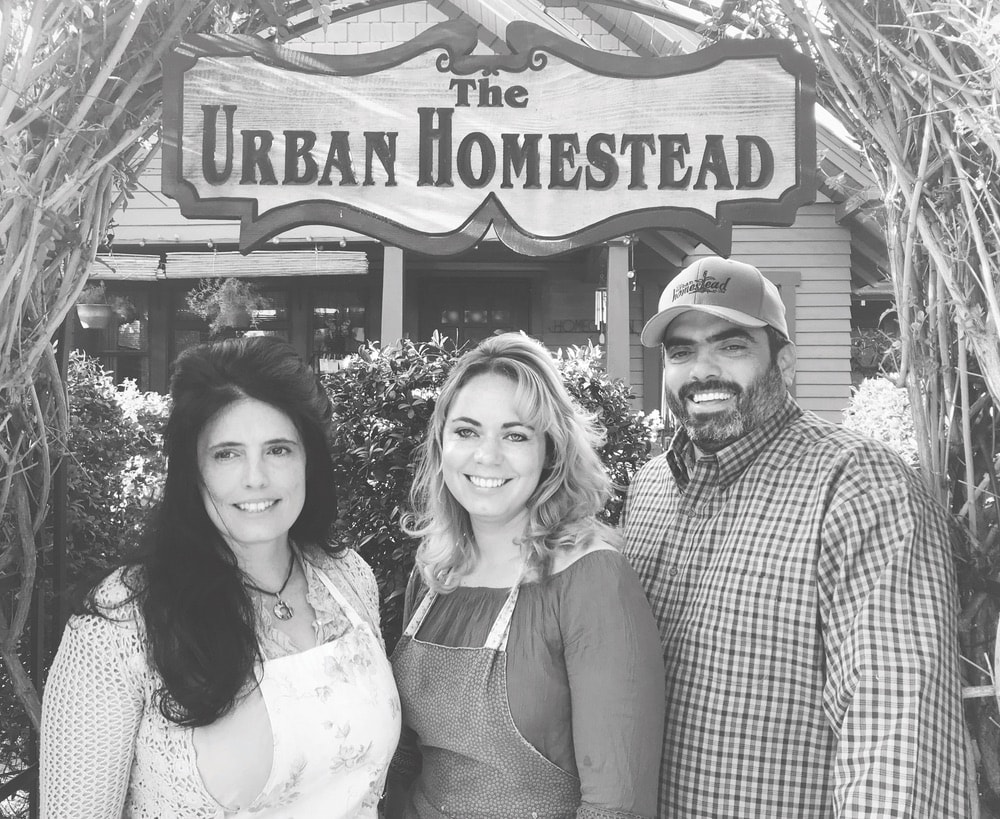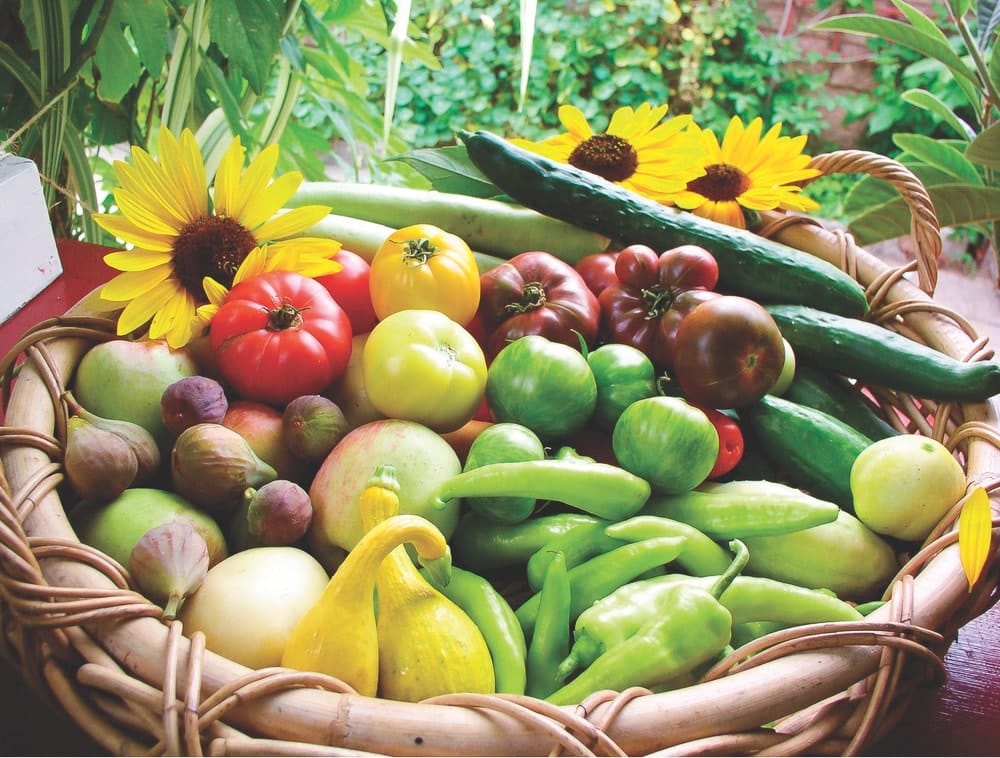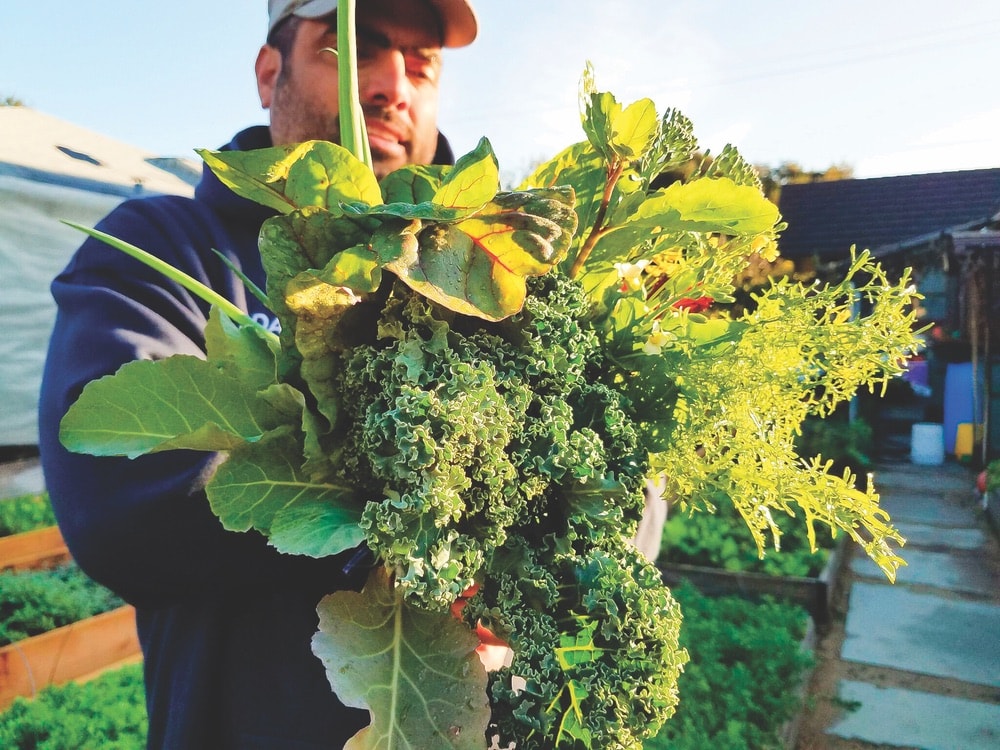 And that's where the Urban Homestead comes in.
Sparking a revolution wasn't on Jules's mind when, as a college graduate in the late 1960s, he found himself unable to stomach the violence and unrest that permeated the era, as well as the consumerism that seemed to be feeding it. Those convictions prompted him to forge a simple life of self-sufficiency, homesteading first in New Zealand and then in Florida.
In the first fifteen years, Jules, who was a single, homeschooling father, mastered everything from beekeeping to installing a rainwater system that served as the family's water supply. The kids learned right alongside him. And when they moved to Pasadena in 1985, downsizing to one-fifth of an acre, they brought that lifestyle with them. On just a sliver of land, they turned homesteading into urban homesteading. Bit by bit, they transformed the small property into a model of urban sustainability that provides 90 percent of the Dervaeses' vegetarian diet.
In the first fifteen years, Jules, who was a single, homeschooling father, mastered everything from beekeeping to installing a rainwater system that served as the family's water supply.
Still with no grand plan to conventionalize homesteading, the family didn't advertise any of its steps. If anything, they did their best not to call attention to things like smothering the front yard, fearing censure from the city. The backlash never came, though, because the Dervaeses gave the neighbors no reason to complain. "We kept the transformation from yard to food beautiful," recalls Anais, the family chronicler. "My dad always asked himself, 'Would I want to live next to me?'"
The city did come calling eventually, but it wasn't to complain. Pasadena had begun offering efficiency rebate programs to encourage residential conservation, and administrators noticed that the Dervaes family had taken advantage of pretty much all of them. They wanted to know more about what was happening at 631 Cypress Avenue. The Dervaeses happily obliged the city's curiosity, and soon the family became a valuable resource for additional program ideas that could benefit both the residents and the city.
Media attention wasn't far behind. And after they were written up in the local paper, a teacher who worked with inner-city kids from Compton asked to bring her class to the homestead. Witnessing the wonder on the children's faces as they saw—and tasted—everything the homestead had to offer was a game changer for the Dervaes kids. They realized that their idea of normal was utterly foreign to the vast majority of Americans. And they wanted to change that.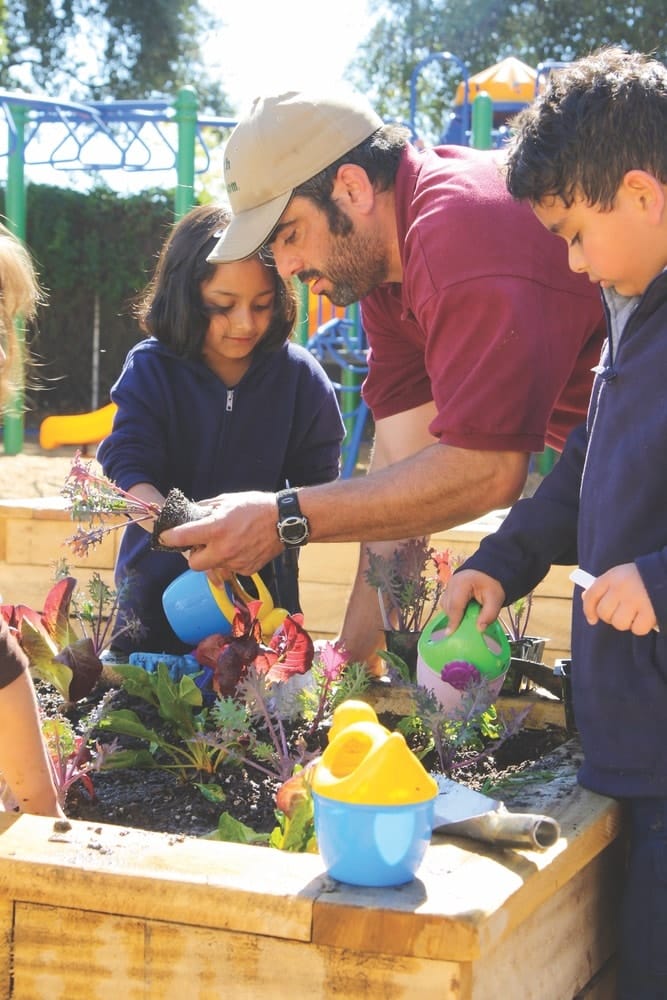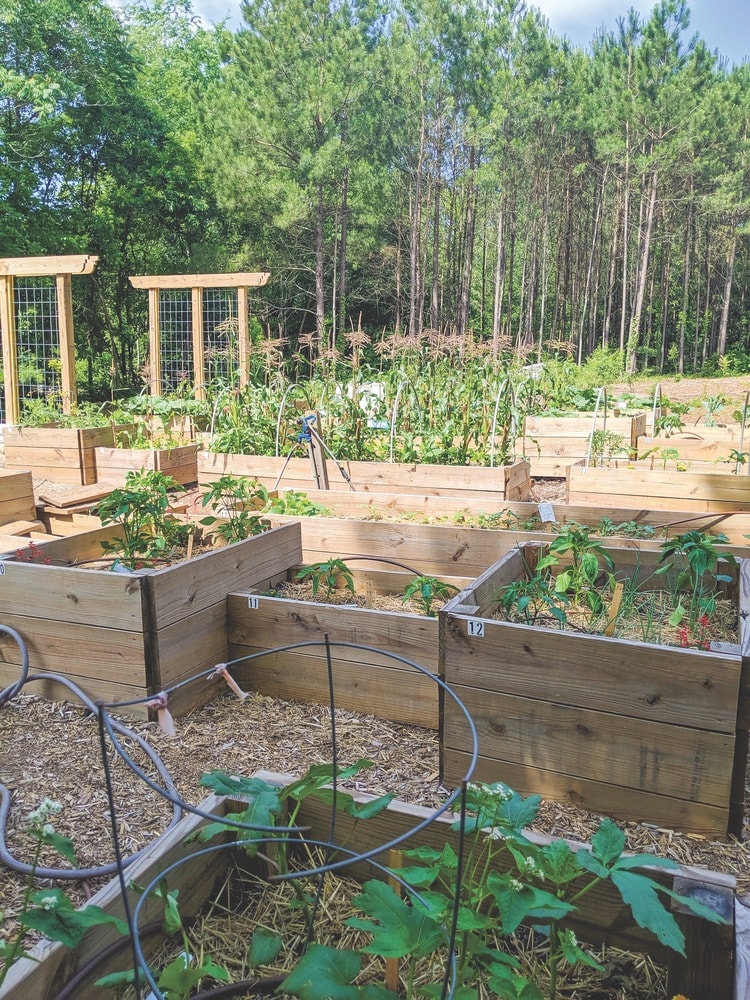 Anais took up blogging, a little-known endeavor in the early 2000s, and through her writing, she made the Dervaeses synonymous with modern homesteading. Individuals and groups flocked to the property, aptly dubbed the Urban Homestead, to learn about and participate in the movement. This sharing of both physical and intellectual materials is central to homesteading, Anais insists. "Not everyone can do it by themselves," she says of being entirely self-sustaining. "It's up to us to band together and help each other out."
One key way the Urban Homestead does so is through a community-supported agriculture (CSA) program in partnership with two other farms. The result is that neighbors who don't grow their own produce can purchase local organic fare directly from those who do. Receiving the weekly boxes of fresh fruits and vegetables not only fills bellies but also expands minds. Thanks to supermarkets that import out-of-season produce year-round, today's city dwellers are largely unfamiliar with crop cycles. CSA customers get a weekly education on seasonality, how local weather patterns impact crops, what to do with produce and herbs they've never used, and much more.
Reskilling, too, is a significant piece of the Urban Homestead's mission, and the Dervaes siblings regularly offer workshops on topics like canning, wine making, solar cooking, beekeeping, and knitting. The activities are a not-so-subtle reminder that homesteading is, at its core, about reaffirming home as the place you nourish your family, gather with friends, and share the abundance in your life.
Reskilling, too, is a significant piece of the Urban Homestead's mission, and the Dervaes siblings regularly offer workshops on topics like canning, wine making, solar cooking, beekeeping, and knitting.
A clear rebuttal of the notion that one person—or one family, in this case—can't make a real difference, Anais has seen that the pebble they tossed into the water in Pasadena has rippled throughout the world. The Dervaeses have accepted invitations to speak in places like Greece and India, where breakneck "modernization" is devouring not only cropland but also centuries-old knowledge and traditions. "We were giving a presentation in India, and Dad was up there telling our story," Anais recalls. "One of the girls raised her hand and said, 'Thank you for bringing our ways back to us.' That hit me."
It seems counterintuitive for an American to speak to global citizens about living closer to the land, she admits, but the lesson is half tutorial and half warning: don't lose your connection to the community, to each other, and to where your food comes from. Anais hopes the "been there, lost that" message will, in some small way, help topple the idea of urbanization at any cost. But with 80 percent of the world's population living in urban areas, urban homesteading is as essential as it is relevant.
The Dervaeses prove every year that it takes just 484 square yards to grow seven thousand pounds of produce (structures occupy half of their property, leaving only one-tenth of an acre for gardens). Clearly, it's possible. And it's becoming #goals for people, both online and in real life, even if they have to do it in window boxes or on the roof. Converting just a small fraction of folks to this way of thinking can have far-reaching impacts, Anais says, using her block as an example. If the thirty homes in her neighborhood transformed their yards the way the Dervaeses have, she estimates they could provide a substantial amount of produce for the entire city.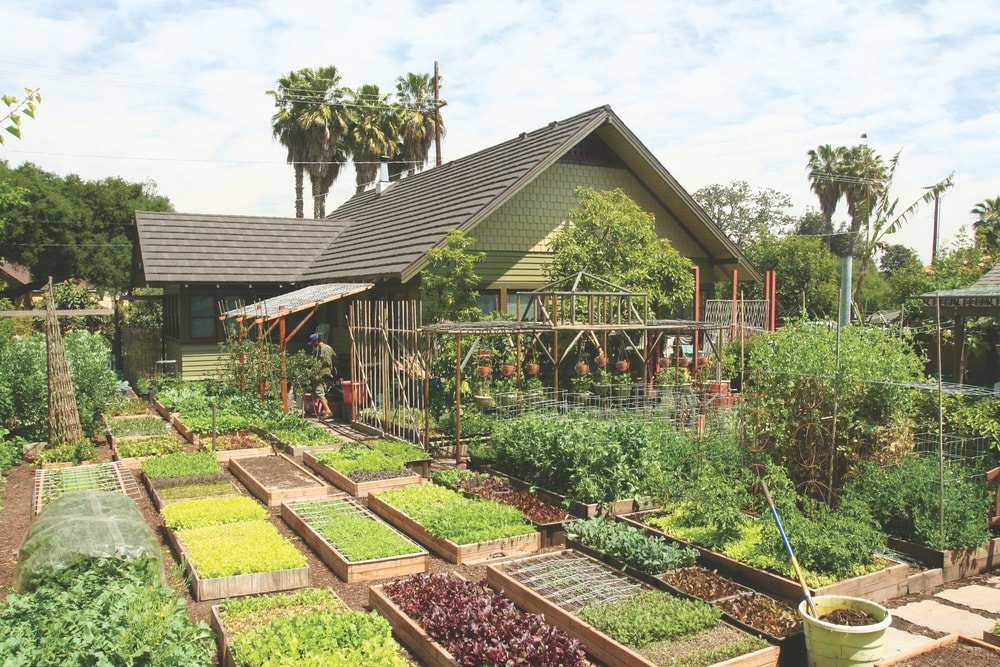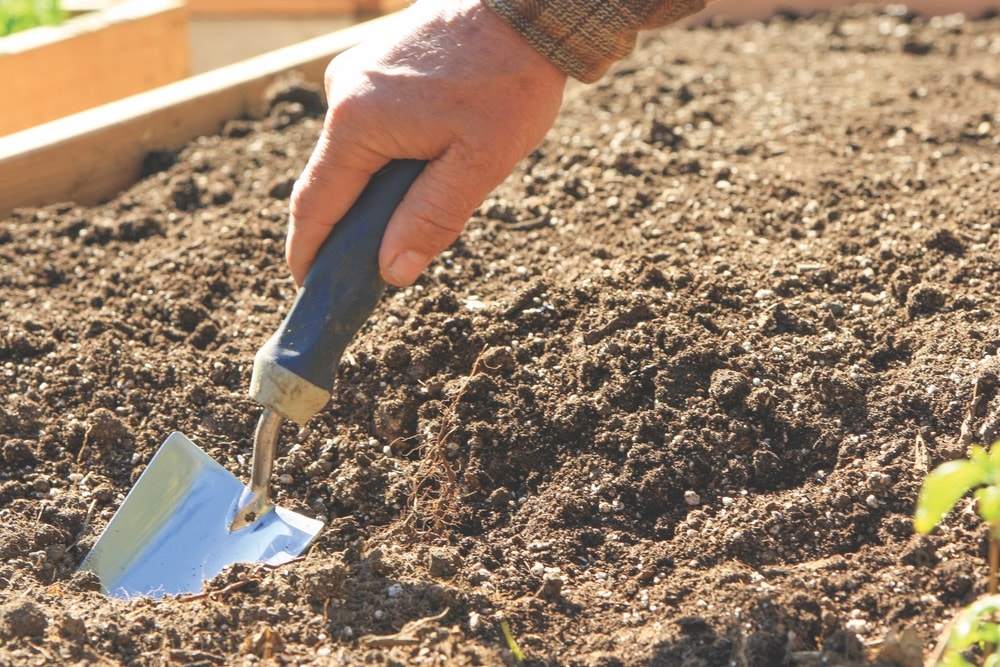 The key is changing the mind-set from grass as a landscape to food as a landscape. Grass is the number one "crop" in the United States, she says, which sucks up water, chemicals, and time. In return, you get—something to mow? Anais, for one, would rather get something for dinner.
Raising grass is as foreign to Anais and her siblings as trashing eggshells instead of composting them. Homesteading is simply part of who they are. But it's also a conscious choice. With their dad gone, each of his children has elected to carry the legacy into a new generation, making it their own as they encourage peers to hop on board. "It changes you as a person," Anais promises. "It drowns you in an awareness of, What are we going to do with this time on earth?"
What she doesn't promise is that homesteading is easy. The Dervaeses know better than most that Mother Nature will refuse to cooperate, experiments will fail, and bees will sting. But the rewards extend far beyond what can be measured in pounds and pints. "Do what you can with what you have and where you are because even the smallest steps can have a big impact," Anais encourages. "If we all journey together, we'll make the world a better place."
— V —
---
Visit UrbanHomestead.org to learn more about the Dervaes family, their projects, and educational programs.
Tori Phelps has been a writer and editor for nearly twenty years. A publishing industry veteran and longtime VIE collaborator, Phelps lives with three kids, two cats, and one husband in Charleston, South Carolina.
---
Growing a Healthier Atlanta
Fast-food joints crowd the landscape of most metropolitan areas, yet many urban dwellers live in a virtual food desert. With no farmers' markets or supermarkets—and no means to travel to them—inner-city populations are especially vulnerable to a lack of fresh produce. The City of Atlanta is fighting back through projects designed to make healthy foods readily available to millions of residents.
Its umbrella program, AgLanta, is focused on solutions like rideshares to markets and supporting a seven-acre urban food forest in southeast Atlanta. A main component is AgLanta Grows-A-Lot, which invites individuals, nonprofits, and businesses to adopt a vacant, city-owned property to start a new urban garden or urban farm. The endeavor aims to position 85 percent of Atlanta residents within a half mile of healthy food by 2022.
So far, so good: just a few years in, fresh produce is being grown everywhere from rooftops to energy rights-of-way and making its way to those who need it. That progress is celebrated annually at AgLanta Eats, a fund-raiser and festival where attendees sample dishes made from ingredients grown in urban Atlanta spaces.
None of AgLanta's success would be possible without public-private sector collaboration, says the city's urban agriculture director, Mario Cambardella. Teamwork has led not only to healthier people but to a healthier city. "Gardens, farms, and food forests provide an amazing experience of sharing fresh food and connecting with nature, which can immeasurably enrich our sense of community," he says.
Visit AgLanta.org to learn more or get involved.
ARTICLE CATEGORIES