By Jordan Staggs  |  
Photography courtesy of Noble House Hotels and Resorts
At the southernmost point in the continental United States sits a marker that reads "90 miles to Cuba." A queue forms for taking souvenir photos at the landmark, which is located in the tropical island town of Key West, Florida. One block over sits Duval, a street that stretches all the way from the Atlantic Ocean to the Gulf of Mexico (about two miles), earning it the jesting title of "Longest Street in the World."
Follow Duval Street to the northwest side of the island, past bustling shops, restaurants, and bars, right to the spot where the daily pilgrimage to watch the sunset concludes. There, you will find Ocean Key Resort and Spa. Listed in the 2012 T+L 500, a compendium of the world's best hotels as selected by Travel + Leisure's readers, this AAA Four Diamond tropical retreat boasts luxurious guest rooms and suites, award-winning dining and spa amenities, and arguably the best views in Key West. Crowds gather nightly on the resort's Sunset Pier as boats pass between the harbor and Tank Island, white sails littering the horizon as others take to the water to behold the setting sun. Each sunset brings something new and exciting to the island—just as each new couple brings new challenges to the weddings and events team at Ocean Key.
"Everybody has a different idea of what they want for their wedding," says Tiffany Horton, director of sales at the resort. "Some people are more simple, and some take the pier and completely transform it." For such occasions, Sunset Pier takes a break from its day job as a hot-spot cantina and becomes home to Ocean Key's wedding receptions, while the ceremonies take place just steps away near the resort's pool, overlooking the Gulf of Mexico and in the most advantageous location for ship watching and marveling at the sunset. Couples are encouraged to use the venue creatively and select their own colors, themes, flowers, and other decor. The resort never holds more than one wedding per day, enabling staff members to give each event the utmost level of attention and allowing each marrying couple to shine. "From the time they step onto the property, we want our wedding parties to feel like this is their day, and each event is unique and special," Horton says. From a Caribbean fiesta to an elegant soiree under the stars, the team at Ocean Key is skilled at taking any couple's ideas and building the perfect wedding around them.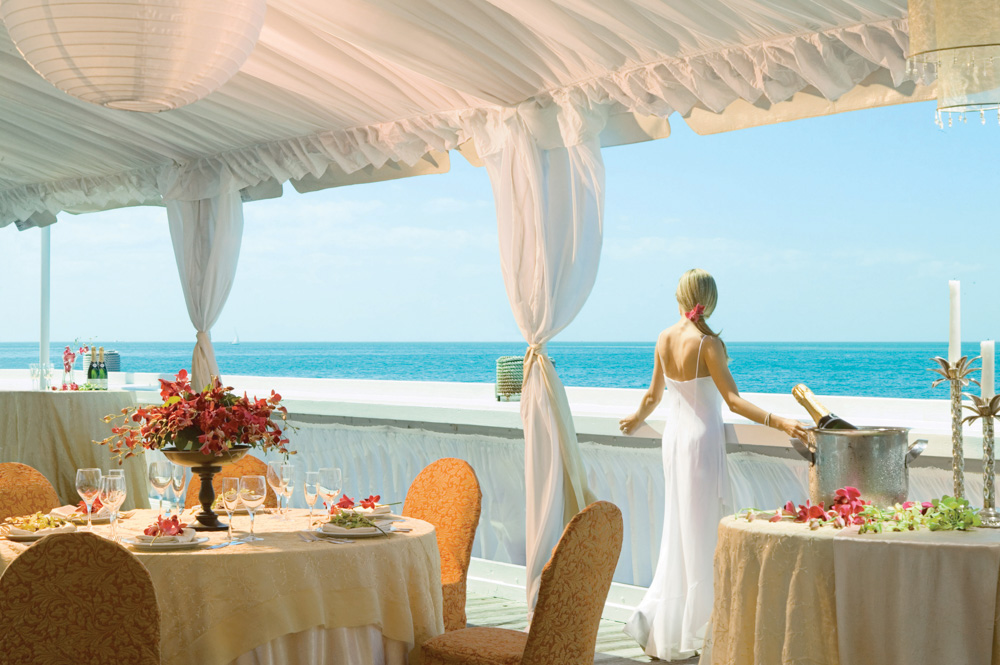 Janel Cabrera (née Rodriguez) and her husband, Oscar, of Tallahassee, spent time driving through all the Florida Keys in search of the ultimate wedding destination. "We wanted a Caribbean destination wedding, but one that wasn't too far for our families and friends to travel to," says Janel, who met Oscar at Florida State University, where both were enrolled in the same graduate program. "Oscar tells people it was mostly his idea." She laughs. "He grew up in Miami."
The couple scoured the islands for their dream venue, finally arriving in Key West. "After I went to look at Ocean Key, I was sold," Janel says wistfully. "I was dreaming of a place just like that. It was just meant to be." Janel and Oscar were married on May 10, 2013. Coastal-inspired decor with natural colors and pops of turquoise and raspberry transformed Sunset Pier into the tropical island dream reception they both had envisioned, even surpassing their expectations, says the bride. Starfish were a popular motif in the theme. "I went a little starfish crazy," Janel laughs. "The staff did such a good job of putting everything together; they really went above and beyond and I love them so much. They were always so helpful when I wanted advice, especially with the cake. Then I was a mess before the wedding, and they helped me just calm down and believe everything was going to be fine. And it was. It was perfect."
Even after the vows and the reception, the Cabreras and their friends and family ventured out to enjoy Key West's hot spots before the newlyweds left for a honeymoon in the Dominican Republic. "We went out to the bars after the reception and did a ninety-minute Jet Ski tour the next day," says Janel. "It was the best way to see the island! Many of our guests also went sightseeing to different places, like the Hemingway House. Everybody really loved it. We're planning to go back to Key West for New Year's."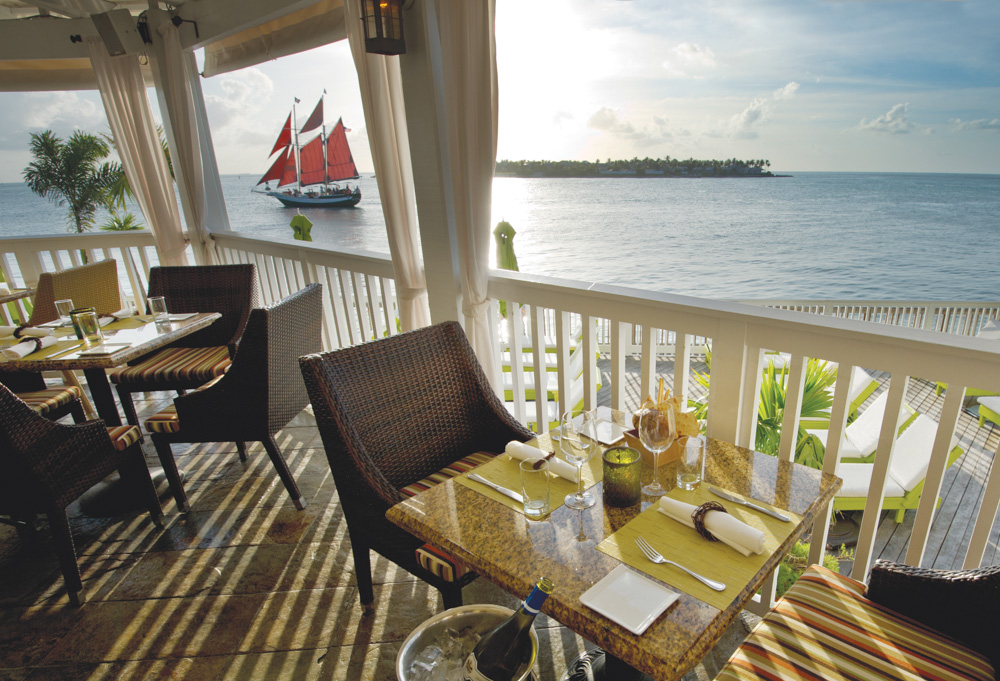 Many of Ocean Key's wedding parties like to take advantage of the impressive array of amenities the resort has to offer. Award-winning cuisine from Hot Tin Roof restaurant, located on the property, keeps guests satisfied for breakfast, lunch, and dinner, as does the extensive room-service menu. And when a little pampering is in order, they need look no further than SpaTerre, a Noble House Resorts and Hotels signature amenity, which provides a wide range of massage services, facials, mani-pedis, and much more. "A lot of the couples get a massage together just to relax when they get here," says Horton. The spa even features a room for groups, and often bridal parties, to come in and get mani-pedis or facials together while sipping champagne and enjoying tapas from Hot Tin Roof.
And, for the most romantic experience, of course, Ocean Key does not disappoint. "We always encourage people to book the waterfront rooms," says Horton. With packages available for honeymooners, returning Ocean Key guests, and even adventurers, the resort has something for everyone. Newlyweds can enjoy a luxurious king bed and Jacuzzi tub—big enough for two—in the comfort of their suite, then step out onto a private balcony overlooking Sunset Pier and the beautiful blue waters of paradise.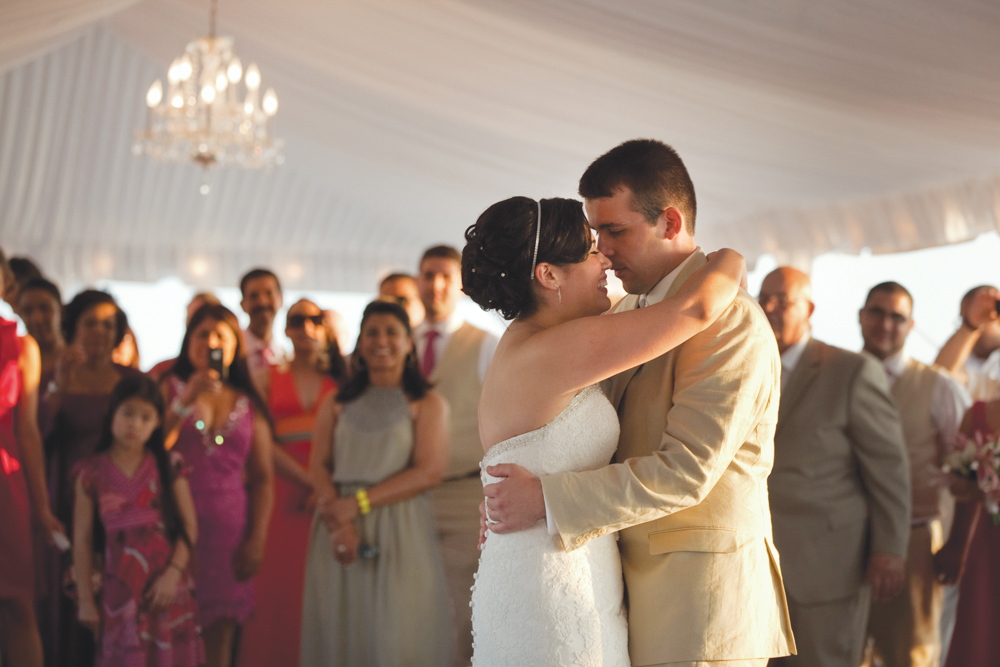 "Key West is becoming increasingly a destination with new direct flights coming in from places like New Orleans," Horton says. "With all the history here and the different excursions—like snorkeling, Jet Skiing, and trips to the Dry Tortugas—and just some great little places to eat and drink or shop, Ocean Key is so convenient because our guests can walk to everything on the island. We have this amazing location and beautiful views, and we're full service, so if our guests want to go on the Wind and Wine Cruise, or go snorkeling, that's where our concierge comes in. We can help them plan any activities they want to participate in while they're here—or many them just prefer to relax."
Whether for saying "I do," enjoying a honeymoon, or simply escaping to a tropical island full of history, beauty, and excitement, Key West's Ocean Key Resort and Spa lies right on the horizon where dreams meet reality.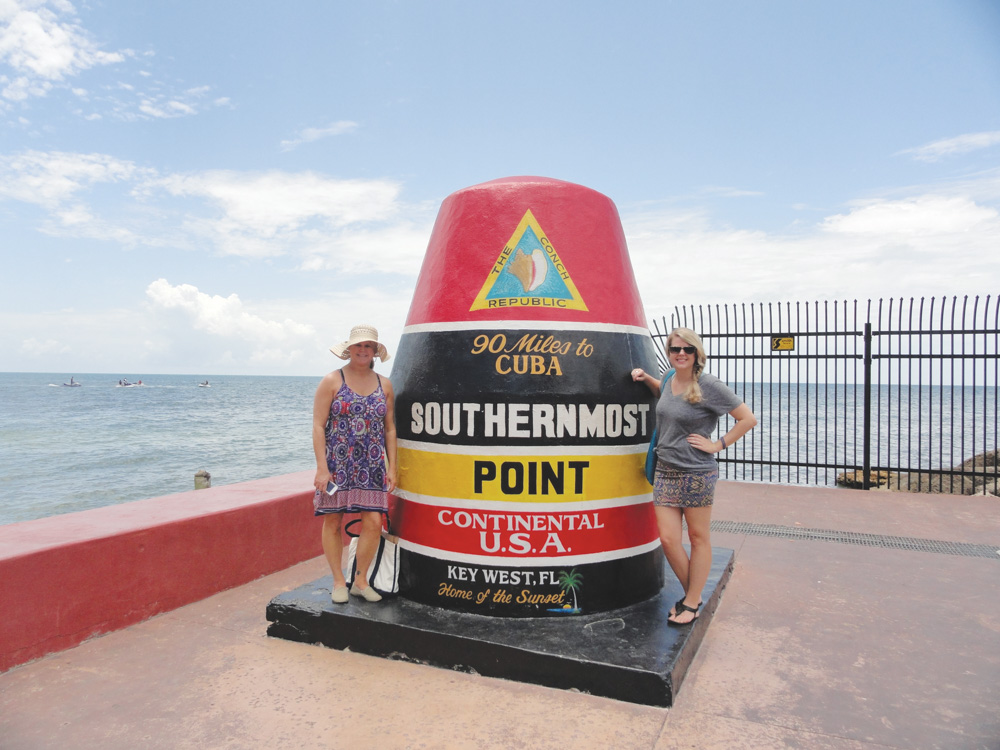 — V —
ARTICLE CATEGORIES