A Mission to Preserve the Monarch
By Addie Strickland | Photography courtesy of Metamorph Blooms
Have you ever wondered what the magical transformation of metamorphosis looks like? With wings that glisten in the sunlight, the monarch butterfly emerges from the safety of a gold-speckled chrysalis to bring color and life to our days. Fashion stylist agent Allyson Longshore is the founder of Metamorph Blooms, a company born in Seagrove Beach, Florida, that is proactive in preserving the beautiful monarch butterfly species by coupling it with a phenomenal floral presentation.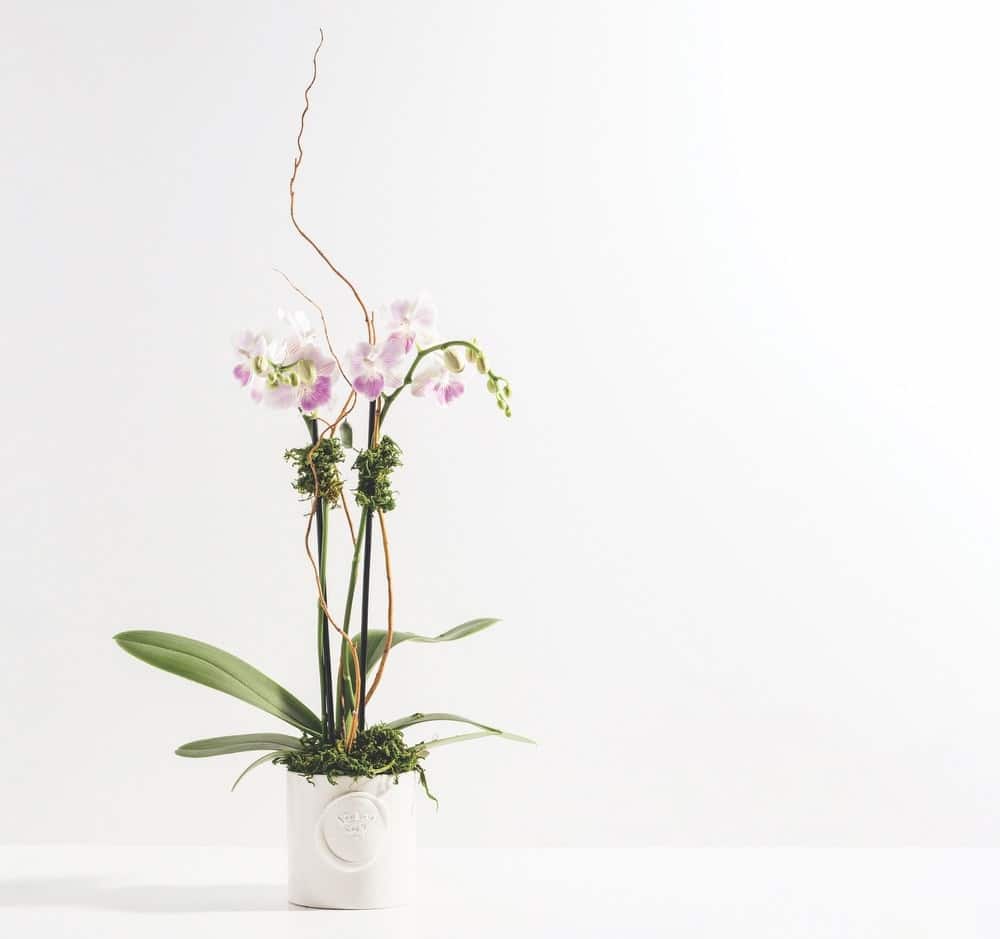 T
he beginning stages of Metamorph Blooms happened in 2020 when Longshore moved her luxury fashion styling agency, STYLESTUDIOLIVE, from New York City to the Gulf Coast of Northwest Florida. After traveling back and forth for years, she is now based full-time in the beach community along Scenic Highway 30-A but still offers fashion concierge services to clients around the country. With a longtime desire to grow a garden and time on her hands during the COVID-19 shutdown, she hit the ground running to cultivate something new. Soon after her garden started to grow, Longshore noticed eggs all over her plants and later, little caterpillars roaming around helping themselves to the ample leaves. She did some research and learned that her cute new garden friends were monarch caterpillars—and they were laying their eggs in her garden! Upon further investigation, she found that the monarch butterfly is listed as an endangered species. "The odds are against them," she explains, "hence their rapidly declining numbers due to mosquito trucks, pesticides, predators such as lizards and frogs, and even ladybugs that eat monarch eggs from the host plants. Out of four hundred eggs laid by one female butterfly, typically about ten of those will make it to adulthood."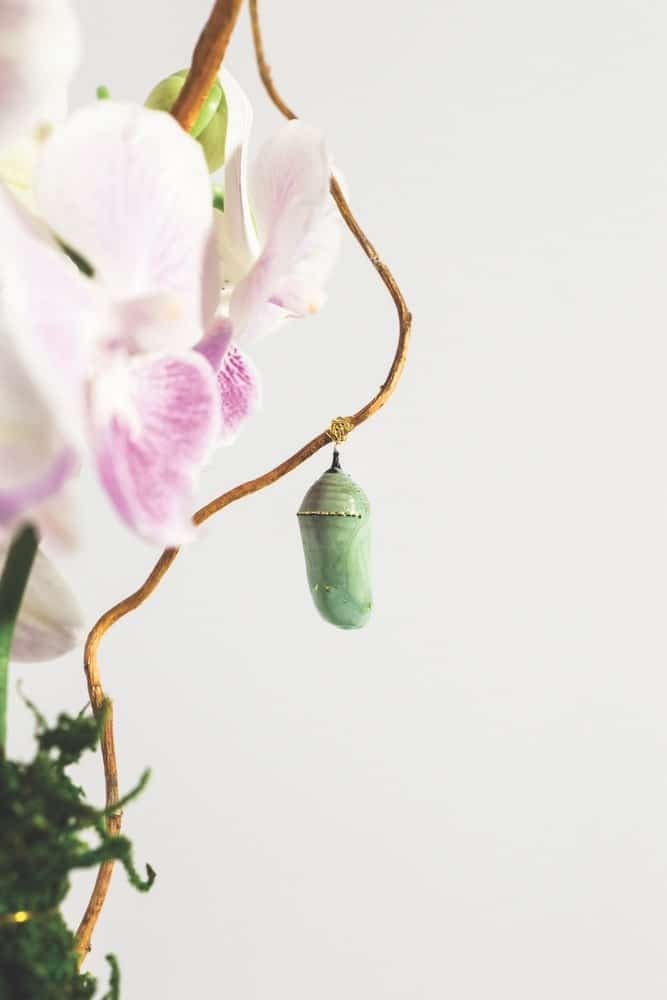 When asked how she came up with the idea for Metamorph Blooms, Longshore tells the story of an organic coincidence that led to the birth of the flourishing business: "I started raising monarchs and gardening as a form of therapy during the pandemic and purchased butterfly rearing enclosures to do so. One caterpillar formed a chrysalis in an awkward spot in the enclosure. It needed to be moved to survive and complete its metamorphosis. I researched how to do this process safely, and that was when the concept of fusing florals and the monarch chrysalis came to fruition." A gorgeous orchid was sitting on a table nearby, and she secured the chrysalis to it for safety. In this foretelling moment, Longshore remembers noticing the hope of new life that it brought to her house. "Essentially, I styled that butterfly chrysalis onto an orchid arrangement the same way I do with a human and a fabulous pair of shoes—or the same way an interior designer styles a chandelier into a bedroom." As a therapeutic and artistic pastime, she began to put together more orchid-and-chrysalis arrangements and dropped them off at friends' and family's doorsteps to brighten their days during quarantine. They were an instant hit, of course.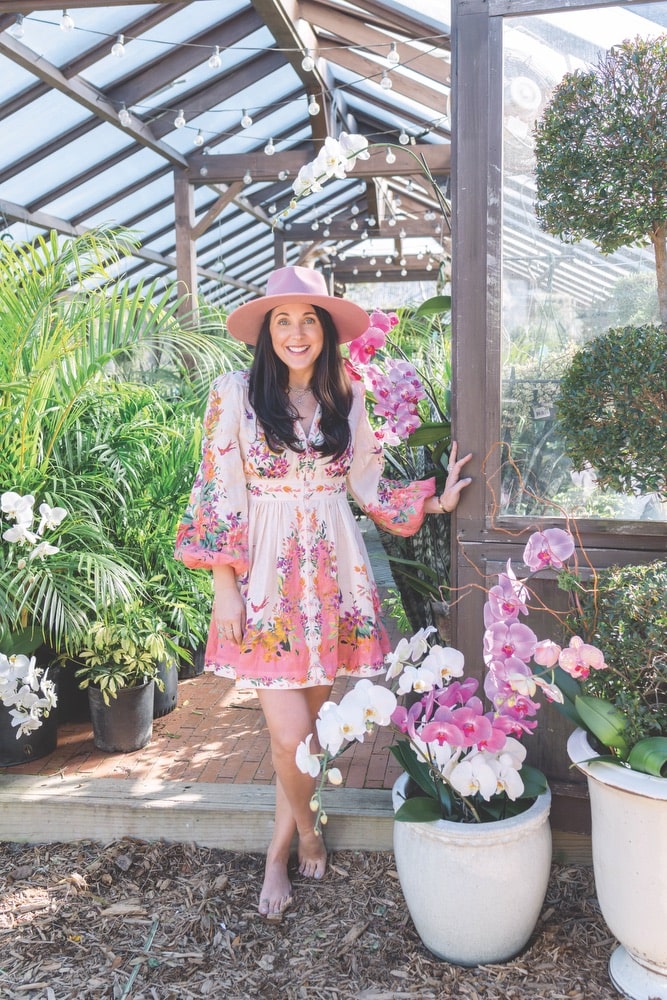 With a growing number of people requesting an arrangement, Longshore created an Instagram account for inspiration. She adds, "Overnight, I had three hundred direct messages asking me if I ship." This outpouring of feedback pushed Longshore to officially launch the Metamorph Blooms website and expand her resources to offer nationwide shipping of the Metamorph Monarch Bloom Box on March 1, 2021, just in time for spring—the season of life!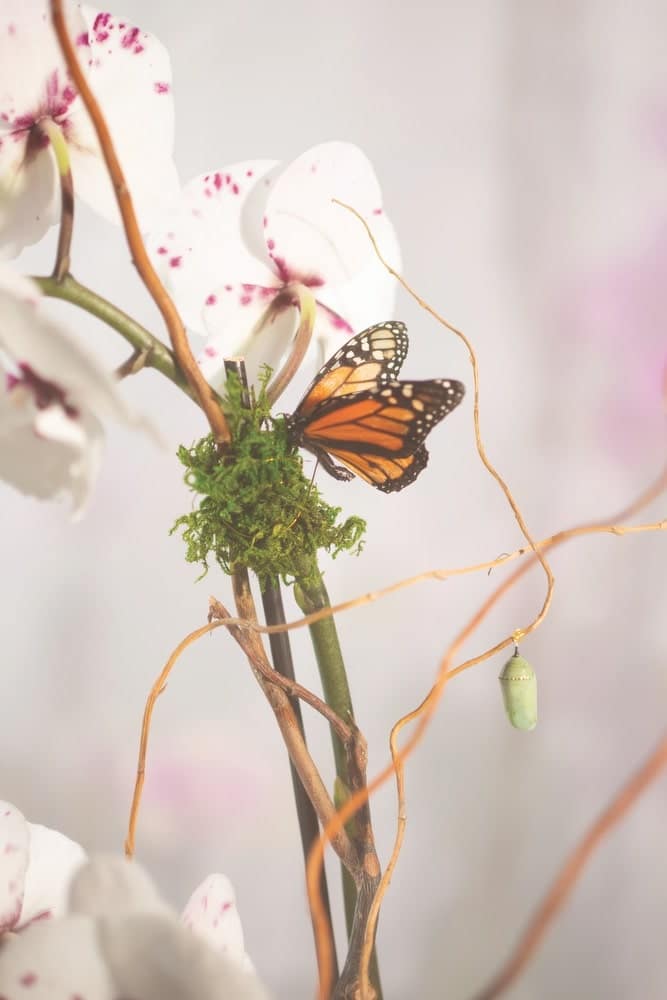 Longshore notes that with her background in luxury styling, she always loved florals in fabrics and design, and if she had not gone into the fashion industry, she wanted to work with flowers. Incorporating her styling expertise into her orchid arrangements elevates the company's ethos and sets it apart from the typical florist. Each ceramic pot is adorned with a wax drip seal, and the packaging includes French silk ribbons and a tassel, a blooming and butterfly release guide, and a handwritten note if requested for the recipient. A portion of proceeds from each Bloom Box purchase is donated to the Save Our Monarchs Foundation. Over the years, learning about metamorphosis has been geared toward fun and educational experiences for kids. The goal of Metamorph Blooms is to engage and inform all ages. The company delivers a masterpiece created by nature's paintbrush with a touch of high fashion for a truly magical experience.
From the vibrant colors of the orchids to the natural gold designs on each chrysalis, the captivating arrangements enchantingly juxtapose the antiquity of the blossoms and the new life forming upon them.
The warmer temperatures in Florida allow monarch butterflies to lay eggs year-round, and Metamorph Blooms can ship almost any time, as long as the temperature is not too extreme. Longshore adds on the topic of production, "I'm at the mercy of Mother Nature. If the butterflies don't lay eggs, I can't make my arrangements. Producing something with a chrysalis as the focal point is a practice of patience."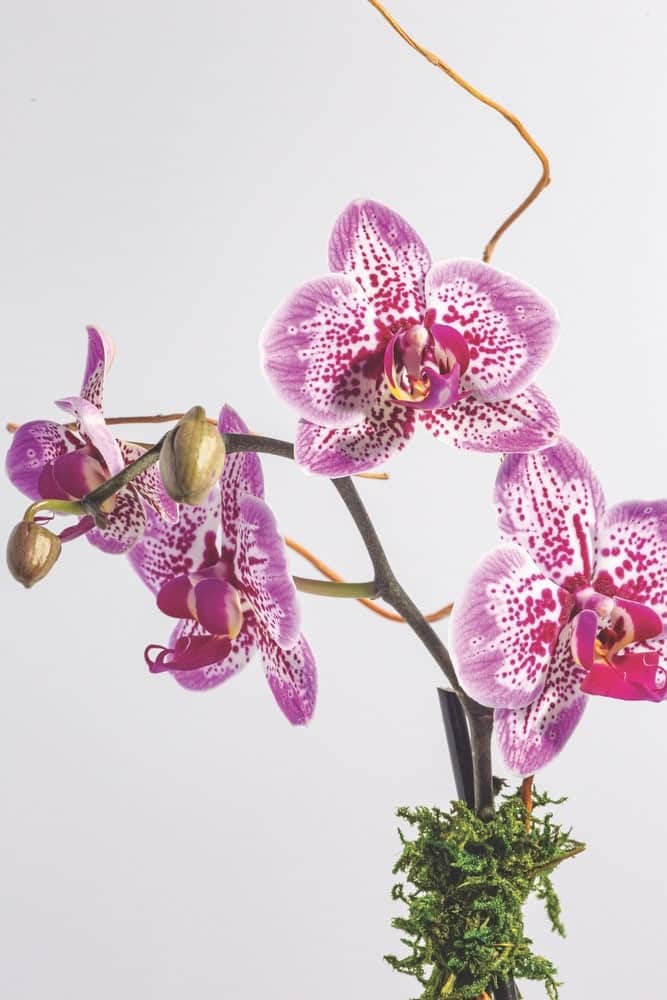 All of the chrysalides for Metamorph Blooms come from Longshore's garden in Northwest Florida. Last year, she released eight hundred monarch butterflies there, and this year's goal is to double that number. In addition to hopefully doubling production, the company hopes to offer other chrysalis species such as swallowtail butterflies and luna moths. Ideas for the future also include workshops and a sponsored garden for the community to have a hands-on impact and possibly a process called "tagging," which would allow customers to track the travel and migration of their butterflies after they hatch. What a fun and educational way to be a part of this great cause!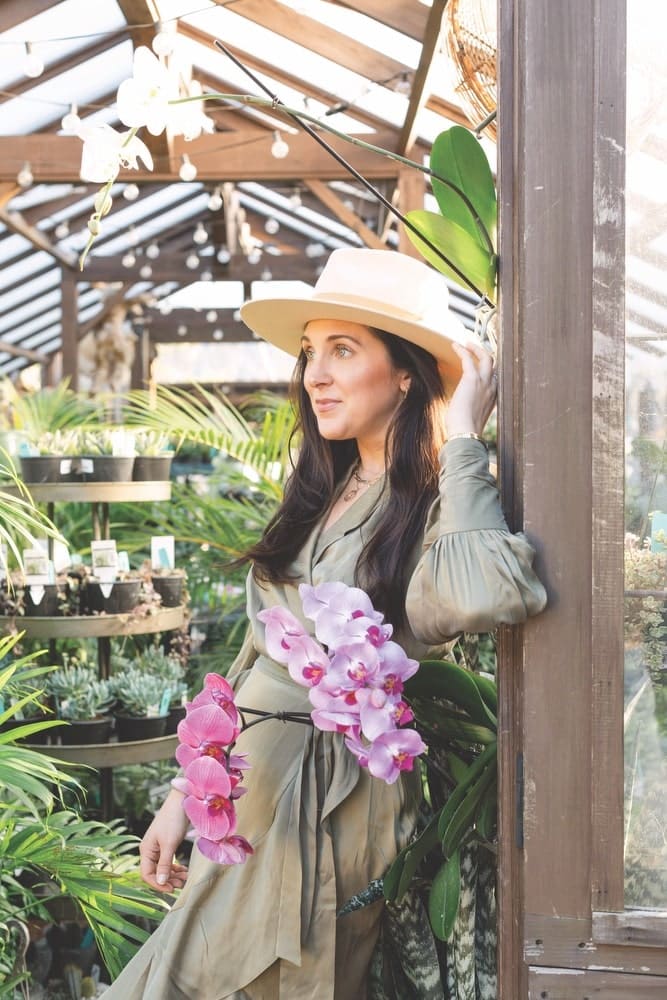 After going into detail about her passion project that turned into a thriving business, Longshore adds, "My life feels much more aligned now than it did before the pandemic, and I owe a lot of that to the monarch butterfly and our beautiful beaches. The best part about this company is the hope it brings to humans and a species that desperately needs our help. It is very healing and gratifying work." Longshore reveals there are exciting projects in the works, one of which will benefit the American Cancer Society for breast cancer awareness, as well as several pop-up experiences around the Southeast this spring and summer.
Born during a time when our world is changing and seems uncertain, Metamorph Blooms delivers a beautiful sentiment via a creature so small and helpless that still fights, transforms in adversity, and becomes a symbol of strength as it finds its wings. Its natural visual appeal is synonymous with the sparkle and beauty of life that is natural in all of us.
---
Visit MetamorphBlooms.com or follow the company on Instagram @metamorphblooms to learn more or place an order. Ship times may depend on availability, weather conditions, and transportation delays. Northwest Florida customers may make an appointment to visit the floral studio in Santa Rosa Beach.
ARTICLE CATEGORIES