Seeing Is Believing
By Jordan Staggs | Photography by Troy Ruprecht
From canoeing and kayaking to stand-up paddleboarding, there's no doubt that the Emerald Coast knows how to paddle. But as Gregory "Gio" Giovannelli and his wife, Silvia, are showing locals in the area, and even people around the world, there's a new way to paddle—and the difference is clear.
The concept stemmed from a desire to up the ante on stand-up paddleboards, Gio explained. "We tried everything, all kind of materials," he says. "But in the end, achieving the right buoyancy for a clear paddleboard just wasn't possible." That's where Clear Blue Hawaii's polycarbonate Molokini kayak came in. Gio and Silvia worked with the company to form Klear Kanoo and have become the exclusive United States retailer of the Molokini clear boat design. Klear Kanoos are made of durable Lexan—the same polycarbonate material used in bulletproof glass and fighter jet canopies—creating a window to the world beneath the waves. Each Kanoo costs $2,350 and comes equipped with a stable rudder system, two adjustable paddles, and two detachable seats with lumbar support for a comfortable cruise—and it weighs only thirty-nine pounds. "Anybody can Kanoo," Silvia adds. "Any age, any skill level—that's another thing that sets this boat apart from other paddling experiences. It's perfect as a birthday gift, a great amenity to offer with your beach rental house, and to enjoy with the entire family."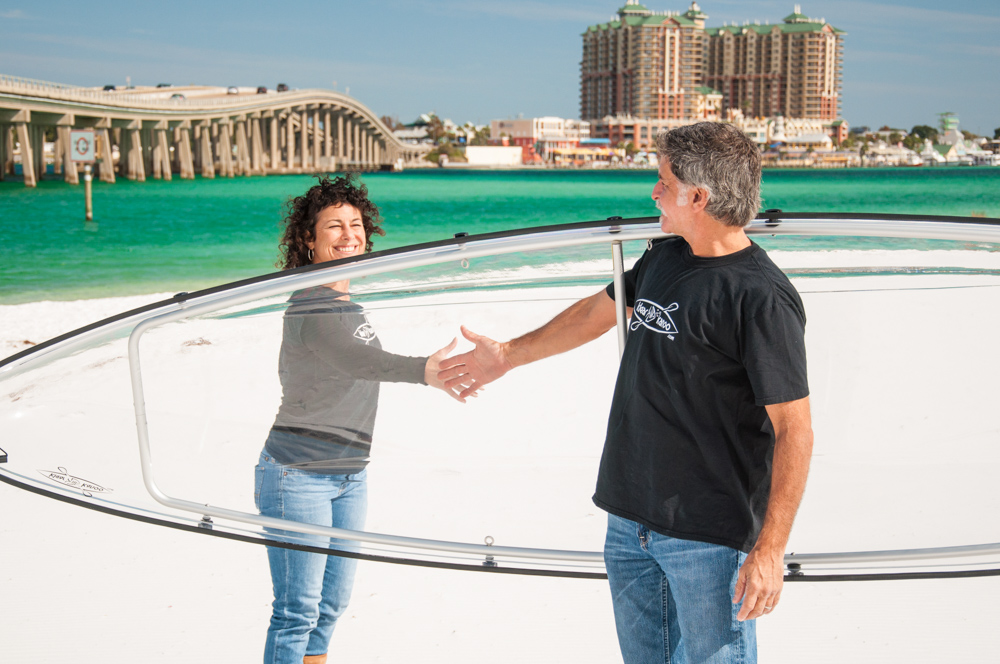 Of course, the clear design is an eye-catcher as well. Gio and Silvia are often seen around the Destin, Miramar Beach, and 30-A areas in their delivery truck or "Klear Kanoo Mobile" with a boat strapped on top, drawing the eyes of locals and visitors as they go by. "The smiles and the looks we get are great," Gio says with a grin. "Everybody gets excited when they see it. It's so unique to our area and we want to become a household name." The Kanoo Mobile is emblazoned with Gio and Silvia's Klear Kanoo logo, showing a kayak shape with a fish underneath. "We came up with the logo one night and still have all the sketches on napkins from that evening."
The Klear Kanoo's true calling, though, is in the crystal clear water. Easy to lift and deposit into any lake, creek, or bay—or the Gulf of Mexico itself—the boat makes a terrific alternative to snorkeling. Users appear to be gliding along the top of the water on nothing at all.
Everybody gets excited when they see it. It's so unique to our area and we want to become a household name.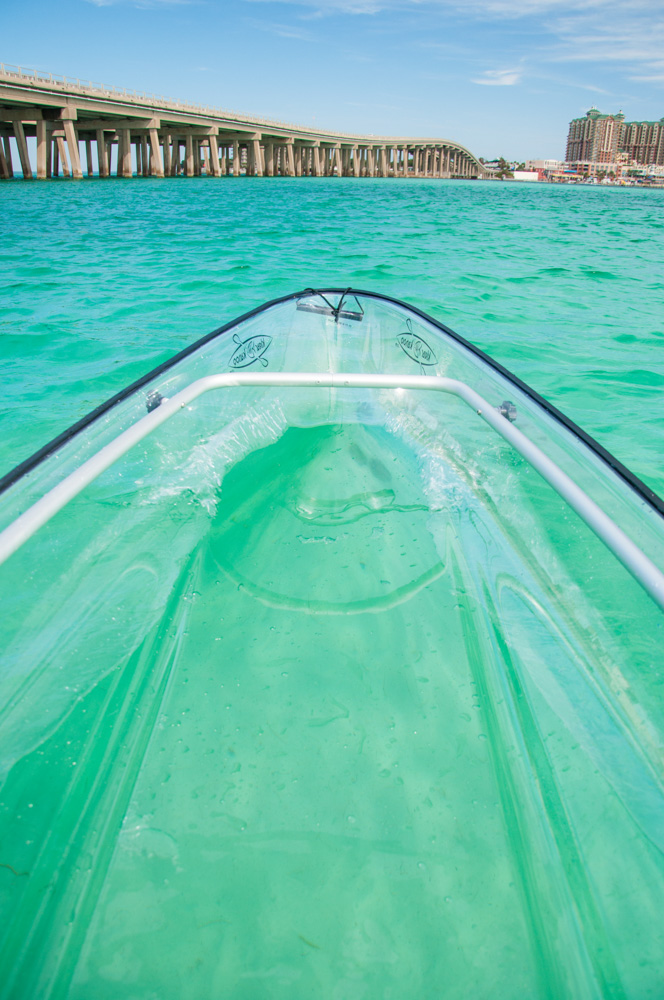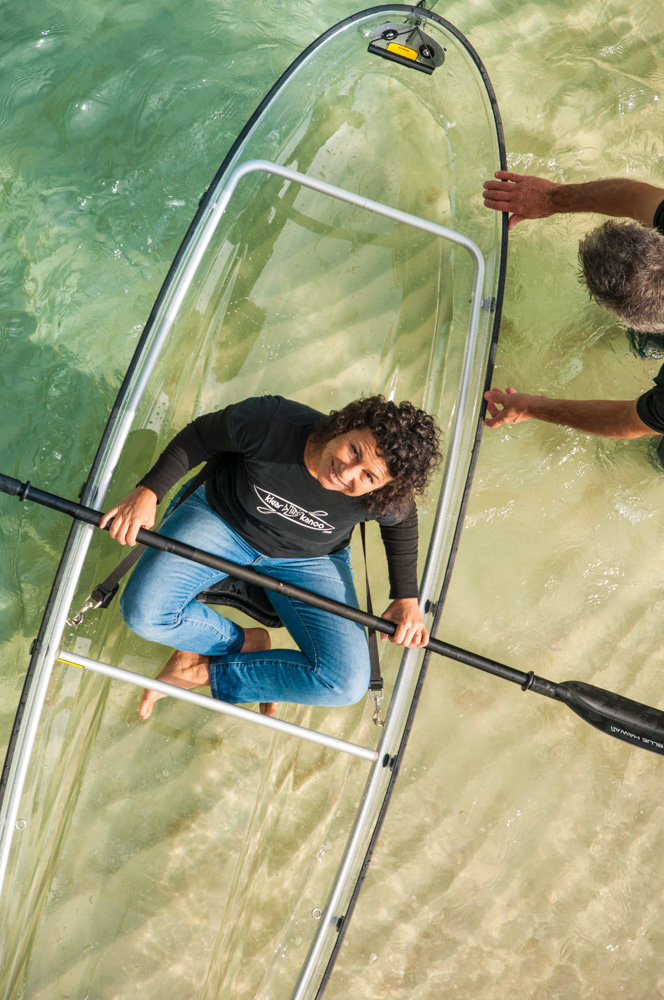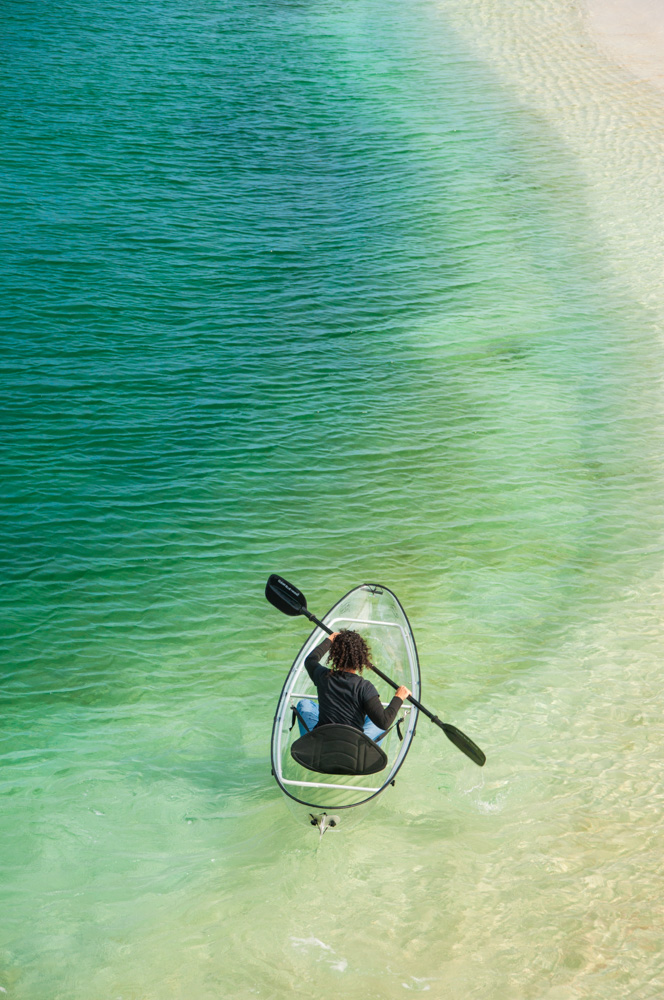 "You can watch the fish eat your hook right beneath you," Gio says. He delights in telling his favorite Klear Kanoo story: "We were driving to the beach one day with the Kanoo and drove by a little turtle in the road. I stopped and helped him along his way. A few hours later, about a four-and-a-half-foot sea turtle came up right underneath us in the Kanoo!" The sea turtle "played" with Gio and Silvia for a while, even popping his head above the water as if to say hello, then swam slowly right under the Klear Kanoo, allowing for a pretty incredible photo op. "The boat even magnified the turtle," Silvia marvels. "He was about five feet down but looked like he was right beneath us." Gio calls the experience "Turtle Karma," saying, "Right next to us was a couple in a regular kayak—the difference was very clear."
"The feeling of being on the water and seeing it all around you, wildlife or not, is just magical," Silvia says wistfully. It's the couple's goal to share this experience with the Emerald Coast and beyond. They began distributing their first shipment of Klear Kanoos in summer 2013 and have sold boats in Guam, and the United Arab Emirates. But it's the local community that Gio believes will benefit most from the Klear Kanoo experience. "I like helping other people enjoy our area and helping them remember why we moved here in the first place," he explains.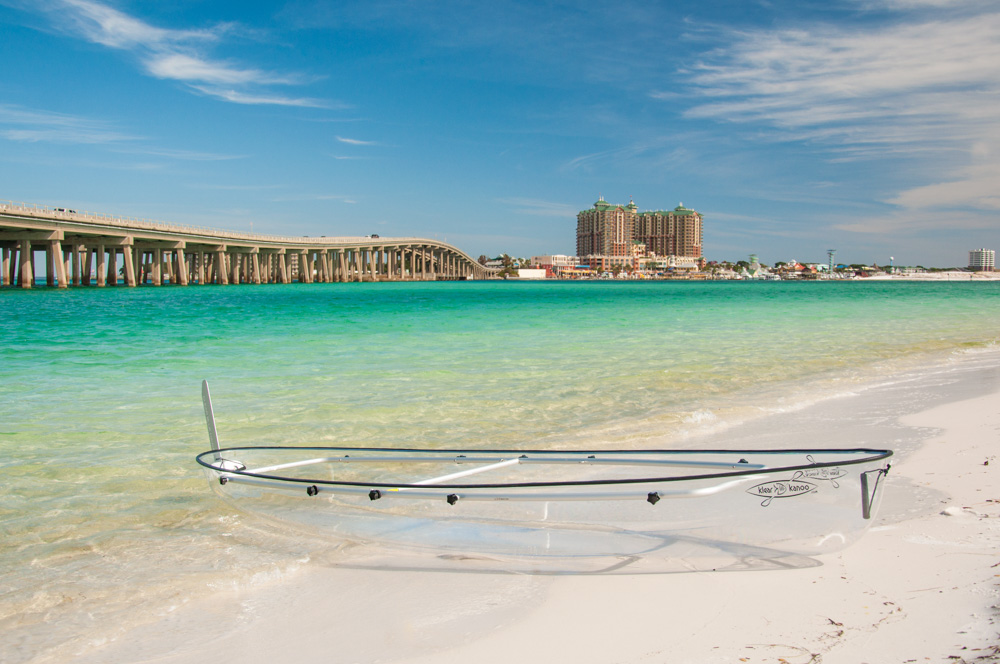 Silvia moved to the Emerald Coast in 1998 and met Gio while he was on a business trip in 2008. He moved from Texas to Miramar Beach and they married about a year later. Silvia is a broker and agent with ResortQuest Real Estate, and Gio is also a consultant for Direct Builder Supply, a custom millwork supply company specializing in antique timbers and beams. "We both have our other jobs, but this is the fun job," Silvia jokes.
This business-minded power duo admits that the absolute satisfaction of each Klear Kanoo customer is key. The boats are stocked and ready to deliver from the warehouse in Miramar Beach. "When we get an order for a boat, we personally shine it up, put a bow on it, and deliver it," Gio says. "We want customers to be very, very happy when we leave, and we always follow up with a thank-you card and a gift of Klear Kanoo T-shirts, stickers, and shining wax. Each buyer becomes part of our Klear Kanoo family."
Plans for expansion are in the works for Gio and Silvia, who hope to open Klear Kanoo retail stores on Highway 30-A and Highway 98. They also hope to add some beach rental companies to their offerings. With talk of the South Walton Artificial Reef Association creating sustainable artificial reef systems near Grayton Beach and in the Choctawhatchee Bay, there may never be a better time for locals to add a Klear Kanoo to their paddling collection.
— V —
---
For more information, visit www.klearkanoo.com, call (850) 502-6126, or like Klear Kanoo on Facebook.
ARTICLE CATEGORIES