By Felicia Ferguson | Photography courtesy of Point Washington Medical Clinic
Nestled under towering live oaks off Highway 395 North, Point Washington Medical Clinic (PWMC) is a labor of love for cofounders Hillary Glenn, DNP, and Patsy Vargo, MD. Its goal is to level the health-care disparity in Walton County, Florida, and the surrounding areas. But its heart is to bring the community together as one, recognizing and valuing the symbiotic relationship between each person and business in the region.
Hillary Glenn's first encounter with health-care disparity came while traveling through Southeast Asia, and the experience forever altered her heart for people in pain. Two young girls who had befriended her and a companion during their stay in Vietnam invited the pair to visit their village. After hiking for two hours and following directions that included "turn right at the river and left at the tree," Glenn and her friend met the girls' families.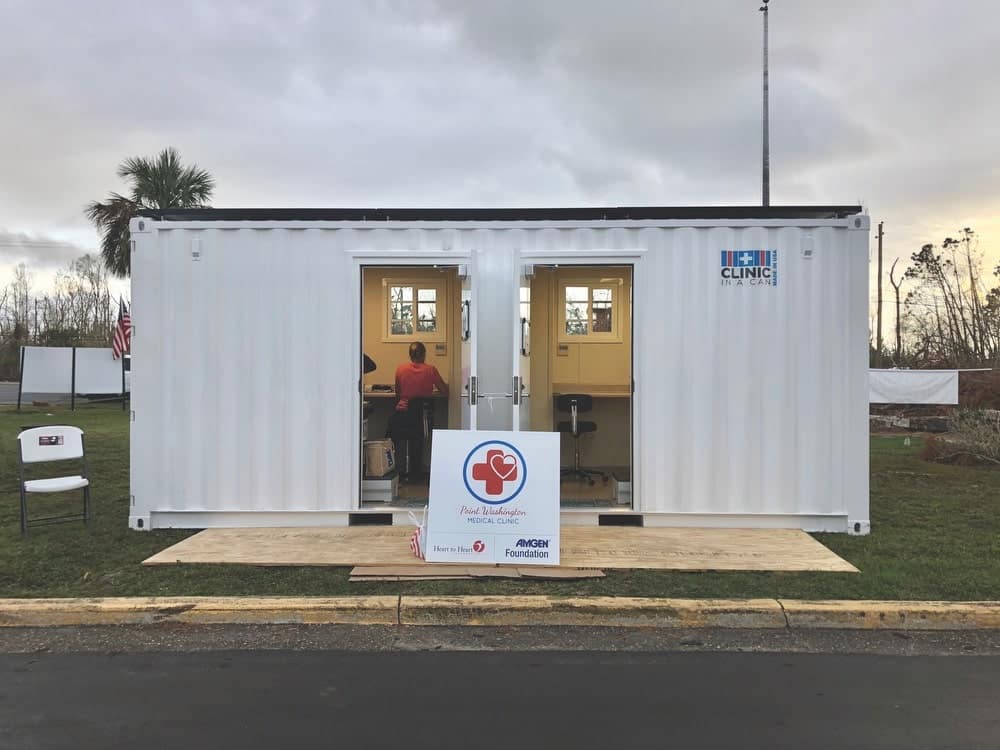 The brother of one girl had a seven-month-old baby strapped to his chest, and while the father was present, the mother was not. When Glenn asked why, the girl explained that the mother had died in childbirth. Based on the description, Glenn diagnosed a hemorrhage as the likely cause of death. If she had been closer to medical care, it might have saved her life. Glenn decided that when she owned her own clinic, she would offer a community health-care day to serve those in need.
Little did she know, but plans were already coming together to make that dream a reality—though not in any way she could have imagined. Patsy Vargo, MD, had been researching a medical mission trip with Point Washington United Methodist Church when she recognized a clear and present need in the church's backyard. Why travel abroad when the mission field was right in front of them?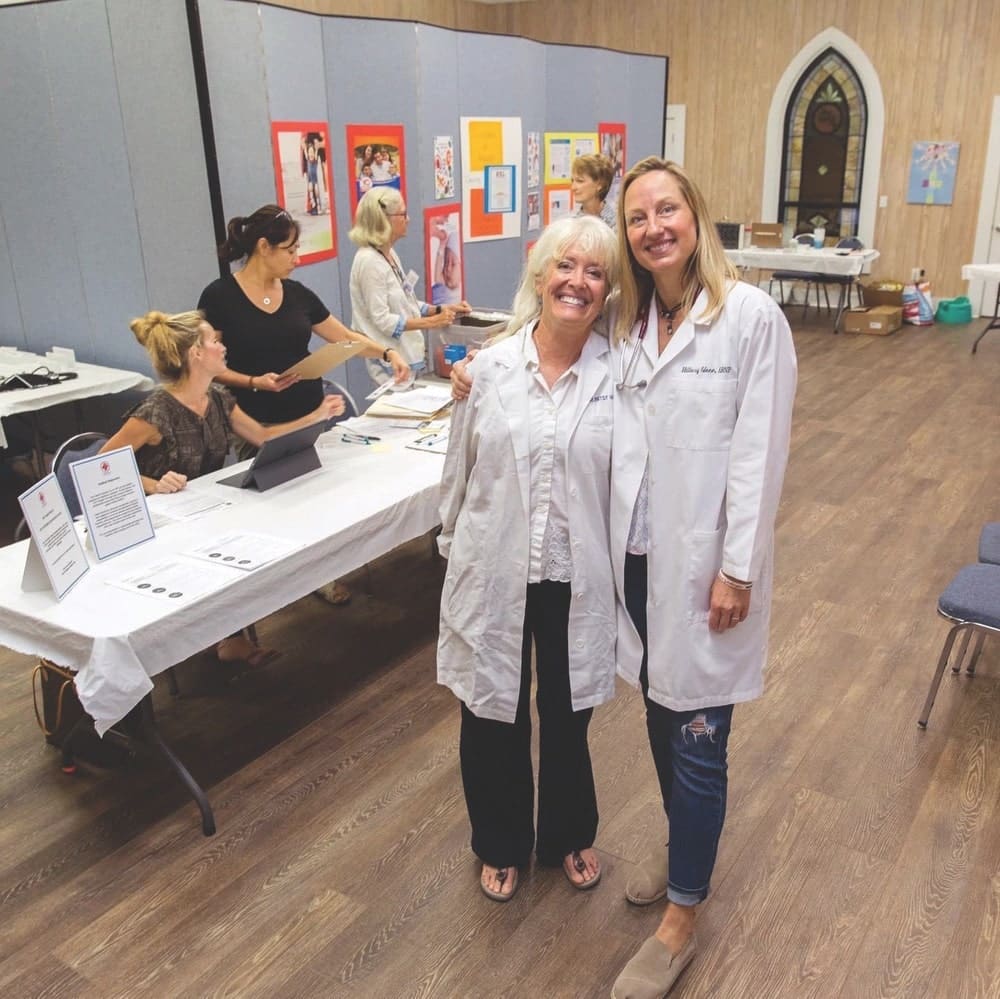 Jackie Ward, a mutual friend, introduced Glenn and Vargo, and by the end of their meeting, they had a plan for a pop-up community medical clinic. Vargo approached the church's mission board about providing a location, and they readily agreed.
PWMC is open to patients of all socioeconomic levels. In fact, its board specifically decided against accepting federal funding because it would restrict their treatments to a certain population in the community. A visit to the clinic reveals the wonder of ingenuity, the impact of volunteers, and the wealth of donations that have sometimes seemed to come from out of nowhere. Glenn says, "We are 100-percent donation based. We do write grants, but the community has rallied behind what we are doing in a way that is humbling. It is spectacular."
Early in PWMC's life, Glenn was invited to speak about the clinic at Shannon Kramolis's dinner party. Kramolis is part of a group of ladies who meet for dinner at one person's house rather than going out to eat, and the hostess chooses a charity for the evening. The money the ladies would have spent on dinner is donated to that charity. After speaking to the receptive gathering, but still uncertain about the evening, Glenn waited until she arrived home after the dinner to open the donation envelope. She was stunned to find $3,000 inside.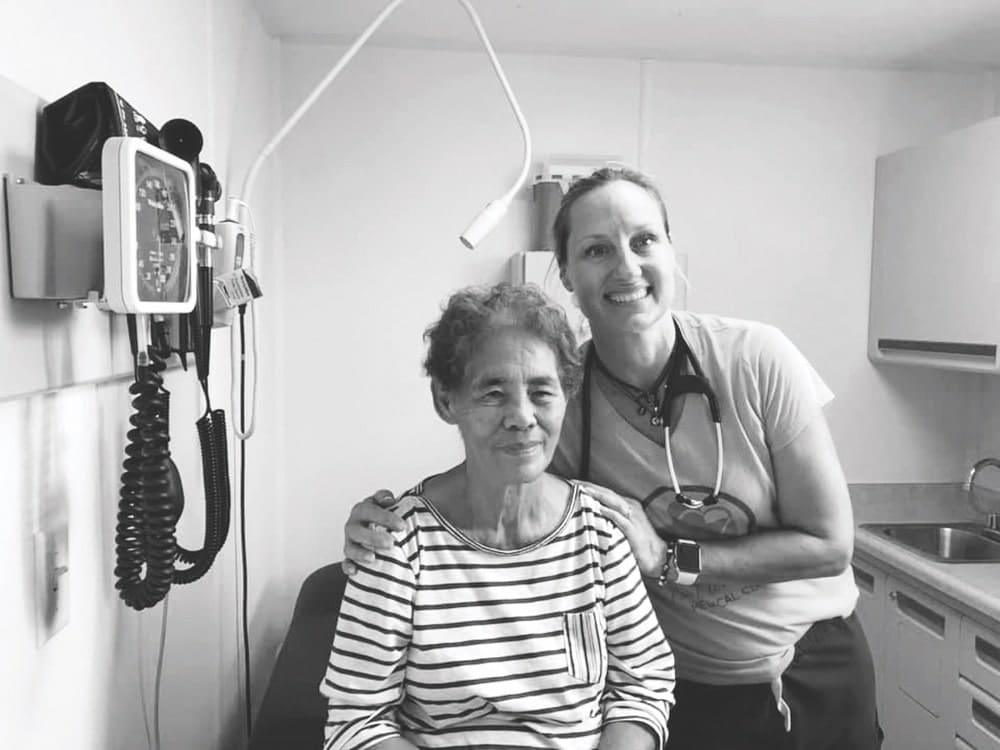 But that was only the start. When the J.W. Couch Foundation learned Hillary needed a safe, contained location for COVID testing in June of 2020, it donated $100,000 toward purchasing a mobile medical unit, which the clinic staff fondly named "Felix." Felix also allows PWMC the flexibility and mobility to assist with disaster relief needs in the area.
During the height of COVID, The St. Joe Community Foundation and The Alys Foundation provided funding for testing materials. These contributions allowed the clinic to quickly diagnose patients and refer those who needed further medical treatment. Through these and many other generous donations, over seven thousand lives have been impacted in the past five years.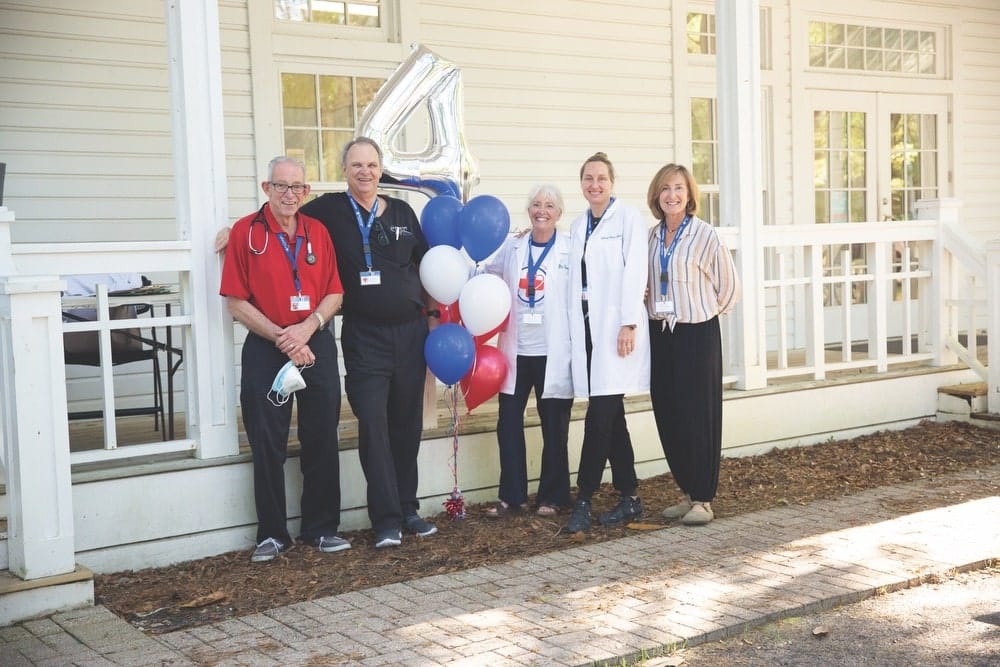 But Glenn and the PWMC team know there are more who need their help, and they realize PWMC has outgrown the church's fellowship hall. "We are only open two days a week because those are the only days the space is available, not because we don't want to be open," she explains. The church graciously offered them a land lease across the street, and an architect has planned a building that draws the surrounding beauty indoors while only requiring the removal of one oak tree.
Inside this 4,750-square-foot facility will be six examination rooms, a teaching kitchen, a meeting room, a dental suite, a dispensary, and an educational lobby. The dental facility will be made possible thanks to a generous financial donation by a local resident. The clinic currently sees sixty to seventy patients during its limited hours on Mondays and Wednesdays. But, with expanded days, hours, and examination rooms, Glenn hopes to see two hundred to three hundred a week, if not more. More space, however, is only part of the dream.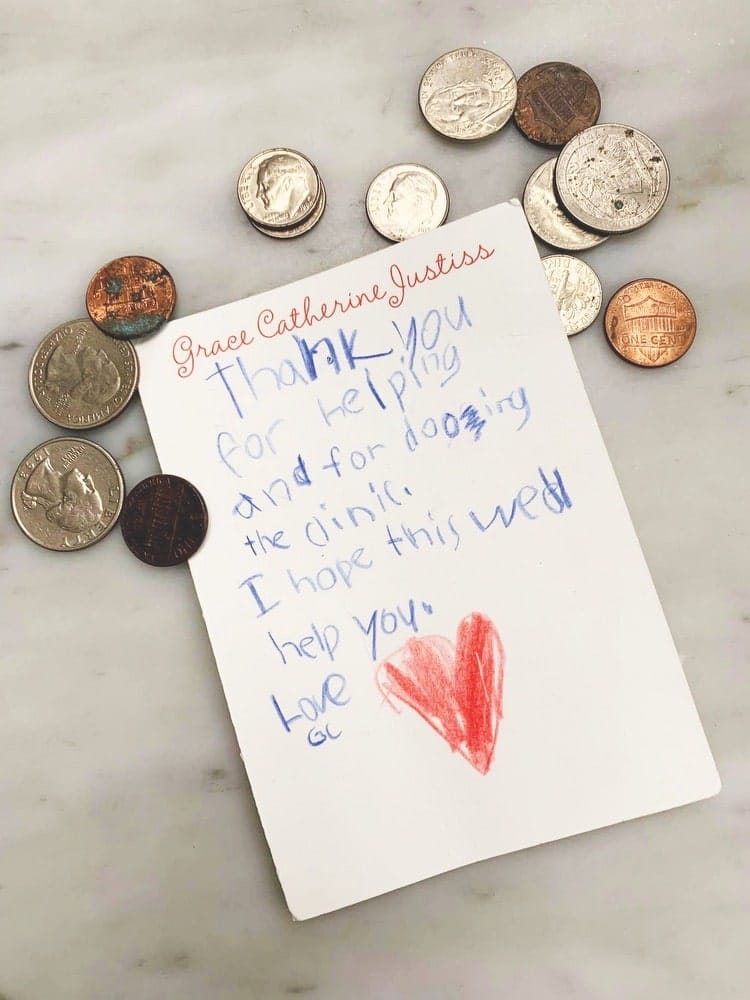 New services and programming will allow PWMC to offer the full spectrum of services, from education on wellness to primary care and even specialty care in a safe, comfortable environment.
Glenn says, "I want my patients to come to the clinic to learn how they never have to have that medication refilled again because they know how to eat well so they can live their optimal wellness."
Area yoga teachers have already contacted her about leading classes, and she is interested in offering other mindfulness activities like Tai Chi, meditation, and prayer groups to support the area's mental health needs.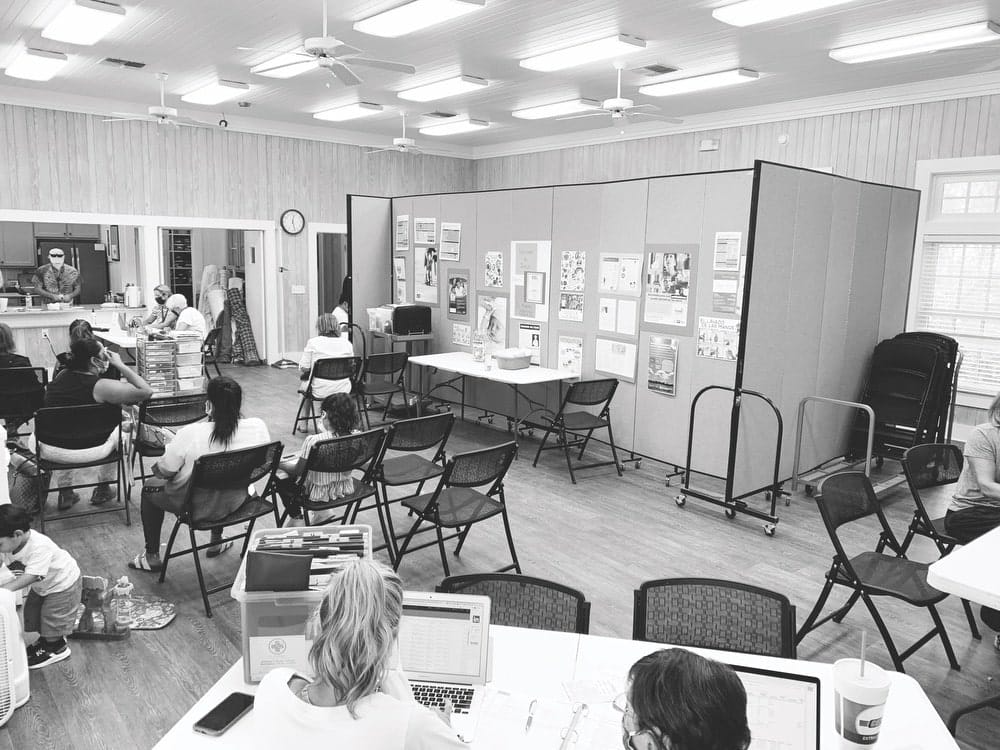 "It is really heartwarming to see how the community, in general, has rallied around the clinic and supported us," Glenn shares. "Now we're doing the capital campaign. Local builder Peter Horn with Artisan is recruiting other local builders to help fund the construction of the clinic, and Buster Woodruff is donating his time as general contractor for the project." Both men appreciate how PWMC's mission and vision support their industry.
Glenn continues, "It's the same with the restaurants. We just had our Fifth Annual Harvest Moon Celebration. It was an unbelievably beautiful event. And so many people in the hospitality industry, especially Fisher's Flowers and team, came together in some form or fashion to make it happen. Jim Richard spearheaded and reached out to other chefs who donated their talent and time to create this crazy, fabulous dinner. He said the clinic helped their restaurants stay open because the employees could stay healthy."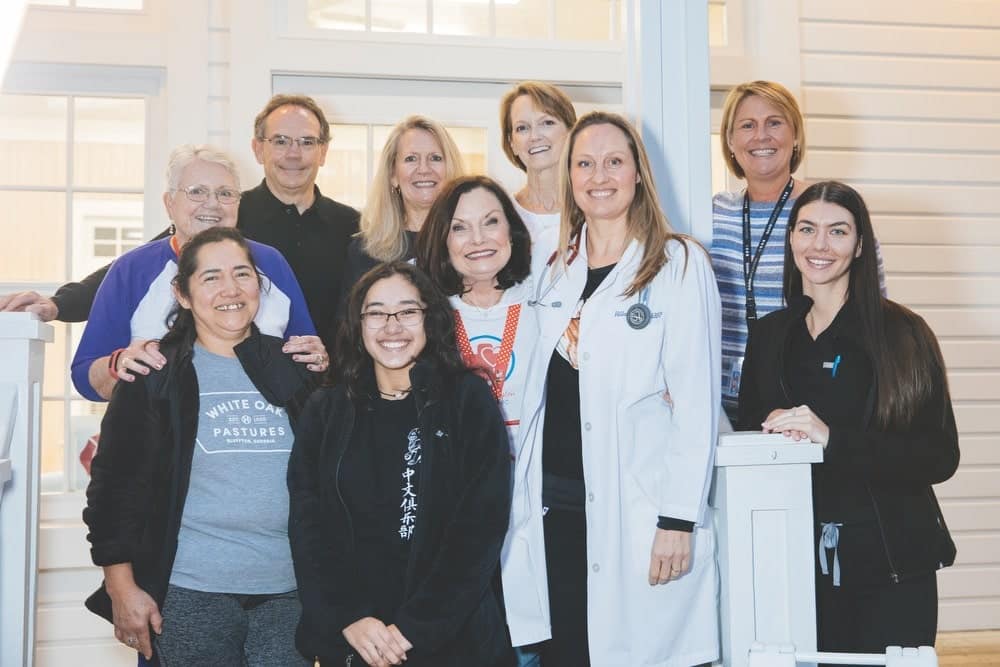 The stories of the lives impacted by PWMC swing the pendulum from joy to sorrow, but all highlight the desperate need for quality health care for all socioeconomic levels. By joining the calling of their hearts with the heart of the community, Glenn and the team hope to achieve their dream to build a healthier future for everyone. She expresses PWMC's heart: "The clinic is an organic growth from the community, and we're here to serve."
— V —
---
Visit ThePWMC.org to learn more about services, schedule an appointment, or donate.
Felicia Ferguson is an award-winning freelance writer and fiction author. Her contemporary women's fiction book, The Choices She Made, will release in October 2022. She lives in Destin, Florida, where she fuels her soul by tending her gardens, playing with her Frenchies, and feeding a family of ducks. More details may be found at FeliciaFergusonAuthor.com.
ARTICLE CATEGORIES