By Chad Thurman |
Photography by Romona Robbins
If you've ever spent any amount of time in southern Walton County, Florida, you may have visited the iconic Red Bar of Grayton Beach (see VIE March/April 2015, "From Belgium with Love") and marveled at the tremendously detailed and richly colorful mural that adorns the front door of the building. You may have even waited for the crowd to clear so you could take a photo by the door before entering what is verily now a cultural landmark in the area. The central theme of the mural is an image of the Hindu deity Ganesha, whose four arms and hands present to those who pass the offerings of a dinner plate of crab cakes, a glass of wine, a drumstick (of the instrumental variety), and a Stratocaster guitar. This mural is the creation of the fertile imagination, deft hand, and keen eye of artist Bryan Hand.
Hand is a largely self-taught artist who also credits his mother, an oil painter, with teaching him how to draw. Since the young artist was old enough to grasp a pen, his mother directed him to hone his sense of vision. If he wanted to learn to draw something, his mother would draw it for him and then show him how to do it. "I was always provided with something to draw with and on," Hand recalls. "I was encouraged as a kid by both of my parents; they would give me coloring books, but I would fill up the inside covers with drawings. When I was a kid, I would rather draw than color."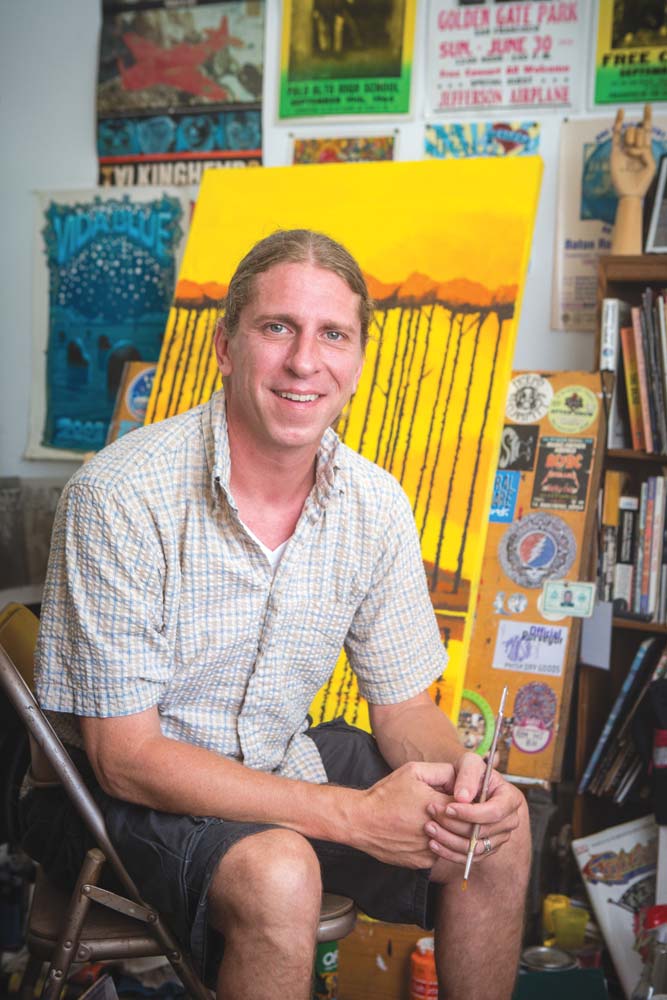 Hand continued to draw through his college and military careers, filling up stacks of sketchpads along the way, which he still has and readily references to this day.
"What changed me as an artist was meeting the folk artist Woodie Long," Hand says. "I'd never painted ever in my life; I just drew. I met Woodie at a folk art festival at the House of Blues in Orlando. He encouraged me very much to paint." Long hailed from Northwest Florida just as Hand and his wife, Alison, did, and Hand was excited to have the opportunity to learn from Long when they moved back home.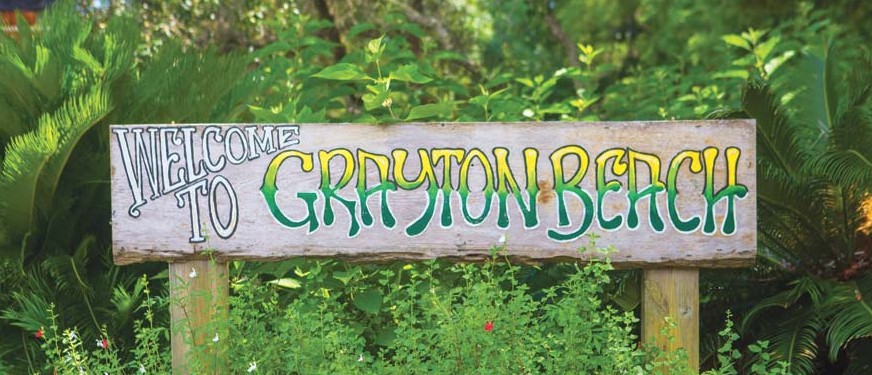 Hand remembers the first time he tried painting as a day that began with him and a friend hanging out. They were at Long's Santa Rosa Beach studio and, recognizing the immense talent Hand possessed, Long directed him to get started on a painting. Long cautioned him "not to spend money on the expensive paints" and to "always use any surface that was presented." Hand left Long's studio that day and purchased a drop cloth and some cheap acrylic paints. With his landlord's blessing, he proceeded to paint a portrait of the Beatles on a column outside the house he was renting. This was the first painting by the artist now known as B. Hand, and it now stands in his living room.
Hand graciously recognizes Long as his inspiration and mentor, but he credits his wife, Alison, as his artistic muse and creative guide. "I always want my wife's opinion, and if I don't get it, or she doesn't say much, or is like 'hmmm' as she cocks her head …," Hand trails off laughing about his wife's preeminent role in letting him know when something isn't working. "I count on her for that."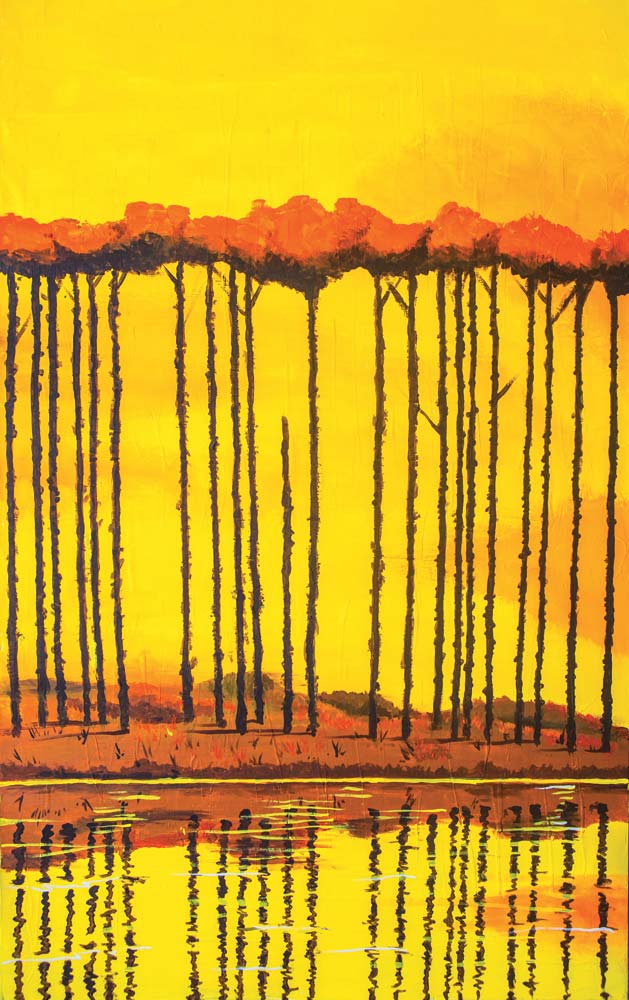 In the past seventeen years since learning to paint, Hand has also been part of the Red Bar family as a server. Much of his art can be found throughout the inside of the restaurant—some of it prominent, some pieces inconspicuous. Red Bar proprietor Oliver Petit credits Hand's art as being an integral part of the bric-a-brac style that has become the Petit family's restaurant signature. Hand has recently completed several pieces for Petit's new Destin Diner. It doesn't require a keen eye to recognize the unique style that Hand creates; in a sense, his style recognizes and greets you the moment you walk through the door.
Most of Hand's early pieces at the Red Bar were created when he was afforded a break from waiting tables. The wooden bar tops that Hand developed over the past decade are well preserved and cared for. They portray different musicians, actors, artists, writers, and cartoon and movie characters, among many other images that people instantly recognize. This large collection of bar tops is affixed together as a collage and is currently hanging as a single installation in the southern dining room. As a bonus, next time you're driving through Grayton Beach on the way to the Red Bar, take care to notice the unassuming sign that simply states "Welcome to Grayton Beach" in margarita-inspired colors—that's the work of B. Hand, too.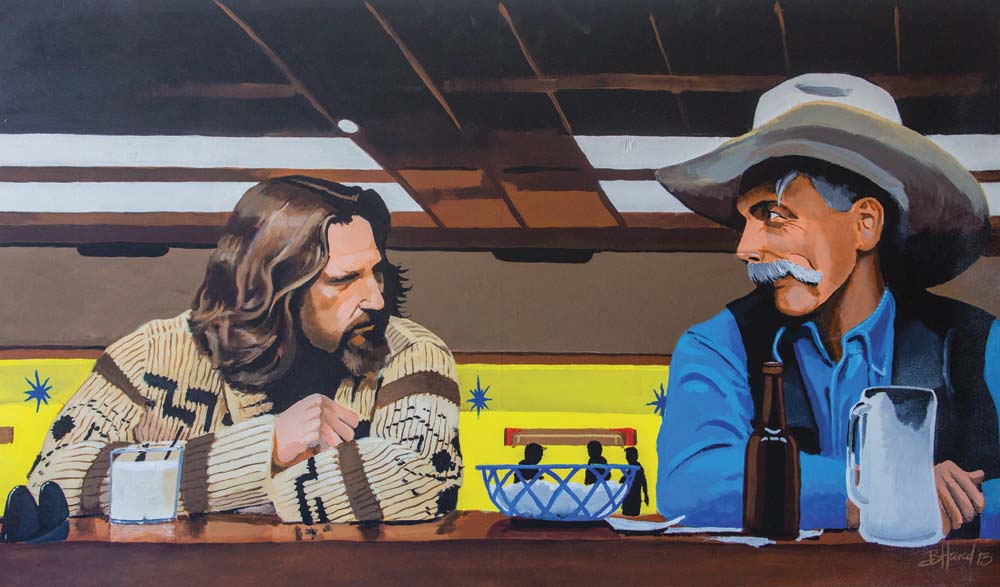 Hand's works are best described as snapshots of Americana. Whether it is a painting of his interpretation of the Bob Dylan song "Visions of Johanna," a scene from the 1998 Coen brothers cult-classic film The Big Lebowski, a painting of Bob Marley frozen for a moment in time onstage, or a light-hearted caricature of an organ grinder's monkey wearing a fez and holding a martini, all of these scenes evoke the spirit of American pop culture and the essence of what living and experiencing life is like in the USA.
— V —
---
B. Hand may be contacted for commission through his website, bhandart.com.
ARTICLE CATEGORIES