Coach + Chelsea Champlain and the Wild, Styled West
By Jordan Staggs  |  Photography courtesy of Coach
There are runway shows, and then there are runway productions that evoke masterfully artistic strokes of genius that will be remembered. Creative director Stuart Vevers set the stage at New York Fashion Week's Fall 2018 shows with his Coach 1941 runway presentation as guests were taken on a journey into the woods and through the dark ethereal beauty of the American West.
As the lights dimmed and crackling TV screens set the spine-tingling tone of the show, models began their jaunt through a makeshift forest with fallen leaves and evening fog that immediately transported viewers into the chill of an autumn evening. The fall collection reflected this dark side of style, with a nod to Western fashion: big florals, bandana patterns, tassels, studs, and braids, and, of course, signature leather pieces that included bags, shoes, and jackets. Many of those pieces took the Gothic West theme to the next level with custom artwork by Colorado native Chelsea Champlain, who has been painting on vintage bags—many of them Coach brand—for the past few years and sharing them on her social media networks.
We caught up with Champlain to discuss her roots, the art of darkness, and her Coach collab for this year's Art & Culture Issue!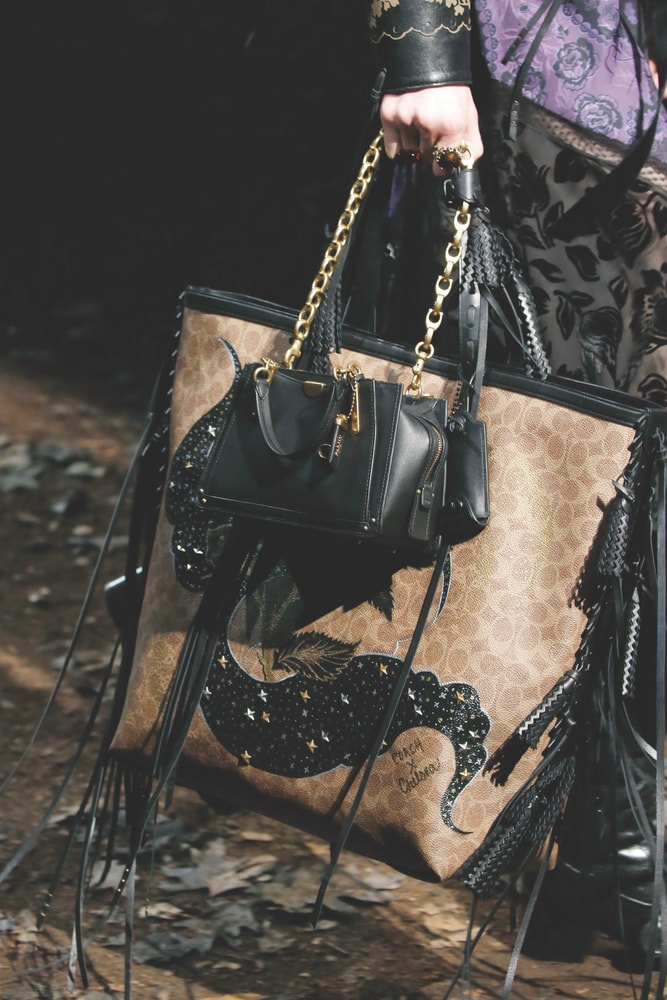 VIE: Have you always wanted to be an artist for a living? 
Chelsea Champlain: When I was younger, I wanted to work on motorcycles. My dad rides motorcycles and was usually in the garage fixing them up. I look up to him a lot. So, naturally, that's what I wanted to do. My mother was always incredibly artistic, so you could say that it's in my blood. I didn't truly get my start until I was eighteen. I was working in a tattoo studio as a body piercing artist. It was there that I met some very talented artists who started showing me the way and I started to develop my skills on a more professional level.
VIE: How would you describe your personal style, in both the artistic sense and the fashion sense?
CC: A lot of my inspiration is pulled from the darker side of western. I'm from Colorado. I like combining elements of delicate macabre with a hint of elegance. It flows into my style, too.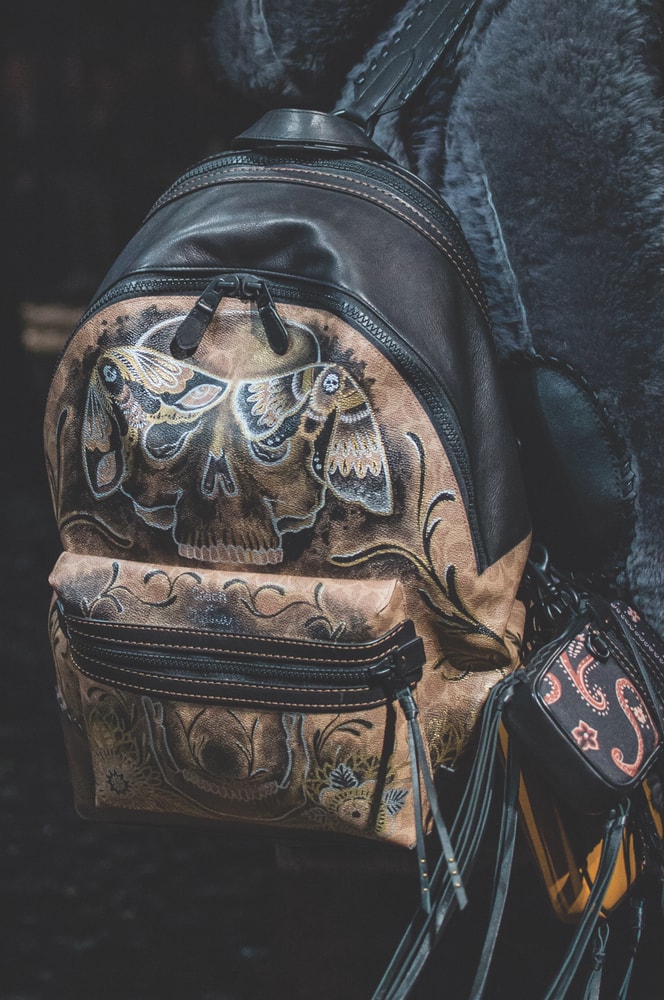 VIE: When did you begin painting on vintage bags and other items and selling them? 
CC: It was about two years ago when I painted my first bag. I had painted many other things, but none of them took off—not like the bags, at least. It all started one night when my best friend and I had a few drinks. We decided we were dissatisfied with life. I don't think we knew what that meant or what we were going to do, for that matter. I had just been in a rut and feeling a little down. I had quit my job as a tattooist and had no real outlet for art anymore. Art has always given me a sense of self-worth. Without it, I feel lost.
As it turns out, we were still serious the next day. My friend does embroidery, and I paint. So, we just kind of did our thing. I painted some bags and posted pictures on social media. I knew I had something because they were all selling fast. Before I knew it, my inbox had quite a few requests.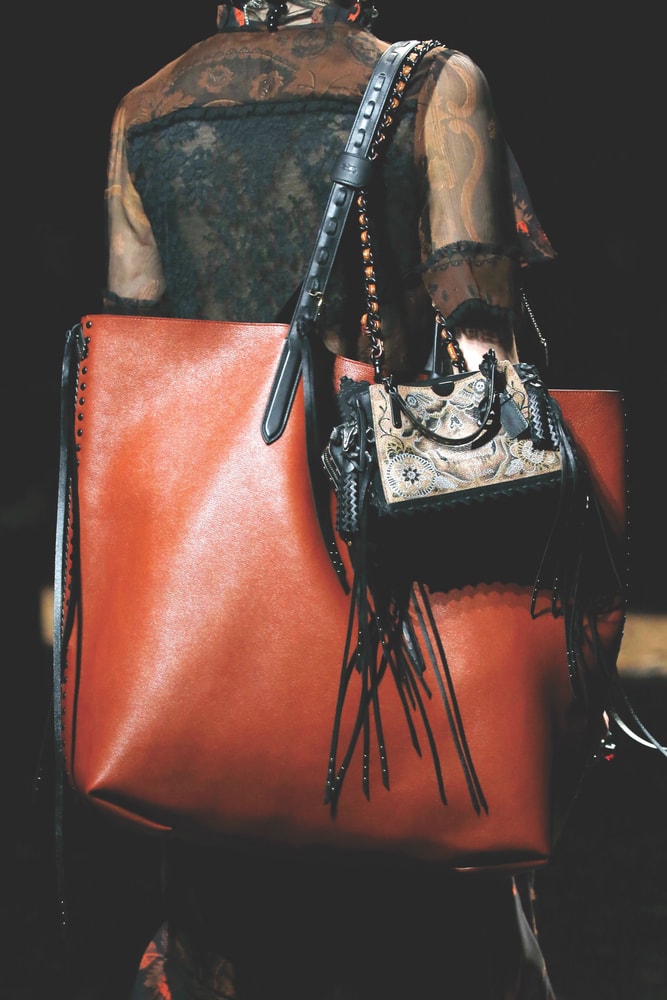 VIE: What do you think drew you to work on Coach items in particular?
CC: I have to go back and give the credit to my friend Kaila. She gave me my first Coach bag.
She is probably one of the best saleswomen they never knew they had. Also, Coach's vintage collection is amazing—all around quality and style.
VIE: How did you get connected with Stuart Vevers for the Fall 2018 Coach collection? 
CC: Fate. I think the whole story is one of fate. We should just call this "A Series of Fortunate Events." My friend made me go into the Coach store with her because I had never been in one. An employee saw my bag, which I had painted, and stopped me so she could show everyone. She asked if I had an Instagram; I did not at the time. She said I really should try to contact Coach. The next day I thought to myself, "What is the worst that can happen? He's probably not even going to see it anyway." So I gave Stuart a tag here and there, and, of course, he sees it! I received a message about a week later.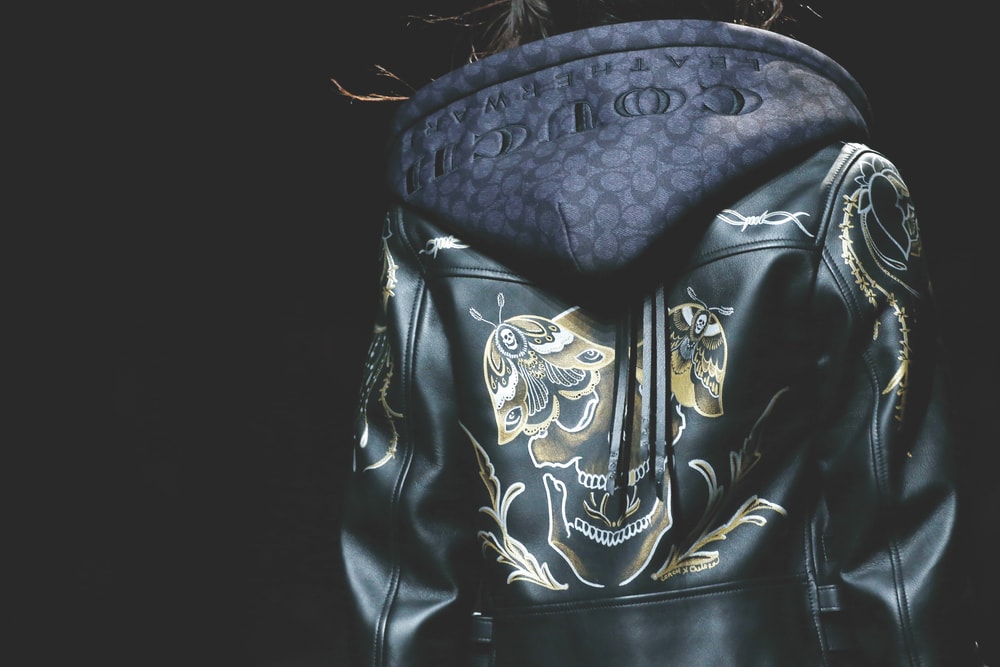 VIE: What was the process like to create art for the new fall collection and how did it feel to see it come to life on the runway?
CC: I designed a few things on paper, but they didn't have the right feel. Stuart wanted a real and authentic feel, so I actually ended up hand painting a lot of the bags that went down the runway, along with some shoes and a couple of leather jackets. The process of painting on a bag is very different from paper—every bag is uniquely shaped. The hardware and straps are all in different places. I take that into account when I design a layout. The bag inspires the artwork, and the artwork is meant for that exact bag. It wouldn't flow correctly on any other bag. That's why they are so special.
VIE: Do you have a favorite piece from the collection?
CC: It's hard to say. I really love all of the men's bags. They featured the Bonnie Cashin bag on the runway and that's probably my favorite!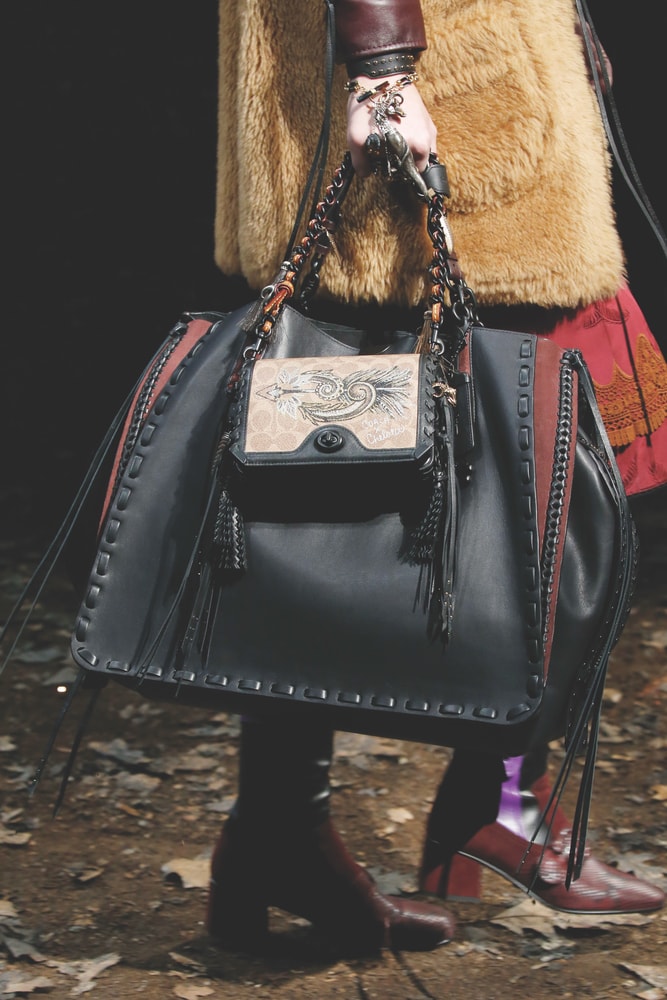 VIE: What advice would you give to artists who are trying to make their mark in the world?
CC: Listen. Listen to your gut. Listen to your heart. If you see a door, knock. As much as fate played a role in this collaboration, I had to take those steps. I had to learn to grow and move forward, even when I wanted to give up. I think my husband has heard me say at least a handful of times that I just wanted to quit everything that involved art. It was a struggle.
So never stop. Each day is a new one to take the horse by the reins.
— V —
---
Visit Champlain's Instagram @chelseachamplain to see more projects and Coach.com to view or purchase the brand's latest collections.
ARTICLE CATEGORIES