Publisher's Note: The Animal Issue 2014
Follow Your Destiny
by Lisa Burwell
When I arrive in Ireland's mountainous region of Connemara in County Galway, I can hardly resist the urge to sing the theme song to the Sound of Music. It's true—at least, it's playing in my head. It feels like freedom to me. If it's a gray, blustery day, I might also feel as if I've been transported onto the pages of Emily Brontë's classic novel, Wuthering Heights. Connemara is magical, mysterious, and hauntingly beautiful. Three of my four grandparents were born in Ireland, and my mother, who loved Connemara immensely, and her siblings spent quite a few years there as teenagers. My own love of Connemara began when my sister Laurie and I spent a summer with relatives during high school. It's safe to say that I have roots there.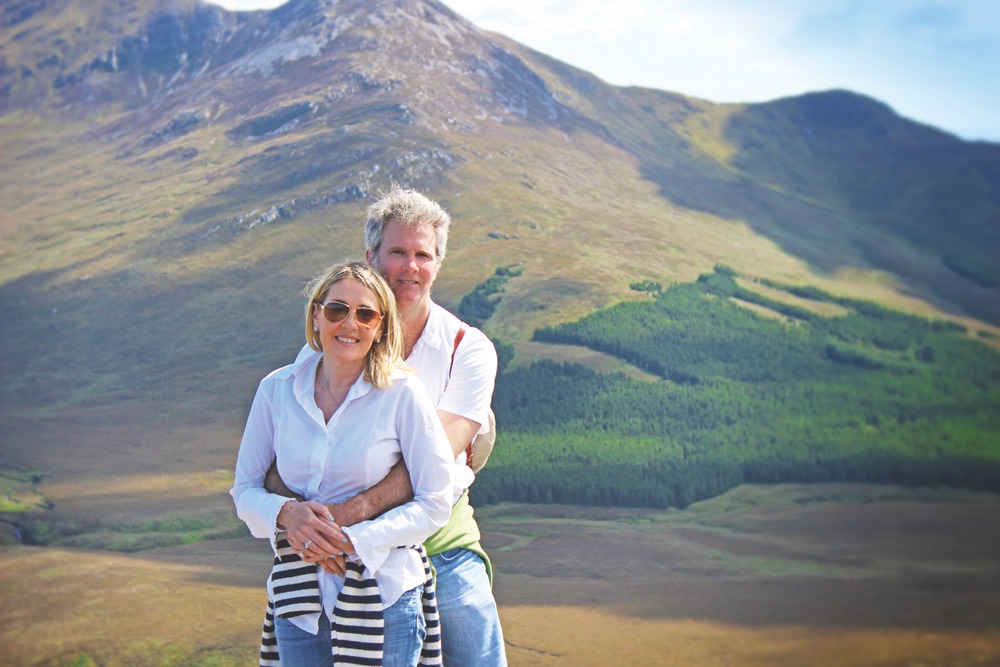 What is it that makes Connemara so alluring? The culture. The people. The sense of community. A cadence all its own wrapped in majestic beauty.
A recent trip to Connemara revealed that many of our company team members, having made the journey with us, felt the same way. In August, VIE's publisher—Cornerstone Marketing and Advertising, Inc. – The Idea Boutique®—traveled to Ireland to open a satellite office. Ireland, the only English-speaking member of the European Union, has a highly educated workforce, making it a desirable place to expand our operations. The bustling town of Clifden, County Galway, located in the heart of the Connemara region, is now home to our new European headquarters—The Idea Boutique, Ltd. Read more about this exciting venture in the article "As You Wish – A Fairy-Tale Grand Opening.
For more than two hundred years, Irish citizens have emigrated from Ireland to America, mostly to escape a repressed economy. Irish youth flocked to America in the 1980s, but then the Celtic Tiger economy swept through Ireland in the nineties and the early millennium, allowing younger generations to make a living in their beloved homeland. Currently, the global economy seems to be shaking off the dust from the nearly cataclysmic economic events of the past seven years, during which time many of Ireland's youth have once again had to leave to find employment in America, England, Canada, and Australia, among other countries. It seems as though the tide is beginning to change for Ireland; American giants like Google, Facebook, and Oracle have set up headquarters there over the past decade. The Irish government offers attractive incentives to entice foreign businesses in an effort to breathe life into their economy.
A glorious climb to the summit of Diamond Hill in Connemara National Park on a picture-perfect day was all I needed to confirm my conviction that we were meant to have a corporate presence in Ireland. It was exhilarating. During the climb, there were times when I wanted to stop and go back. I knew not to look back as I might fear how high I was going. I knew not to look up as I might get discouraged at how much distance there was left to go. Either one could become an unnecessary distraction to the prize of reaching the top, especially since there was joy in the challenge along the way. Putting one foot in front of the other became my only concern. I realized it was a metaphor for life, business, and the fulfillment of destiny. You have to climb your mountain or you will never arrive.
I commend Laurie Hood, the founder of Alaqua Animal Rescue, for having the courage, conviction, and grit to stay the course—in effect, for climbing her mountain. This beautiful woman ushers in our first Animal Issue, and we could not have asked for a more perfect cover girl or a better spokesperson for all creatures large and small. Read our feature story, "An Animal Advocate," and become inspired to follow your destiny.
To Life!
—Lisa
ARTICLE CATEGORIES