Story and Photography by Kim Duke-Layden
For many people, South Lake Tahoe is a wonderful winter playground, but to me, it is the perfect escape from Florida's heat and humidity. I first visited South Lake Tahoe in September 2008 to run the überscenic Lake Tahoe Half Marathon (www.laketahoemarathon.com) with my girlfriends, Kirsten and Stacy. The following July, I couldn't wait to return with my husband, John, to celebrate his birthday.
How do I love South Lake Tahoe? In no particular order, let me count the ways
1. Admiring the Jewel of the Sierras
The clarity of Lake Tahoe's sapphire, aquamarine, and turquoise waters affords amazing visibility to a depth of seventy feet. Nestled amidst the High Sierra's rugged snowcaps, America's largest alpine lake is surrounded by whitewashed boulders and towering ponderosa pines, California redwoods, and Douglas firs. An imaginary L-shaped state line runs across the deep, twenty-two-mile-long lake separating California and Nevada. The charming resort town of South Lake Tahoe straddles the California-Nevada border and wraps around the lake's southern shore. In a nearby cove, stunning Emerald Bay—named for its unique green water—surrounds Fannette Island and its tiny stone "Tea House." A stone's throw away at Emerald Bay State Park, you can take a hike up spectacular Eagle Falls or tour historic Vikingsholm, a Scandinavian "castle" built in 1929 as a summer vacation home by Lora J. Knight. (www.vikingsholm.org)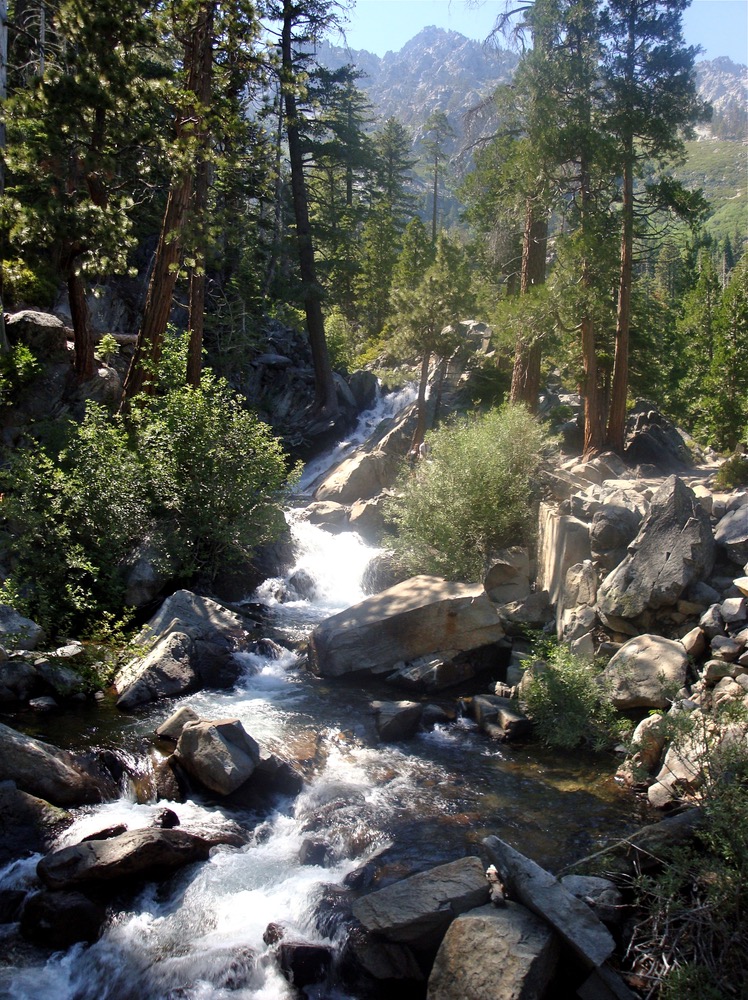 2. Feeling Like Family at the Fireside Lodge
Whether you're sipping wine by the inviting hearth or savoring s'mores at the fire pit, Fireside Lodge makes you feel at home. This all-inclusive bed-and-breakfast offers exceptional value and amenities; however, what sets Fireside Lodge apart from other bed-and-breakfasts are its delightful proprietors, Christine and Dave Latshaw, and their yellow Lab, Kona, who gets the most fan mail. Dave and Christine provide Southern hospitality and are often seen visiting with their guests, which, not surprisingly, keeps many, like me, coming back. Dave and Christine bought the rustic motor court in 2002 and gave it a $750,000 extreme makeover. Nine vintage Tahoe-themed suites provide the perfect balance of kitsch and comfort. All feature rock fireplaces, kitchenettes, and eating nooks. Larger suites are great for girlfriend getaways or families, and cozy queen suites are perfect for couples. Enjoy crisp summer nights and sleep with your windows open. Fireside Lodge is located west of town on Highway 50 and backs up to a national forest. Nightly rates in summer start at $165 or $195 for larger suites. AAA discounts are available. (www.tahoefiresidelodge.com)
3. Taking A Heavenly Ride in the Sky
In the middle of South Lake Tahoe's bustling "strip," straddling the state line, is Heavenly Mountain Resort. Hop the Heavenly Gondola and ascend three thousand feet for breathtaking panoramas of Lake Tahoe. Midway up, stop at The Deck, a 14,000-square-foot observation lookout, and pose for photos against vertigo-inducing backdrops. Then ride to the top and explore the hiking trails or kick back and chill with a Sierra Nevada brewski. Look for Phyllis, the friendly ambassador, and ask about her inspiring mother, who started running marathons at age seventy-four! Satisfy your need for speed and ride the Tamarack Express quad chairlift up to the Heavenly Flyer ZipRider, the longest zip-line in the continental United States. Hold on tight as you go screaming down a 525-foot vertical drop at fifty miles per hour! Don't shut your eyes—the views of the surrounding peaks and the shimmering lake are spectacular! Gondola ride–$20; zip-line–$40. Reservations are recommended. (www.skiheavenly.com)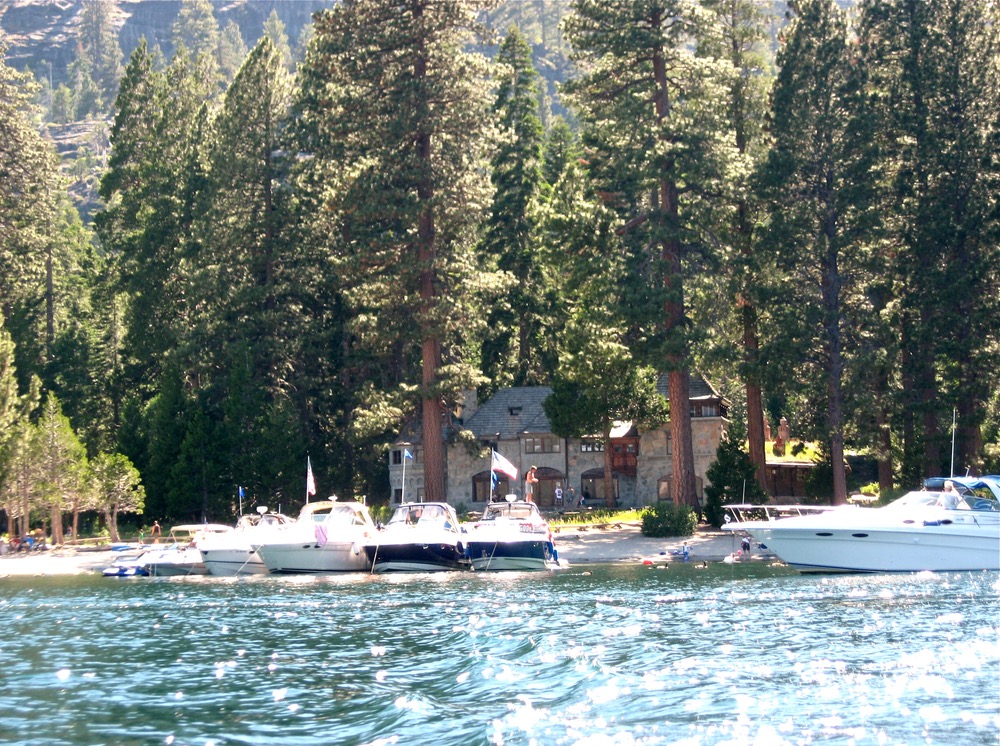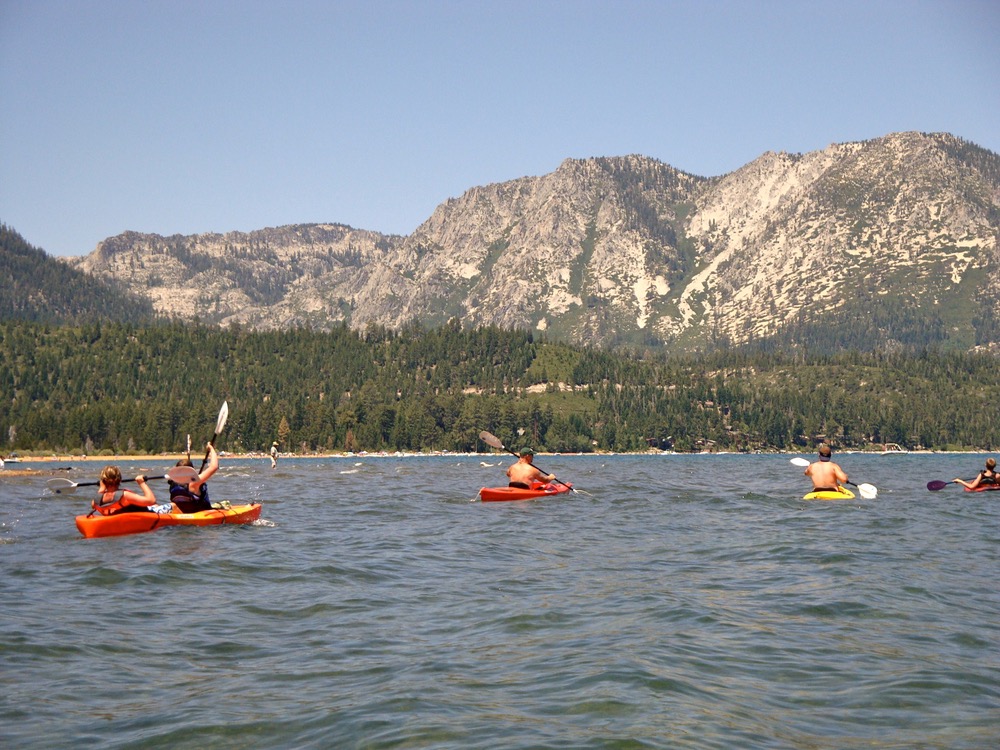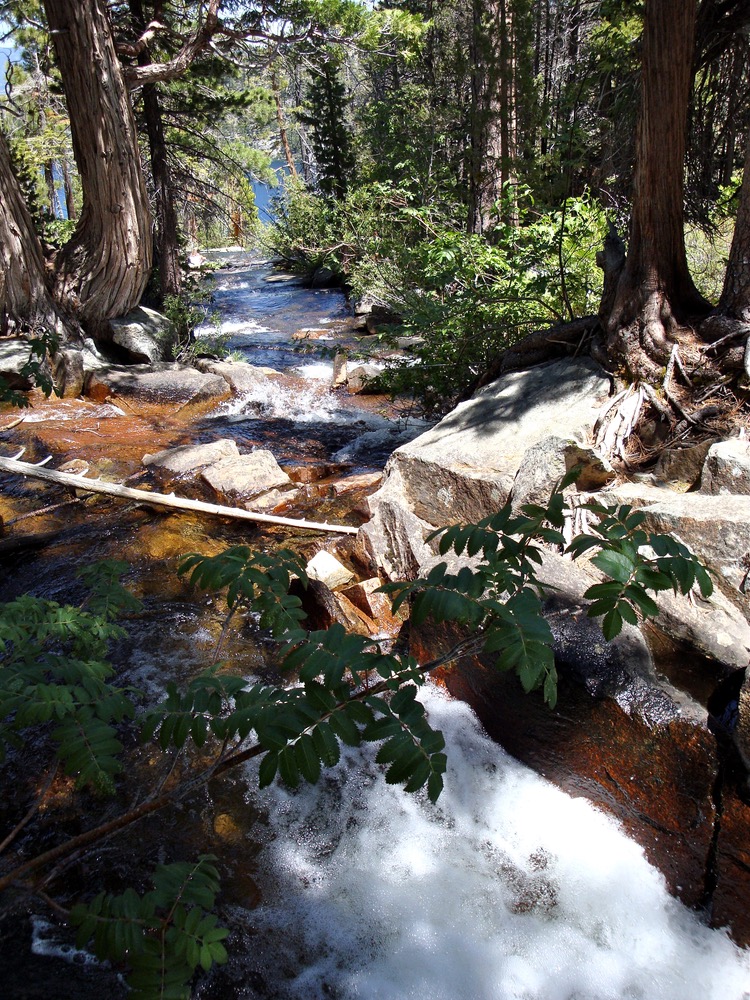 4. Enjoying the Best of Both Worlds
South Lake Tahoe's nostalgic log cabin architecture, mom-and-pop businesses, and friendly locals create a quaint, small-town feel—but, when you're craving big city excitement, simply cross over the Nevada state line, where nearly a dozen hotel-casinos welcome you to play 24/7. Besides high-rolling action, Harrah's (www.harrahslaketahoe.com) and Harveys (www.harveystahoe.com) feature well-known headliner acts such as Tim McGraw, Chicago, the Doobie Brothers, Sugarland, and Blue Öyster Cult. Fellow ABBA fans can get their dancing queen on at Abbacadabra's energetic tribute concert. View South Lake Tahoe's full 2010 calendar of events at www.bluelaketahoe.com.
5. Making a Splash
South Lake Tahoe offers a dozen beautiful beaches that are either free or charge a nominal fee; on a hot sunny day Lake Tahoe's water can be very refreshing. Popular lake tours and excursions are offered aboard yachts, paddle wheel boats and catamarans; however, my favorite way to explore Lake Tahoe's crystalline waters is via an eco-friendly kayak. Kayak and canoe rentals are abundant throughout the area, or if you're staying at Fireside Lodge, borrow one of their loaner kayaks and launch at nearby Pope Beach or historic Camp Richardson Historic Resort & Marina. Paddle west along Lake Tahoe's pristine shoreline dotted with quaint stone cottages, driftwood and wildflowers, and strolling seagulls and geese. Afterwards, grab a sweet treat at the old-fashioned Ice Cream Parlor or Coffee & Confectionery Shop (www.camprichardson.com). For more in-depth trips (pardon the pun), paddlers can follow Lake Tahoe's Water Trail, which circumvents the seventy-two-mile shoreline (www.laketahoewatertrail.org).
6. Glimpsing the Gilded Age
Steeped in nostalgia and situated on seventy-five forested acres bordering Lake Tahoe's southwestern shore, is the Tallac Historic Site www.virtualtahoe.com/Community/TahoeTallac/TallacHistoricSite.html). Seamlessly connected by meandering paths are three rustic architectural heirlooms, reminiscent of Upstate New York's Adirondack-style summer estates, or camps, as their ultra-wealthy owners called them. At the Baldwin Estate, watch the thirteen-minute documentary about former Tallac Resort's heyday in the 1920s; then take the self-guided tour through its small museum (free). The Pope Estate gives mansion tours for a small fee; however, there's no charge to roam around the gardens and pond or dozens of outbuildings. Peek inside the servants' quarters where you can see vintage furnishings, uniforms, and personal belongings of former staffers. The Valhalla (meaning "heaven") Estate, hosts summer concerts and a variety of cultural events (www.valhallatahoe.com). Bicycling is the best way to explore Tallac's sprawling compound. Rent bikes next door at Camp Richardson Resort, or if you're staying at the Fireside Lodge, grab a loaner bike and pedal west on the path that runs behind the inn.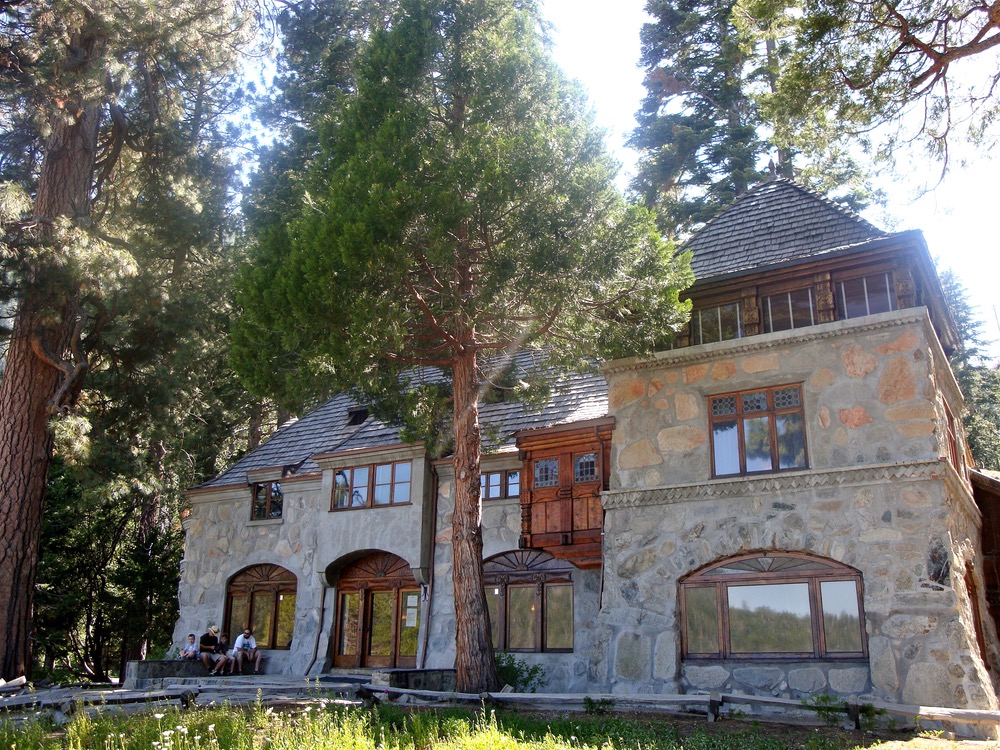 7. Eating, Drinking and Being Merry
Follow locals to tucked-away Tahoe Keys Marina for lively waterfront dining and sunset toasting at The Fresh Ketch (www.thefreshketch.com), Tahoe's only oyster bar. Order grilled mahi-mahi tacos served with spicy salsa verde and creamy California avocados that taste like "buttah." For heartier fare and local handcrafted beer, rub elbows with the regulars at The Brewery at Lake Tahoe (www.breweryatlaketahoe.com). Wash down a juicy burger or gourmet pizza with ice-cold Bad Ass Ale, the house specialty. Dine like a VIP at Four-Diamond-rated steak and chophouse, Ciera, located at MontBleu Resort Casino & Spa (www.montbleuresort.com). Reserve an intimate banquette curtained in flowing red velvet and feast on Chef Mike Sivak's mouthwatering filet mignon tips in a velvety cabernet sauce or Australian lobster tempura with sweet ginger jam.
8. Trekking the Trails
South Lake Tahoe features countless hiking trails suitable for most fitness levels, (www.tahoesbest.com/hiking). Before venturing out, pick up tasty gourmet picnic ingredients from Raley's Supermarket (www.raleys.com) near the Nevada state line or Camp Richardson's General Store, then drive west on Highway 89 towards Emerald Bay. Park at Bayview Campground and follow the signs towards the Cascade Falls' trailhead. The two-mile loop is rated "moderate" in difficulty and measures "off-the-Richter scale" for stunning natural beauty. After a gradual ascent across weathered granite cliffs, the chalky path snakes to the top of the falls, where swaying pines and glacial streams entice wildlife and people alike. Gazing beyond the cascading falls, a photographer's paradise unfolds—sweeping views of cobalt-colored Cascade Lake sandwiched between swaths of evergreen and the shimmering azure waters of Lake Tahoe. Find a picnic spot and watch the chipmunks scampering about. For a longer, more challenging hike from Bayview Campground, take the Desolation Wilderness trailhead, which traverses the rugged Sierra backcountry. Later, pamper sore muscles and feel rejuvenated with a hot stone massage at Body Essentials (www.tahoespa.com), which has two locations, fittingly located near the Heavenly Gondola.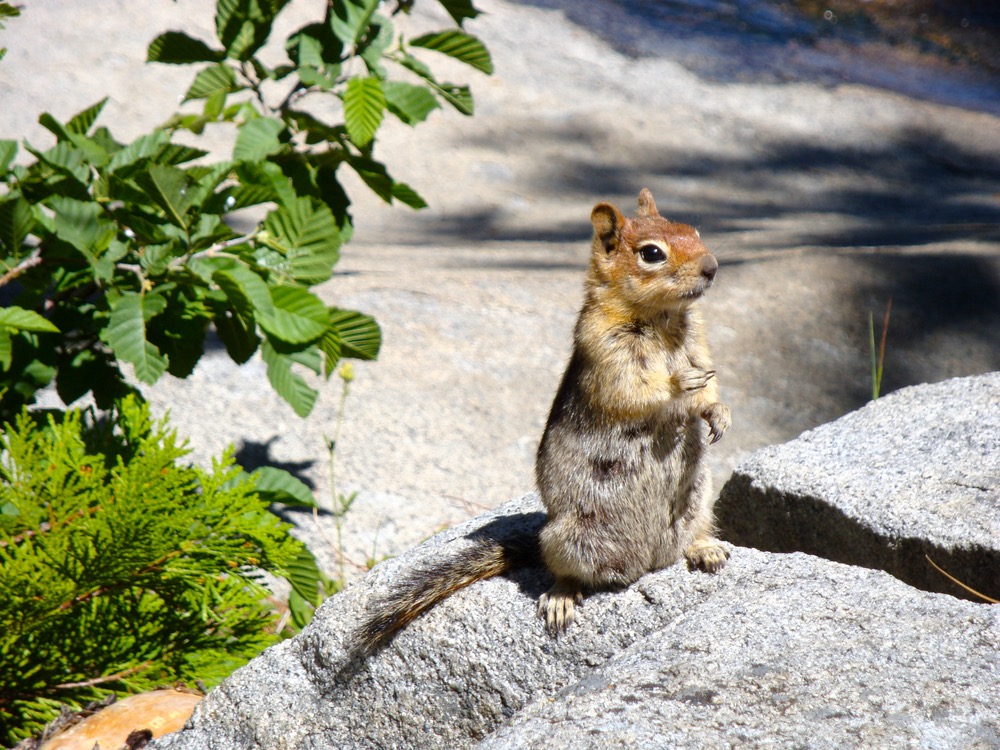 9. Me
eting the Neigh-bears
You don't have to venture far for a chance encounter with one of Smokey Bear's relatives. Thankfully, South Lake Tahoe's black bears aren't shy (or carnivorous). Keep your eyes peeled and camera handy, even when exploring residential neighborhoods during the day. If you're lucky, you'll see (from a safe distance, please) one ambling about.
10. Always Leaves Me Wanting More
I usually prefer to travel to places that I have never visited. South Lake Tahoe, a place that I have visited time and again, is an exception. With so many things to do, see, and experience, this little slice of heaven continues to whet my appetite. Shooting the rapids near Truckee, attending a play at Valhalla's Boathouse Theatre, exploring the charming towns around Lake Tahoe—my future "must-do" list goes on and on. With countless options and possibilities, my love affair with South Lake Tahoe won't end any time soon!
(Tip: The closest airport to Lake Tahoe is Reno, Nevada. If you're combining a trip to Napa or the Bay Area, fly into San Francisco or Oakland.)
— V —
ARTICLE CATEGORIES